Salisbury Steak is an easy comfort food dinner that's reminiscent of tv dinners, but SO much better! Homemade ground beef steaks are smothered in the most amazing mushroom and onion gravy. It's a hearty one pan meal for the whole family.
This is one of my Dinner recipes I know you'll want to keep on hand!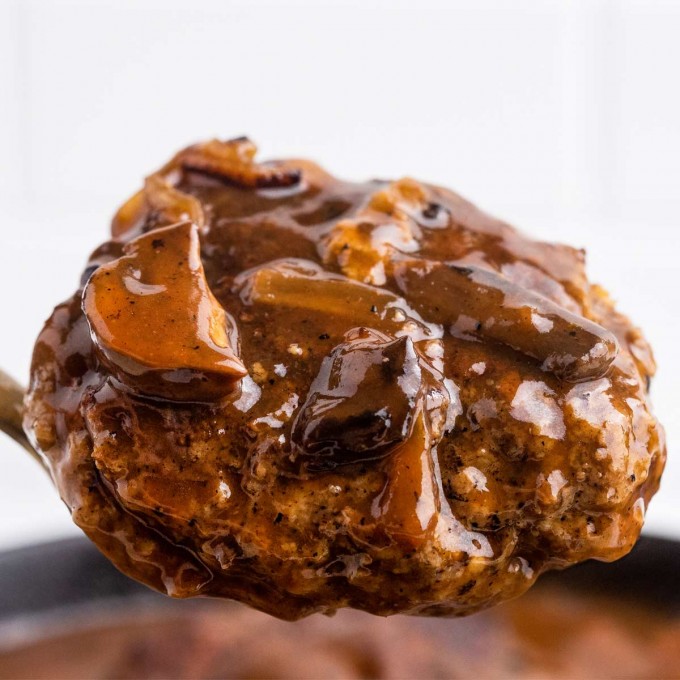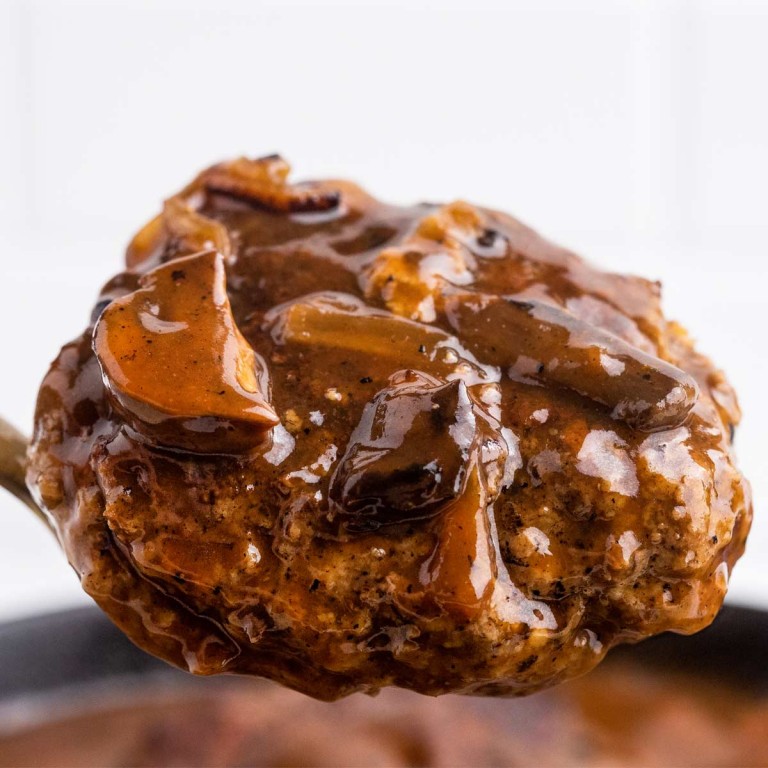 We're bringing back the classic TV dinner today folks. Well not exactly, since this isn't microwaved and tastes so much better than anything out of a box!
Making this salisbury steak recipe isn't overly complicated, it just has a few steps and some prep work, most of which can be done ahead of time! That's my kind of recipe.
Some recipes for salisbury steak don't include mushrooms in the gravy, but I love the texture and flavors together with the beef.
How to make Salisbury Steak?
This is just an overview; the full ingredients and directions are in the recipe card toward the bottom of this post.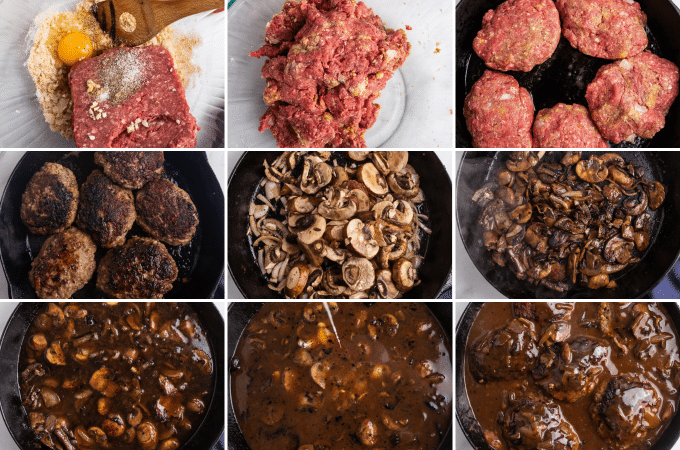 Make the patty mixture. Combine patty ingredients using your hands, until just mixed well.
Form the patties. Divide the meat mixture into 6 equal-sized portions and shape into ovals.
Sear. Cook the patties about 4-5 minutes per side (this will vary, depending on how thick your patties are), then transfer to a plate and keep warm.
Cook onions and mushrooms. Cooking them in the same pan means all those glorious browned bits from the patties will add so much flavor to the pan sauce you're about to create!
Add other gravy ingredients. Whisk them to combine.
Make slurry. Combine cornstarch and water in a separate bowl until smooth. Whisk into the gravy and simmer for about 3 minutes, or until thickened.
Return patties to the pan. Give them a good coat in the gravy.
Serve!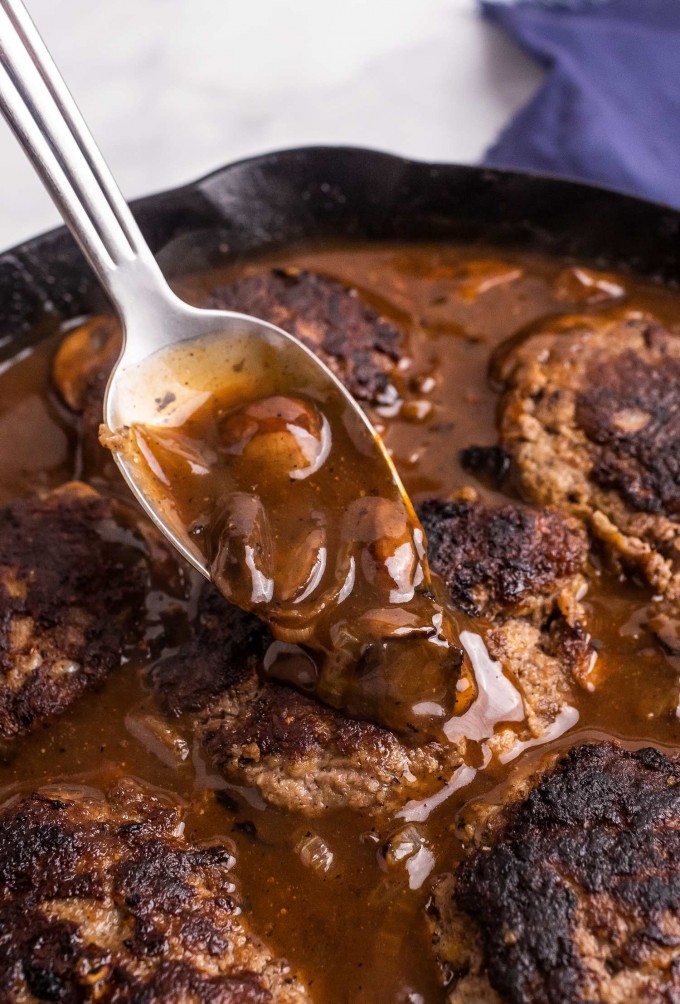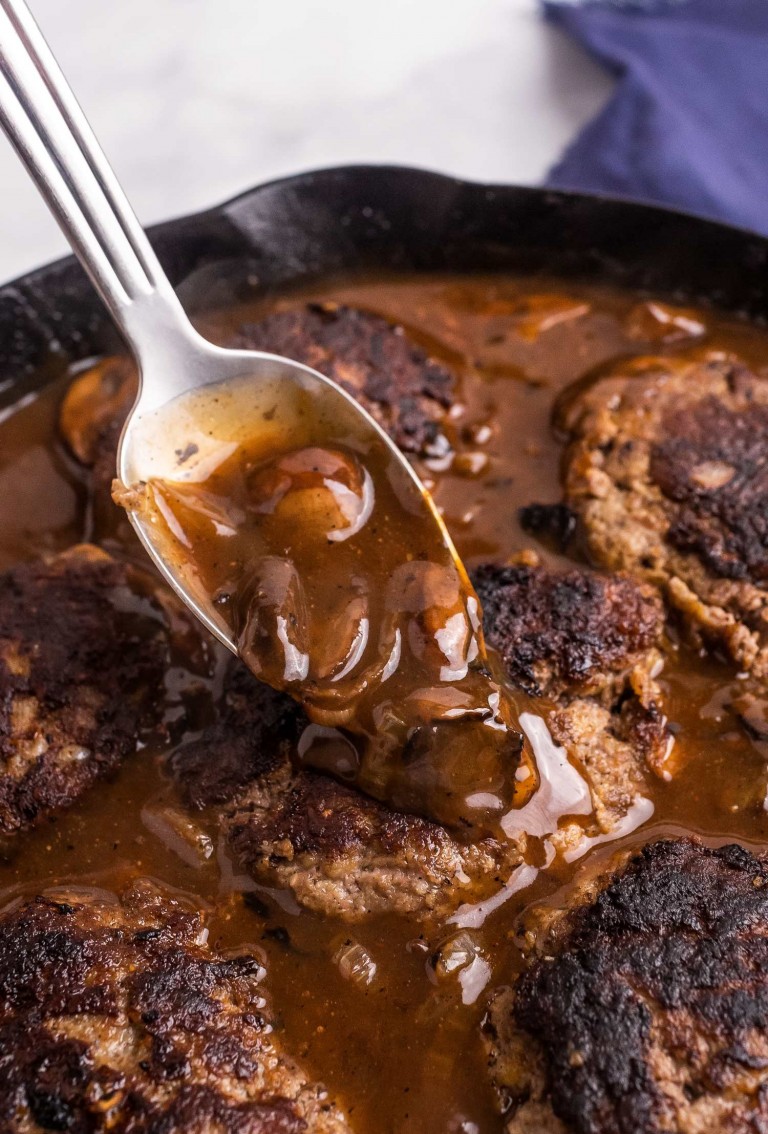 Helpful Tip!
Salisbury steak makes a great freezer meal! Once cooked, let it cool completely, then transfer to a freezer-safe container (I like to use disposable foil pans – the heavy duty ones), cover, and freeze for up to 3 months. Thaw overnight in the refrigerator, then bake at 350°F for about 30-40 minutes.
Frequently asked questions
Why is my salisbury steak tough?
The main culprit to a tough and/or dry patty is overworking the meat. You want everything well mixed, but you don't need to work it like you're kneading dough for 5 full minutes or anything.
How can I keep my patties from falling apart when cooking?
Typically, the breadcrumbs and eggs will do a good job of giving the patties stability, but if you notice yours just aren't staying together, for the next time, you can chill the patties once they're formed. This will solidify the fats in the patties and will help them keep their shape.
What cut of meat is salisbury steak?
It's deceiving, because even though it has "steak" in the name, it's actually not steak at all! Seasoned ground beef is formed into patties that roughly resemble a steak-shape. So just pick up some regular ol' ground beef.
What's the best fat content for the beef?
I like to use either 85/15 or 90/10. This way the beef has plenty of flavor, but isn't greasy.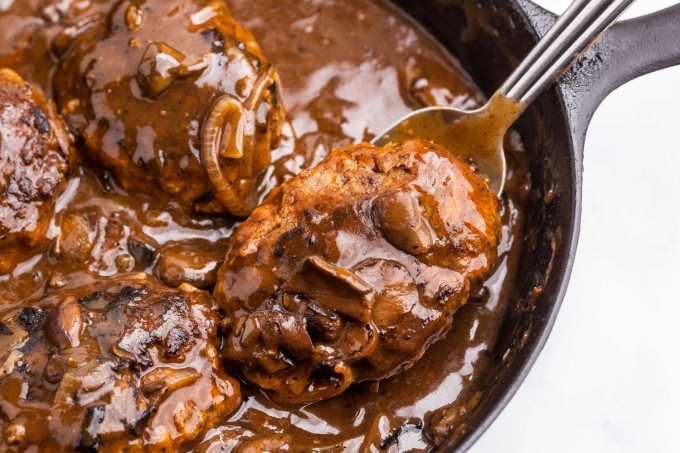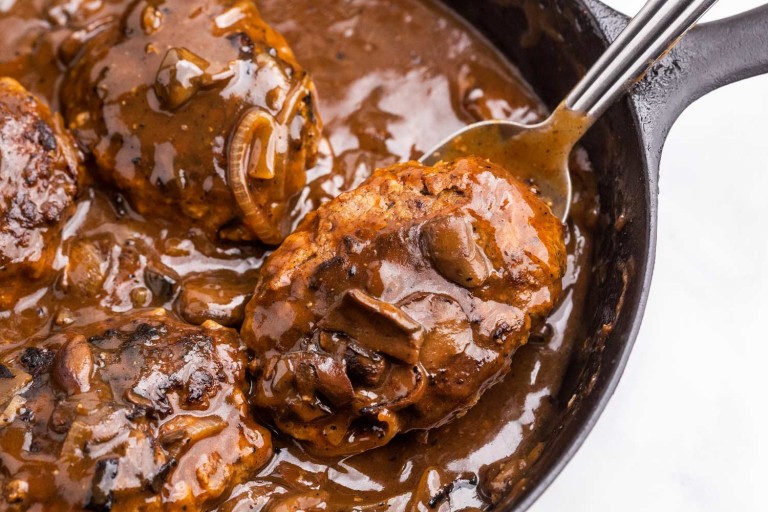 Variations of this recipe
Mushroom-free – if you're not a huge mushroom fan, you can omit them.
Horseradish – I don't know about you, but I love horseradish. We love adding it to our Beef Stew! It would be great here too, just add some to the gravy when you add the tomato paste.
Meatballs – for a fun twist on this recipe, instead of making oval-shaped patties, roll the meat mixture into meatballs! Brown them in the skillet, until very close to cooked through, then remove them to a plate and continue with making the gravy.
French onion soup mix – a common way to make salisbury steak here in the Midwest is to use a packet of french onion soup mix (Lipton is a popular brand). Personally, I don't like to use those packets as I find they make things pretty salty, so I haven't tested this myself, but I think the only change would be to add about 1/2 cup more liquid. More beef broth, or even water.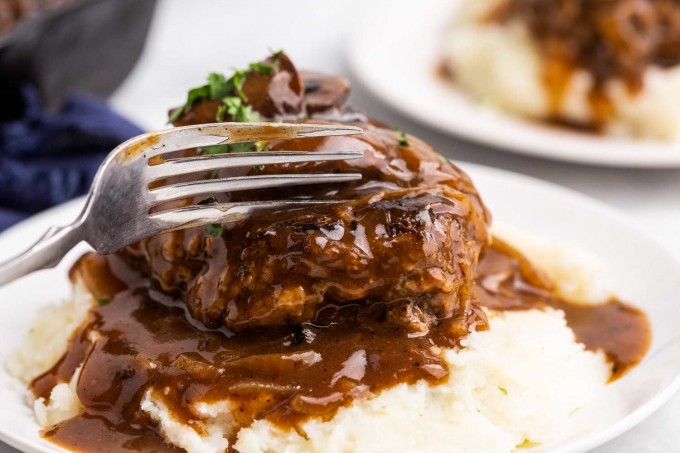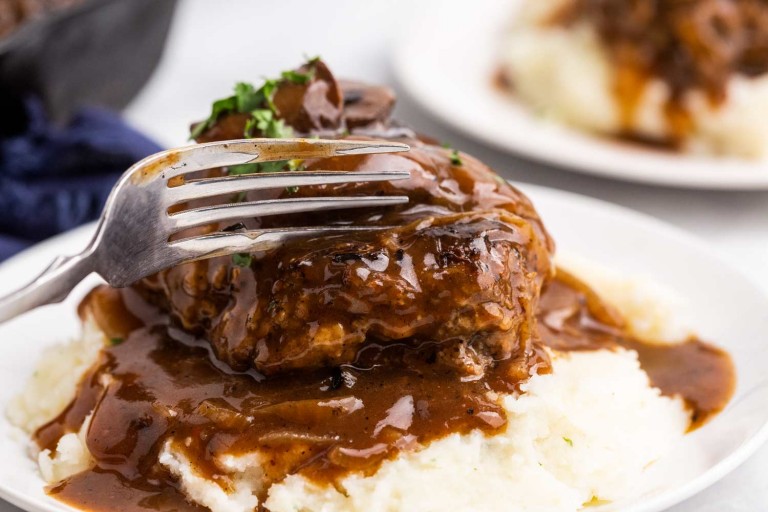 Making salisbury steak ahead of time
I think this tastes best when made fresh and enjoyed right away, but the good news is, many of the components can be made ahead of time!
The patties can be formed and kept refrigerated, mushrooms can be sliced ahead of time, onion can be sliced ahead of time, and even the gravy sauce can be stirred together before hand (just leave out the cornstarch and water).
Storage
Leftovers should be refrigerated in an airtight container and consumed within 3-4 days.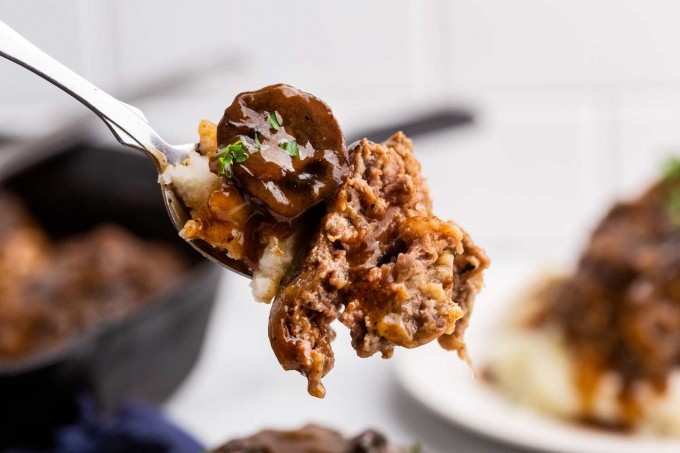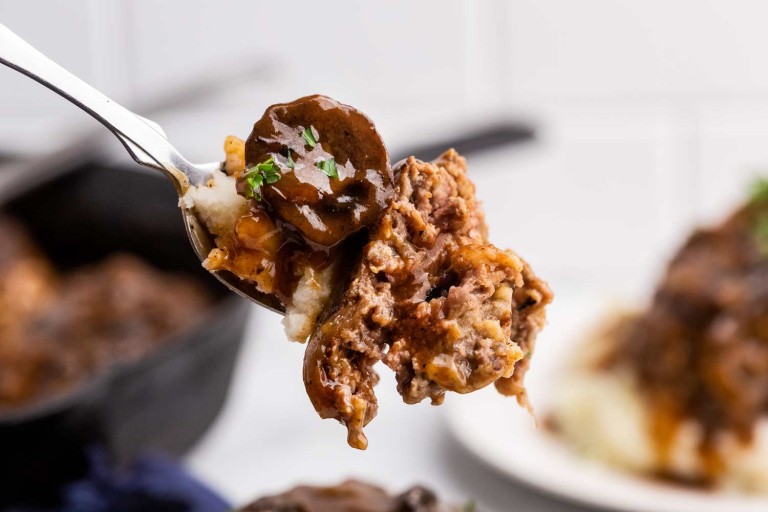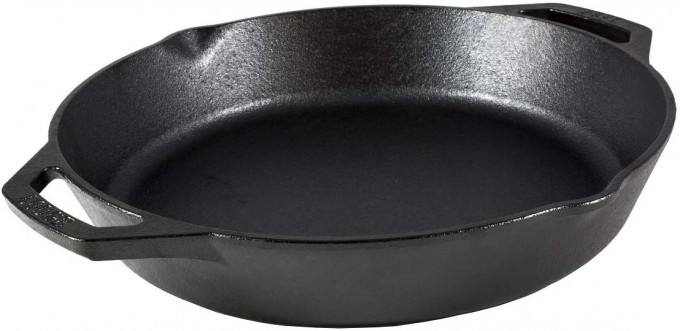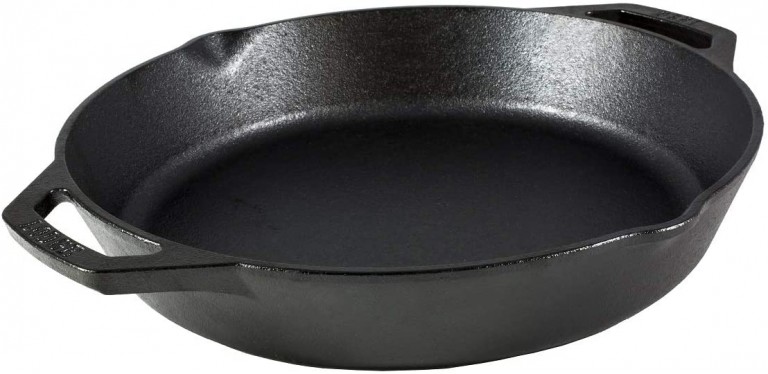 Cast iron skillets give you a great sear, and are perfect for one pan recipes! Not to mention they'll last a lifetime.
Salisbury steak makes a great family dinner, and if you prep ahead, it can make an easy weeknight meal too! Hope you love it 🙂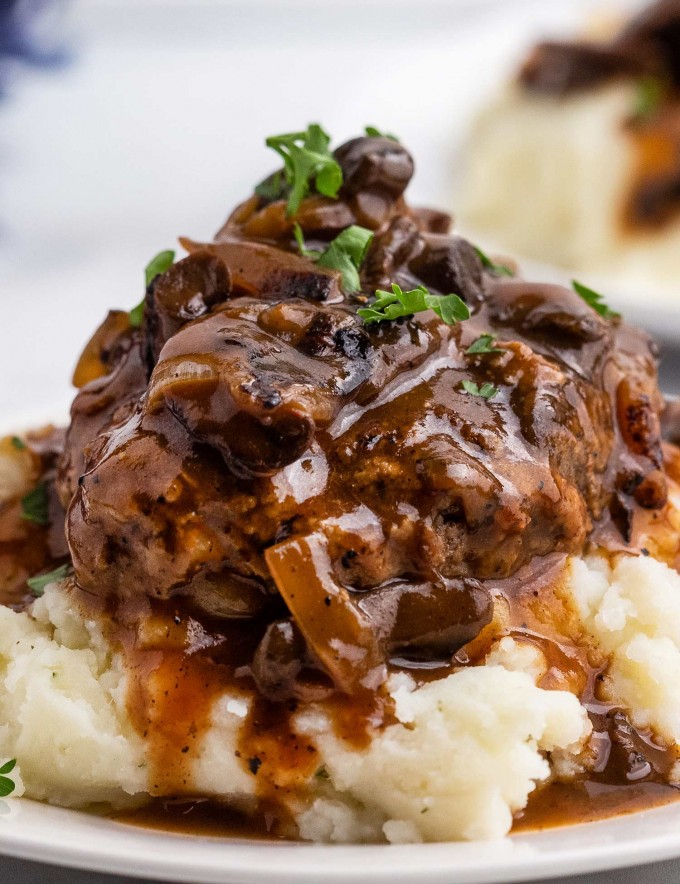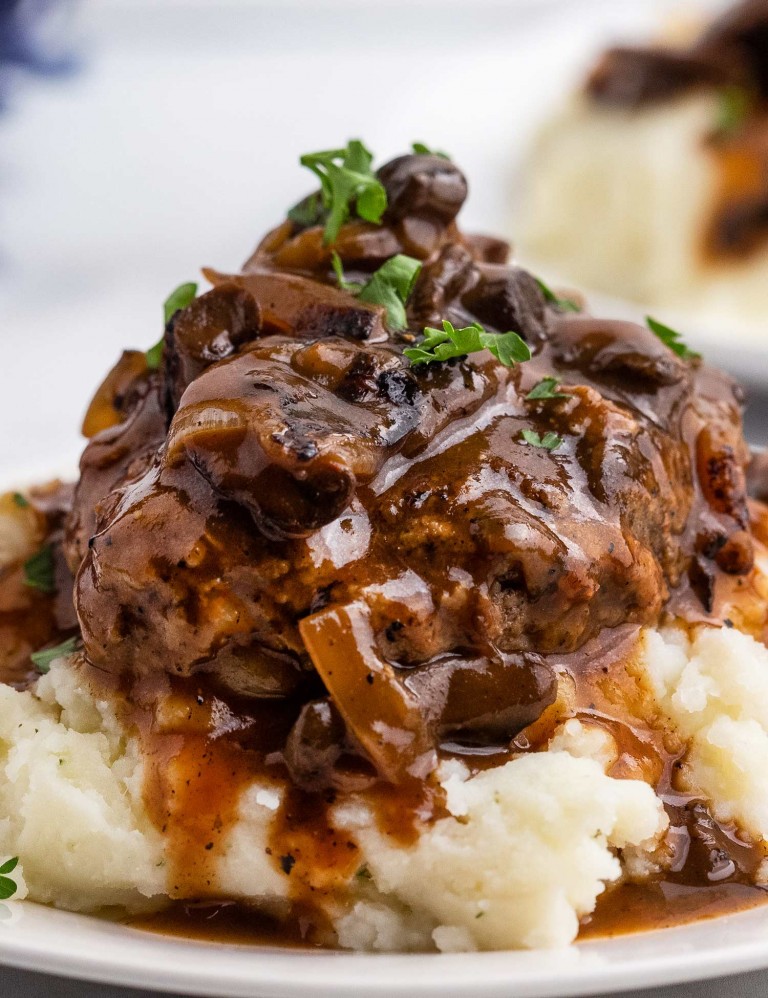 Did you make this? Be sure to leave a review below and tag me @the_chunky_chef on Facebook and Instagram!
Salisbury Steak is an easy comfort food dinner that's reminiscent of tv dinners, but SO much better!
Ingredients
Patties
1 1/2 lbs. lean ground beef
1/2 large yellow onion
1/2 cup breadcrumbs plain or Italian
2 Tbsp milk
1 clove garlic minced
1 tsp Worcestershire sauce
1/2 tsp kosher salt
1/2 tsp black pepper
1 large egg
Fats for the skillet
2 Tbsp butter divided
1 Tbsp olive oil
Mushroom + onion gravy
1 medium yellow onion halved and thinly sliced
8 oz cremini or baby bella mushrooms sliced
2 cups reduced sodium beef broth or stock
1 Tbsp tomato paste
1/2 Tbsp soy sauce reduced sodium is preferred
1 tsp Worcestershire sauce
1 tsp Dijon mustard
1/2 tsp kosher salt
1/4 tsp black pepper
Slurry
1 Tbsp cornstarch
1 1/2 Tbsp cold water
Instructions
Make patties
Add breadcrumbs to a large mixing bowl.  Grate onion over the bowl and stir grated onion into the breadcrumbs. There will likely be some onion "juice" that goes into the bowl as well, and that's good. It will add moisture as well as flavor.

Add remaining patty ingredients and use hands to mix until just combined.

Use the side of your hand to lightly score the meat in half.  Then score each half into 3 sections.  Now you have 6 roughly equally sized sections.  Scoop out the meat in each section and form into oval shaped patties.

Heat 1 Tbsp each butter and olive oil in a large skillet over MED HIGH heat.  Once hot, add patties and sear about 4-5 minutes per side, until cooked through.  Transfer patties to a plate and keep warm.
Make gravy
Reduce skillet heat to MED and add 1 Tbsp butter.  Add sliced onions and cook for 3 minutes.  Add mushrooms and cook another 4-5 minutes.

Stir in beef broth, scraping the bottom of the skillet to loosen any browned bits.  Add tomato paste, soy sauce, Worcestershire sauce, dijon mustard, salt and pepper and whisk or stir to combine well.

In a small bowl combine cornstarch and water and whisk until smooth.  Whisk mixture into the beef gravy and simmer until thickened to your liking, about 2-3 minutes.

Add patties back to the skillet and spoon gravy over the top of the patties.  Cook another minute or two, until everything is heated through.
Serve
Serve patties hot, over mashed potatoes or noodles if you like, with a generous spoonful or two of gravy over the top, sprinkled with minced fresh parsley (if desired).
Want to save this recipe for later? Click the heart in the bottom right corner to save to your own recipe box!
Chef Tips
Salisbury steak makes a great freezer meal! Once cooked, let it cool completely, then transfer to a freezer-safe container (I like to use disposable foil pans – the heavy duty ones), cover, and freeze for up to 3 months. Thaw overnight in the refrigerator, then bake at 350°F for about 30-40 minutes.
Be careful not to over-mix the patty mixture, as this will result in tough patties.
If the patties are falling apart during cooking, chilling them about 30 minutes next time will help them hold their shape.
The best fat content for the ground beef in this recipe is 85/15 or 90/10.
Nutrition Disclaimer
The Chunky Chef is not a dietician or nutritionist, and any nutritional information shared is an estimate. If calorie count and other nutritional values are important to you, we recommend running the ingredients through whichever online nutritional calculator you prefer. Calories can vary quite a bit depending on which brands were used.