Here's a step-by-step guide for how to roast asparagus in the oven! This easy roasted asparagus recipe is ready in under 30 minutes, and uses simple, easy to find ingredients. It's just the best way to cook any vegetable, but especially asparagus!
This easy roasted asparagus recipe is one of those sides we have with so many of our family dinners, whether we're eating healthier, or not. We also love easy side dish recipes like my Roasted Mushrooms and Crispy Smashed Potatoes. This is one of my Side Dishes recipes I know you'll want to keep on hand!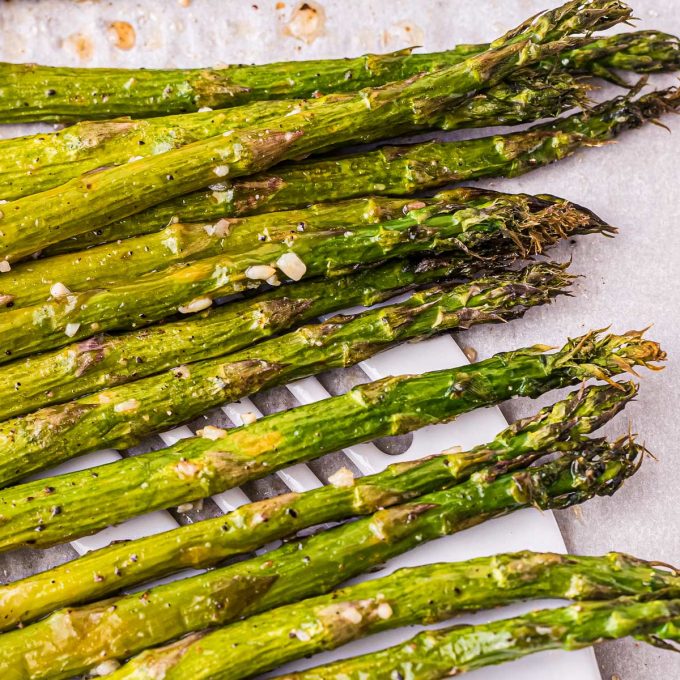 I always think of asparagus as one of those polarizing foods. You know, like cilantro, brussels sprouts, or pineapple on pizza. You either love it, or you hate it!
Personally, I'm on team love it on the foods mentioned above, plus asparagus. But I wasn't always in love with asparagus.
It wasn't until I roasted it that I realized how amazing those little green spears could taste! So savory and full of flavor, with slightly charred edges and crispy tops.
In fact, I pretty much love to roast all kinds of vegetables now that I discovered that I do in fact like asparagus, and brussels sprouts! Roasting brings out any natural sweetness, as well as concentrates the flavor of the vegetable. Plus, those crispy, charred edges just call to me.
This is a fairly basic recipe for roasted asparagus, but I've detailed plenty of ways to switch up the flavors below in the post, plus tips on how to store asparagus and how to prep it!
How to make roasted asparagus
This is just an overview; the full ingredients and directions are in the recipe card toward the bottom of this post.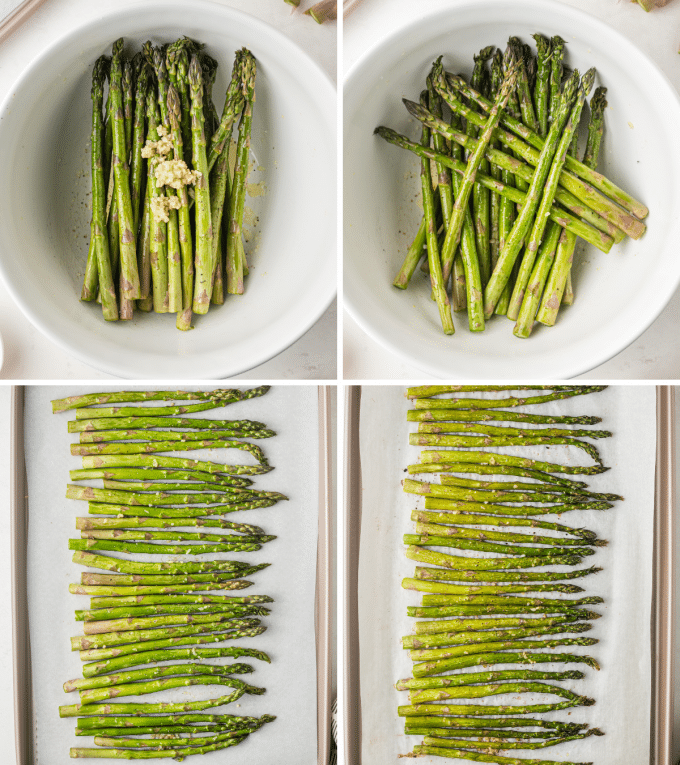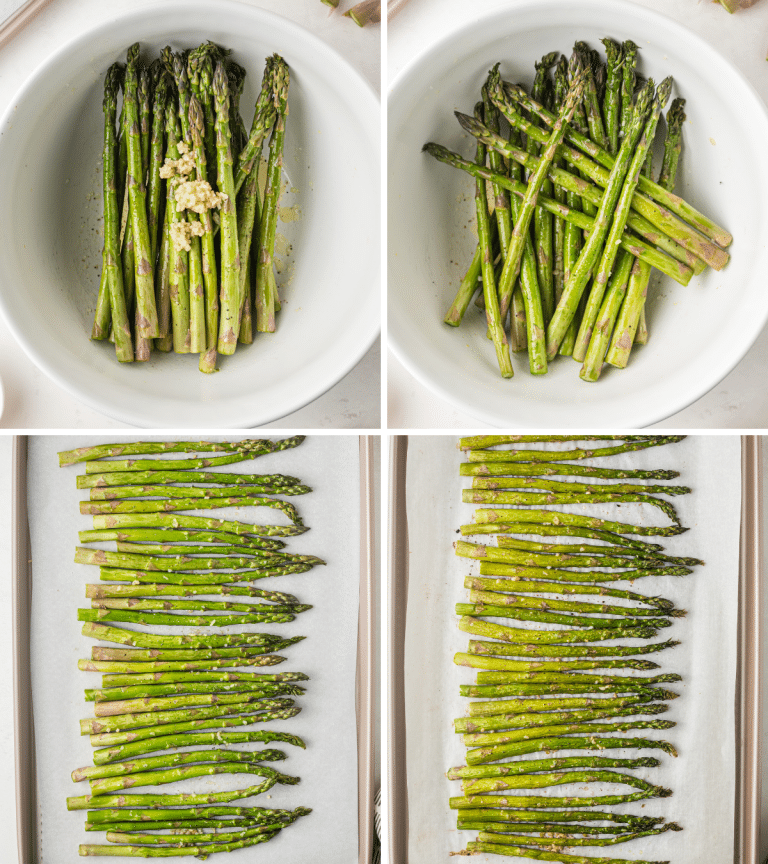 Trim asparagus ends. The thicker ends can be tough and woody, so you want to trim those off. See below for tips on how to do it!
Toss with oil and seasonings. I like to use my hands, so I can really rub the oil and flavors into the veggies!
Spread onto baking sheet. Make sure the asparagus is in a single layer, not piled on top of each other.
Bake. Baking time may vary a little bit, depending on the thickness of your spears.
Cooking tips
Choose the right asparagus spears – for roasting, I prefer the thicker variety of asparagus. They seem to hold up better to the high oven temperature. However, you can use the thinner spears, they just won't take as long to cook, and could have the potential to end up a bit mushier, so keep an eye on them.
How to store asparagus – if you've ever bought a bunch of asparagus and had it go bad in like 2 days, then this tip is for you! The bags you bring home the produce in from the grocery store just aren't good for keeping asparagus fresh. Add about 2 inches of water to a glass jar (wide mouth mason jars are my favorite), and add the asparagus, flat ends first, so they're standing straight up in the jar. Take a ziploc or other plastic bag and loosely cover the top. They should stay fresh an extra 2-3 days this way!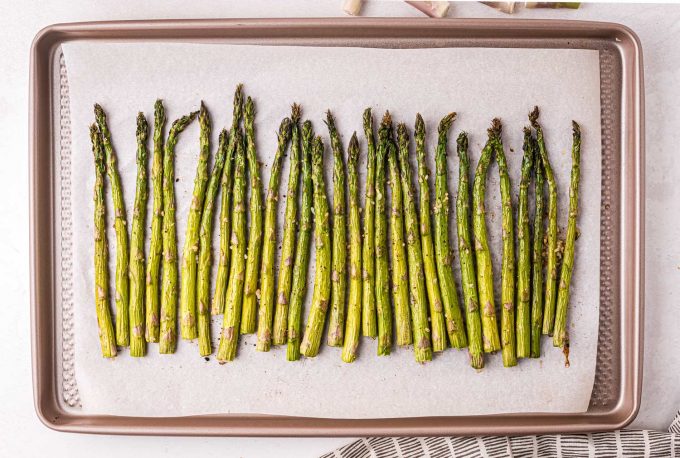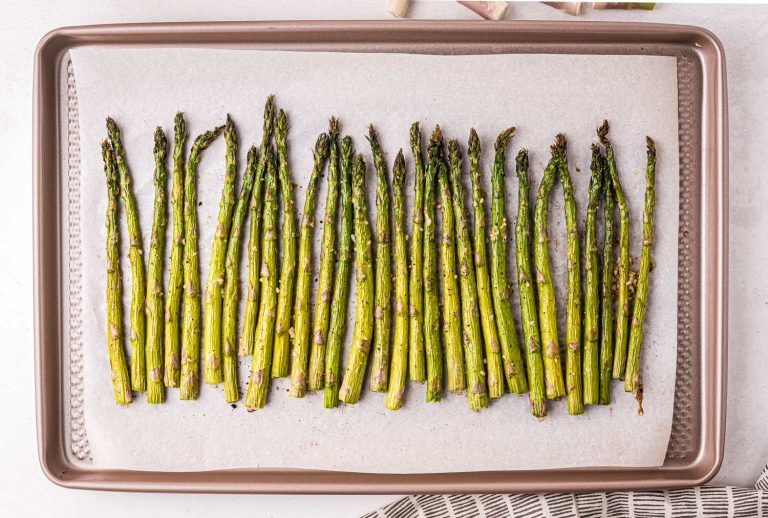 How to prep asparagus
Those wider, flat ends of the spears are woody and tough, and just not good for eating. A lot of people will tell you to bend each spear of asparagus until it snaps, and that's the usable part of the spear. However, that can be pretty tedious, not to mention, I found that a lot of the time, my spears snapped and left plenty of usable (and delicious) vegetable, since no one holds the asparagus spears in exactly the same place each time and uses exactly the same amount of force.
So there are two main methods for prepping.
Snap, then chop. This is my preferred method, and the method employed in this recipe. Snap one spear, by holding on to each end and bend it up and away from yourself until it breaks. Use that spear as a guide and line it up next to all the other spears and chop them to be the same size as the chopped one.
Just chop. Generally, the tough and woody part of the spears is the whiter part, so if you chop just a little above that line you'll likely be good.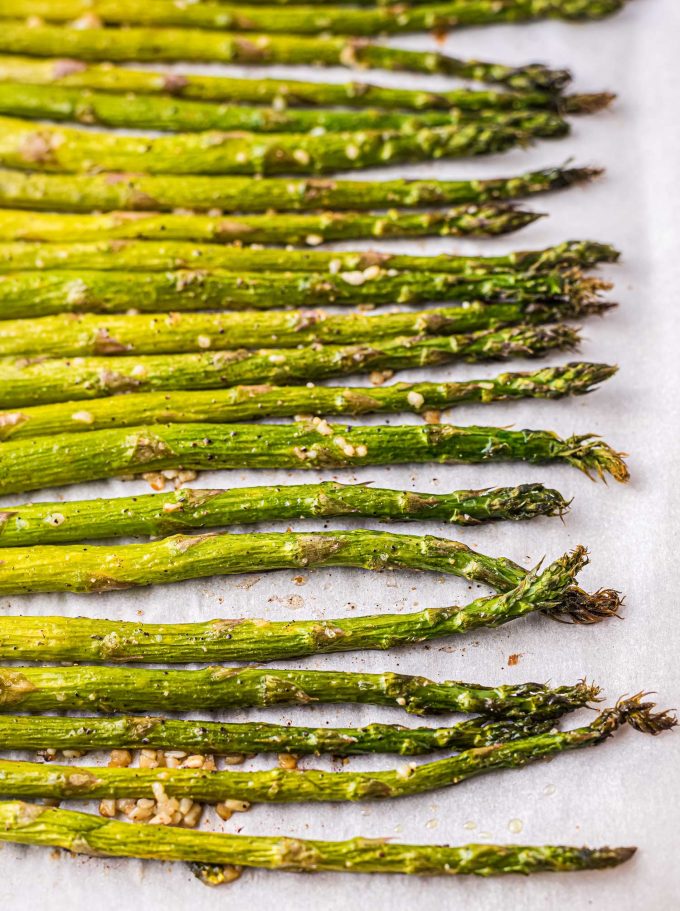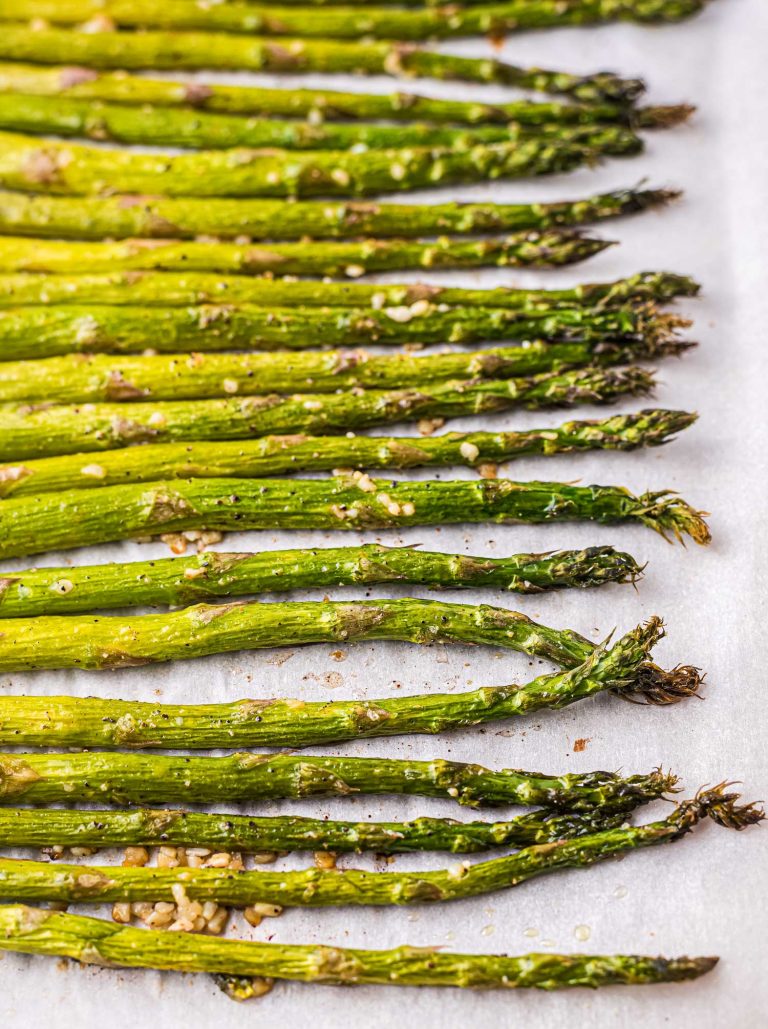 Variations of this recipe
Simple – sometimes you can't beat a simple olive oil, salt and pepper combination! Just omit the garlic and optional Parmesan in this recipe.
Lemon – adding some lemon zest to the spears before roasting and garnishing them after roasting with a squeeze of fresh lemon juice adds ton of flavor
Extra cheesy – hey, I'm not here to judge, so feel free to add as much cheese as you'd like! Roast as directed, for about 10 minutes, then top the spears with about a cup of shredded mozzarella, provolone, etc and continue baking until the cheese is gooey and melted.
Balsamic – try adding 1 – 1 1/2 Tbsp of balsamic vinegar to the olive oil and seasoning mixture. Alternately, you can drizzle the roasted asparagus with some balsamic reduction.
Herbs – I love adding fresh herbs to cooked foods; it just brightens them up! A sprinkle of minced fresh parsley, cilantro, mint, etc will do the trick.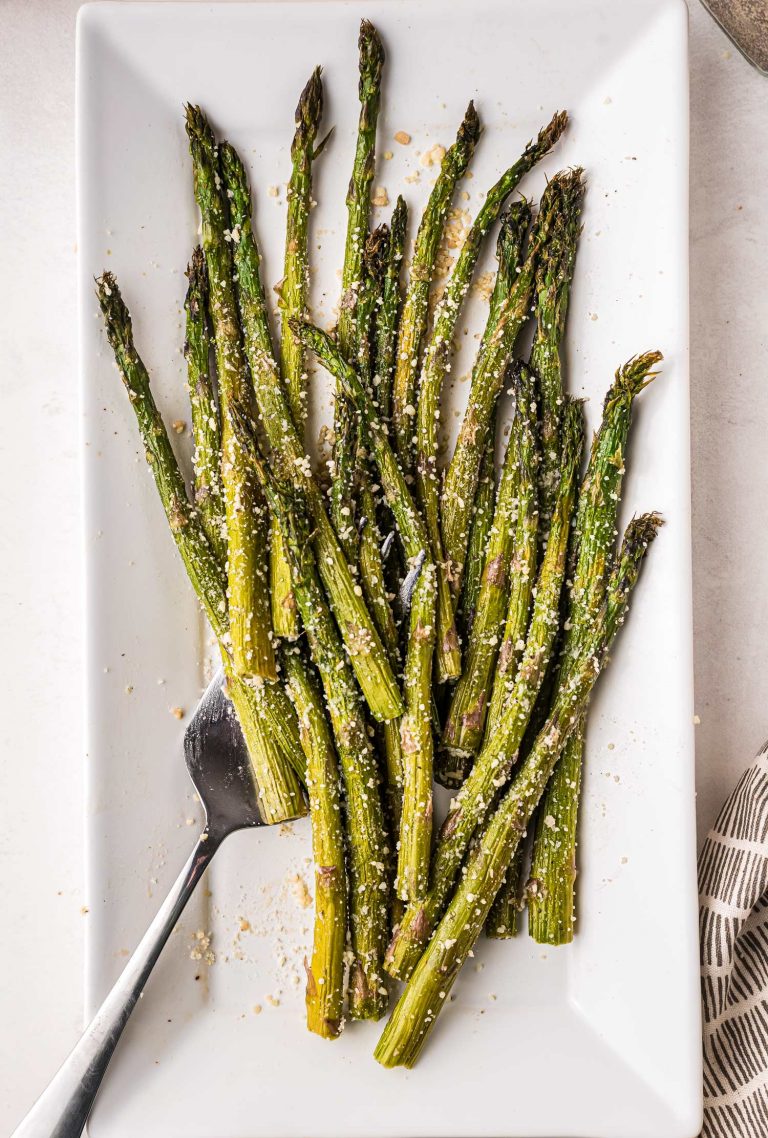 Making roasted asparagus ahead of time
This recipe for asparagus tastes best when it's fresh and hot from the oven, and there's really nothing to prep-ahead here.
Slicing the asparagus spears ahead of time isn't recommended, as they'll get wilted and soft/chewy.
Storage
Leftover asparagus should be refrigerated in an airtight container and consumed within 4 days.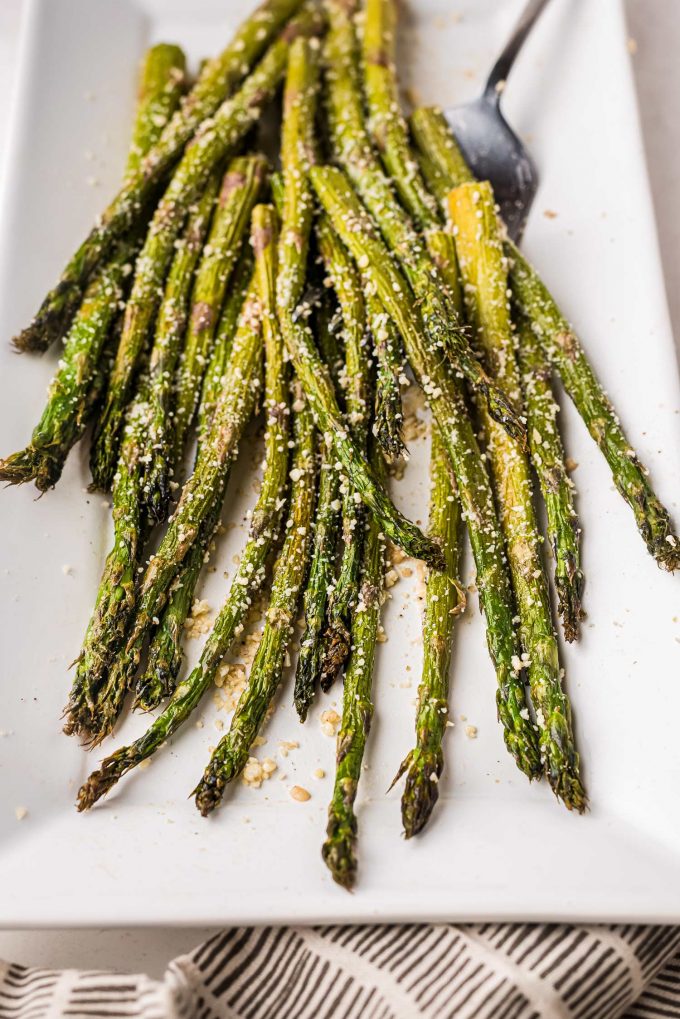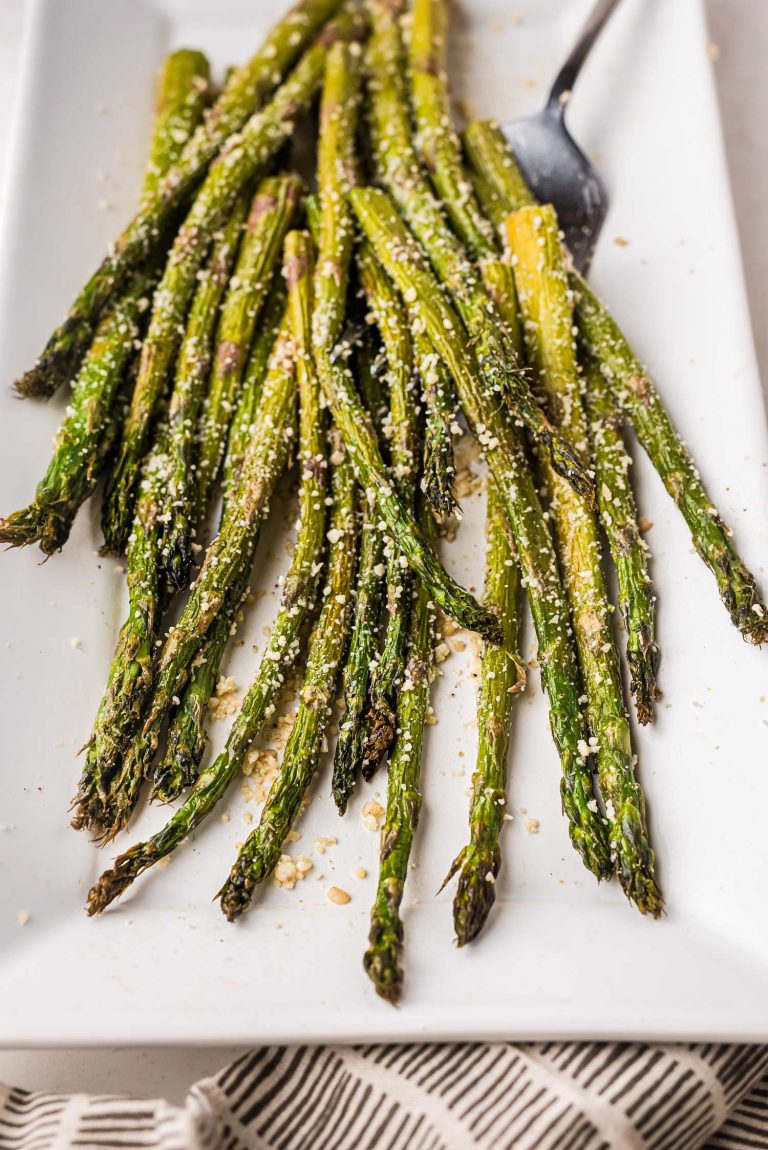 Shop the recipe
Baking Sheet – you'll want a rimmed baking sheet for this recipe, just to make sure none of your spears roll off. These pans are my absolute favorite!
Parchment Paper – I love these pre-cut parchment sheets. They fit perfectly inside a baking sheet!
Be sure to scroll down to check out other readers' comments for tips and reviews.
And don't forget, if you've made this recipe, leave a comment and please consider giving it a star rating letting me know how you enjoyed it 🙂
Did you make this? Be sure to leave a review below and tag me @the_chunky_chef on Facebook and Instagram!
Here's a step-by-step guide for how to roast asparagus in the oven!
Ingredients
1 lb fresh asparagus usually 1 bunch
1 1/2 Tbsp olive oil
3 cloves garlic finely minced
1/2 tsp kosher salt
1/2 tsp black pepper
1/4 cup grated Parmesan cheese optional
Instructions
Preheat oven to 425°F and line a rimmed baking sheet with parchment paper if desired. Set aside.
Prep the asparagus
Hold one asparagus spear with one hand on each end. Bend up and away from you, towards the flat end of the spear. When it snaps, use that spear as a guideline and chop the rest of the spears to match it in length.
Toss and bake
Add chopped asparagus to a large mixing bowl and add in oil, garlic, salt and pepper. Use your hands to mix it well, making sure all the spears are coated.

Spread spears onto prepared baking sheet in a single even layer and bake for 15-18 minutes, or until asparagus can be easily pierced with a fork. Thinner asparagus spears may be done in about 10 minutes, so keep your eye on them.

If desired, sprinkle with some grated Parmesan cheese and serve immediately.
Want to save this recipe for later? Click the heart in the bottom right corner to save to your own recipe box!
Chef Tips
Calorie count shared is an estimate for 1 serving without the cheese.
Nutrition Disclaimer
The Chunky Chef is not a dietician or nutritionist, and any nutritional information shared is an estimate. If calorie count and other nutritional values are important to you, we recommend running the ingredients through whichever online nutritional calculator you prefer. Calories can vary quite a bit depending on which brands were used.