Chicken Caprese, Parmesan Crusted Roasted Garlic Asparagus, and a garlic oil dip for bread
Time for an Italian dinner night!  This chicken caprese is just… wow.  And super simple 🙂  Juicy chicken that's marinated in a balsamic and garlic marinade, topped with fresh cherry tomatoes, fresh mozzarella cheese, minced basil and drizzled with a sweet and decadent balsamic glaze… whew… I'm drooling just thinking about it!
For a baked version where the chicken is smothered in gooey melted mozzarella cheese and burst roasted cherry tomatoes, click HERE!
When we go out for dinner, a nice Italian restaurant is always in the top few choices.  I just love the flavors of Italian food!  Chicken caprese is my creation of some of my favorite flavors and textures.  And don't be fooled by the fancy presentation, your kids will probably eat it too!  My almost 5 year old took a couple of bites and proclaimed, "Mommy you have to make this every night!"  I'd say that's a seal of kid approval 🙂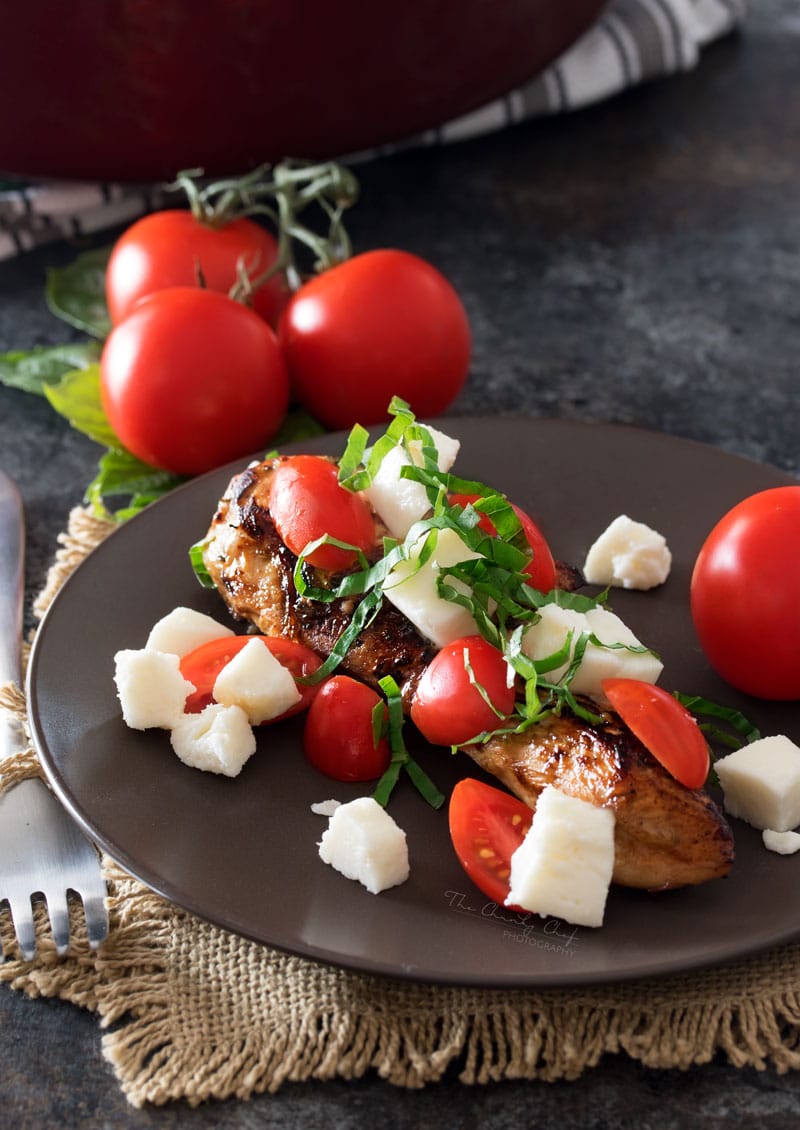 Chicken caprese is one of those versatile meals, easy to make for your family for a weeknight meal, but also easy to dress up and make for a fancy meal (it has that impressive factor), and only you have to know how easy it was to make 🙂
If you're looking for ideas on what to serve with this chicken, I usually go with a seasoned garlic dipping oil with crusty bread, and some roasted parmesan crusted asparagus.  All the flavors just work well together.  A simple side salad would work as well.  The chicken caprese is a perfect mix of hearty, yet still refreshing from the fresh ingredients topping, so it's great year round.  In fact, the first time I ever made this chicken, it was summer and I let my husband take care of cooking the chicken by grilling it outside.  By the way, ohhhhhh man is it ever good that way!  Those charred grill marks from the grill take this flavor over the moon!  So you could grill inside on a grill pan if you have one, or stick to a standard oven safe skillet.  I've done it both ways, and it's amazing either way 🙂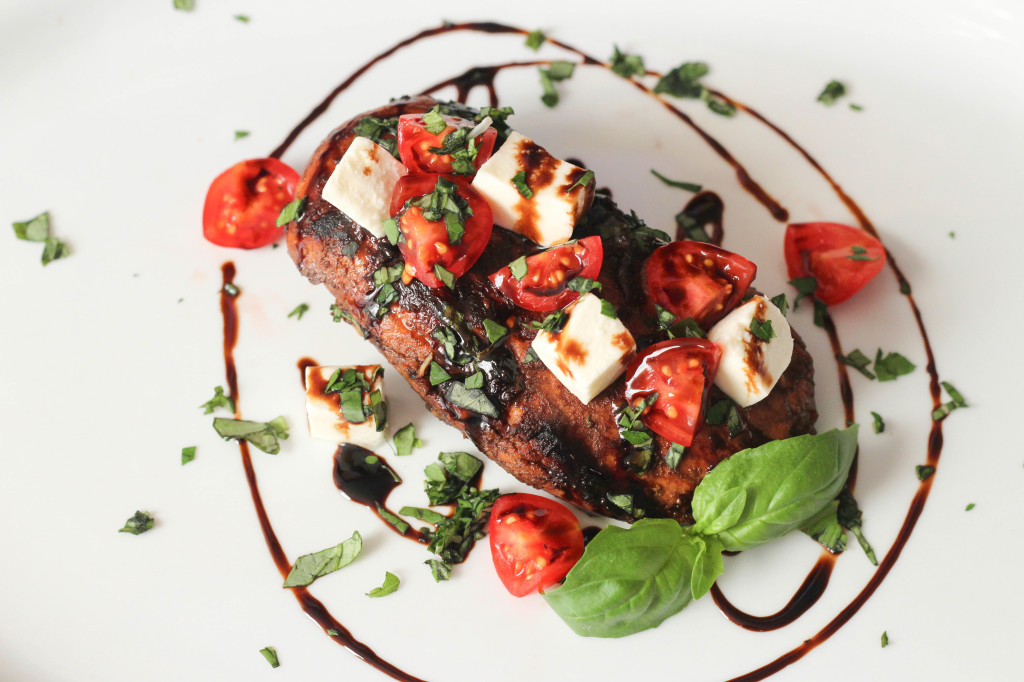 You can make your own balsamic reduction, or if you're like me and have zero patience, they make a balsamic glaze you can buy in the store.  A little goes a long way, so it lasts for a while.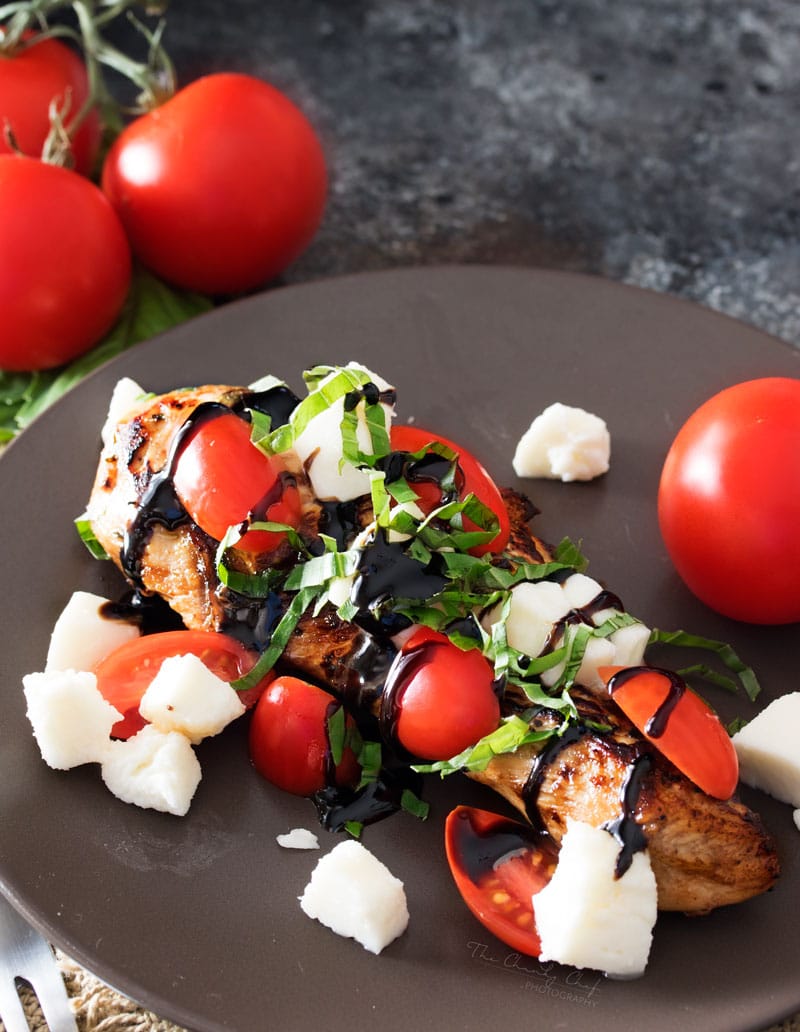 Fresh asparagus coated in garlic, olive oil, and Parmesan cheese, then wrapped in salty, tender prosciutto ham, and roasted to perfection.  Hungry yet?  I know, I know… I'm cruel… but seriously, this roasted asparagus is really THAT good!
Some folks aren't fans of asparagus, and I can understand that… it has a distinct flavor and texture that just isn't everyone's cup of tea.  However, roasting vegetables changes the flavor and texture, so even if you're not a huge fan of asparagus, I think you'll like this roasted asparagus recipe.  If I haven't convinced you, you could easily swap out the asparagus for fresh green beans.  That would be easily delicious!!
Also, if you couldn't find prosciutto ham, bacon or even regular thin sliced ham would work as well.  Basically you just want a salty meat wrapped around the roasted vegetables, getting crispy and delicious!!
I've been getting into roasting more and more vegetables… it's a great way to change up your veggies.  Tired of boring old steamed asparagus or green beans?  Roast them instead… and voila!  Delicious vegetables 😀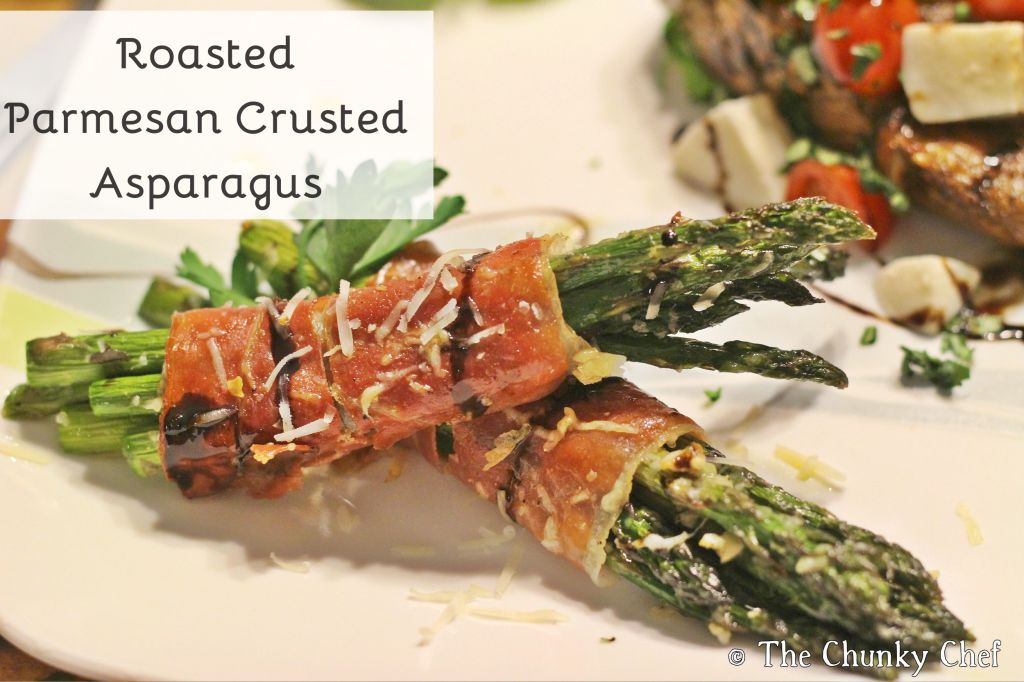 You know when you go to a nice Italian restaurant, and the bread comes out and they have that little plate of seasoned oil for you to dip your bread in?  You can EASILY make that at home… it's a staple in our house.  Now, we love garlic, so of course I put some sauteed garlic in mine, but you could skip that if you're thinking, "whoa lady, cool it with the garlic already!".  Sometimes I also add some balsamic vinegar to mine as well to add a little "zing".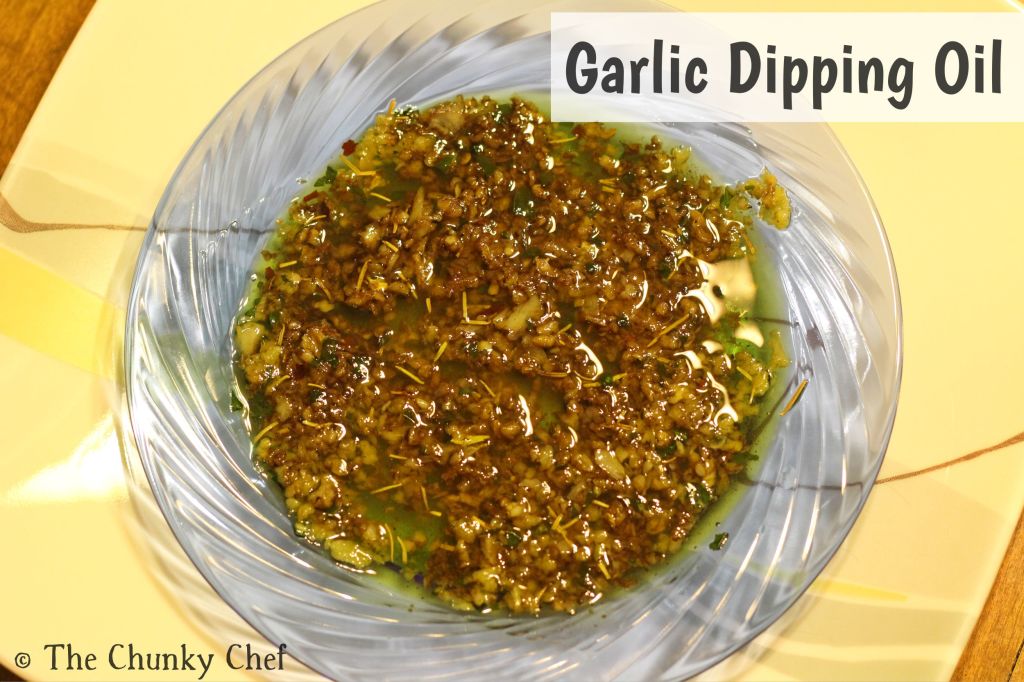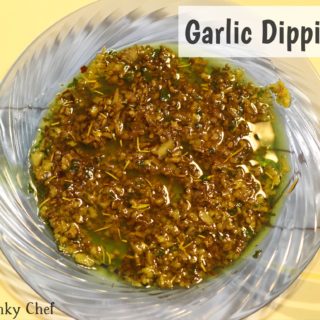 Garlic Dipping Oil
Try this flavorful seasoned garlic dipping oil tonight! It pairs perfectly with some crusty bread.
Ingredients
5 cloves garlic minced
salt to taste
pepper to taste
dash red pepper flakes
pinch dried rosemary
2 leaves fresh basil minced
splash balsamic vinegar
olive oil enough to make it a good consistency to mop up with the bread
Instructions
Saute garlic in a little oil until soft. Set aside on small plate. Add remaining ingredients and

serve.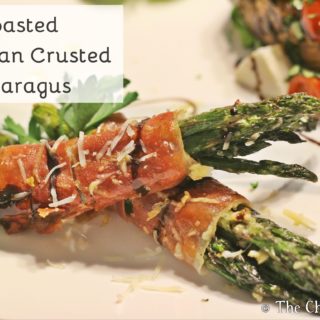 Roasted Parmesan Crusted Asparagus
Fresh asparagus coated in garlic, olive oil, and Parmesan cheese, then wrapped in salty, tender prosciutto ham, and roasted to perfection!
Ingredients
1 bunch asparagus ends trimmed
3 cloves garlic minced
1/4 cup Parmesan cheese grated
1 package thinly sliced prosciutto ham
salt and pepper to taste
Instructions
Preheat oven to 425 degrees. Trim ends of asparagus, add minced garlic, sprinkle with

parmesan cheese, salt and pepper, toss in a large bowl until asparagus spears are coated.

Wrap 4-5 pieces of asparagus in a slice of prosciutto ham, place on parchment paper lined

baking sheet.

Roast for 15-18 minutes.

Sprinkle with additional parmesan cheese.
Chicken Caprese with Balsamic Glaze
Take regular, boring chicken breasts to the next level with a flavorful marinade, delicious caprese topping, and decadent balsamic glaze to finish the dish!
Ingredients
FOR THE MARINADE
8 cloves garlic minced
1 large shallot minced
3 leaves fresh basil minced
1 tsp salt
1/2 tsp pepper
1 1/2 tsp dijon mustard
1/4 cup balsamic vinegar
1/4 cup olive oil
3-4 boneless skinless chicken breasts
TOPPINGS FOR THE CHICKEN
1 pint cherry tomatoes quartered
1 8 oz ball fresh mozzarella cheese cubed
leaves handful fresh basil minced
balsamic glaze
Instructions
Chop garlic, shallots and basil. Add to gallon size ziploc bag. Add dijon mustard, salt, pepper,

vinegar and oil. Close bag and shake well to combine.

Trim chicken breasts of fat, pierce with a fork, and place in marinade bag. Massage marinade

into chicken and place bag on a plate in the refrigerator for approximately 8 hours.

Preheat oven to 425 degrees and pull the marinated chicken out of the refrigerator to warm

up on your counter.

Heat a large oven safe skillet (I use cast iron), over medium high heat with a drizzle of oil. Addchicken to the pan, it should sizzle loudly. Let caramelize for 3 minutes, flip chicken to

caramelize on the other side for 2 minutes.

Place your oven proof skillet in the 425 degree oven for approximately 15-20 minutes

(depending on the thickness of your chicken).

If chicken isn't cooked through, place skillet on your burner over medium high heat to finish

cooking.

While chicken is cooking, chop up your topping ingredients and set aside.

Once chicken is finished cooking, allow to rest for a few minutes on a plate to let the juices

redistribute. Top your chicken with the tomatoes, fresh mozzarella, basil and drizzle with

balsamic glaze.
Notes
I usually toss together some tomatoes, mozzarella and basil to make a caprese salad to have as well... don't forget to drizzle it with the amazing glaze!