This Texas-Style Chili recipe is thick and meaty, smoky and spicy.  This chili has no beans, but instead has a rich beefy gravy and chunks of seared beef that are slow simmered until perfectly tender!
This Texas-Style Chili is the perfect comfort food!  Recipes like my White Chicken Chili and Copycat Cincinnati Chili are great for when you want an ultra-comforting family meal that's perfect for a chilly night or tailgating.  This is one of my Dinner recipes you'll definitely want in your recipe box!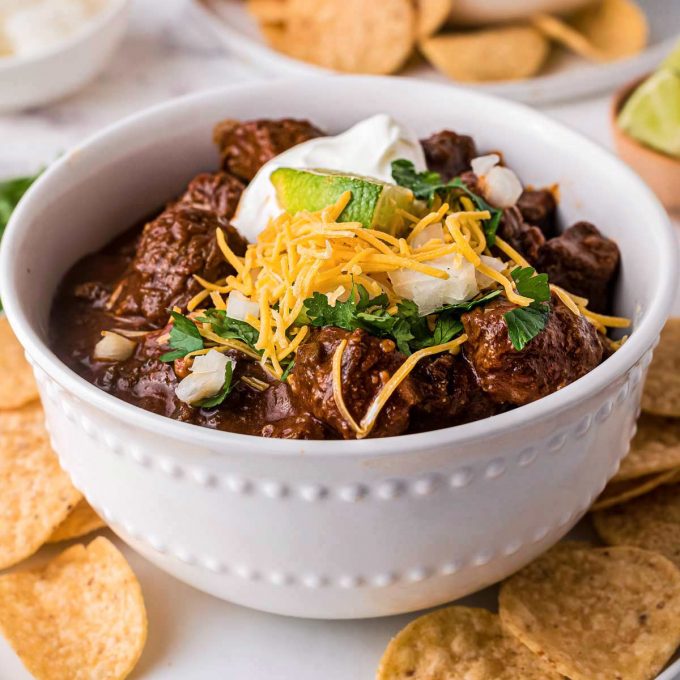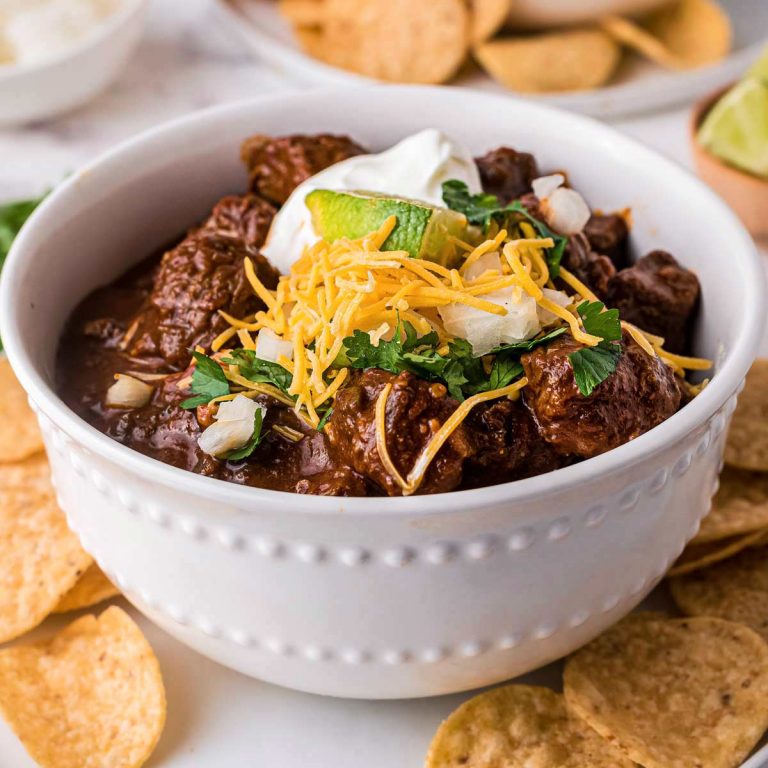 Texas-style chili recipe
Ah, chili.  It's one of those meals I can't get enough of, especially in the Fall and Winter.  Chili is just perfect for tailgating, enjoying around a fire with friends, curling up with after a long day, and everything in between.
I have several varieties of chili here on the site, and I'm happy to be adding this one!
Since I'm not from Texas, I can't speak to the authenticity of this recipe, but it's a culmination of a lot of research and diving into other Texas chili recipes and seeing what we liked and didn't like.
From my research it was apparent that beans were a hard NO for Texas chili.  I'm honestly not a huge fan of beans, so I was all for an all meat chili!
Being that it's like 95% beef, it should be no surprise that this chili is a true stick to your ribs meal.  Meaty and so full of classic chili flavors, you'll want bowl after bowl of this chili!
I will say that this is a bit of an old-fashioned style meal.  It won't be ready in 30 minutes and use only 5 ingredients.  But I think there's something to be said about taking your time and really developing those flavors!
How to make Texas-style chili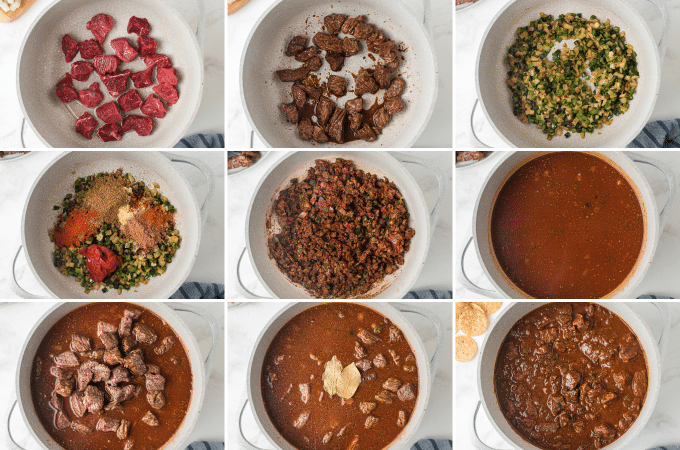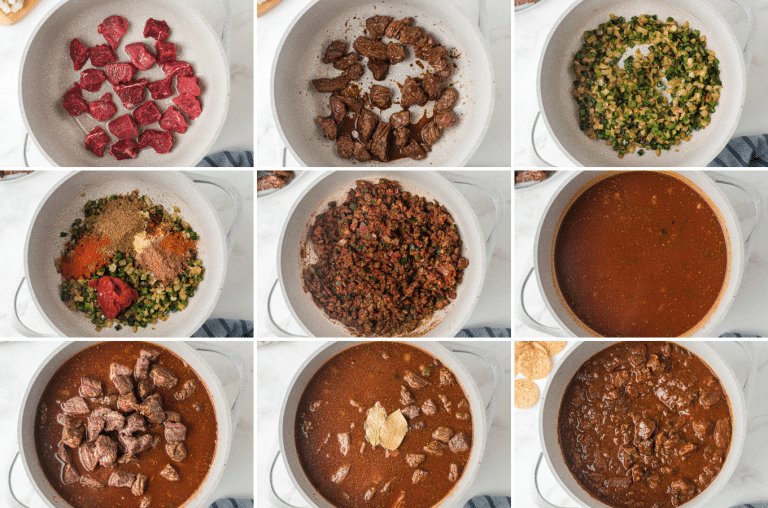 Sear beef.  Add part of the seasoned beef pieces to a hot skillet and cook for just a couple minutes per side, until golden.  Remove them to a plate, then repeat with remaining batches of beef.
Cook vegetables.  Reduce the heat a little so the vegetables don't burn, then add onion and peppers.  Cook about 5 minutes.  Add garlic and cook until fragrant, about 30 seconds – 1 minute.
Stir in remaining ingredients.  Add sugar, tomato sauce, chipotle pepper, beef broth and water.  Top with bay leaves.
Simmer.  Bring to a boil, then reduce heat to LOW and simmer for 3 – 3 1/2 hours, uncovered.
Serve.  Remove bay leaves and serve with any desired toppings.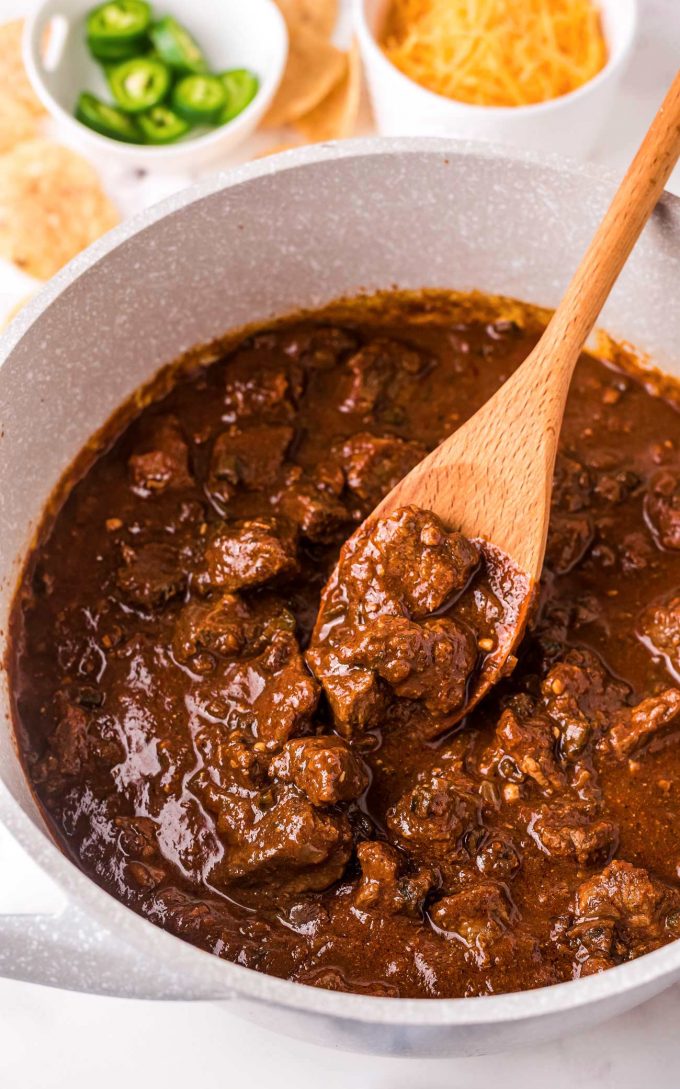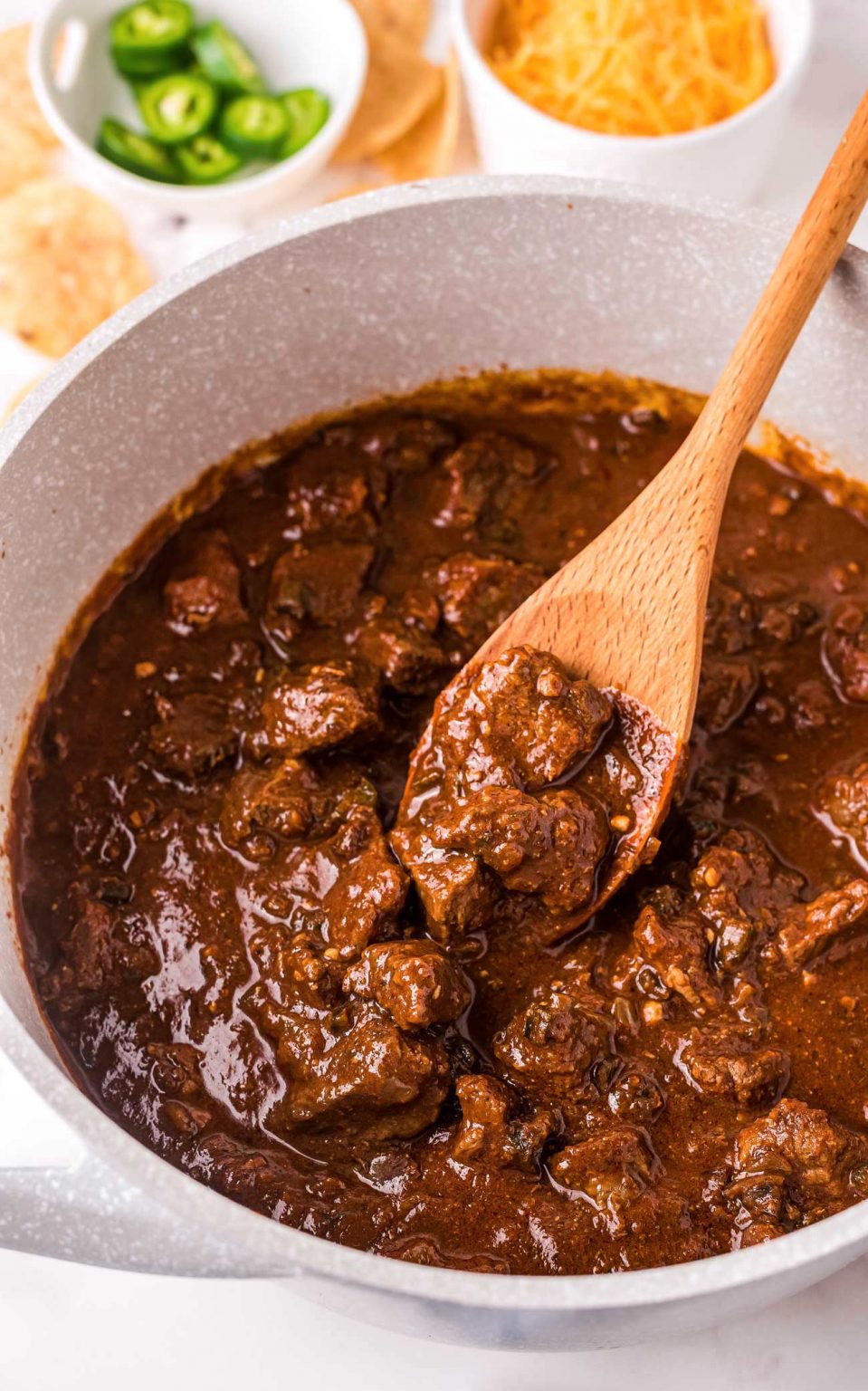 Additional cooking tips
Cuts of beef
I chose to make this chili with a beef chuck roast since it's readily available and a more affordable cut, but a brisket is a great alternative.
Basically, since it cooks low and slow, it's a perfect opportunity to use beef that has a lot of tougher connective tissue.  The slow method of cooking breaks all those tissues down and they just melt in your mouth.
Low and slow
This isn't a simple 30 minute meal.  It's a recipe that takes a bit of patience.  But I promise, it'll be 100% worth it!  The flavor payoff from slow simmering that beef is amazing.  The beef ends up literally melting in your mouth!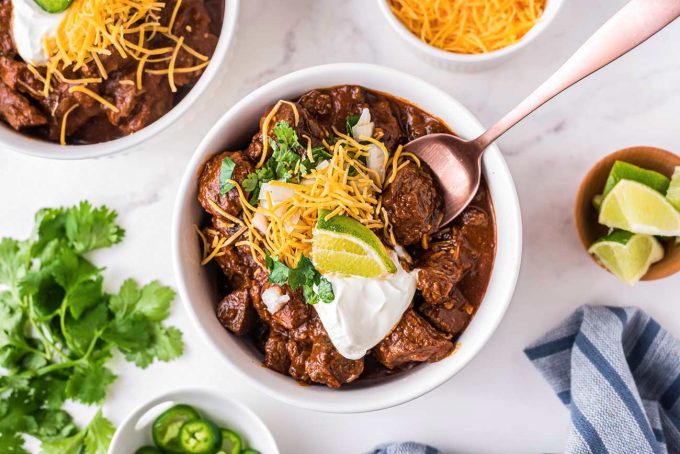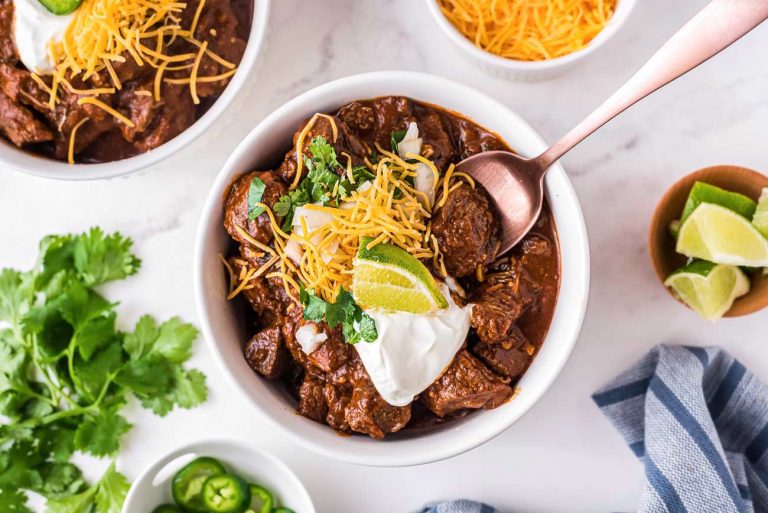 Variations of this recipe
Ground beef – I've seen quite a few variations of a Texas-style chili that use ground beef.  I prefer the flavor and texture of using cubes of beef, but if you want a quicker meal, ground beef is a good alternative.  I would simmer the chili for about an hour for this method.
Beans – traditionally beans are a no-no when it comes to classic Texas chili, which is why I don't include them.  But if you really have to have some, add a 15 oz can of dark red kidney beans (that's been drained and rinsed).
Milder – for a milder chili, use green bell peppers instead of the poblanos/jalapeno, and you can reduce the amount of spices if you want, but don't go too far, as you'll lose flavor.
Spicier – if you like more of a kick, feel free to increase the amount of peppers, add more chipotle peppers, add some of the adobo sauce from the can of chipotle peppers, and/or add some cayenne.
Beer – adding some full bodied beer is a great way to add more depth of flavor to your chili.  I would add a 12 oz bottle of your favorite beer, omit the water, and reduce the amount of beef broth by 1/2 cup.
Slow cooker – if you don't have a dutch oven, or won't be home for enough time, you can make this in a slow cooker.  Look for those directions down in the recipe notes section right below the recipe.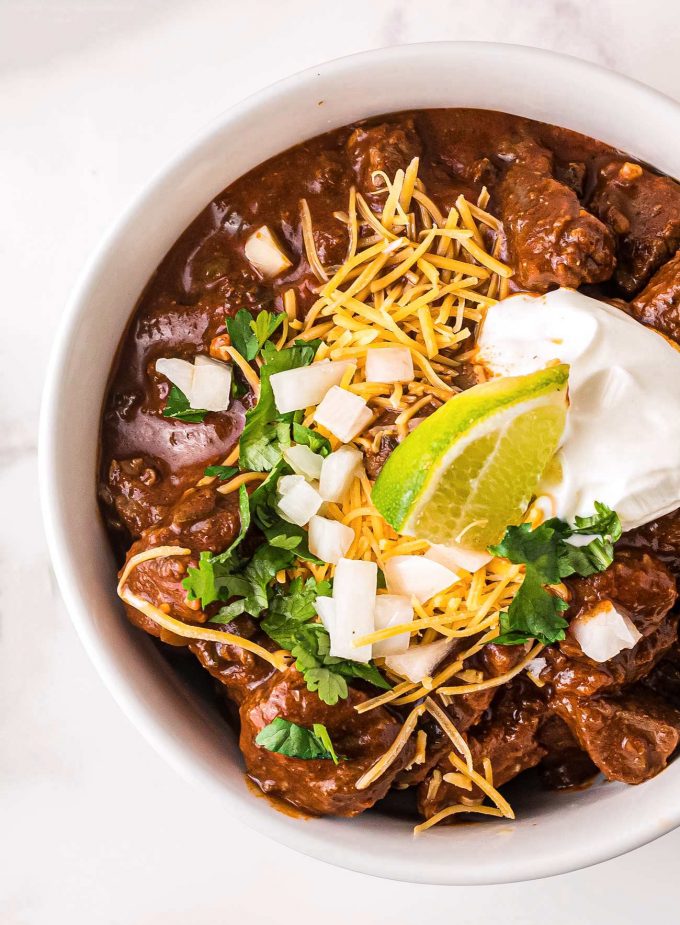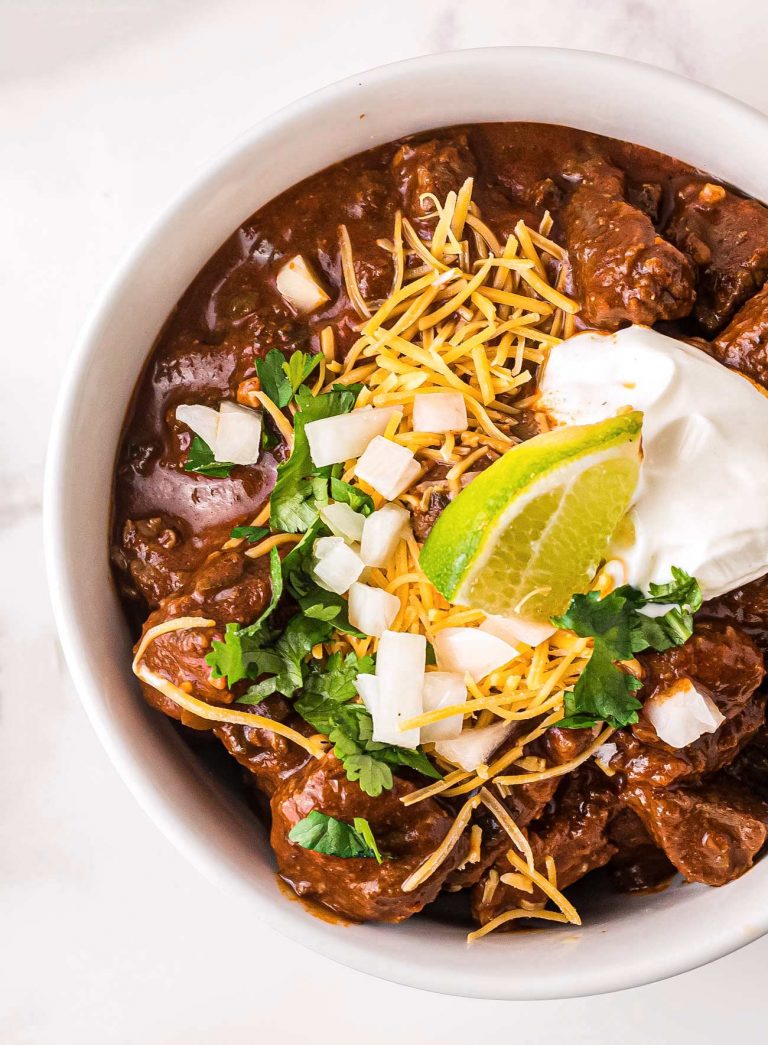 What to serve with Texas chili
When it comes to chili, I'm all about the toppings!  Some of my favorite chili toppings are sour cream, shredded cheese, cilantro, minced onion, crushed corn chips/tortilla chips, sliced jalapenos, and/or lime wedges to squeeze over the top.
And of course, to me, it's just not chili without some cornbread to go alongside!
Making Texas chili ahead of time
As with most chili recipes, the leftovers are even better the next day, so you can absolutely make this chili ahead of time.
Make sure to cool it completely, then store in airtight containers.
Storage
Leftover chili should be refrigerated in airtight container and consumed within 5 days.
Freezing
Good news, this chili can also be frozen!  Let it cool completely, then transfer to freezer containers and freeze for up to 3 months.
Thaw overnight in the refrigerator, then reheat and serve!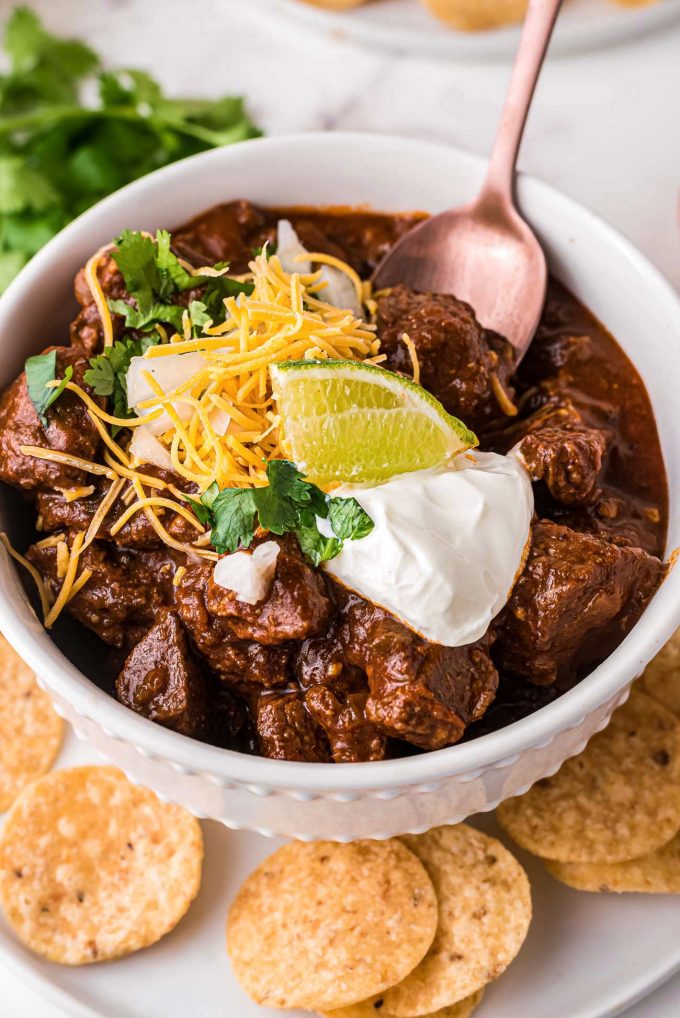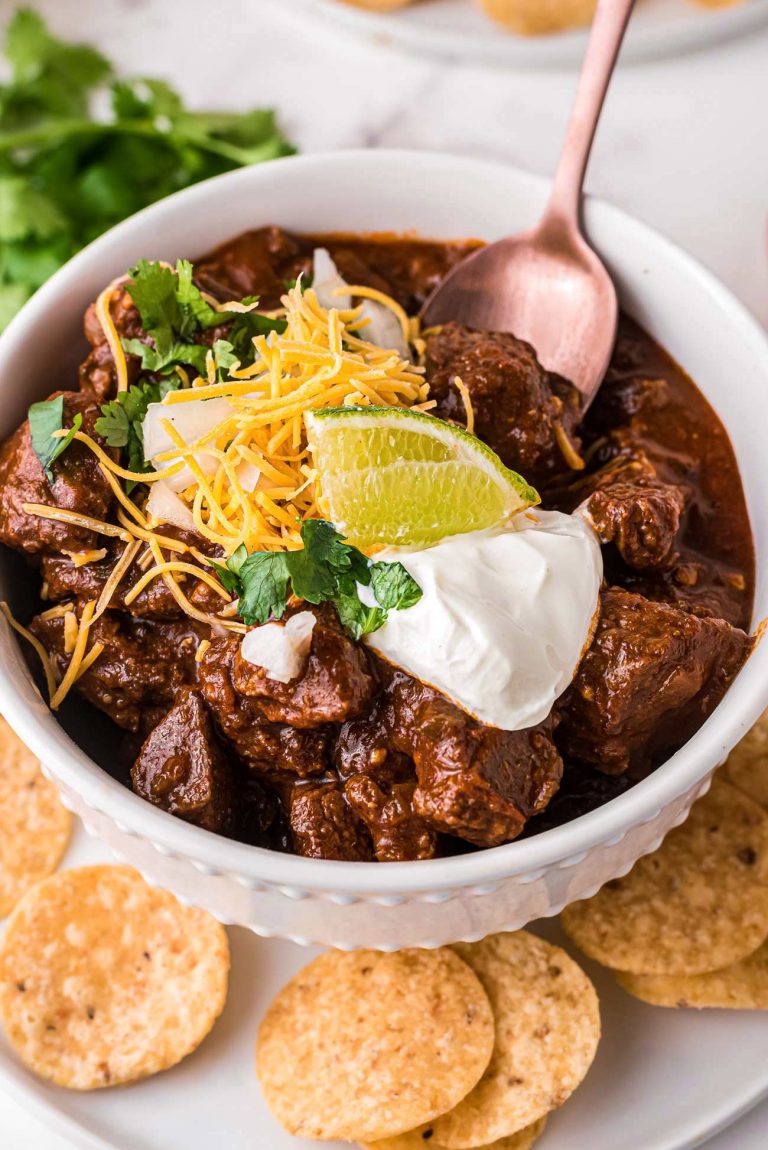 Shop the recipe
Be sure to scroll down to check out other readers' comments for tips and reviews.
And don't forget, if you've made this recipe, please consider leaving a comment and star rating to let me know how you enjoyed it!
Did you make this? Be sure to leave a review below and tag me @the_chunky_chef on Facebook and Instagram!
Servings:
8
- 10 servings
(hover over # to adjust)
Texas-Style Chili recipe is thick and meaty, smoky and spicy. 
Ingredients
Seasoning Mix
2 Tbsp ancho chili powder
2 Tbsp masa harina can substitute cornmeal - see recipe notes
1 Tbsp chipotle chili powder
1 Tbsp unsweetened cocoa powder
2 tsp ground cumin
2 tsp smoked paprika
1 1/2 tsp ground coriander
1 1/2 tsp dried oregano
Chili
4 lbs boneless beef chuck roast trimmed of excess fat and cut into roughly 1 inch pieces
1 tsp kosher salt
1/2 tsp black pepper
1 Tbsp butter
1 large yellow onion diced
2 poblano peppers diced
1 jalapeno pepper minced
4-5 cloves garlic minced
3 Tbsp tomato paste
1 Tbsp packed light brown sugar
8 oz can tomato sauce
1 chipotle pepper in adobo sauce minced - see recipe notes
4 cups reduced sodium beef broth
1 cup water
2 bay leaves
Instructions
Combine seasoning mix in a mixing bowl and set aside.

Season meat with salt and pepper.  Heat 1 Tbsp vegetable oil in a large dutch oven or heavy bottomed pot and heat over MED HIGH heat.  Once hot, add 1/3 of the beef and sear for 2 minutes, without stirring.  Flip beef pieces over and cook another 1-2 minutes.  Remove to a plate.

Repeat with another 1/3 of the beef, and then one last time with the remaining 1/3 of the beef, adding more oil if necessary, putting all the beef on the same plate after searing.

Add butter and reduce heat to MED.  Add in onion, poblano peppers, and jalapeno pepper.  Cook, scraping the bottom of the pot with a wooden spoon to loosen any browned bits from the beef, for 5 minutes.

Add garlic and cook 1 minute.  Add in tomato paste and seasoning mix (from step 1) and cook another 1 minute, stirring often.

Stir in brown sugar, tomato sauce, chipotle pepper, beef broth and water. Carefully return beef back to the pot.

Add bay leaves and let come to a low boil.  Once boiling, reduce heat to LOW and simmer, uncovered, for 3 - 3 1/2 hours.  Stir every hour, at least.

If chili becomes too thick during the simmering, add a splash of extra broth or water.

Remove bay leaves, and serve hot, garnished as desired.
Want to save this recipe for later? Click the heart in the bottom right corner to save to your own recipe box!
Chef Tips
Masa harina is very finely ground corn, and what's used to make corn tortillas.  It will resemble flour and can be found in the "ethnic" or "international" aisle of larger grocery stores.  If you can't find it, substituting cornmeal will work, but with a slightly different flavor.  You'll also want to pulse the cornmeal in a food processor to get the finer texture, otherwise you'll notice that gritty consistency in your chili.
Chipotle peppers in adobo sauce come in little cans, also in the ethnic or international foods aisle.  You want just one of the peppers, NOT the whole can.  Using the whole can will make this chili super hot and spicy.  Don't worry, you can freeze the leftover chipotles in adobo sauce, just add them to a freezer safe bag.
This recipe has not been tested in an Instant Pot/pressure cooker, so I can't say if any adjustments would need to be made, or how long to cook it.
Slow Cooker Directions
Complete recipe up through step 5, then transfer pot/skillet contents to the slow cooker.  Add seared beef to the slow cooker.
Add brown sugar, tomato sauce, chipotle pepper, beef broth and water.
Add bay leaves, cover, and cook on LOW for 8 hours, or until beef is very tender.
Chili may not be very thick (since the liquid can't evaporate very much in a slow cooker), so you can sprinkle in an additional Tbsp or two of masa harina.  Stir it well, then increase slow cooker heat to HIGH and cook UNcovered for 15 minutes or so, stirring often.
Another option for thickening the chili is to mix 2 Tbsp cornstarch with 2 1/2 Tbsp water until smooth - then stir that in and cook on high, uncovered for 15 minutes or so, stirring often.
Remove bay leaves, and serve hot, garnished as desired.
Nutrition Disclaimer
The Chunky Chef is not a dietician or nutritionist, and any nutritional information shared is an estimate. If calorie count and other nutritional values are important to you, we recommend running the ingredients through whichever online nutritional calculator you prefer. Calories can vary quite a bit depending on which brands were used.
Recipe adapted from a combination of recipes from Emeril Lagasse, Little Spice Jar, and Epicurious.
Any nutritional information shared is an estimate, and is automatically calculated through a program.  If calorie count is important to you, I recommend running the ingredients through whichever online nutritional calculator you prefer.  Calories can vary quite a bit depending on which brands were used.

The Chunky Chef is not a nutritionist and doesn't provide full nutritional information for recipes as there is a potential for error and we wouldn't want to potentially and/or unknowingly pass along incorrect information.