Homemade copycat Skyline Cincinnati chili… unique and flavorful, this regional delicacy is easy to make at home for way less than the restaurant charges!
Have you ever had Cincinnati chili?  It's totally unique, and NOT like a traditional chili, but it's an absolutely delicacy here in the Midwest.  It's also really easy to make at home, freezes wonderfully, and can be served in so many ways!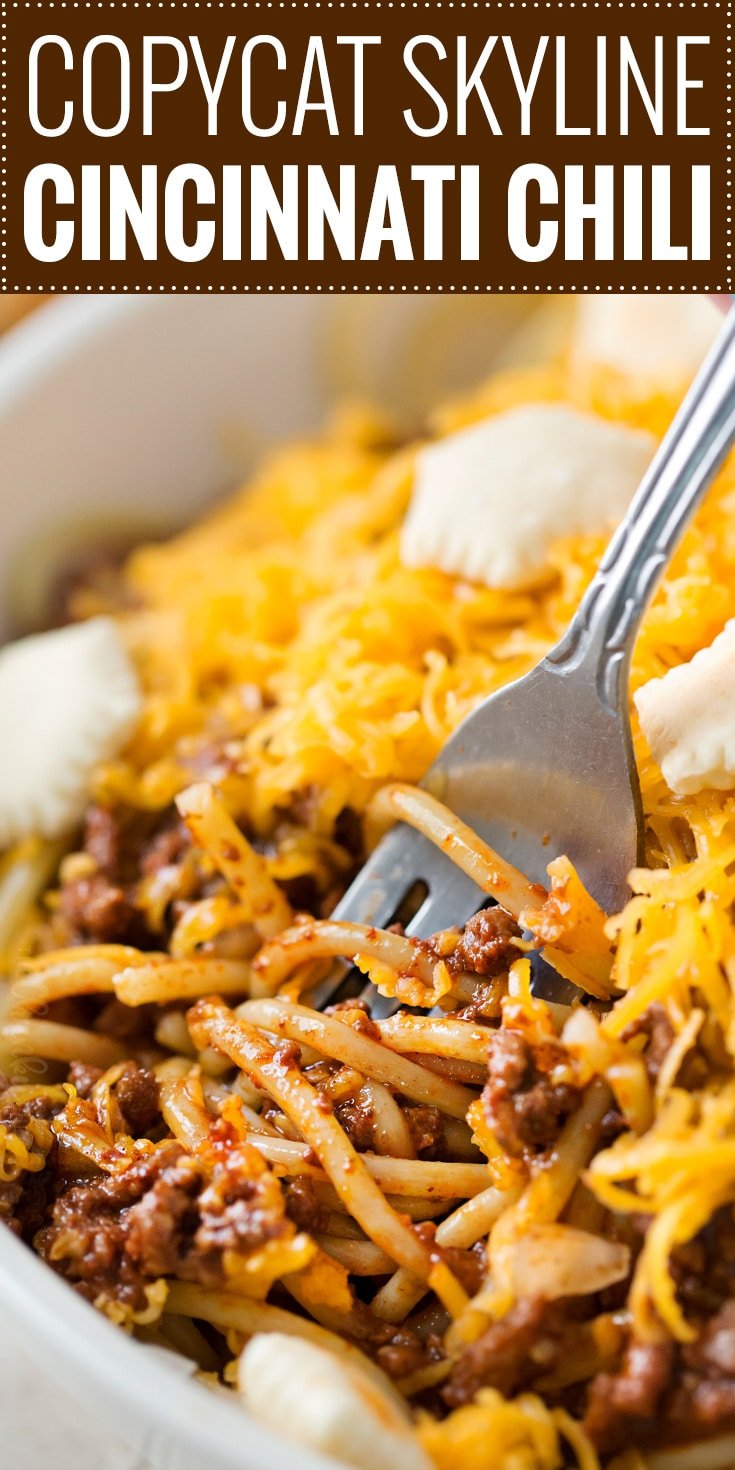 I love hometown things, and growing up in the suburbs of Cincinnati, that means Cincinnati-style chili!
It's definitely NOT like any chili you've had before.  To most people, chili is something like this.  For us Cincinnati-ans… this is our chili: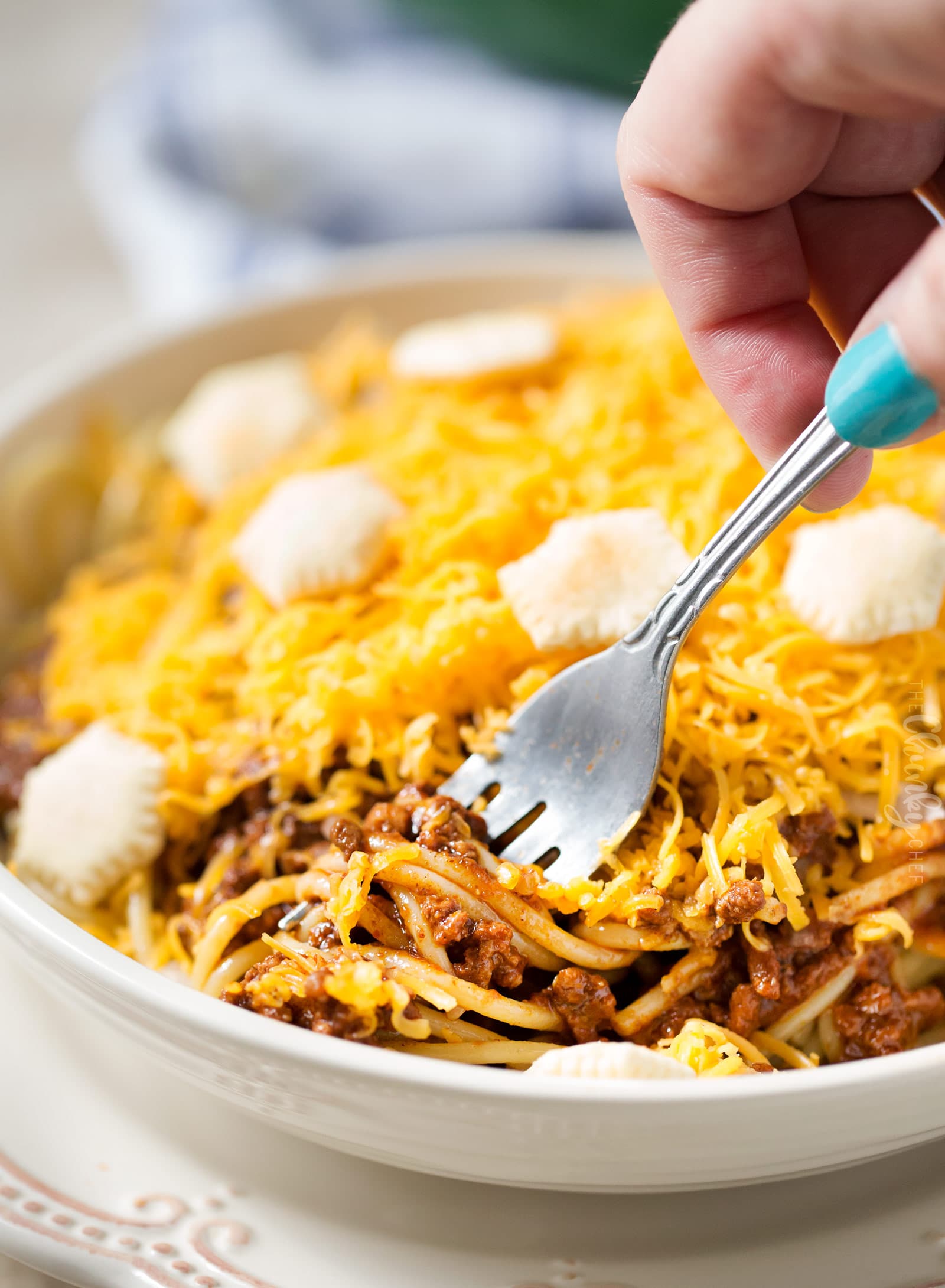 A meat sauce full of unique seasonings that is served on top of spaghetti and topped with cheese (which we call a 3 way), and sometimes onions and/or beans will be added with the cheese (4 or 5 way).
Another classic way we enjoy this chili is on top of a hot dog, with some mustard and onions and a mound of cheese.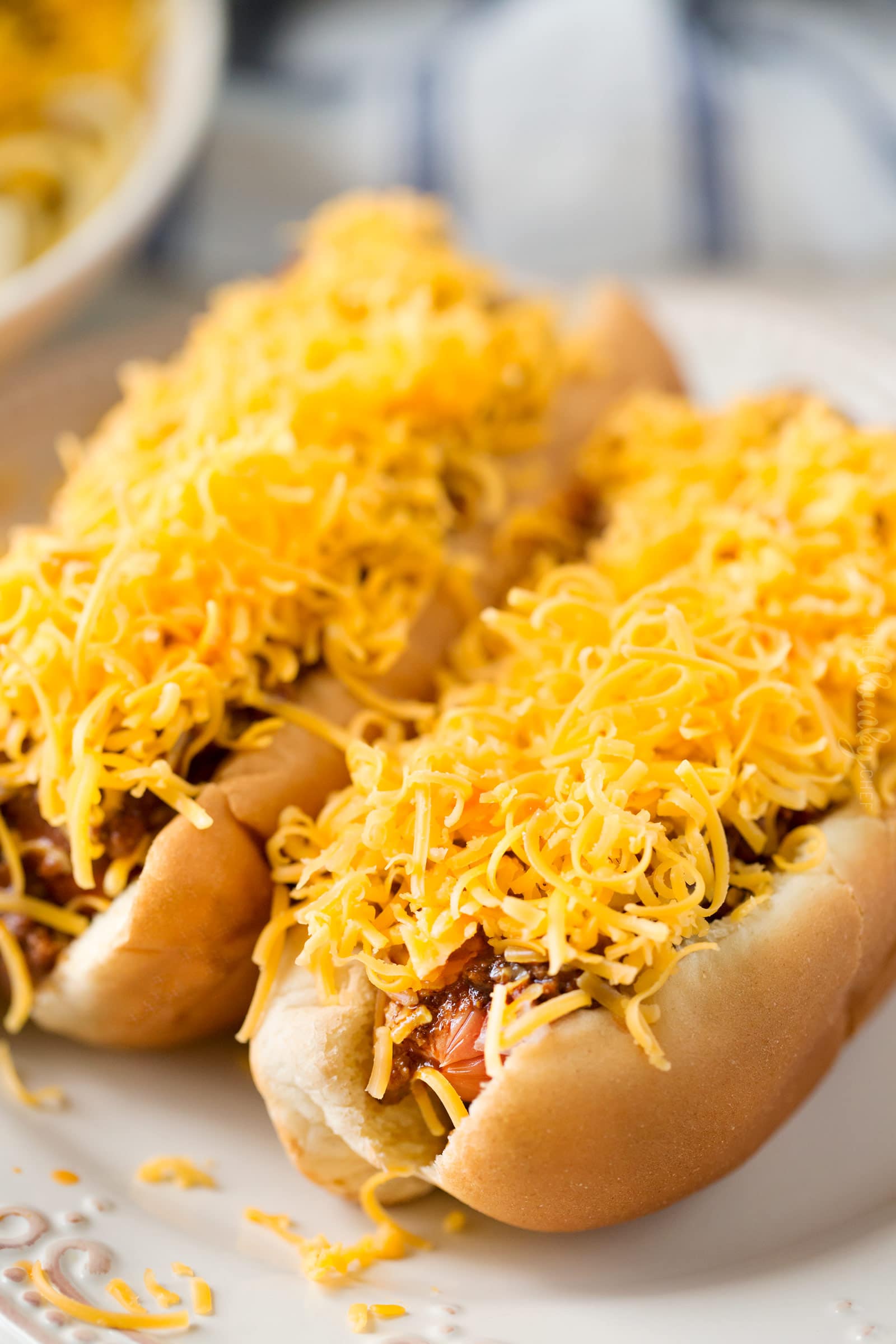 That delicious looking dog is called a coney.  And they are heavenly… seriously.
I know… the term chili is confusing, because this dish is completely different… but wonderful (as most Cincinnati-ans are as well!).
I urge you to try it, at least once.  Most people who try it, love it!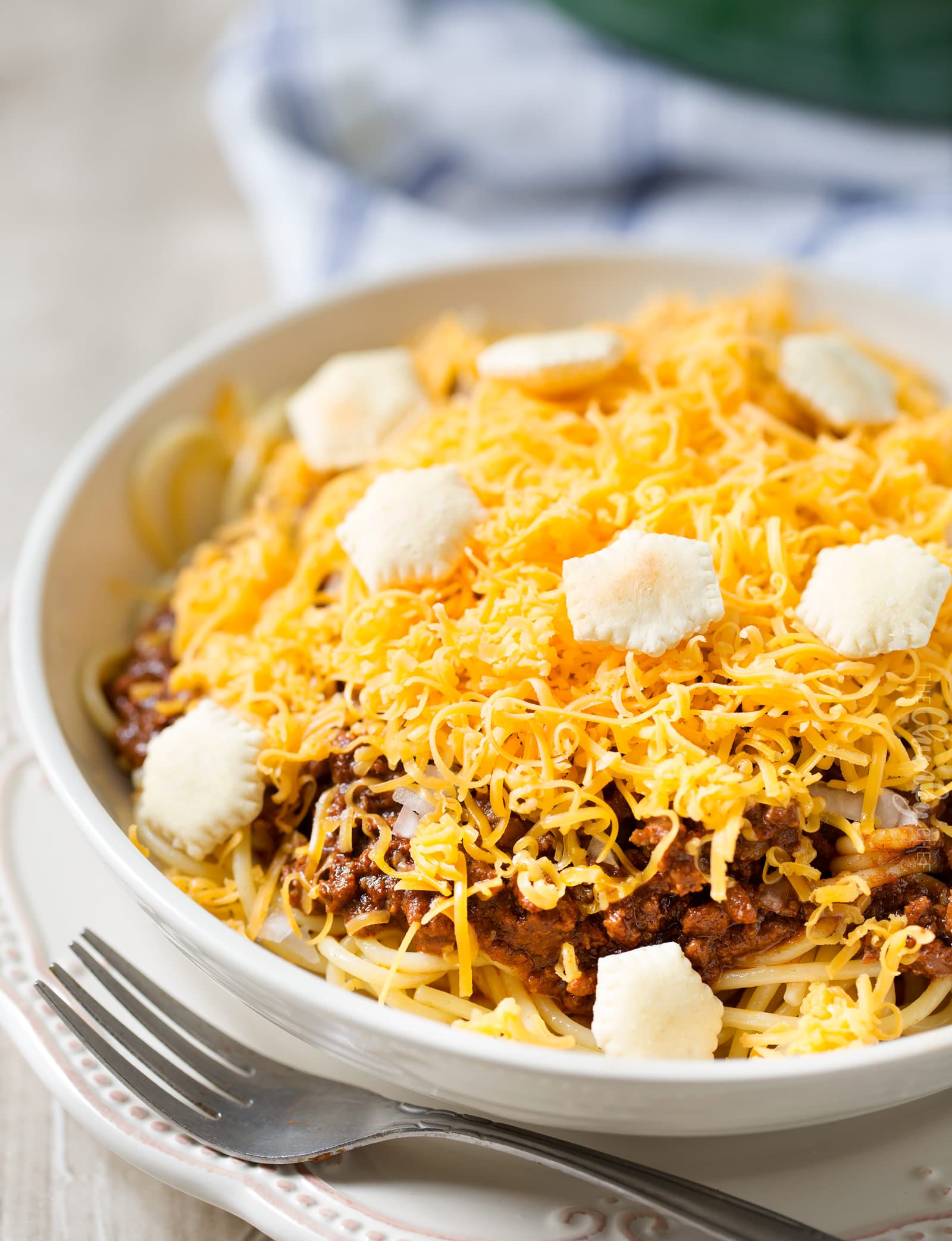 Around here, you can buy Skyline (and Gold Star) chili in cans, packets, and frozen trays.  Which is convenient, but p-r-i-c-e-y!  So I wanted to find a recipe that starts from scratch… for a few reasons.
The price.  I'm a cheap you know what, and refuse to pay that much for one can of chili.
I don't want the preservatives and whatever is in those packets.
The most important reason… unless you live here, you probably won't be able to find those cans, trays or packets in your grocery store.  Bummer huh?  Everyone should be able to enjoy this fabulous chili, no matter where you live!
It's really simple to make too, just add water, tomato paste and chocolate to a large pot and cook over medium heat for a few minutes.
That's right, you read that correctly… chocolate.  Not the milk chocolate we all love to snack on mind you, but unsweetened 100% cacao bakers chocolate.  My turkey chili uses this chocolate as well!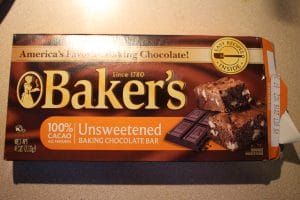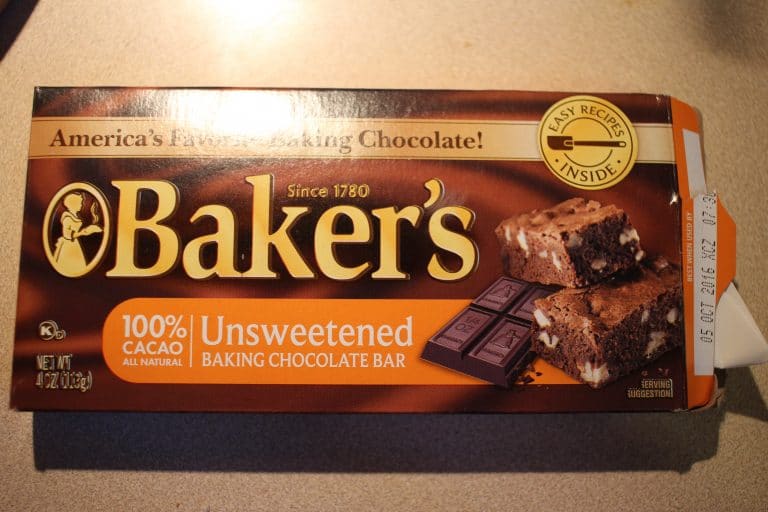 Add your spices, vinegar, and your beef.  Crumble it using your fingers, then use a potato masher, whisk, or mash the beef against the side of the pan.  Basically you want the meat all broken up into fine pieces.  I mainly used the fork and went to town with my whisk.  Get mad at it, break up that meat!
Now just bring it to a boil, reduce heat to medium low and let it cook, uncovered for 1 – 1 1/2 hours (you want a low boil).  It will thicken up and become a wonderful meat sauce.  And the smell that fills your house…. incredible!!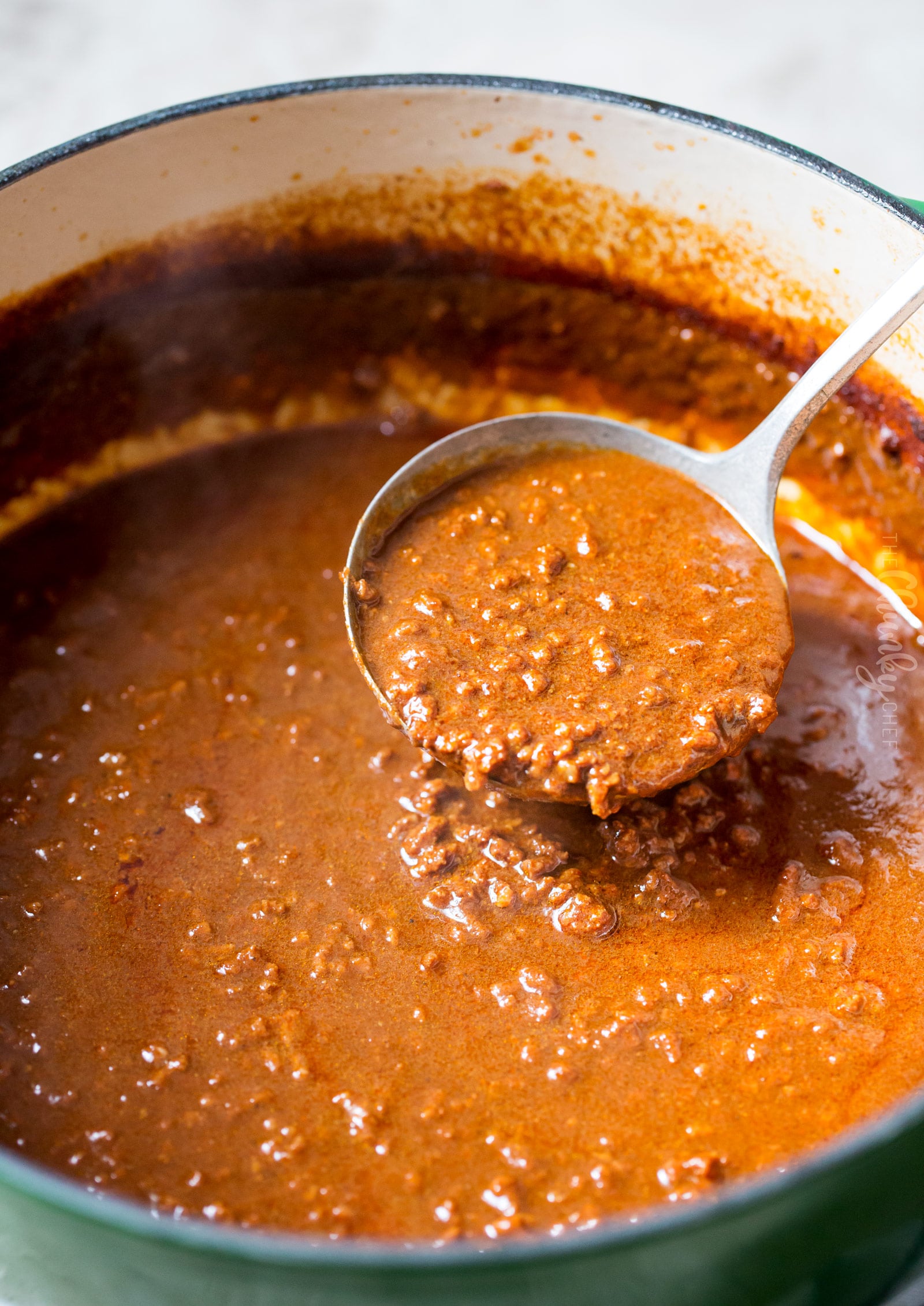 It's up to you how you would like to serve up your chili… do you want coneys?  A "way"?  Or just chili in a bowl with cheese and oyster crackers?
It's your house, your rules!  I typically go for "ways" and coneys.  Remember, here's the breakdown.
CINCINNATI CHILI "WAYS":
2-way = spaghetti and chili
3-way = spaghetti, chili, cheese
4-way = spaghetti, chili, onions OR beans, cheese (my fav is with onions!)
5-way = spaghetti, chili, onion AND beans, cheese
CINCINNATI CHILI CONEYS:
Bun, hot dog, chili
Bun, hot dog, chili, cheese
Bun, hot dog, chili, mustard OR onion, cheese
Bun, hot dog, chili, mustard AND onion, cheese (my fav!!)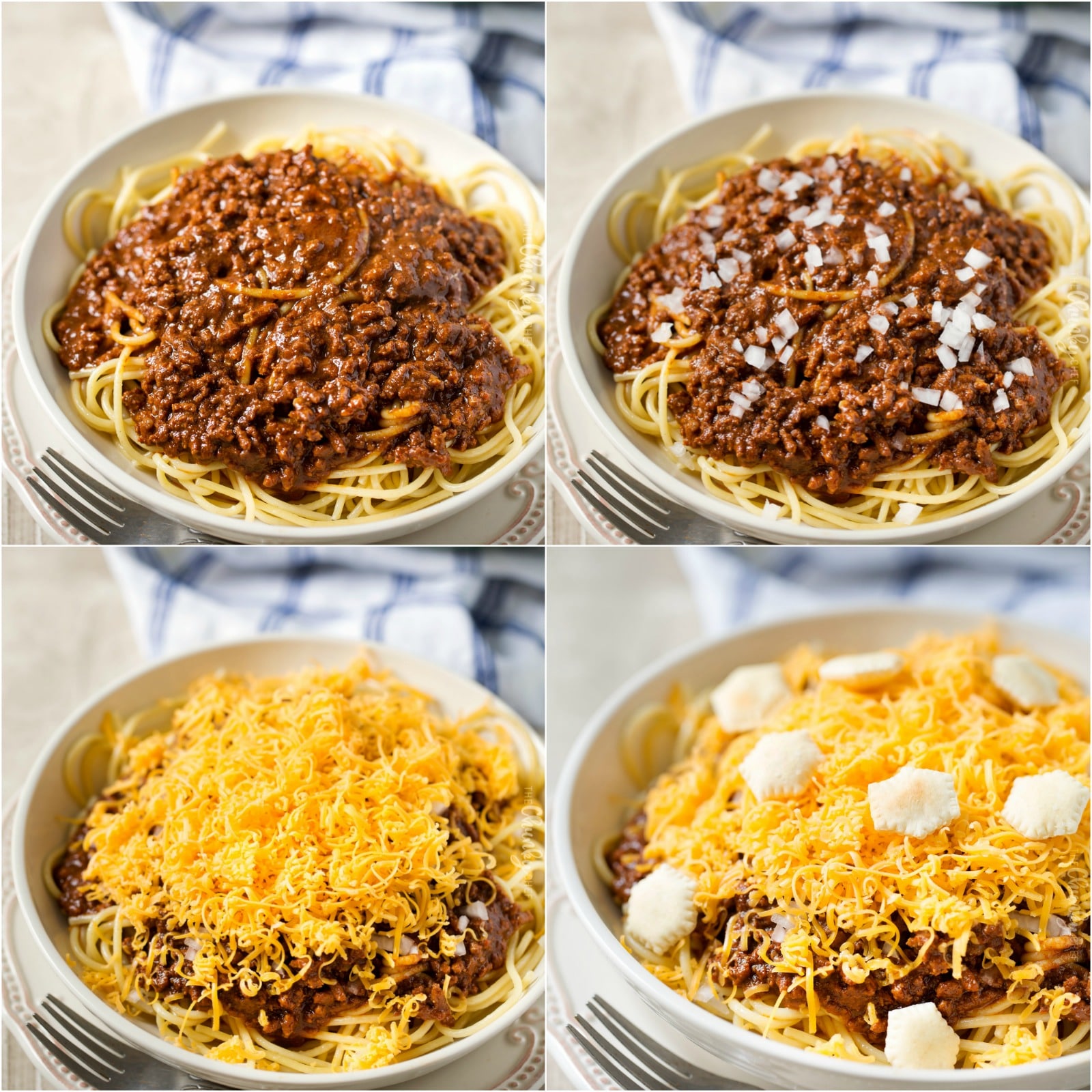 Traditionally, people top their "ways" with oyster crackers and hot sauce.  They're great additions, I use them both!
This chili is also fantastic over crispy french fries or even a baked potato!!  You can also use it in an amazing Skyline Chili Dip for your next party.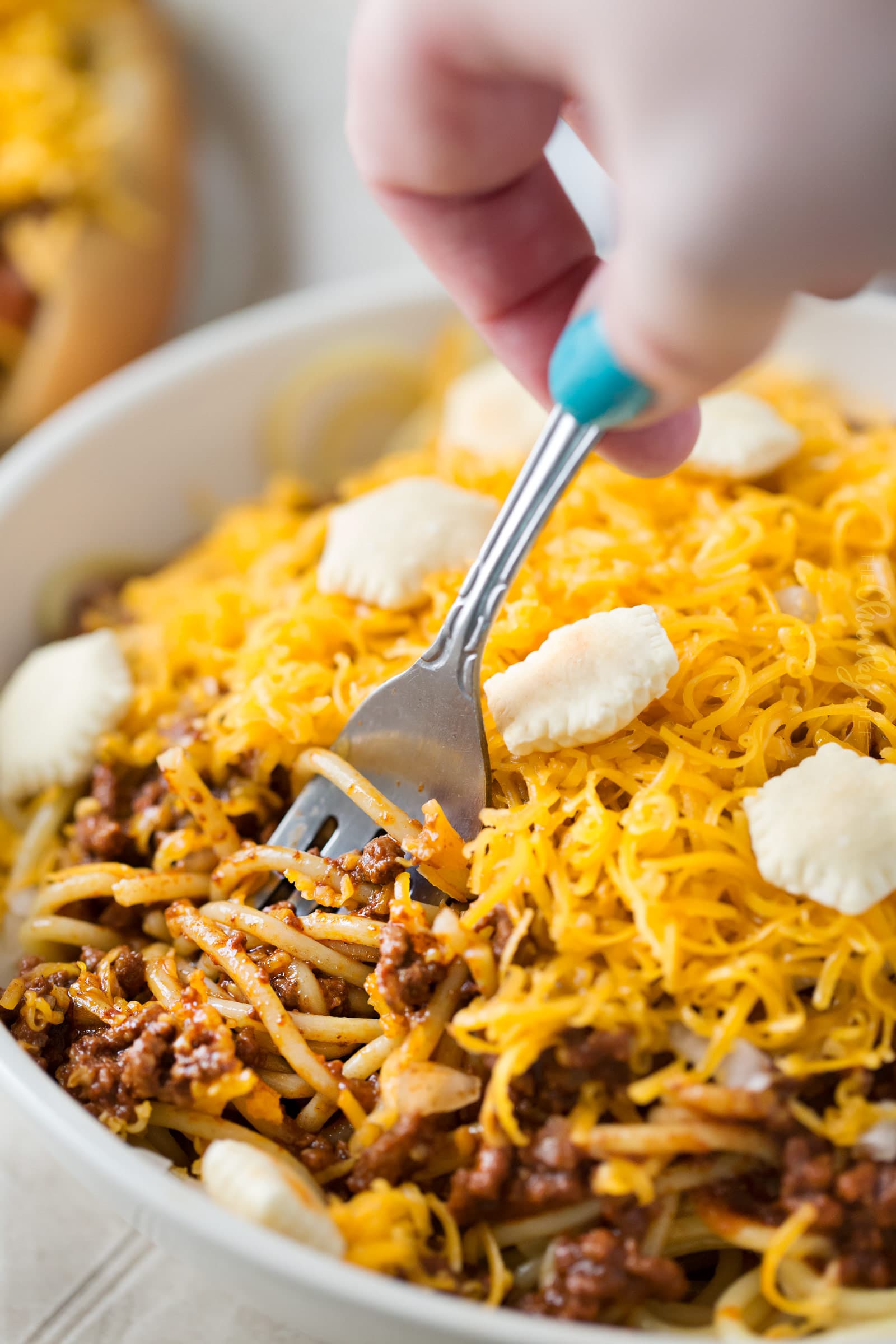 This chili season, I hope you give this non-traditional Cincinnati chili a try!  Let me share this piece of my hometown with you all… I think you'll LOVE it 🙂
Here are some other versions of chili to try too!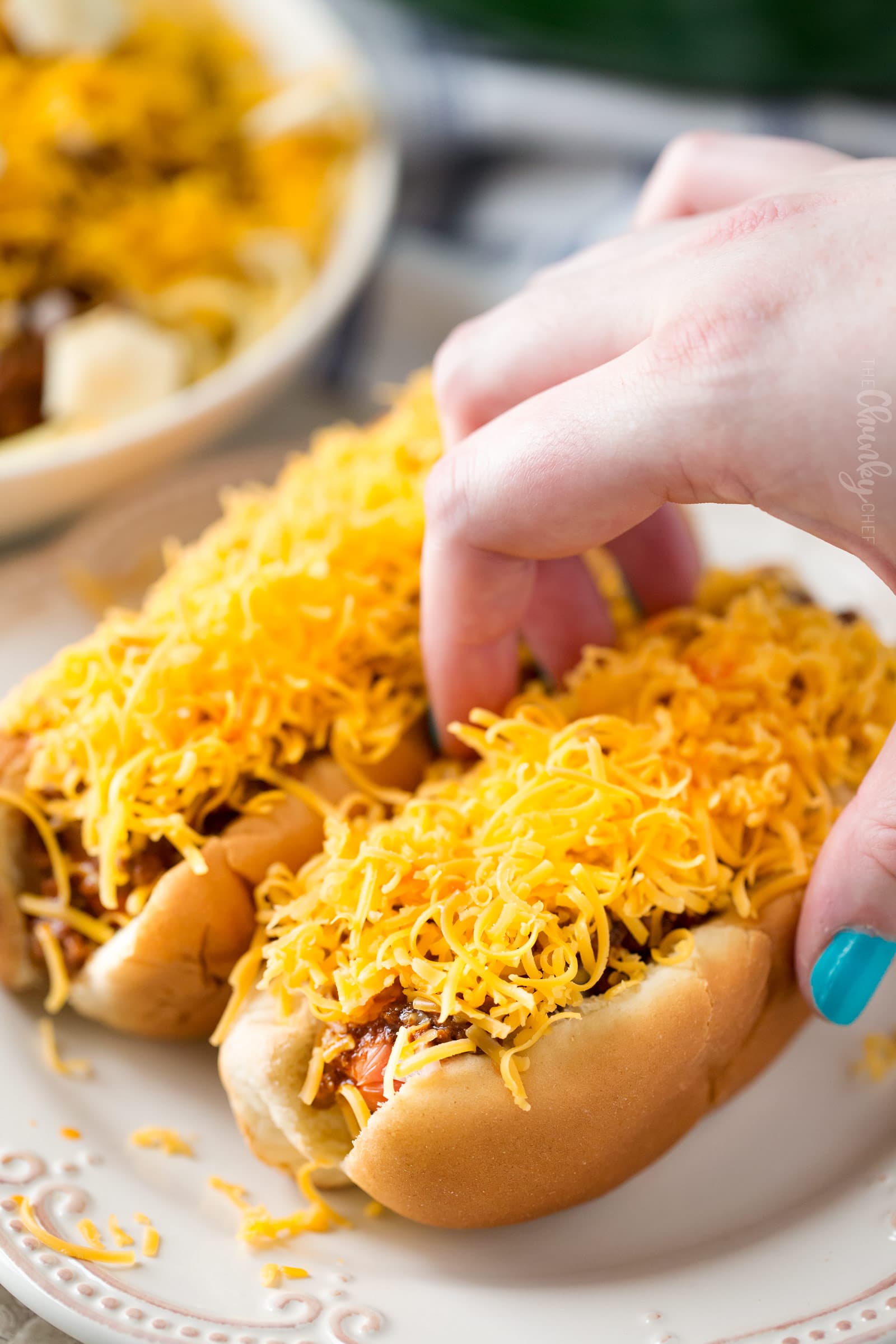 Did you make this? Be sure to leave a review below and tag me @the_chunky_chef on Facebook and Instagram!
Homemade copycat Skyline Cincinnati chili... unique and flavorful, this regional delicacy is easy to make at home for way less than the restaurant charges!
Ingredients
5 cups water
6 oz can of Tomato paste
1/2 oz baking chocolate (unsweetened - I use Baker's brand)
1/4 cup chili powder
1 tsp cinnamon
1 tsp garlic powder
1 tsp cumin
1/4 tsp allspice
1/4 tsp ground cloves
1/4 tsp red pepper flakes, or less, depending on your desired heat level
1/8 tsp black pepper
3/4 tsp salt
1/2 tsp sugar
2 Tbsp apple cider vinegar
1 1/4 lb lean ground beef
Instructions
Add the water to a large pot.  I like to use my dutch oven for this.

Add the tomato paste and chocolate and heat over medium heat stirring to combine for about 3 minutes. (I stir with a whisk to really break up the tomato paste)

Add chili powder, cinnamon, garlic powder, cumin, allspice, cloves, red pepper flakes, black pepper, salt, sugar and vinegar.

Next, crumble the raw ground beef into the pot with your fingers, then use a potato masher, whisk or fork to break up the meat into very fine pieces.

Turn heat to high to bring to a boil.

Once boiling, turn the heat down to med-low.

Cook, uncovered, for 1 to 1 1/2 hours, at a low boil.. stirring occasionally until sauce has thickened quite a bit.

Serve over thin spaghetti or a hot dog.
Want to save this recipe for later? Click the heart in the bottom right corner to save to your own recipe box!
Chef Tips
Optional toppings include shredded cheddar cheese, diced white or yellow onion, kidney beans, oyster crackers and hot sauce.
Nutrition Disclaimer
The Chunky Chef is not a dietician or nutritionist, and any nutritional information shared is an estimate. If calorie count and other nutritional values are important to you, we recommend running the ingredients through whichever online nutritional calculator you prefer. Calories can vary quite a bit depending on which brands were used.