Heart Healthy Turkey Chili
---
Chili is such a perfect winter meal, so how about making this heart healthy yet super hearty turkey chili tonight? You won't believe how great it tastes!
---
Grab a blanket and a spoon and get ready to curl up on the couch with the most deliciously luxurious bowl of turkey chili you've ever had!  Healthy, yet insanely flavorful, this turkey chili is perfect for a chilly night spent on the couch with your love, and for leftovers the next day for lunch!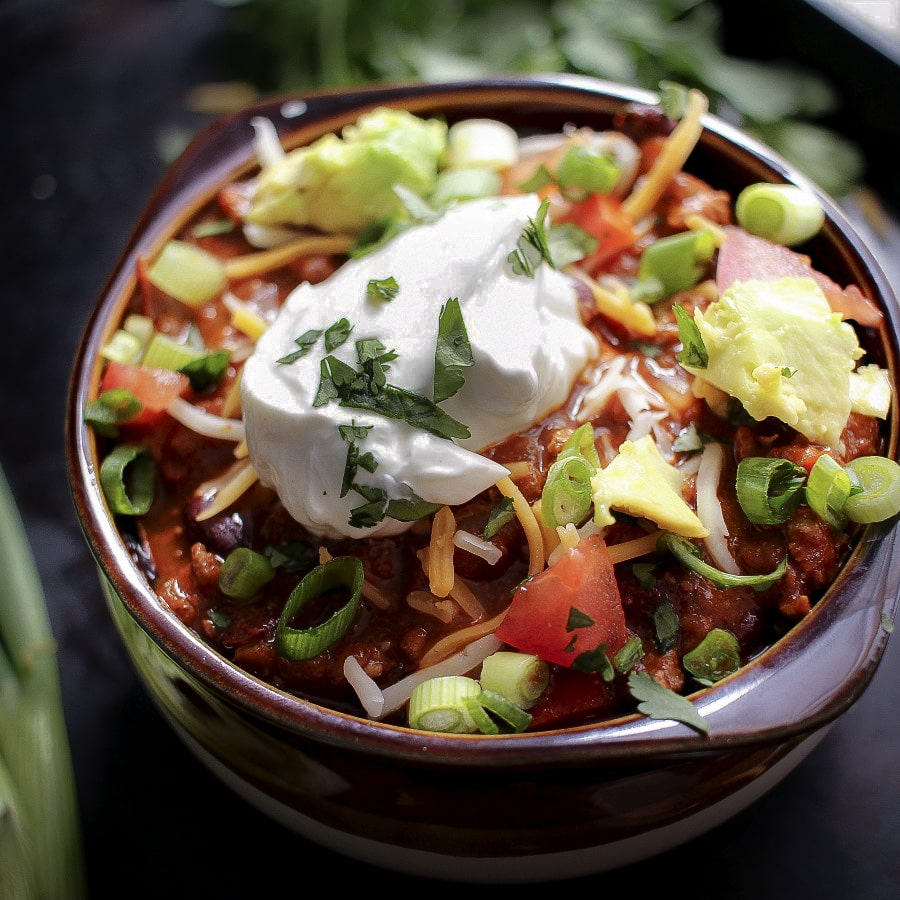 When you think of a classic winter meal, what do you think of?  For me, I think of chili.  A hot, steamy bowl of chili topped with cool sour cream, buttery avocado, bright cilantro, flavorful green onions, and of course, some cheese.  It's the kind of meal that you can eat while curled up on the couch, wrapped in a blanket, watching a movie or some Netflix.  The perfect dinner in on a cold night!
This chili is heart healthy since it's made with ground turkey which is 99% fat free…. but let me promise you something… healthy CAN equal tasty, and it definitely does in this case!  Don't let the ground turkey turn you away… I know turkey has a reputation for being bland and boring, but this chili is certainly not those things.  In fact, you won't be able to taste that it's not ground beef!
I had never made turkey chili before, usually opting for the standard ground beef version, but honestly, I'm completely sold!  From now on, I'll be making this chili with turkey 😀  My husband took some leftovers of the chili to work for his coworkers to try (and didn't tell them beforehand that it was turkey), and they couldn't tell.  So you get a super hearty chili, with sooo much less fat…. it's like you can have your cake and eat it too (or in this case, chili lol).
Granted, I'm a self-proclaimed wimp when it comes to spicy foods, but… fair warning here, this chili has a kick to it.  A gloriously spicy kick, but a kick nonetheless 🙂  Of course, my version of "spicy" may not be the same as your version.  That's where the sour cream comes in handy… it cools the chili off and just makes it melt in your mouth in a wave of spicy deliciousness!
One of my favorite things about chili is the toppings.  Oh my gawwwwd the toppings!  I tend to over-top my chili, because I like all that variety of flavor 🙂  You could top this chili with just about anything!  I chose to do a mix of monterey jack and cheddar cheese, sour cream, diced tomato, diced avocado, sliced green onions and minced cilantro.  It would be equally delicious with some corn kernels, or tortilla/corn chips as well!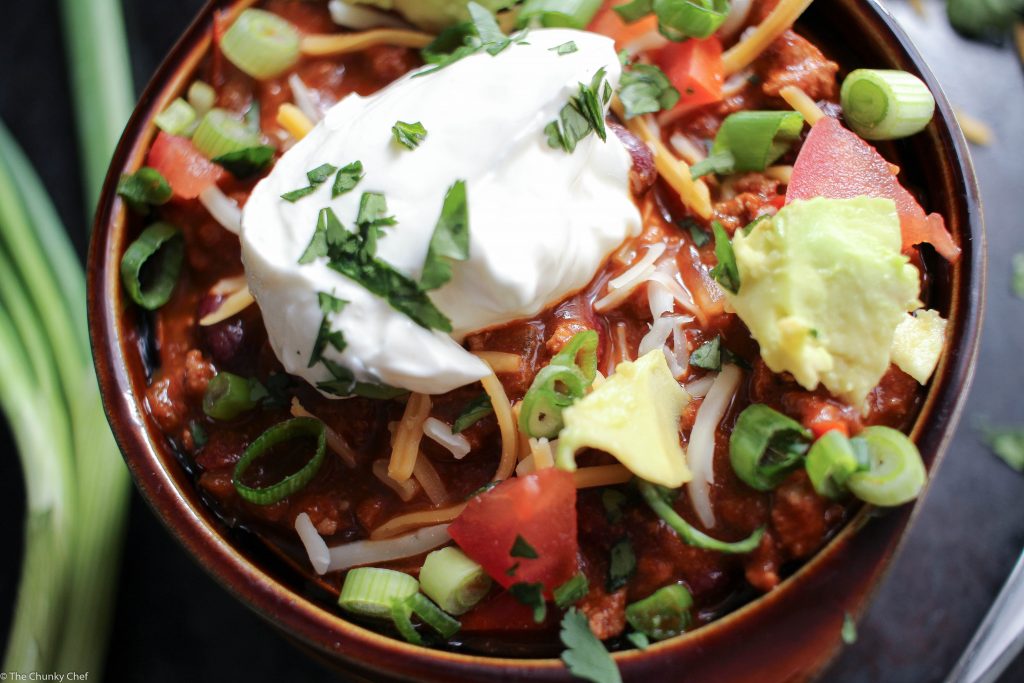 As far as the preparation for this chili, it's pretty standard and simple… nothing complicated and then it simmers on your stovetop for 40 minutes, which means you aren't standing in the kitchen the whole time.  Go rest while dinner cooks away, you deserve it!!
There's a secret ingredient in this chili… aren't those fun?  You probably won't guess what it is……… okay I'll just tell you lol 🙂  It's chocolate.  Yep, chocolate.  Don't worry, it's not the milk chocolate we snack on, it's unsweetened baking chocolate.  So it doesn't make the chili sweet, instead it just adds a depth of flavor and lusciousness that is really hard to beat!
If you're looking to use up the baking chocolate you have, check out my Cincinnati-Style Chili… it'll knock your socks off 😀
To start this chili off, saute your onion for a few minutes, then add the minced garlic and saute another couple of minutes.  Add the ground turkey and brown it, crumbling it as it browns.  You can use a wooden spatula for this, or do what I do, and go to town with your potato masher… it crumbles ground meats like a champ!
Once the turkey has browned, add in the diced red pepper, jalapeno and diced tomatos.  Let that cook for a few minutes while you get your other ingredients together.  There's no need to drain the meat after it's browned, since it's ground turkey, there's really no fat that renders 🙂  Add in your spices and stir to combine.
Next, add in your kidney beans (drained and rinsed), chicken stock and tomato sauce.  Stir to mix, and then add your chocolate.  Stir it for a minute to get it melted and let all the flavors combine.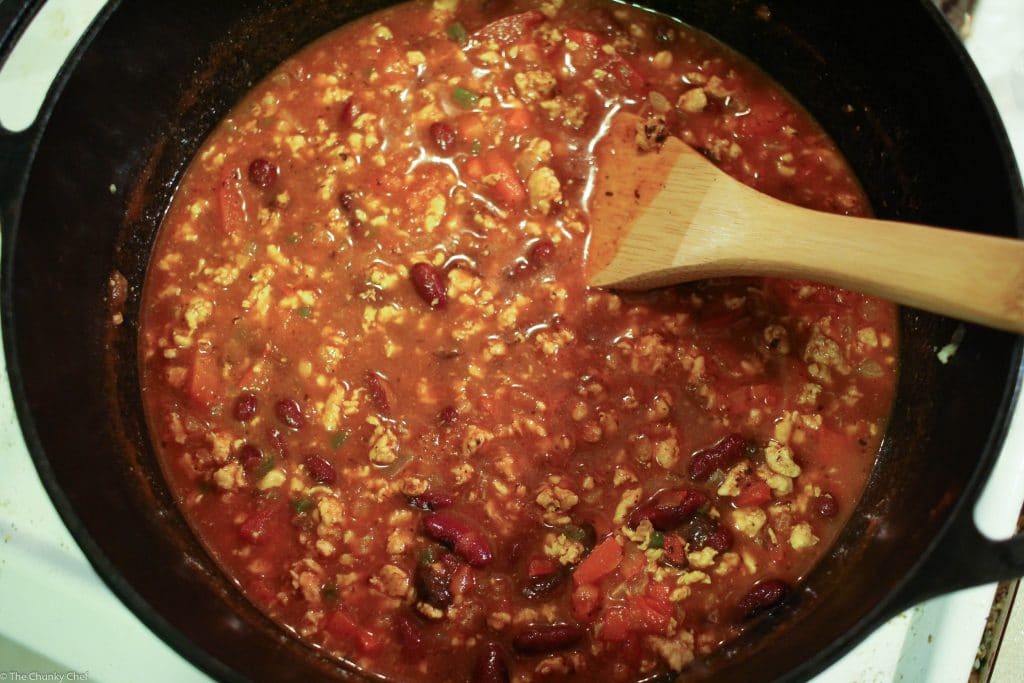 Now set the heat to medium-low and let it simmer for about 40 minutes (stirring occasionally).  If you notice it's drying up and getting too thick for your liking, add a splash of chicken stock as needed.
You're going to want to let it sit on the stove to cool for about 5 minutes or so… it's screaming hot.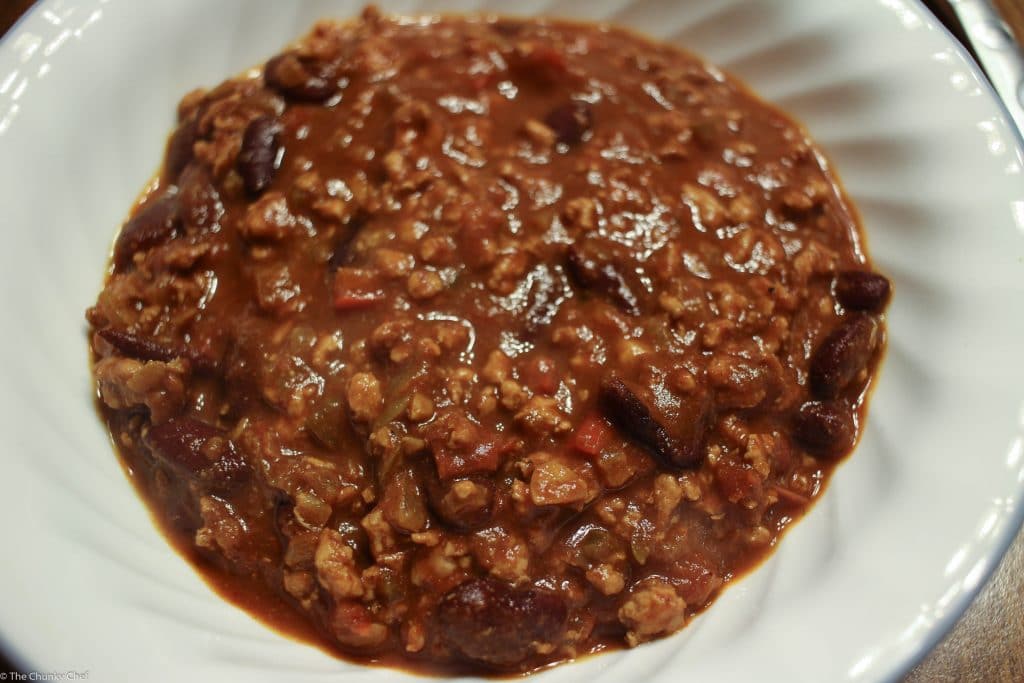 There's the turkey chili while it's naked lol… no toppings.  If you prefer your chili this way, go for it 🙂
My only complaint with this recipe is that it doesn't make enough!  There's enough for 4 bowls, which is plenty for one meal, don't worry.  I just love to have leftovers (how amazing does a bowl of this chili sound for lunch?!), so I would recommend doubling the recipe (I think it would freeze well too).  If you do double it, you're going to want a deep pot, like a stock pot, to cook it in.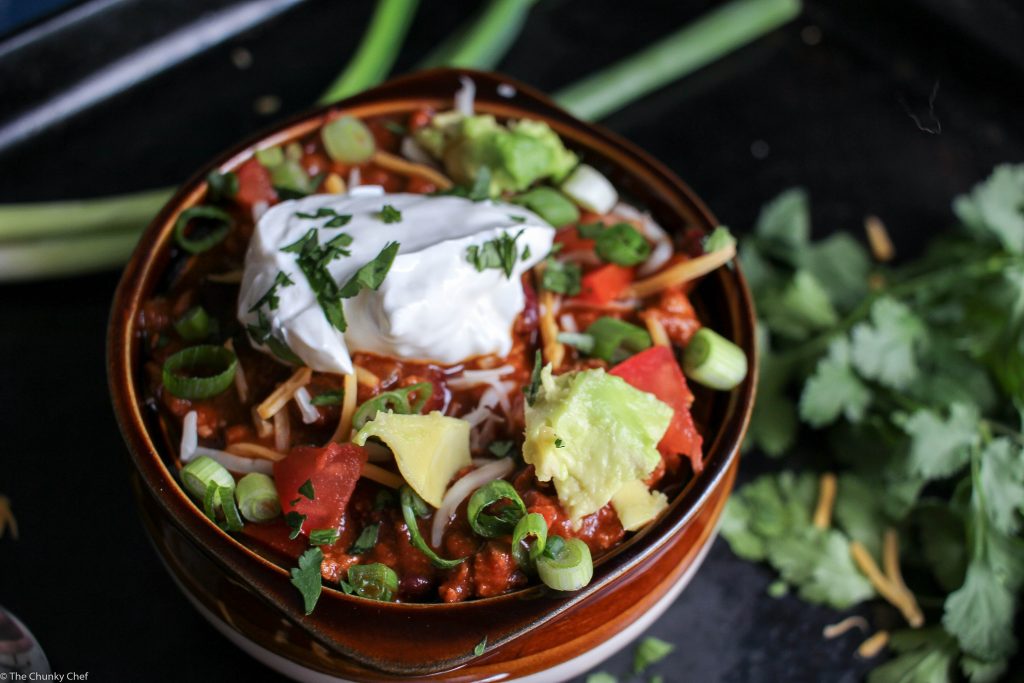 Ready for a bite?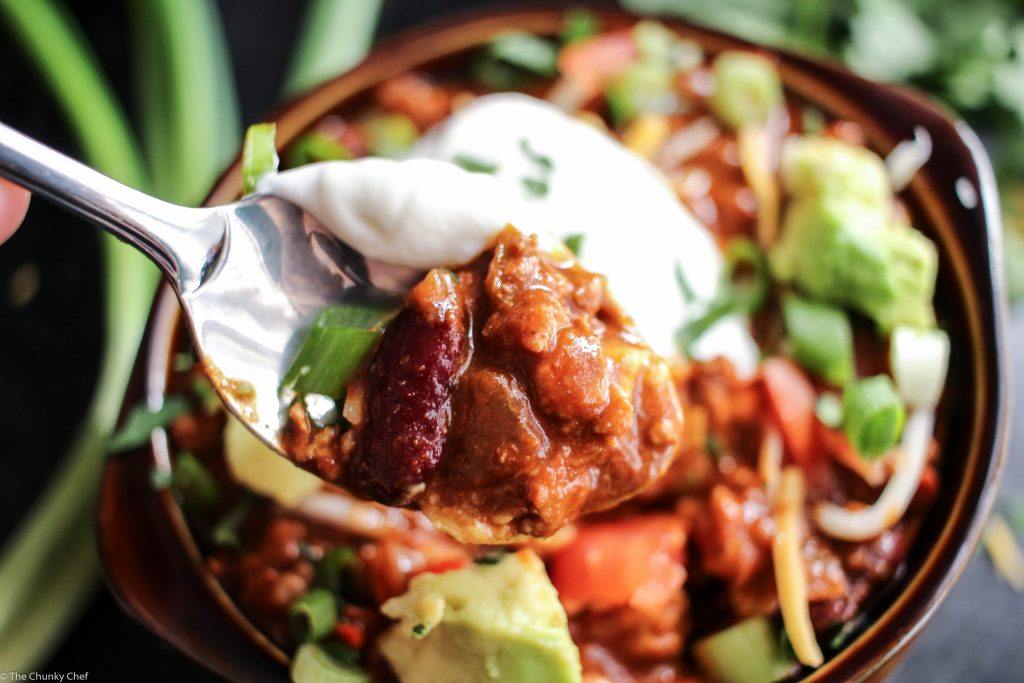 Guys, I soooooo hope you try this recipe…. you won't be sorry, I promise you!
Enjoy alongside a slice of this skillet cornbread!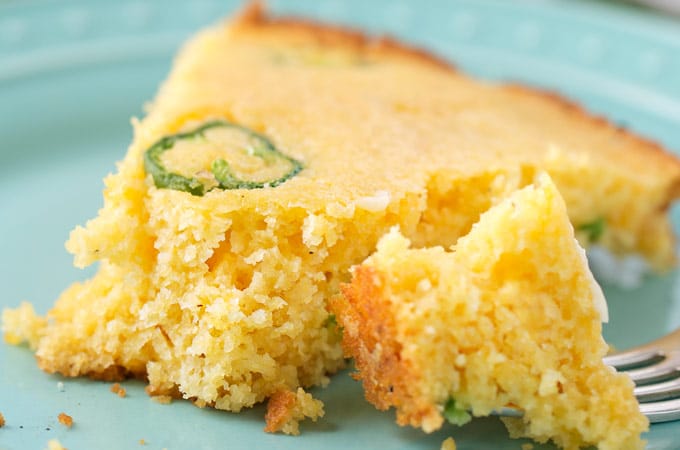 Recipe adapted from Living Better Together
Tools Used to Make This Recipe:
Enameled Dutch Oven – I've upgraded my standard cast iron dutch oven (in the photos) to this enameled one and I LOVE it!
Silicone Coated Potato Masher – You don't want to scratch up that lovely enamel in the dutch oven right?
** Disclaimer:  I make NO health claims regarding this recipe, as I am not a nutritionist.  I list it as heart healthy because of the switch to lean turkey breast instead of ground beef.  If watching a strict diet, please do your own research and nutritional calculations, thank you.**
---
Let's Connect!
You can find me on Facebook, Twitter, Pinterest, Instagram and Google +, so follow me if you'd like… I love keeping in touch with all of you 🙂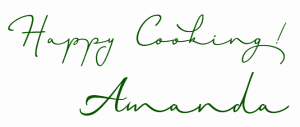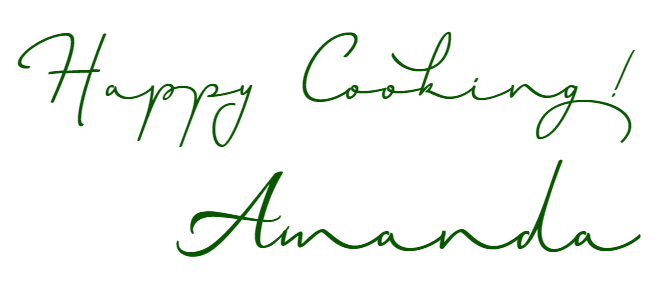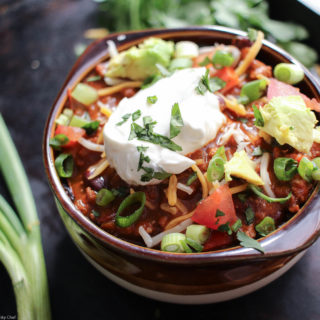 Heart Healthy Turkey Chili
Chili is such a perfect winter meal, so how about making this heart healthy yet super hearty turkey chili tonight? You won't believe how great it tastes!
Print
Pin
comment
Prep Time: 5 mins
Cook Time: 40 mins
Total Time: 45 mins
Servings: 4 servings
Ingredients
1 yellow onion diced
1/2 Tbsp olive oil
3 cloves garlic minced
1 lb ground turkey
1 red bell pepper seeded and diced
2 roma or plum tomatoes diced
1 jalapeno pepper seeded and diced
1 oz – 14 . can red kidney beans thoroughly rinsed
1 1/2 cups chicken stock
1 - 14 oz . can tomato sauce
1 1/2 Tbsp chili powder
1 Tbsp paprika
2 Tbsp apple cider vinegar
1/2 - 1 tsp cayenne pepper depending on desired heat level - I use 1/2 tsp
1 oz . 100% cacao Baker's Chocolate
Salt and Pepper to taste
Instructions
Dice onion, red pepper, jalapeno and mince garlic. Set aside.

In a large dutch oven or soup pot, add oil and heat to medium low, add onions and saute around 5 minutes or so, stirring often.

Add minced garlic and cook, stirring often for 2 minutes.

Increase heat to medium or medium high and add ground turkey, cook until browned, crumbling into small pieces (use a potato masher if desired).

Add diced jalalpenos, red peppers, tomatoes and saute for 1 minute.

Add chicken stock, tomato sauce, and apple cider vinegar and stir.

Add in remaining ingredients and stir.

Simmer over medium-low heat for 40 minutes, stirring occasionally. Chili will thicken. If you notice it getting too thick for your tastes, add a splash of chicken stock as needed.

Turn heat off after the 40 minutes has passed and let rest on the stove for another 5 minutes before serving.

Top with optional green onion, cheese (monterey jack, cheddar, etc), sour cream, minced cilantro, diced avocado, and more diced tomatoes. (or whatever toppings you prefer)
Notes
I would suggest doubling this recipe... if you do so, you'll need a pretty deep pot (like a stock pot) to cook it in
Are We Friends on Pinterest?
Follow me for more great recipes! The Chunky Chef!