No need for a packet, you can make mouthwatering brown gravy in about 15 minutes, and with NO pan drippings! So perfect for mashed potatoes, roasted meats, meatloaf, fried chicken and more! 
This is part of a series of recipes here on the site that I'm calling "Back to Basics".  In this series you'll find recipes that are common building blocks for beginner cooks, as well as homemade versions of pantry/store-bought staples, such as cream of mushroom soup, pie crust, stabilized whipped cream, etc.  With easy to follow instructions, detailed notes, and step by step photos, you'll be on your way to being a master in your kitchen in no time!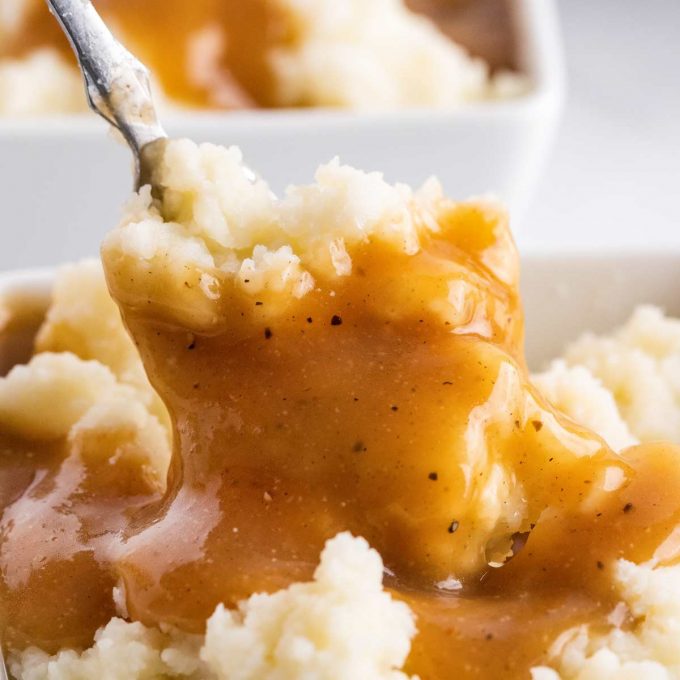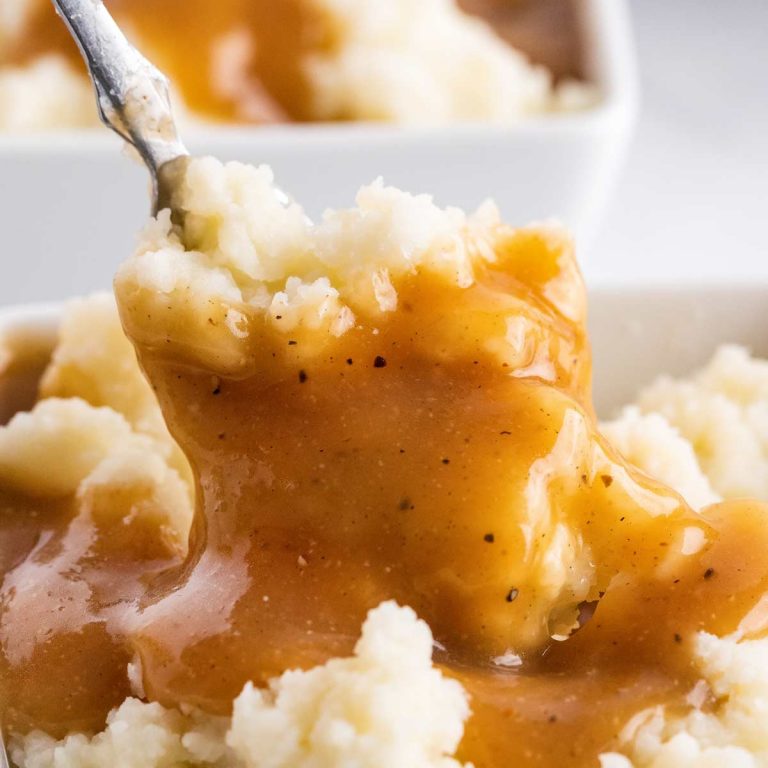 HOMEMADE GRAVY RECIPE
With all the holiday recipes I've been sharing lately, I realized I didn't have a brown gravy recipe up on the site!
I'm a huge gravy fan, so I couldn't believe I'd never shared my favorite gravy recipe with you all.  Well that ends now!
Homemade gravy is SO easy to make… using just a handful of ingredients and about 15 minutes of your time. Plus it can be made ahead and even frozen.
I've never been a fan of those jars of store-bought gravy and those gravy seasoning packets are always way too salty for me.
HOW TO MAKE HOMEMADE GRAVY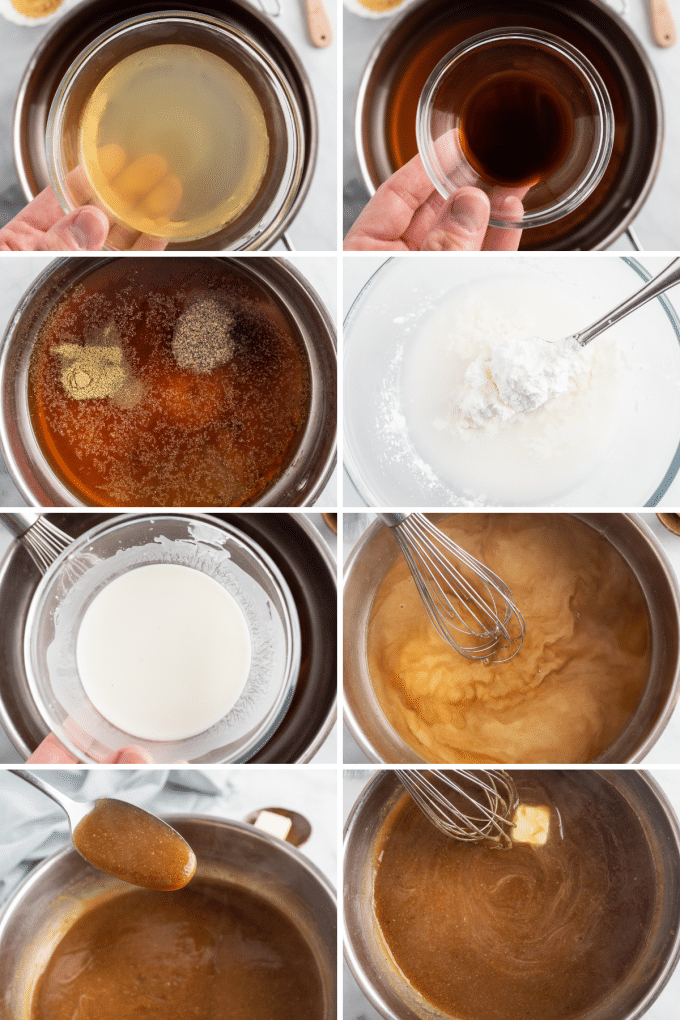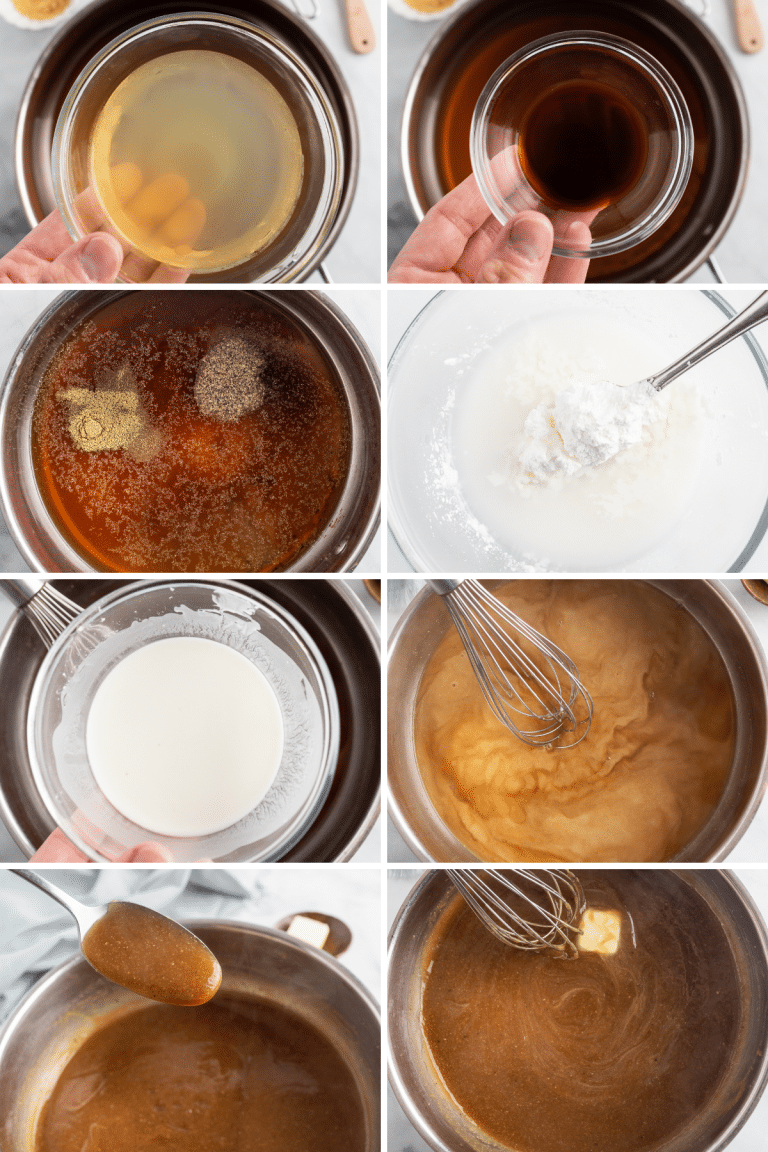 Heat broth and seasonings.  Add the broth (both types), Worcestershire sauce, and seasonings to a saucepan and heat over MED HIGH until boiling.
Make slurry. Combine cornstarch and water in a small bowl until smooth.
Thicken gravy. Pour slurry into the broth mixture and whisk to combine.  Reduce heat and cook until thickened, whisking often.
Stir in butter. This is an optional step, but I love the richness it adds. Remove the pan from the heat, then add a pat of cold butter and stir until it melts into the gravy.
Taste and serve. Taste and adjust seasonings, if necessary.  Serve hot.
ADDITIONAL COOKING TIPS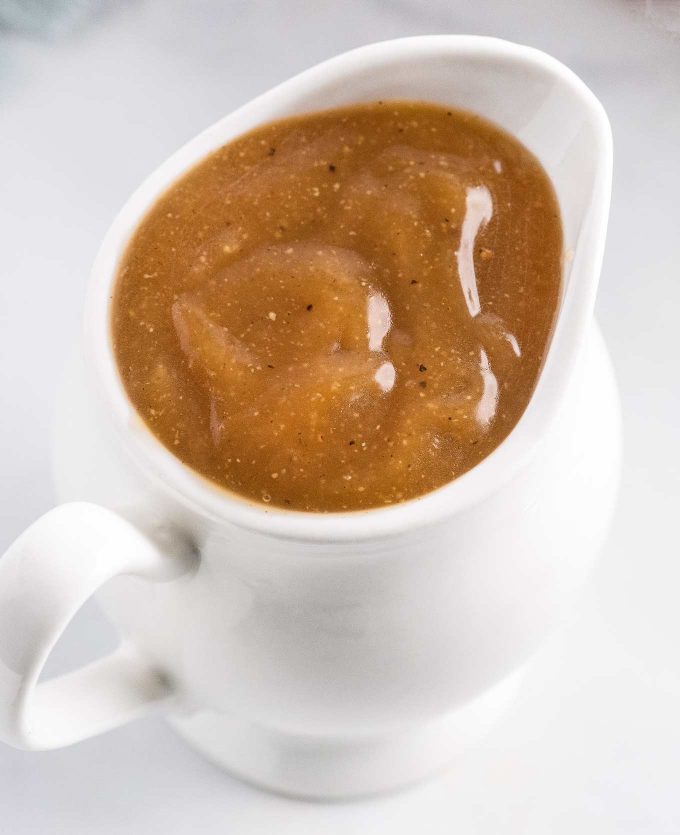 SLURRY – mixing the cornstarch with cold water (like we do in this recipe) is called a slurry. It's a popular method for thickening liquids.  If plain cornstarch is added to hot liquids, it clumps up and won't ever whisk completely into the liquid.  So whisking it into cold water helps it dissolve enough to seamlessly incorporate into the hot liquid.  Just make sure you use cold water, otherwise the cornstarch will clump up on you.
ROUX – if you don't like using cornstarch, or don't have any on hand, you can use a roux to thicken the gravy.  A roux is just a mixture of fat and flour that's whisked together and cooked.  The liquid is then added and whisked constantly until everything is well combined.  If you want to use a roux, start out with 2 Tbsp unsalted butter in the saucepan, and heat until melted.  Whisk in 2 Tbsp all purpose flour and cook about 1 minute (this gets the raw flour taste out).  Slowly pour in broths, whisking the mixture as you pour, until mixture is smooth.  Proceed with recipe as written, omitting the water and cornstarch.
TASTE BEFORE SERVING – I've written this recipe with the seasoning amounts my family and I prefer, but your tastes may be different.  Once the gravy has thickened, give it a little taste and see if you want/need to add additional salt or pepper.
WHAT TO SERVE BROWN GRAVY WITH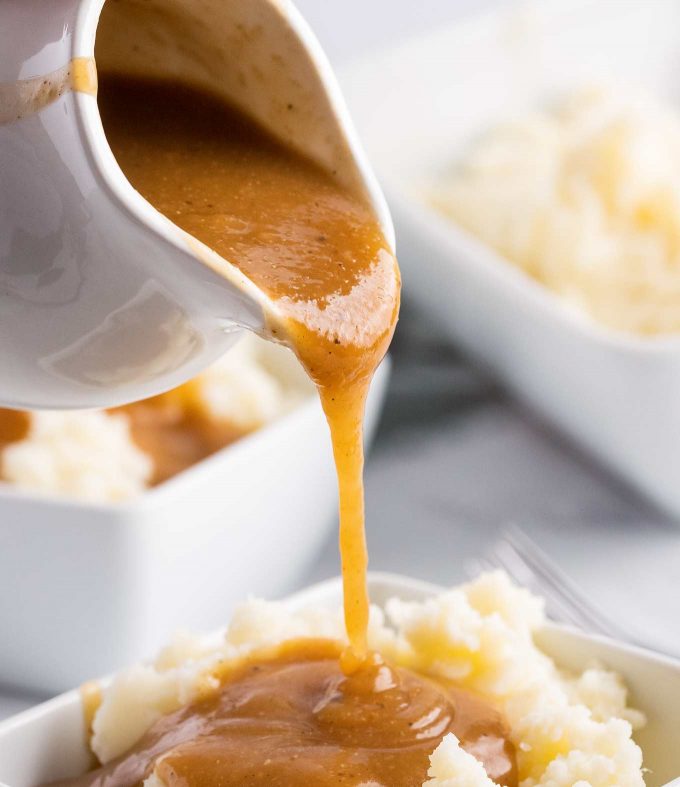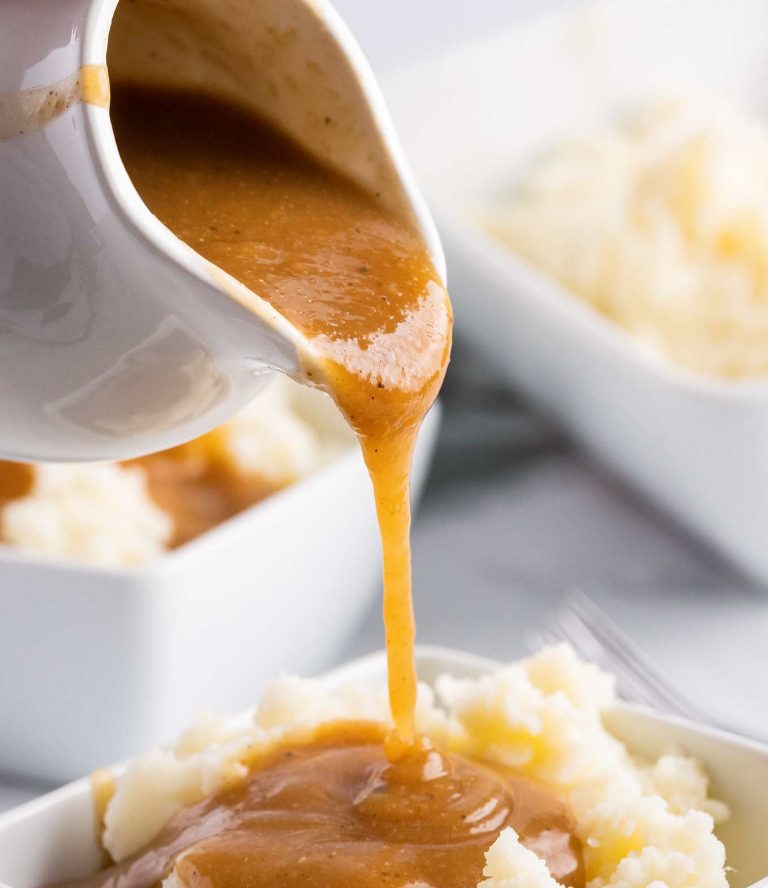 VARIATIONS OF THIS RECIPE
DRIPPINGS – I wrote this recipe for when you DON'T have any pan drippings, but by all means, if you have some, use them!  Pan drippings are just the juices that accumulate in the pan after roasting meat (like a turkey, beef roast, chicken, pork, etc).  Those juices freeze really well too, so save them when you have them.  To use them, substitute them for the broth.
BROTH – for a beefier flavor, try using all beef broth (2 cups).  For a lighter flavor, and color, increase the amount of chicken broth and reduce the amount of beef.  Just keep it at 2 cups total.
KITCHEN BOUQUET – you may have seen little jars of kitchen bouquet browning and seasoning sauce in the grocery store near the store-bought gravy.  Feel free to add a small amount to this recipe to increase the savoriness of this gravy.
ONION – I'm a sucker for onion, so a lot of times I like to finely mince some yellow or sweet onion and saute it in the saucepan with a drizzle of oil over MED heat for about 5 minutes.  Then add broth and continue with the recipe as written.
FRESH HERBS – try adding a sprig or two of fresh thyme or rosemary to the saucepan with the broth.  It adds a beautiful herby flavor!  Just remember to remove the woody stems before serving.
MUSHROOMS – in my world, mushrooms make everything better!  Saute sliced mushrooms in the saucepan with a drizzle of oil over MED heat for about 5 minutes.  Then add broth and continue with the recipe as written.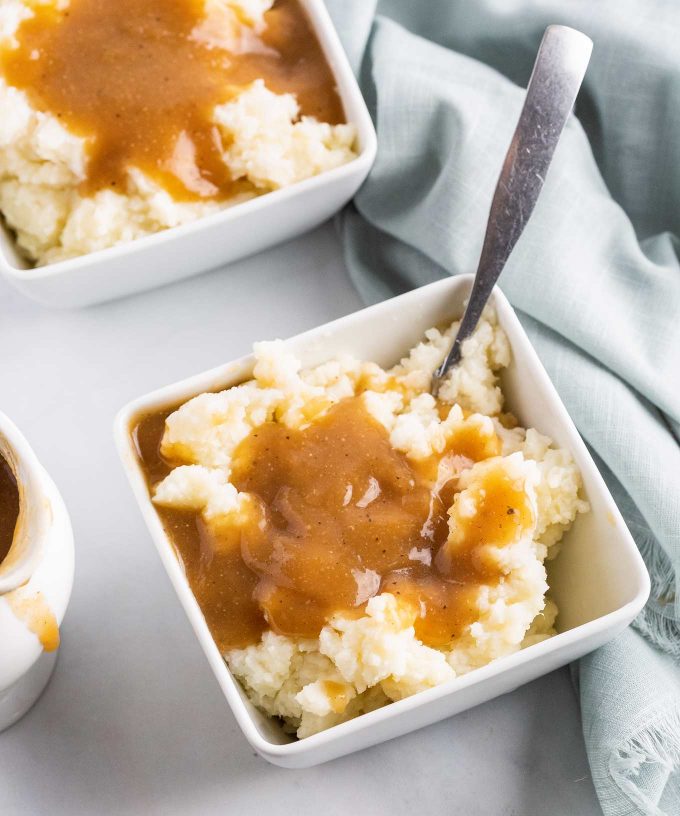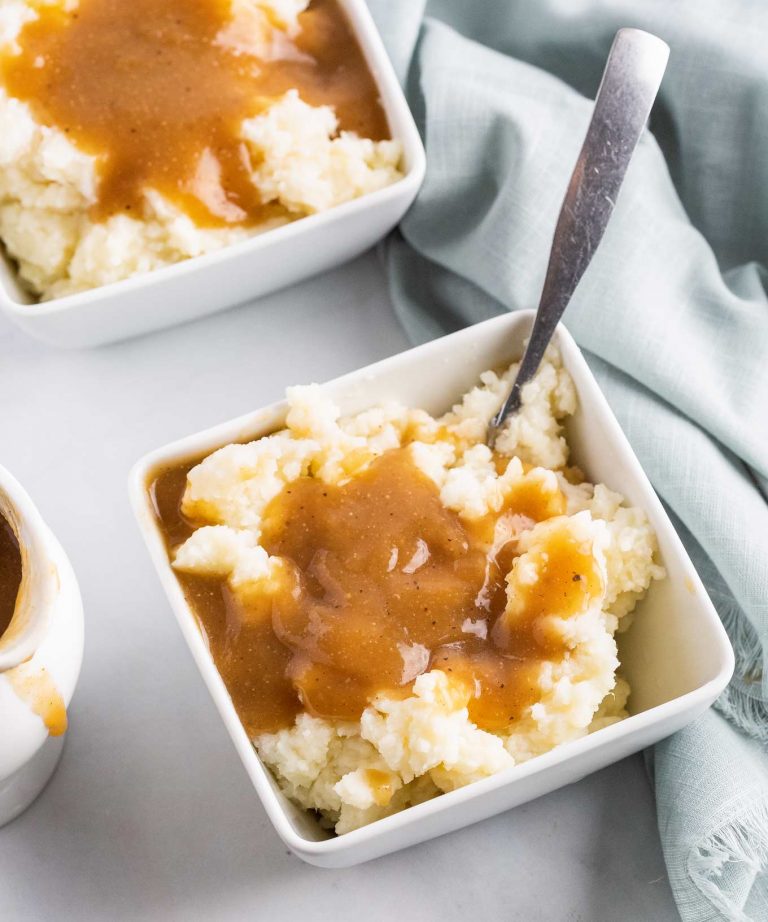 MAKING BROWN GRAVY AHEAD OF TIME
This gravy recipe can be made completely ahead of time if you'd like, since time is at a premium during the holidays!
When gravy is refrigerated, it tends to be super thick and almost gelatinous. I suggest reheating it in a saucepan with an extra splash of broth to loosen it back up.
STORAGE
Leftover gravy should be refrigerated in an airtight container and consumed within 5 days.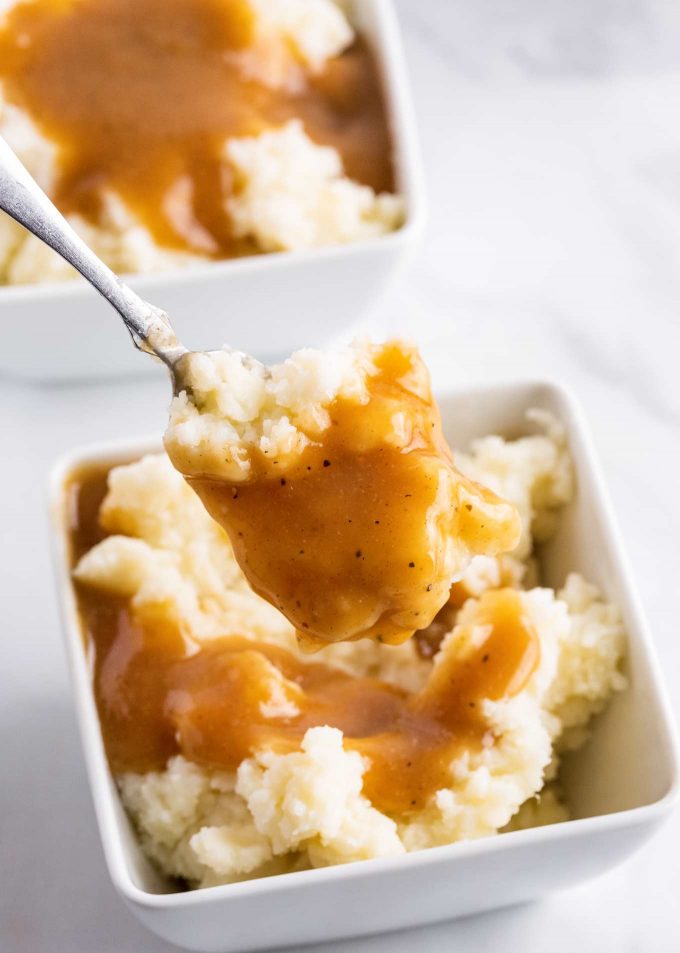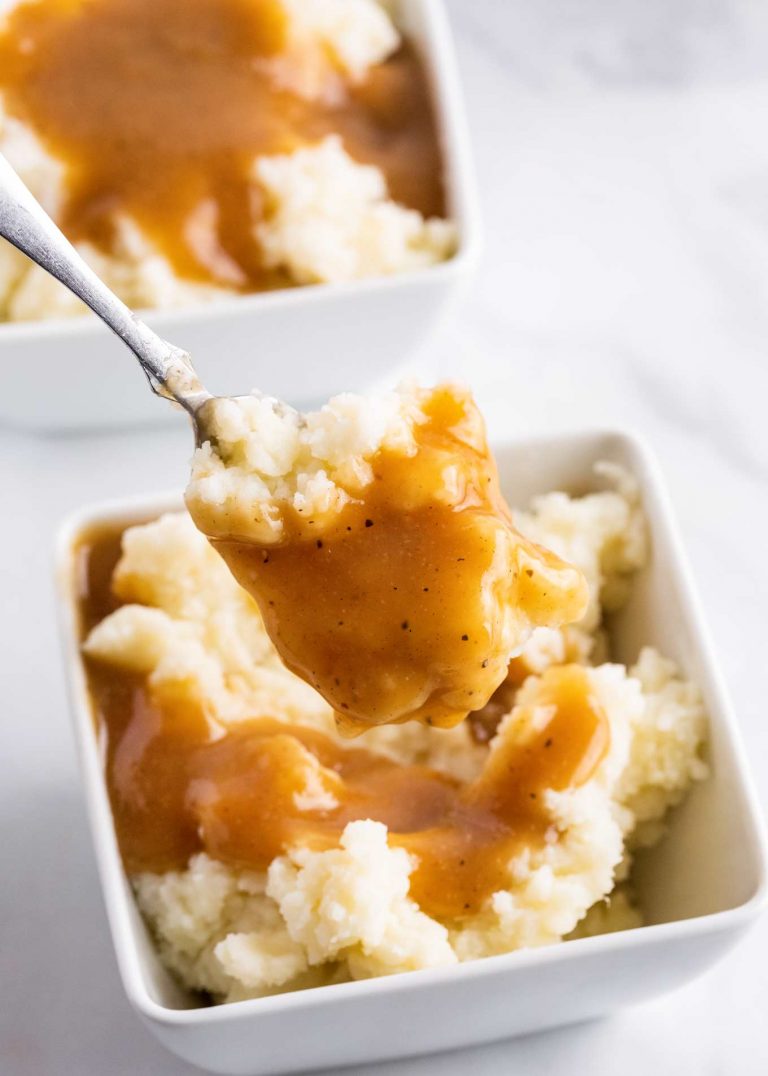 FREEZING
Gravy can also be frozen for up to 4-5 months.
SPECIAL EQUIPMENT FOR THIS RECIPE
The following links are affiliate links.
The Chunky Chef, LLC is a participant in the Amazon Services LLC Associates Program, an affiliate advertising program designed to provide a means for sites to earn advertising fees by advertising and linking to amazon.com.  For more information regarding this program and what it means for you, please see my Privacy page.
Saucepan – this saucepan is such a workhorse, yet is very economical!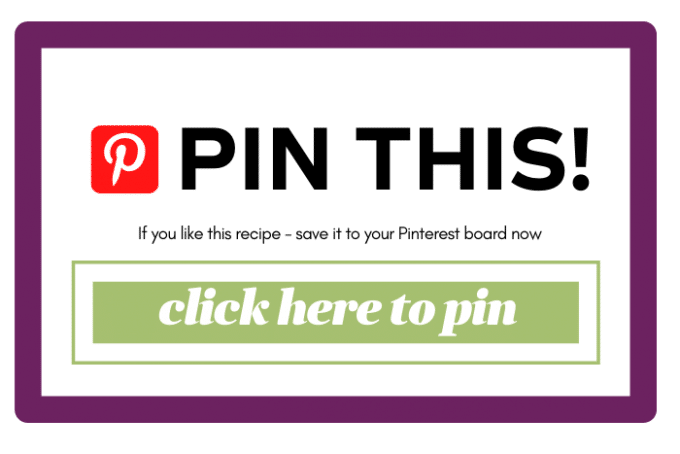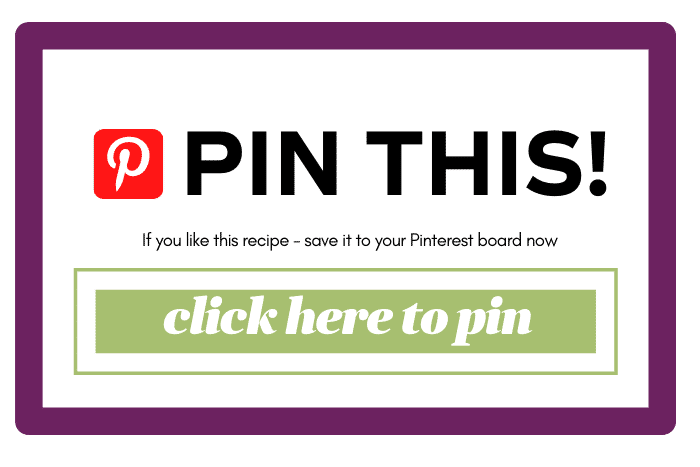 BE SURE TO SCROLL DOWN TO CHECK OUT OTHER READERS' COMMENTS FOR TIPS AND REVIEWS.
AND DON'T FORGET, IF YOU'VE MADE THIS RECIPE, LEAVE A COMMENT AND PLEASE GIVE IT A STAR RATING LETTING ME KNOW HOW YOU ENJOYED IT!
Did you make this? Be sure to leave a review below and tag me @the_chunky_chef on Facebook and Instagram!
No need for a packet, you can make mouthwatering brown gravy in about 15 minutes, and with NO pan drippings!
Ingredients
1 1/3 cups beef broth reduced sodium
2/3 cup chicken broth reduced sodium
2 tsp Worcestershire sauce
1 tsp onion powder
1/2 tsp garlic powder
1/2 tsp kosher salt
1/2 tsp black pepper
1/4 tsp ground thyme
1/4 cup cold water
2-3 Tbsp cornstarch
1 Tbsp cold unsalted butter (optional)
Instructions
Add beef broth, chicken broth, Worcestershire sauce, onion powder, garlic powder, thyme, salt and pepper to a saucepan and heat over MED-HIGH heat. Bring to a boil.
THICKEN
In a small mixing bowl, add cold water and cornstarch and whisk together until smooth.

Pour cornstarch mixture into boiling broth mixture, whisking as you add it. Reduce heat to MED-LOW and simmer until gravy is thickened to your liking. Whisk often as it simmers to ensure the gravy stays smooth.
FINISH AND SERVE
Taste and adjust seasonings (salt and pepper) if necessary.

Remove from heat and add cold butter, stirring until it melts into the gravy.

Serve immediately or cool and refrigerate for up to 5 days.
Want to save this recipe for later? Click the heart in the bottom right corner to save to your own recipe box!
Chef Tips
Recipe makes approximately 2 cups of gravy, and can easily be doubled (or more) for larger gatherings.
Nutrition Disclaimer
The Chunky Chef is not a dietician or nutritionist, and any nutritional information shared is an estimate. If calorie count and other nutritional values are important to you, we recommend running the ingredients through whichever online nutritional calculator you prefer. Calories can vary quite a bit depending on which brands were used.