This Classic Sausage Gravy recipe is creamy, peppery, made from scratch, and just the perfect comfort food! Made in just 20 minutes, and just great for slathering over some biscuits.
This is one of my Breakfast recipes I know you'll want to keep on hand!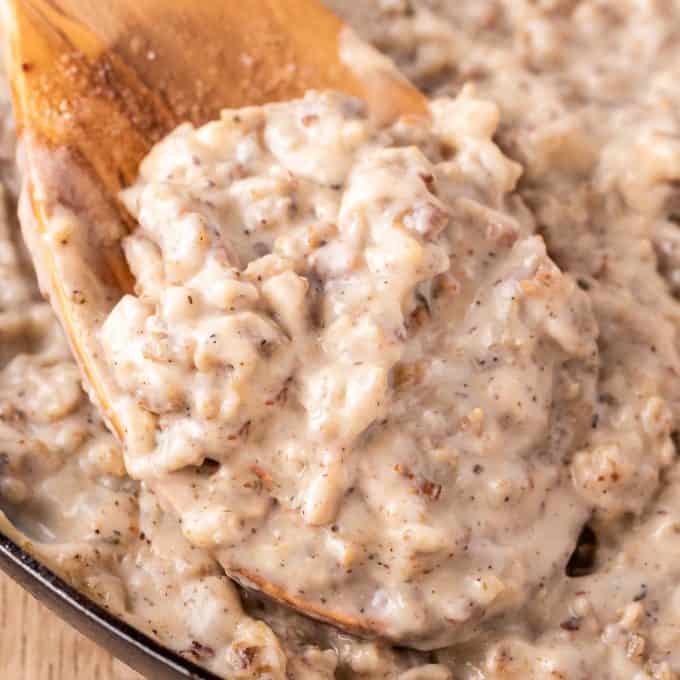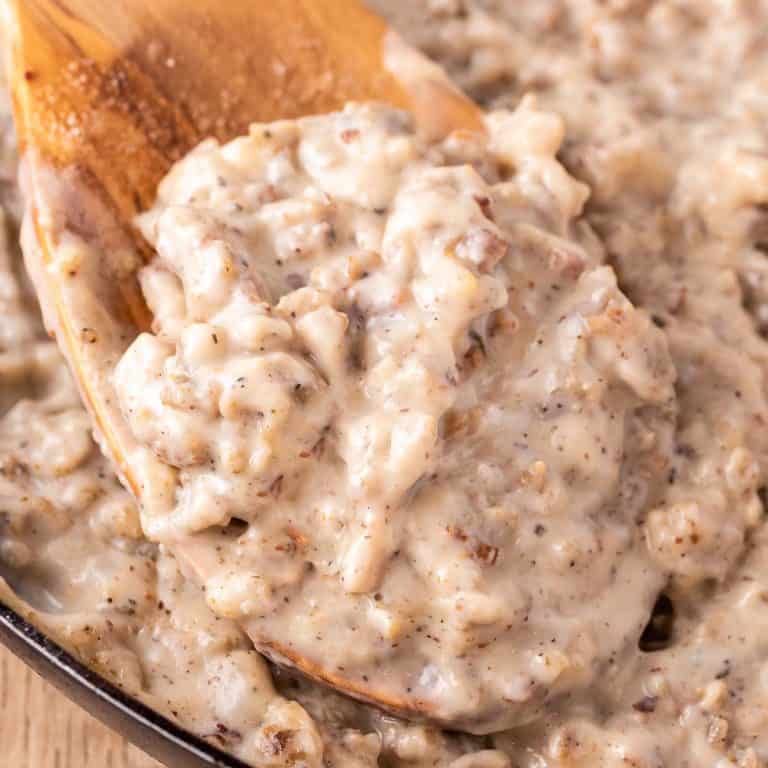 Just a couple of days ago, I posted our amazing Buttermilk Biscuits recipe and what goes better with biscuits than gravy? Sausage gravy to be exact!
This recipe has been on the website for years (since 2015), but I wanted to give it the attention and recognition it deserves; as well as diving deeper into the recipe and giving you all the information you need to make the most amazing sausage gravy ever!
Biscuits and gravy are a classic combination for a reason… they're utterly delicious. This Southern-style breakfast combo is family-friendly, and always a crowd-pleaser.
How to make sausage gravy?
This is just an overview; the full ingredients and directions are in the recipe card toward the bottom of this post.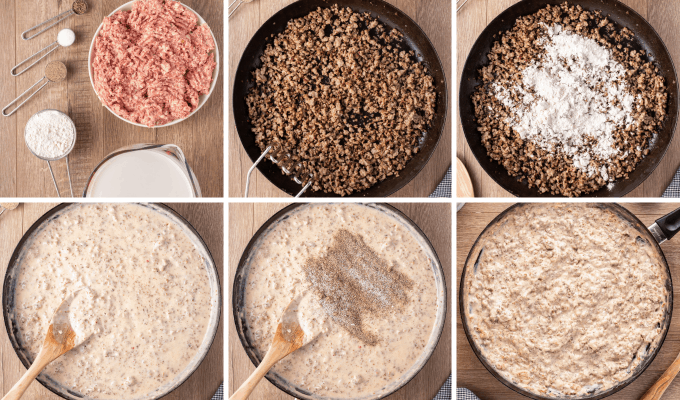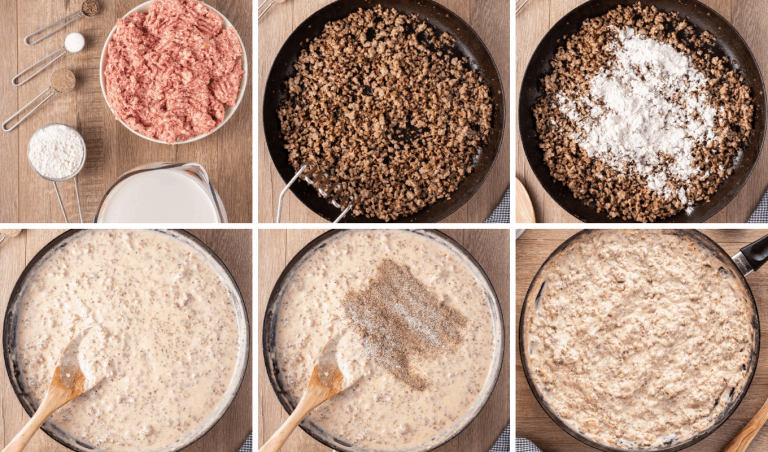 Brown sausage. Using a potato masher or other chopping tool will help crumble it as it cooks. If you don't have one, a wooden spoon will work just fine.
Add flour. Sprinkle the flour right over the sausage and stir to coat. Let cook about 2 minutes to make sure the raw flour taste is gone.
Add milk. Add in milk, about a cup at a time, stirring well after each addition.
Simmer. Continue cooking, stirring often, until gravy has thickened to your liking.
Season. Add seasoning and stir.
Helpful Tip!
After browning and crumbling the sausage, don't clean out the skillet. You'll need some fat for the flour to bond with to make the roux (this is what thickens the gravy), so we just use the fat from the sausage. If your sausage was particularly lean and you don't have much, or any, fat, add 2-3 Tbsp of unsalted butter to the skillet and let it melt.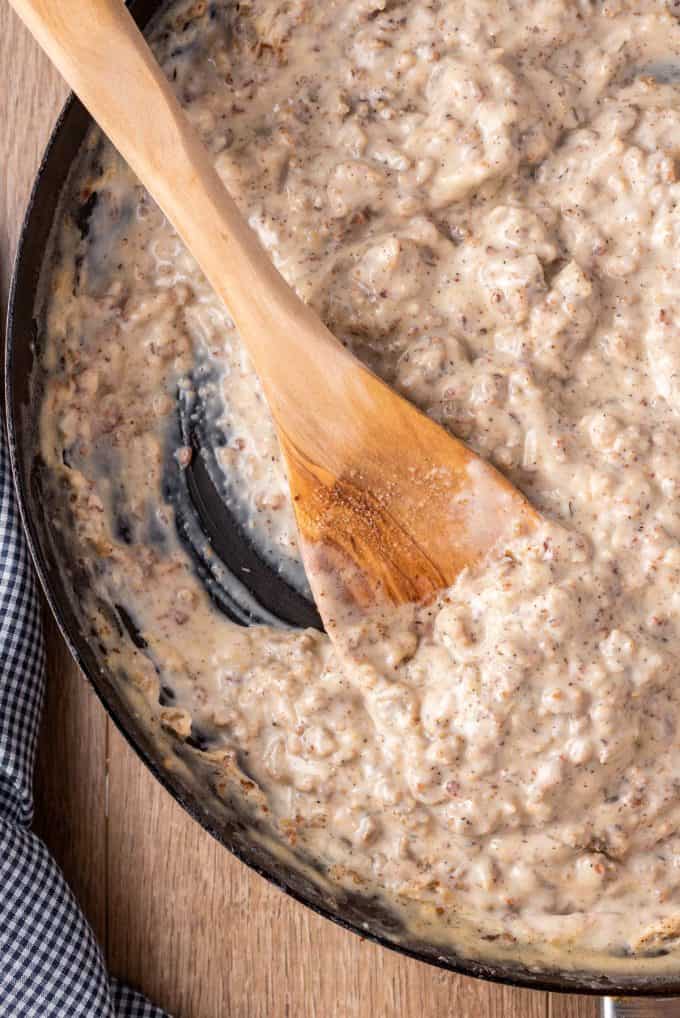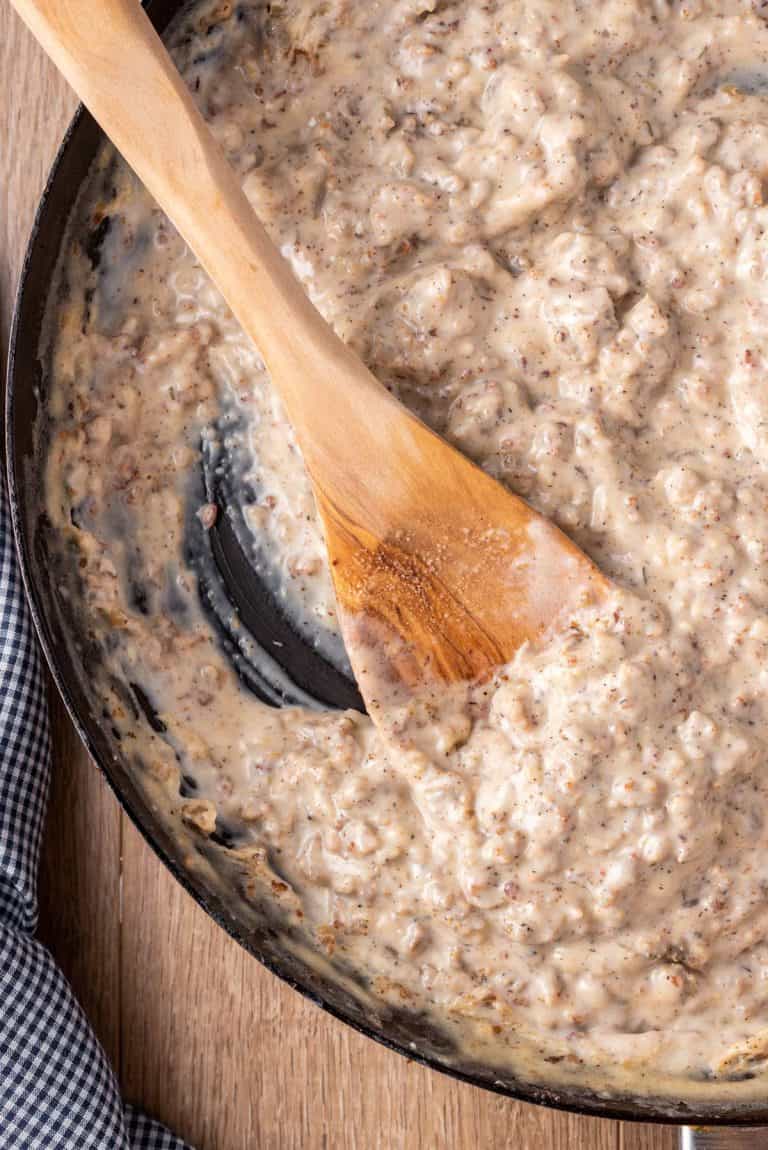 Variations of this recipe
Sausage links – this recipe uses bulk sausage which is sold like ground beef in packages or rolls, but if what you have on hand is sausage links (with casings or without), you can use those. Just remove the casings by slicing down the length of a link and peeling the casing away. Then just cook and break into crumbles as they cook.
Other milk types – I found that whole milk had the best richness and thickened well, but 2% will also work. It may take a little longer to thicken. I've not tested this recipe with 1%, skim, or any non-dairy milk products.
Texture – We prefer our sausage in this gravy to be finely crumbled, but you can make yours as textured as you want! Just break up the sausage as it cooks, into whatever size you'd like.
Seasonings – I like to keep it simple with seasoned salt, pepper, and thyme, but if you want to add your own flair, you absolutely should. Paprika, smoked paprika, cayenne, sage, rosemary, etc, would all be lovely additions.
Fresh herbs – if you want to add any fresh herbs to this recipe, I find it's best to add them towards the end of cooking, so they retain that fresh flavor.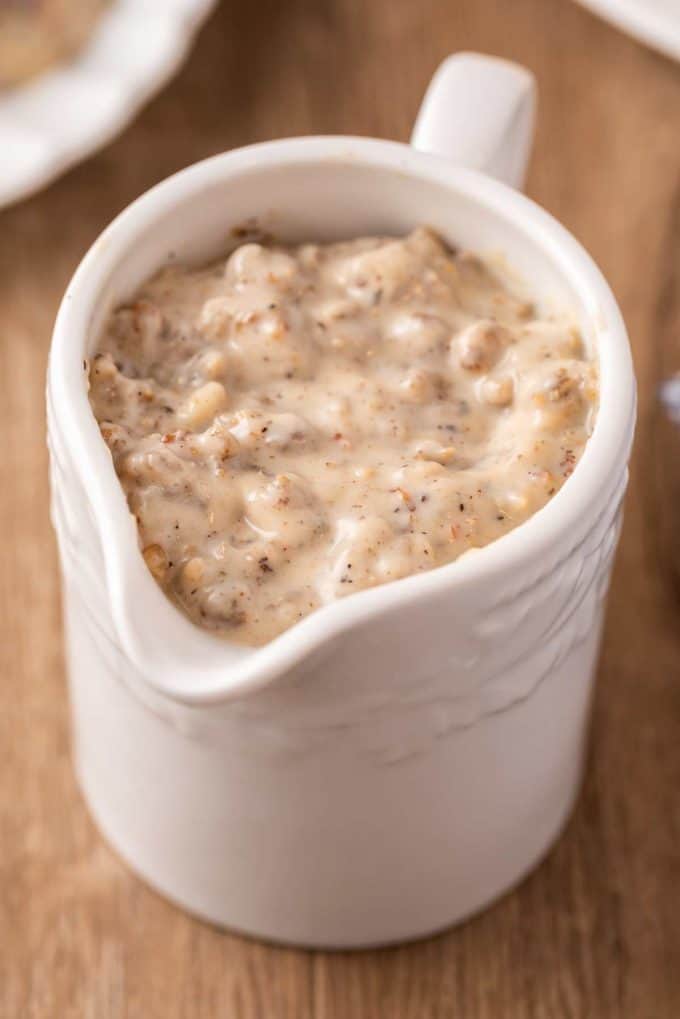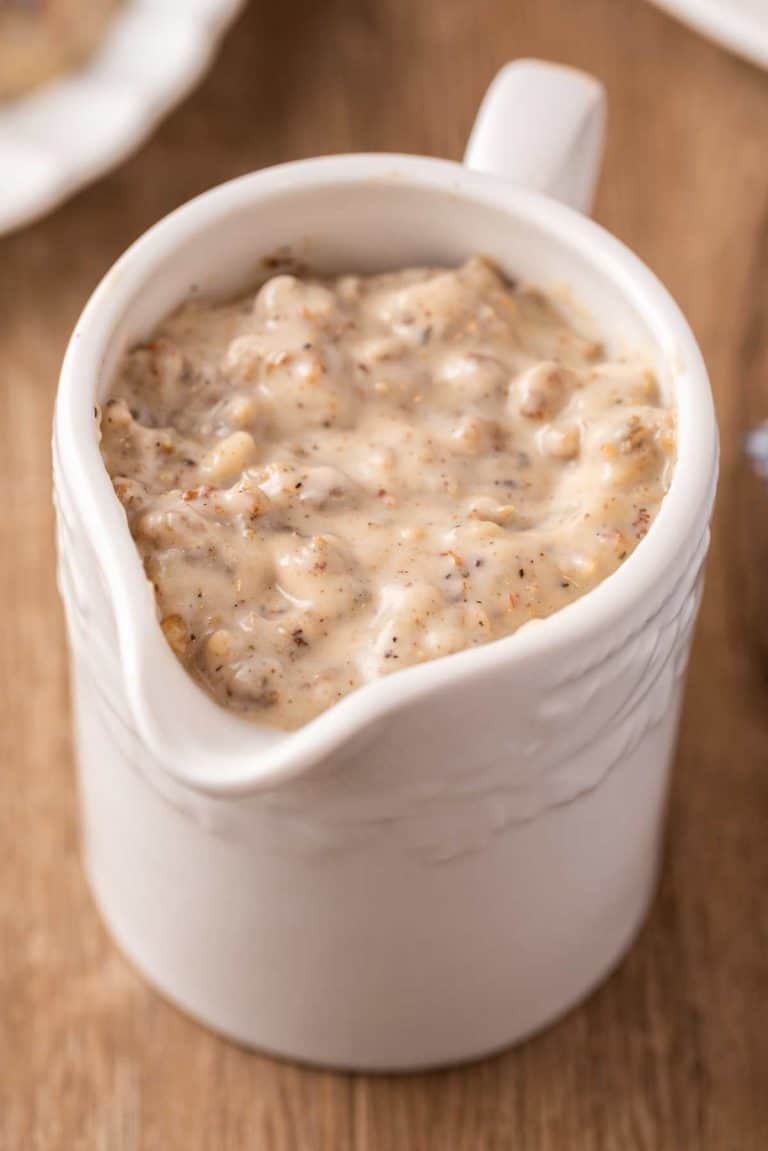 FAQ's
Is sausage gravy the same as sawmill gravy?
From what I can tell, they're similar, but not the same (at least traditionally). Sawmill gravy was made with cornmeal, not flour, and resulted in a somewhat gritty gravy. It was served as a hearty and inexpensive meal to the men who worked in sawmills. In today's modern world, it seems the terms sawmill gravy and sausage gravy are thought to be interchangeable, however traditionally, they're not.
Why does my gravy taste like flour?
This is likely because the flour wasn't cooked long enough. After the flour is added to the cooked sausage, it needs to be cooked for 1-2 minutes. This gives the flour a chance to cook and eliminates the raw flour taste.
What can you serve with sausage gravy?
Our favorite use for this recipe is to make biscuits and gravy, using our buttermilk biscuit recipe. Sausage gravy is also fabulous drizzled over breakfast tacos, in breakfast burritos, alongside breakfast potatoes or a breakfast casserole.
Making sausage gravy ahead of time
Sausage gravy can absolutely be made ahead of time, although I personally find it tastes best when made fresh.
If you do what to make it ahead of time, just reheat it gently on the stovetop. You may want to add an additional splash of milk or water to loosen it up, since the gravy will thicken during refrigeration.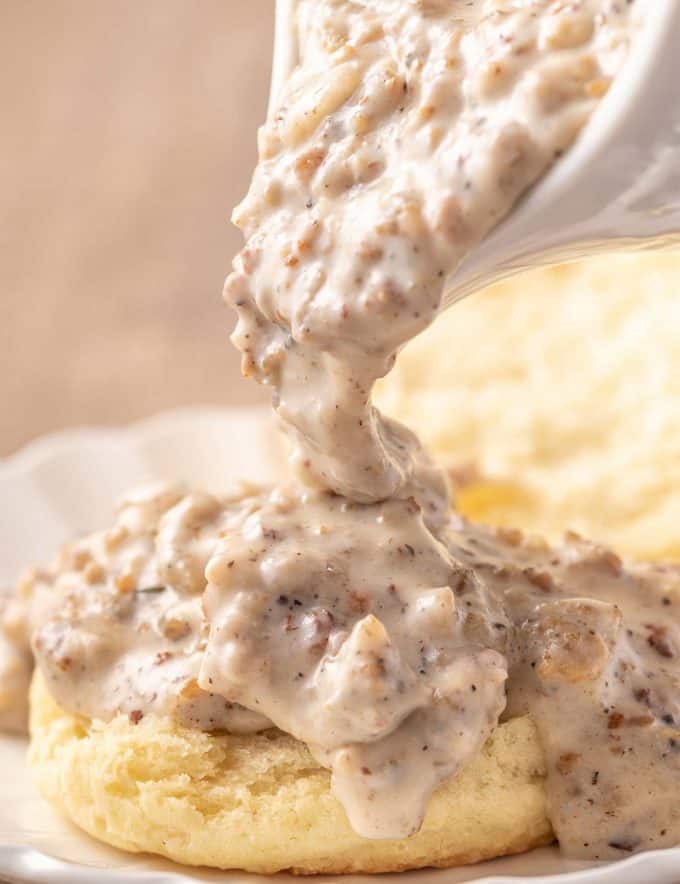 Freezing
You can technically freeze sausage gravy, however since it contains dairy, the freezing/thawing process can change the consistency and texture.
I recommend using evaporated milk if you plan to freeze this gravy, since it tends to hold up to the freezing process a bit better.
Make sure the sausage gravy has cooled completely, then transfer to freezer containers and freeze for up to 3 months.
Thaw overnight in the refrigerator and reheat on the stovetop, adding a bit more milk or water as needed.
Storage
Sausage gravy should be refrigerated in an airtight container and eaten within 3-4 days.

This little tool may not look like much, but it will crumble ground meat like a champ! And I love how inexpensive it is (just $7!).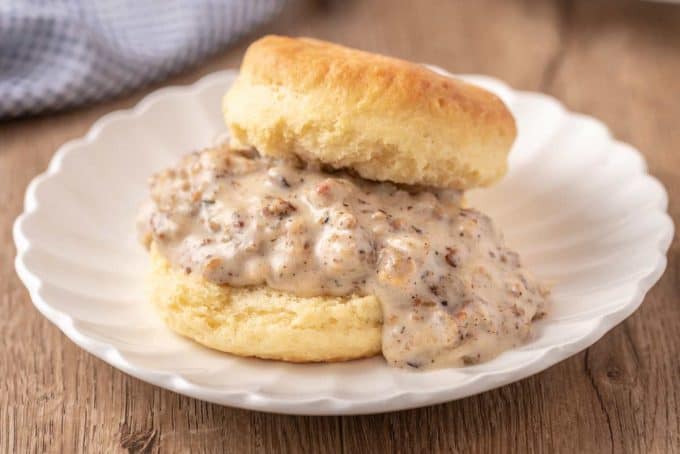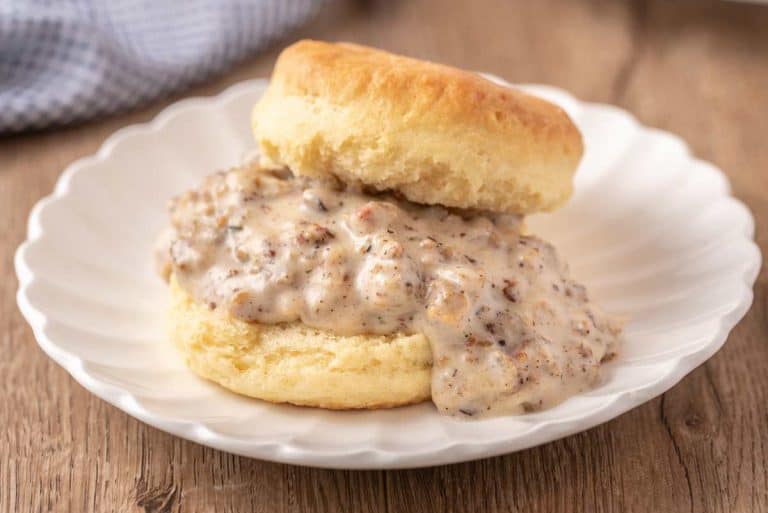 Did you make this? Be sure to leave a review below and tag me @the_chunky_chef on Facebook and Instagram!
This Classic Sausage Gravy recipe is creamy, peppery, made from scratch, and just the perfect comfort food!
Ingredients
1 lb bulk sausage (I use the kind that comes in a roll, and use the country original or sage variety)
1/3 cup all purpose flour
3 – 4 cups whole milk (amount depends on how thick you like your gravy)
1/2 tsp seasoned salt
1/4 tsp ground thyme
1/2 – 3/4 tsp black pepper
Instructions
Brown sausage in a large skillet over medium high heat, crumbling as it browns.

Leave the grease in the skillet and reduce the heat to medium low. (If you don't have much grease from your sausage, add 2 Tbsp unsalted butter to the skillet). Add in the flour, stirring to combine. Cook for 1 – 2 minutes.

Pour in the milk, one cup at a time, stirring after each addition. Cook, stirring frequently, until gravy thickens to your desired consistency.

Add seasoned salt, ground thyme and black pepper and stir to combine.
Want to save this recipe for later? Click the heart in the bottom right corner to save to your own recipe box!
Chef Tips
Crumble sausage as finely as you'd like, or leave in larger pieces.  It's up to you.
Recipe has been tested using whole milk and 2%.  Both will work well, but we preferred using whole.  Other milk types and non-dairy milks have not been tested.
Make sure to cook the sausage and flour mixture for at least 1-2 minutes.  This ensures your gravy won't taste like flour.
Nutrition Disclaimer
The Chunky Chef is not a dietician or nutritionist, and any nutritional information shared is an estimate. If calorie count and other nutritional values are important to you, we recommend running the ingredients through whichever online nutritional calculator you prefer. Calories can vary quite a bit depending on which brands were used.