All the amazing flavors of a Denver omelet, but in an incredibly easy scrambled eggs skillet! No flipping required!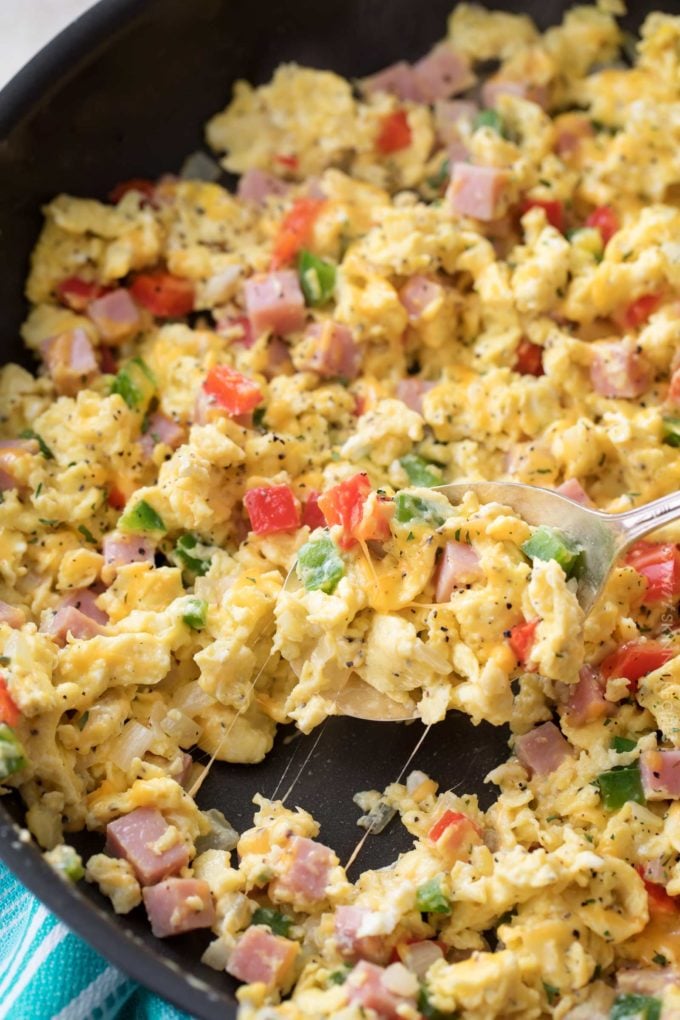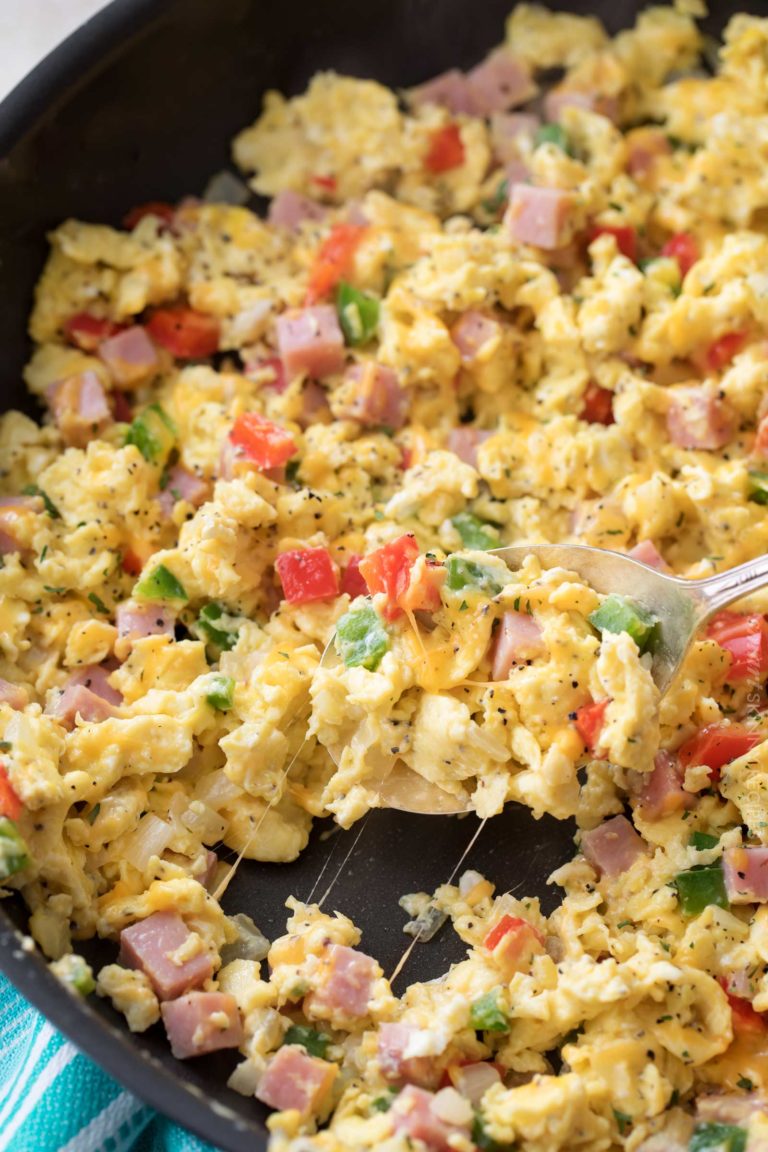 Welcome to the very first post in the "Weight Loss Wednesday" ongoing series!  I was blown away at the positive response on my Facebook page when I first asked about including a weekly healthy recipe here on the blog.  I love that feedback… more than you know!
A few months ago I started a second blog, Smart Skinny Recipes, which is centered around Weight Watchers recipes.  I love the idea of healthy, vibrant recipes, and originally thought having a second space for that made sense.  Like with most things, hindsight is 20/20, and I've recently realized that the sheer amount of work and time involved in 2 full time blogs was just too much.  I'm a one woman show here, with a family to take care of, and to top it all off… we're going to be moving in the next few months, so time isn't something I have a lot of right now 🙂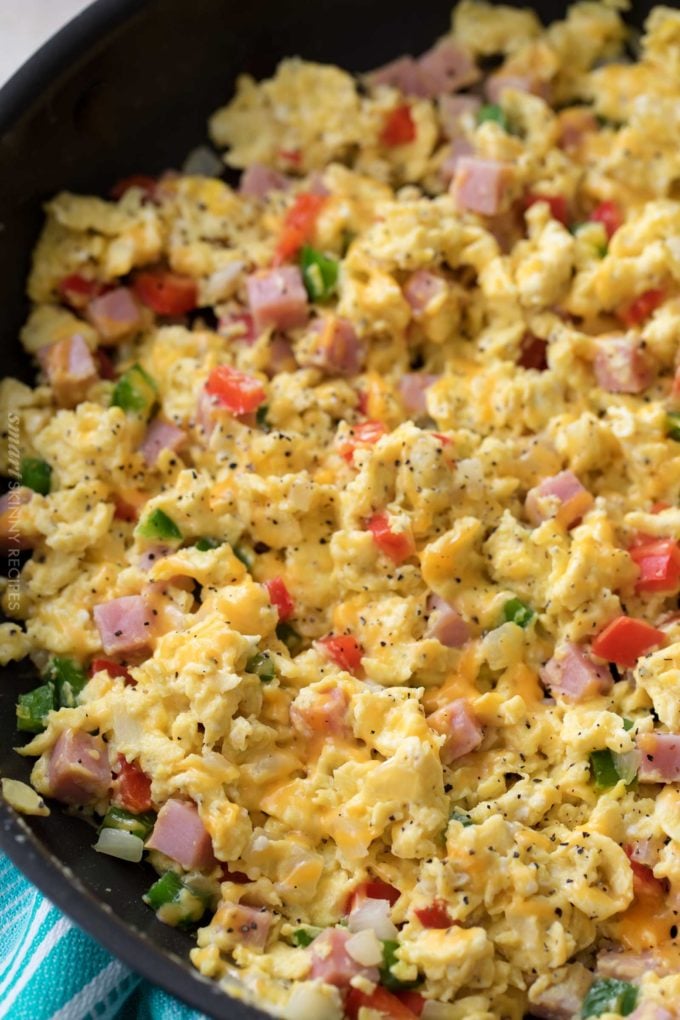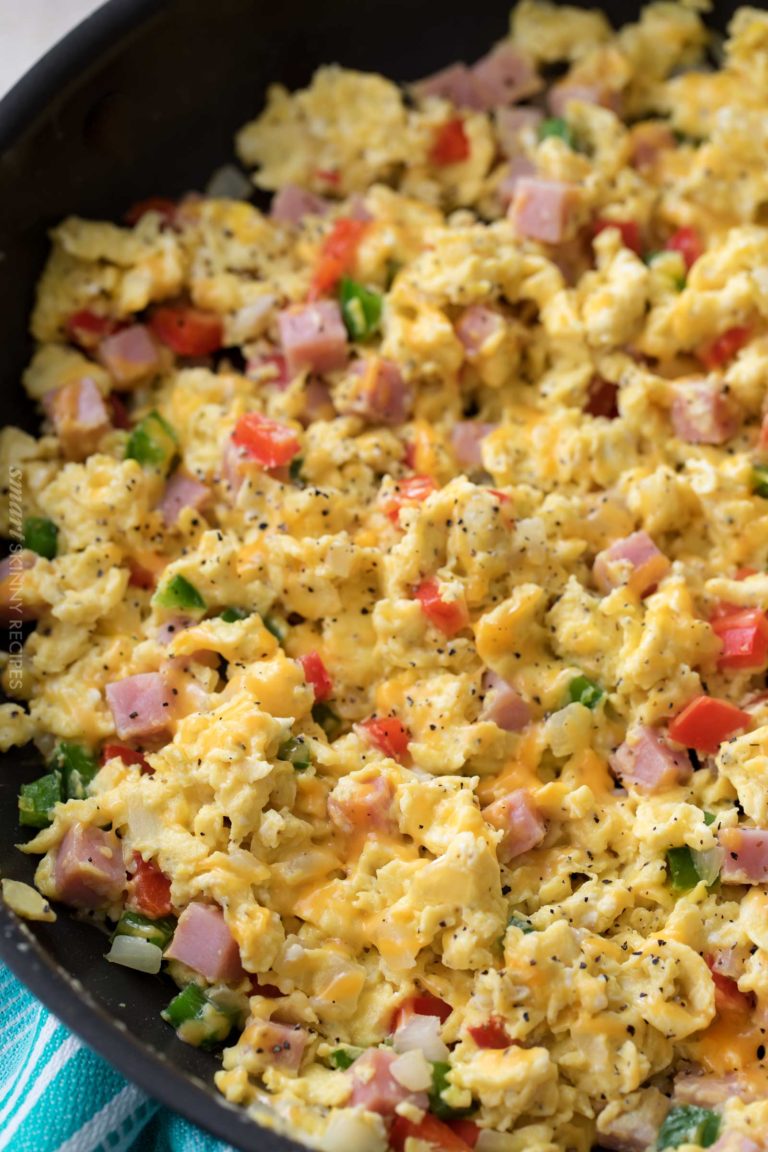 I can't even tell you how excited I am to move.  Y'all, my kitchen is tiny and dark, and working from home makes the walls just seem to close in.  We're starting to house hunt and I'm having a blast!
Alright, so that was a lot more "story" than I usually put in my posts, but I just had to share it with you all… so thanks for reading!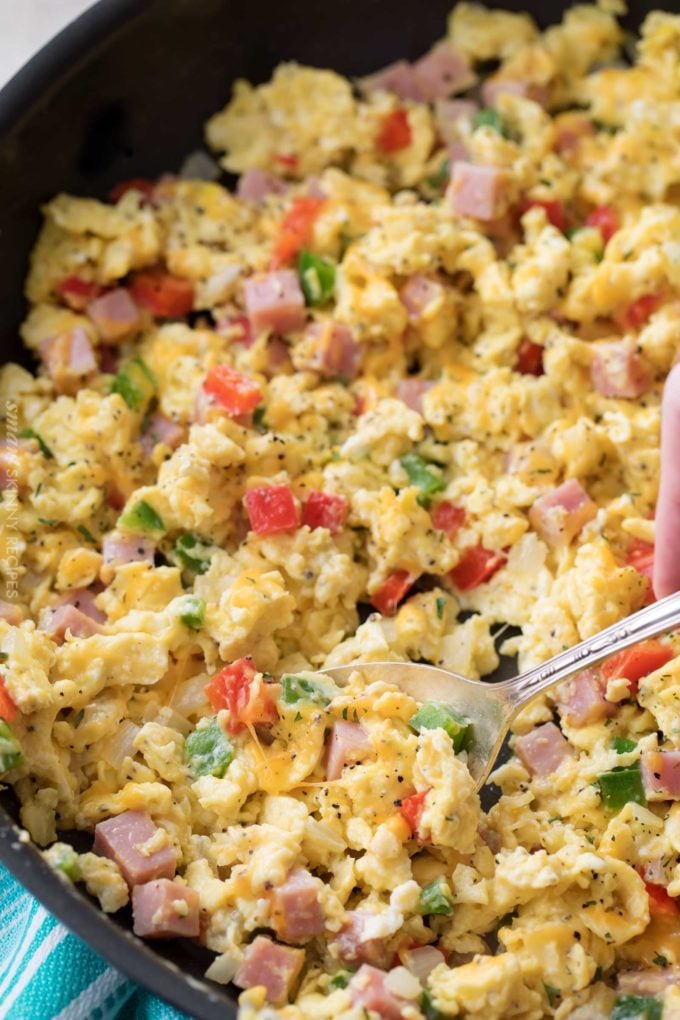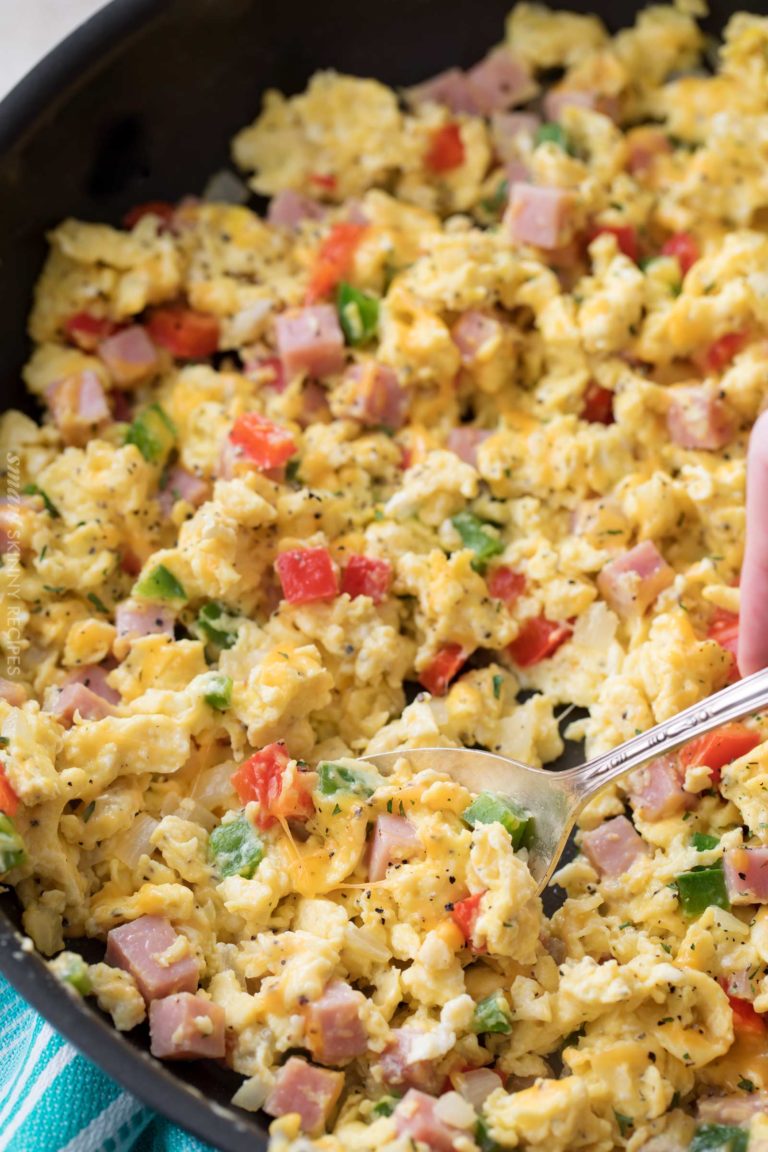 So I love omelets, and especially a Denver omelet!  But what I don't love, is flipping that omelet.  No matter how many times I do it, it still makes me nervous, and half the time I end up with a skillet of half scrambled eggs.  Incidentally, nowadays I usually use this half moon omelet technique, but this "deconstructed" omelet is my all-time favorite way to have those great Denver omelet flavors!
WHAT GOES INTO A DENVER OMELET
Sometimes you'll see this omelet called a Western omelet, but it's basically an omelet with bell peppers, onions, diced ham and cheese.  Can't go wrong there right?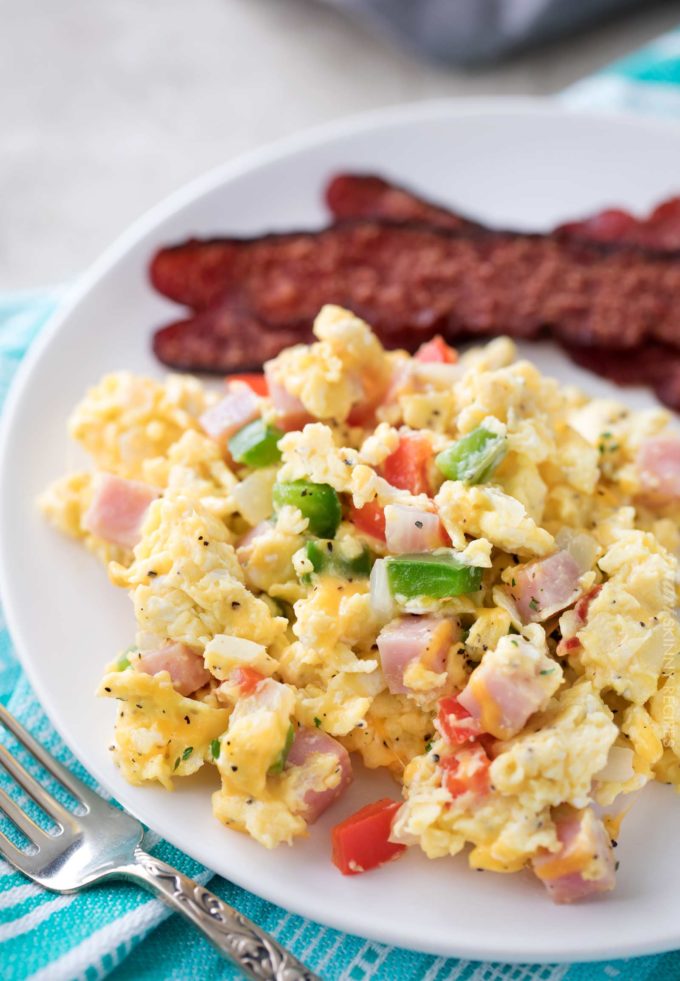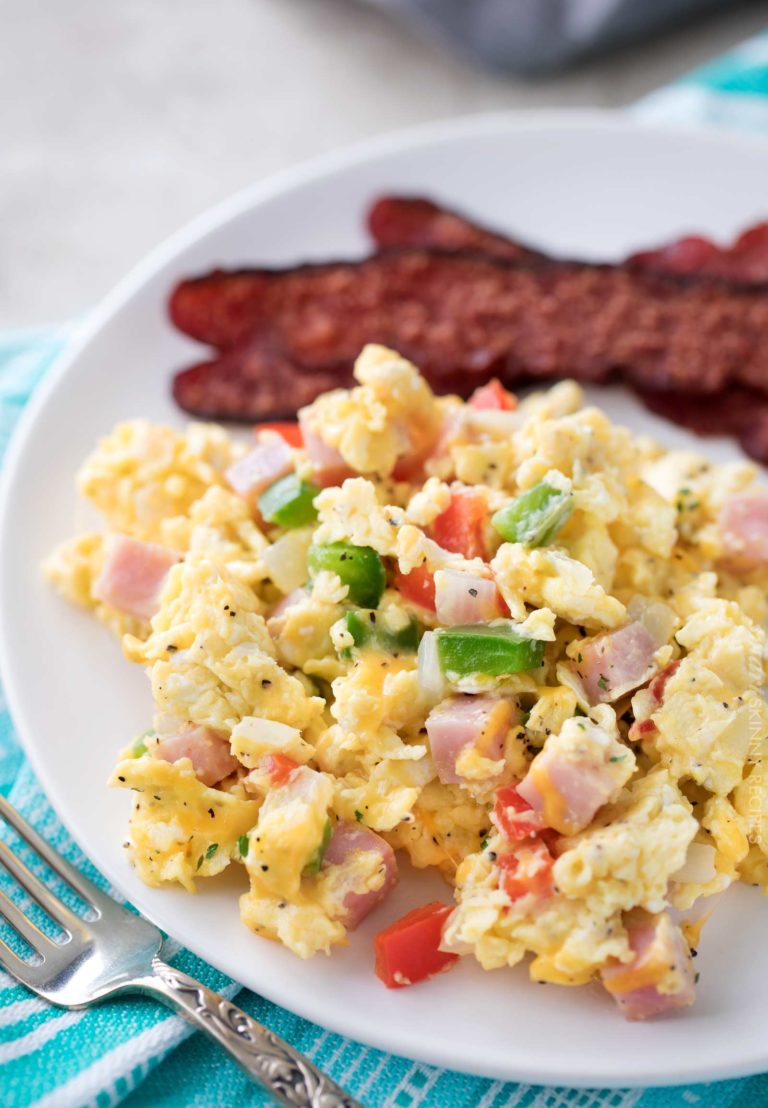 HOW TO MAKE THE BEST SCRAMBLED EGGS
I know, I know… scrambled eggs are a pretty simple thing to make.  BUT, sometimes they just don't turn out like you'd hoped, or maybe you're a beginner cook who has no idea how to make them properly.  Here are my tips for the perfect fluffy scrambled eggs!
Use fresher eggs when possible.  Not only do they taste better, the shells of older eggs can absorb odors in your refrigerator.
Use a pan that's not too big, and not too small.  For this recipe, we use 8 eggs and I use a 12 inch skillet.  Doing this in a smaller skillet would make it really hard to get all the eggs cooked evenly.
Crack your eggs into a mixing bowl, but don't whisk until you're ready to cook them.
Heat your skillet over LOW heat, and add butter and a drizzle of oil if you'd like.
Whisk the eggs until you don't see streaks anymore, and don't be gentle.  Whisking does two things; it scrambles the eggs of course, but it's also adding volume by incorporating air into the eggs (which helps make them fluffy).
No added liquid is needed.  Some people like to add water, milk or cream… and you can certainly do that if you prefer it that way.  For me, I find that I don't need that extra liquid or calories.
As the eggs are cooking, use a rubber spatula and stir them often.
Pull the skillet off the heat once the eggs are no longer runny, but still look sort of wet.  The eggs will continue to cook in the skillet, even off the heat, so this will ensure you don't have overcooked eggs.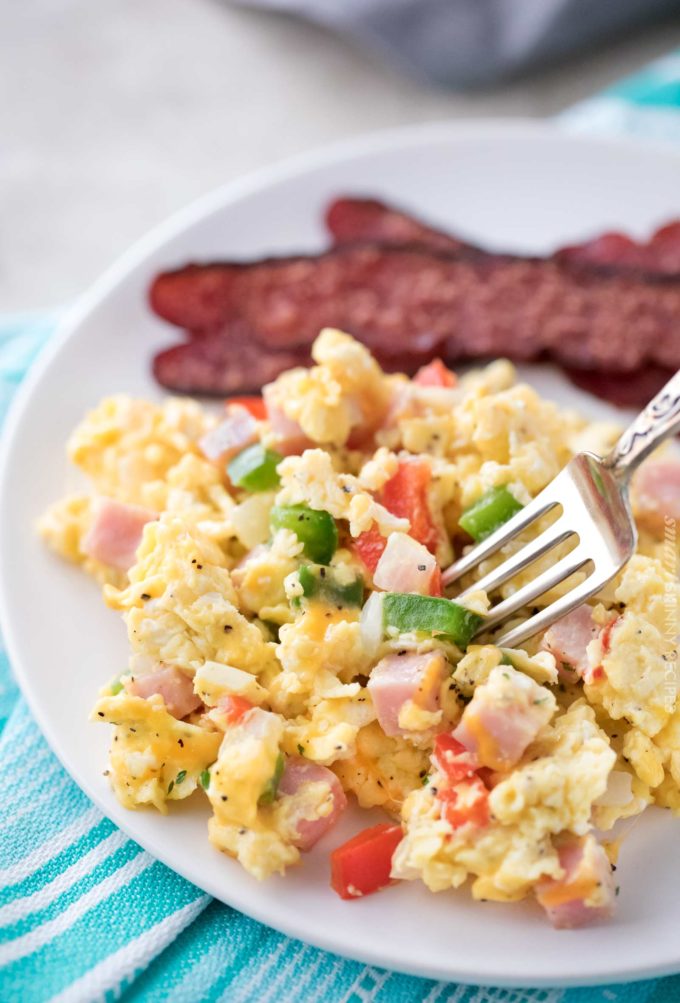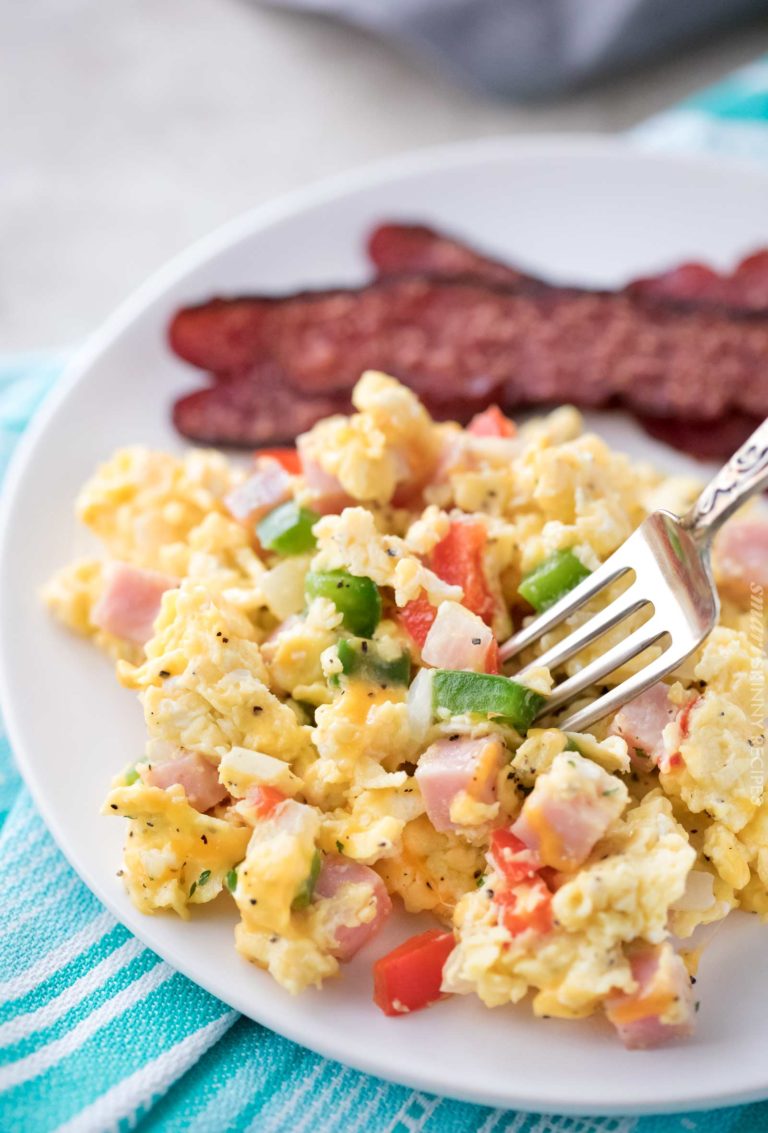 IS THIS DENVER OMELET SCRAMBLE HEALTHY
If you're following Weight Watchers, one serving (which is 1/4 of the skillet) is 3 smart points.   Those points are coming from the butter/oil, ham and cheese.  I think it's a fabulous way to start your day, and it's a meal that's high in protein, vitamin A and vitamin C.
If you're following a Keto or Low-Carb way of eating, this recipe is very low in carbs, with one serving coming in at just 3 carbs.  One serving also has 17g of fat and 24g protein!
If you're not necessarily following a "diet", but just watching what you're eating, these Denver omelet scrambled eggs are absolutely fabulous on a slice of whole-wheat toast, or in a whole-grain wrap with a few avocado slices!
HELPFUL TOOLS
12″ nonstick skillet – this skillet is actually called an omelet pan, but I use it for so many things in my kitchen.  I love that it has a cover as well!
Heat-proof rubber spatula – I love the seamless design (easier cleaning!), and these are heat-proof so they won't melt in your hot skillet.
Want to try these Denver Omelet Scrambled Eggs?

PIN IT to your BREAKFAST or HEALTHY board to save for later!

Find me on Pinterest for more great recipes!
Did you make this? Be sure to leave a review below and tag me @the_chunky_chef on Facebook and Instagram!
All the amazing flavors of a Denver omelet, but in an incredibly easy scrambled eggs skillet! No flipping required!
Ingredients
2 tsp olive oil
1/2 medium yellow onion, diced
1/2 medium red bell pepper, diced
1/2 medium green bell pepper, diced
6 oz smoked ham steak, diced
1 Tbsp butter
8 large eggs
2 oz low-fat cheddar cheese
Instructions
Heat a large non-stick skillet over MED heat. Add olive oil, then add onion and both bell peppers. Cook, stirring often, until tender, but still vibrant, about 3 minutes.

Add diced ham and cook 1-2 minutes more. While ham is cooking, add eggs to a mixing bowl.

Reduce heat to LOW and add butter to skillet. Whisk eggs vigorously until no streaks remain, then pour into skillet with the onion/pepper/ham mixture.

Use a rubber spatula and cook, stirring frequently, until eggs bind with the onions, peppers and ham and eggs appear scrambled and wet, but no longer runny. Season with salt and pepper, to taste.

Remove from heat, sprinkle with cheese and cover loosely with foil. Serve hot.
Want to save this recipe for later? Click the heart in the bottom right corner to save to your own recipe box!
Nutrition Disclaimer
The Chunky Chef is not a dietician or nutritionist, and any nutritional information shared is an estimate. If calorie count and other nutritional values are important to you, we recommend running the ingredients through whichever online nutritional calculator you prefer. Calories can vary quite a bit depending on which brands were used.
Calories: 277 | Carbohydrates: 3g | Protein: 24g | Fat: 17g | Saturated Fat: 6g | Cholesterol: 401mg | Sodium: 795mg | Potassium 363mg | Sugar: 2g | Vitamin A: 23.6% | Vitamin C: 55.4% | Calcium: 11.8% | Iron: 13%
I'm not a nutritionist, and nutritional values here on my recipes should be used for general information purposes only.  This information is not a substitute for medical advice or treatment for specific medical conditions. You should seek prompt medical care for any specific health issues and consult your physician before starting a new diet and fitness regimen.