Perfect for a summer cookout or potluck, this shredded beef barbecue recipe is made easily in the crockpot! With a quick and easy homemade barbecue sauce that's sweet and tangy, this beef bbq is truly the best!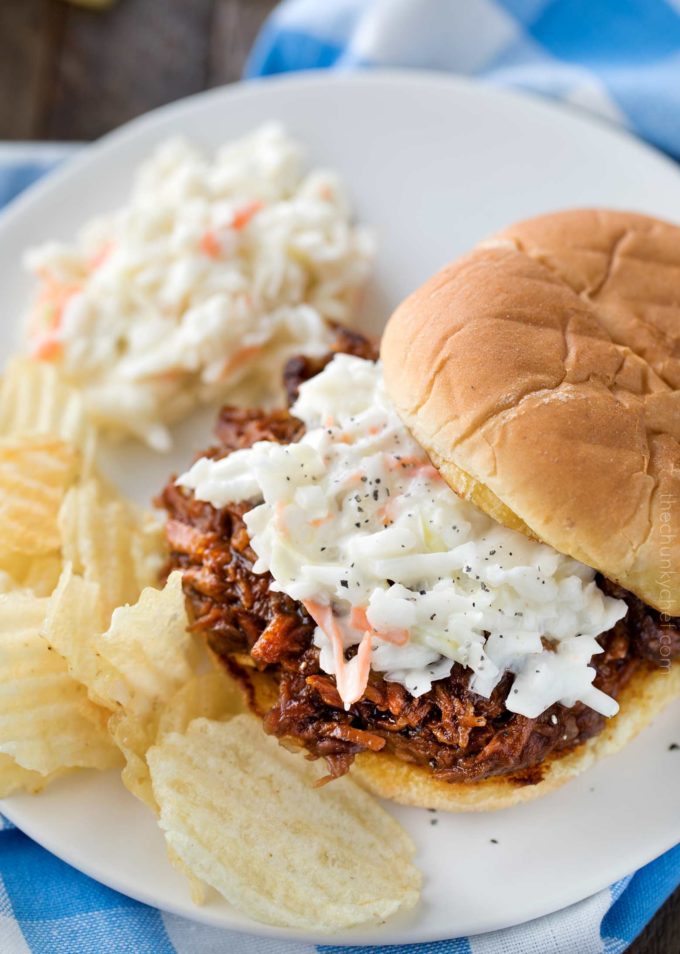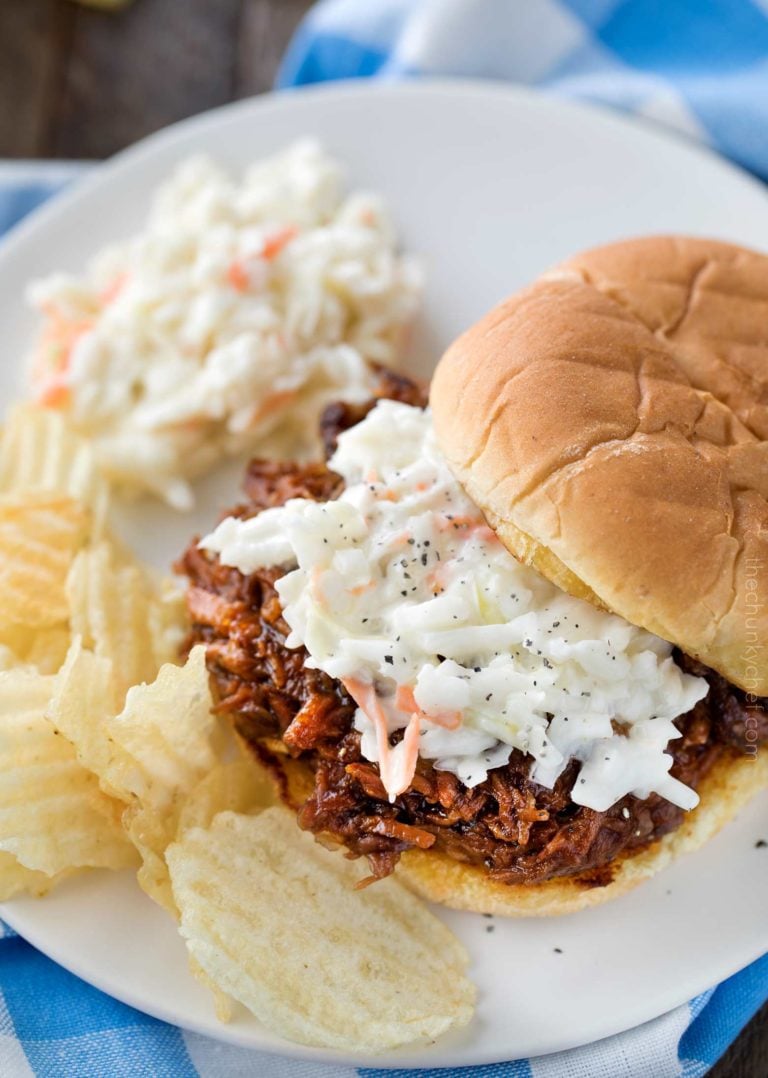 We FINALLY had a weekend here in Ohio where it was semi-sunny and in the 60's!  Our "Spring" has been more like an extended winter, so it was amazing to actually have some Spring-like weather.  Aside from just instantly lifting my mood, the warmer weather gave me a craving… for cookout food!
I've talked here on the blog before about my serious love of cookout or potluck food.  It's so amazing to me… like my warm weather comfort food!  From jalapeño popper macaroni salad, broccoli salad, tequila lime coleslaw and fresh strawberry pie… I can never get enough.  Usually we go for a more traditional pulled pork, but an absolute favorite in our family is our shredded beef barbecue!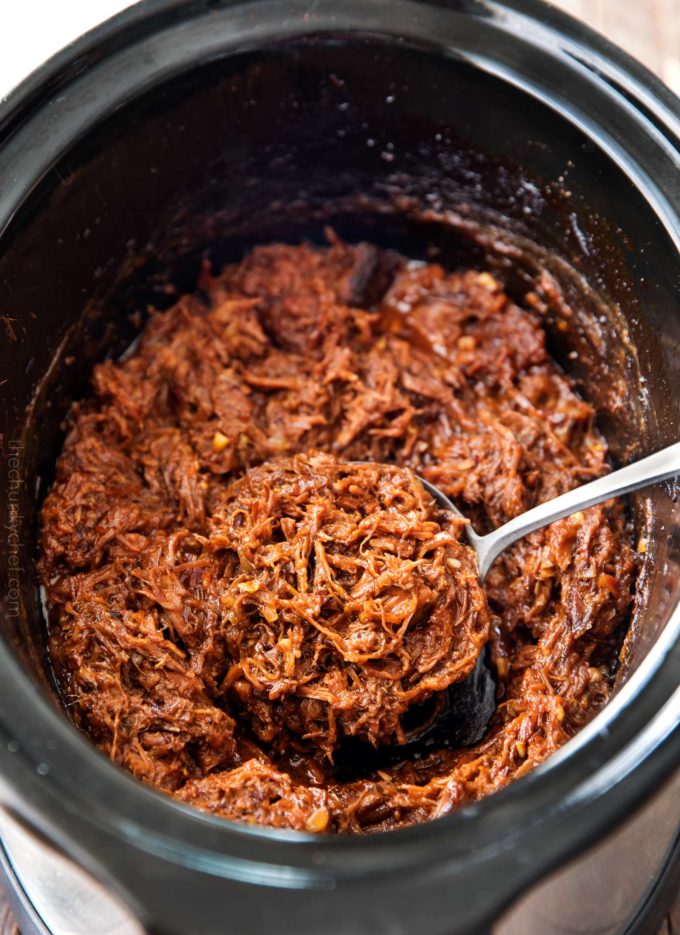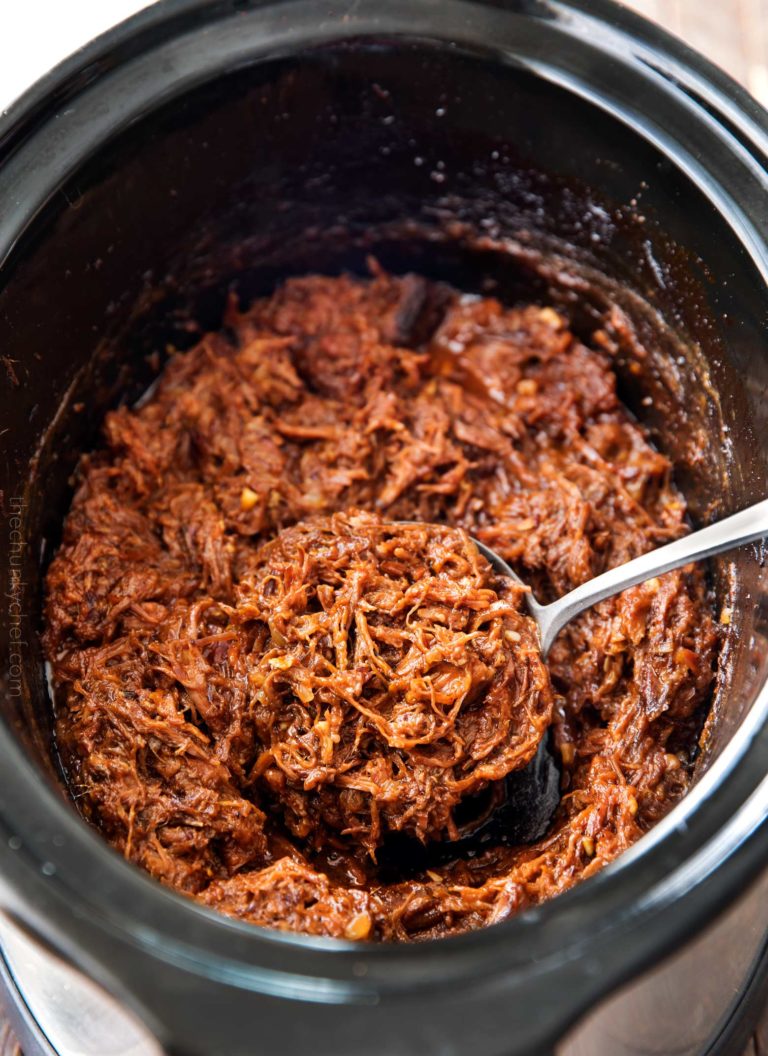 This recipe is a mixture of one we got from my Aunt Amy, with some of my own flair, and a great tip from Karly who blogs over at Buns in My Oven.  Want to know what the tip is?  Mustard.  Plain yellow mustard.  The acidity adds amazing flavor and really tenderizes the beef as it cooks in the crockpot.  Even if you're skeptical… try it once!
HOW TO MAKE BARBECUE BEEF IN THE CROCKPOT
Since this recipe cooks allllll day, go for a cut of beef that is marbled with fat and connective tissue, and one that is a bit tough.  The slow cooker method really allows that connective tissue to melt and leaves you with an incredibly tender, melt in your mouth bbq.  Chuck roast is my preferred cut of beef, but brisket is a fabulous alternative.
Some recipes call for shredded beef barbecue to be cooked all together… with both the sauce and the beef in the crockpot.  For me, this can result in a sauce that is a bit OVER caramelized, especially on the sides of the slow cooker.
For my recipe, we cook the chuck roast in the crockpot with the mustard, spice rub, beef broth, liquid smoke and a few pats of butter.  Once it's super tender, we shred it, drain the juices and return the now-shredded beef to the slow cooker.  Then we make the sauce, add it to the slow cooker and cook it about an hour or so, until it's all hot and combined.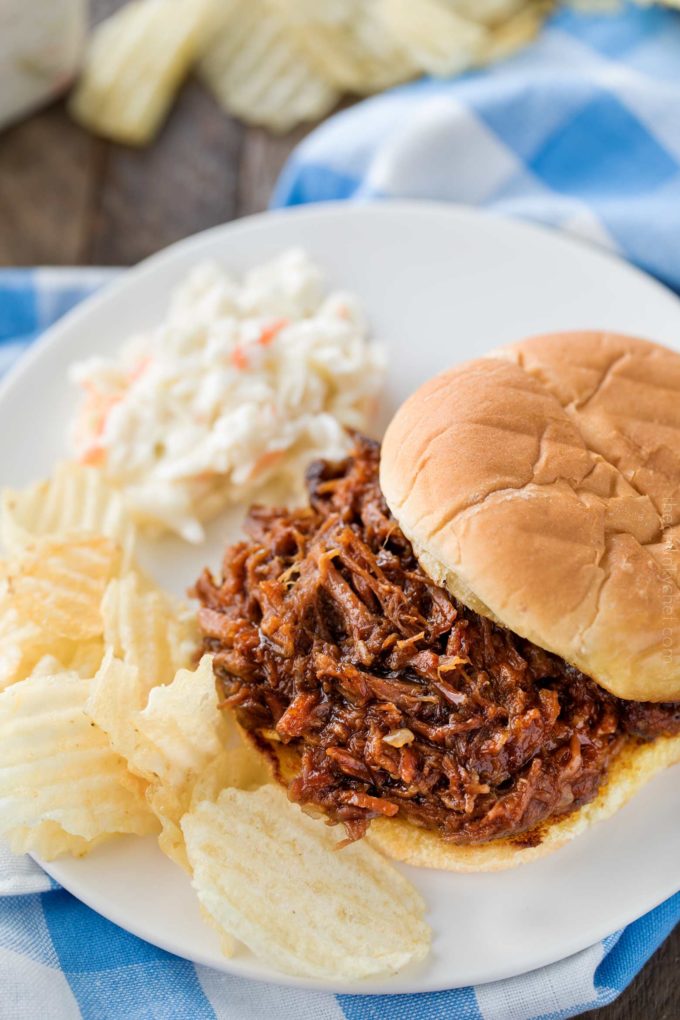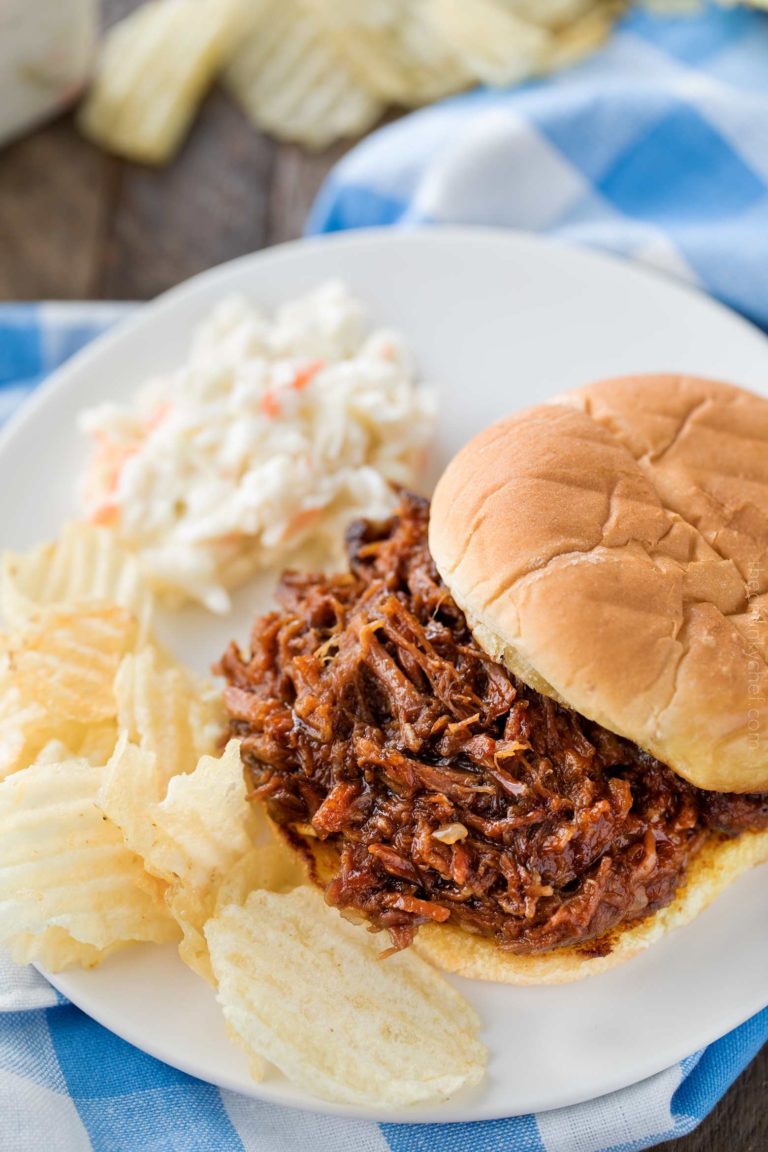 HOW LONG DOES IT TAKE TO COOK A CHUCK ROAST FOR BARBECUE
Overall it depends on the size of the roast, but for a standard 3-5 lb beef chuck roast, 8-10 hours on LOW is a general rule of thumb.  A lot of people think that if they try to shred the roast and it's tough, that it's overcooked.  Actually a tough roast is usually a sign that it needs more cooking time.  Pop the lid back on and cook on LOW another hour or two and I bet it'll be fall apart tender!
CAN THIS SHREDDED BEEF BARBECUE BE MADE AHEAD OF TIME
Absolutely!  Since this recipe has a few ways it can be made ahead of time:
Make both the beef and barbecue sauce ahead of time and store them separately in the refrigerator.  The day you want to serve it, add both the beef and sauce to the crockpot, stir well, cover and cook on LOW for several hours, until the bbq is hot.
Make the beef ahead of time, shred, cool and refrigerate.  The day you want to serve it, set the beef out on the counter for about 30 minutes.  As it's sitting out, make up the sauce.  Add beef and sauce to the crockpot, cover, and cook on HIGH for about an hour, until hot.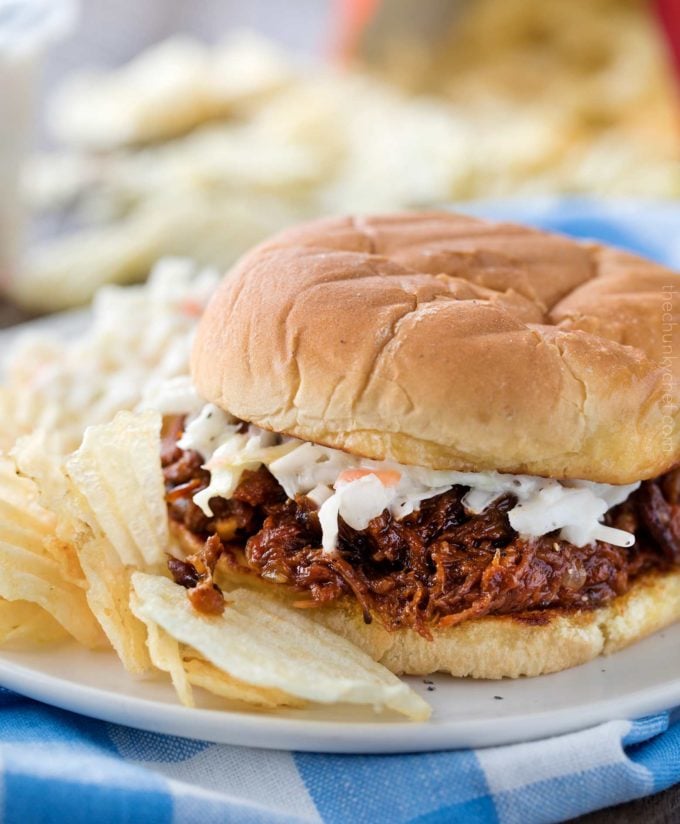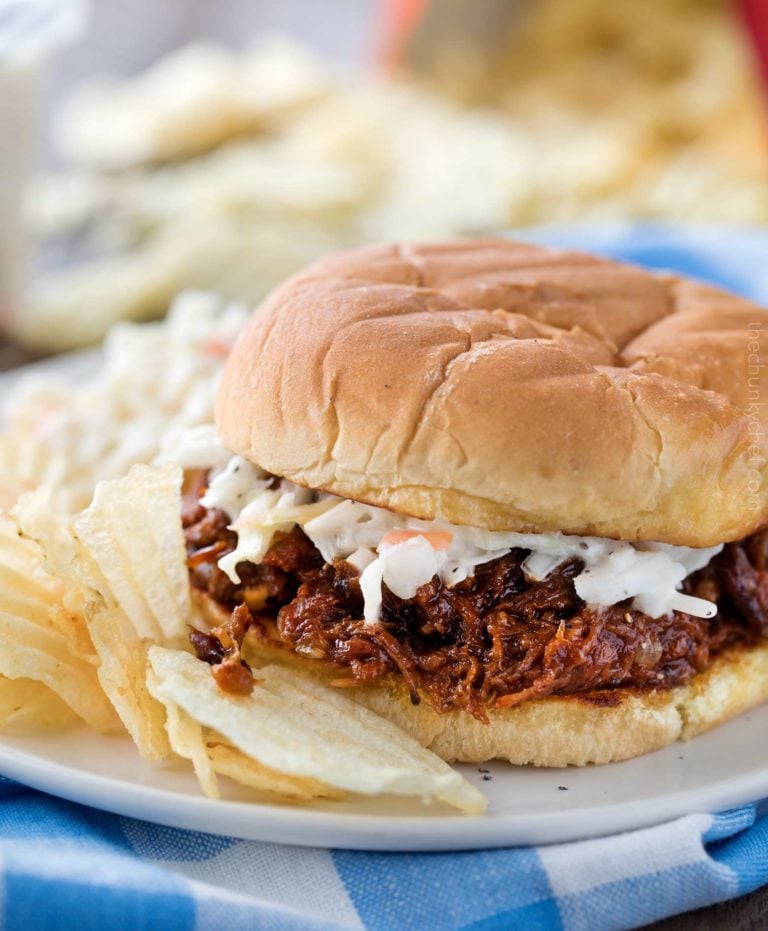 CAN THIS SHREDDED BEEF BARBECUE BE MADE IN THE PRESSURE COOKER (INSTANT POT)
I haven't extensively tested this, so use this as a general guideline.
Cut chuck roast into 3-4 pieces.  Rub them with mustard, the homemade seasoning rub, then add them to the instant pot.  Increase the beef broth to about 1 1/2 cups, and add beef broth and liquid smoke (if using), pouring it around the beef chunks.
Add lid and lock into place.  Make sure the knob on top is set to the "sealing" position.
Set to Pressure Cook/Manual, High Pressure, and use the + or – buttons (or dial in some models) to select 60 minutes.
When roast is finished cooking, do a natural pressure release for 10-15 minutes by letting the pressure cooker sit undisturbed.
After 10-15 minutes, turn knob to "venting" position and release any remaining pressure.  When the pin drops down, remove lid.
Remove beef from instant pot, shred.  Remove juices from instant pot insert, add beef back to insert.
Add in cooked bbq sauce and use the "saute" function to cook the beef with the sauce to really marry it together.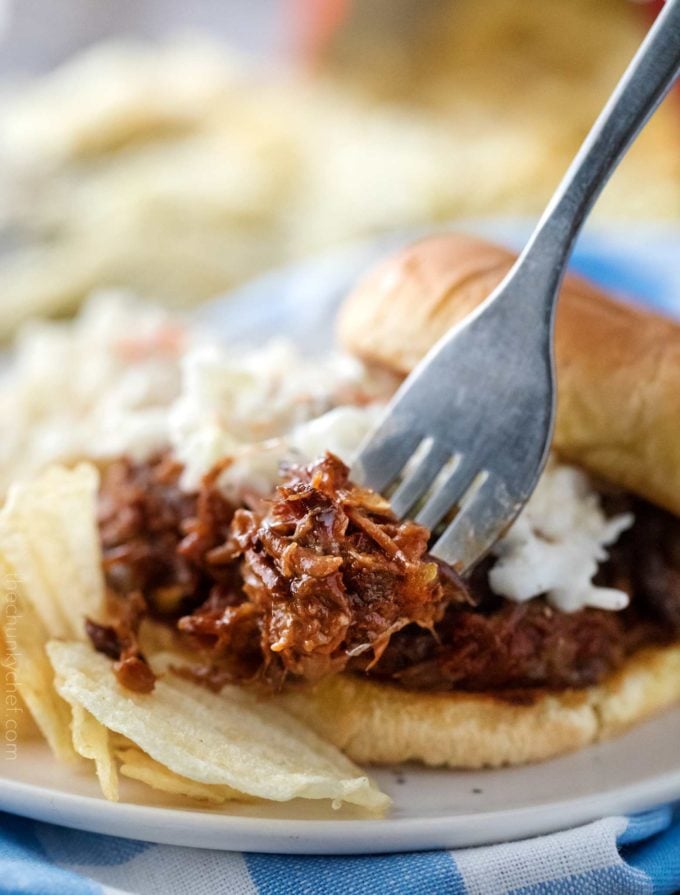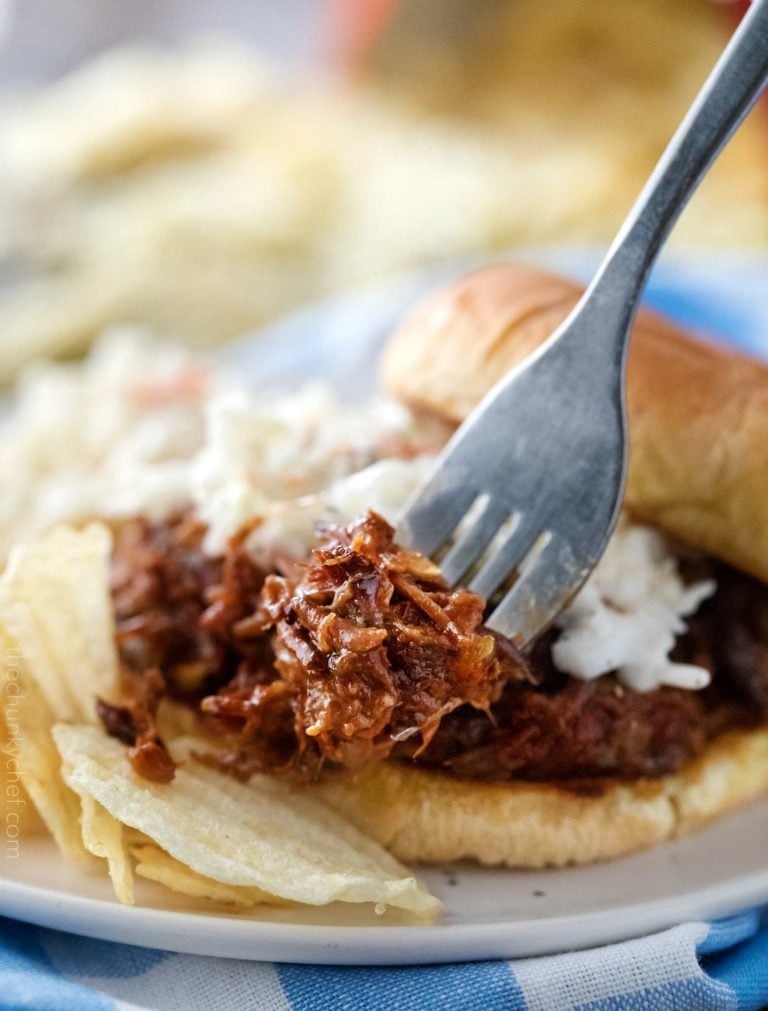 Want to try this Shredded Beef Barbecue?

PIN IT to your CROCKPOT or BEEF board to save for later!

Find me on Pinterest for more great recipes!
Did you make this? Be sure to leave a review below and tag me @the_chunky_chef on Facebook and Instagram!
Perfect for a summer cookout or potluck, this shredded beef barbecue recipe is made easily in the crockpot!
Ingredients
CROCKPOT SHREDDED BEEF
2 - 3 Tbsp packed light brown sugar
2 1/2 tsp paprika
2 tsp garlic powder
2 tsp onion powder
1 1/2 tsp kosher salt
1 tsp black pepper
4 lb beef chuck roast
2 Tbsp yellow mustard
2/3 cup beef broth
1 tsp liquid smoke (optional)
3 - 4 Tbsp unsalted butter (sliced)
BARBECUE SAUCE
1 large yellow onion, finely minced
4 cloves garlic, minced
3 Tbsp butter
1 tsp olive oil
salt and pepper, to taste
20 - 24 oz bottle of ketchup
1/3 - 1/2 cup packed light brown sugar
1/4 cup apple cider vinegar
2 - 3 Tbsp molasses
1/2 tsp Worcestershire sauce
Instructions
Combine brown sugar, paprika, garlic powder, onion powder, salt and pepper in a small bowl. Set aside. Add chuck roast to slow cooker, drizzle with mustard and rub into the meat.

Sprinkle with half of the rub. Rub into the meat, flip the roast over and rub the remaining rub into the meat. Pour in beef broth and liquid smoke (if using), being careful to pour it around the roast, not over it. You don't want to wash away that rub and mustard! Top with butter slices. Cover and cook on LOW for 8-10 hours, or until roast is fork tender.

Remove roast from slow cooker to a large cutting board and shred, discarding large fat pieces. Drain cooking juices from the slow cooker and return shredded beef to the slow cooker.
BARBECUE SAUCE
Add butter and olive oil to a saucepan and heat over MED heat. Add onion and garlic and saute until soft and translucent, about 5-8 minutes.

Add ketchup, brown sugar, cider vinegar, molasses and Worcestershire sauce to saucepan and stir until combined. Pour barbecue sauce into slow cooker with beef and stir well. Cover and cook on HIGH for 30 minutes or so, to allow the sauce to really mesh together and slightly caramelize on the beef.

Serve hot and enjoy!
Want to save this recipe for later? Click the heart in the bottom right corner to save to your own recipe box!
Chef Tips
Both the barbecue sauce and shredded beef can be made ahead of time and reheated together in the crockpot.  Combine shredded beef and cooked sauce and cook, covered, on LOW until hot.
If you'd prefer, store-bought barbecue sauce can be used.
This beef is incredibly flavorful on it's own, so if you'd prefer a sauce-less shredded beef, this is a great recipe.
Feel free to play around with the amounts of barbecue sauce ingredients, depending on your tastes and the size of the roast you're using.
Nutrition Disclaimer
The Chunky Chef is not a dietician or nutritionist, and any nutritional information shared is an estimate. If calorie count and other nutritional values are important to you, we recommend running the ingredients through whichever online nutritional calculator you prefer. Calories can vary quite a bit depending on which brands were used.