These tender and fluffy biscuits are absolutely loaded with bacon, cheddar cheese, and real maple syrup. Plus, they're partly made with bacon grease, so you know the flavor is out of this world!
This is one of my Bread recipes I know you'll want to keep on hand!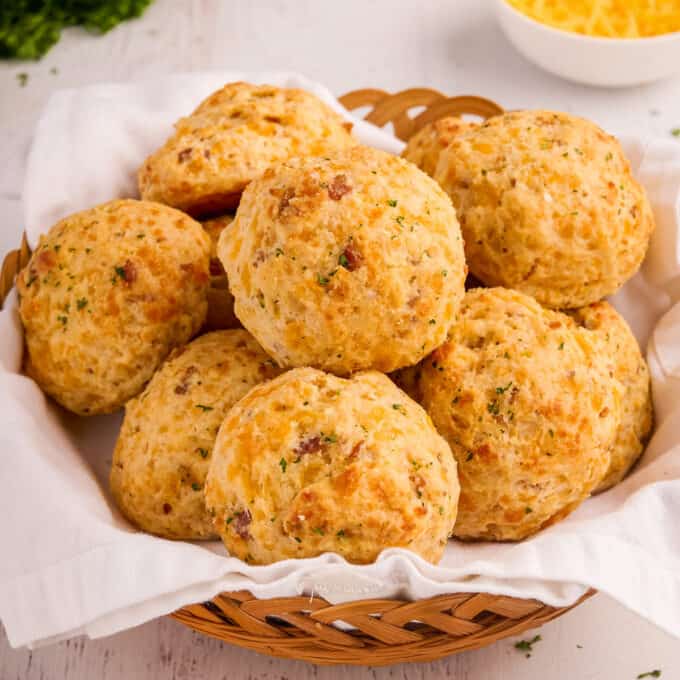 If there's one thing we love here in The Chunky Chef household, it's bread. We love it in all forms, but my personal favorite is biscuits.
So buttery and fluffy, and just begging for some softened butter to be slathered all over them!
But sometimes they can be a pain to make. My Buttermilk Biscuits are absolutely delicious, but the dough needs to be strategically folded and cut out.
One thing I love about these maple bacon and cheddar biscuits is that there isn't any rolling out of the dough, no careful folding or cutting, or anything fussy.
Just mix, scoop, and bake!
Plus, they're the perfect blend of sweet and savory, with little morsels of bacon and cheese throughout.
How to make maple bacon and cheddar biscuits?
This is just an overview; the full ingredients and directions are in the recipe card toward the bottom of this post.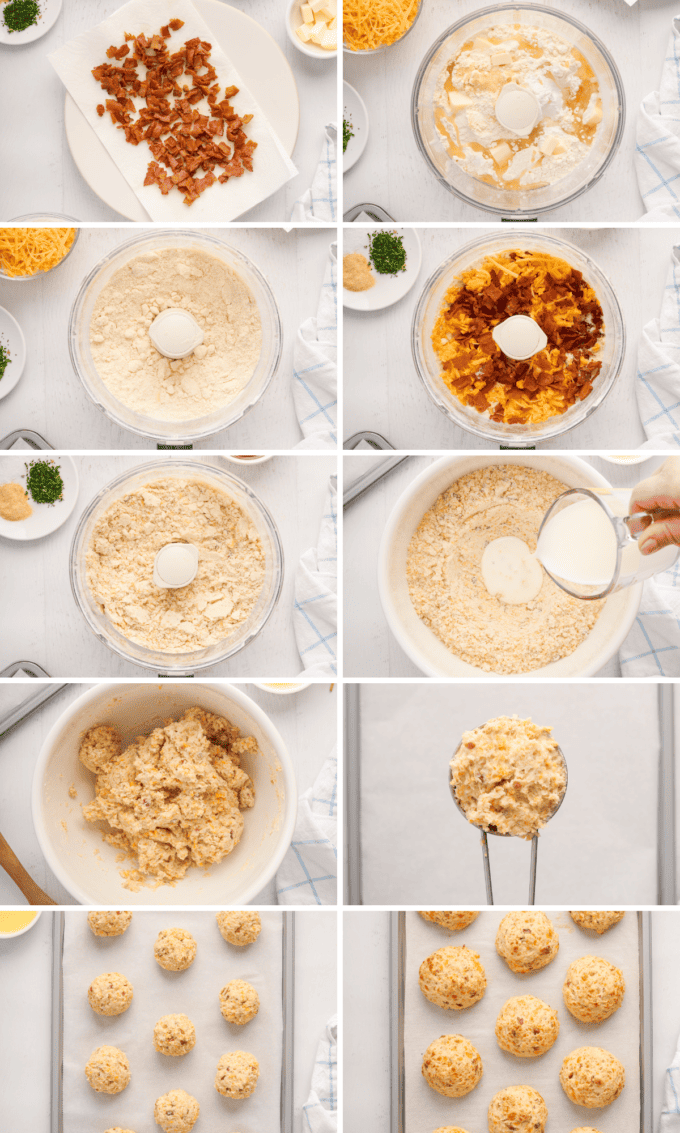 Cook bacon. You can do this in any way you'd like, but you'll want to drain the bacon on a paper towel, and reserve some of the grease.
Cut fats into dry ingredients. I like to add the dry ingredients to my food processor, then add the chilled butter and bacon grease and pulse a bit, until pea-sized lumps appear.
Cut in cheese and bacon. This just takes a couple of pulses.
Transfer to bowl and add liquid. Make a little well in the center and pour in cold buttermilk.
Stir and scoop. Once mixed, scoop out dough onto baking sheet.
Bake and brush. Bake until golden, then brush with melted butter mixture.
Helpful Tip!
It may seem unconventional to use bacon grease plus butter instead of just butter, but it really adds an extra level of delicious flavor! Of course, you can always tweak the recipe to your tastes, so I've included an option to use only butter in the "variations" heading below.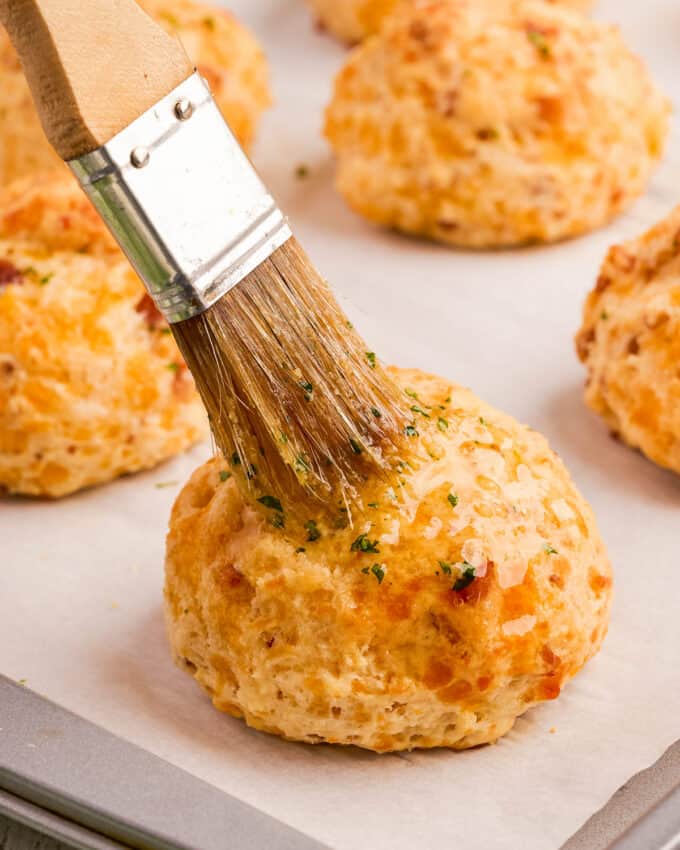 Variations of this recipe
Self rising flour – if you have self rising flour, you can use it for this recipe! Just omit the salt and decrease the baking powder to 1 1/2 tsp.
Buttermilk substitute – if you don't have buttermilk on hand, you can make your own! Mix 1 Tbsp lemon juice or white vinegar with whole milk and let it sit about 10 minutes. It will look a bit curdled. Stir and use.
Drop biscuits – I like to use a cookie scoop to get evenly sized biscuits, but if you don't have one, you can use a greased 1/4 cup measuring cup or two spoons, to drop the biscuits down on the baking sheet. This will give the biscuits a craggy appearance on top, with plenty of peaks that get nice and crunchy.
No bacon grease – if you don't want to use the bacon grease, you can use an additional 2 Tbsp of butter in it's place.
Cheddar type – normally, I talk about how important it is to shred your own cheese (especially for a mac and cheese recipe), but here it's not all that important. Pre-shredded will work just fine. We like to use a medium or sharp cheddar.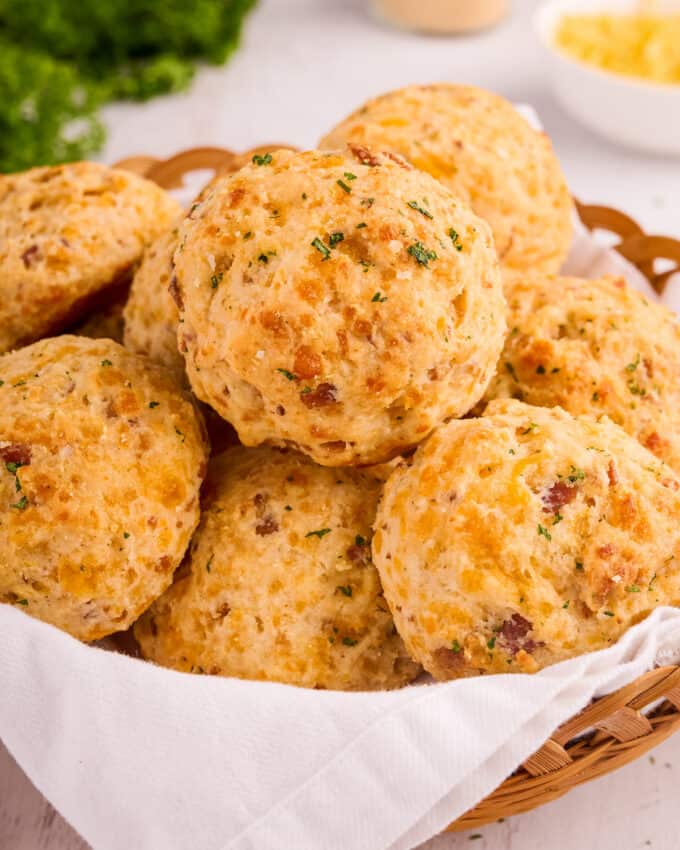 FAQ's
Do I have to use a food processor to make this biscuit dough?
Absolutely not, I just prefer to use mine to make this dough come together really quickly. You can use a pastry cutter or pastry blender to cut the grease and butter into the dry ingredients, or even two forks or knives.
How can I tell if my baking powder is still good?
You definitely want to use non-expired baking powder for this recipe, or your biscuits won't rise. To test your baking powder, add a bit to hot water. If it bubbles and fizzes, you're good to go! However, if your baking powder is older than 6 months, it's best to just get a new can. The older one can still be used for cleaning purposes!
Making biscuits ahead of time
I found that making the dough ahead of time didn't work as well, since the leavening agents (specifically the baking powder), will start activating as soon as the ingredients are mixed. This means when the biscuits are baked, they won't rise as much as they should.
But this dough comes together so quickly, you'll probably have them mixed up before your oven even preheats!
Freezing
This biscuit dough can be frozen as well!
Place the scooped biscuits dough balls on a wax paper lined baking sheet and freeze for 1-2 hours, or until hard. Then transfer the frozen biscuits to a freezer safe container and freeze for up to 3 months.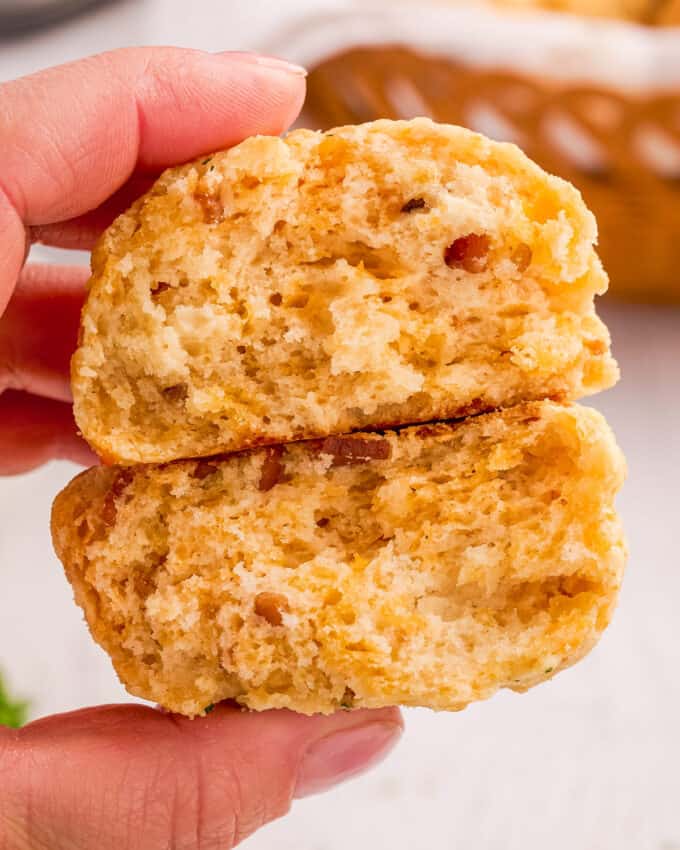 Storage
Biscuits should be stored in an airtight container at room temperature and eaten within 3 days. They can also be refrigerated for up to 5 days.
To reheat leftover biscuits, bake at 300°F for about 10-12 minutes, then brush lightly with melted butter to give them that "just baked" taste.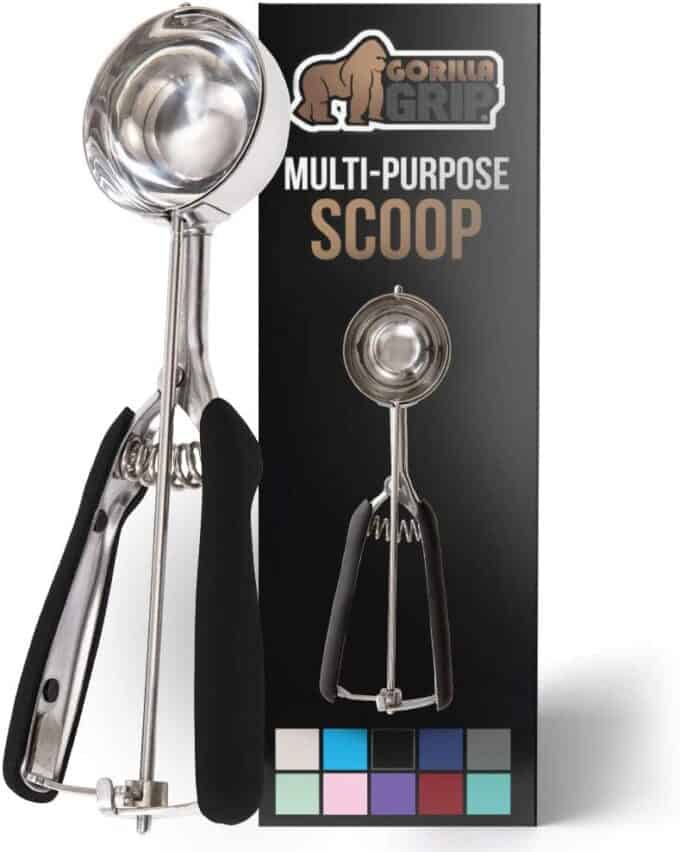 This scoop is the perfect 1/4 cup size for these biscuits, but can also be used for ice cream, cupcakes, muffins, big cookies, meatballs and more!
These biscuits are absolutely delicious on their own, but if you want to take them to the next level, try drizzling them with honey or honey bacon glaze!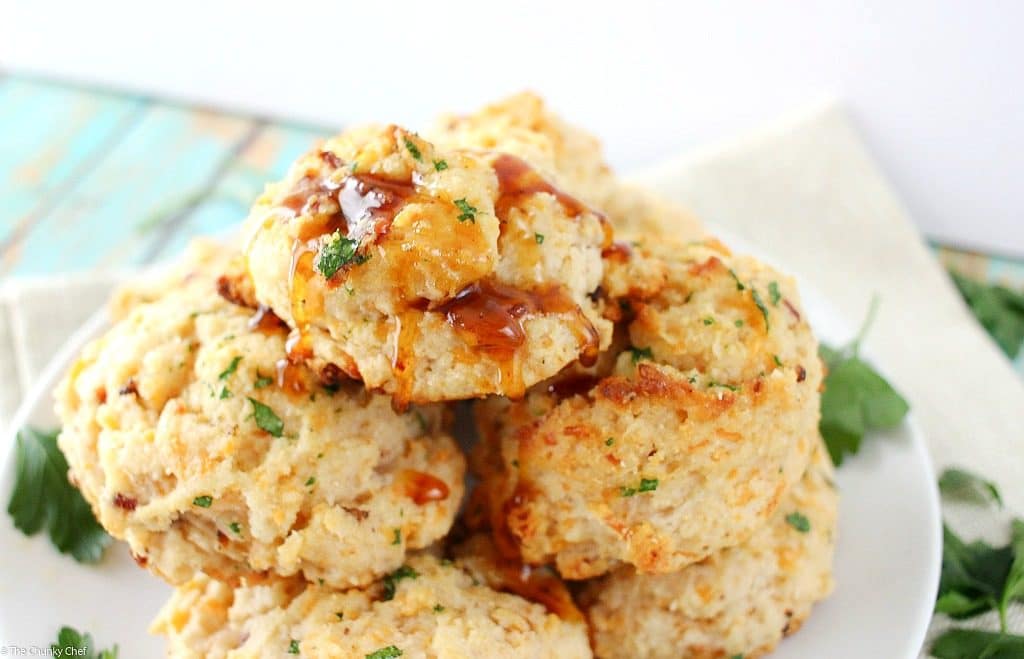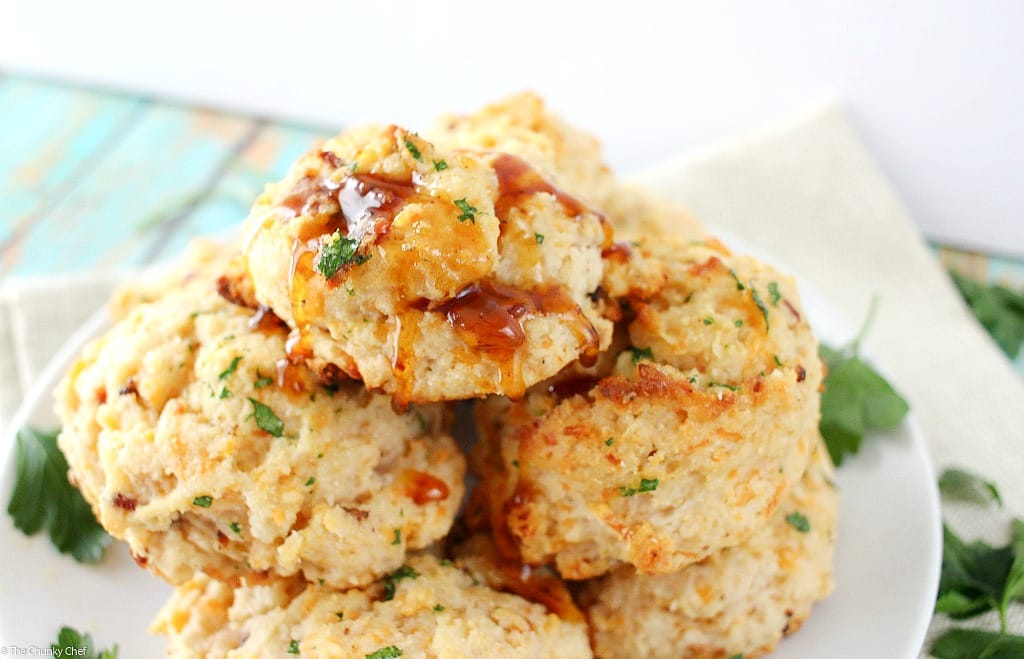 Recipe was originally posted in June of 2015, but has been updated in June of 2023 with new photos and additional information.
Did you make this? Be sure to leave a review below and tag me @the_chunky_chef on Facebook and Instagram!
Fluffy buttermilk biscuits that are both savory and sweet… flavored with cheddar cheese, crispy bacon and maple syrup, then brushed with melted butter!
Ingredients
Biscuits
7 slices bacon diced
2 cups all purpose flour
1 Tbsp baking powder
1 tsp kosher salt
3/4 tsp garlic powder
2 Tbsp unsalted butter cut into small pieces and chilled
2 Tbsp Reserved bacon grease from cooking bacon
1 cup shredded sharp cheddar cheese
1/4 cup maple syrup
1/2 cup + 2 Tbsp buttermilk cold
Butter topping
2 Tbsp unsalted butter melted
1 tsp minced fresh parsley
1/2 tsp garlic powder
pinch of kosher salt
Instructions
Cook bacon
Cook bacon in a skillet over MED heat, until crispy (or in whichever way you usually prepare bacon). Remove cooked bacon to a paper towel lined plate, and pour grease into a small shallow bowl. Place bowl of bacon grease in the freezer to chill.
Prepare
Add cubed butter to freezer to chill as well.

Preheat oven to 400°F and line a baking sheet with parchment paper. Set aside.
Make biscuit dough
To a food processor, add flour, baking powder, salt, and garlic powder. Add chilled butter and bacon grease, pulsing a few times, or until pea-sized lumps form.

Add bacon and cheddar cheese, and pulse just 1-2 more times to combine.

Transfer flour mixture from the food processor to a large bowl. Make a well in the center, and pour in maple syrup and buttermilk.

Mix well using a wooden spoon or rubber spatula, adding more buttermilk if the mixture is very dry.
Scoop and bake biscuits
Scoop out dough in approximately 1/4 cup portions, adding them to the prepared baking sheet, leaving some room in between each biscuit.

Bake for about 15 minutes, or until lightly golden.
Add topping
Combine topping ingredients (melted butter, parsley, garlic powder, and salt), and brush onto cooked biscuits.
Cool
Transfer biscuits to a cooling rack to cool, or serve warm.
Want to save this recipe for later? Click the heart in the bottom right corner to save to your own recipe box!
Chef Tips
Recipe makes approximately 12 biscuits.
If you'd prefer to use bacon that's already cooked, you can absolutely use it, you'll just need to have bacon grease on hand.
If you prefer to not use bacon grease at all, you can use an equal amount of additional butter instead.
A food processor isn't necessary for this recipe; if you don't have one, you can use a pastry cutter or pastry blender (like this one – amazon link), or two forks used in a criss cross motion to cut in the butter and grease.
Nutrition Disclaimer
The Chunky Chef is not a dietician or nutritionist, and any nutritional information shared is an estimate. If calorie count and other nutritional values are important to you, we recommend running the ingredients through whichever online nutritional calculator you prefer. Calories can vary quite a bit depending on which brands were used.