Golden brown on the outside and soft and fluffy on the inside, these Old Fashioned Donuts are made with simple ingredients and NO yeast!  Perfectly fried with nooks and crannies to hold the sweet vanilla glaze!
These Old Fashioned Donuts are such a fun breakfast treat, and SO delicious!  We love breakfasts that can double as a dessert, like my Coffee Cake, and Sticky Buns.   This is one of my Breakfast recipes you'll definitely want in your collection!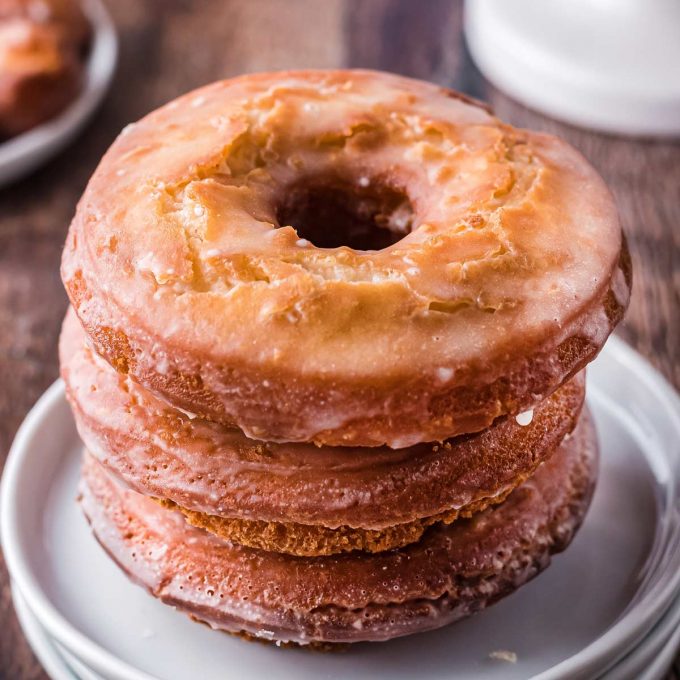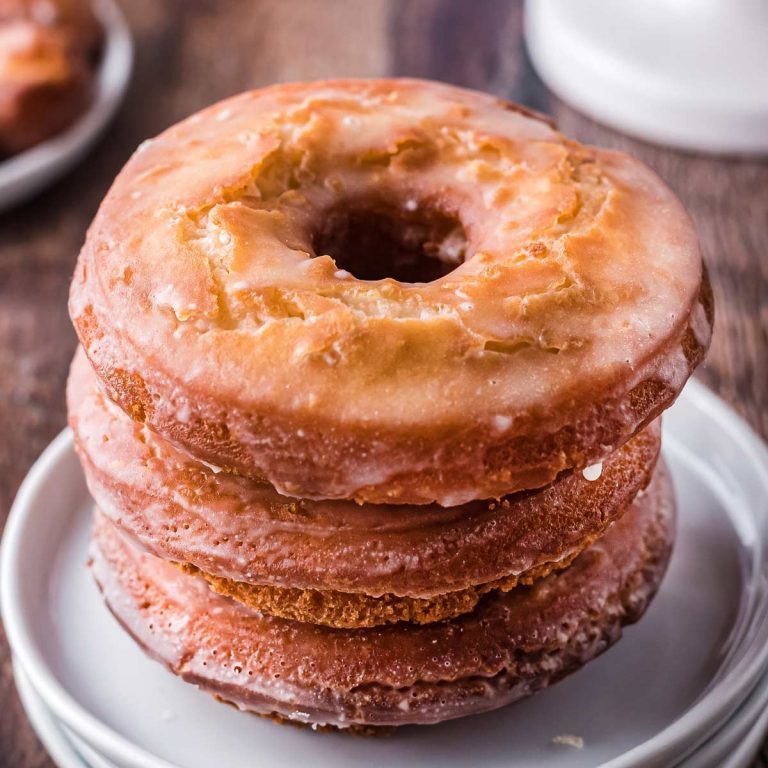 OLD FASHIONED DONUTS
Y'all.  I've been on a diet lately, and there's one thing I miss more than anything… donuts.  Which is crazy, because I honestly didn't even eat donuts all that much before being on a diet.
But now I guess because I shouldn't have them; I want them.  Like, a lot.  I hear the word donut, and I'm practically drooling all Homer Simpson-style.
So this post is making me insanely hungry to write lol. But you know what? It's worth it to share this recipe with you guys. Because you deserve it!
Here comes the age-old donut question… are you a yeast donut, or cake donut person?  Honestly, I'm generally a yeast donut person.  Except for one kind.  THIS kind.
Old fashioned donuts, or sometimes called sour cream donuts, are so perfectly golden and crisp on the outside, with that amazing crackly texture… yet so soft and fluffy inside, like a cake.
Seriously hard to resist!
HOW TO MAKE OLD FASHIONED DONUTS
This donut recipe can be broken down into many parts, but there are two main ones; making the dough, cutting/frying the dough.  I promise, it's much easier than you think it is 🙂  Plus, no worries if they're a bit (or a lot) rustic in shape, no matter how they go into the oil, you'll end up with some amazing tasting donuts!
MAKING THE DOUGH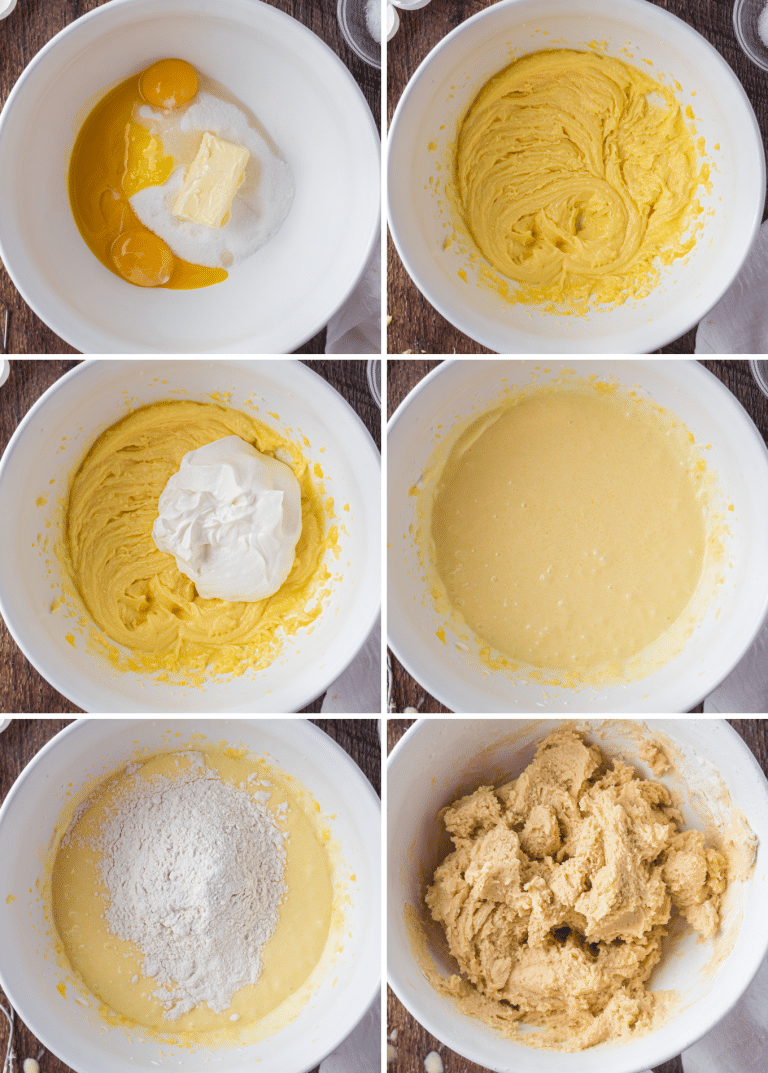 Add butter, sugar and egg yolks and cream together.
Mix in sour cream.  Mix in baking powder and salt.
Combine flour and cornstarch, then add to mixture, 1 cup at a time. Continue until all flour is used up.  Dough will be sticky.
CUTTING/FRYING DONUTS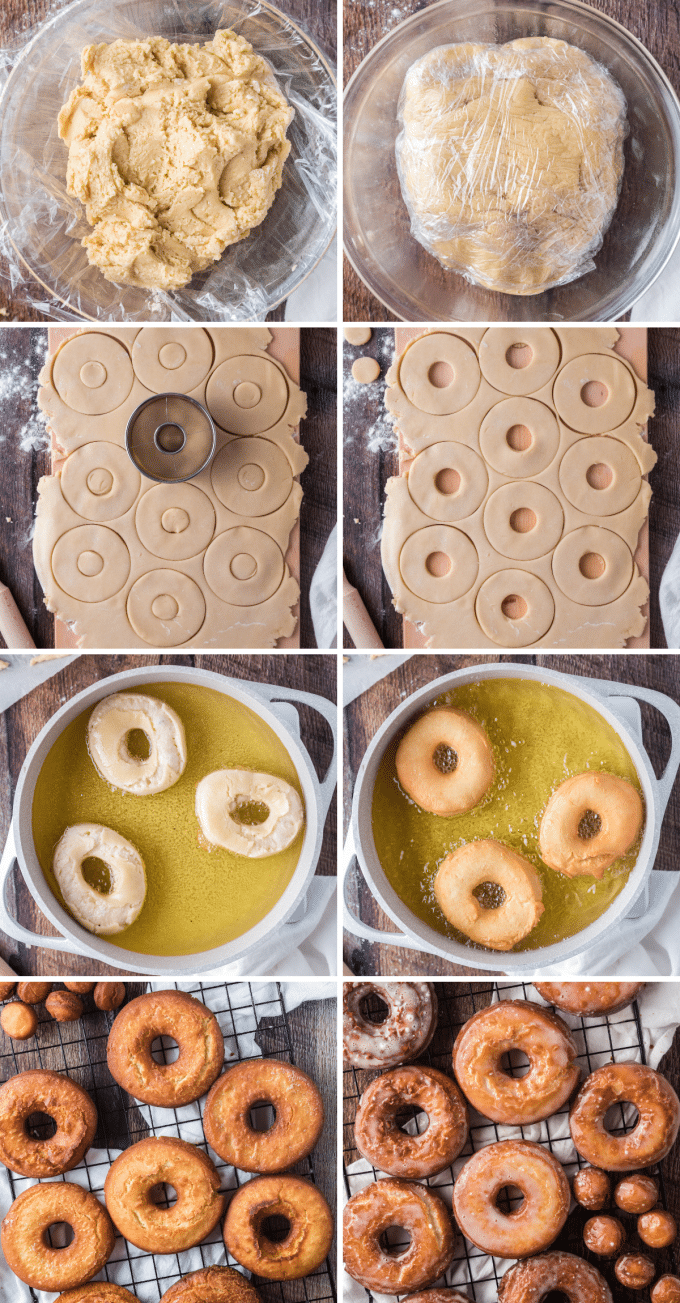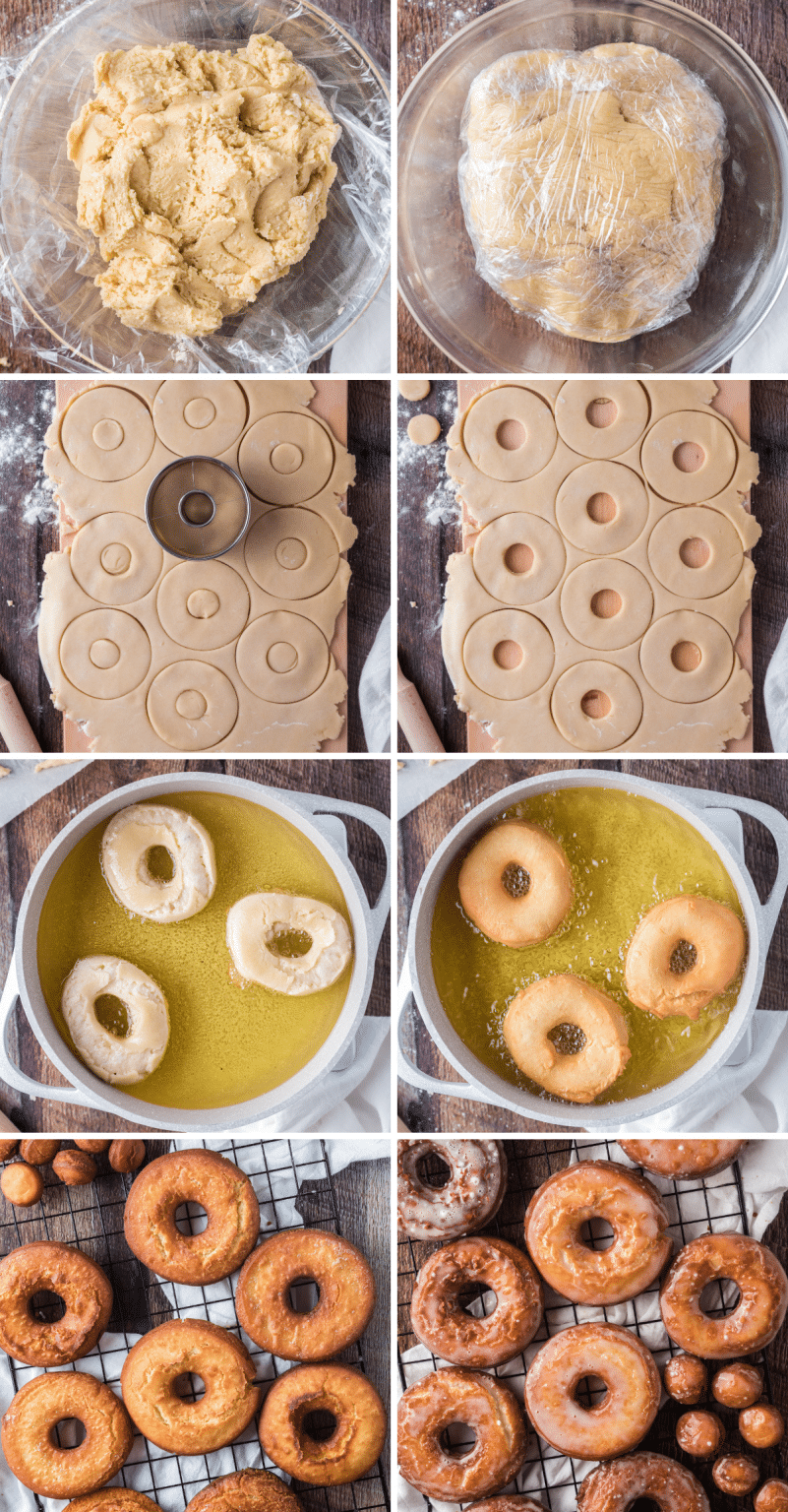 Wrap dough in plastic wrap and chill for at least 3 hours.
Roll out dough, then cut into donut shape, removing the donut hole.
Transfer donuts, a few at a time, to hot frying oil, and fry several minutes, until golden and cooked through.
Transfer donuts to cooling rack.
Make glaze and dip donuts in glaze to coat.
ADDITIONAL COOKING TIPS
THE CHILLING – I know it's a hassle to have to wait for your freshly made donuts to chill, but it really is necessary in this recipe. Without chilling, the donut dough would be WAY too sticky to roll out and cut, and the ingredients need that time to really come together.  The good news is that you can keep the dough chilling for up to 3 days, so this recipe can be fit into your schedule.
THE FLOUR – a lot of recipes for old fashioned cake donuts use cake or pastry flour to get that incredibly soft texture on the inside of the donut. While using those flours definitely works, not as many people keep that kind of flour on hand in their pantry – I know I don't. So I developed this recipe to use regular all purpose flour instead, which is why we add the cornstarch and baking soda.  This mimics the softness of the cake flour, while adding plenty of poof so you don't end up with flat donuts.
THE OIL – you definitely want to use a neutral flavored oil here, like a vegetable or canola oil.  Peanut oil is great for frying more savory foods, but I personally don't like it with sweets. The secret to frying is keeping the oil relatively consistent. If the oil is too hot, the donuts will burn and be gooey on the inside.  If the oil is too cold, the donuts will be super dense and absorb too much oil.  The easiest way to do this is with a candy thermometer.  They're super inexpensive, and so invaluable.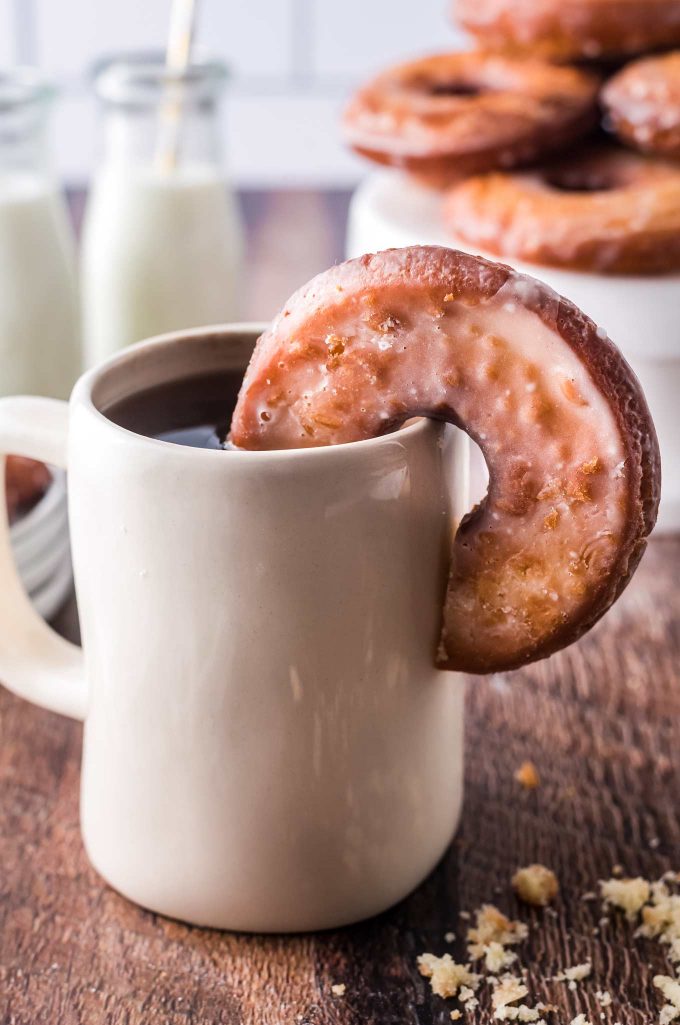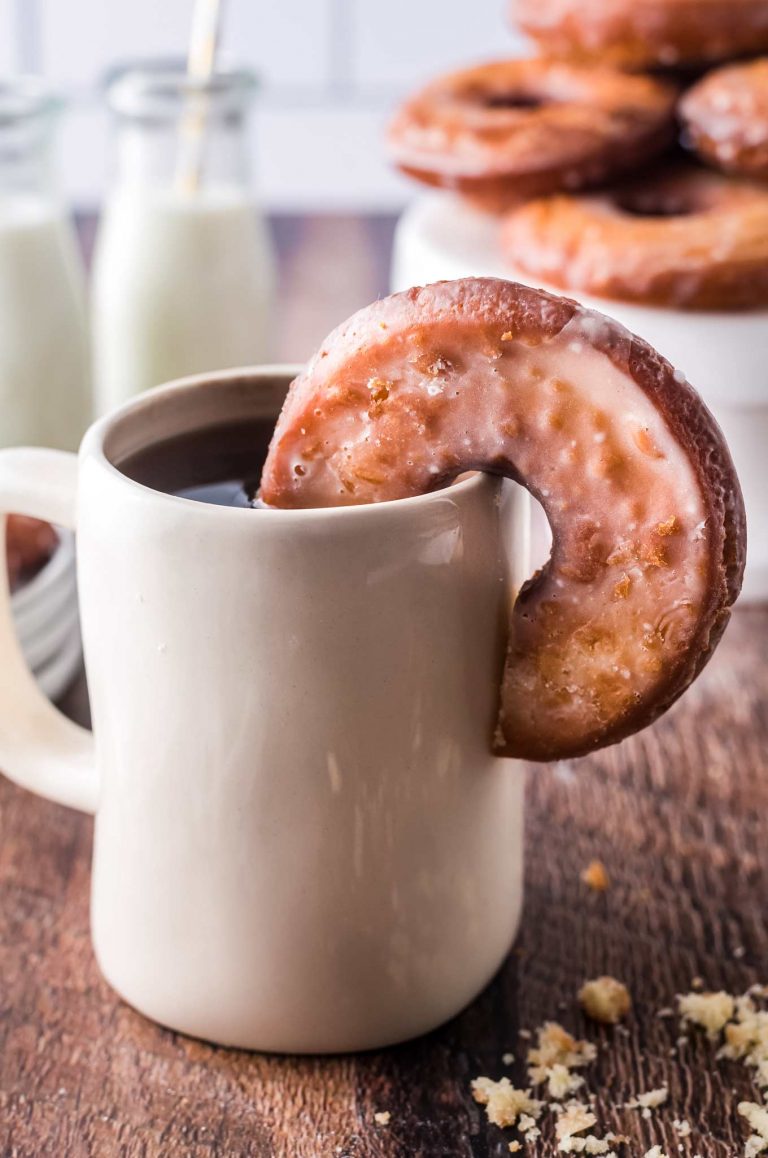 VARIATIONS OF THIS RECIPE
CINNAMON SUGAR – if you're not feeling the glaze, or would rather not make it, you could roll these donuts in some granulated sugar and ground cinnamon when they're fresh out of the oil.
EGGNOG – since we're coming up on holiday season in a few months, I figured I'd throw this one in 😉 Try adding about 1/4 tsp of ground nutmeg to the dough, and use eggnog instead of milk in the glaze!
PUMPKIN – I've not tested this, but I *think* replacing half the sour cream with 3/4 cup canned pumpkin, and adding 1/2 tsp pumpkin pie spice to the dough would work well.  You could also add a pinch of pumpkin pie spice to the glaze.
ALL DONUT HOLES – if you don't have a donut cutter or don't want to fuss with using two different sized cutters, you can make all donut holes! You'd definitely get more holes out of the dough.
BARS – another option for cutting this dough is to slice it into bar shapes. Just roll out your dough into a rectangle or square and use a pizza cutter, sharp knife, or bench scraper to slice the dough into bar shapes.  Fry for about 1 1/2 – 2 minutes per side. Of course this time is dependent on how big you made the bars, the bigger they are the longer they'll need to fry.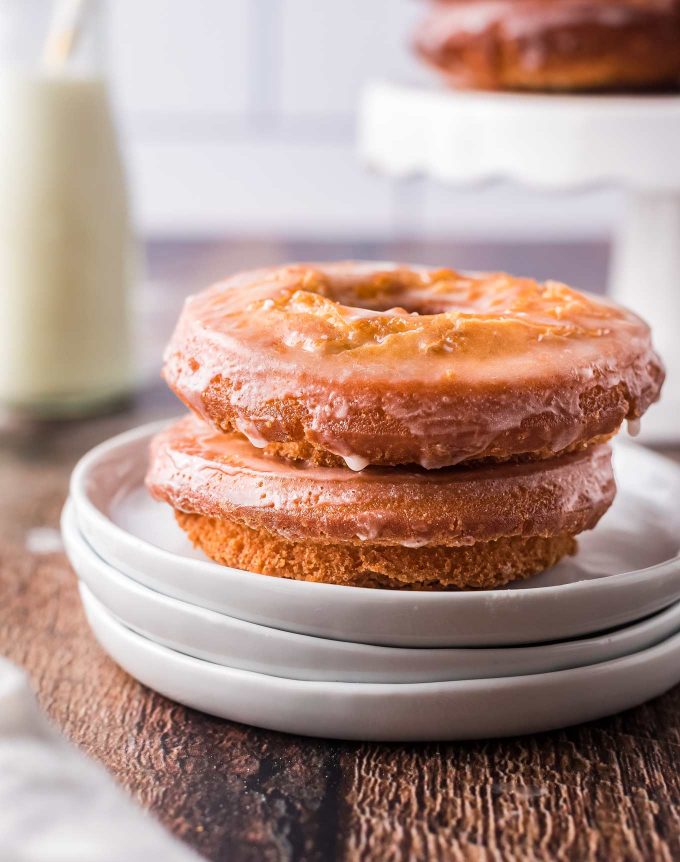 MAKING OLD FASHIONED DONUTS AHEAD OF TIME
I love making these cake donuts, because they actually are supposed to be made ahead of time!  Well, at least prepared ahead of time.
The dough has to chill for several hours to really come together and make the best donuts.  But you can leave the dough in the refrigerator for up to 3 days!
STORAGE
Leftover donuts should be stored at room temperature in an airtight container and consumed within 2 days.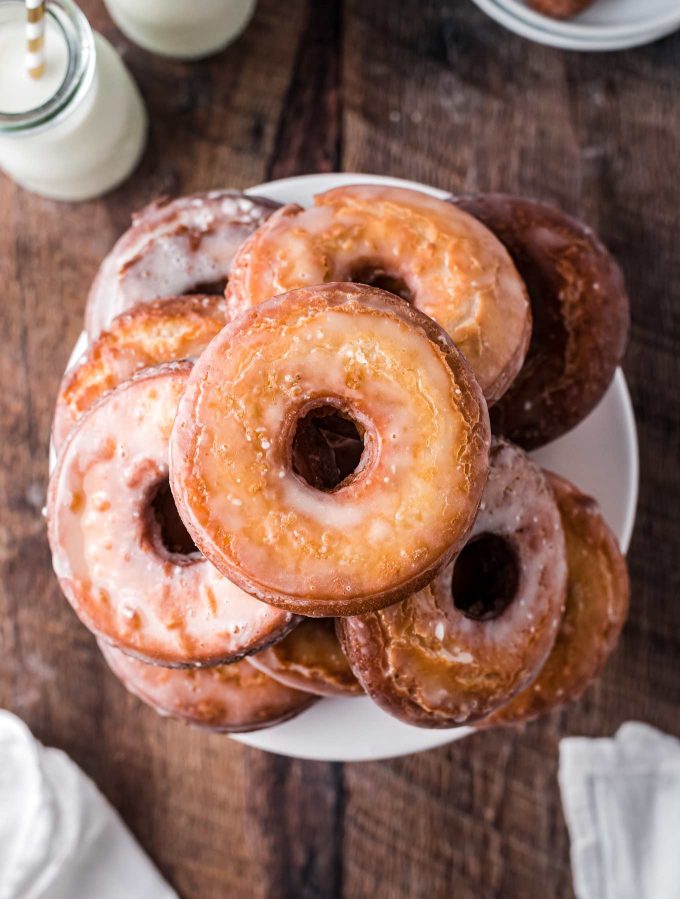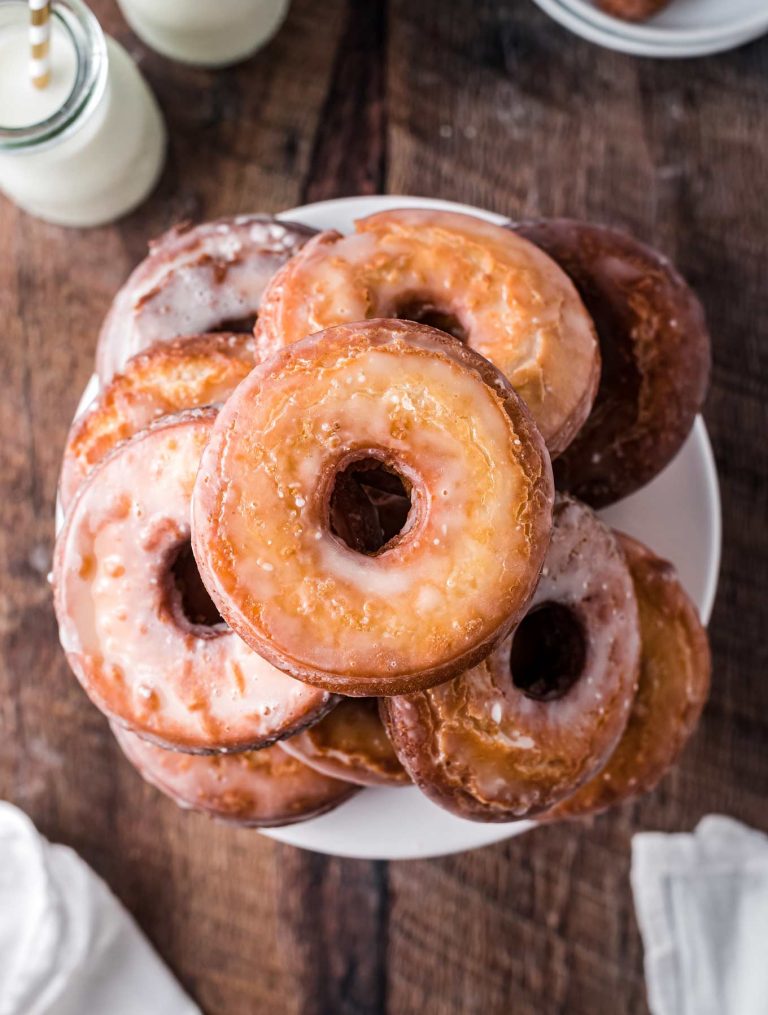 SPECIAL EQUIPMENT FOR THIS RECIPE
The following links are affiliate links.
The Chunky Chef, LLC is a participant in the Amazon Services LLC Associates Program, an affiliate advertising program designed to provide a means for sites to earn advertising fees by advertising and linking to amazon.com.  For more information regarding this program and what it means for you, please see my Privacy page.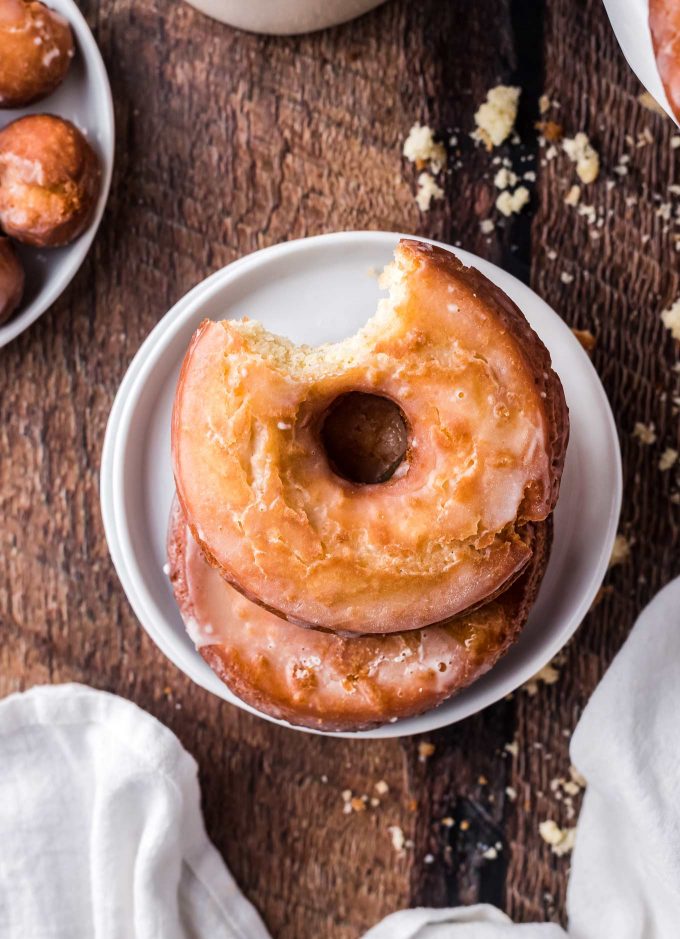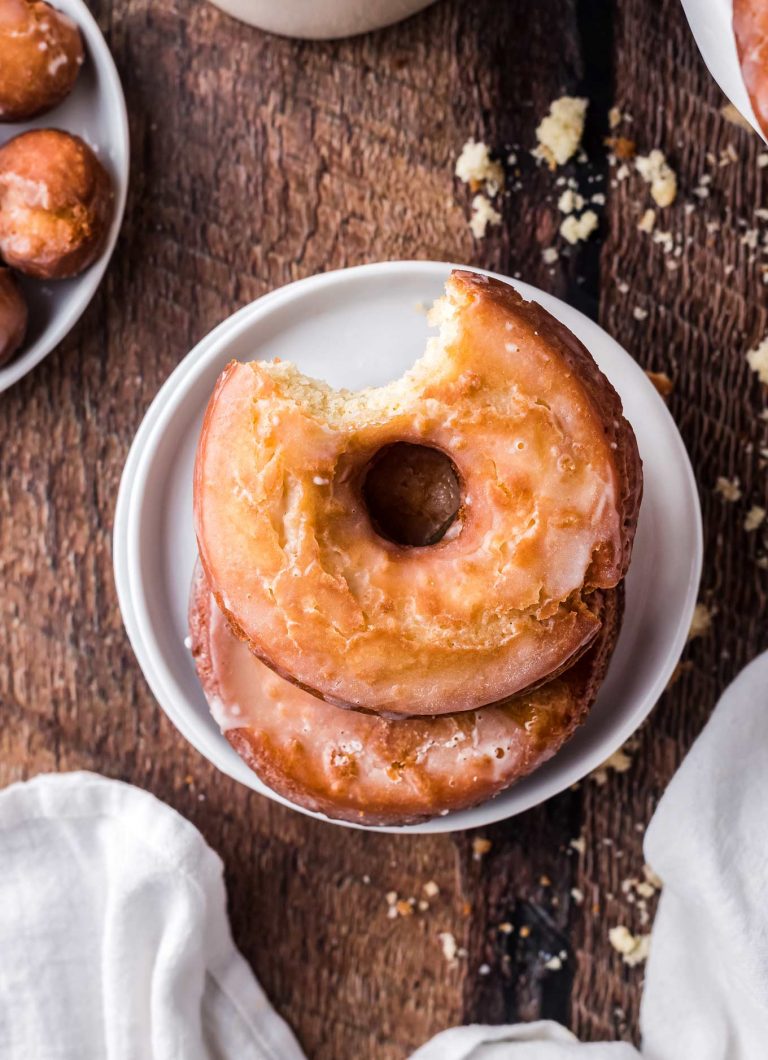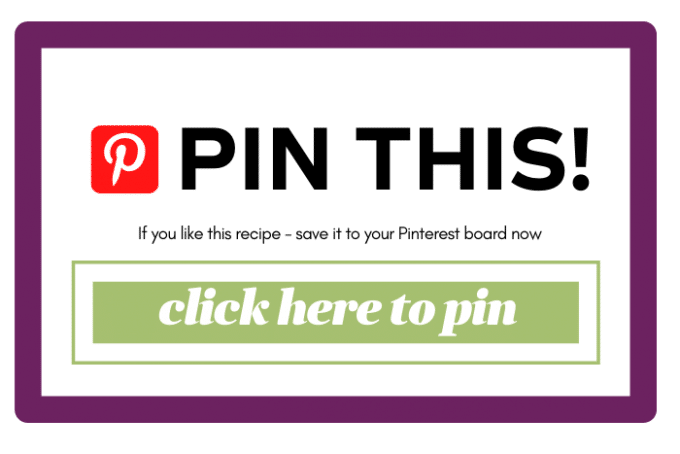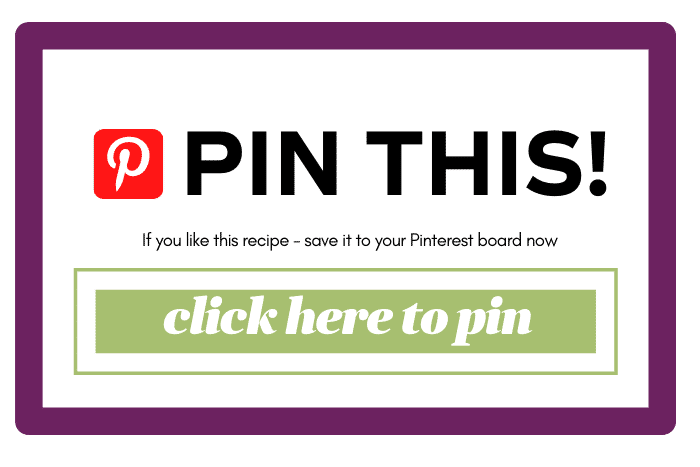 BE SURE TO SCROLL DOWN TO CHECK OUT OTHER READERS' COMMENTS FOR TIPS AND REVIEWS.
AND DON'T FORGET, IF YOU'VE MADE THIS RECIPE, LEAVE A COMMENT AND PLEASE GIVE IT A STAR RATING LETTING ME KNOW HOW YOU ENJOYED IT!
Did you make this? Be sure to leave a review below and tag me @the_chunky_chef on Facebook and Instagram!
Servings:
16
- 18 donuts (plus an equal amount of donut holes)
(hover over # to adjust)
Classic cake donuts made with sour cream and NO yeast!
Ingredients
DONUTS
1/4 cup unsalted butter softened to room temperature
1 cup granulated sugar
4 large egg yolks (yolks only)
1 1/2 cups sour cream full fat works best
3 tsp baking powder
1 1/2 tsp kosher salt
2 Tbsp cornstarch (optional - gives the donuts a softer texture inside)
4 cups all purpose flour
GLAZE
1 1/2 cups powdered sugar sifted or whisked to remove any lumps
1/4 cup milk
1 1/2 tsp vanilla extract
Instructions
MAKE THE DOUGH
To a large mixing bowl, add butter, sugar, and egg yolks, then use mixer to cream until pale yellow.

Add sour cream and mix until blended. Mix in baking powder and salt.

To another mixing bowl, add flour and cornstarch, whisking to combine well. Add flour mixture, about a cup at a time, mixing between each addition, until combined and no flour streaks remain.  Dough will be pretty sticky.
CHILL THE DOUGH
Lightly spray the mixing bowl that had the flour in it with nonstick cooking spray, then line with plastic wrap. This is so the plastic wrap doesn't scoot around on you in the bowl.

Transfer dough to plastic wrap and fold excess wrap over the top of the dough. Place in the refrigerator for at least 3 hours (or up to 3 days).
PREPARE THE FRYING AREA
Line a baking sheet with paper towels and top with a wire cooling rack. Set aside, on the counter next to your stove.

Add oil to a heavy bottomed pot (a dutch oven works great here) and heat over MED heat until it reaches 365°F.
ROLL AND CUT DONUTS
While oil is heating up, lightly flour a work surface (I use my counter), and turn out the donut dough and remove plastic wrap. Lightly flour the top of the dough and roll out until about 1/2 inch thick.

Use a donut cutter (or 3 inch biscuit cutter and 3/4-1 inch wide (at the base) piping tip), and cut out donut shapes. Brush any excess flour off the donuts.
FRY DONUTS
Carefully drop the donuts, a few at a time into the hot oil.  Fry about 1-2 minutes, or until golden brown and cooked through.

Transfer cooked donuts to prepared wire rack, and cool.

If frying donuts holes, they'll only need to fry about a minute per side. Transfer to rack and cool.
MAKE THE GLAZE/GLAZE THE DONUTS
To make the glaze, add powdered sugar, milk, and vanilla to small bowl and whisk until creamy and smooth.

Dip each donut about halfway into the glaze, rotating right and left to coat.  Flip donut over and repeat with the other side.

Return to wire rack so the glaze can set.
Want to save this recipe for later? Click the heart in the bottom right corner to save to your own recipe box!
Chef Tips
Recipe is adapted and tweaked a bit from an old church cookbook
Nutrition Disclaimer
The Chunky Chef is not a dietician or nutritionist, and any nutritional information shared is an estimate. If calorie count and other nutritional values are important to you, we recommend running the ingredients through whichever online nutritional calculator you prefer. Calories can vary quite a bit depending on which brands were used.