This quick and easy Sun Dried Tomato Chicken Pasta has amazing flavor, comes together quickly, and has a sauce that just melts in your mouth!  A dinner recipe the whole family will love!
This Sun Dried Tomato Chicken Pasta recipe is one of my favorite pasta meals to cook for my family.  We really love Italian flavors, and mostly one pot pastas are always a winner… like my One Pot Spaghetti and Chicken Parmesan Pasta!  This is one of my Pasta Recipes I know you'll want to keep on hand!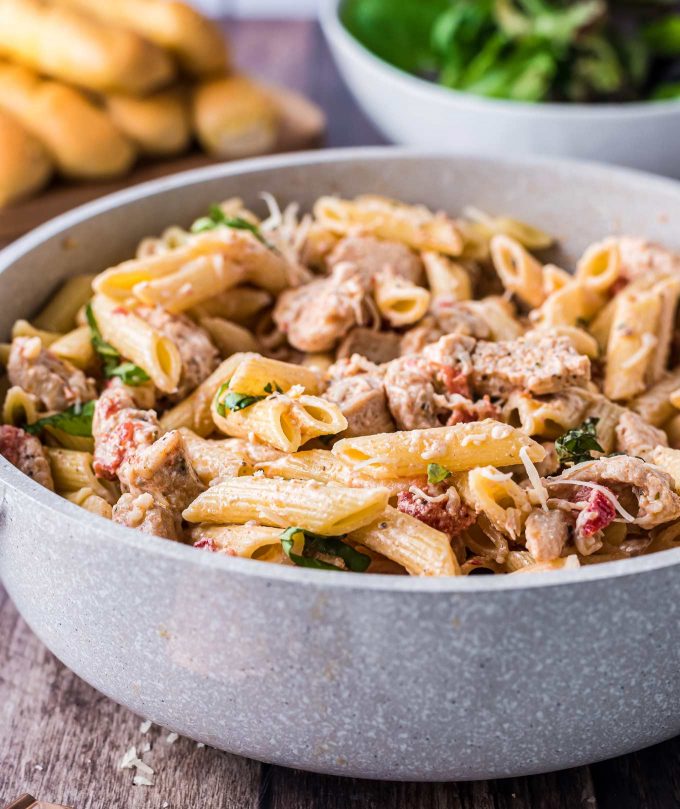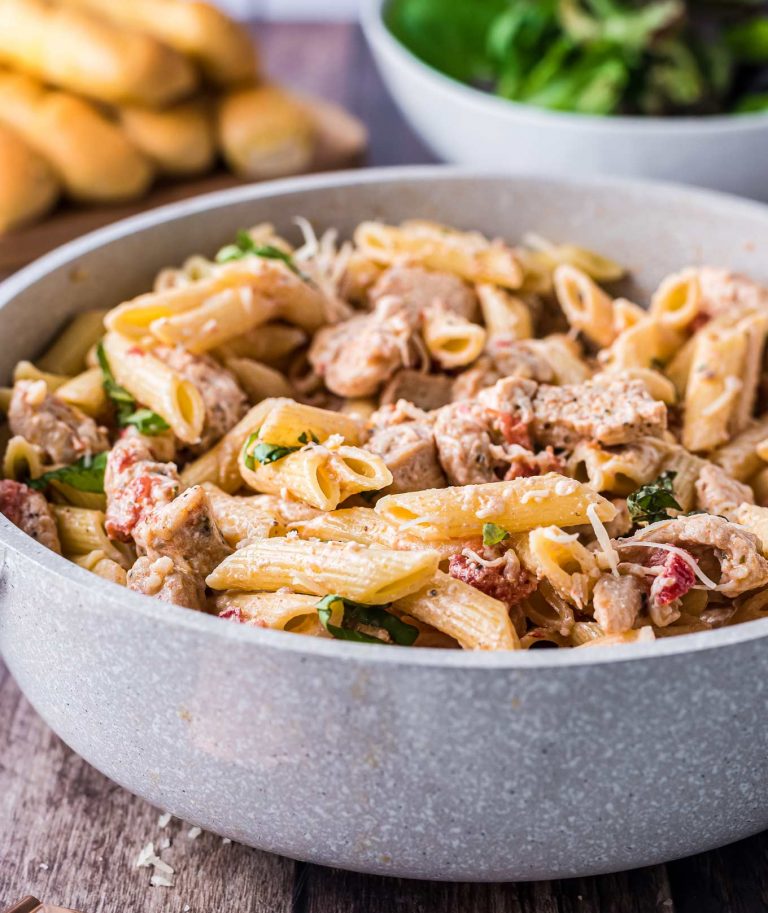 SUN DRIED TOMATO CHICKEN PASTA RECIPE
Today I'm taking things back… back about 6 years.  This is one of the first few recipes I shared here on this website, and I'm excited to bring it back to you today!
Back in 2014, this website was in it's infancy, but the recipes were still just as delicious. But to say this recipe needed some updated photos would be a huge understatement lol.
Honestly it's very fitting that this was one of the first few recipes I shared, since this type of recipe is right in The Chunky Chef's wheelhouse.  Simple, real ingredients, ready quickly, and pure comfort food!  It's exactly the type of recipe I love to create and you all can't get enough of.
We love to serve this pasta alongside some Cheesy Garlic Bread, and a nice Caesar Salad, but it's great with just about anything. The leftovers are super tasty too, so it's great for meal prep.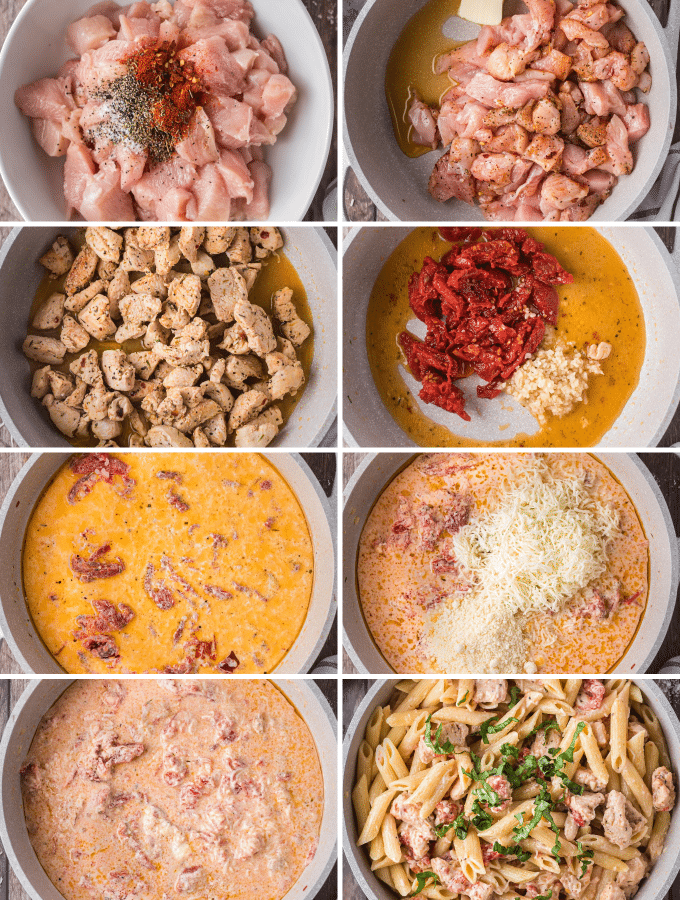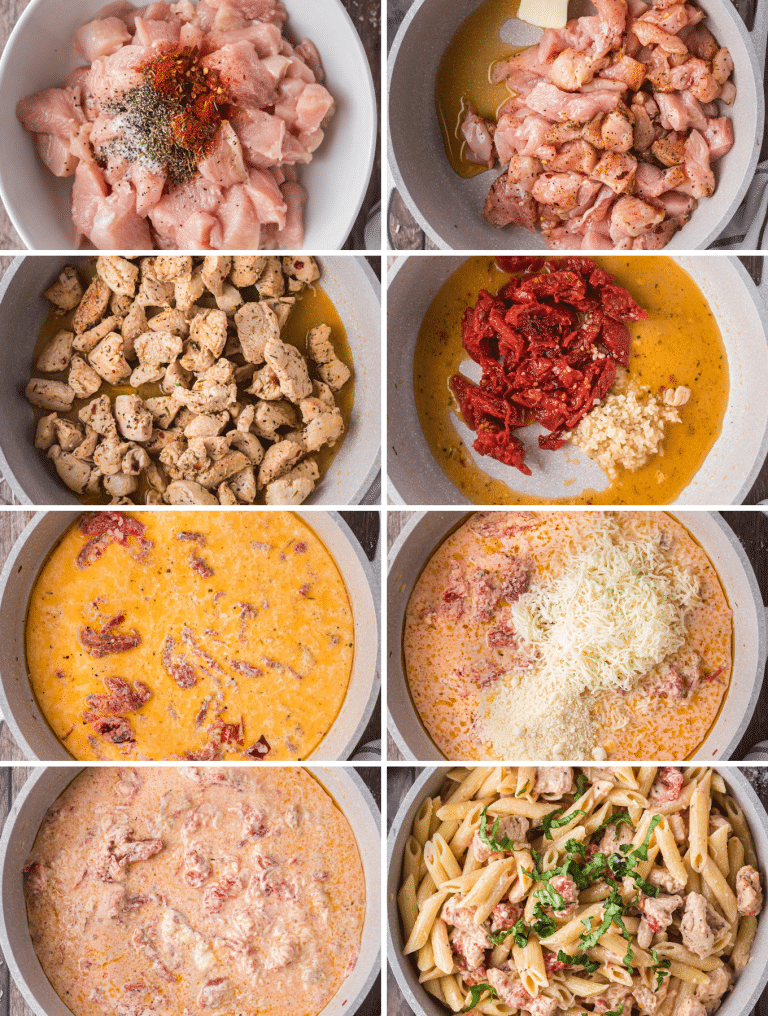 HOW TO MAKE SUN DRIED TOMATO CHICKEN PASTA
Boil pasta. Just make sure to reserve about a cup of pasta water! 
Cook chicken. Season, then saute in oil from sun dried tomato jar and butter for about 3-4 minutes, then set aside on a plate.
Cook garlic and tomatoes. Cooking them for about a minute or so adds flavor and plumps the tomatoes up a bit.
Stir in cream and cheese. Use heavy cream or half and half, then stir in the mozzarella and Parmesan.
Add pasta and chicken. When adding the chicken, make sure to also add any juices from the plate, that's full of flavor! 
Stir in pasta water. Stir it in, a little at a time, until the sauce is the consistency you want.
Stir in basil and serve.

ADDITIONAL COOKING TIPS
PASTA WATER – I know it's easy to overlook saving it, as it's natural to drain the pasta, but it's truly liquid gold for sauces like this. The starches really help stretch the sauce so you don't have to use a ton of cream, yet it doesn't water down the flavor like tap water would.
SUN DRIED TOMATOES – typically stores carry two types of sun dried tomatoes, dry packed, and packed in oil. Dry packed tomatoes have a texture similar to dried fruit, and while tasty, aren't what we want in this recipe. Sun dried tomatoes packed in oil have a better texture, and we use some of the oil to saute the chicken in (which adds great flavor!).
HALF AND HALF – if you're unfamiliar with half and half, it's a dairy product sold here in the US that's part milk and part heavy cream.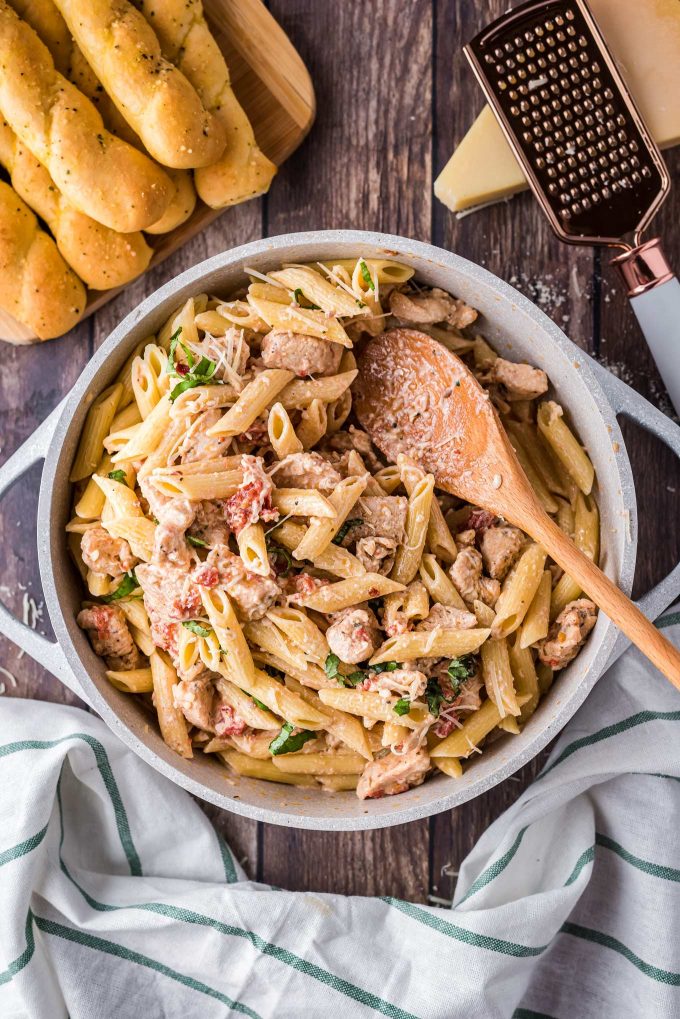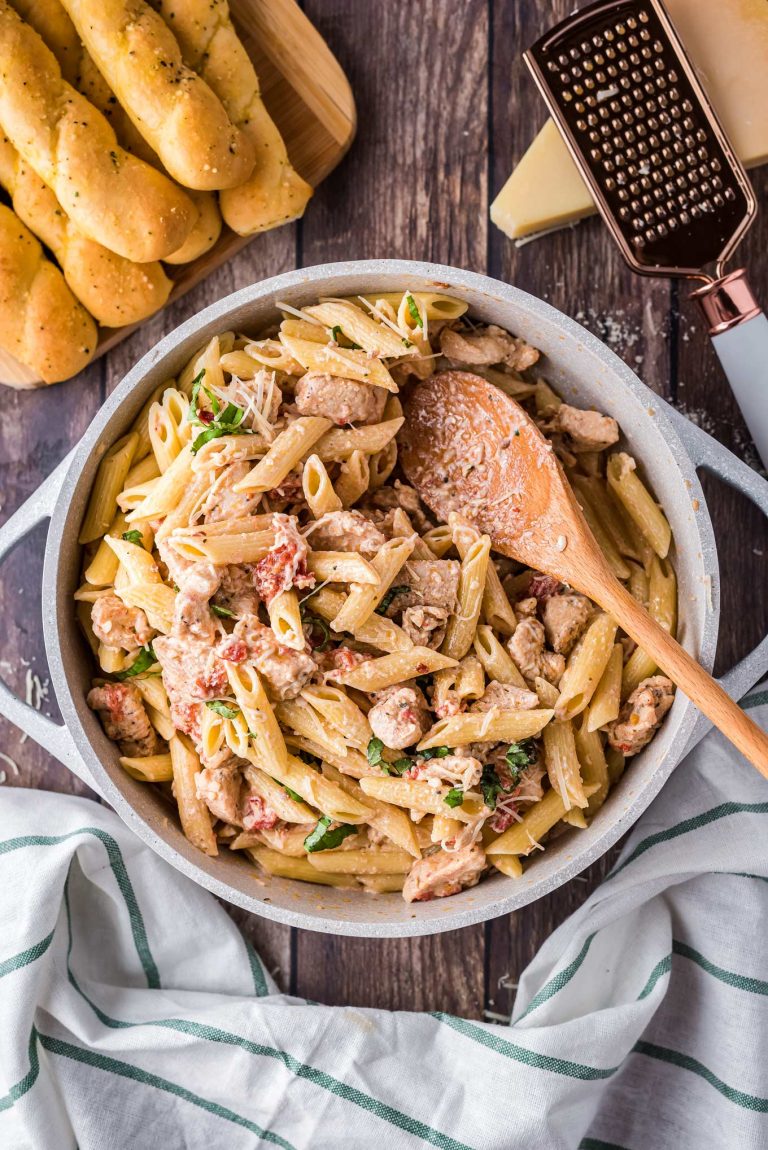 VARIATIONS OF THIS RECIPE
OTHER PASTA SHAPES – you can make this with any pasta you like… fettuccini, spaghetti, rigatoni, rotini, farfalle, even broken lasagna noodles! Since you boil the pasta separately, there's no need to worry about the pasta cooking time differing from shape to shape.
WHOLE CHICKEN BREASTS – as a different way of serving, you can use whole boneless skinless chicken breasts, season them as directed, and cook 5-6 minutes per side, or until cooked through (this time will vary based on the size and thickness of your chicken).  Proceed with recipe as directed, then serve with the sliced chicken breasts on top.
CHICKEN THIGHS – if you prefer the taste of chicken thighs, you can substitute them in this recipe.
FLORENTINE-STYLE – we love adding a handful of fresh spinach to the sauce!
MAKING CHICKEN PASTA AHEAD OF TIME
As with most pasta recipes, I've found that this chicken pasta doesn't taste as good made ahead as it does when fresh, so I don't really advise making this recipe ahead of time.
However, you can prep ahead!  Cut up the chicken breasts and keep them refrigerated, chop the sun dried tomatoes, mince the garlic, grate the Parmesan cheese, etc.
You can even pre-boil your pasta! Give the pasta a toss in a little bit of olive oil to prevent sticking, let it cool to room temperature, then cover and refrigerate.  Just make sure to reserve that pasta water!  It'll keep in the refrigerator, covered, for up to 1-2 days.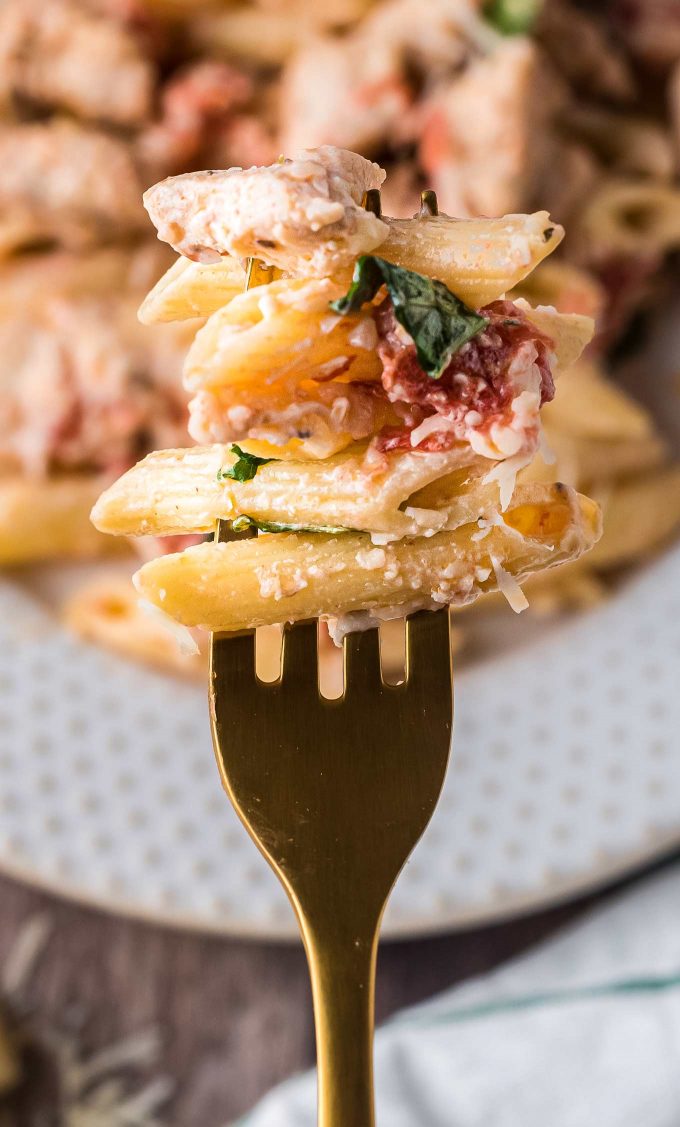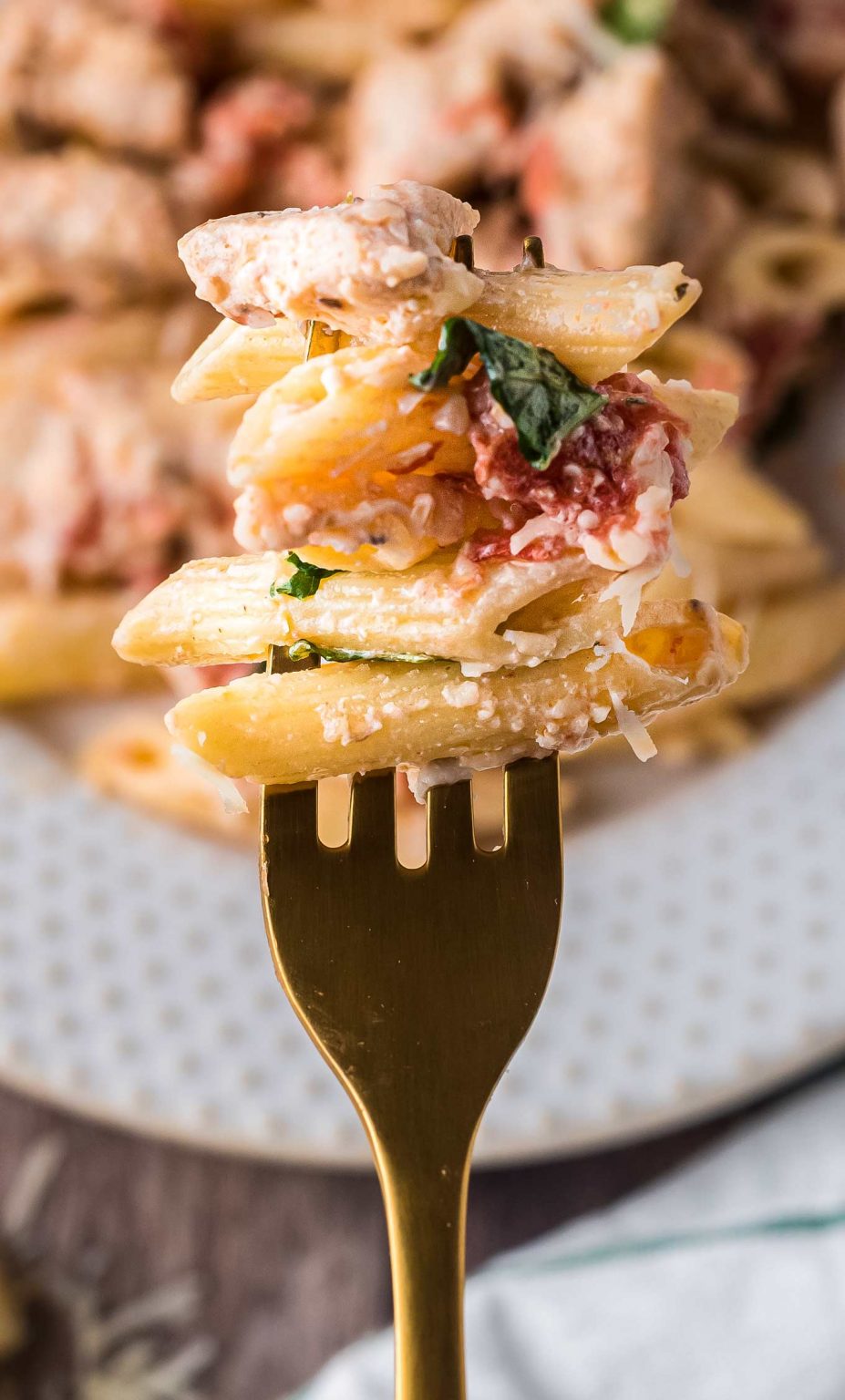 STORAGE
Leftover pasta should be refrigerated in an airtight container and consumed within 3-5 days.
SPECIAL EQUIPMENT FOR THIS RECIPE
Pasta pot – you certainly don't need a special pot to cook pasta in, but the strainer lid sure makes it more convenient to use this pot, not to mention it reserves the water in the pot!
Deep skillet – I like the large capacity of this skillet/dutch oven, but any large pan will do.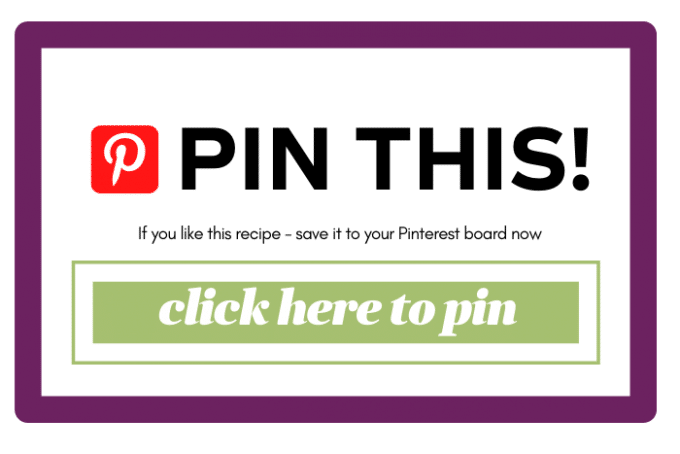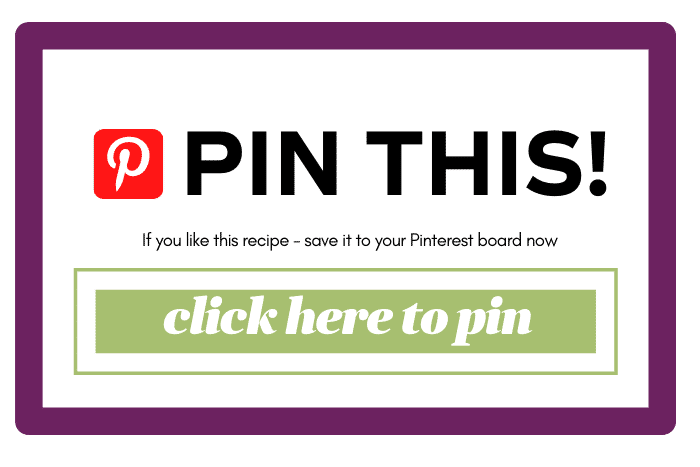 BE SURE TO SCROLL DOWN TO CHECK OUT OTHER READERS' COMMENTS FOR TIPS AND REVIEWS.
AND DON'T FORGET, IF YOU'VE MADE THIS RECIPE, LEAVE A COMMENT AND PLEASE GIVE IT A STAR RATING LETTING ME KNOW HOW YOU ENJOYED IT!
Did you make this? Be sure to leave a review below and tag me @the_chunky_chef on Facebook and Instagram!
This quick and easy Sun Dried Tomato Chicken Pasta has amazing flavor, comes together quickly, and has a sauce that just melts in your mouth! 
Ingredients
8 oz dried pasta (I usually use a shorter cut, like penne, rigatoni, farfalle, etc)
1 lb. boneless skinless chicken breasts cut into small bite-sized pieces
1/2 tsp kosher salt
1/2 tsp Italian seasoning
1/4 tsp black pepper
1/4 tsp paprika
1/4 tsp red pepper flakes
1 Tbsp butter (salted or unsalted)
6-7 oz jar sun dried tomatoes in oil roughly chopped, reserving the oil in the jar
5 cloves garlic minced
1 1/3 cup half and half or heavy cream
1 cup shredded mozzarella cheese
1/3 cup grated Parmesan cheese freshly grated tastes the best
2 Tbsp minced fresh basil
Instructions
Bring a large pot of salted water to a boil.  Boil pasta to al dente according to package directions.  Reserve 1 cup of pasta cooking water!

Drain, toss with a little olive oil to prevent sticking and set aside.

Season chicken pieces with salt, Italian seasoning, pepper, paprika and red pepper flakes.

In a large skillet, heat 1 Tbsp of the oil from the sun dried tomato jar and 1 Tbsp butter over MED HIGH heat and add the chicken pieces, sautéing 3-4 minutes, until chicken is cooked through.  Remove to a plate.

Add garlic and sun dried tomatoes to skillet and cook 30 seconds to 1 minute, stirring often. Stir in half and half and let sauce come to a simmer.  Add mozzarella and Parmesan, stirring until melted.

Add pasta and cooked chicken (plus any juices that have accumulated on the plate), stirring to combine well.  Stir in reserved pasta water, a little bit at a time, if needed, to thin out the sauce.

Stir in basil and serve, garnished with more minced basil if desired.
Want to save this recipe for later? Click the heart in the bottom right corner to save to your own recipe box!
Nutrition Disclaimer
The Chunky Chef is not a dietician or nutritionist, and any nutritional information shared is an estimate. If calorie count and other nutritional values are important to you, we recommend running the ingredients through whichever online nutritional calculator you prefer. Calories can vary quite a bit depending on which brands were used.