This shortcut version of the French classic, chocolate croissants, or pain au chocolat, is sinfully delicious right out of the oven! Store-bought puff pastry dough makes this recipe accessible to bakers of all confidence levels, and they're a perfect weekend breakfast treat!
This is one of my Breakfast recipes I know you'll want to keep on hand!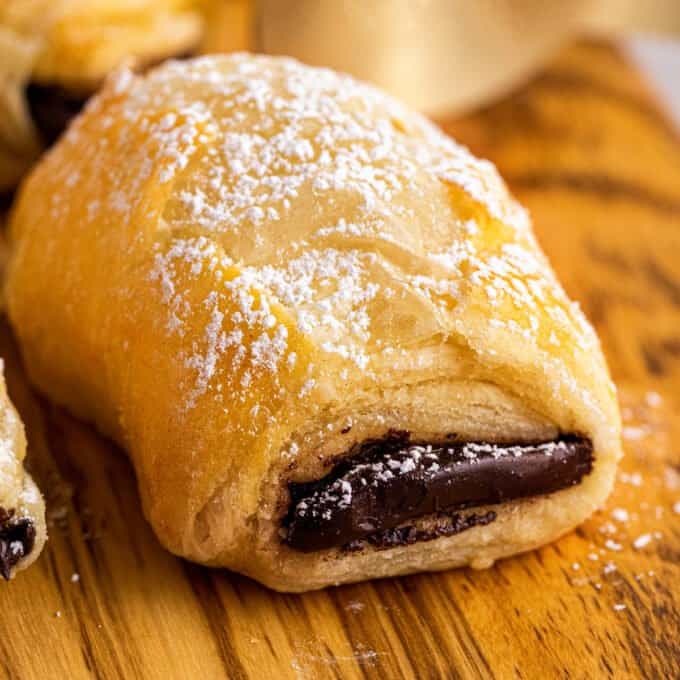 I have to confess… I have a chai latte addiction. Whenever I'm at Starbucks, my son doesn't mind the long line at all. Because he gets a treat too… a chocolate croissant.
This isn't a copycat of their recipe, although I'd imagine it's fairly similar.
Chocolate croissants, or sometimes referred to as Pain Au Chocolat, is simply chocolate wrapped up in a delicious pastry dough.
Puff pastry is the dough usually used, and while absolutely delicious, it can be labor-intensive to make at home, not to mention intimidating to newer bakers.
So I've used store-bought puff pastry dough to take that intimidation factor out, plus it saves you a ton of time. And they still taste amazing!
I'm working on an easy, shortcut to homemade puff pastry dough, but until then, a box of the frozen dough works wonders.
This chocolate croissant recipe uses just 4 base ingredients, plus the optional powdered sugar dusting, so I promise, it's super easy! If you have kids, this is a fun recipe to make with them, or have them make themselves.
How to make shortcut chocolate croissants?
This is just an overview; the full ingredients and directions are in the recipe card toward the bottom of this post.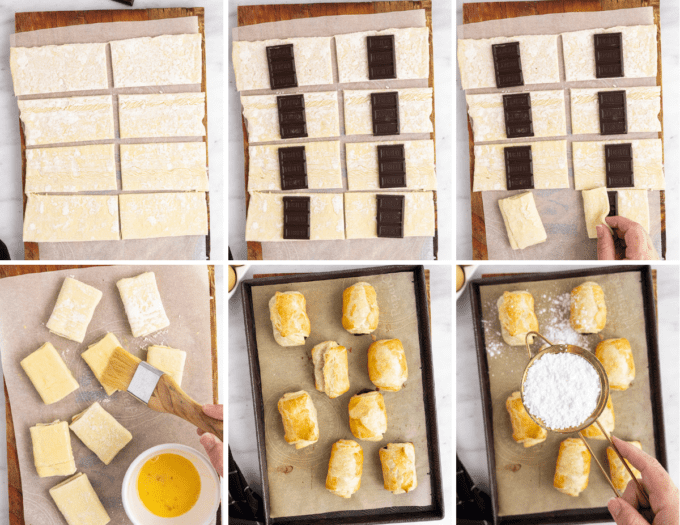 Thaw puff pastry. It doesn't need to be completely thawed, but you need it to be pliable enough to work with.
Make egg wash. This is just whisking egg and water together.
Assemble croissants. Slice puff pastry into 8 sections, add chocolate in the center, fold puff pastry over the chocolate, then brush with egg wash.
Bake. Until golden brown.
Dust and serve. Use powdered sugar if desired.
Helpful Tip!
Using store-bought puff pastry dough is a great shortcut that saves you tons of time, and take the intimidation factor out of making pastries. We like Pepperidge Farm brand (that's found in the freezer section of most grocery stores), but feel free to use whichever brand you like best. If you feel ambitious, you can also make your own homemade puff pastry dough as well!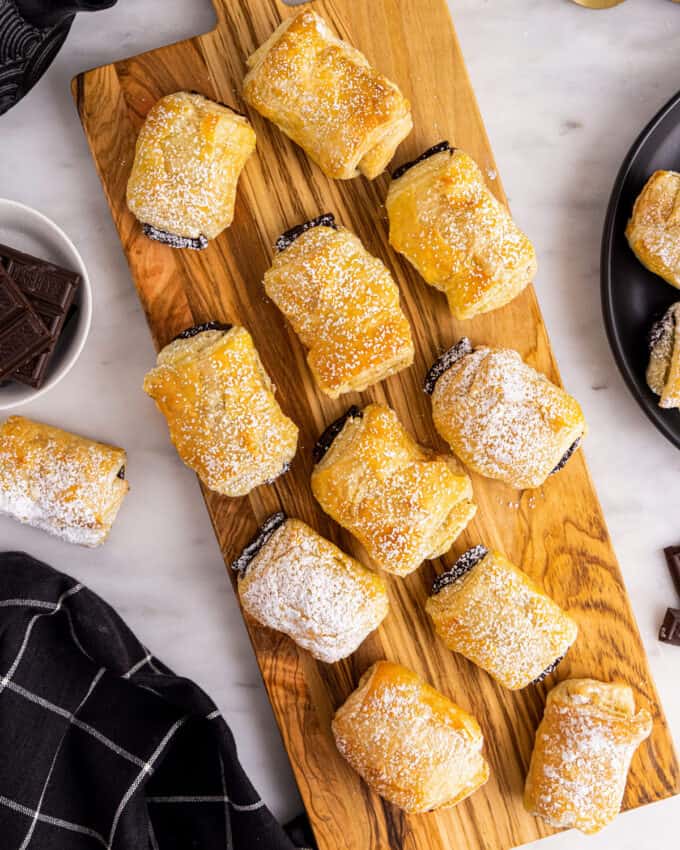 Variations of this recipe
Larger – as written, these are a mini size, but you can definitely make them larger if you'd like. Just cut larger rectangles/squares and bake a bit longer.
Different shapes – you can also make these into the classic croissant shape. Slice each rectangle in half diagonally, so get 2 triangles from one rectangle. Add chocolate (a smaller piece), and roll up starting at the wide end and rolling towards the point. Bake as directed.
Chocolate – you can use any type of chocolate you like best for this recipe. We love dark chocolate (hershey's special dark, lindt, or ghirardelli are our faves), but semi-sweet, milk, etc are all great options. You can even use chocolate chips if that's what you have on hand.
Fillings – feel free to play around with the filling options as well. If you like caramel and chocolate, add some caramel sauce before folding up the croissants. Other options are hazelnut spread (like Nutella), peanut butter, etc.
Add-ins – you can also add some fun add-ins, like nuts, peppermint pieces, candy pieces, etc.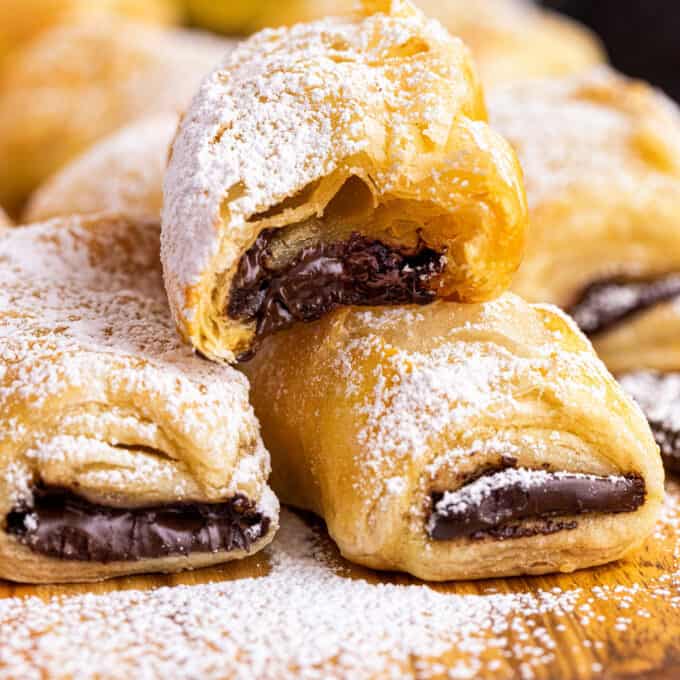 FAQ's
What is a pain au chocolat?
Translated literally, it means chocolate bread in French. In most bakeries, it refers to a chocolate croissant that is folded and baked into a rectangle shape, rather than the traditional crescent shape of croissants.
Can phyllo dough be used instead of puff pastry?
In a pinch, yes. But it won't have the same rich flavor, and will crumble very easily. Think about how crackly and crisp the layers of baklava are… those are made with phyllo dough. Puff pastry dough is richer, with tons of butter, so if you use phyllo you won't have that rich buttery flavor.
Can I use any chocolate?
Yes, it's completely up to you. During testing some other brands leaked out when melted and burned a little on the baking sheet, whereas Hershey's special dark did not. However, as long as you carefully seal the croissant, you should be okay if you'd like to deviate from the Hershey's.
Making chocolate croissants ahead of time
I find these pastries taste best when made fresh, but they can technically be made entirely ahead of time if you need to.
The good news is, this recipe takes so little time to prep and bake, even when you make them fresh, you won't be spending too much time in the kitchen!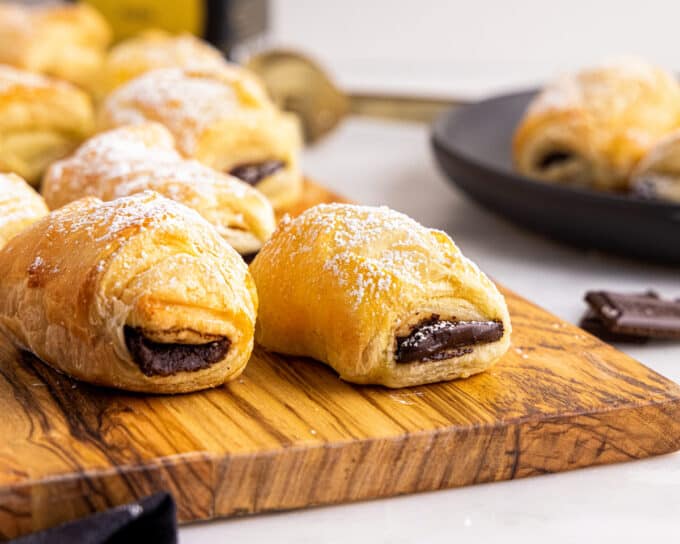 Storage
Leftover croissants should be stored in an airtight container in the refrigerator for up to 5 days.
To reheat, add croissants to the microwave for about 10 seconds to melt the chocolate inside before serving.
Freezing
For longer storage, you can also freeze baked croissants! Make sure the pastries have cooled completely, then wrap individually in plastic wrap or an environmentally friendly alternative, and then add to a freezer-safe container.
Freeze for up to 3 months. Thaw in the refrigerator.
To have them taste freshly baked again, bake in a preheated 350°F oven for about 3-4 minutes.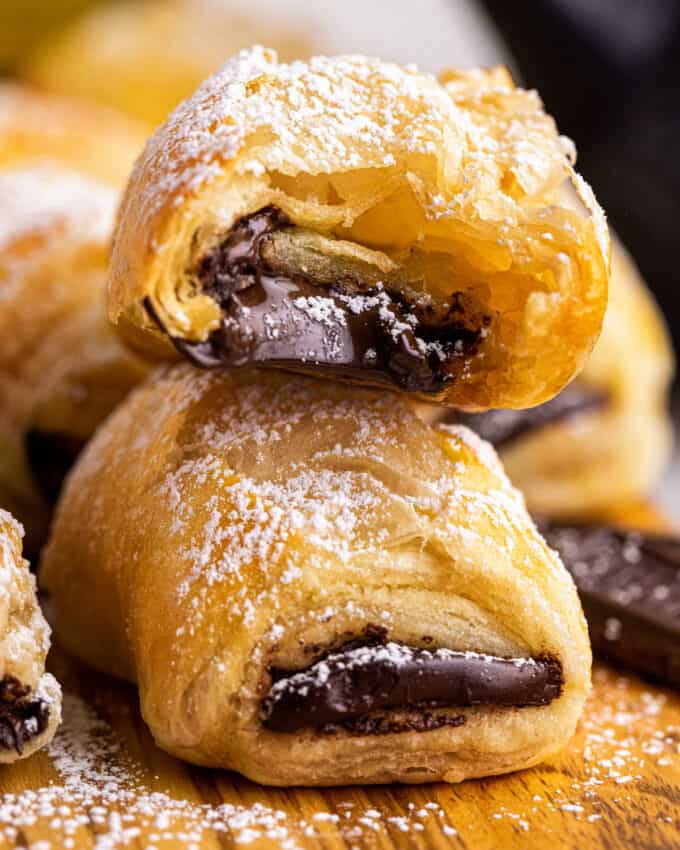 Did you make this? Be sure to leave a review below and tag me @the_chunky_chef on Facebook and Instagram!
This shortcut version of the French classic, chocolate croissants, or pain au chocolat, is sinfully delicious right out of the oven! Store-bought puff pastry dough makes this recipe accessible to bakers of all confidence levels, and they're a perfect weekend breakfast treat!
Ingredients
17.3 oz package frozen puff pastry sheets (like Pepperidge farm brand)
4 (1.55 oz each) Hershey's special dark chocolate candy bars
1 large egg
1 Tbsp water
powdered sugar for dusting, optional
Instructions
Prepare
Remove puff pastry sheets from the freezer and thaw for at least 15 minutes before working with them.

Preheat oven to 400°F. Line a baking sheet with parchment paper and set aside.
Make egg wash
In a small mixing bowl, combine egg and water and beat with a fork until combined.
Assemble
Unfold one puff pastry sheet and use a knife to slice into 8 equal pieces.

Break candy bars into 4 sections each. Place one section of chocolate in the center of each of the puff pastry section pieces. You should have 8 pieces of candy bars left, set those aside for now.

Fold one side of a puff pastry section over the chocolate, then fold the other side of the section over the top of the folded side. Repeat with remaining puff pastry sections.

Add pastries to prepared baking sheet and brush the tops and sides of the pastries with the egg wash.
Bake
Bake in preheated oven for 15-18 minutes, until golden brown and puffed up.

Remove from oven, then repeat the assembling and baking process for the remaining puff pastry sheet, remaining candy bars, and remaining egg wash.
Garnish and serve
Dust with powdered sugar if desired, and serve either warm or at room temperature.
Want to save this recipe for later? Click the heart in the bottom right corner to save to your own recipe box!
Chef Tips
Recipe makes 16 small chocolate croissants.
If you're concerned about chocolate potentially leaking out through the folded seal of the puff pastry, you can use a bit of the egg wash in between the folded ends where you seal it, and this will really make it secure.
Nutrition Disclaimer
The Chunky Chef is not a dietician or nutritionist, and any nutritional information shared is an estimate. If calorie count and other nutritional values are important to you, we recommend running the ingredients through whichever online nutritional calculator you prefer. Calories can vary quite a bit depending on which brands were used.