These breaded pork chops are baked to juicy perfection and ready in about 30 minutes! Pork chops are slathered with a thin layer of mayonnaise (which keeps the meat super moist), and breaded with a perfectly seasoned breadcrumb/Parmesan cheese mixture.
This is one of my Pork recipes I know you'll want to keep on hand!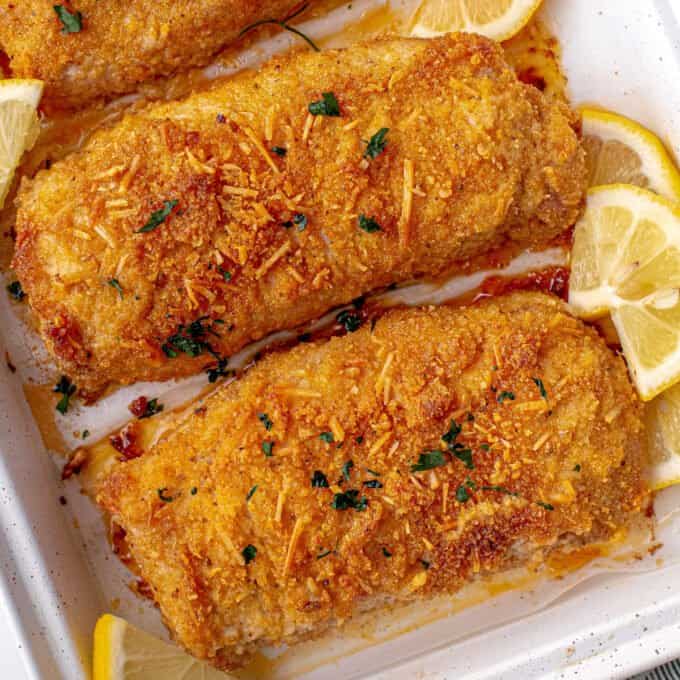 Growing up, I was not really a fan of the "other white meat", aka, pork. But lately, we've been switching things up… and I have to tell you, I'm not at all mad about it!
When cooked well, pork chops are incredibly delicious and juicy. And this recipe, it's ready in about 30 minutes, which is perfect for a quick weeknight dinner!
By the time the kids get home from school and they work on homework, we're usually in a rush to get dinner together. Throw in after school activities or a little playtime with neighbors and it's an absolute madhouse at dinner time.
This recipe is incredibly versatile, can be prepped ahead of time, and is truly a family favorite!
How to make baked breaded pork chops that are crispy?
This is just an overview; the full ingredients and directions are in the recipe card toward the bottom of this post.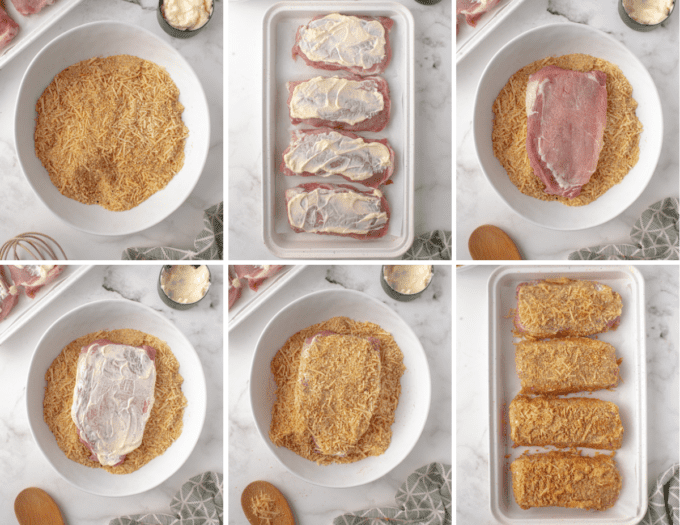 Combine breading. No need for anything fancy, just a shallow bowl and a fork.
Add mayo. All you need is a thin layer.
Press into breadcrumbs. Press fairly firmly to get a good crust.
Add mayo again. Again, just a thin layer.
Add breadcrumbs. Sprinkle breading mixture over the top of the mayo, then press gently to adhere.
Bake. The exact baking time will depend on your oven and the thickness of your chops, but 18-20 minutes is a good ballpark.
Helpful Tip!
The main tip when it comes to cooking pork, is not to overcook it. Pork chops have a bad rap for being dry and chewy, when really, it's likely because those chops were overcooked! The most efficient and simplest way to tell when pork is finished cooking is to use a meat thermometer. Pork chops are done when their internal temperature is between 140-145° in the center. They'll continue cooking a bit after they're out of the oven as well.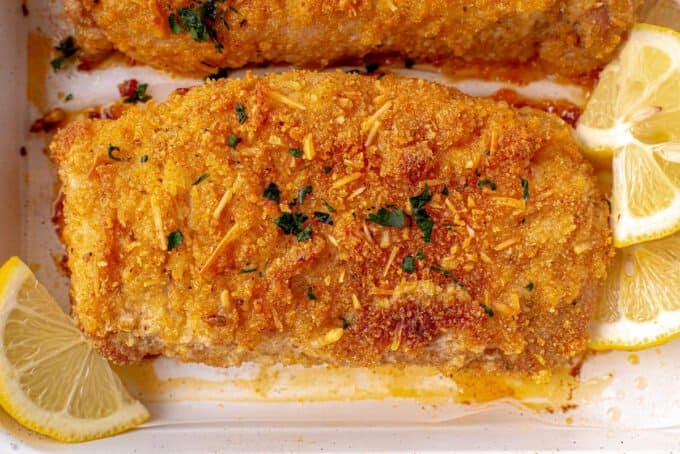 Variations of this recipe
Types of pork chops – this recipe was developed and tested using boneless pork chops about 1 inch in thickness. It will definitely work with other types of pork chops (and thicknesses), but you'll need to do a little experimenting to see how long they need to bake. A meat thermometer is super helpful, and you're looking for the pork to be between 140-145°F in the center.
Breadcrumbs – for this recipe, I use plain traditional breadcrumbs, but feel free to use panko instead.
Breadcrumb alternatives – other great breading options are crushed cornflakes, crushed potato chips, crushed crackers, crushed pork rinds, etc.
Mayo-free – if the idea of using a small bit of mayo as the binding agent is turning you off, feel free to use the traditional breading method. Dredge the chops in flour, then dip into eggs whisked with a little water, then coat with the breadcrumb mixture.
Other cooking methods – if you'd rather fry, or air fry these pork chops, check out the "chef tips" section below the recipe for the full instructions.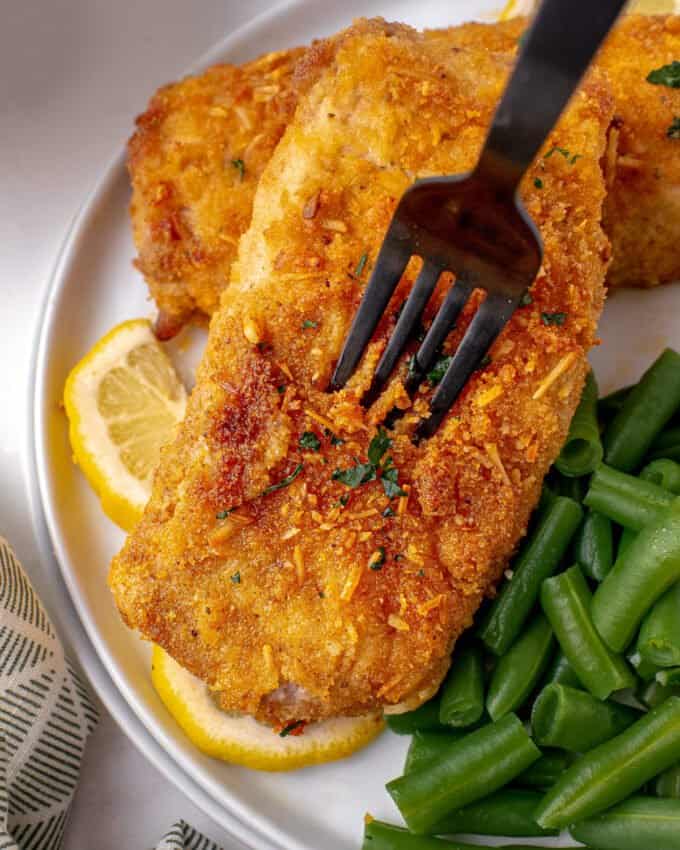 FAQ's
What are the best pork chops to use for this recipe?
I prefer to use center-cut boneless loin chops. These are boneless, and generally have little fat and connective tissue (which means the chops won't be overly chewy). This recipe was developed and tested with chops about 1 inch in thickness.
How do you get breading to stick to pork chops?
There are many ways to get the breading to adhere to the meat, but in this recipe we use mayonnaise. It might sound weird, but I promise, the mayo makes the pork incredibly moist and tender, while also adding a faint tangy flavor. The mayo also provides enough fat to allow the breadcrumb mixture to cook evenly and stay crispy/crunchy.
Can these pork chops be fried instead of baked?
Yes, absolutely! I only recommend pan-frying them, with just about 1/4″ of oil in the skillet, and don't overcrowd the pan. For complete frying instructions, see the "chef tips" section right below the recipe.
Making breaded pork chops ahead of time
As with most breaded meats, these pork chops taste best when made fresh. Reheated pork could possibly taste dried out, and the breadcrumb mixture will get soggy if you bread the chops ahead of time.
However, you can certainly prep ahead if you'd like:
Pork – if your pork chops need any trimming, that can be done ahead, then keep the chops in an airtight container in the refrigerator until ready to use (within 2 days).
Breadcrumb mixture – the breadcrumb mixture (minus the cheese), can be combined and stored at room temperature until ready to use.
Prepare the pan – this is a small step, but still one that save a couple of minutes. Line your baking sheet or pan and set it aside.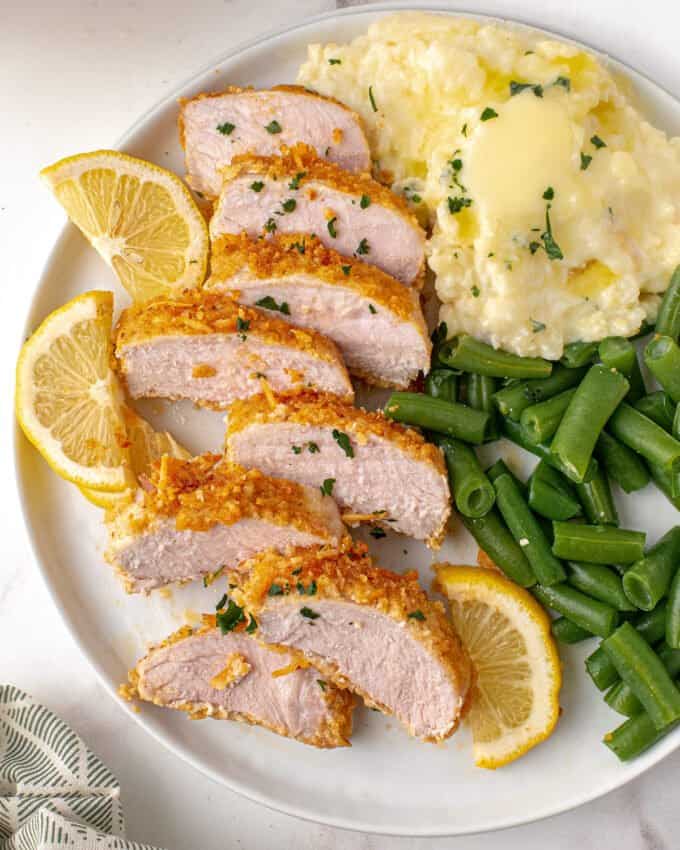 Storage
Leftover pork should be refrigerated in an airtight container and enjoyed within 3-4 days.
Reheat in a 350°F oven for about 10-15 minutes, or until heated through.
Freezing
For longer storage, breaded pork chops can be frozen!
Bread pork chops as directed, then add to a wax paper (or parchment paper) lined baking sheet and freeze for 1-2 hours, until hard.
Transfer flash-frozen chops to a freezer-safe container and freeze for up to 3 months.
To cook, add frozen chops to baking sheet and bake as directed, adding about 10-15 extra minutes to account for the meat being frozen.
Recipes to serve with breaded pork chops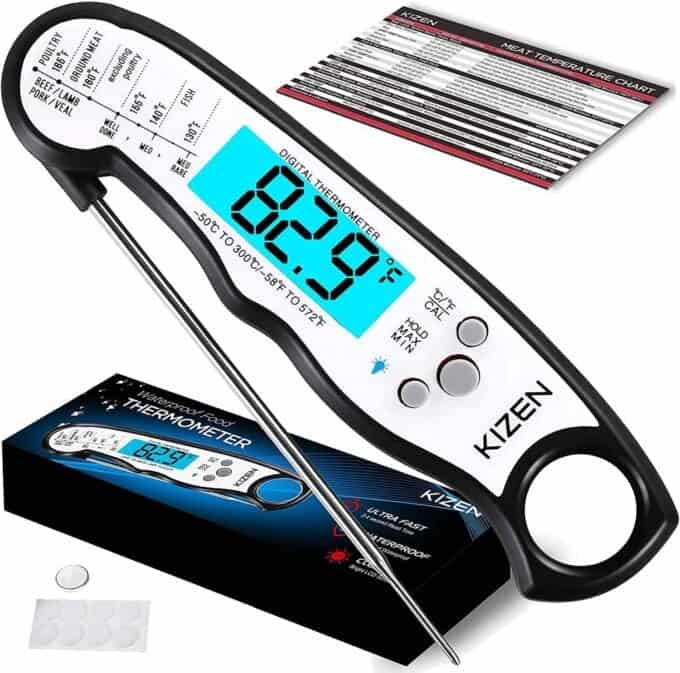 I love using this meat thermometer for making sure the meat is finished cooking! Easy for beginners & totally worth the $17 cost! If you'd like to treat yourself and get a wireless thermometer probe that stays IN the meat, and will alert you when it gets to the temperature you want, this smart meat thermometer works with your phone! It's been so much fun to use.
Did you make this? Be sure to leave a review below and tag me @the_chunky_chef on Facebook and Instagram!
These breaded pork chops are baked to juicy perfection and ready in about 30 minutes!
Ingredients
Pork
4 boneless pork chops about 1" thick
salt and pepper to taste
Breading mixture
1 1/2 cups plain breadcrumbs
1 tsp kosher salt
1 tsp smoked paprika
1/2 tsp black pepper
1/2 tsp garlic powder
1/4 tsp onion powder
1/4 tsp celery seed
1/3 cup freshly grated Parmesan cheese
1/3 cup mayonnaise
Instructions
Prepare
Preheat oven to 425°F and line a rimmed baking sheet with aluminum foil or parchment paper.  Set aside.
Season pork
Dry pork chops well with paper towels and season lightly with salt and pepper, to taste.
Make breading mixture
In a shallow bowl, combine breadcrumbs, salt, paprika, black pepper, garlic powder, onion powder, celery seed, and Parmesan cheese.  Stir to combine well.
Bread pork chops
Spread a thin layer of mayonnaise on one side of a pork chop, then add, mayo side down, to the breadcrumb mixture.  Press gently to coat well.

Spread another thin layer of mayonnaise on the other side of the pork chop and sprinkle with breadcrumb mixture, pressing gently to adhere.  

Add pork chop to prepared baking sheet and repeat steps 1 and 2 with remaining pork chops.
Bake
Once all chops are on the baking sheet, spray pork with cooking spray, and bake for 18-20 minutes, or until pork has reached an internal temperature of 145°F.
Serve
Let pork chops rest a few minutes, then serve, sprinkled with a bit of fresh minced parsley and lemon wedges.
Want to save this recipe for later? Click the heart in the bottom right corner to save to your own recipe box!
Chef Tips
This recipe makes 4 pork chops, but can easily be doubled if needed.
Pan-Fried Pork Chops Directions:
No changes needed to ingredients.
Add vegetable or peanut oil to a large heavy bottomed skillet, enough to be about 1/4″ deep, over MED/MED HIGH heat.
Once oil is hot, add breaded pork chops (don't overcrowd the pan), and fry for 5-6 minutes per side, or until cooked through to an internal temperature of between 140-145°F.
Remove chops from oil and add to a wire cooling rack to allow excess oil to drip off.
Air-Fried Pork Chops Directions:
No changes needed to ingredients.
Preheat air fryer to 400°F.  
When air fryer is preheated, spray the basket lightly with nonstick cooking spray, then spray both sides of the breaded pork chops with cooking spray as well.
Cook 6 minutes, then flip over and cook another 5-6 minutes, or until cooked through to an internal temperature of between 140-145°F.
Repeat step 3 and 4 if your air fryer isn't large enough to accommodate all the pork chops.
Nutrition Disclaimer
The Chunky Chef is not a dietician or nutritionist, and any nutritional information shared is an estimate. If calorie count and other nutritional values are important to you, we recommend running the ingredients through whichever online nutritional calculator you prefer. Calories can vary quite a bit depending on which brands were used.