Tender chicken pieces are stir-fried with broccoli (or your favorite veggies), tossed in a savory sauce that's cooked down to a sticky sauce that perfectly coats the chicken! Made in one skillet, and ready in about 30 minutes, it's the ultimate weeknight dinner idea. Skip the takeout and make your own!
This is one of my Asian-Inspired recipes I know you'll want to keep on hand!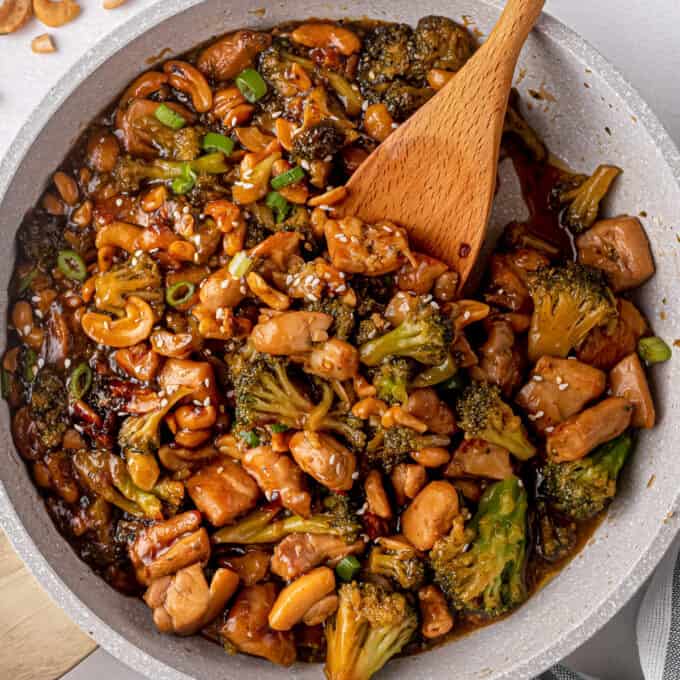 One of my favorite things about ordering takeout is how many yummy things there are to choose from… but my absolute favorite thing to order is cashew chicken.
I love that savory sauce, tender chicken, and crunchy cashews… it's just the perfect combination.
You know what I don't think is perfect though? The cost of ordering takeout, and the lack of cashews in the dish. Seriously… around here anyway, cashew chicken comes with about 10 cashews in it. I LOVE cashews and I definitely want a lot more than that!
Making your own takeout stye meals is not only cost-effective, but you get to control the quality and quantity of the ingredients used.
This recipe has been on the website since early 2015, and over the years I've tweaked it slightly, and believe it's even better than before!
If you're a fan of the old version, don't worry, I've included it below the recipe card (towards the end of the post) for your convenience.
How to make takeout-style cashew chicken?
This is just an overview; the full ingredients and directions are in the recipe card toward the bottom of this post.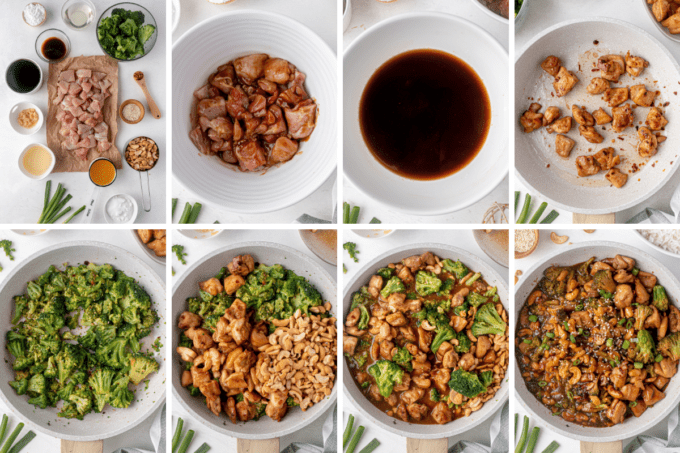 Marinate chicken. This is a super quick marinade, just have the chicken in the marinade while you're prepping the other ingredients.
Make sauce. Whisk together in a small bowl.
Drain chicken.
Cook chicken. Cook half the chicken at a time, so you don't overcrowd the skillet. Remove chicken to plate and repeat with remaining chicken.
Cook broccoli. After a minute or two, add garlic and cook for less than a minute.
Return chicken to skillet. Add the cashews as well.
Pour in sauce. If the sauce starts to thicken too quickly, turn off the heat and serve immediately.
Serve and enjoy!
Helpful Tip!
When cutting up the chicken thighs, try to keep them all very similar in size. This way they all cook evenly, and in about the same amount of time. As written, the chicken pieces are an average bite-size, but feel free to adjust that size. Just note that any change in size will also affect the cooking time for the chicken.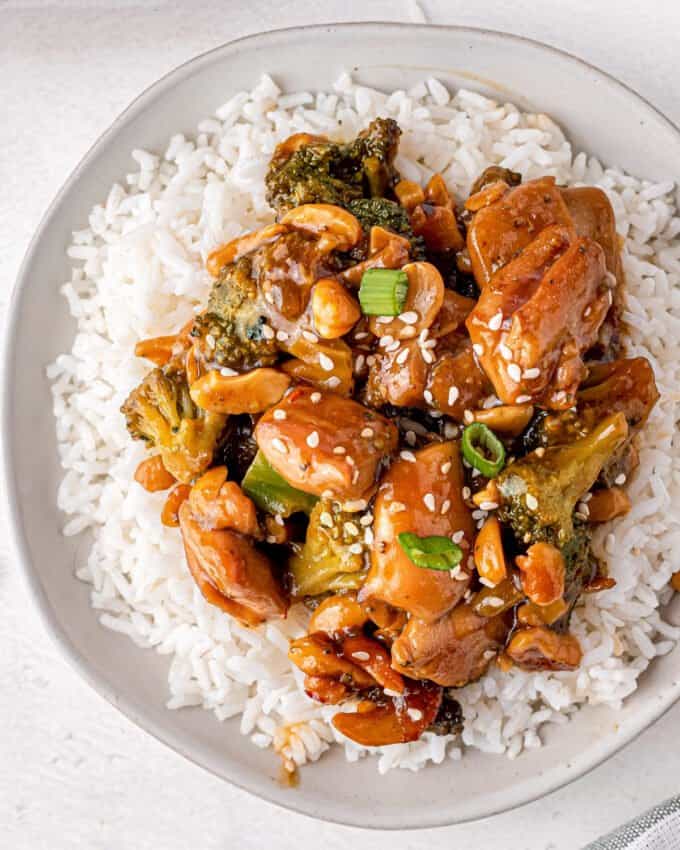 Variations of this recipe
Chicken – we like the juiciness of chicken thighs, but this recipe will work with chicken breasts or tenders as well.
Crispy chicken – for a bit of a crispy crust on the chicken, coat the marinated chicken in a bit of cornstarch before cooking it in the skillet.
Vegetables – we love broccoli with cashew chicken, but feel free to use celery, onion, bell peppers, snow peas, etc. If you add a lot of additional vegetables, you may want to double the sauce ingredients so you have enough to cover the larger volume of food.
Spicier or milder – feel free to adjust the amount of red pepper flakes, and if you like things really spicy, add a generous squeeze of sriracha.
Wok – if you have a wok, this is a great recipe for it!
Other cooking methods – I've not tested cooking this recipe using methods other than directed in the recipe, so if you'd like to try making cashew chicken in the slow cooker or Instant Pot, you'll need to do some trial and error/experimenting.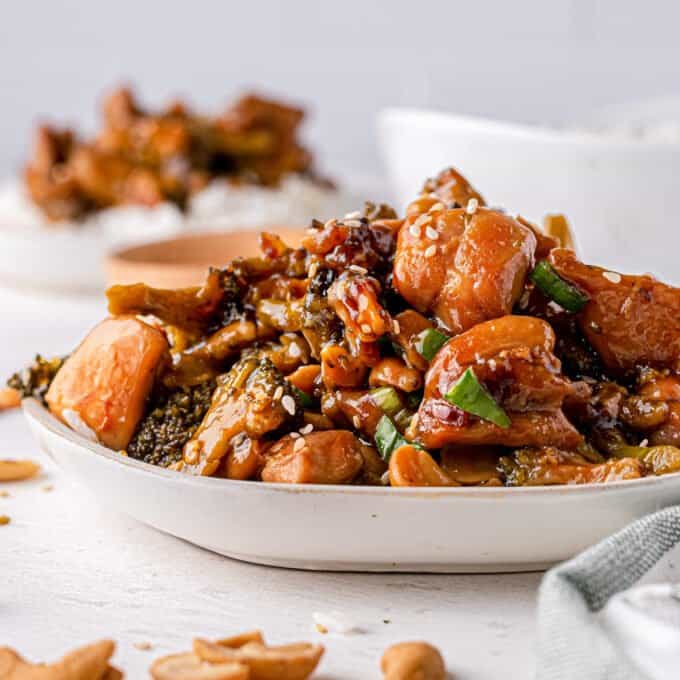 FAQ's
Is this an authentic recipe?
I don't make any claims to the authenticity of this recipe. This is just my version of a classic takeout dish, based on my family's taste.
What do you serve with cashew chicken?
We love to serve this recipe with some jasmine or white rice, and crab rangoons to complete the takeout-style dinner.
Can cashew chicken be frozen?
I haven't specifically tested it (since we never have much left over – we love it too much!) but I think it could be. See the full freezing instructions below in the section titled "freezing".
Making cashew chicken ahead of time
I think this recipe tastes best when made fresh, but the good news is it's a quick-cooking meal.
You can also prep ahead for this recipe:
Chicken – chicken can be sliced into pieces and kept in an airtight container in the refrigerator for a day or two.
Broccoli – if using fresh broccoli, it can be cut into florets and kept in an airtight container in the refrigerator for a day or two. If using frozen, no prep is necessary.
Sauce – the sauce can be whisked together (except the cornstarch), and kept refrigerated in an airtight container for a day or two.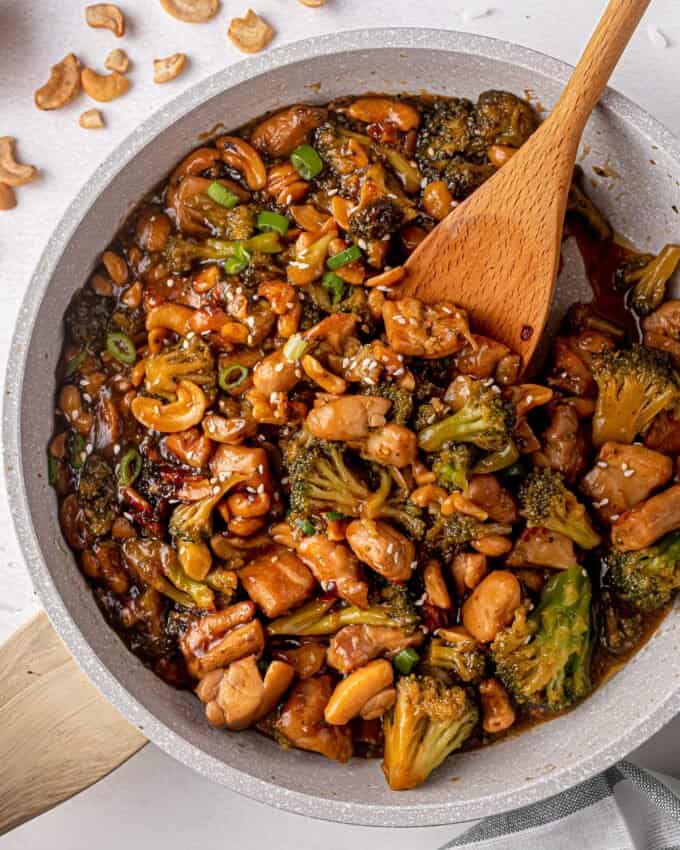 Storage
Leftover cashew chicken should be refrigerated in an airtight container and enjoyed within 4-5 days.
Reheat in the microwave or in a skillet, adding a splash of chicken broth or water to loosen up the sauce if needed.
Freezing
This recipe can be frozen for longer storage!
Let cashew chicken cool completely, then transfer to freezer-safe containers, label them with the date, and freeze for up to 3-6 months.
Did you make this? Be sure to leave a review below and tag me @the_chunky_chef on Facebook and Instagram!
Tender chicken pieces are stir-fried with broccoli (or your favorite veggies), tossed in a savory sauce that's cooked down to a sticky sauce that perfectly coats the chicken!
Ingredients
Marinade
1 1/2 lbs boneless skinless chicken thighs trimmed of excess fat and cut into small bite sized pieces
2 tsp hoisin sauce
1 Tbsp reduced sodium soy sauce
Sauce
2/3 cup reduced sodium soy sauce
1/3 cup reduced sodium chicken broth
3 Tbsp cornstarch
2 1/2 Tbsp granulated sugar more or less, to taste
1 Tbsp + 1 tsp rice vinegar
Stir Fry
3 Tbsp vegetable oil
1/2 tsp red pepper flakes more or less, to taste
4 green onions sliced
4 cloves garlic minced
2 cups broccoli florets fresh or frozen
3/4 cup whole roasted cashews more or less, to taste
Garnish
sesame seeds
additional sliced green onions
Instructions
Marinate chicken
To a mixing bowl, add chicken pieces, hoisin sauce and 1 Tbsp of the soy sauce.  Stir together and let sit while you prep other ingredients.
Prep sauce
In another small mixing bowl, add sauce ingredients (soy sauce, chicken broth, cornstarch, sugar and vinegar), and whisk well to combine.  Set aside.
Stir fry
In a large skillet, heat 2 Tbsp of the vegetable oil over MED HIGH heat.  Add red pepper flakes to the oil.  Drain excess marinade from chicken.

Once hot, add half the chicken to the skillet in an even layer and cook for 3 minutes, stirring only once or twice.  Chicken should be mostly cooked through at this point.  Remove chicken to a plate and repeat with second half of the chicken.  Add a drizzle more oil if needed, adding all cooked chicken to the plate.

Add remaining vegetable oil to the now empty skillet.  Add broccoli to the skillet and cook for 2 minutes, stirring often.  Add garlic and cook 30 seconds, or until fragrant.
Add sauce
Return chicken to skillet and add cashews.

Pour in sauce and cook, stirring often, until sauce has thickened to your liking.  If sauce is thickening too quickly, turn off the heat and serve immediately.
Serve
Serve over white rice, sprinkled with sesame seeds and sliced green onions.
Want to save this recipe for later? Click the heart in the bottom right corner to save to your own recipe box!
Chef Tips
Since this is a stir fry, things move fairly quickly. I definitely recommend following the steps in the order I've written them, so things are prepped and ready for you. Otherwise it can get pretty hectic.
Recipe serves approximately 6, but this is just an estimate.
If you were a fan of the original recipe, look below this recipe card for that recipe. 
Nutrition Disclaimer
The Chunky Chef is not a dietician or nutritionist, and any nutritional information shared is an estimate. If calorie count and other nutritional values are important to you, we recommend running the ingredients through whichever online nutritional calculator you prefer. Calories can vary quite a bit depending on which brands were used.
Original recipe (from 2015)
2-3 chicken breasts, cut into small bite sized pieces
2 tsp hoisin sauce
2/3 cup soy sauce (reduced sodium preferred) – divided
1/4 cup vegetable oil
1 – 2 tsp red pepper flakes
4 green onions, sliced
4 cloves garlic, minced
1 cup broccoli florets
3 Tbsp cornstarch
8 tsp sugar
4 tsp white vinegar
3/4 cup whole cashews, or more if you'd like
sesame seeds, for garnish
Slice chicken breasts into bite sized pieces. Pour 1 Tbsp soy sauce and the hoisin sauce into a bowl. Add chicken to bowl and let sit.
In a small bowl, whisk together the remaining soy sauce, cornstarch, sugar, and vinegar. Slice the green onions, mince the garlic, and measure out red pepper flakes.
Pour chicken into a strainer to drain and remove as much marinade as possible. Heat oil in a large deep skillet (or wok if you have one) over high heat. Add red pepper flakes to oil, stir a few times.
Add chicken and cook for 2 minutes until golden, then stir chicken. Add garlic and broccoli and cook until chicken is cooked through, then drain oil (if necessary).
Add cashews. Turn off heat and pour in the sauce. Stir until chicken is covered in sauce. Sauce will thicken considerably. Add green onions and sesame seeds and serve over white rice.