---
Like your favorite Chinese takeout appetizer… but WAY better!! These crab rangoons are simple to make and taste so good, the whole family will enjoy them!
---
 Forget those rangoons from the Chinese takeout place… there's hardly any flavor in those (other than sweet)… this homemade version will knock your socks off!  Savory, creamy, FULL of flavor, you just have to try these!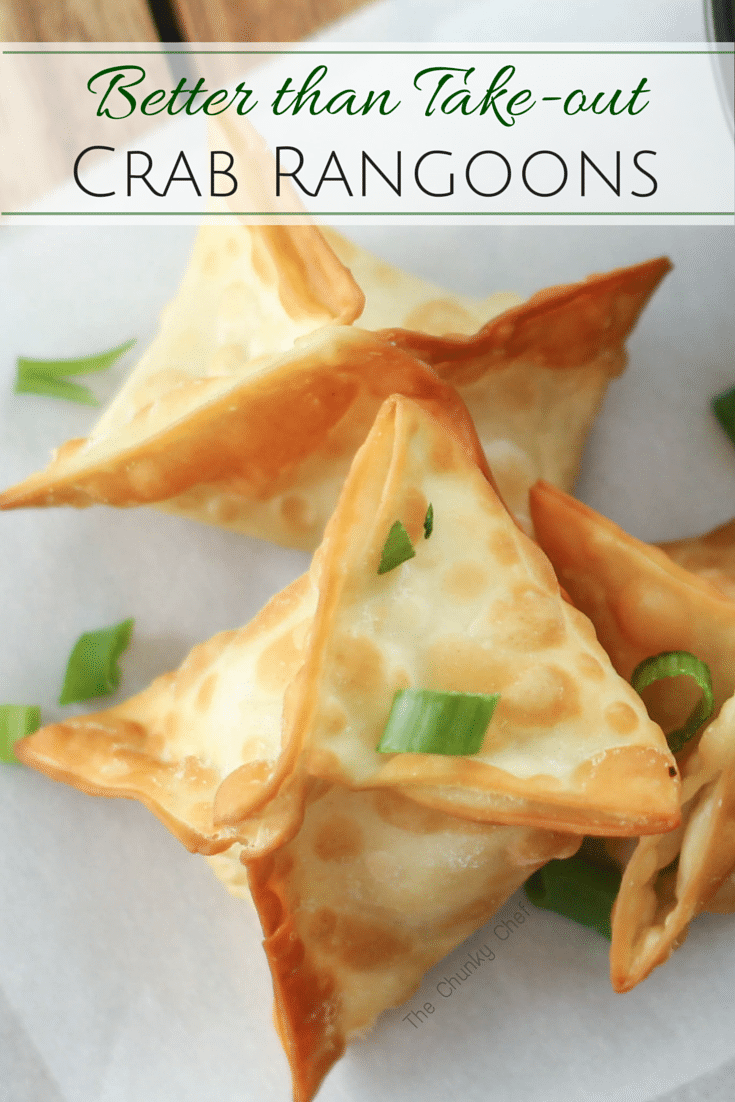 Crab rangoons are my favorite thing to order when we get Chinese takeout.  They're always delicious, hot and crispy on the outside, creamy and smooth on the inside… I could seriously eat the whole bag myself!  But for the amount you get from a takeout place, and what you pay for it, it's not a cheap appetizer, that's for sure.  So how would you like to make your own crab rangoons, at home, for less money, that taste WAY better, and you can make your own dipping sauce?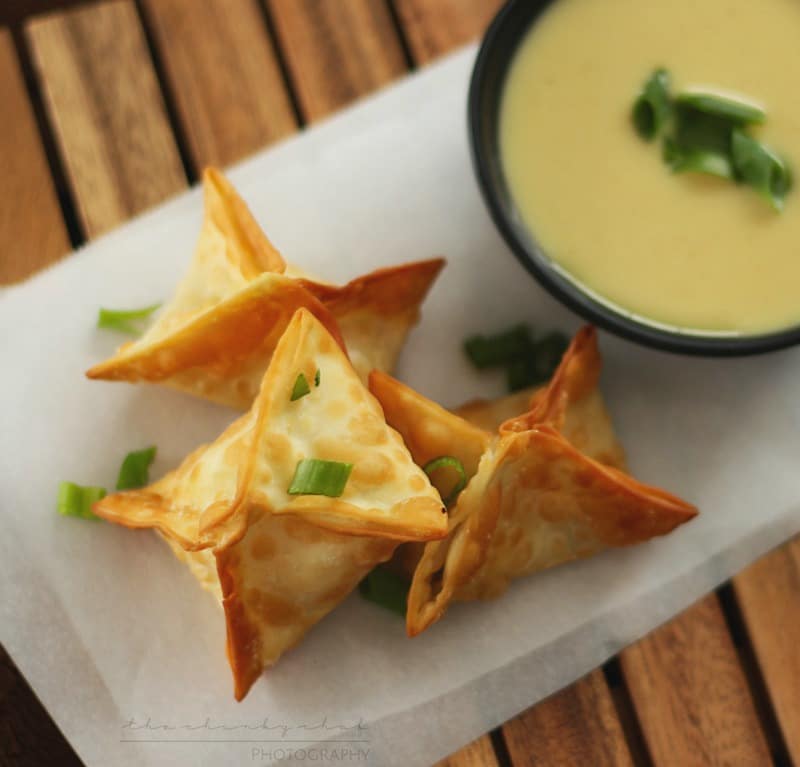 Sounds pretty amazing right?  You can totally do it!  It's a lot of fun and Stephanie at The Cozy Cook had a fantastic tip on her blog.  Want to know a secret?  You can make these ahead of time and freeze them!  That's right, freeze them.  Then you can pull them out of the freezer, let them thaw for a little while, and fry them up to have amazing crab rangoons on just a short amount of notice!  Perfect for dinner guests or those nights where you just don't have the energy (Lord knows, we all have those!)  Usually I just make as many crab rangoons as I can with my filling, then freeze whatever portion I won't be cooking that night.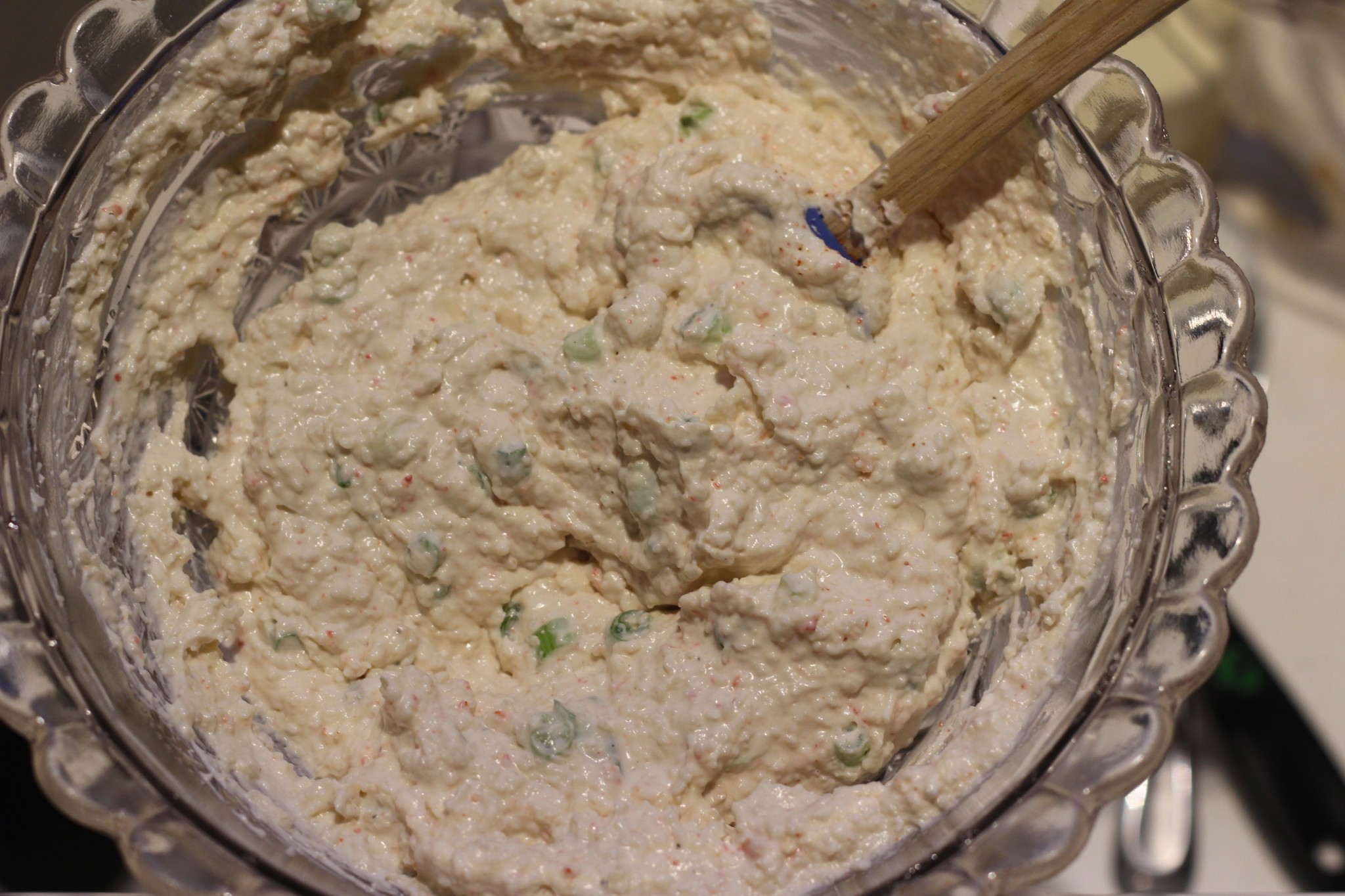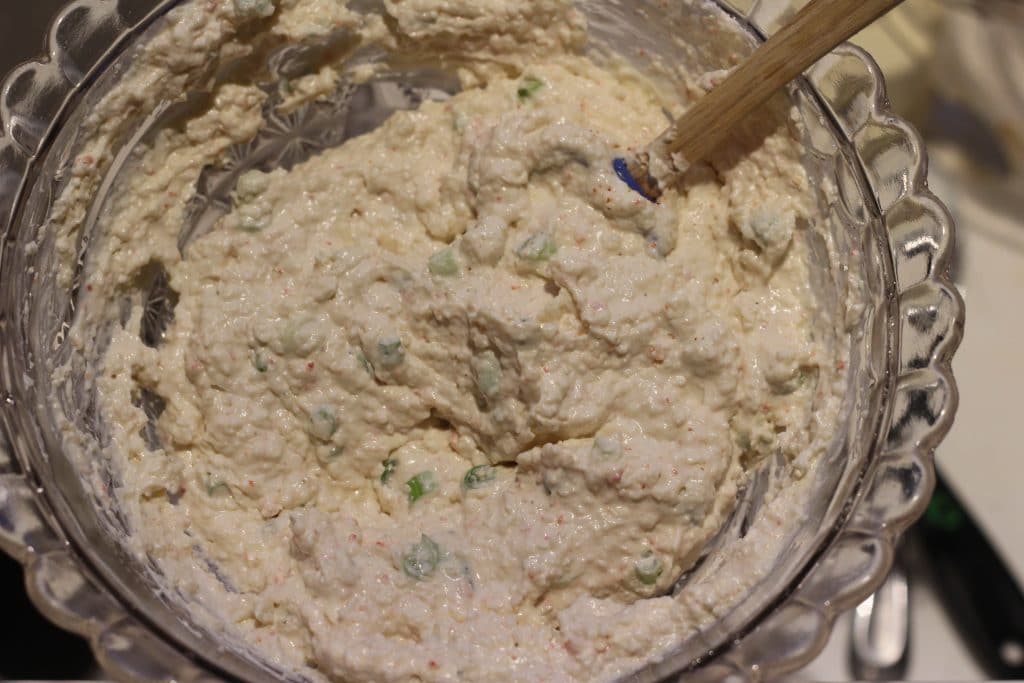 To freeze, just make the rangoons as you would normally, place them on a baking sheet lined with wax paper.  Place the whole baking sheet into the freezer until each rangoon is frozen, then you can put them all into a large ziploc bag for long term storage 🙂
Now of course the star is the delicious crab rangoons, but how about a great sauce to dip them in?  Instead of going for the standard sweet and sour sauce, I figured I'd try a Chinese mustard sauce.  Ohhhh man, you'll love this sauce!!  It has just the right amount of sweetness, combined with that zing from the dijon mustard, and the luxurious flavor of the sesame oil.  Seriously, you have to try it!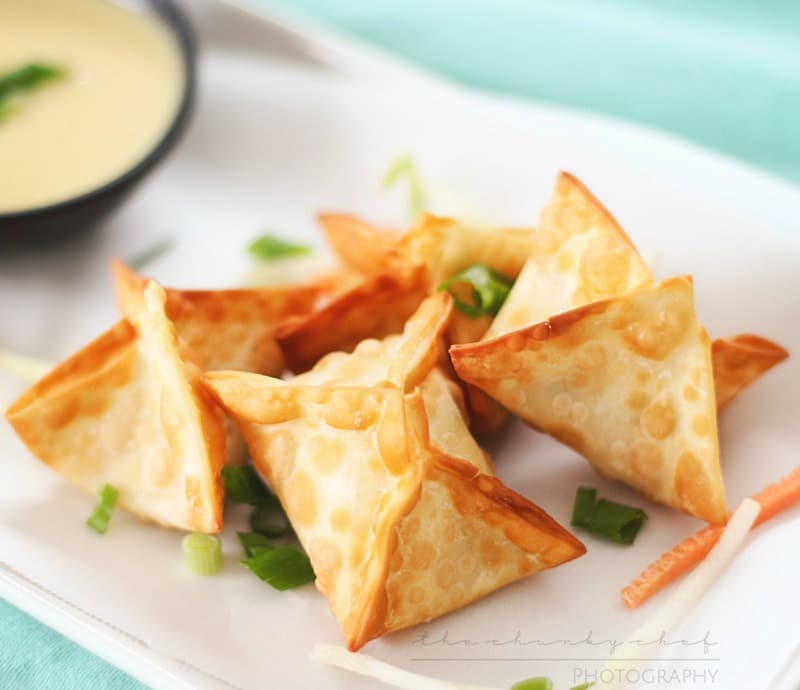 Recipe adapted from The Cozy Cook
---
Never miss a recipe!
[mc4wp_form]
You can find me on Facebook, Twitter, Pinterest, Instagram and Google +, so follow me if you'd like… I love keeping in touch with all of you 🙂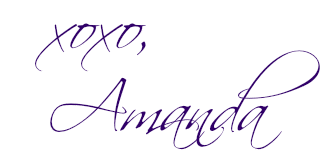 Did you make this? Be sure to leave a review below and tag me @the_chunky_chef on Facebook and Instagram!
Like your favorite Chinese takeout appetizer... but WAY better!! They're simple to make and taste so good the whole family will enjoy them!
Ingredients
8 oz cream cheese softened
3 oz imitation crab meat drained
2 green onions finely chopped
1 tsp garlic minced
2 tsp Worcestershire sauce
1/2 tsp soy sauce
1 tsp sugar
dash cayenne pepper
1 package wonton wrappers
FOR THE SAUCE
1/2 cup dijon mustard
1/4 cup rice vinegar
1/4 cup hot water
1 Tbsp sugar
drizzle honey
1 tsp sesame oil
Instructions
Combine all ingredients except wonton wrappers into a food processor... pulse until you

reach your desired consistency.

Place wontons wrappers on flat surface, and spoon 1 Tbsp of filling into the center of each

wonton wrapper.

Fill a small glass with water, wet fingers and wet the edges of your wonton wrappers. Bring 2

opposite sides of the wrappers together, pinching, then bring the 2 other sides towards the

middle and seal all edges. You can fold these any way you like, so long as the edges are

sealed so your filling doesn't come out while cooking.

Fry in preheated oil a few minutes or until golden brown, remove to paper towel lined plate

to drain. Sprinkle with green onions and a pinch of salt.

Serve with any dipping sauce you'd like!

FOR THE SAUCE

Combine all ingredients and store in an airtight container in the refrigerator.
Want to save this recipe for later? Click the heart in the bottom right corner to save to your own recipe box!
Chef Tips
As an alternative to frying, you can place rangoons on a parchment paper lined baking sheet, spray with cooking spray, and bake in a 400 degree oven for 10-12 minutes or until golden brown. This is a delicious and less time consuming way to enjoy these rangoons!