Even better than ordering takeout, this Crab Rangoon recipe is very simple to make, and is such an irresistible appetizer! Crunchy wonton wrappers wrapped around a creamy imitation crab meat filling… perfectly dip-able, and they're freezer-friendly too!
This is one of my Takeout-Style recipes I know you'll want to keep on hand!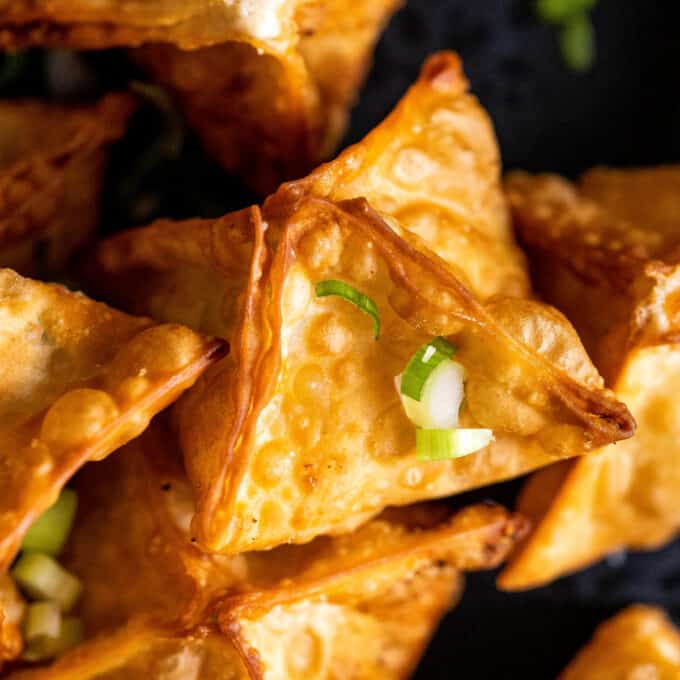 Crab rangoons are my favorite thing to order when we get Chinese takeout. Well mine, and my daughter's. She's completely obsessed!
I can't really blame her, I mean they're always delicious, hot and crispy on the outside, and creamy and smooth on the inside.
But for the amount you get from a takeout place, and what you pay for it, it's not a cheap appetizer, that's for sure.
But a lot of people don't realize how easy they are to make yourself!
When you make them at home, you can control the quality of ingredients, the sweetness level, and you can make your own dipping sauce!
How to make crab rangoon at home?
This is just an overview; the full ingredients and directions are in the recipe card toward the bottom of this post.

Make filling. I find using a food processor is the quickest way to do this, but you can use a hand mixer or just a rubber spatula.
Assemble. Add about a Tbsp of filling onto wonton wrappers.

Fold. Wet edges of wonton wrappers and fold into a little purse-like shape.
Fry. Fry in batches, until golden brown.
Helpful Tip!
Wonton wrappers are found in more and more mainstream grocery stores, usually in the refrigerated section of the product department. Mine are always near the tofu and refrigerated salad dressings. When working with them, try to only work with 4-5 or so at a time, and keep the rest of them covered with a damp paper towel (so they don't dry out). Dry wonton wrappers won't fold well, and are prone to ripping.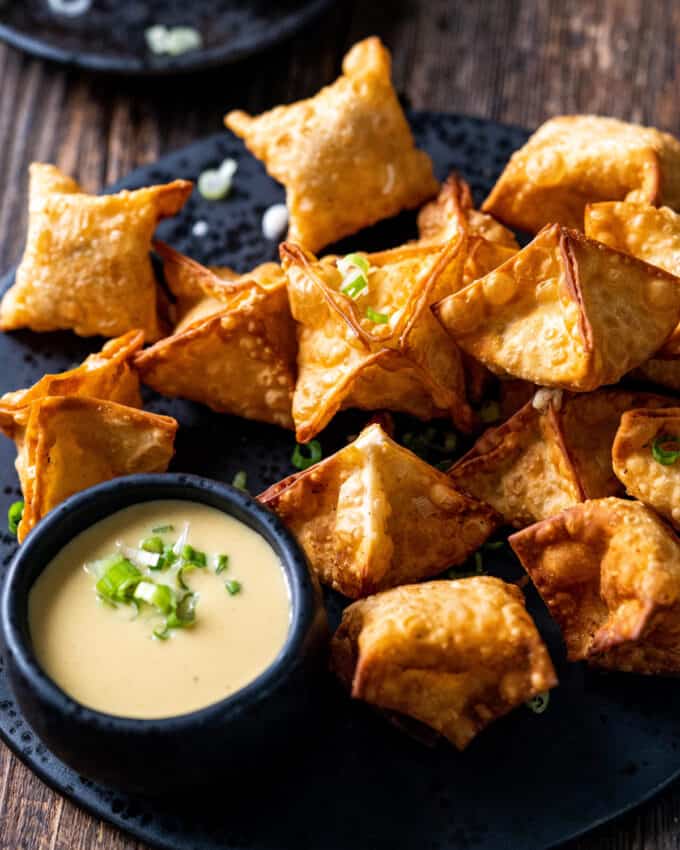 Variations of this recipe
Cream cheese – feel free to adjust the cream cheese amount to your tastes, adding more for a creamier consistency, and less for a firmer consistency.
Crab – traditionally, these are made with imitation crab meat, so that's what I used in this recipe. However, if you wanted something different, an equal amount of real crab meat is just as delicious (provided you like the taste of real crab).
Garlic powder – if you don't have fresh garlic on hand, feel free to substitute with 1/4 tsp of garlic powder.
Spicy – if you want some heat in your rangoons, feel free to increase the cayenne pepper, or add some finely minced jalapeños to the filling mixture.
Sweeter – most American Chinese restaurant's crab rangoon have a very sweet filling. This is a more savory version, but you can absolutely play around with the sugar amount until it's as sweet as you'd like.
Sauce – we really love the mustard sauce shared here in this recipe, but if you want a more traditional feel, my homemade sweet and sour sauce is a great alternative.
FAQ's
Is this an authentic crab rangoon recipe?
I don't make any claims to the authenticity of this recipe. This is just my version of a classic takeout dish, based on my family's taste.
Are crab rangoons the same thing as cream cheese wonton?
I believe they're very similar, in that both are wonton wrappers filled with a cream cheese mixture and fried, but some varieties of cream cheese wontons don't include imitation crab.
Can crab rangoons be baked or air fried?
Sure can! They don't get quite as golden and crispy this way, but it's also a less time-consuming way to enjoy this crab rangoon recipe. See the "chef tips" section right below the full recipe for all the details.
Making crab rangoon ahead of time
The only downside to working with wonton wrappers is that they dry out really easily.
So for that reason, I don't recommend assembling the rangoon ahead of time and refrigerating.
However, you can absolutely prep them ahead, or freeze them!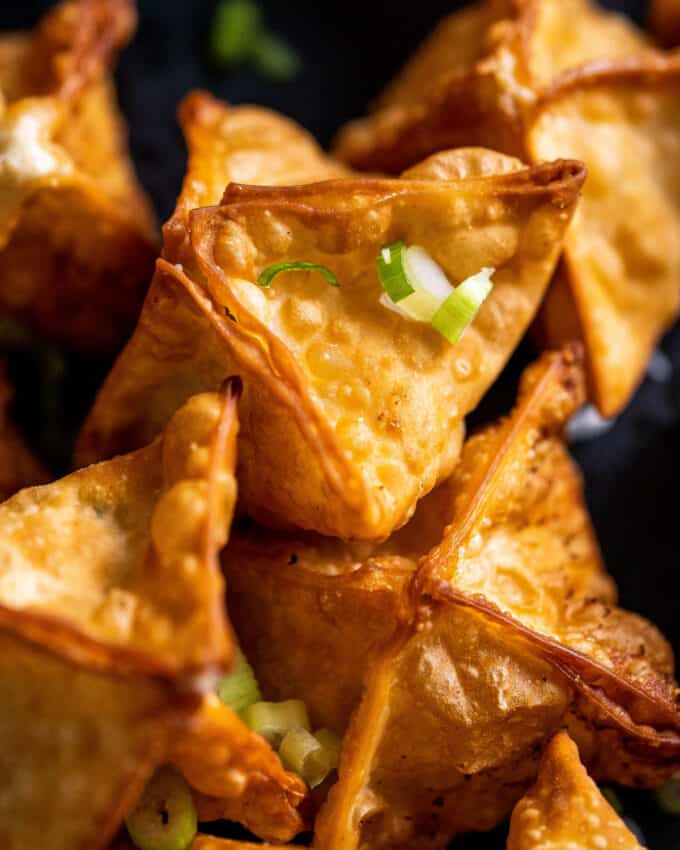 Prepping ahead:
Filling – the filling for this rangoon recipe can be made 1-2 days ahead, then kept in an airtight container in the refrigerator until you're ready to use it.
Sauce – the mustard sauce can also be made several days ahead and kept in an airtight container in the refrigerator.
Freezing
This crab rangoon recipe also freezes well!
I didn't like the texture when the already cooked rangoon were frozen, but you can easily freeze them before cooking.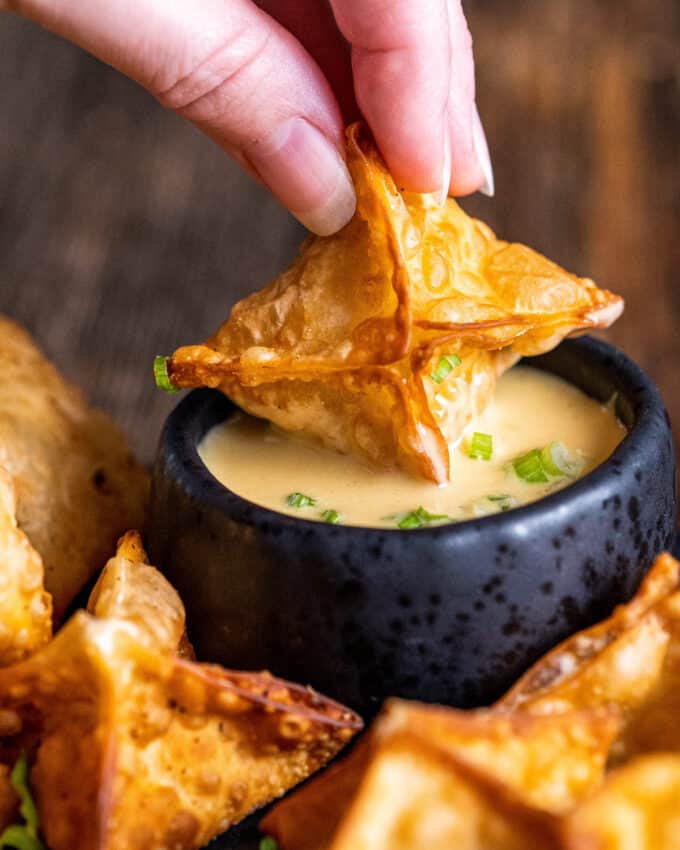 Freezing crab rangoon before cooking:
Once assembled and folded, place rangoons on a wax or parchment paper lined baking sheet or large platter.
Place baking sheet or platter into the freezer and flash freeze the rangoons for about an hour, or until hard.
Place frozen rangoons into a freezer-safe airtight container and freeze for up to 3 months.
Cooking rangoon from frozen:
If you plan to fry the rangoons, just let them sit on the counter for a few minutes while your oil is almost up to temperature.
Fry as directed.
If you plan to bake them, let them sit on the counter and thaw for about 10 minutes, then bake as directed.
Storage
Leftover crab rangoon should be stored in an airtight container in the refrigerator and enjoyed within 2-3 days.
To reheat, bake in a preheated 300°F oven for 5-7 minutes, until hot and crispy.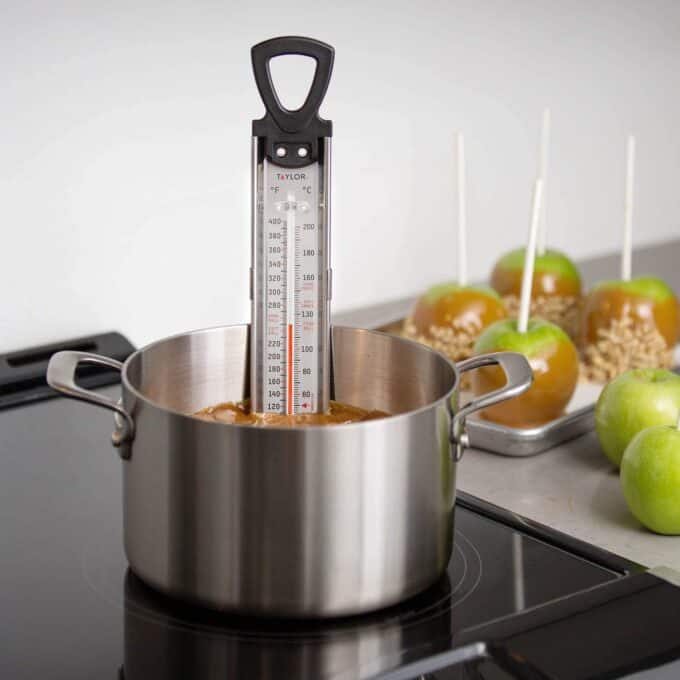 The easiest way to fry, is to know what temperature your oil is… and a thermometer is the tool for that. This version clips right on the side of your pot, so you can have perfect frying results, every time!
Did you make this? Be sure to leave a review below and tag me @the_chunky_chef on Facebook and Instagram!
Even better than ordering takeout, this Crab Rangoon recipe is very simple to make, and is such an irresistible appetizer!
Ingredients
Crab rangoon
8 oz cream cheese softened to room temperature
3 oz imitation crab meat drained
2 green onions chopped
1-2 cloves garlic minced
1 1/2 tsp Worcestershire sauce
1 1/2 tsp granulated sugar
1/2 tsp soy sauce
pinch cayenne pepper
1 package wonton wrappers
Chinese Mustard Sauce
1/2 cup dijon mustard
1/4 cup rice vinegar
1/4 cup hot water
1 Tbsp sugar
generous drizzle of honey
1 tsp sesame oil
Garnish
additional sliced green onions
Instructions
Make sauce
Add all mustard sauce ingredients in a small bowl and whisk until well combined. Cover and chill.
Prepare
Add oil to dutch oven (or other large heavy bottomed pot) and heat over MED heat to 350°F.  Line a baking sheet with a paper towel, then top with a wire cooling rack.  Set aside, near the stove.
Make filling
Combine all crab rangoon ingredients, except wonton wrappers, into a food processor. Pulse until mixture is mostly smooth.
Assemble rangoons
Place wontons wrappers on flat surface, and spoon approximately 1 Tbsp of filling into the center of each wonton wrapper.

Fill a small bowl or glass with water, using your fingers or a pastry brush to "paint" the outer edges of your wonton wrappers with the water.

Bring 2 opposite sides of the wrappers together, pinching closed, then bring the 2 other sides towards the middle and pinch to seal all edges.

You can fold these any way you like, so long as the edges are sealed so your filling doesn't come out while cooking.
Fry
Add 5-6 rangoons to preheated oil and fry for 1-2 minutes or until golden brown.

Remove to prepared wire cooling rack topped baking sheet, and repeat with any remaining rangoons, frying 5-6 rangoons (or less) at a time.
Garnish and serve
Sprinkle fried rangoons with additional sliced green onions and serve warm.
Want to save this recipe for later? Click the heart in the bottom right corner to save to your own recipe box!
Chef Tips
Recipe makes approximately 25 crab rangoon.
Extra wonton wrappers can be wrapped in plastic wrap and frozen in a freezer-safe container.
Serve these rangoons with any dipping sauce you'd like… sweet and sour, sweet chili sauce, duck sauce, etc.
If you're worried about any potential graininess, feel free to use an equal amount of powdered sugar.
Oven Baked Directions:
Preheat oven to 400°F, and line a baking sheet with parchment paper or aluminum foil.
Add assembled crab rangoon to baking sheet, and bake for 10-13 minutes, until golden brown at the edges and seams.
Air Fryer Directions:
Preheat air fryer to 370°F.
Spray air fryer basket lightly with nonstick cooking spray, then add assembled crab rangoon in a single layer.
Spray rangoons with nonstick cooking spray.
Air fry for 8-10 minutes, then gently flip rangoons over and air fry another 2-4 minutes, until golden brown.
Nutrition Disclaimer
The Chunky Chef is not a dietician or nutritionist, and any nutritional information shared is an estimate. If calorie count and other nutritional values are important to you, we recommend running the ingredients through whichever online nutritional calculator you prefer. Calories can vary quite a bit depending on which brands were used.