Learn how to roast garlic in the oven two different ways, both incredibly easy and versatile! Roasted garlic becomes buttery, caramelized and a little sweet, and is perfect for spreading onto bread, using in dips, sauces, soups and more!
This is one of my Kitchen Basics recipes I know you'll want to keep on hand!
This is a series of recipes here on the site that I like to call "Back to Basics". In this series you'll find recipes that are common building blocks, are great for beginner cooks, as well as homemade versions of pantry/store-bought staples.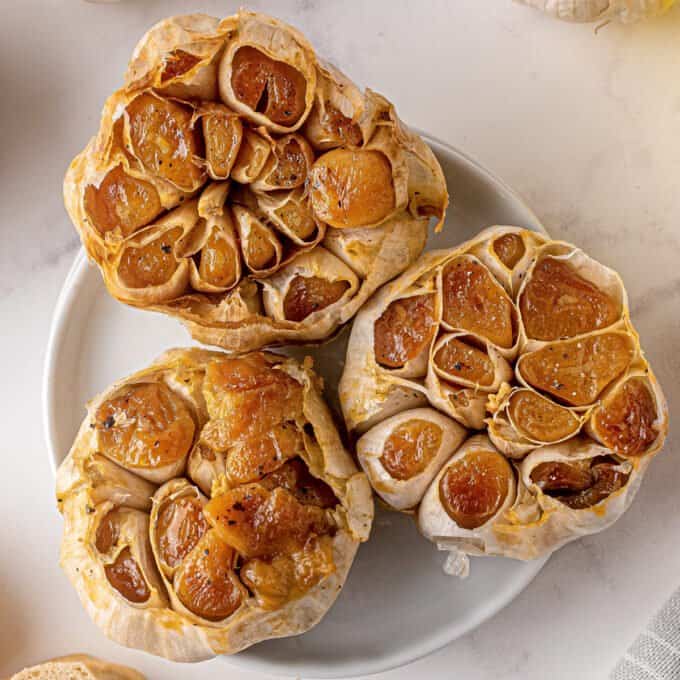 Are you a garlic fan? I definitely am!
Sometimes I think that I measure garlic with my heart and soul, rather than a measuring spoon!
So if you love garlic, you simply have to try roasting it. The simple act of baking it in the oven transforms the sharp pungent raw garlic into a buttery, caramelized, slightly sweet masterpiece!
And the smell that fills your house… pure heaven.
Roasting garlic is actually incredibly easy, only requires a small number of ingredients, and you don't need any fancy equipment.
How to make roasted garlic?
This is just an overview; the full ingredients and directions are in the recipe card toward the bottom of this post.

Prepare garlic. You want the loose papery skin off the garlic, then cut off the top quarter of the head.
Season. Drizzle garlic with olive oil, then season with salt and pepper.
Wrap. Loosely wrap the garlic in foil.
Roast. Bake until caramelized and soft.
Helpful Tip!
As tempting as it is to speed up the roasting process by increasing the oven temperature, I don't recommend it. Doing so could leave you with roasted garlic that has a bitter taste. Garlic turns bitter when it's cooked too hot, or for too long.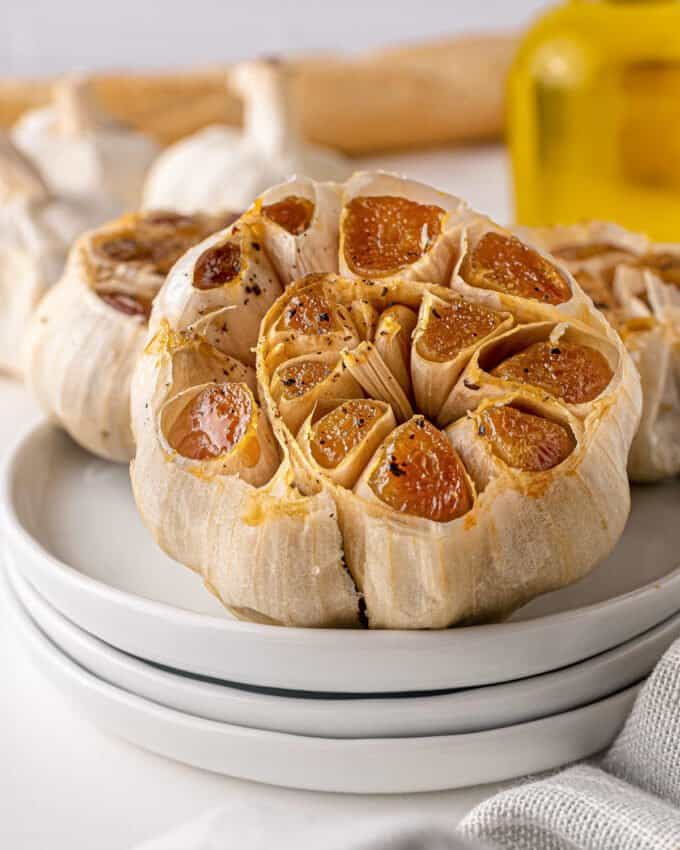 Variations of this recipe
Large batch – I almost never roast just one head of garlic. If I already have the oven on, I go ahead and roast 3+ heads, since it lasts a while and I use it on just about everything!
Herbs – in addition to the salt and pepper, feel free to add a sprinkle of fresh rosemary or thyme, or some dried herbs de provence.
Elephant garlic – despite looking like huge heads of garlic, elephant garlic is actually different than regular garlic. It can be roasted (but will take longer), however I don't recommend using it instead of regular garlic. It has a much more muted flavor, so it may not be worth the effort.
Alternate cooking method – if you don't like the idea of roasting a whole head of garlic, there's a way to use just the peeled cloves. Check out the "Chef Tips" section below the recipe for the full details.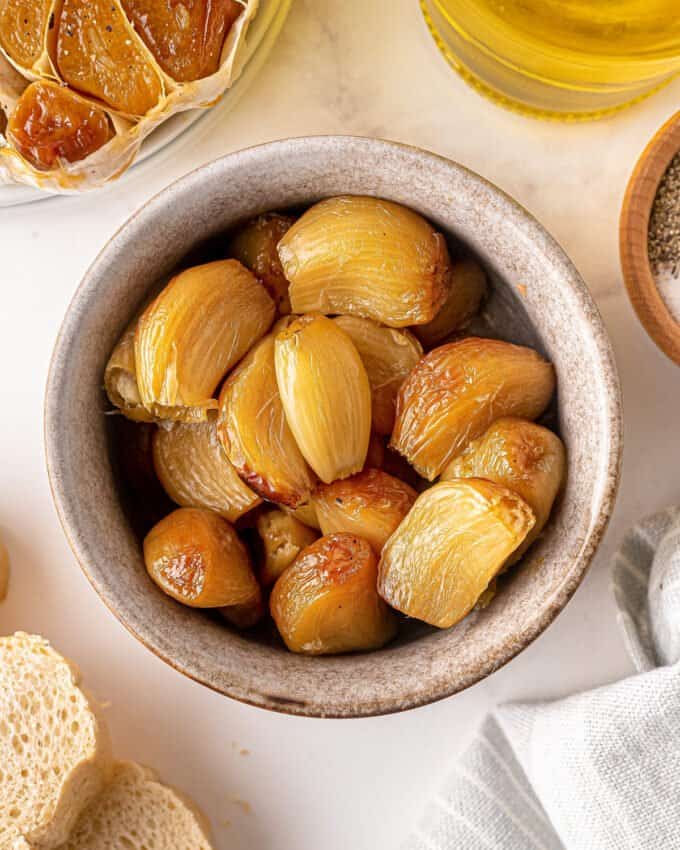 FAQ's
What's the difference between garlic and roasted garlic?
Raw garlic is pungent, with a sharp almost hot flavor. Once garlic is roasted, it's transformed into luxuriously creamy, sweet, decadent and buttery little cloves of deliciousness!
What can you do with roasted garlic?
You can use roasted garlic in almost every recipe that calls for regular garlic. It's one of the most versatile ingredients! Be sure to check out a box below where I detail some other ideas for using it.
Making roasted garlic ahead of time
This recipe is perfect for making ahead, since it lasts for weeks and the quality doesn't degrade over time.
I like to make more than 1-2 heads of garlic, then store them in the refrigerator for future uses.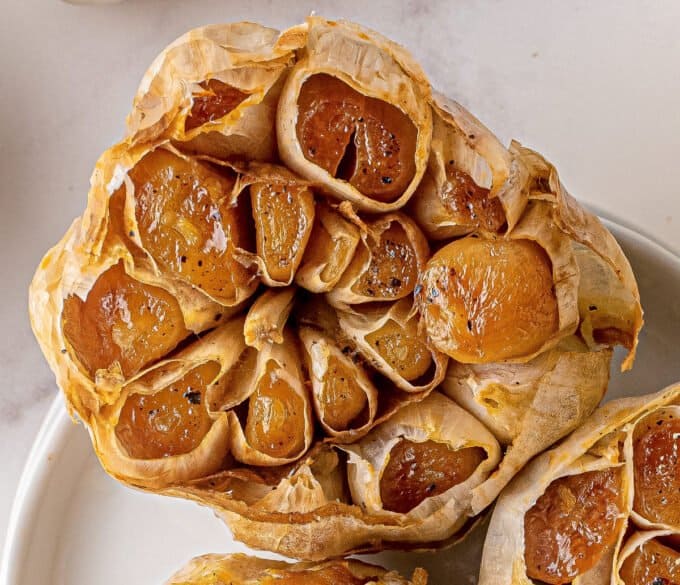 Storage
Roasted garlic should be refrigerated in an airtight container for up to 2 weeks.
I like to store my roasted garlic cloves in some olive oil, so once the cloves are used up, I have a garlic-infused oil that's great for drizzling!
Freezing
For longer storage, garlic cloves can be frozen for up to 2-3 months.
More ways to use roasted garlic!
In addition to the 4 options above, there are so many uses for roasted garlic.
Spread it – this is the simplest option… just smear a clove onto a piece of bread (toasted or un-toasted). We love it on our Rosemary Focaccia!
Topping – I love to add some roasted garlic pieces to pizzas as a topping!
Soups – stirring some mashed garlic into your favorite soups is heavenly.
Mix-ins – stir some mashed roasted garlic into mashed potatoes, steamed vegetables, or butter.
Pastas – adding some of this garlic to your favorite spaghetti is delicious.

I absolutely love my Wüsthof Chef's knife, and have been using it faithfully for years. However, it's definitely an investment, so I've also shared a more economical option.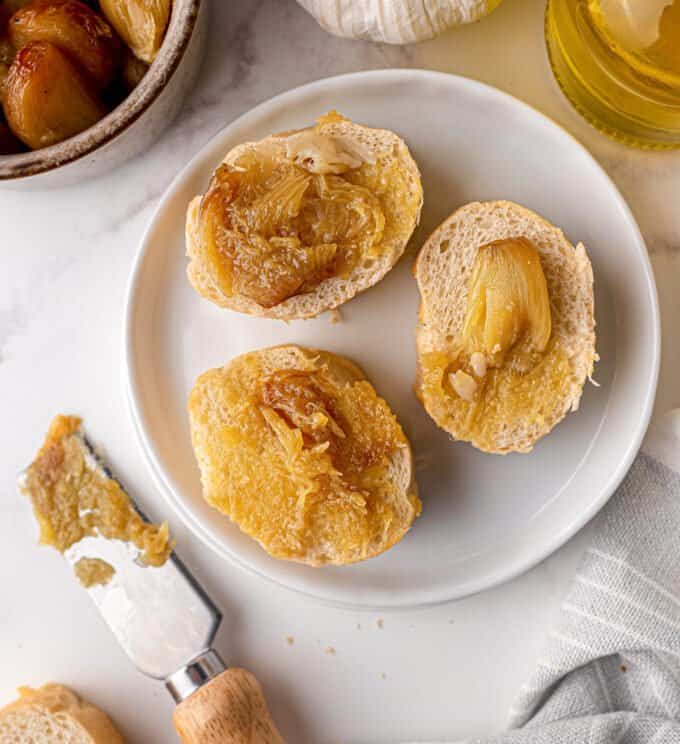 Did you make this? Be sure to leave a review below and tag me @the_chunky_chef on Facebook and Instagram!
Learn how to roast garlic in the oven two different ways, both incredibly easy and versatile!
Ingredients
1 head garlic
drizzle olive oil
sprinkle kosher salt
sprinkle black pepper
Instructions
Prepare
Preheat the oven to 400°F and place the oven rack in the middle position.

Peel the loose paper off the garlic, leaving the tight paper skins intact. Keep the whole head together, don't separate any of the cloves.

Using a sharp knife, slice off the top 1/2" of the whole head of garlic, or enough to expose the tops of the cloves.

Place garlic on a sheet of foil and drizzle the exposed cloves liberally with olive oil. Season with a sprinkle of salt, pepper.
Roast
Wrap the foil up around the garlic loosely, then place the garlic in a baking dish and roast in the oven for 35 – 50minutes.
Remove the cloves
To remove garlic from the paper cloves, just squeeze at the root end of the head, and the soft garlic should slide right out.
Serve or store
Serve warm, or let cool and add to an airtight container. Cover with some olive oil if desired.
Want to save this recipe for later? Click the heart in the bottom right corner to save to your own recipe box!
Chef Tips
The baking time is a range since all heads of garlic are different in size, and you may want your garlic to be more or less caramelized.
I recommend checking the garlic around 35-40 minutes, then adding more time if needed.
Roasting Cloves of Garlic
Instead of heads of garlic, pick up a bag of peeled garlic cloves (Costco has great organic ones), or peel multiple heads of garlic.
Preheat oven to 400°F.
Add at least 2 cups of peeled garlic cloves to a parchment paper lined 8×8 baking dish.
Drizzle with olive oil (about 1/2 – 1 Tbsp per cup of garlic), and stir.
Bake for 15-20 minutes, stir, then reduce oven temperature to 350°F and continue to roast another 20 minutes or so.
The last 20 minutes of roasting, stir the garlic every 5 minutes to make sure it doesn't brown too much, and to check that it's as caramelized as you want it.
Nutrition Disclaimer
The Chunky Chef is not a dietician or nutritionist, and any nutritional information shared is an estimate. If calorie count and other nutritional values are important to you, we recommend running the ingredients through whichever online nutritional calculator you prefer. Calories can vary quite a bit depending on which brands were used.