Sweet, tangy, and creamy… with just the right amount of crunch, this Hawaiian Macaroni Salad will become your GO TO macaroni salad recipe for every potluck and summer bbq!
This Macaroni Salad recipe is one of those recipes we have with so many of our family potlucks and bbq's.  We also love easy summer recipes like my Classic Pasta Salad and Baked Beans.  This is one of my Side Dishes recipes I know you'll want to keep on hand!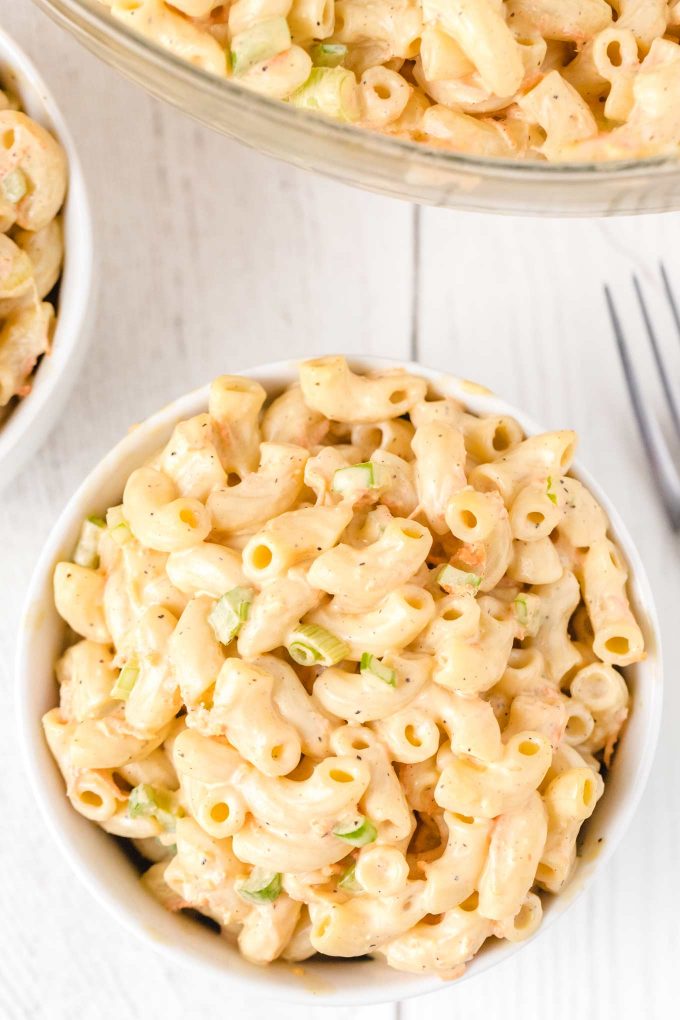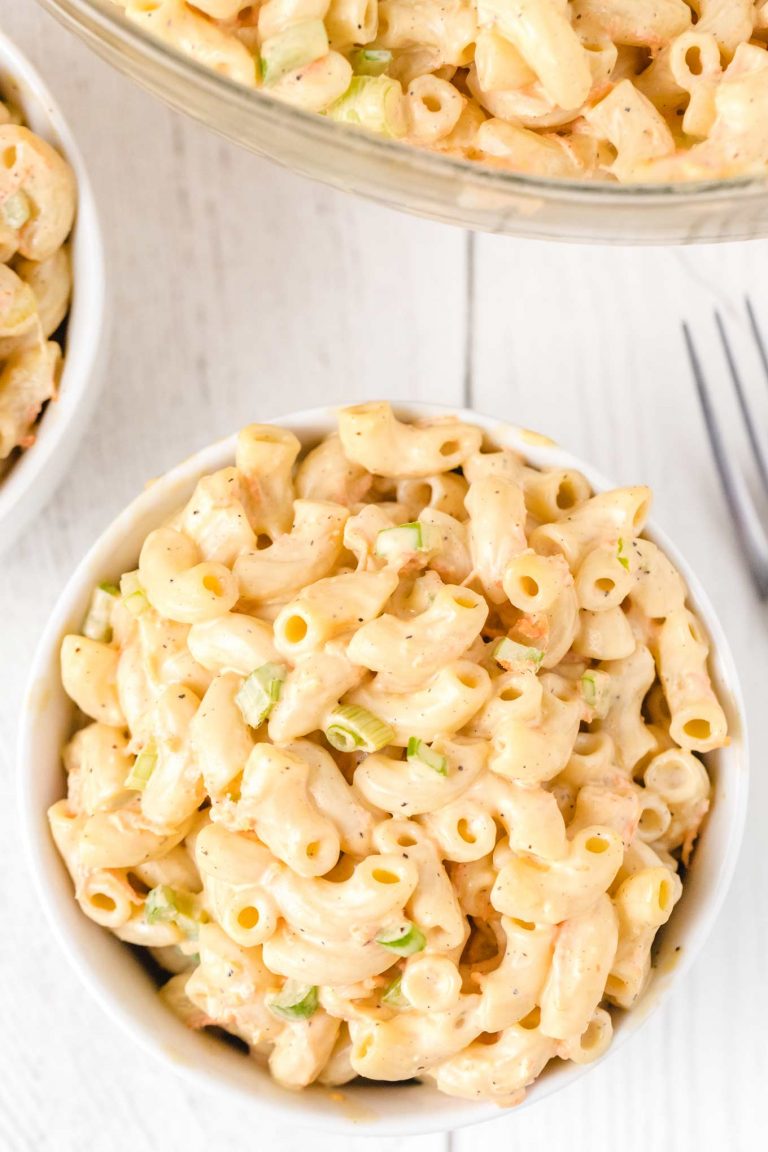 MACARONI SALAD RECIPE
Macaroni salads are such an iconic summer food… in fact, at just about every cookout this summer, you'll probably see a bowl of pasta salad.
Everyone loves the complex flavors, and they're the ultimate thing to BRING to a cookout, because you can make them up ahead of time.
That being said, some macaroni salads are… well… pretty boring!  A handful of vegetables, mushy/flavorless pasta, and some dressing that tastes like plain mayonnaise… sound familiar?
I bet it does… we've all had it before.  But not this Hawaiian macaroni salad!
This salad is pretty simple in terms of ingredients, yet packs a huge flavor punch.
I've never been to Hawaii, but I've heard tales of their famous plate lunch.  The plate lunch is a relatively cheap, yet filling dish that started back in the 1880's as a lunch for workers at Hawaii's plantations.  Usually some sort of meat, some rice and of course, macaroni salad.
Nowadays, you can find plate lunches served at roadside stands, drive-ins, and hole-in-the-wall restaurants all throughout Hawaii.  There are even a few Hawaiian BBQ restaurants that serve a version of it here in the contiguous U.S.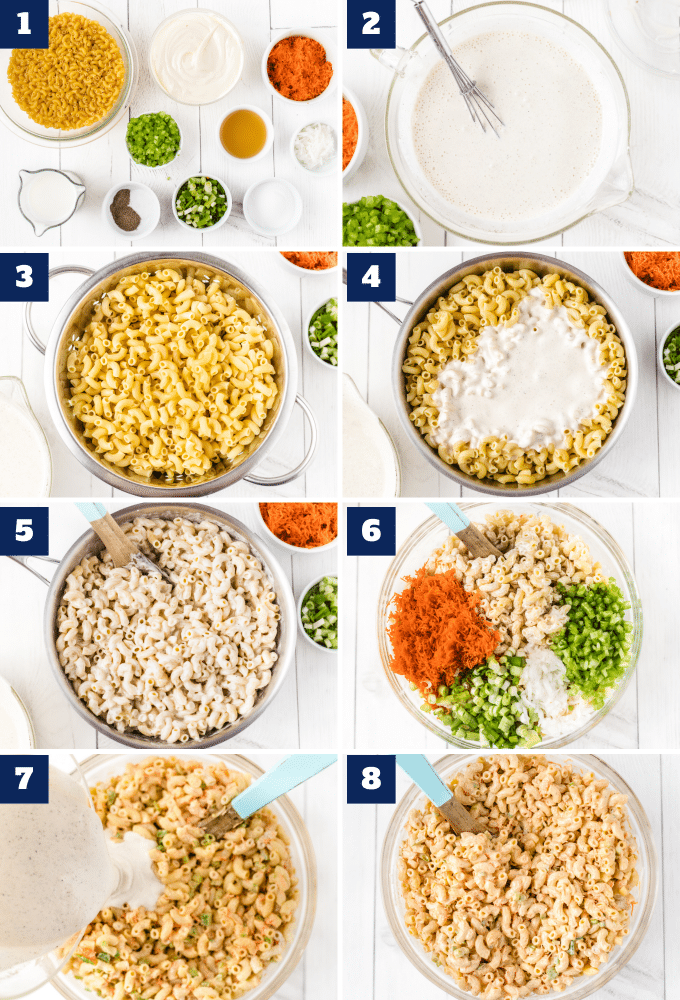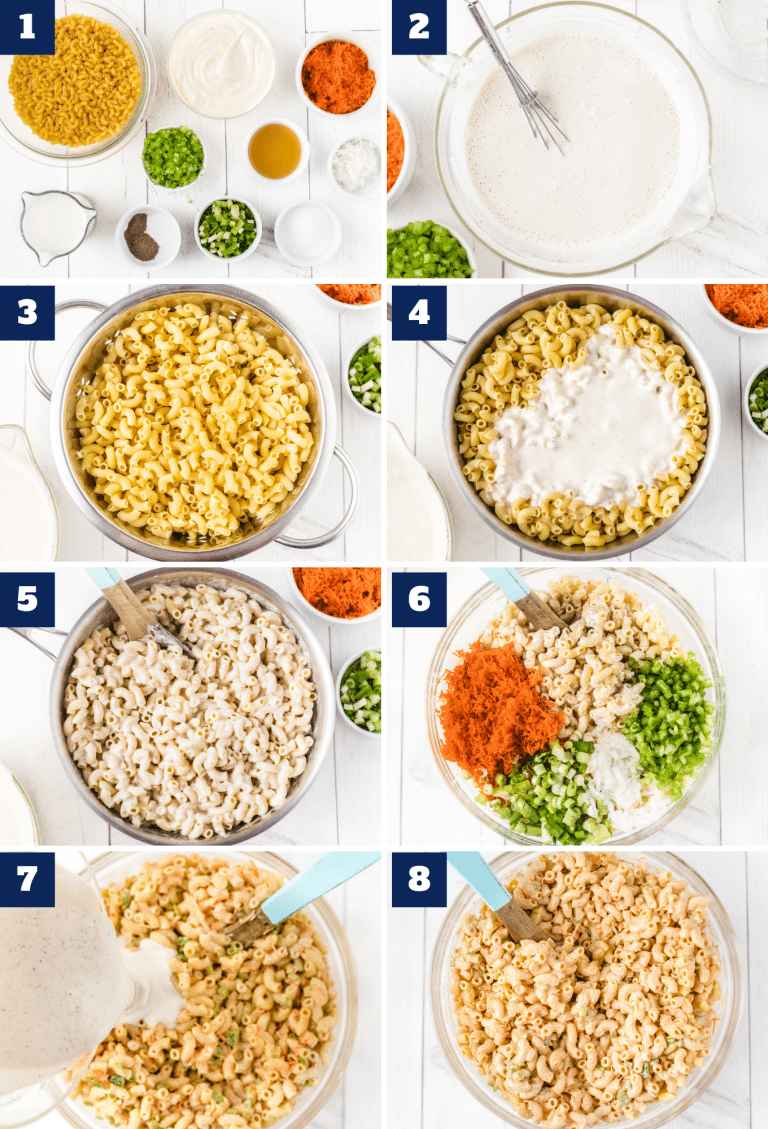 HOW TO MAKE HAWAIIAN MACARONI SALAD
Make the dressing.  Whisk all the dressing ingredients together and refrigerate until needed.
Boil the pasta.  Boil the pasta 2-5 minutes longer than the listed package time, then drain.
Stir in vinegar.  Add pasta to mixing bowl and stir in vinegar.  Let sit 10-15 minutes.
Add half the dressing.  Pour in about half the dressing and stir.  Let sit 10-20 minutes.
Add mix-ins.  Stir in green onions, celery, grated carrot and grated onion.  Then stir in remaining half of dressing.
Cover and chill.  Cover bowl and refrigerate for at least 2-3 hours.
ADDITIONAL COOKING TIPS
OVERCOOKING THE PASTA – I know it seems just plain wrong to boil the pasta past the al dente time listed on the package.  It actually allows for the pasta to absorb the maximum amount of that amazing dressing.
THE VINEGAR – adding the vinegar to the hot, drained pasta adds amazing flavor to the pasta itself.  It's also what gives the salad a great tang.  After you add it, the pasta will smell REALLY strongly of vinegar, but that's okay, once it's tossed with the dressing, it all mellows out in to a wonderful creamy, slightly tangy flavor that keeps you coming back for more!
DRESSING – this may seem like a ton of mayo/dressing… and it is!  But that's what makes this a classic Hawaiian-style macaroni salad.  It gives the perfect amount of creaminess.
REAL MAYO – for this recipe, only real mayonnaise will do.  Miracle whip and other spreads have other additives and flavors and just won't taste right.  For maximum creaminess, I highly recommend using full-fat mayo and whole milk.  Hellmann's, Best Foods, and Dukes are the mayo brands I regularly use.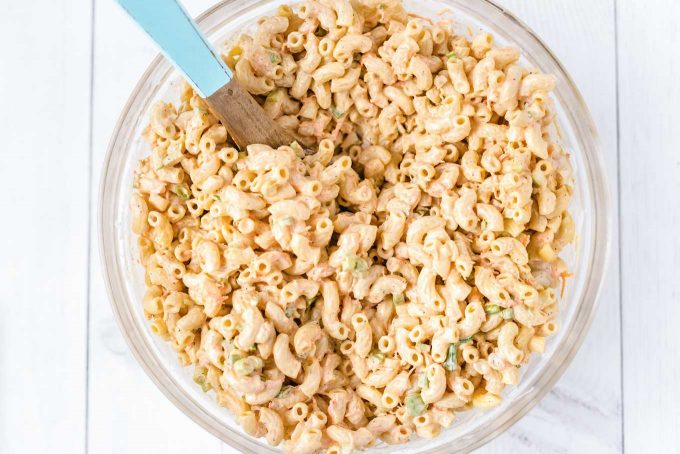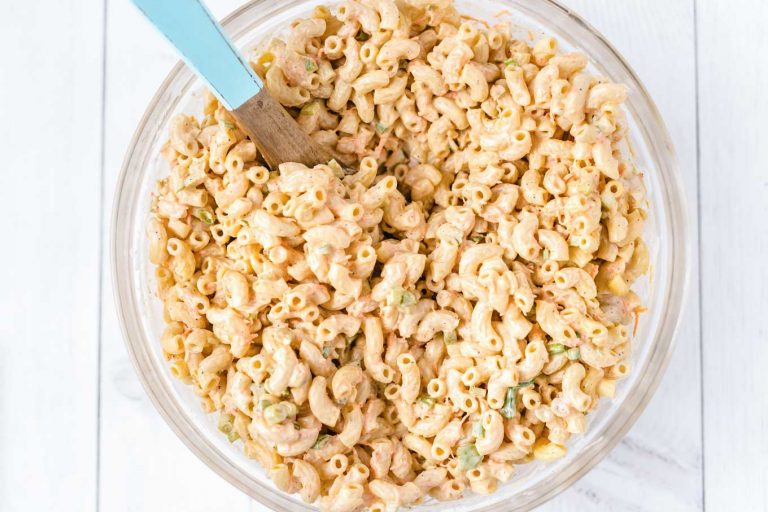 VARIATIONS OF THIS RECIPE
CREAMIER – the secret to a great Hawaiian-style macaroni salad is the consistency of the dressing.  You don't want it TOO thick.  However, if you prefer your salad to be a bit creamier, use the 1/2 cup of milk, rather than the full 1 cup.
MACARONI SALAD IN A HURRY – if you prefer not to do the two-step dressing process, you can add the entire dressing amount in with the vinegar-soaked pasta and other salad ingredients.  I find the pasta absorbs the dressing a bit better when done in two parts, but I know not everyone has the patience to do that 🙂
MIX-INS – I've seen a lot of macaroni salads that had other mix-ins added, like peas, hard boiled eggs, cubed ham, bell peppers, pimentos, and even finely chopped pineapple.  I haven't personally tried these things however.
OTHER PASTA – while elbow macaroni pasta is the traditional pasta used, you can make this salad with just about any short-cut of pasta (meaning not long noodles like spaghetti).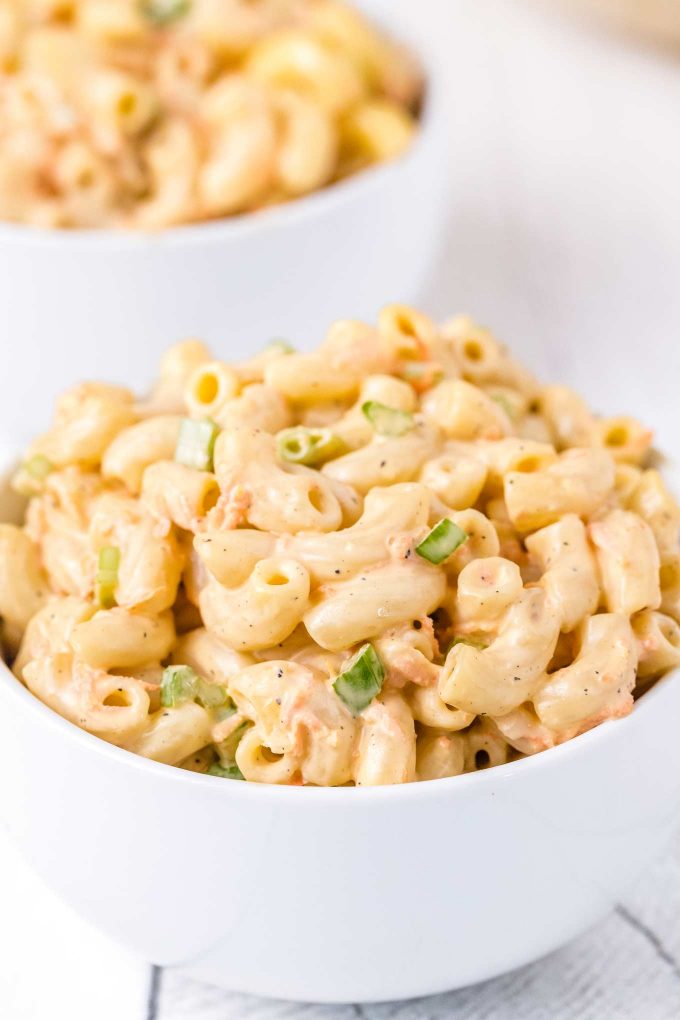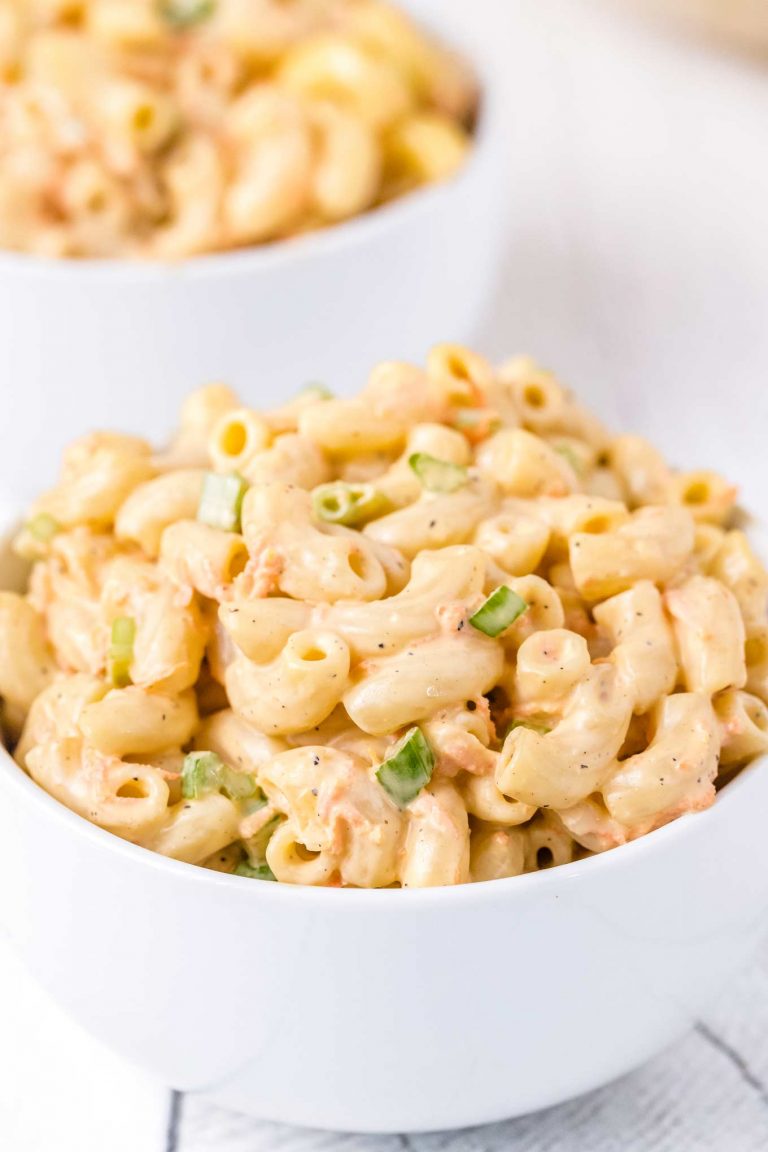 MAKING MACARONI SALAD AHEAD OF TIME
Macaroni salad is an amazing potluck recipe because it's actually supposed to be made ahead of time!
Once you mix it all together, it's best to refrigerate it for at least 2 hours, but honestly, if you can make it a day ahead of time, it will have the best flavor and texture.
If you make this ahead of time and it seems on the dry side, add some mayo mixed with a little milk until you get the right consistency back.
STORAGE
Leftover macaroni salad should be refrigerated in an airtight container and consumed within 3-4 days.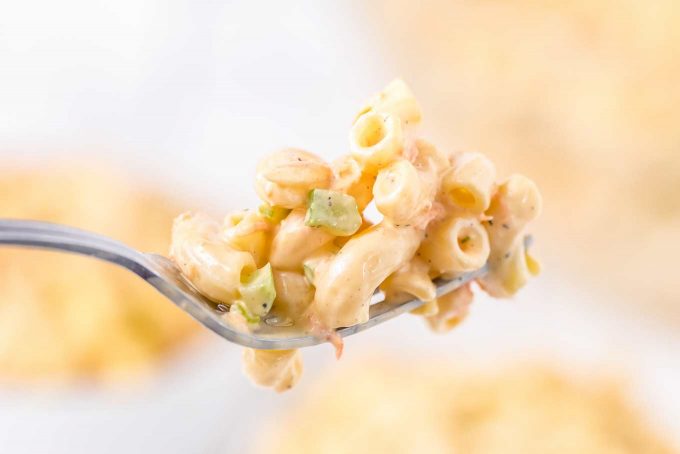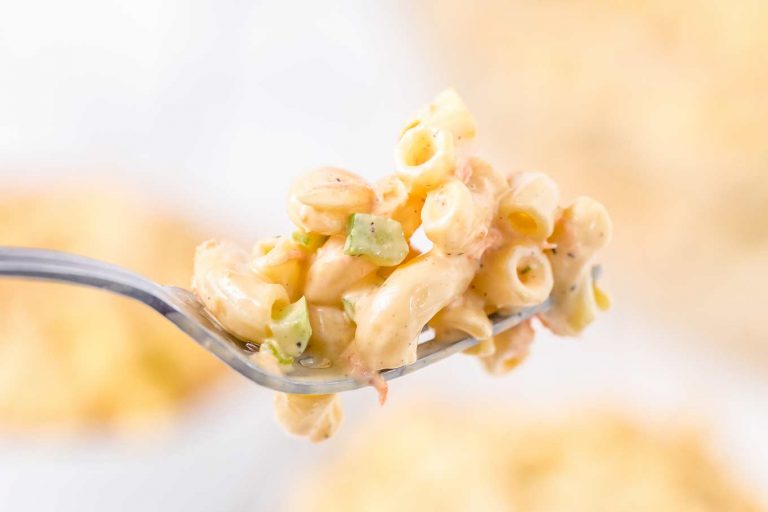 SPECIAL EQUIPMENT FOR THIS RECIPE
Stockpot – I like to use this stockpot to boil my pasta in, plus it's great for making soups and chilis.


BE SURE TO SCROLL DOWN TO CHECK OUT OTHER READERS' COMMENTS FOR TIPS AND REVIEWS.
AND DON'T FORGET, IF YOU'VE MADE THIS RECIPE, LEAVE A COMMENT AND PLEASE GIVE IT A STAR RATING LETTING ME KNOW HOW YOU ENJOYED IT!
Did you make this? Be sure to leave a review below and tag me @the_chunky_chef on Facebook and Instagram!
Sweet, tangy, and creamy... with just the right amount of crunch, this Hawaiian Macaroni Salad will become your GO TO macaroni salad recipe for every potluck and summer bbq!
Ingredients
DRESSING
2 1/3 cups mayonnaise
1/2 - 1 cup whole milk depending on how thick you want your dressing
2 Tbsp light brown sugar (optional - granulated sugar can be used)
1/2 - 1 tsp onion powder
1 tsp kosher salt
1/2 - 1 tsp black pepper
SALAD
1 lb. dried elbow pasta
1/4 cup apple cider vinegar
5 green onions sliced
2 stalks celery finely minced
1 cup grated carrots
1/4 cup grated yellow onion
Instructions
MAKE THE DRESSING
Add all dressing ingredients to mixing bowl and whisk to combine fully. Cover and refrigerate until ready to use.
MAKE THE SALAD
Bring a large pot of salted water to a boil, then add dried pasta. Boil pasta 2 - 5 minutes longer than the package lists for al dente.  Drain.

Immediately add pasta to a large mixing bowl, add vinegar and stir until pasta absorbs the vinegar. Let sit 10-15 minutes.

Add half of the dressing to the pasta, stir well.  Let sit another 10-20 minutes.

Add the green onions, celery, carrots and onion.  Stir, then add remaining dressing and stir again.

Cover bowl with plastic wrap and refrigerate at least 2 hours, but longer is better.
Want to save this recipe for later? Click the heart in the bottom right corner to save to your own recipe box!
Chef Tips
Overcooking the pasta may seem, and feel, wrong... but it's a classic distinction in Hawaiian-style macaroni salad.  Plus the overcooked pasta will absorb the flavors of the vinegar and dressing much better.
Adding the dressing in 2 parts may seem like an unnecessary step, but it allows for the pasta to soak up plenty of the dressing, while still being creamy.
Macaroni salad is served cold, so make sure it's fully chilled before serving.  At least 2-3 hours, but if you can make this the day before serving, it's even better!
From what I can tell, classic Hawaiian macaroni salad is just dressing, pasta, onion and carrot.  If you'd like to omit the celery and green onions, you absolutely can.
Nutrition Disclaimer
The Chunky Chef is not a dietician or nutritionist, and any nutritional information shared is an estimate. If calorie count and other nutritional values are important to you, we recommend running the ingredients through whichever online nutritional calculator you prefer. Calories can vary quite a bit depending on which brands were used.