Crunchy, sweet, and tangy, these freezer pickes are homemade with love. They're perfect on a sandwich, burger, or even on their own as a side dish!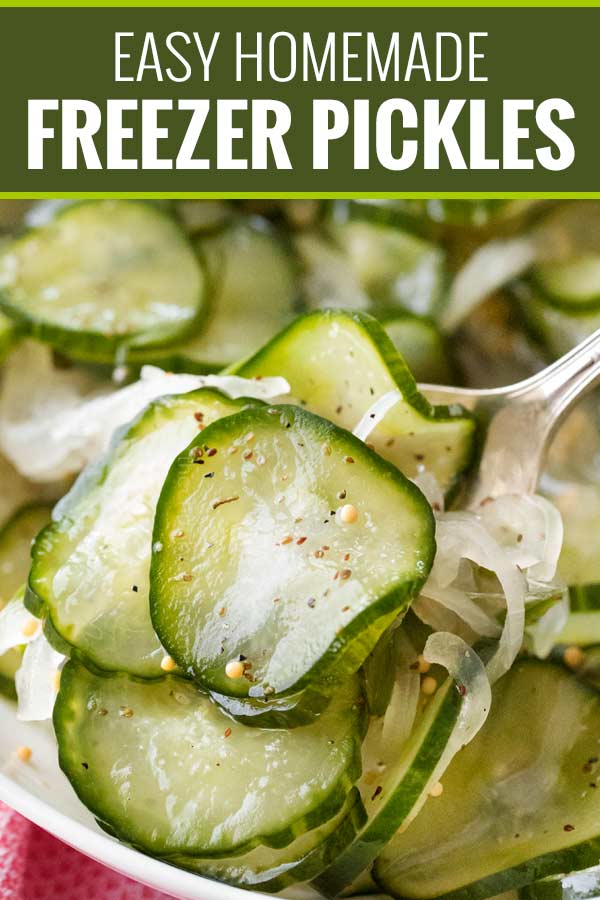 You guys, I've been wanting to share this recipe with you all for a while now.  It comes straight from my Great Grandma Lorrine… which in my family, means you KNOW it's good.  She was an amazing cook… and I SO wish I could cook with her today.
She made so many amazing recipes, but this was one she made that I distinctly remember her making and us eating them together at her house.  Don't you just love old family recipes that bring back memories?  It's one of the reasons I love cooking so much.  Food evokes so many memories and brings families closer together!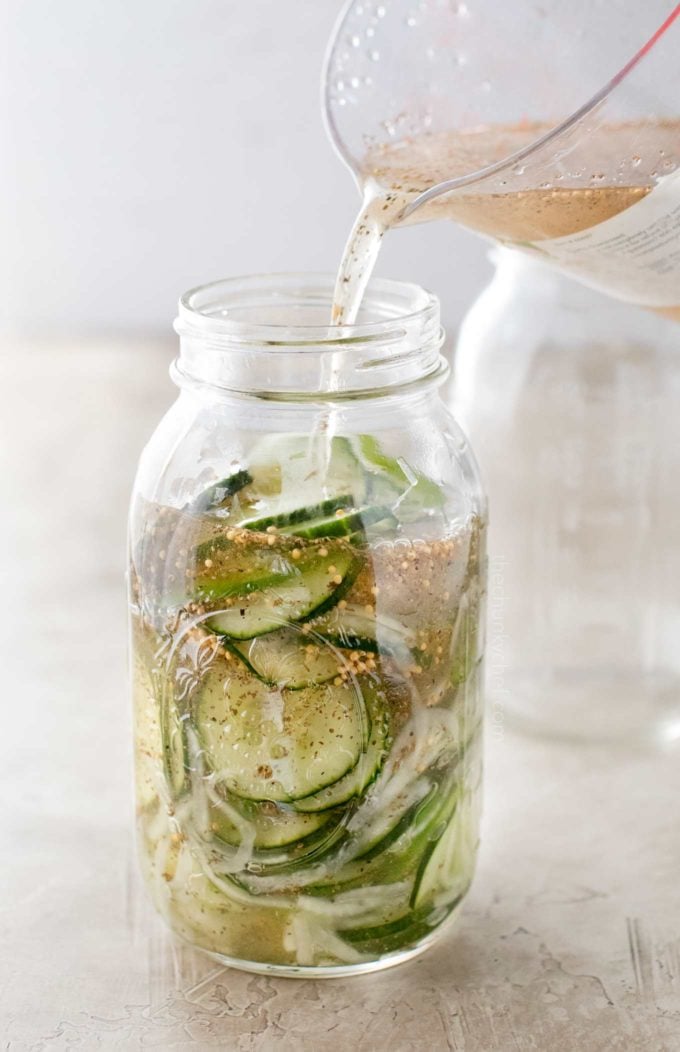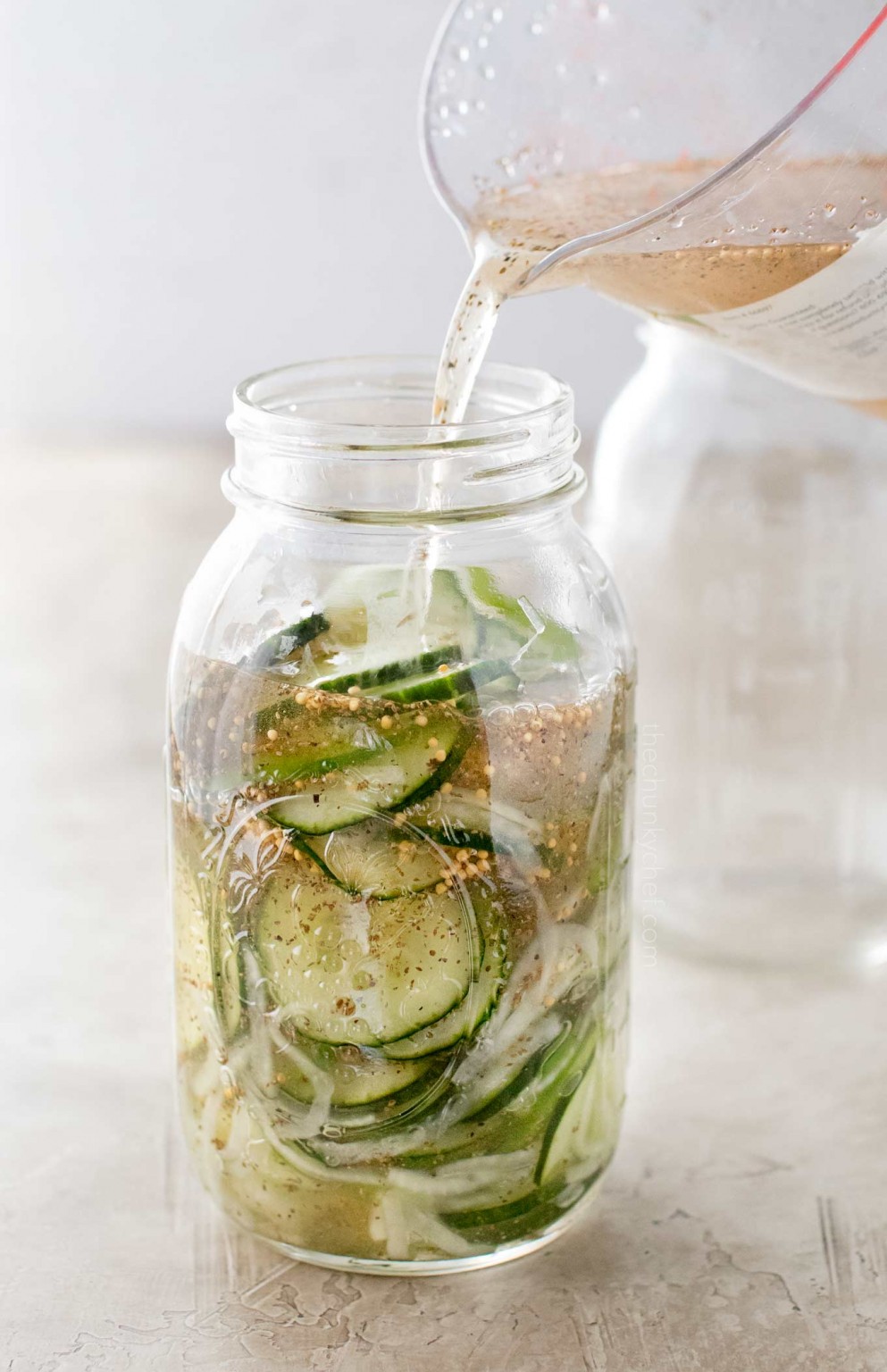 Alright, alright… I'll stop being sappy lol.
WHAT ARE FREEZER PICKLES
If you've never heard of freezer pickles before… fear not.  A lot of people haven't!  Freezer pickles are homemade pickles that are made a little differently.  Traditional pickles, like dill, are made by bringing the brine solution up to a boil, then pouring the hot brine over the cucumbers.  In this method, the cukes are mixed with a room temperature solution, refrigerated to keep them cool, then frozen.
DO I HAVE TO FREEZE THESE PICKLES
Nope!  Once you've combined the cucumbers, onions and peppers with the brine solution and refrigerated them, you can put the pickles in airtight containers and keep them refrigerated for several weeks.  I will say though, when testing this recipe, I put one batch in the freezer and one batch in the refrigerator; and the freezer batch was much crisper with more of a crunch.  So if you like a good crunchy pickle texture, I recommend freezing them.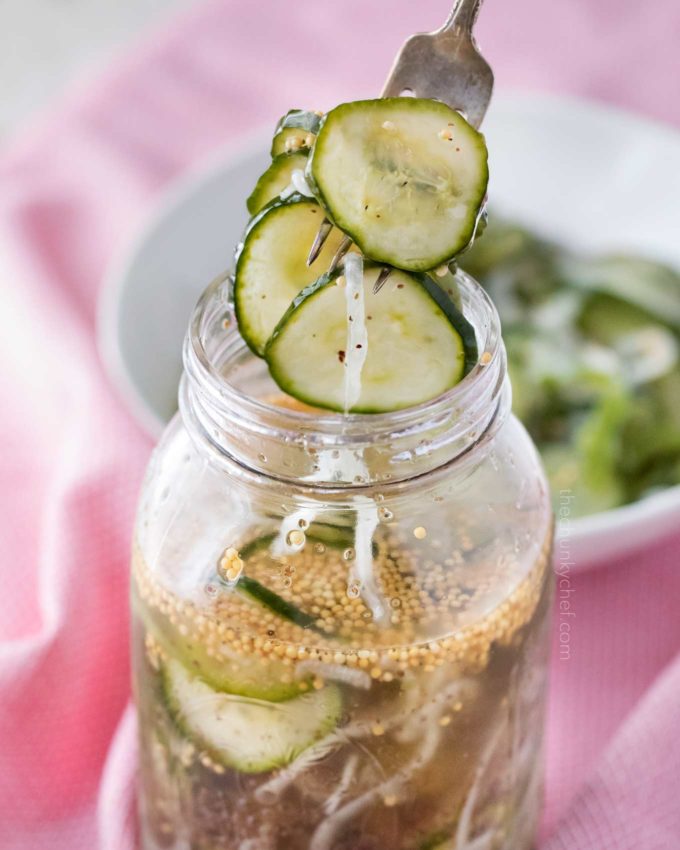 HOW SWEET ARE THESE FREEZER PICKLES
They're definitely sweet, similar to a bread and butter style pickle… but with more of a tang.  Despite the large amount of sugar, these don't taste ONLY sweet.  The vinegar and spices mellow it out a bit.
CAN I MAKE DILL FREEZER PICKLES
I haven't tried or tested that, but I think it would work just fine!  Use any dill refrigerator pickle recipe, (this one looks good), then freeze them like you would for this recipe.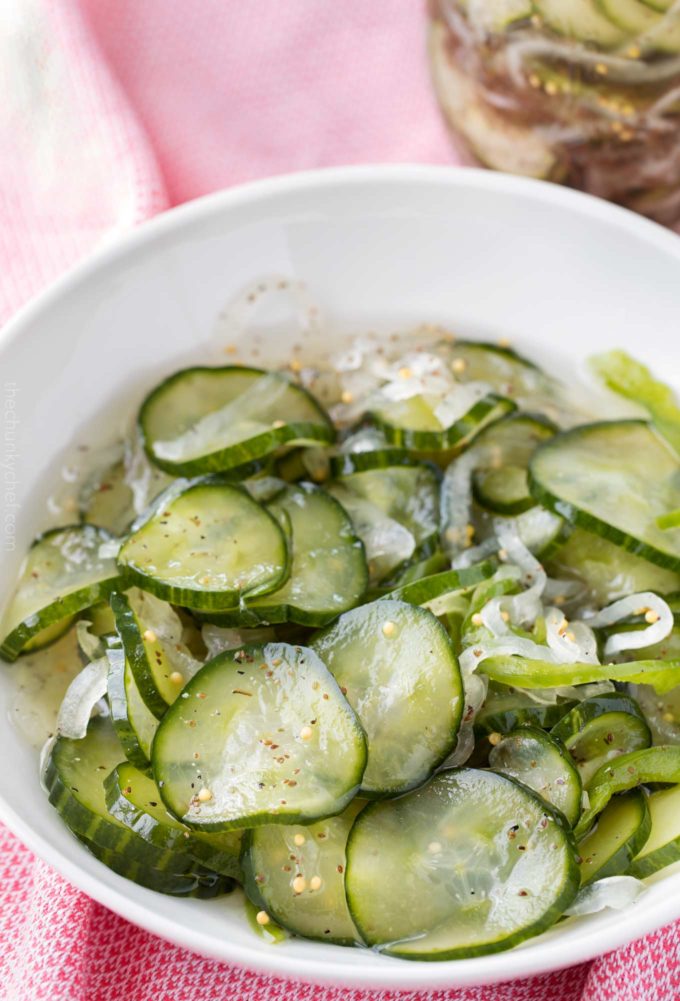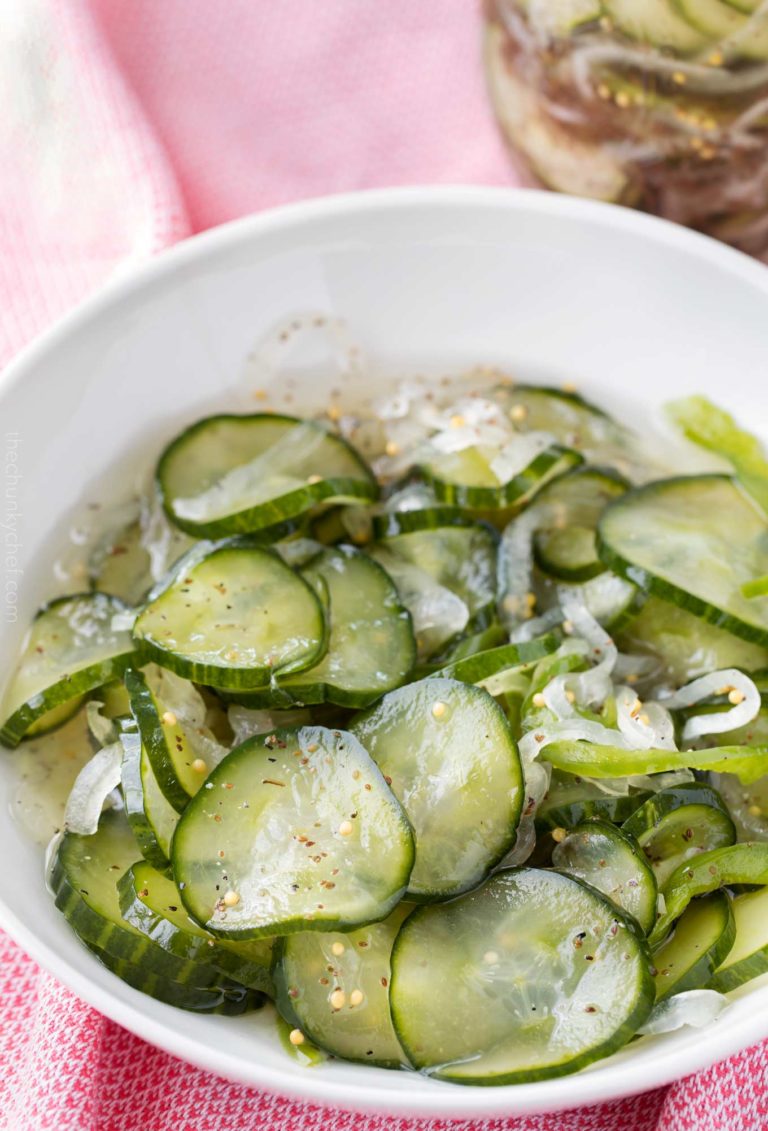 WHAT CAN I USE THESE FREEZER PICKLES FOR
Just about anything you'd like!  They're amazing on a burger, hot dog (sounds weird, but it's good!), chicken salad or cold cut sandwich, or even just a side dish.  It may seem odd to have a big pile of pickles on your plate, but these are so different from the traditional dills, you'll DEFINITELY want more than one or two!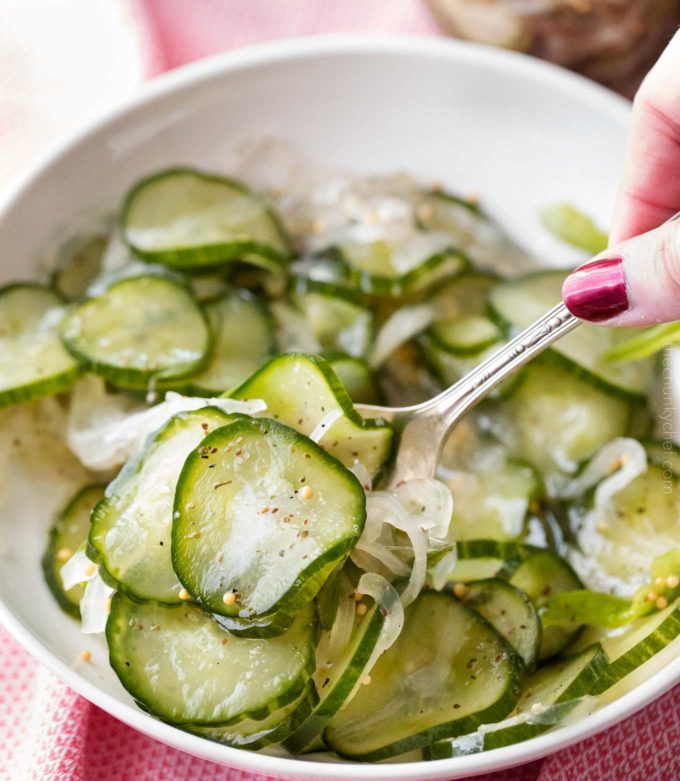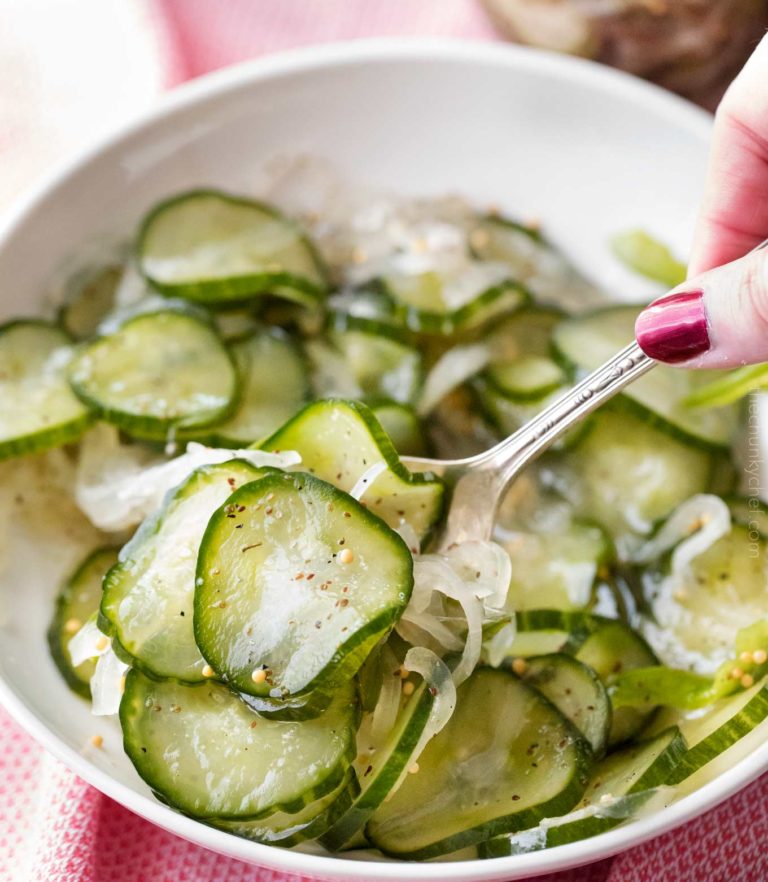 HELPFUL TOOLS
Mixing Bowls – this set comes with airtight lids, so it's perfect for refrigerating these pickles for that first 24 hours.
Mason Jars – in case you're looking for some, I like the wide-mouth jars like these.


Did you make this? Be sure to leave a review below and tag me @the_chunky_chef on Facebook and Instagram!
Crunchy, sweet, and tangy, these freezer pickes are homemade with love!
Ingredients
7 cups thinly sliced pickling cucumbers (approximately 4 medium sized cucumbers)
2 - 3 yellow or sweet onions , peeled and thinly sliced
1 - 2 green bell peppers , seeded and thinly sliced (optional)
2 Tbsp kosher salt
2 cups granulated sugar
1 cup apple cider vinegar
1 Tbsp mustard seed
1 Tbsp celery seed
Instructions
Add cucumbers, onions and green peppers (if using) in a large non-reactive mixing bowl. Sprinkle with kosher salt and stir to combine. Let sit for 1 hour. Transfer mixture to a colander to drain and rinse to remove excess salt.

Wipe out the same mixing bowl, then add drained and rinsed cucumber mixture back to the bowl.

In another small mixing bowl, combine sugar, apple cider vinegar, mustard seed and celery seed. Stir together to combine. If the sugar isn't mixing well, add bowl to the microwave (make sure it's microwave-safe!), and heat for 30 seconds or so, until the sugar will dissolve into the vinegar when stirred.

Pour liquid over the cucumber mixture in the bowl and stir to combine. Cover tightly and refrigerate for 1 full day. Transfer freezer pickles to freezer-safe containers and freeze for up to 6 months.

To eat: Thaw pickles out in the refrigerator overnight. Once thawed, pickles should be eaten within 2 weeks. Enjoy on their own, on top of a burger, on top of hot dogs, on top of sandwiches, or however you'd like!
Want to save this recipe for later? Click the heart in the bottom right corner to save to your own recipe box!
Chef Tips
Pickling cucumbers worked best when I tested this recipe, but regular cucumbers will work in a pinch.
Peel the cucumbers if you don't like the bite of the cucumber skin.
Add a pinch of black pepper if you like a peppery bite.
I recommend freezing in smaller containers, so you can just thaw out 1 container at a time and keep the rest frozen for another time.
I've successfully frozen these pickles in glass containers (leave about 1/2" of headroom at the top to allow to expansion), plastic containers, and freezer-safe resealable plastic bags.
Nutrition Disclaimer
The Chunky Chef is not a dietician or nutritionist, and any nutritional information shared is an estimate. If calorie count and other nutritional values are important to you, we recommend running the ingredients through whichever online nutritional calculator you prefer. Calories can vary quite a bit depending on which brands were used.