This Instant Pot cauliflower soup is quick and easy.  Using simple ingredients, this soup is low carb, vegan, and gluten free.  Flavored with warm curry spices, garlic and ginger and finished with creamy coconut milk, this is a cozy soup you can feel good about eating! 
This Instant Pot Cauliflower Soup is the perfect comfort food!  Recipes like my Instant Pot Sesame Chicken and Instant Pot Sausage Tortellini Soup are great for when you want an ultra-comforting family meal that's ready incredibly fast.  This is one of my Pressure Cooker recipes you'll definitely want in your recipe box!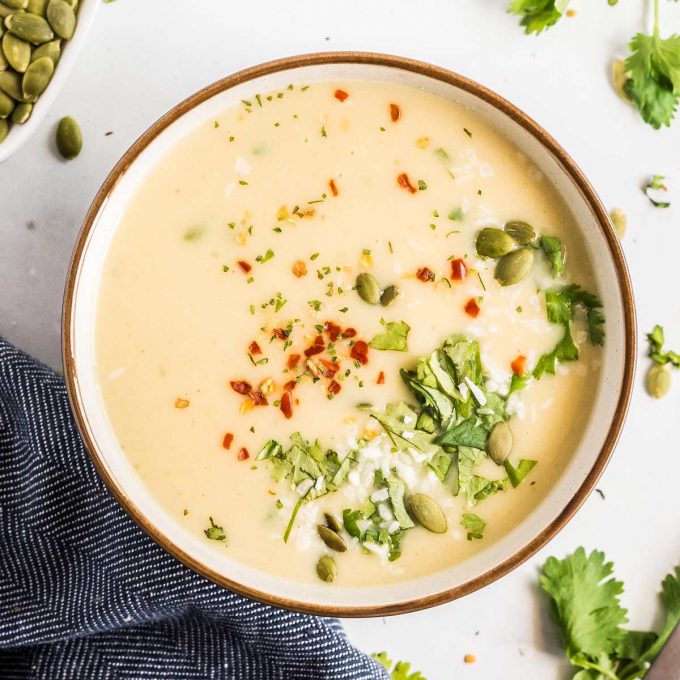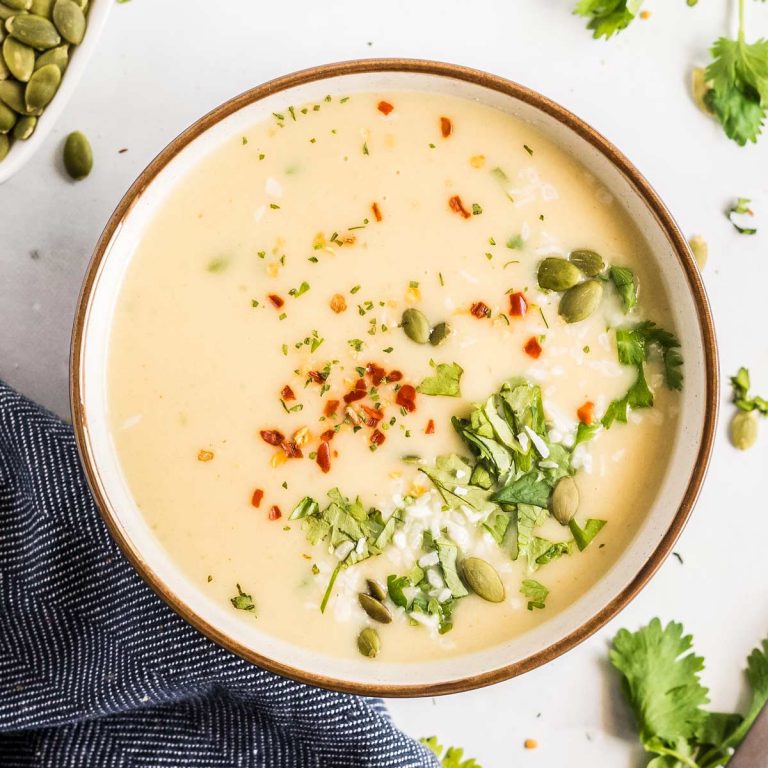 Instant Pot Cauliflower Soup Recipe
A friend of my husband's told him recently that they wished my website had more vegan recipes.  And I admit, that category doesn't have a whole lot of content.
We're omnivores in our household, and my leaning-towards-carnivore husband doesn't particularly care for meatless meals, so I just don't develop and test many vegetarian, let alone vegan recipes.
However, I had to smile a bit when his coworker mentioned that, because I knew I had this soup recipe on my editorial calendar, ready to go.
Because the truth is, I have nothing against vegan recipes at all… as long as they taste delicious.  I need bold flavors, and food that excites me.  This soup fits that bill!
I loved cauliflower before it became such a popular healthy vegetable, so it's only natural that I'd try to put it in a yummy soup.
Paired with some warm curry and ginger, savory garlic and onion, swirled with coconut milk and topped off with garnishes that add flavor as well as texture… well it's a winning combo in my book!  And I don't miss the meat at all!
In all honesty, there probably won't be a huge influx of vegan recipes here on the website, just because there's an entire community of vegan bloggers who share their passion every day.  Some of my favorites are Love and Lemons, The Simple Veganista, and Cotter Crunch (not technically only vegan, but she has a good amount).  And they're much better equipped to share substitutions and ideas with you.
But for now, I'll be here with my hands wrapped around this fabulous cauliflower soup, thinking up other recipe ideas 🙂
How to make cauliflower soup in the Instant Pot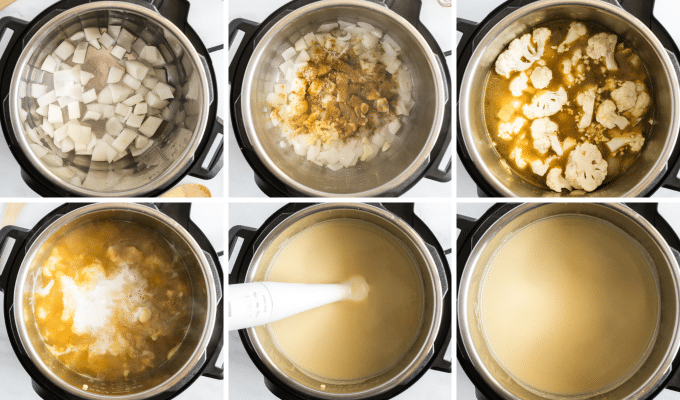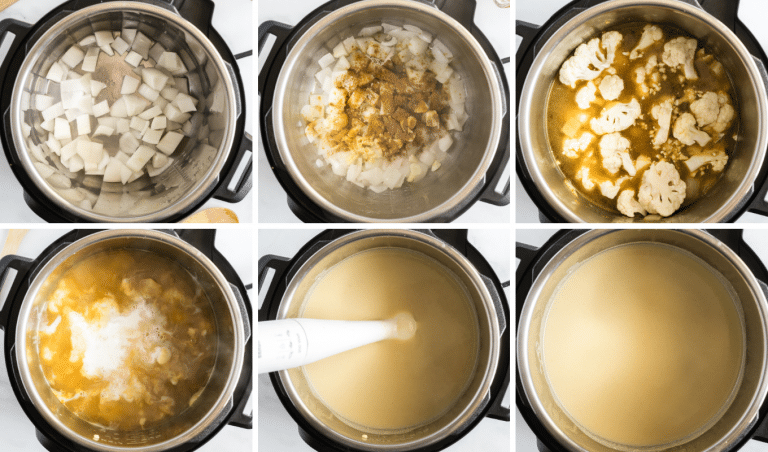 Saute.  With the Instant Pot on saute mode, add coconut oil, then add onions and cook for 3-4 minutes.  
Spices.  Add ginger, garlic, curry powder, coriander and salt.  Stir and cook 30 seconds.
Broth and cauliflower.  Add cauliflower and vegetable broth.
Pressure cook.  Secure lid, then pressure cook on high for 8 minutes.
Quick release.  When finished cooking, release pressure then open lid when the pin drops.
Coconut milk.  Add coconut milk and stir.
Blend.  Use immersion blender to blend soup right in the pot, until smooth.
Serve.  Serve hot, garnished as desired.
Additional cooking tips
If you're new to cooking with your Instant Pot, be sure to head over to my Instant Pot Basics, Instant Pot Terms, and Instant Pot 101 pages so you can feel confident with your new kitchen tool!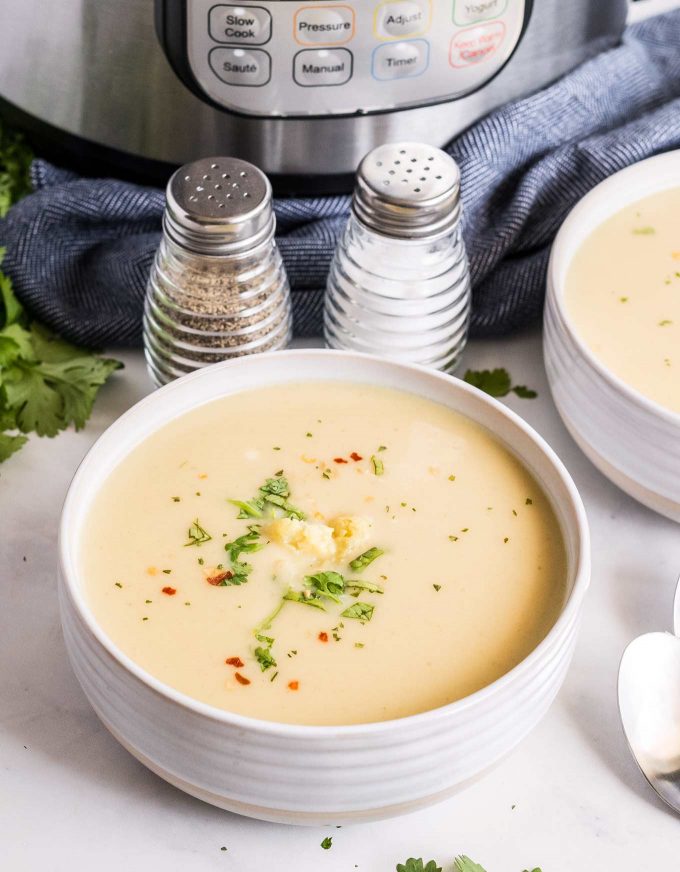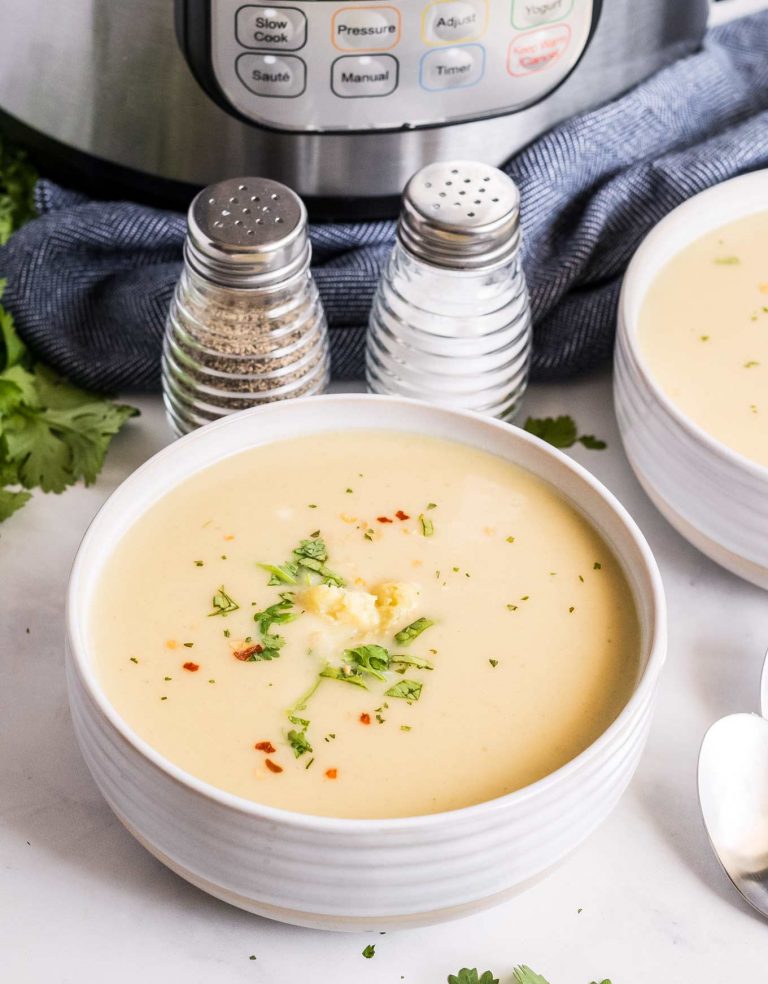 How to measure cauliflower
This recipe calls for 2 large heads of cauliflower.  I know that may seem like a lot, so I wanted to share my reasoning.  The average large head of cauliflower weighs around 2 lbs.  However, you don't eat every part of that cauliflower (like the greens, stems, and core).  Once it's trimmed and the florets are cut from the stem/core, they weigh around 1.25 – 1.5 lbs.  So for two heads, you'd end up with about 2.5 – 3 lbs of cauliflower, which is exactly what you want.
If you're like me, and like to let the grocery store help you out with prep once in a while (okay most of the time), you might want to pick up those bags of pre-cut cauliflower florets.  In my area, those bags vary quite a bit in size, so just look for a bag, or combination of bags that come out to around 48 oz, which is 3 lbs.
Using the right coconut milk
The coconut milk used in this recipe is the one that comes in a 13-14oz can and isn't refrigerated.  This coconut milk contains a good amount of fat, and needs to be shaken very well before using so the milk and fat will emulsify.
I don't recommend using refrigerated cartons of coconut milk, those are very thin and generally don't contain the fat needed to make this creamy and luscious.  It would be like using skim milk vs. heavy whipping cream.
The curry powder
This recipe was tested using McCormick and Spice Island brand curry powder.  Of course, feel free to use any brand you like, or even make your own, but I wanted to let you know what it was tested with.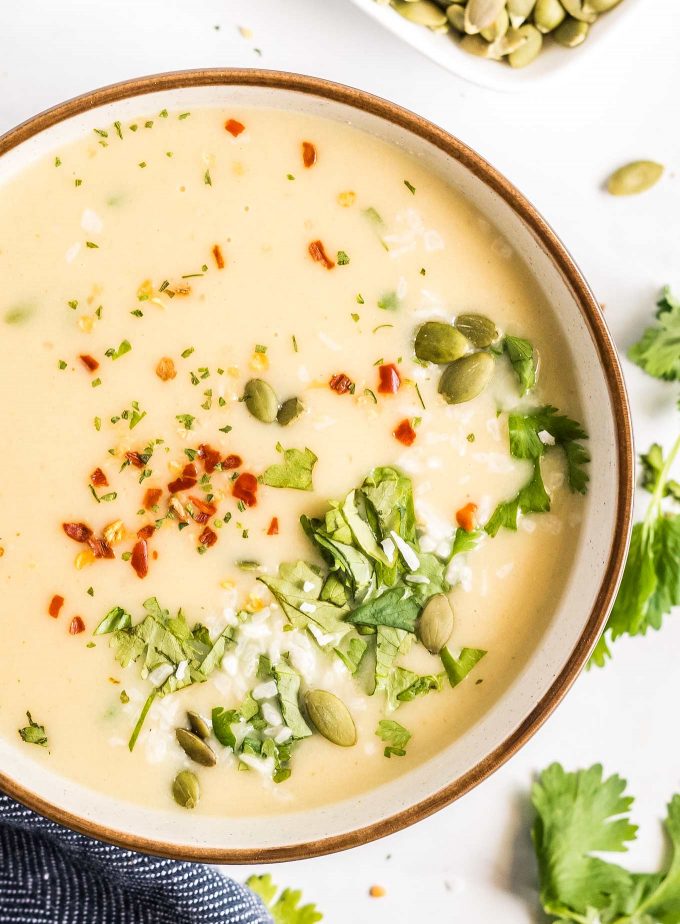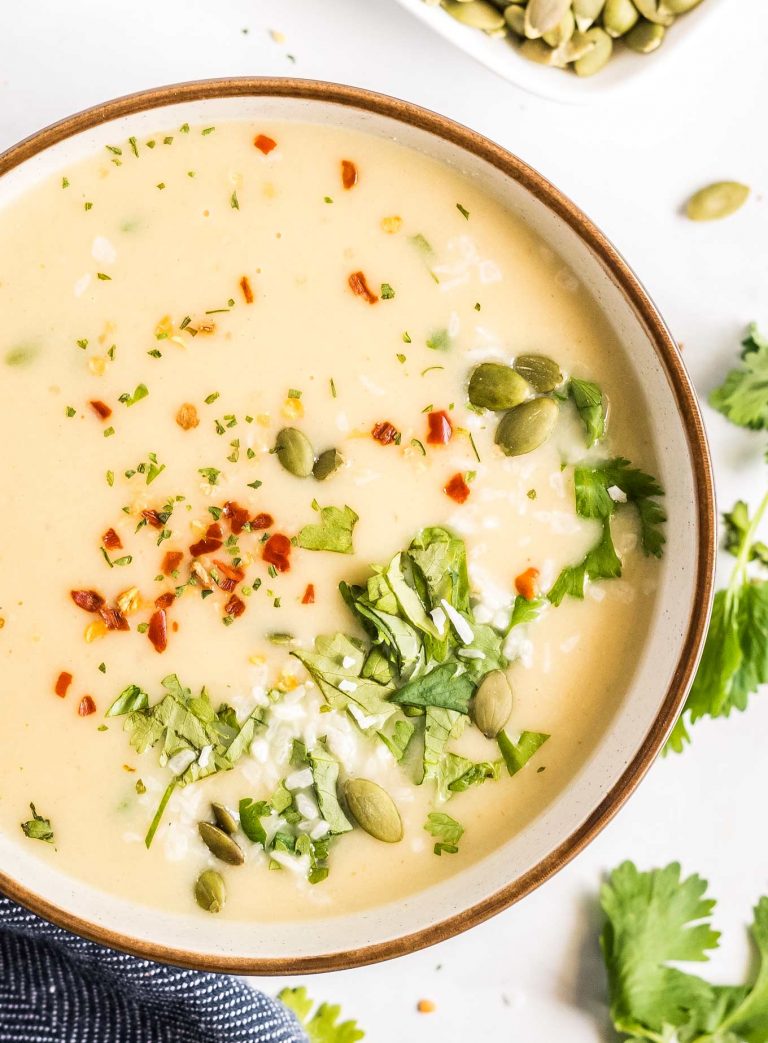 Variations of this recipe
Non-vegan – as written, this soup is vegan (as well as being low carb and gluten free), but if you're NOT vegan, you have a few options.  Instead of coconut oil, you can use butter; instead of vegetable broth, you could use chicken broth; and instead of coconut cream, you could use heavy whipping cream.  However, even though I'm definitely an omnivore, I really love the flavors in this soup, and I think you will too!
Curry pastes – instead of curry powder, try adding some Thai curry pastes.  The brand that's most available in my area is Thai Kitchen, but this may vary (depending on where you live).  Regardless of the brand, Thai curry pastes should be found in the international foods aisle of most large grocery stores.  There's red and green, and possibly other varieties as well.  We like to use anywhere between 1.5 – 3 Tbsp of the curry pastes.  The more you use, the spicier the soup will be!
Additional vegetables – sautéing some carrots, bell peppers, etc along with the onion adds more delicious veggie flavor.
Roasted – for a deeper, slightly smoky/nutty flavor, try roasting your cauliflower instead of cooking it in the soup!  Bake the chopped cauliflower on a rimmed baking sheet at 425°F for about 25-30 minutes, until tender and golden brown.  While the cauliflower is roasting, cook the soup as usual, just leave the cauliflower out.  Then add the cauliflower and blend.
Slow cooker – if you'd prefer to make this recipe in your slow cooker, those directions will be in the recipe notes section below.
Stovetop – or if you'd rather make this on the stovetop in a soup pot or dutch oven, those directions will also be in the recipe notes section below.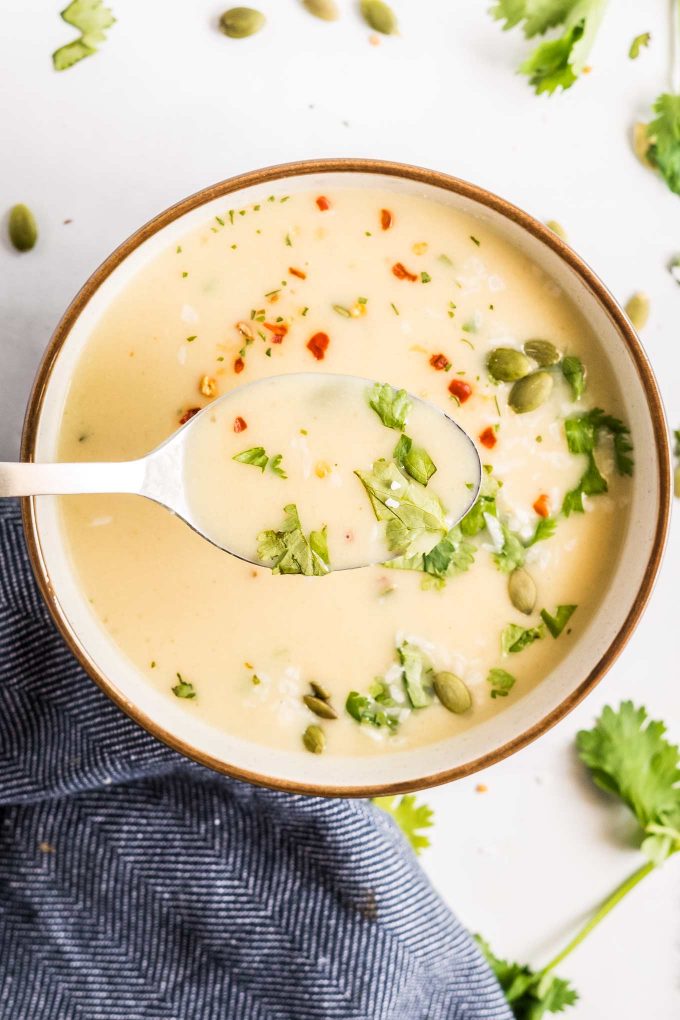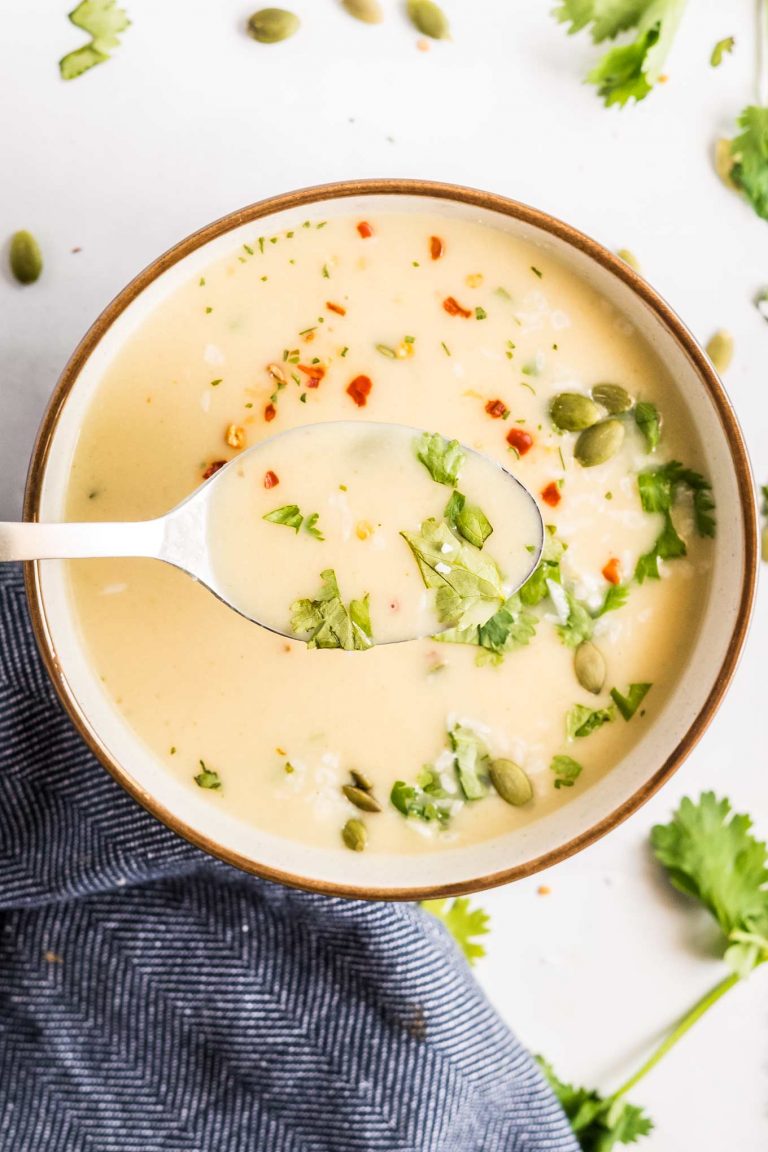 Making cauliflower soup ahead of time
Soups like this one are great to make ahead of time, as there's nothing in it that will go off, texturally speaking.
Making this soup ahead means dinner or a light lunch can be made in a flash.
Storage
Leftover soup should be refrigerated in an airtight container and consumed within 3-4 days.
Freezing
This soup freezes well!  Just make sure it's completely cooled, then transfer to airtight containers and freeze for up to 3 months.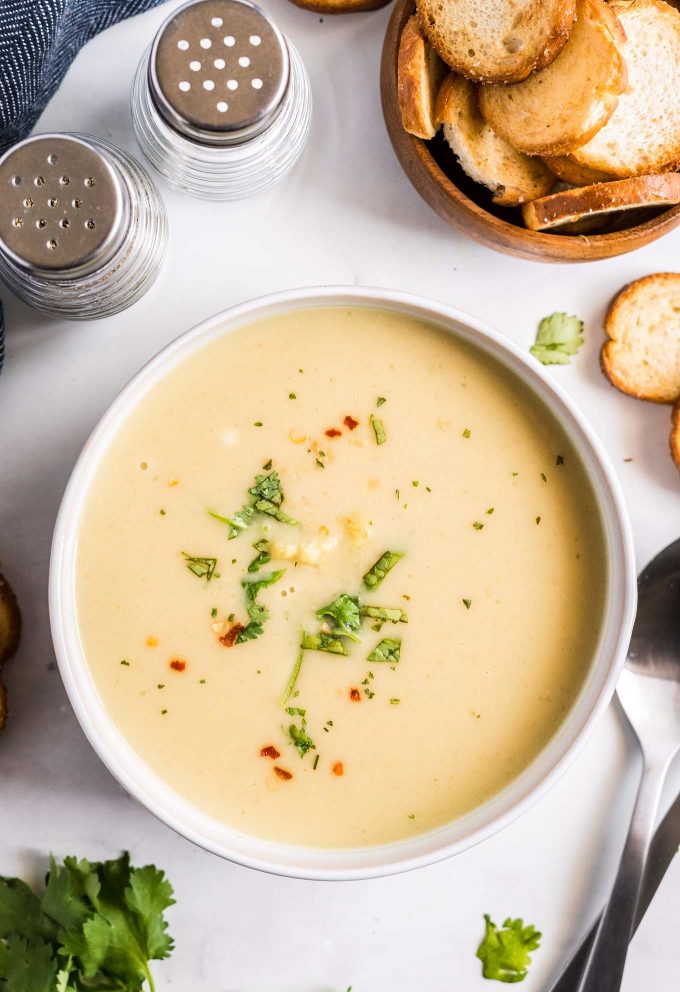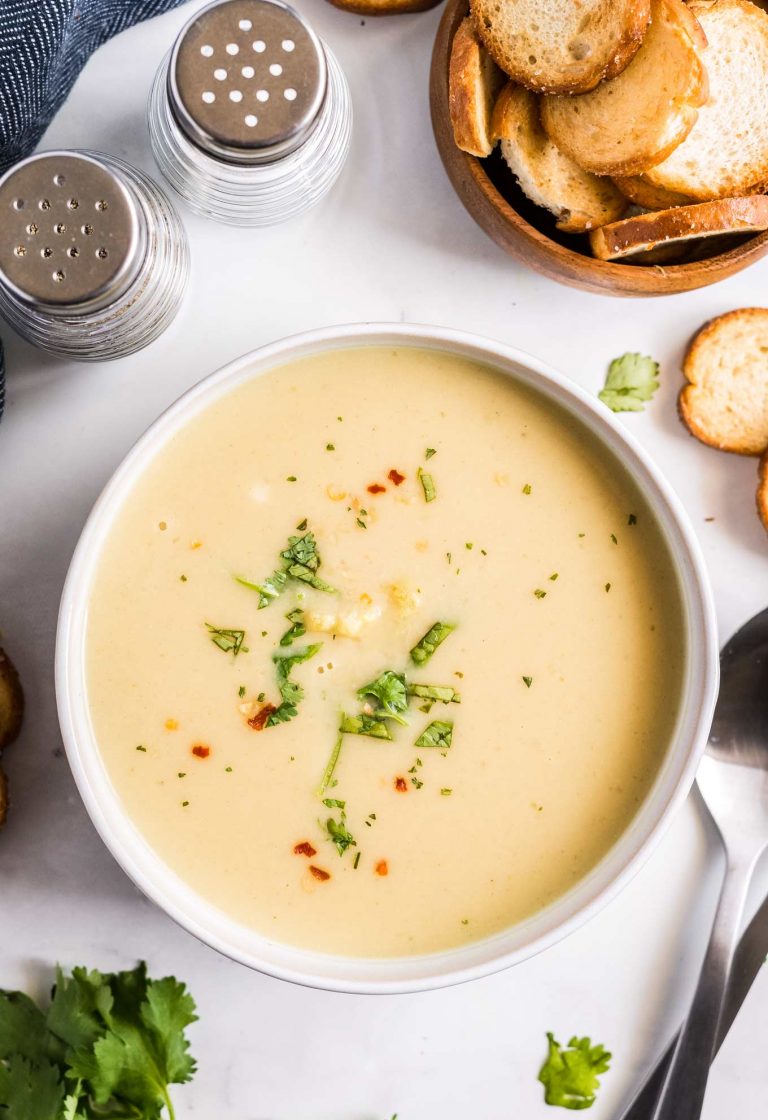 Shop this recipe
The following links are affiliate links.
The Chunky Chef, LLC is a participant in the Amazon Services LLC Associates Program, an affiliate advertising program designed to provide a means for sites to earn advertising fees by advertising and linking to amazon.com.  For more information regarding this program and what it means for you, please see my Privacy page.
Instant Pot – I recently upgraded to this model and I love it!
Be sure to scroll down to check out other readers' comments for tips and reviews.
And don't forget, if you've made this recipe, leave a comment and please consider giving it a star rating letting me know how you enjoyed it 🙂
Did you make this? Be sure to leave a review below and tag me @the_chunky_chef on Facebook and Instagram!
Using simple ingredients, this soup is low carb, vegan, and gluten free.  Flavored with warm curry spices, garlic and ginger and finished with creamy coconut milk, this is a cozy soup you can feel good about eating!
Ingredients
1 Tbsp coconut oil
1 medium yellow onion diced
2 cloves garlic chopped
1 inch piece fresh ginger peeled and chopped
2 tsp curry powder
1 tsp ground coriander
1/2 tsp kosher salt
2 large heads cauliflower approximately 48 oz/3 lbs.
4 cups vegetable broth
13-14 oz can full fat coconut milk shake really well before opening
Garnishes
chopped fresh cilantro
crushed red pepper
sliced green onions
pumpkin seeds
unsweetened shredded coconut
sliced Thai chiles
Instructions
Trim and cut cauliflower heads into florets. Set aside.
Saute
Select "Saute" on the Instant Pot, then add coconut oil to the pot. Once hot, add onion and cook 3-4 minutes until softened.

Add the garlic, ginger, curry powder, coriander and salt and cook for 30-40 seconds, just until fragrant.
Pressure Cook
Add the cauliflower florets and vegetable broth. 

Secure Instant Pot lid, making sure it's set to "sealing".  Select Manual or Pressure cook (on high pressure) and use the +/- buttons to select 8 minutes.

When timer beeps and pressure cooking is complete, perform a quick release by carefully moving the valve to "venting".  When the pin drops, remove lid.
Blend
Add the coconut milk to the pot then, using an immersion blender, blend the soup until smooth.
Thicken (optional and if desired)
In a separate bowl, whisk 1.5 Tbsp cornstarch and 2 Tbsp water together until smooth.  Stir mixture into the soup and cook a few minutes, until thickened to desired consistency.
Serve
Ladle into bowls and serve hot, topped with any desired garnishes.
Want to save this recipe for later? Click the heart in the bottom right corner to save to your own recipe box!
Chef Tips
Cook time does not include the time for the pressure cooker to come up to pressure, as this can vary from individual to individual.  For me, it takes about 10-15 minutes.
This soup is not super thick.  For a thicker soup, follow the instructions under the "Thicken" heading in the recipe instructions. 
If you don't have an immersion blender you can blend in smaller batches using a standard blender.  Be careful not to fill more than half-way and hold the lid with a folded dish towel to prevent any blender mishaps.
When using an immersion blender be sure it is fully submerged in the soup before turning it on to prevent splashing and burns (not to mention a mess!).
This recipe was made with a 6-quart Instant Pot.
Slow Cooker Directions
Omit coconut oil.
Add onion, garlic, ginger, curry powder, coriander, salt, cauliflower florets and vegetable broth to slow cooker.
Stir, then cover and cook on LOW for 6-8 hours, or HIGH for 3-4 hours.
Stir in coconut milk and blend.
Stovetop Directions
Heat coconut oil over MED heat in a dutch oven or large soup pot.  Add onion and saute for about 4 minutes, until softened.
Add garlic, ginger, curry powder, coriander and salt and cook 30 seconds.
Add cauliflower florets and vegetable broth.  Increase heat and bring to a boil, then reduce to LOW and simmer for 10-15 minutes, or until cauliflower is tender and can be easily pierced with a fork.
Stir in coconut milk, then use immersion blender to puree until smooth.
Nutrition Disclaimer
The Chunky Chef is not a dietician or nutritionist, and any nutritional information shared is an estimate. If calorie count and other nutritional values are important to you, we recommend running the ingredients through whichever online nutritional calculator you prefer. Calories can vary quite a bit depending on which brands were used.
Any nutritional information shared is an estimate, and is automatically calculated through a program.  If calorie count is important to you, I recommend running the ingredients through whichever online nutritional calculator you prefer.  Calories can vary quite a bit depending on which brands were used.

The Chunky Chef is not a nutritionist and doesn't provide full nutritional information for recipes as there is a potential for error and we wouldn't want to potentially and/or unknowingly pass along incorrect information.