These ham and cheese sliders are the ultimate party food! The combination of buttery rolls, smooth cheese spread, and savory ham and cheese is divine!
Have you guys started getting into watching football yet?  I personally love the game, but a VERY close second is the FOOD.  Game day food is the BEST!  I just can't get enough of it.  I've been thinking lately about this Bacon Cheeseburger Dip and Spinach Dip!
One of my favorites that's served at parties and game days alike, are ham and cheese sliders.  You've probably had them.  Hawaiian rolls, honey ham, provolone cheese, all smothered in a sweet butter sauce with poppy seeds in it.  Sound familiar?  Personally I love the sweetness, but I know not everyone is a fan.  My husband definitely prefers savory foods.  That's where my inspiration for this recipe came from… a clipping in an old better homes and gardens magazine, and a need for savory-ness!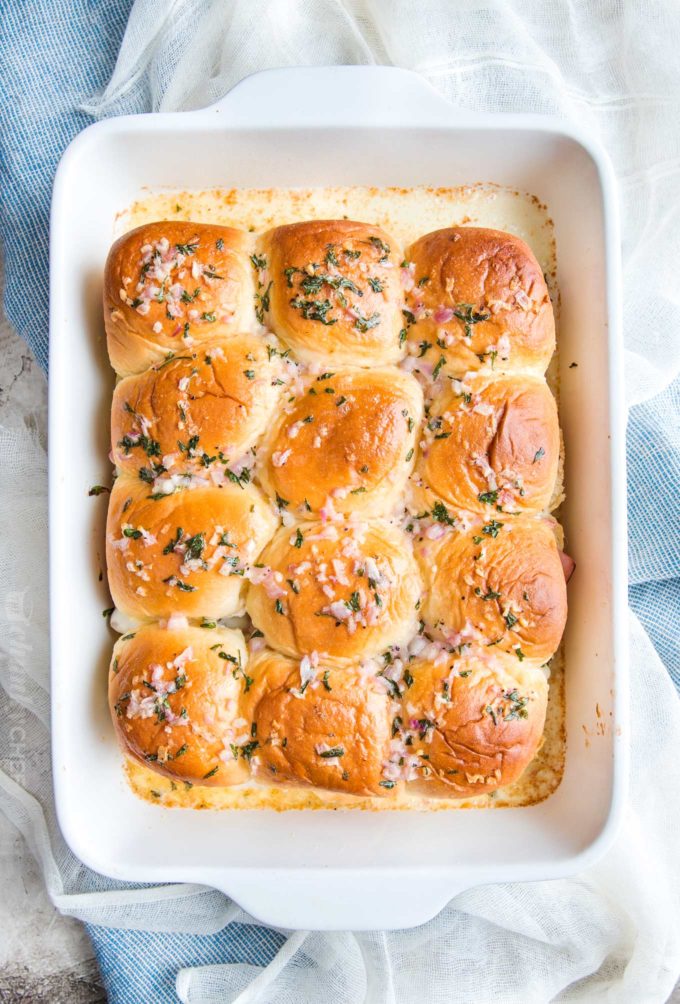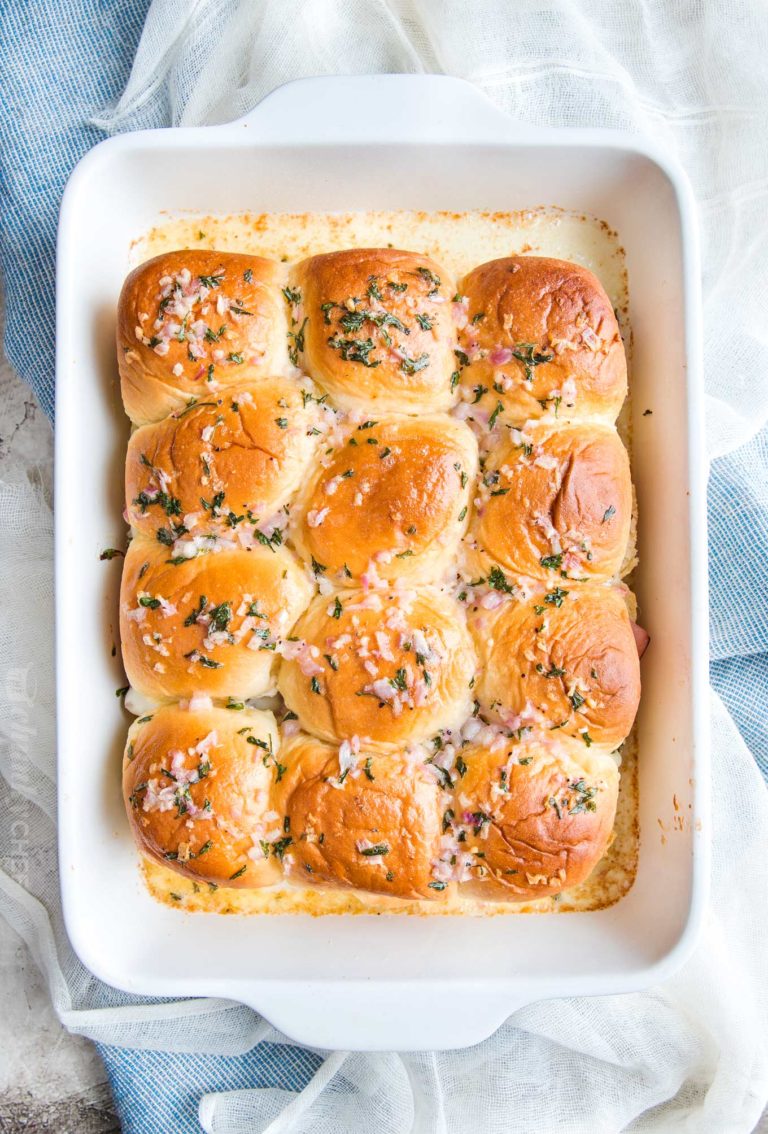 I mean, does it get any better than buttery rolls?
HOW DO YOU MAKE HOT HAM AND CHEESE SLIDERS SANDWICHES?
There's a multi-step process here, but it's pretty straight forward and simple 🙂
First, you'll need to decide on the type of slider bun you want.  I like the natural subtle sweetness of Hawaiian buns, but potato buns are also a great choice.  Just make sure you keep all the slider buns connected, and just slice straight across, horizontally.  Watch your fingers though!  I've sliced right into my pinky finger doing that.
Second, you'll want something to spread on the tops and bottoms of the slider buns.  For this recipe I LOVE to use a garlic and herb cheese spread, like Boursin brand (I'll link to that brand towards the end of the post so you can see what I'm talking about).  If you can't find Boursin or something similar, add a mixture of finely minced or grated garlic and some dried herbs (like thyme, parsley and basil) to some softened cream cheese.  I haven't tested the recipe this way though, so your mileage may vary on that one.
Next you'll need to add your ham and cheese.  My personal favorite is black forest ham, but go for your favorite variety.  For the cheese I've done a few different kinds; provolone, white american, gruyere, and mozzarella.  Most of the time I go with provolone and white American though.  Feel free to change this up and add your favorite cheese here!
Pop the tops back on the ham and cheese bottoms and you're ready for the second to last step…
The sauce.  This recipe uses the most mouthwatering butter sauce that I think I've ever made.  Butter, garlic, mustard, parsley and shallots… I'm telling you, it's a match made in tastebud heaven!  Drizzle that over the top of the buns and you're almost finished!
Bake them until golden and gooey.  Ta-da!!!  Delicious ham and cheese sliders, comin' up!!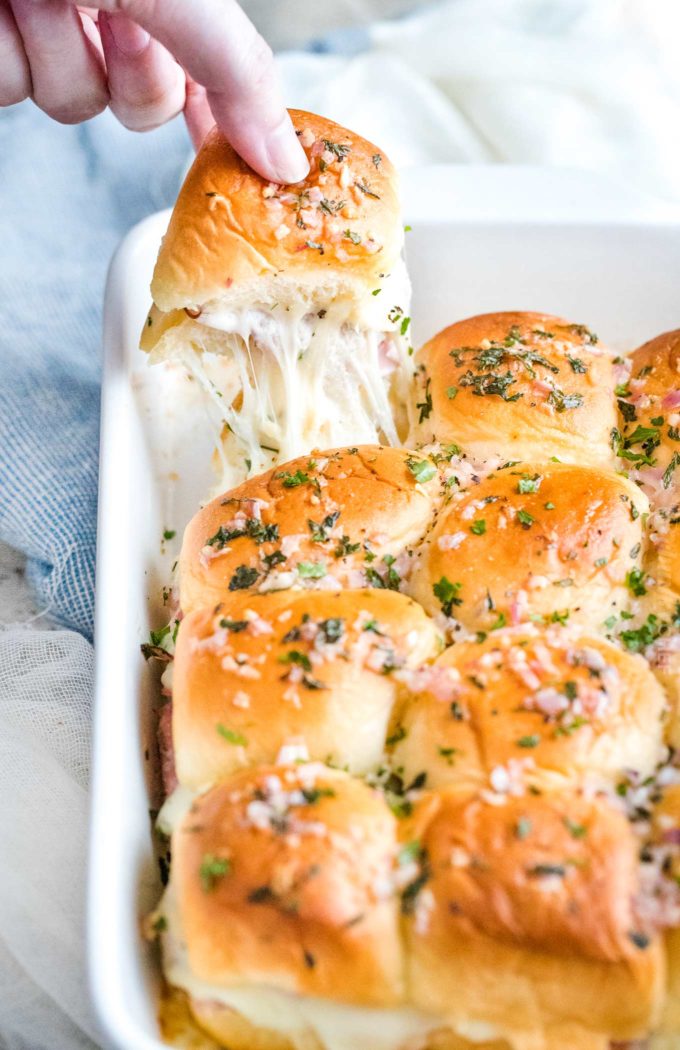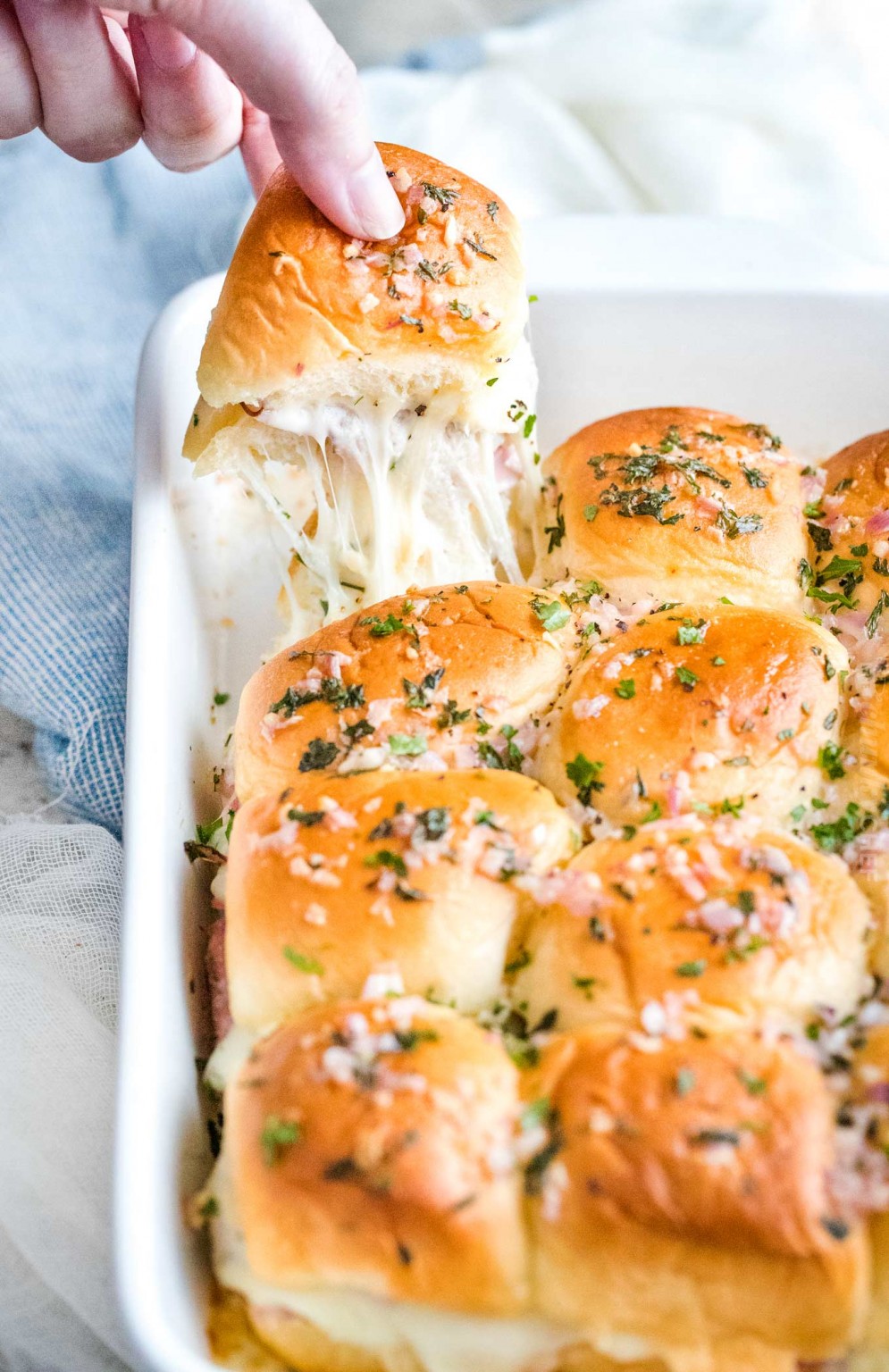 CAN YOU FREEZE HAM AND CHEESE SLIDERS?
Yep!  Although I always felt like they get much softer after thawing, but that's a personal preference.  Basically you just prepare the sliders as directed, but don't bake.  Cover tightly with foil and freeze for 1-3 months.  Thaw overnight in the refrigerator and bake as directed in recipe.  It's definitely a great way to save time when prepping for a party!
WHAT ABOUT MAKING THEM AHEAD OF TIME AND REFRIGERATING THEM?
You can do that too!  Just prepare as directed, don't bake, cover tightly and refrigerate for up to a day.  Bake as directed.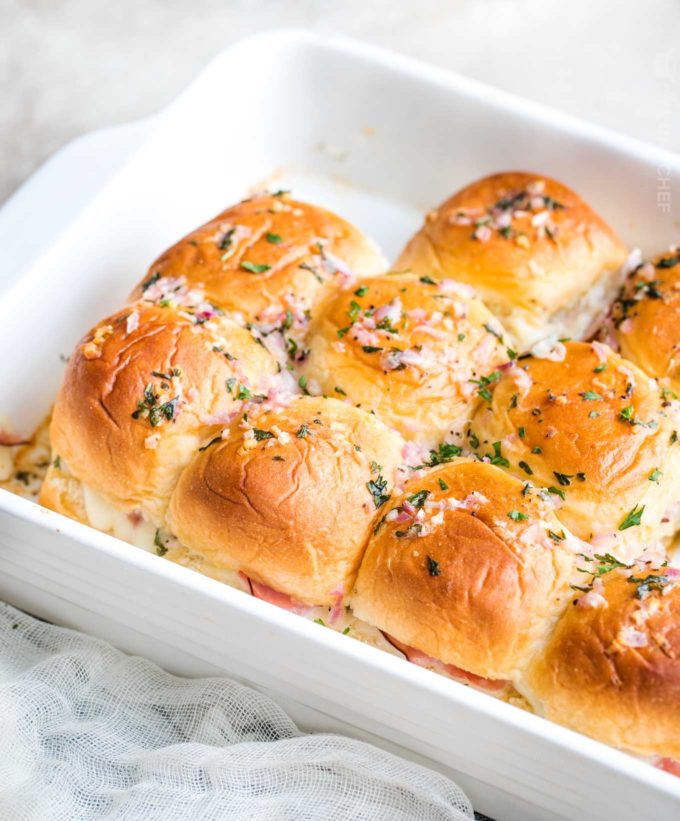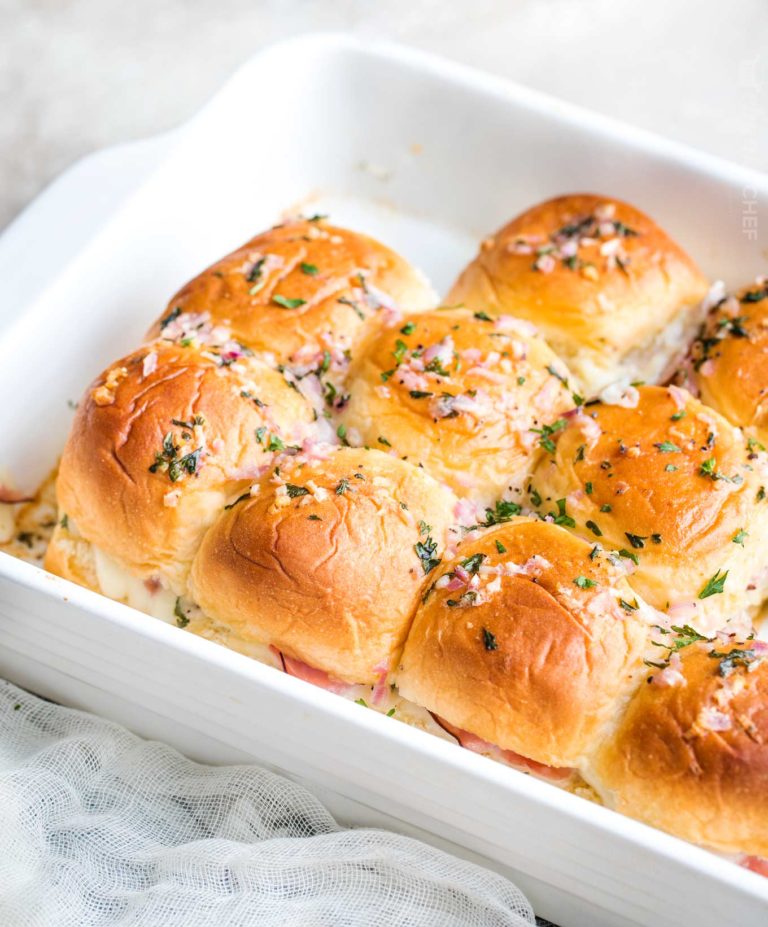 WHAT GOES WITH HAM AND CHEESE SLIDERS?
If you're serving these at a party, odds are you'll have a mix of appetizers for your guests to choose from, but here are a few of my personal favorites:
If you're feeling decadent and making this slider recipe for dinner (btw, go you!  I do that all the time!), I love to serve it alongside some Garlic Parmesan Scalloped Potatoes and a simple green salad with my Basil Shallot Vinaigrette.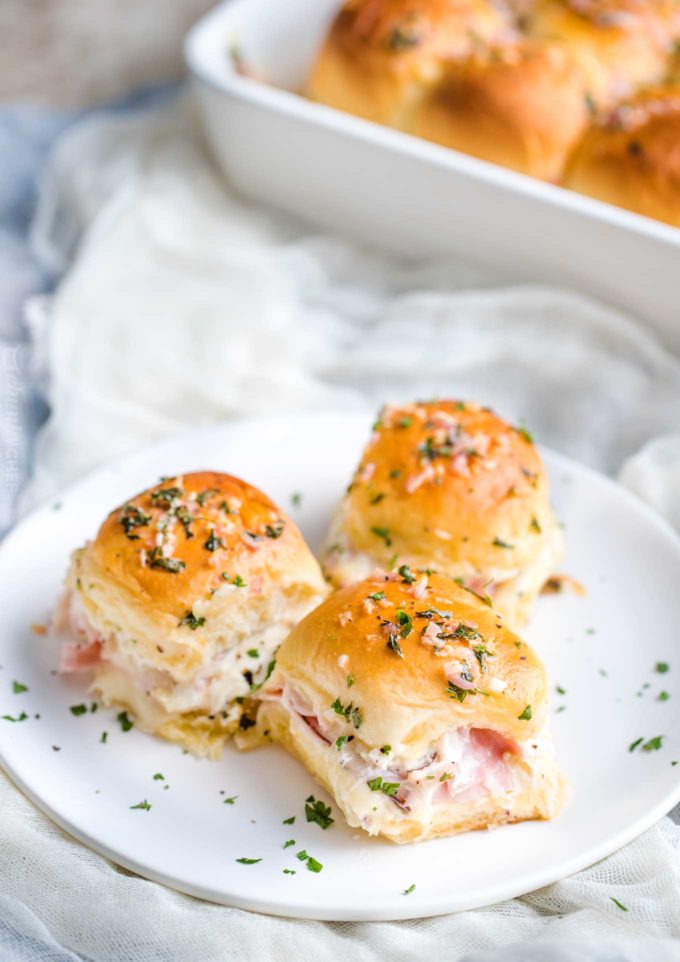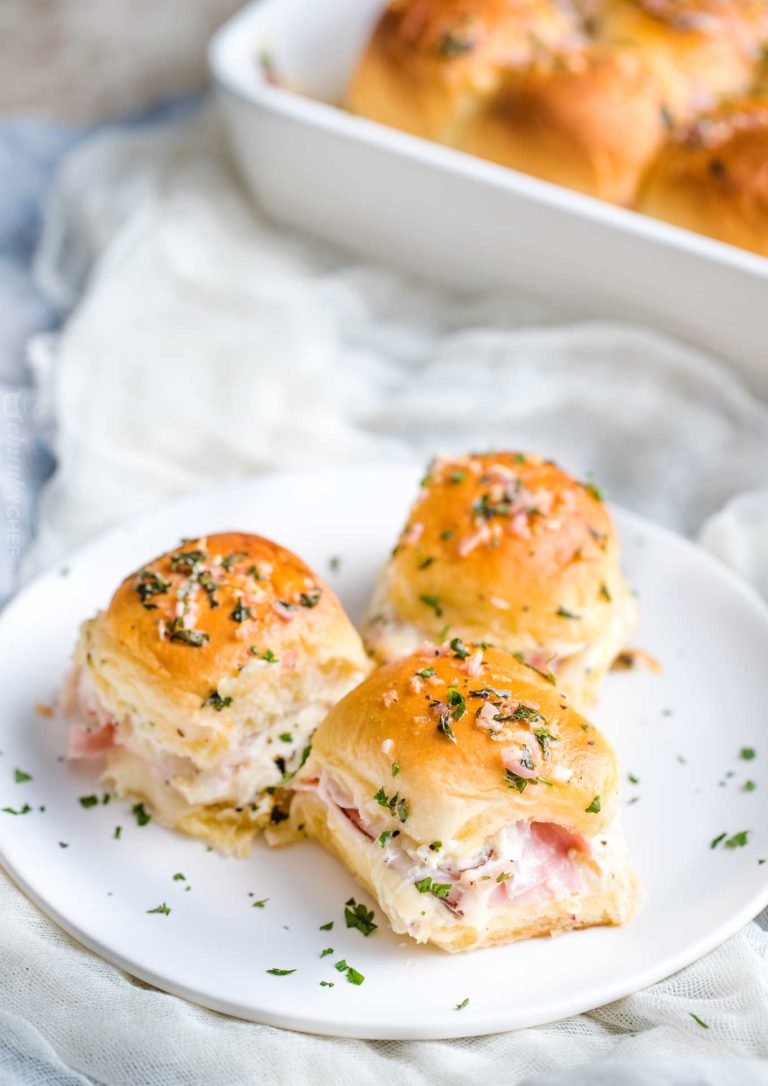 SHOP THE RECIPE


Did you make this? Be sure to leave a review below and tag me @the_chunky_chef on Facebook and Instagram!
These ham and cheese sliders are the ultimate party food!
Ingredients
12 count package of Hawaiian rolls
12 oz black forest ham , thinly sliced and then shredded roughly with your hands
4 oz sliced provolone cheese
4 oz sliced white American cheese
5 oz package soft garlic and herbs cheese
6 Tbsp butter
2 Tbsp finely minced shallots
1 Tbsp minced fresh parsley
1 tsp yellow mustard
2 cloves garlic , finely minced or grated
Instructions
Preheat oven to 350 F degrees. Lightly spray a 2 quart rectangular baking dish with cooking spray and set aside.

Add package of rolls to your cutting board and using a serrated knife (like a bread knife), carefully slice across the rolls, horizontally, keeping one hand on top of the rolls to steady them. Once sliced, keep the rolls connected to each other and lift the entire top section off the bottom section.

Add the bottom section of the rolls to the prepared baking dish, and spread half of the garlic and herbs cheese over the cut side. Spread the remaining half of the cheese over the cut side of the top section.

Top the bottom section with the shredded sliced ham, then with the slices of cheese. Add the top section of the rolls and set aside.

In a small saucepan, add butter, shallots, parsley, mustard and garlic and melt over MED heat until well combined. Stir well, then pour carefully over the top of the rolls in the baking dish.

Cover loosely with foil and bake 15 minutes. Remove foil and bake another 10-15 minutes, until roll tops are golden brown and cheese is melted.
Want to save this recipe for later? Click the heart in the bottom right corner to save to your own recipe box!
Chef Tips
Serves 6 people (2 rolls per person).  Recipe can easily be doubled, just use a 9x13 or rectangular 3 quart baking dish.  Cook times remain the same.  
Nutrition Disclaimer
The Chunky Chef is not a dietician or nutritionist, and any nutritional information shared is an estimate. If calorie count and other nutritional values are important to you, we recommend running the ingredients through whichever online nutritional calculator you prefer. Calories can vary quite a bit depending on which brands were used.