This warm, cheesy spinach dip is loaded with mouthwatering flavors like creamy spinach, gooey cheese, and crispy bacon!  It's the perfect party dip!
When it comes to party dips, people want three things… amazing bold flavors, TONS of gooey cheese, and great dippers.  This Cheesy Bacon Spinach Dip has all the bases covered for a fun, EASY dip that everyone will love!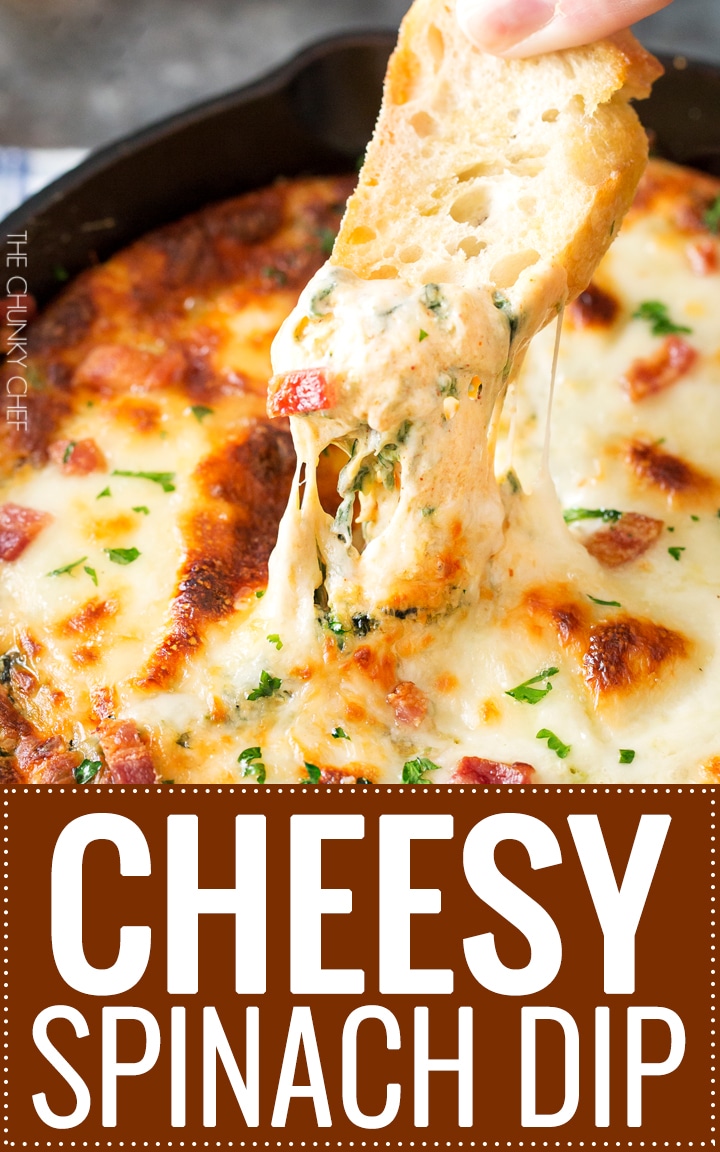 I hope everyone had a wonderful holiday!!  Oh man, some things have happened since I blogged last, and I've gotta fill you in.  So on December 23rd my daughter and I baked some sugar cookies and as they were cooling, I was making the royal icing to decorate them with.  I went to grab the measuring cup filled with water and take it over to the table and slipped on some water on the floor.  Of course, falls happen SO quickly, you can never really be sure what exactly happened… I do know that I felt my left kneecap dislocate, heard a loud snap, then felt it relocate as I fell to the floor screaming and holding my knee.  I've only felt pain that badly twice before in my life… and that was the birth of my two kids.
I've had knee injuries before, several of them in fact, but this pain was so sharp, so hot, that I was instantly sick to my stomach and lightheaded.  Long story short, we had to call the ambulance out to get me off the ground, as I couldn't put ANY weight on that leg at all.  They took me to the hospital, and after a few x-rays and CT scans, they determined that I had fractured my kneecap and probably had soft tissue damage (ligaments/tendons/etc), but those would have to be determined via an MRI.  So I was discharged with crutches and a long immobilizing leg brace that I get to wear nearly all the time (oh joy).  I will be seeing an orthopedic doctor this week, which is when he'll order an MRI and we'll hopefully get a plan going on how to treat/heal this, and I can get a ballpark timeframe on when I'll be back on my feet.  I can't lift my leg, get out of bed, put on pants, walk to the bathroom, etc without help, so this is KILLING my independent self… not to mention, I can't cook 🙁
So why am I telling you all this?  Well, posts here on the blog may have to slow down a little bit… possibly down to 1 recipe per week, until I can put some weight on my leg and get back to semi-normal activities.  In the meantime though, I'll be brainstorming like crazy and coming up with new and fabulous recipes to make and share when I'm back on my feet 🙂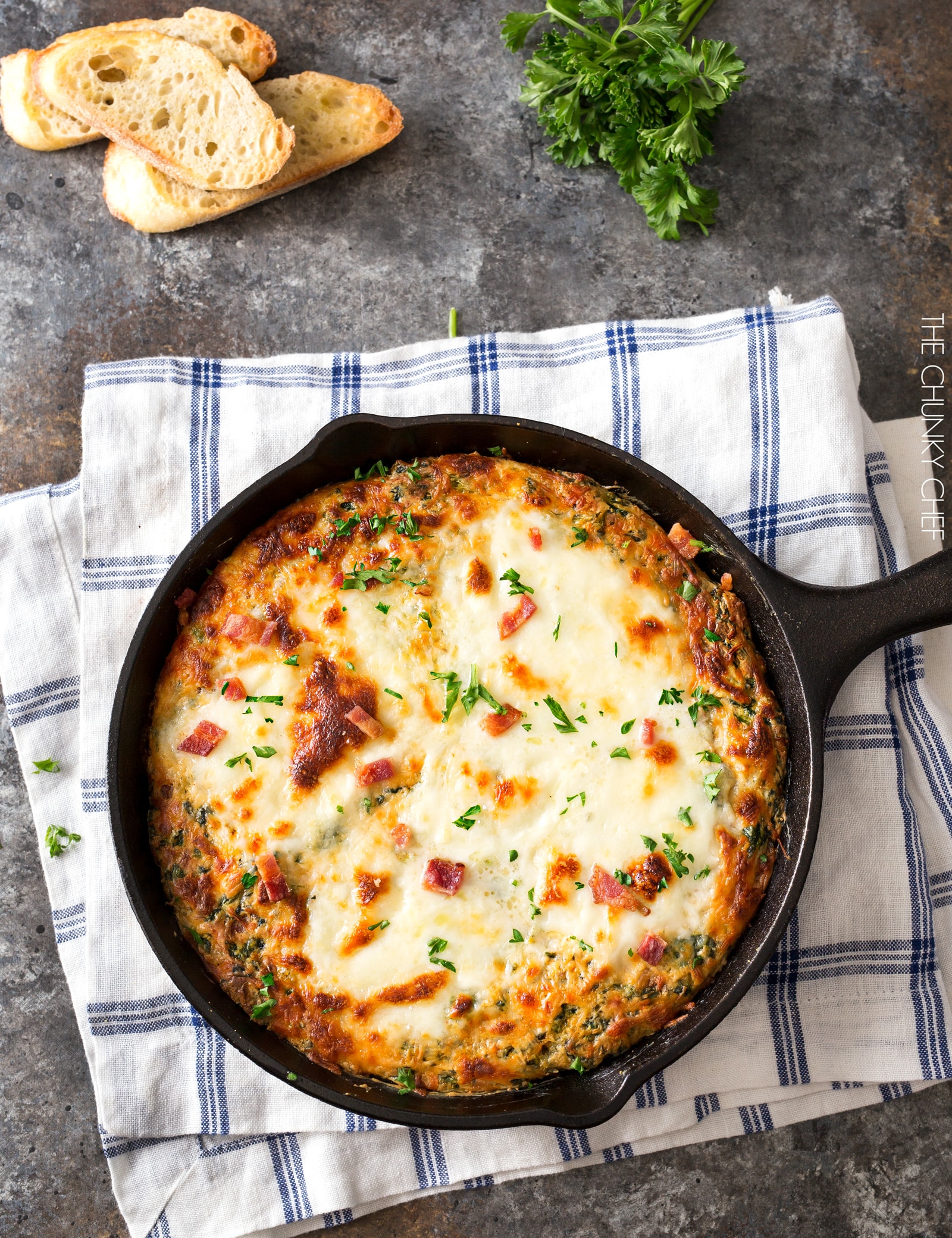 So, now that my holiday horror story is over, let's get to talking about something good.  Something VERY good.  This DIP!  This spinach dip has got to be my new favorite party dip of all time.  I saw a recipe similar to this posted on Facebook by Delish, and it looked really good… so of course, I had to try my hand at it and jazz it up a bit.  I added extra bacon, extra cheese, some fresh herbs and a drizzle of olive oil.  Man oh man, it did not disappoint!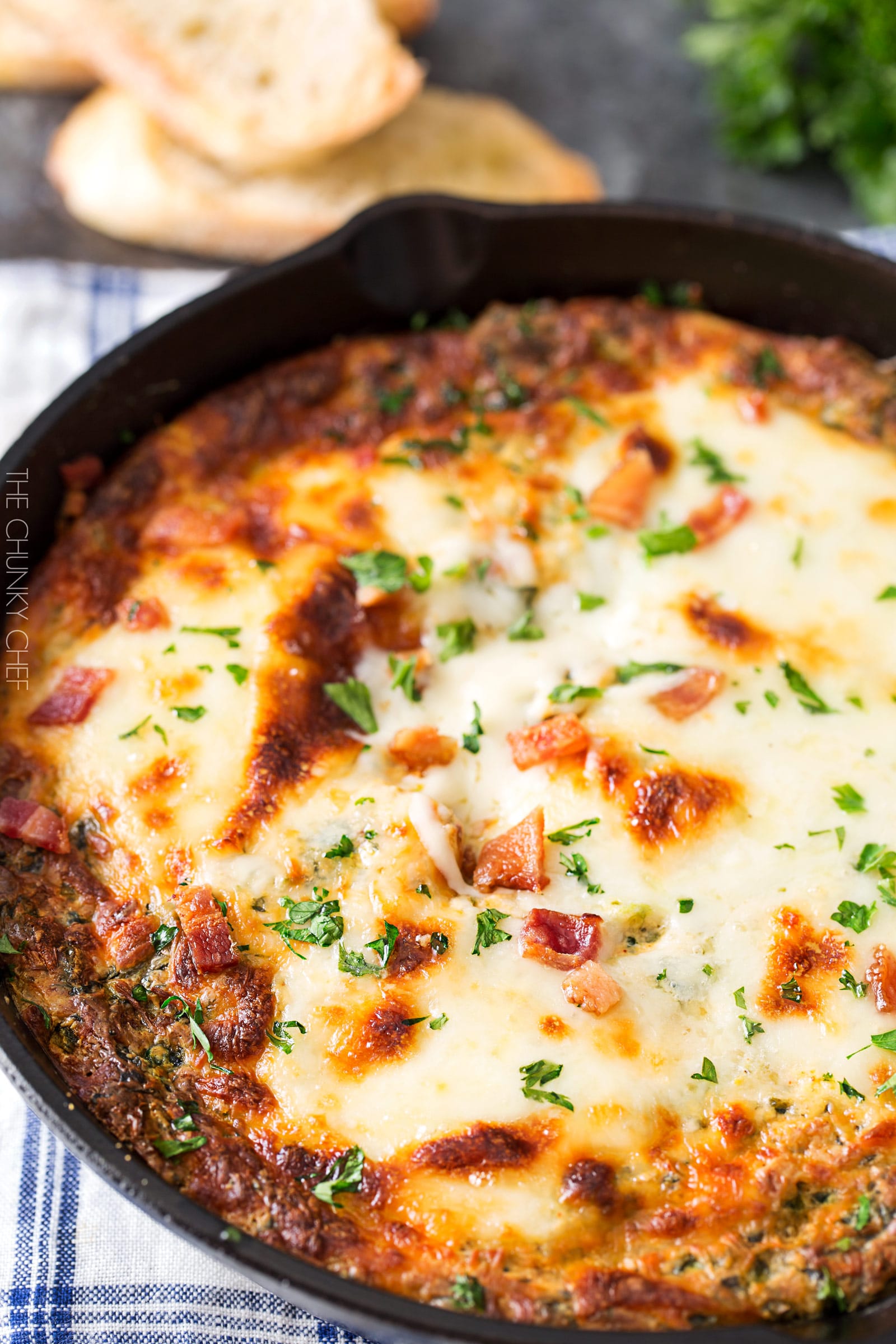 I know when it comes to spinach dip at parties, usually there's another ingredient in there…. artichokes.  But I've never been a huge fan of them, so I decided to omit them here (although you could certainly add some!).
You can bake this dip in any 2 quart baking dish you'd like (or break it up over several smaller dishes), but I'm partial to my trusty cast iron pans… so I went with my 8″ skillet for this one.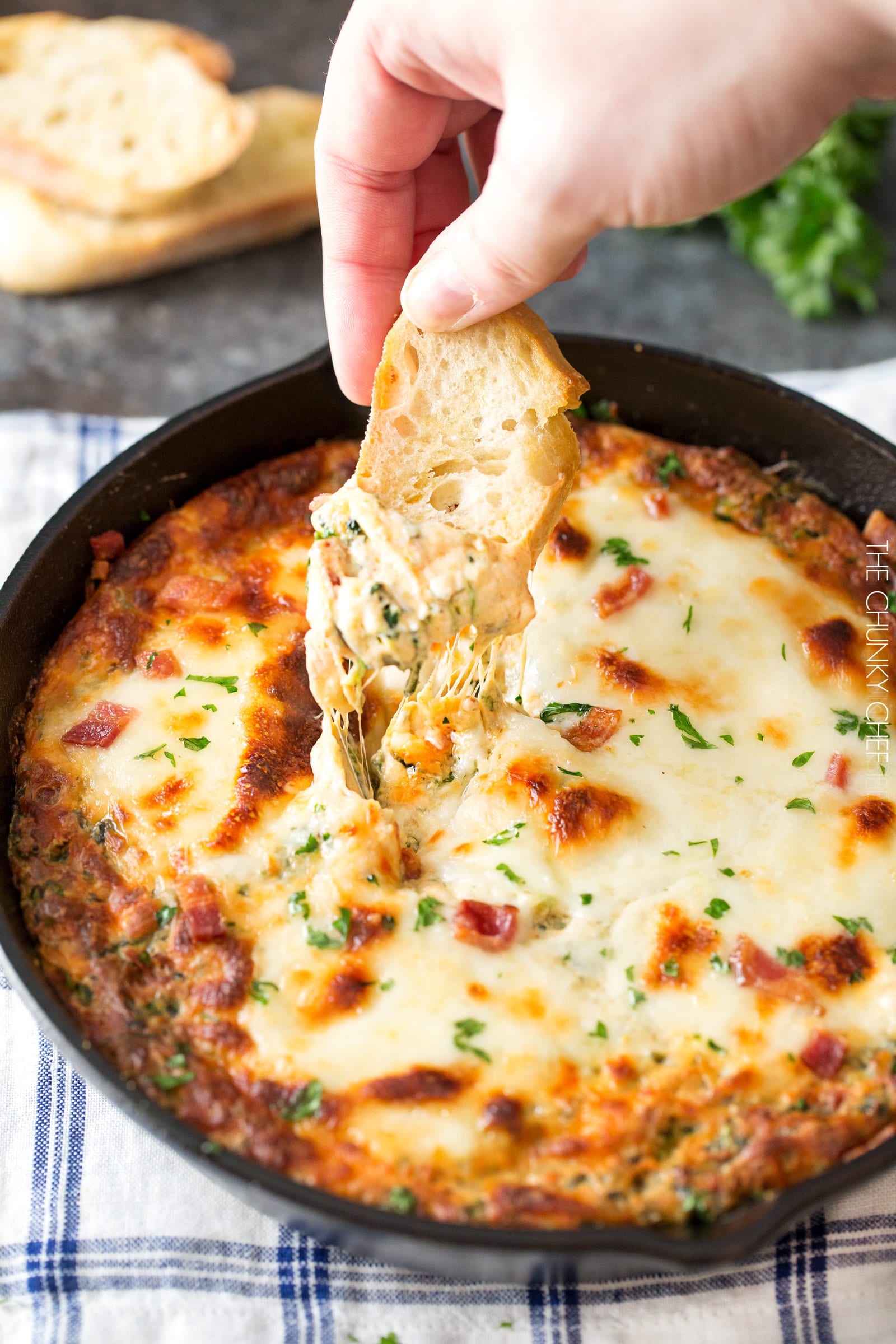 And that extra cheese?  It was definitely a good idea if you want that long, stretchy, gooey cheese when dipping into your dip!
Speaking of dipping… I chose to thinly slice up a baguette, drizzle the slices with a little olive oil and broil them until crispy, but this dip would be delicious with any of your favorite dippers (pretzels, chips, etc).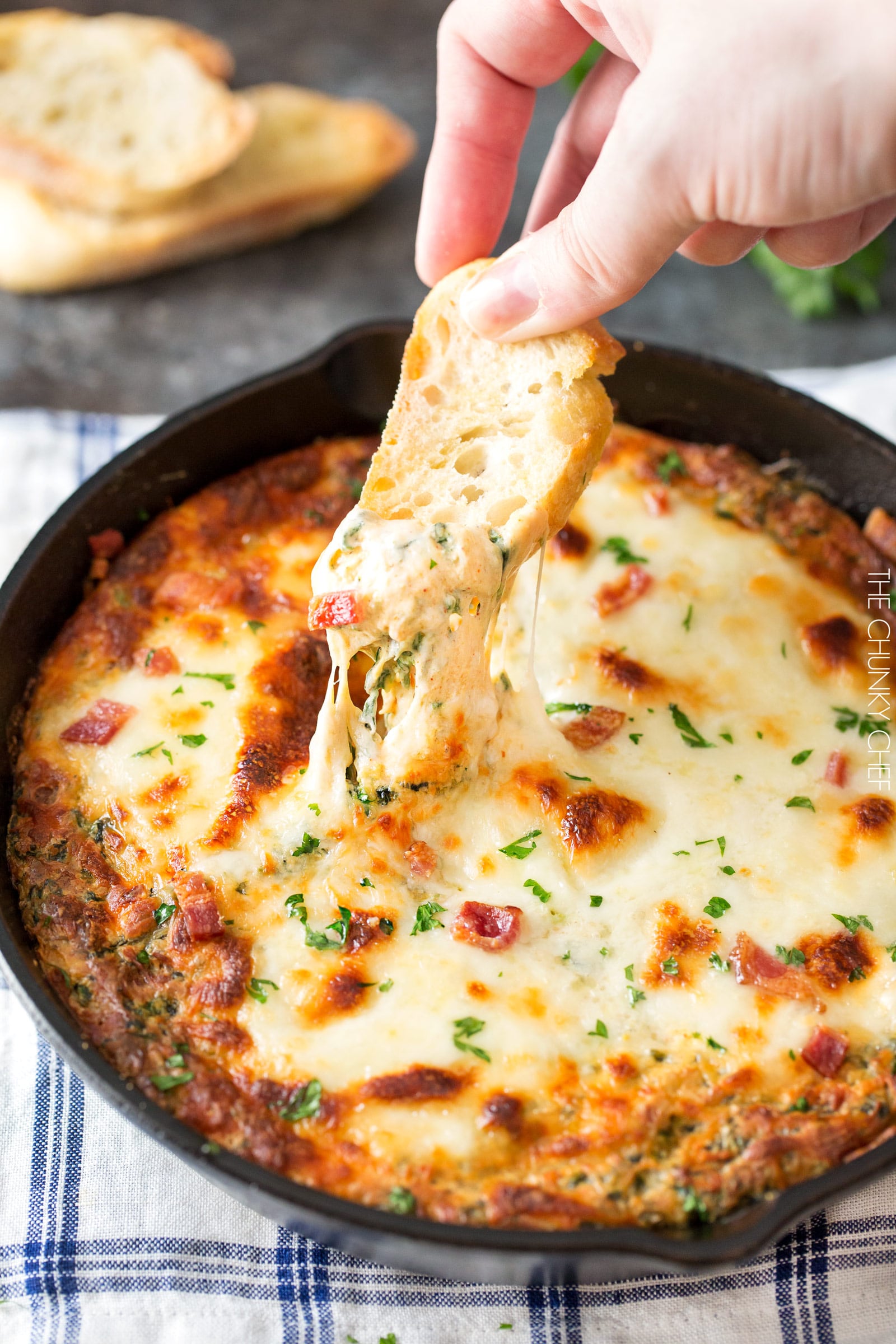 Since we have a couple of prime party events coming up over the next few months… New Years Eve and the BIG football game are two that immediately come to mind, I hope you guys give this cheesy bacon spinach dip a try!!
Recipe adapted by Delish


Did you make this? Be sure to leave a review below and tag me @the_chunky_chef on Facebook and Instagram!
This warm, cheesy spinach dip is loaded with mouthwatering flavors like creamy spinach, gooey cheese, and crispy bacon! It's the perfect party dip!

Ingredients
8 oz cream cheese, softened
1/3 cup mayo
1/3 cup sour cream
1-2 cloves garlic, finely minced
1 tsp paprika
1/2 tsp garlic powder
16 oz frozen spinach, defrosted and squeezed tightly to get rid of excess water
1 lb bacon, cooked and crumbled
1 cup grated Parmesan cheese
1 1/2 cups shredded Mozzarella cheese
4 oz fresh Mozzarella cheese, thinly sliced
1 baguette, thinly sliced
minced fresh parsley, for garnish
Instructions
SPINACH DIP
Preheat oven to 350 degrees F. Spray a 2 quart baking dish or cast iron skillet with non-stick cooking spray and set aside.

Add cream cheese, mayo, sour cream, minced garlic, garlic powder and paprika to a large mixing bowl and stir until combined well.

Add spinach (make sure you've really pressed it to get all the excess water out!), cooked bacon, Parmesan cheese and 1 cup of the shredded Mozzarella cheese. Stir until mixed thoroughly.

Transfer mixture to prepared baking dish/skillet. Sprinkle with remaining 1/2 cup shredded Mozzarella cheese, then place thinly sliced fresh Mozzarella cheese on top of the dip. Drizzle lightly with olive oil.

Bake until cheese is golden and mixture is bubbly, about 30 minutes. If your dip is very full in the baking dish, place dish on a baking sheet in case it bubbles over.

Sprinkle dip with minced fresh parsley.
DIPPERS
Line sliced baguette pieces on a baking sheet and drizzle lightly with olive oil. Broil on HIGH for several minutes per side, until golden brown and toasted. Be careful, bread can burn VERY quickly this way.

Serve dip hot, with toasted baguette pieces alongside.
Want to save this recipe for later? Click the heart in the bottom right corner to save to your own recipe box!
Nutrition Disclaimer
The Chunky Chef is not a dietician or nutritionist, and any nutritional information shared is an estimate. If calorie count and other nutritional values are important to you, we recommend running the ingredients through whichever online nutritional calculator you prefer. Calories can vary quite a bit depending on which brands were used.