My Mom used to make beef stroganoff a lot as a kid, and for some reason, I didn't like it.  Apparently I was crazy as a child, because now I love it!  I've played with many recipes for it over the years, and each one seemed to be lacking something, or took too long to prepare.  Well, I've finally got it… the perfect beef stroganoff recipe, and of course, I'm going to share it with you! 🙂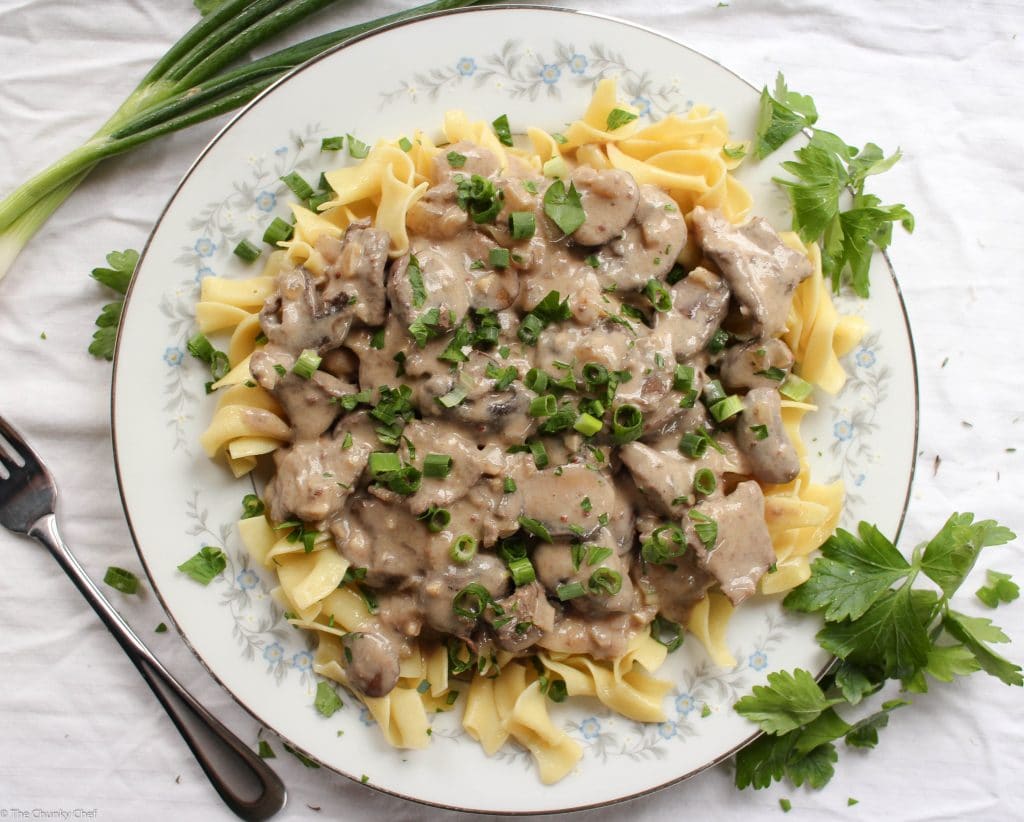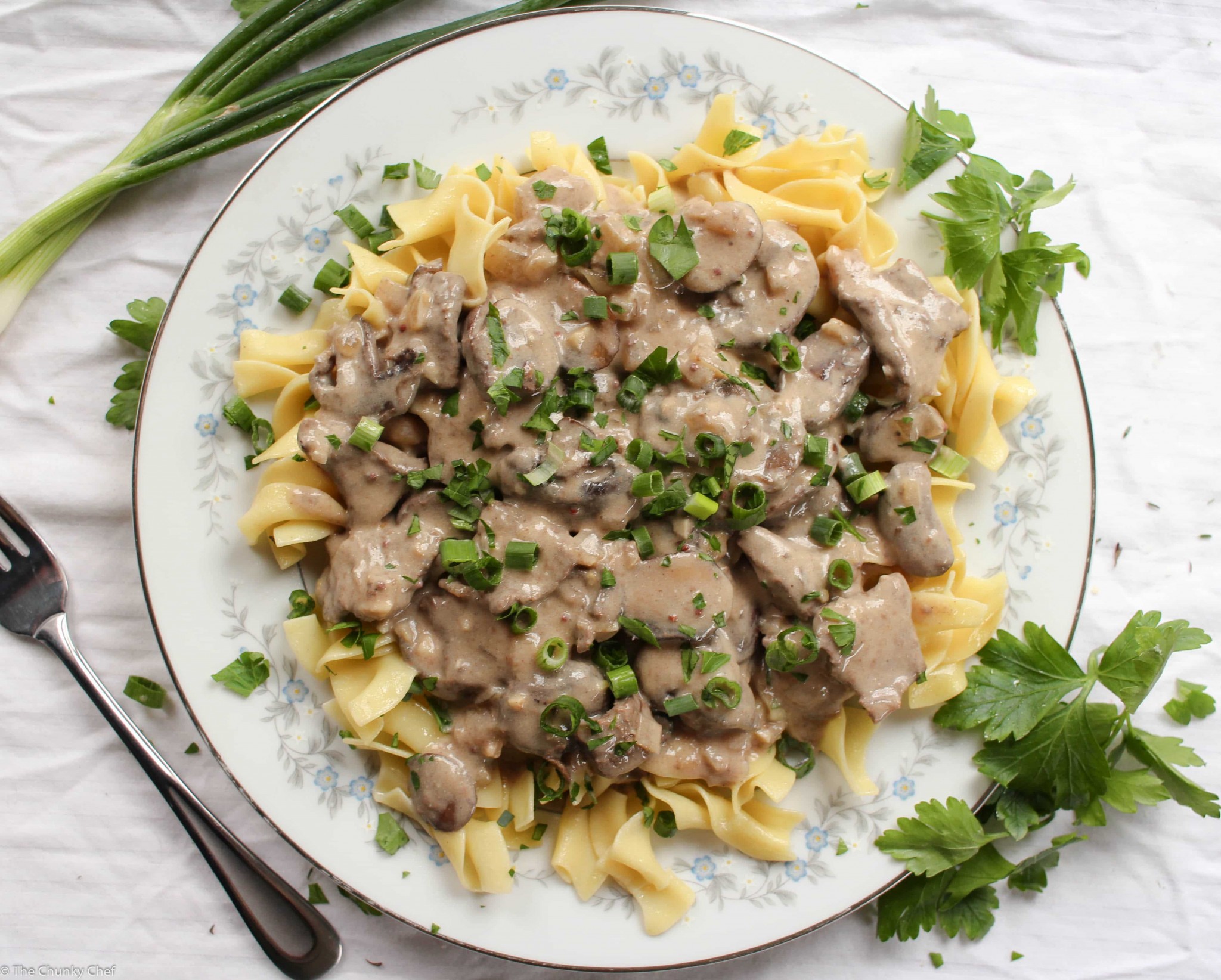 Before I get to the recipe, I wanted to let you all know about a great site I found recently, called Yummly.  It's awesome!!  It's like having a digital recipe box, and they even get to know your tastes and will recommend recipes personally, just for you.  There's also a yummly app for both android and apple products.  You can save recipes, add them to your collections (sort of like pinterest boards), and there's a smart shopping list as well.  And…. it's free 😀  If you want to check it out, you can start HERE to check out my page and then get started creating your free account and start finding some amazing recipes 🙂
Okay, back to the recipe at hand… I was a little worried when I was photographing this beef stroganoff.  I'm always using leftovers to take my photos (which presents it's own set of challenges), but it's not too easy to make grayish-brown food look appetizing lol.  I was blessed with good natural lighting that day (not a gloomy day for once), and I'm glad I was able to get some good shots, so I can hopefully let you all see the deliciousness!
There are a couple of ingredients in this beef stroganoff that might surprise you.  I assure you, the flavor they add, is just amazing.
Start by melting some butter in a large skillet and add your sliced steak, making sure not to overcrowd the pan.  You want them to really sear, and if there's too many, they'll end up sort of boiling and you won't get that crispy crust.  Once your steak is finished browning, remove it to a plate and let it rest.
Add some more butter to your skillet and toss your diced onions in to saute for a few minutes, then add the garlic and sliced mushrooms to saute.  You can use any mushrooms here that you like, but my personal favorite is baby bella (or cremini) mushrooms… they have such a beefy flavor.
Now we get to do one of my favorite things… add the white wine and deglaze the pan.  Deglaze.  It sounds so fancy and sophisticated!  What you're really doing is adding the liquid and using your wooden spatula or spoon to scrape the bottom of the pan to release the brown bits of flavor.  Let the wine cook down for a few minutes while you get the sauce together.
In a separate bowl, whisk together your beef stock, worchestershire sauce and flour.  Pour the mixture into your skillet and stir.  Let it cook for several minutes, stirring occasionally.
Add your sour cream and mustard, stirring to incorporate, then add the steak back to the skillet.  Stir everything together and let simmer for a minute or so.
By this time, your kitchen smells ahhhhh-mazing.  To really accentuate the flavors, I find that a garnish of sliced green onions and minced parsley work really well.  I serve my stroganoff in the classic way, over egg noodles.  To make your egg noodles more flavorful, boil to al dente, drain, and toss with some butter, minced parsley and green onions.
If you're looking for a different spin on how to serve this beef stroganoff, I think it'd be awesome over some quinoa.  I also like to mix it up and have a beef stroganoff sandwich!  To do that I pick up a loaf of ciabatta bread from the store (or head over to my friend Stephanie's page and make her Ciabatta Bread), and slice it across in half, then slice each half lengthwise into a sandwich shape.  Ladle in some creamy beef stroganoff, top with some parsley and green onions and a handful of some arugula lettuce.  Seriously… best. sandwich. ever!!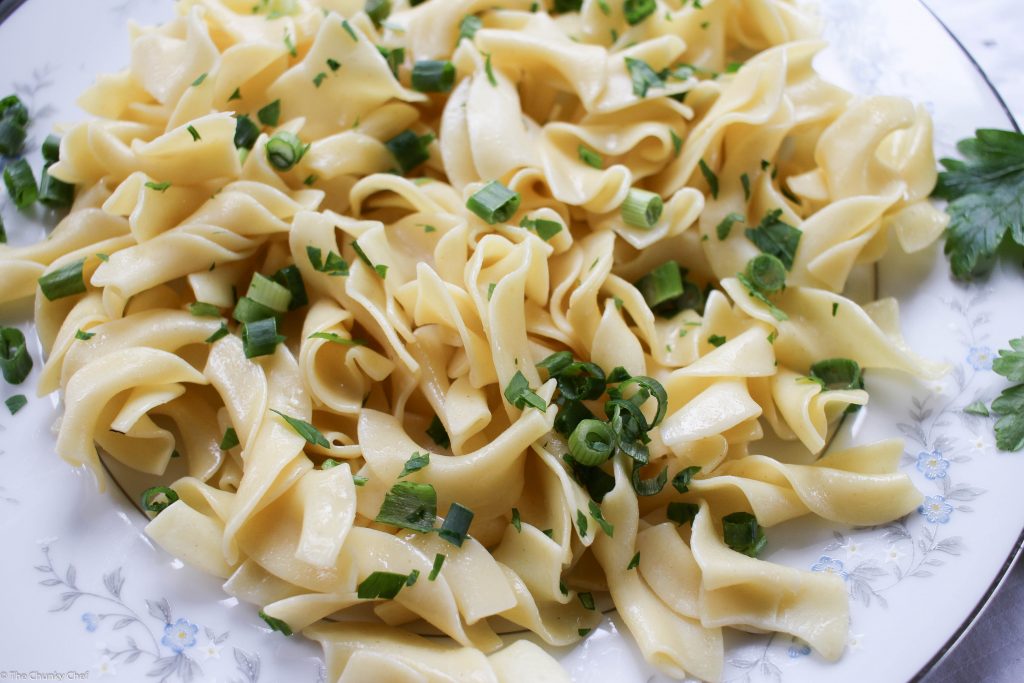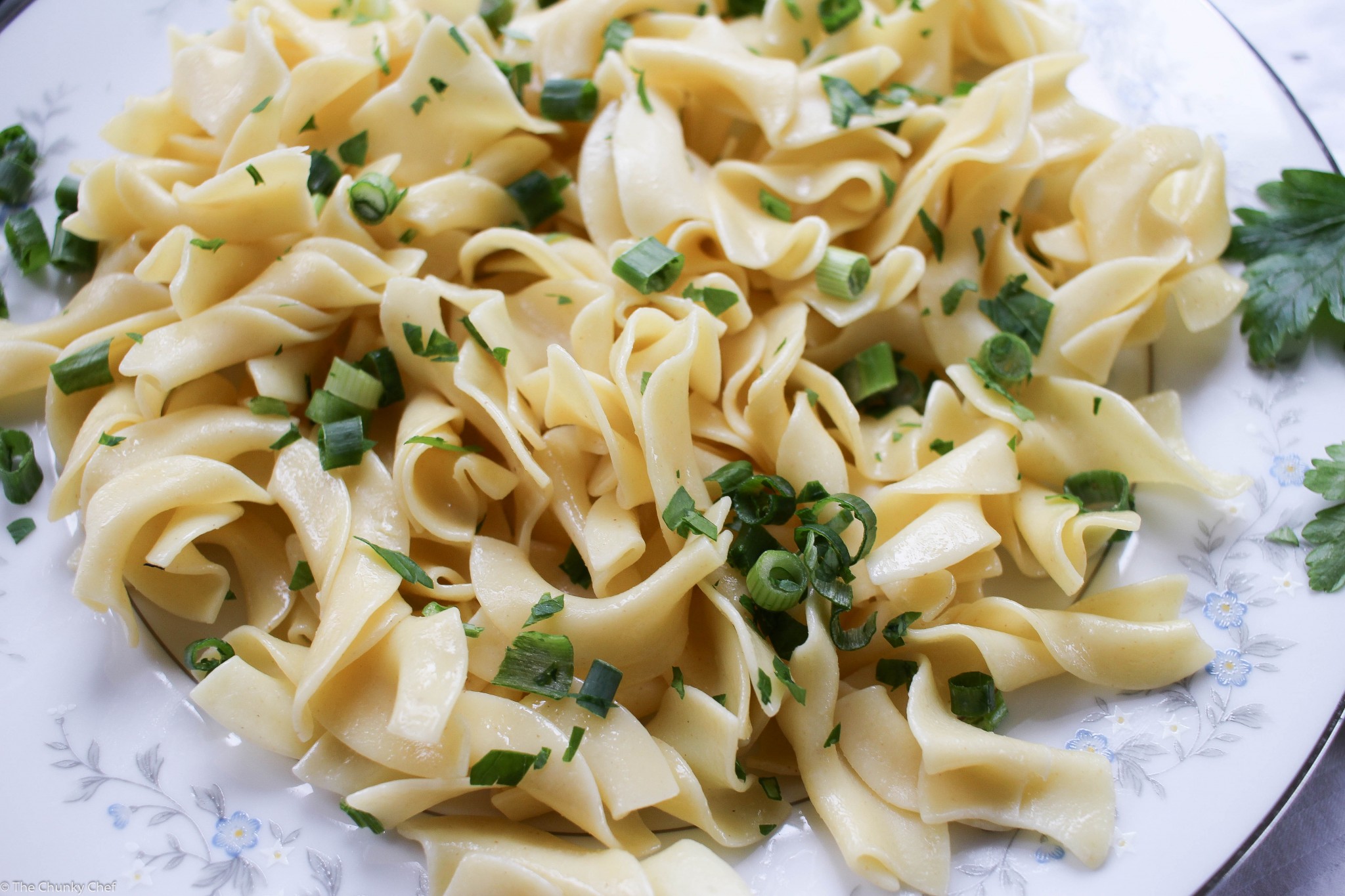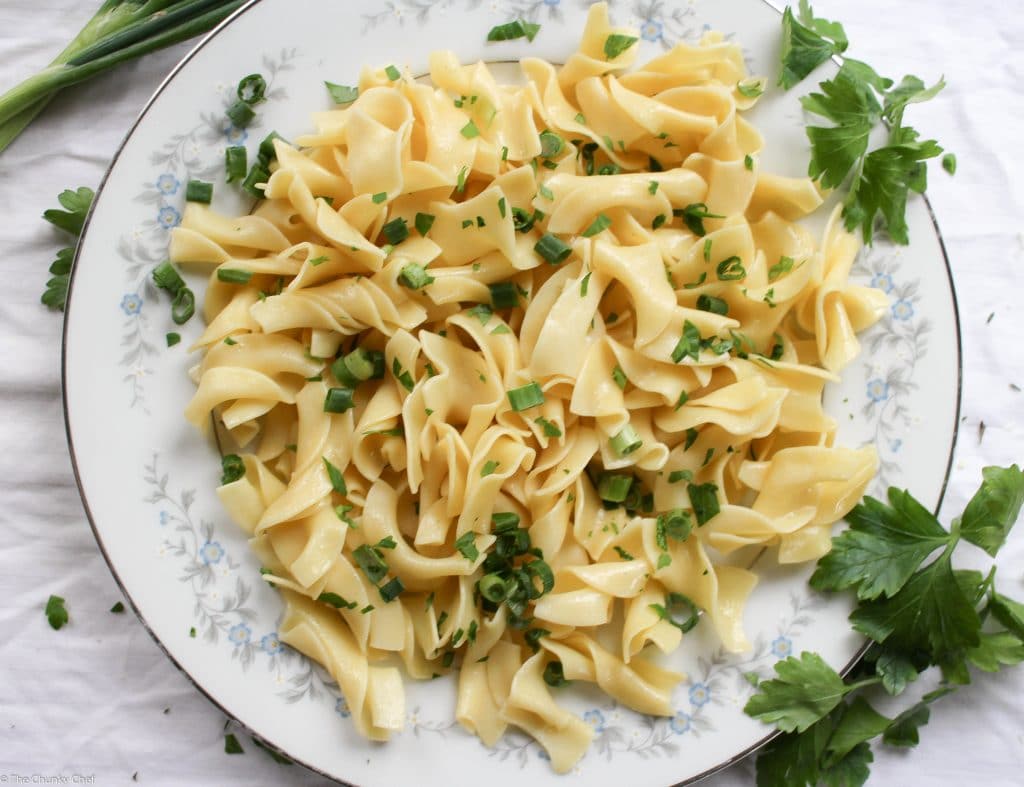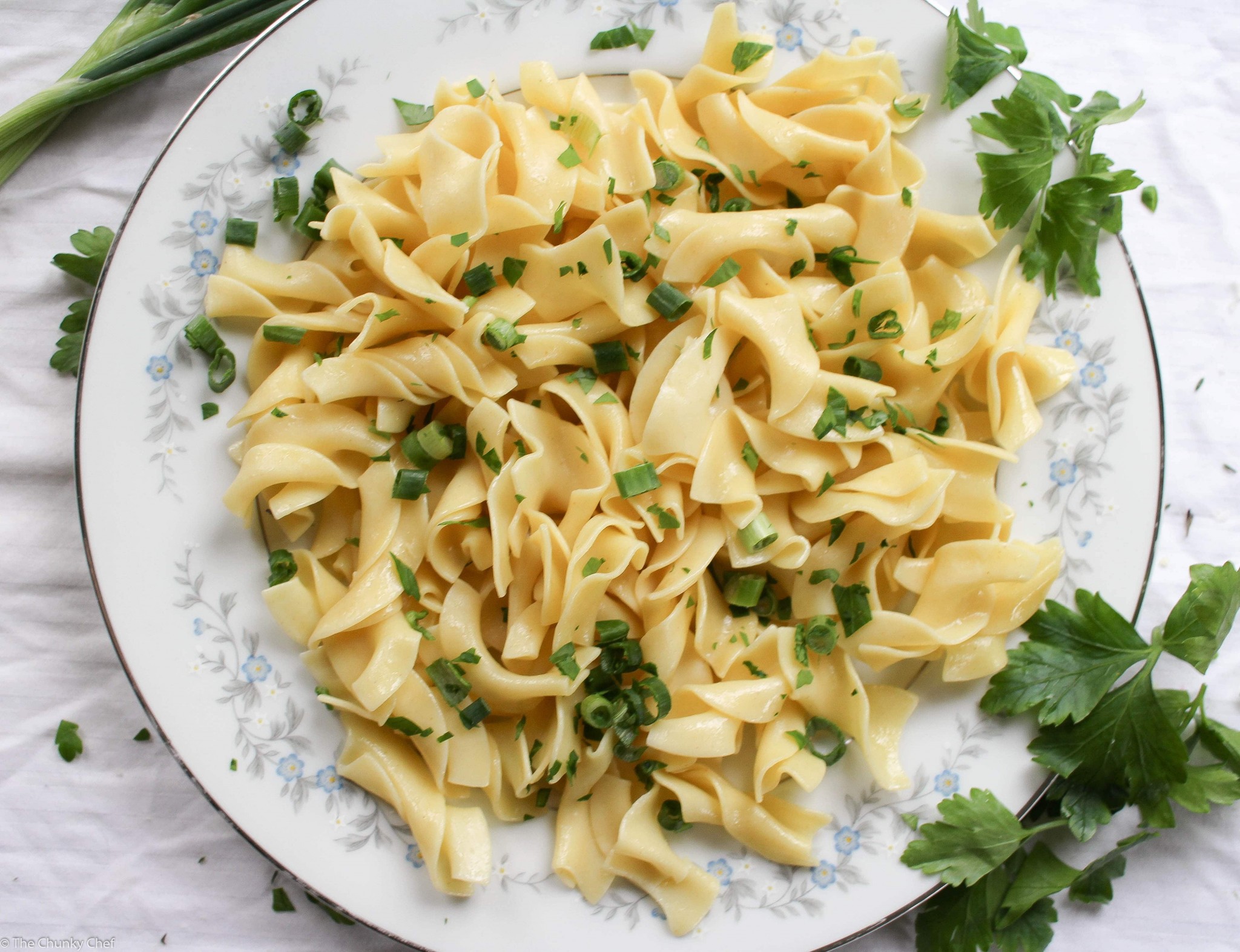 I'll be honest with you… I would eat that plate of egg noodles just the way it is 😀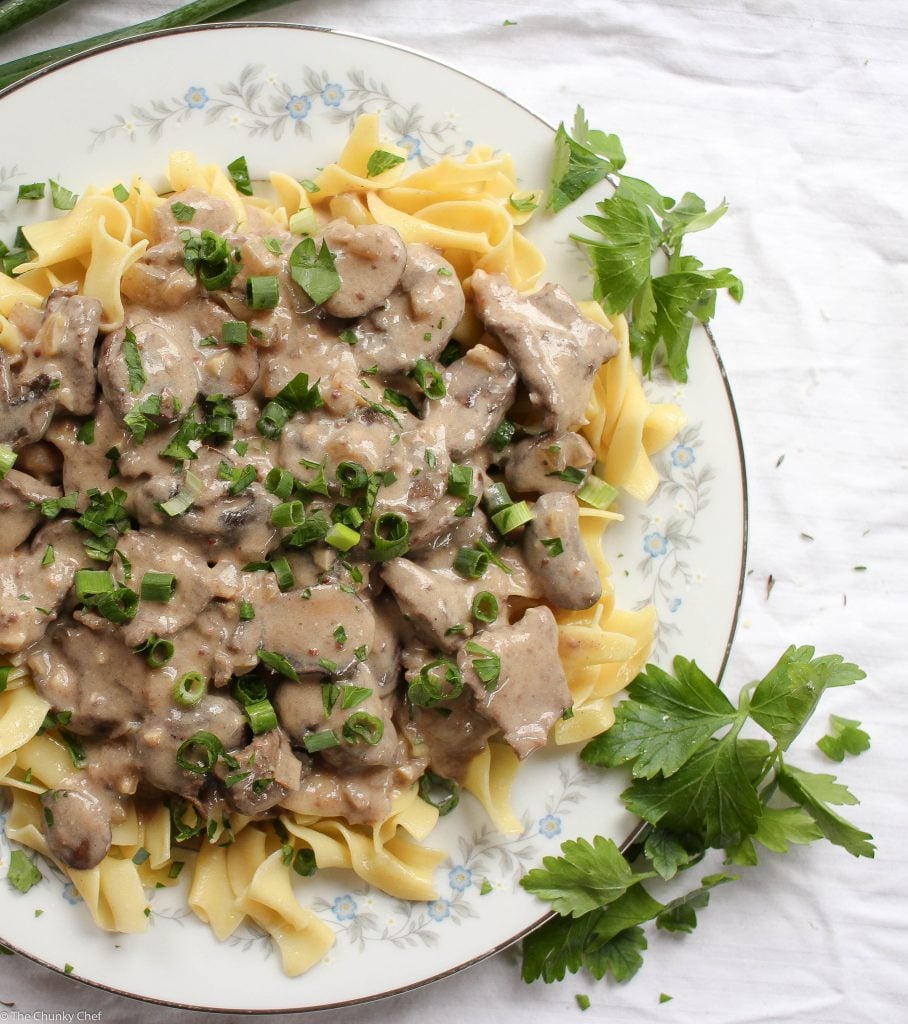 But that creamy goodness just makes those noodles pale in comparison!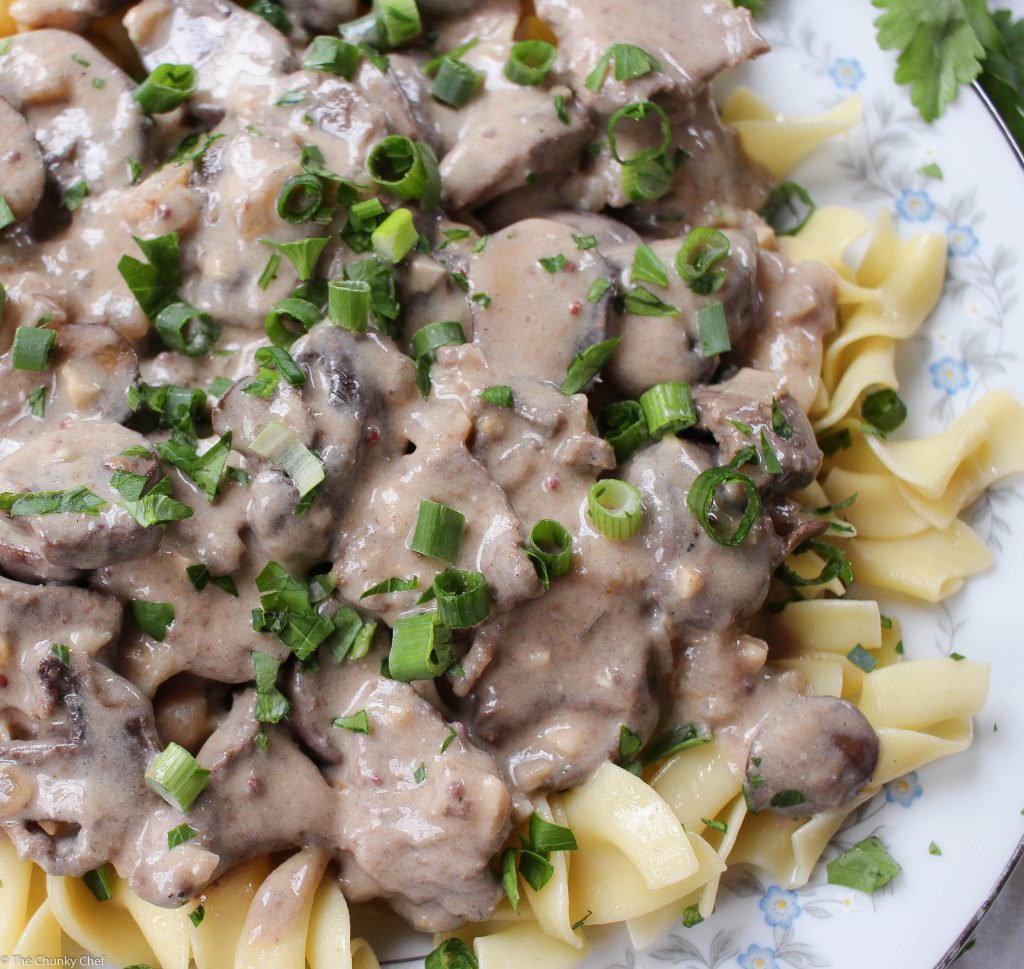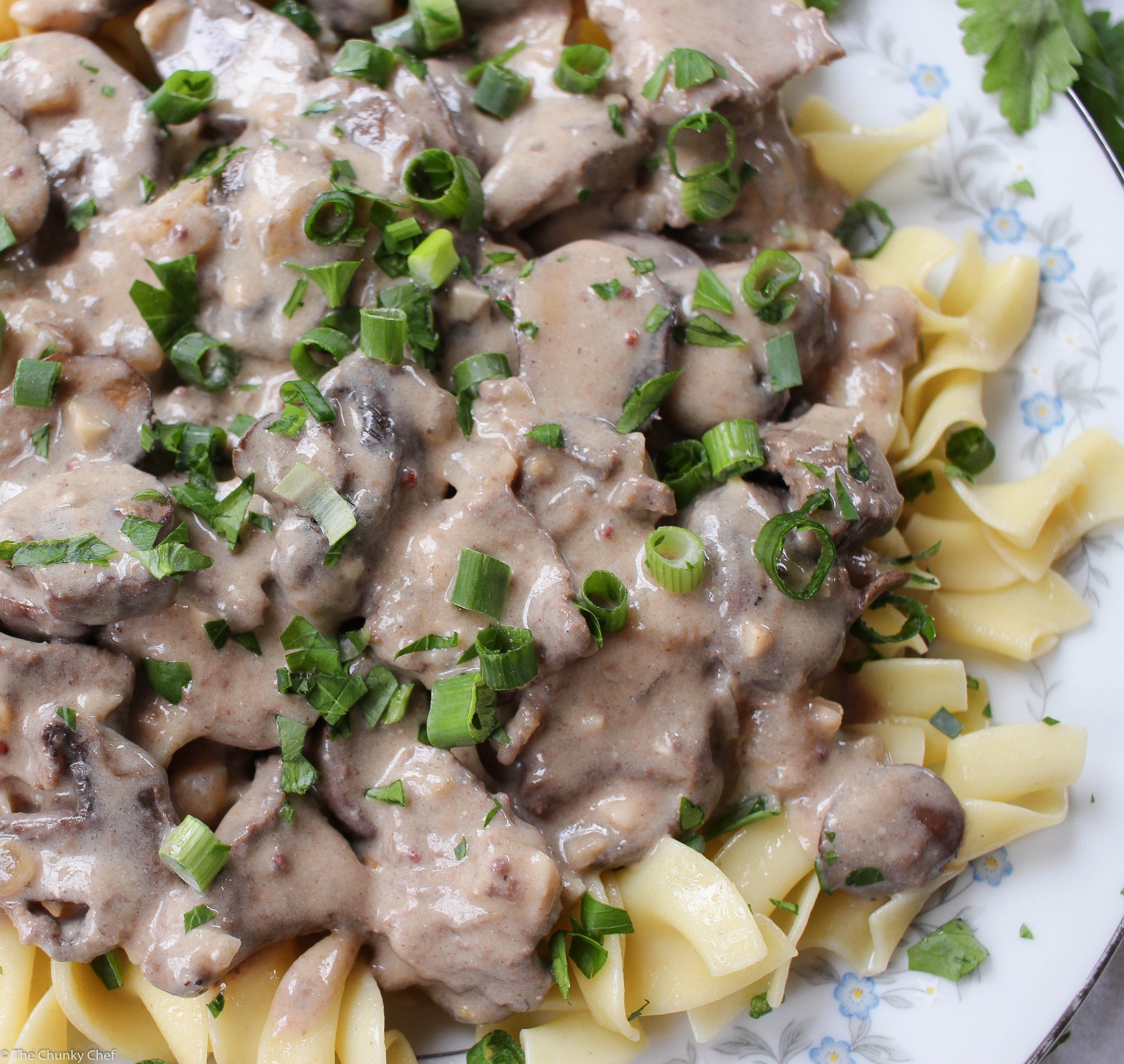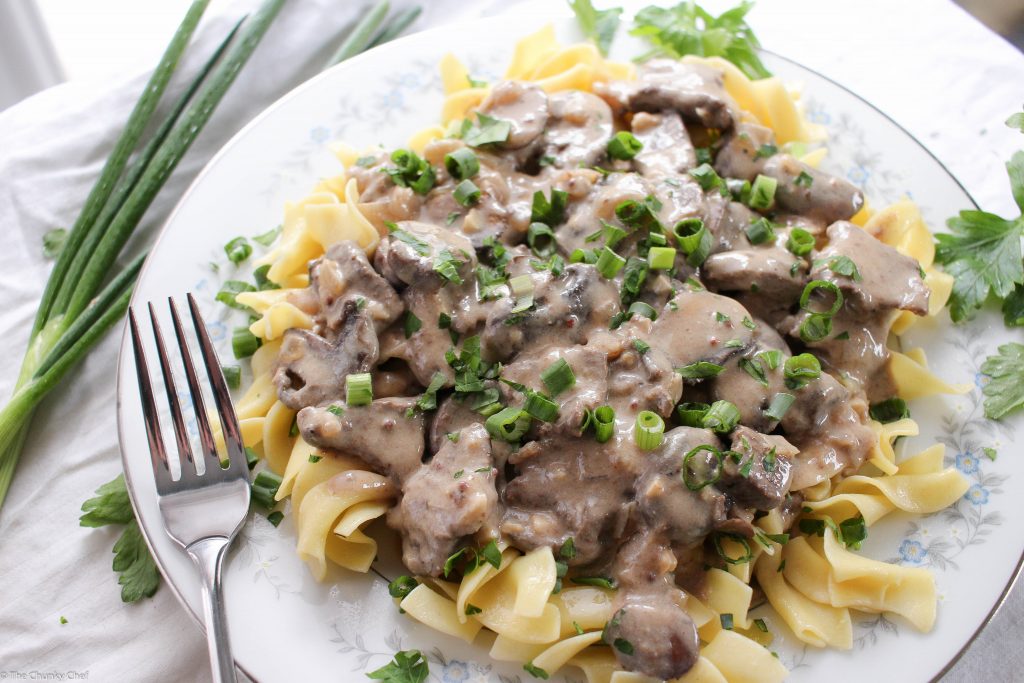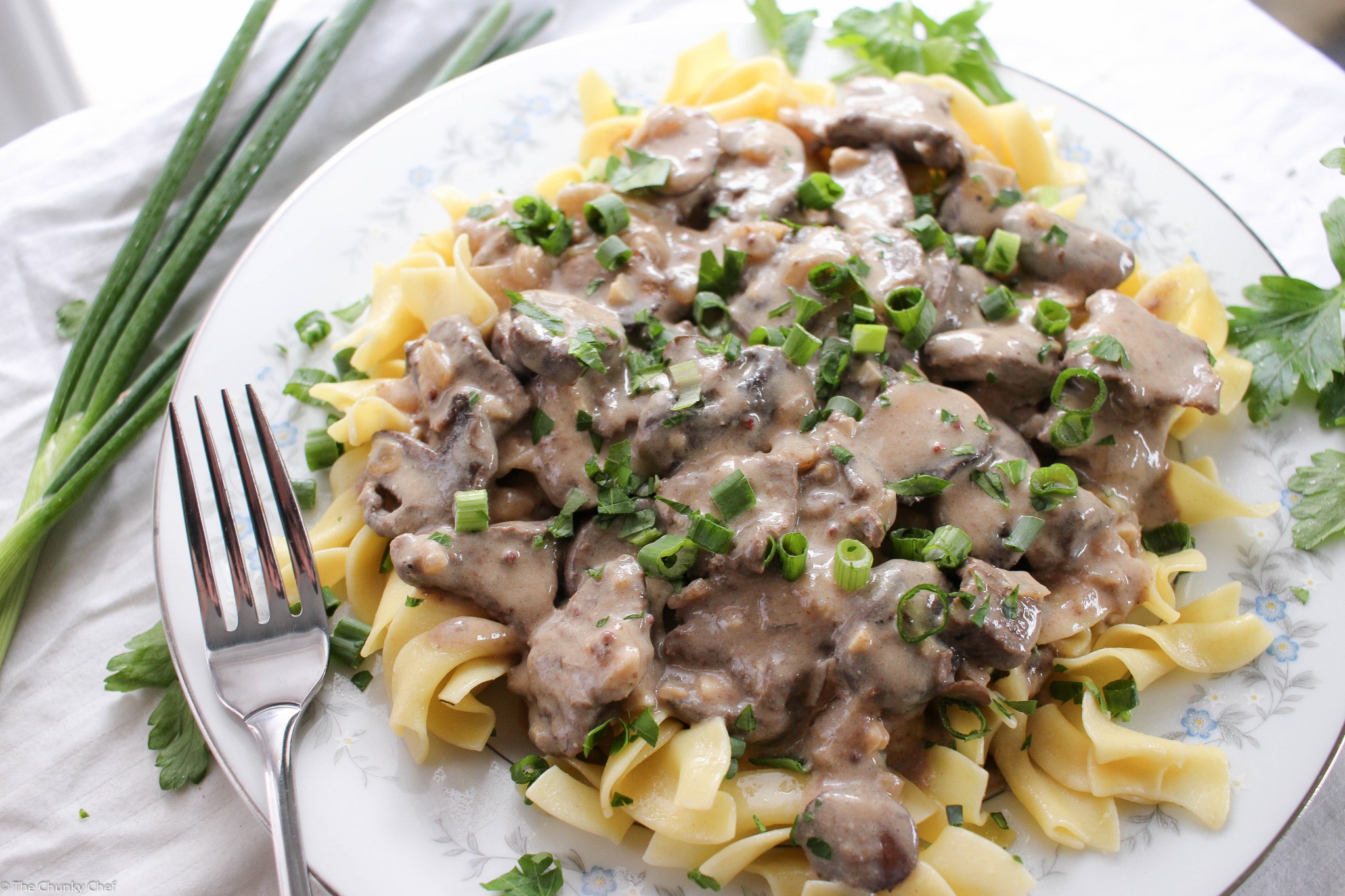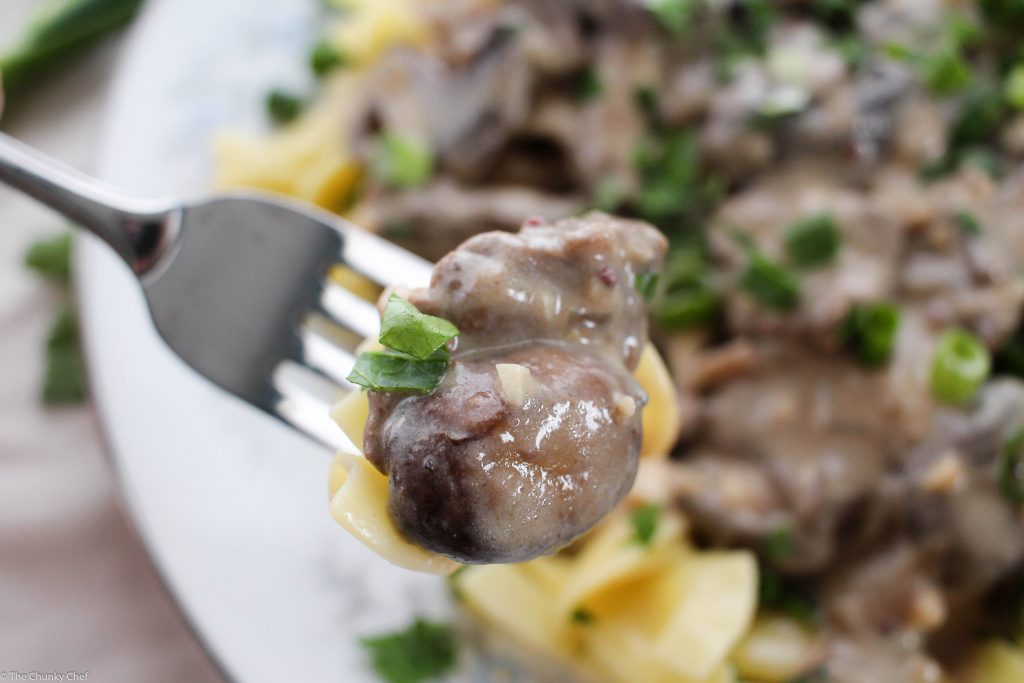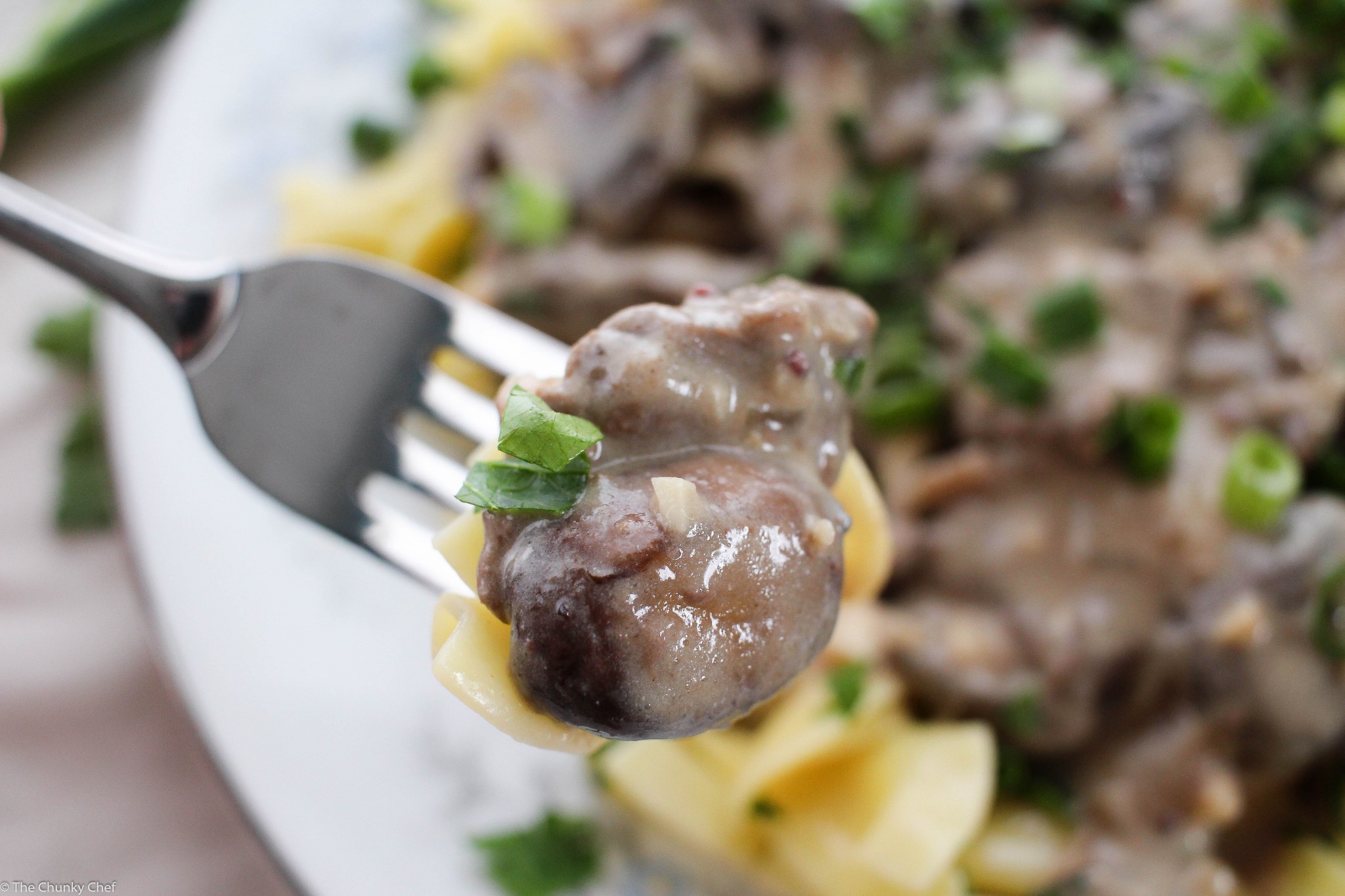 I hope you all try this one, you deserve all the comfort food you can handle during this frigid winter.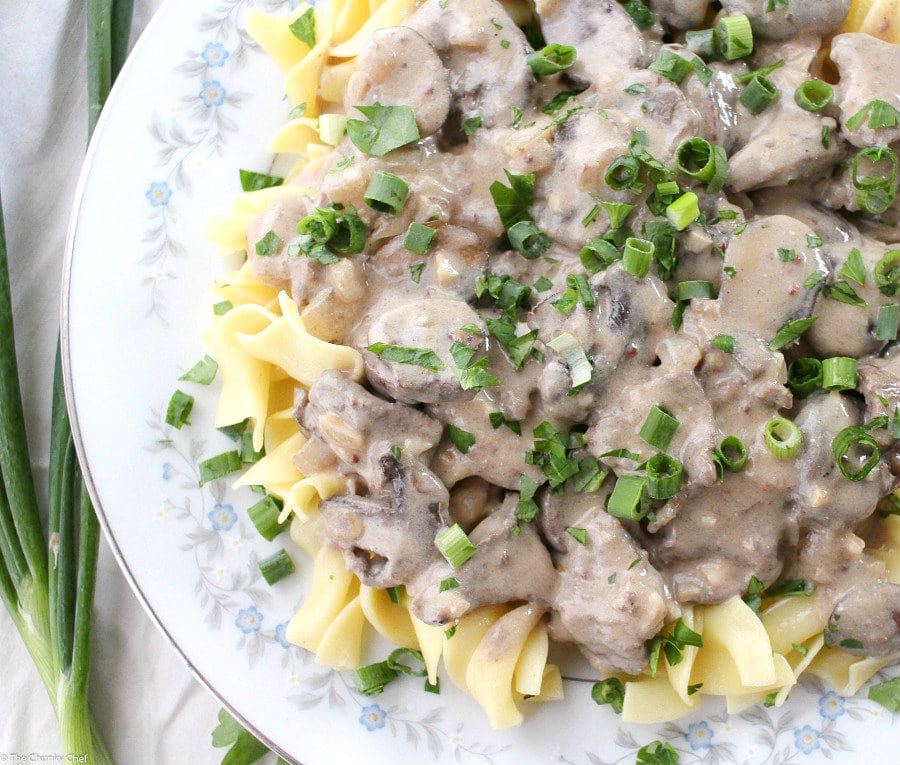 Recipe adapted from Gimme Some Oven, seriously, such an amazing blog!!
Don't miss a new recipe, enter your email below to stay updated!
[mc4wp_form]
Did you make this? Be sure to leave a review below and tag me @the_chunky_chef on Facebook and Instagram!
Creamy and deeply flavorful, whip up a plate of this beef stroganoff tonight! It's easy to make and guaranteed to make you want seconds!
Ingredients
1 lb . wide egg noodles
4 Tbsp butter divided
1 lb . thinly-sliced steak whatever cut of meat you prefer
salt and pepper to taste
1 yellow onion diced
5 cloves garlic minced
1 lb . sliced mushrooms baby bella/cremini - or whichever you prefer
1/2 cup dry white wine (or if desired, you can substitute with beef stock)
1 1/2 cups beef stock
1 Tbsp Worcestershire sauce
3 Tbsp flour
1/2 cup sour cream
1 Tbsp grainy mustard or dijon
Minced parsley
Sliced green onions
Instructions
Cook egg noodles per package directions, until al dente. (I took a tip from Gimme Some Oven and added my noodles to the boiling water about the time the beef stock mixture was added to the skillet)

Meanwhile, melt the butter in a large skillet over medium-high heat. Add the steak in a single layer, seasoned with salt and pepper, and let it cook for about 3 minutes to get a good sear. Turn the steak, and cook on the other side until browned, about another 3 minutes. Then remove steak from skillet with a slotted spoon, and transfer to a separate plate. Set aside for later. Be sure not to overcrowd your skillet. If you need to, cook your steak in 2 batches.

Add the remaining 2 Tbsp. butter. Add the onions and saute about 3 minutes. Add garlic and mushrooms, and stir. Continue sauteing for an additional 5-7 minutes, or until the mushrooms are browned and the onions are soft and translucent. Add the white wine, and deglaze the pan by using your wooden spoon to scrape the brown bits off the bottom of the pan. Let the mixture cook for an additional 3 minutes.

In a separate bowl, whisk together the beef stock, worcestershire sauce and flour. Pour the beef stock mixture into the pan, and stir to combine. **drop your egg noodles in the boiling water to cook**

Let the beef stock mixture simmer for 5 minutes, stirring occasionally. Then stir in the sour cream and mustard until combined, and then slide the cooked steak back in. Season with additional salt and pepper if needed.

Toss egg noodles with butter, minced parsley and sliced green onions. Ladle beef stroganoff over the top of the noodles and sprinkle with additional parsley and green onions.
Want to save this recipe for later? Click the heart in the bottom right corner to save to your own recipe box!
Chef Tips
** additionally you could serve over cooked quinoa or as a sandwich on ciabatta bread and topped with arugula lettuce.
Nutrition Disclaimer
The Chunky Chef is not a dietician or nutritionist, and any nutritional information shared is an estimate. If calorie count and other nutritional values are important to you, we recommend running the ingredients through whichever online nutritional calculator you prefer. Calories can vary quite a bit depending on which brands were used.