---
Shrimp scampi is the ultimate quick cooking meal, which makes it perfect for a busy weeknight!! This recipe is easy, garlicky, and cooks in one pot!
---
Weeknights getting hectic?  Shrimp scampi is the solution!  Dinner is ready in 10 minutes, and it cooks in one pot.  Plus, you can't beat that classic garlicky flavor!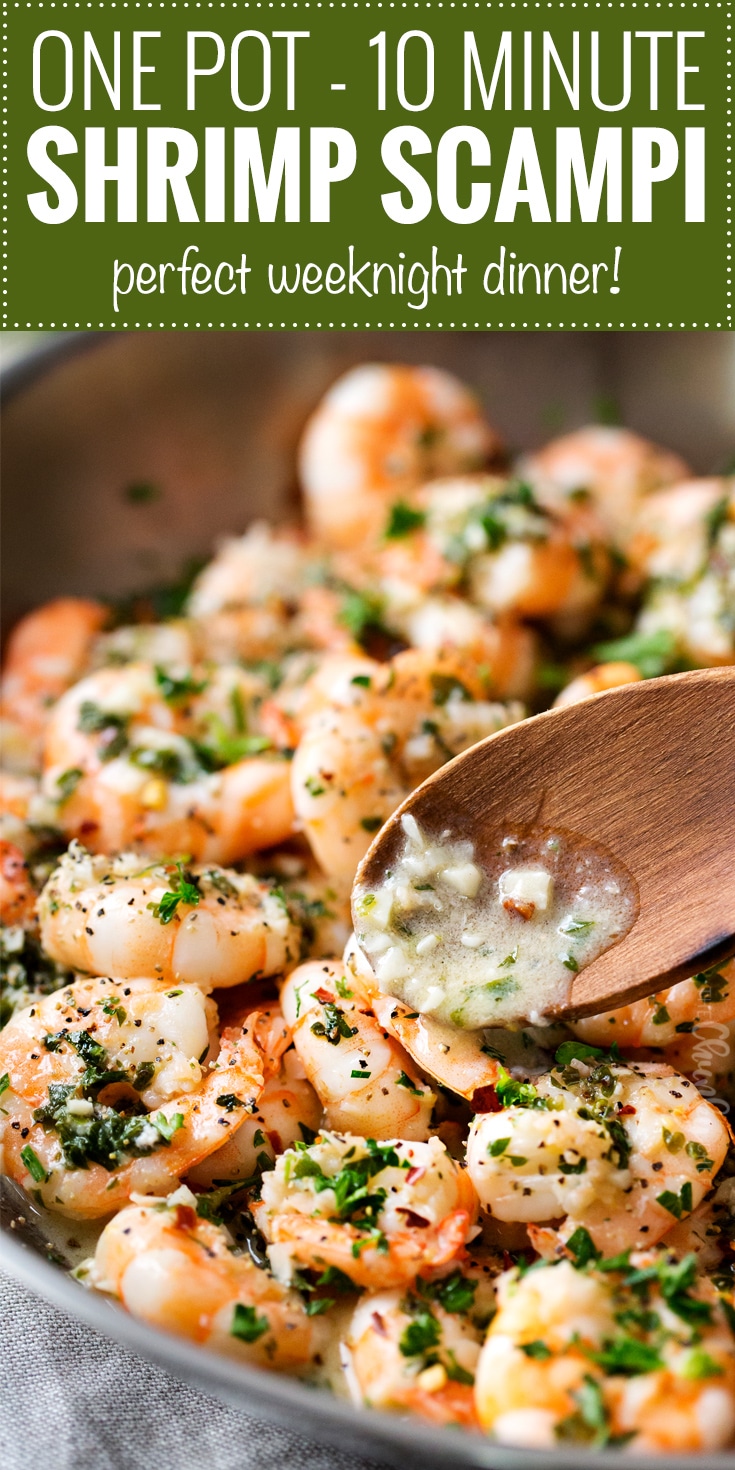 I've been thinking about "restaurant food" lately, like this Chicken Marsala.  When I say "restaurant food", I mean those meals that you typically think of as ordering in a restaurant, not making at home.  For us, for a long time, shrimp scampi was one of those meals.  My husband LOVES shrimp scampi… orders it all the time when we go out.
Me?  I love the scampi flavors, but I've never been much of a shrimp fan.  BUT, this meal, it's making me rethink things!  It tastes so good, so fresh, so vibrant!!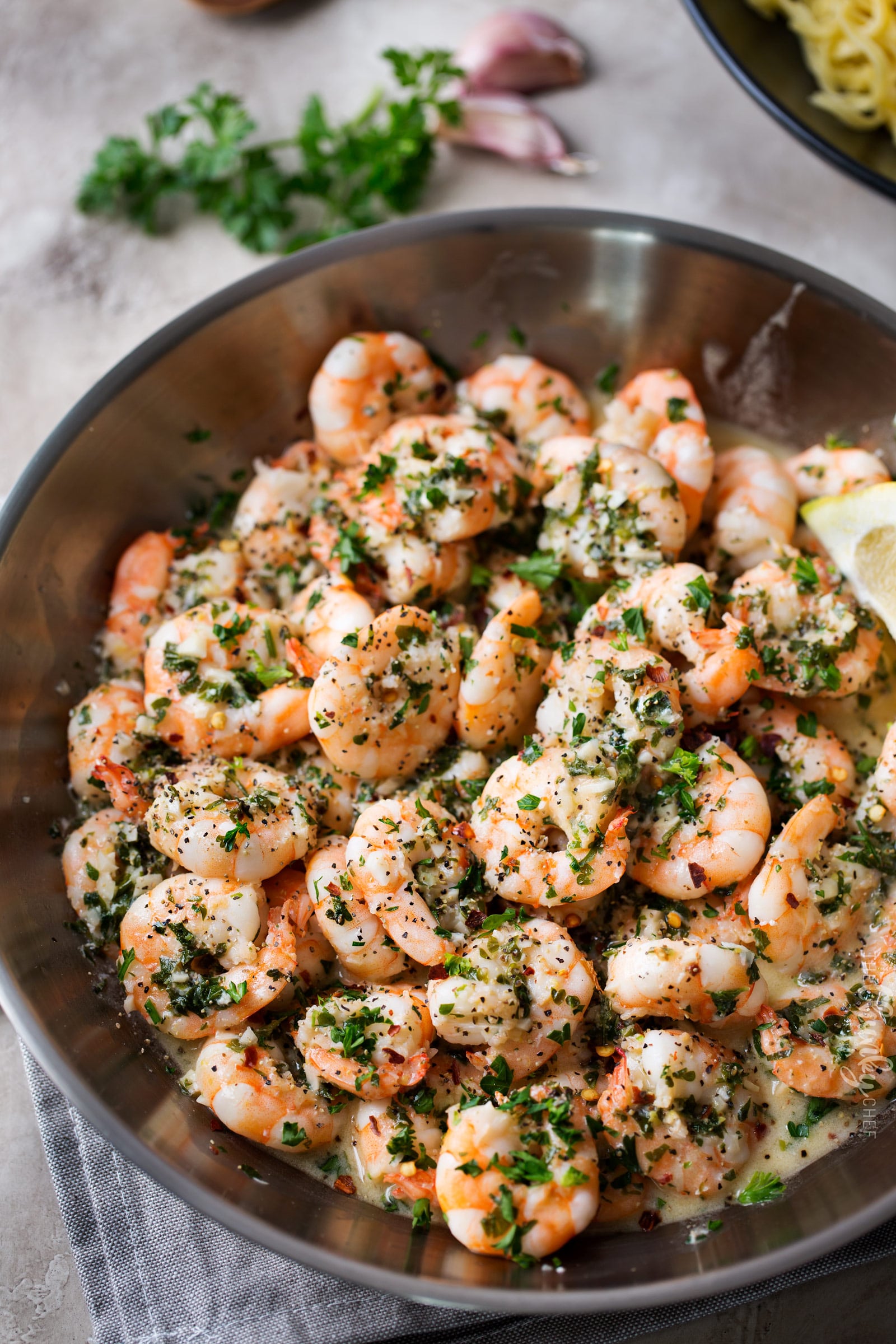 WHAT KIND OF SHRIMP DO I USE?
You'll want raw shrimp for this, so they don't get all overcooked and rubbery.  To save myself some time, I bought shrimp that were peeled and deveined, but feel free to get whatever you prefer.  Pick up the jumbo shrimp though, about 16-20 per pound.  Mine were frozen, then I just defrosted them, but if you live closer to a coast and have some great looking seafood, go for fresh!

SO… HOW DO I EAT THESE?  WHAT DO I SERVE WITH THEM?
Well once you make them, they're YOUR shrimp scampi, so you can have anything you'd like with them 🙂  But, here are a few options:
As is – grab a fork and dig in!
With pasta – the sauce with the shrimp goes perfectly over some pasta!
With crusty bread – stay tuned for a great recipe for this (and it's no-knead!), but the bread is perfect for dipping in that amazing pan sauce!
Serve with a salad – a nice green salad goes well with any of the options above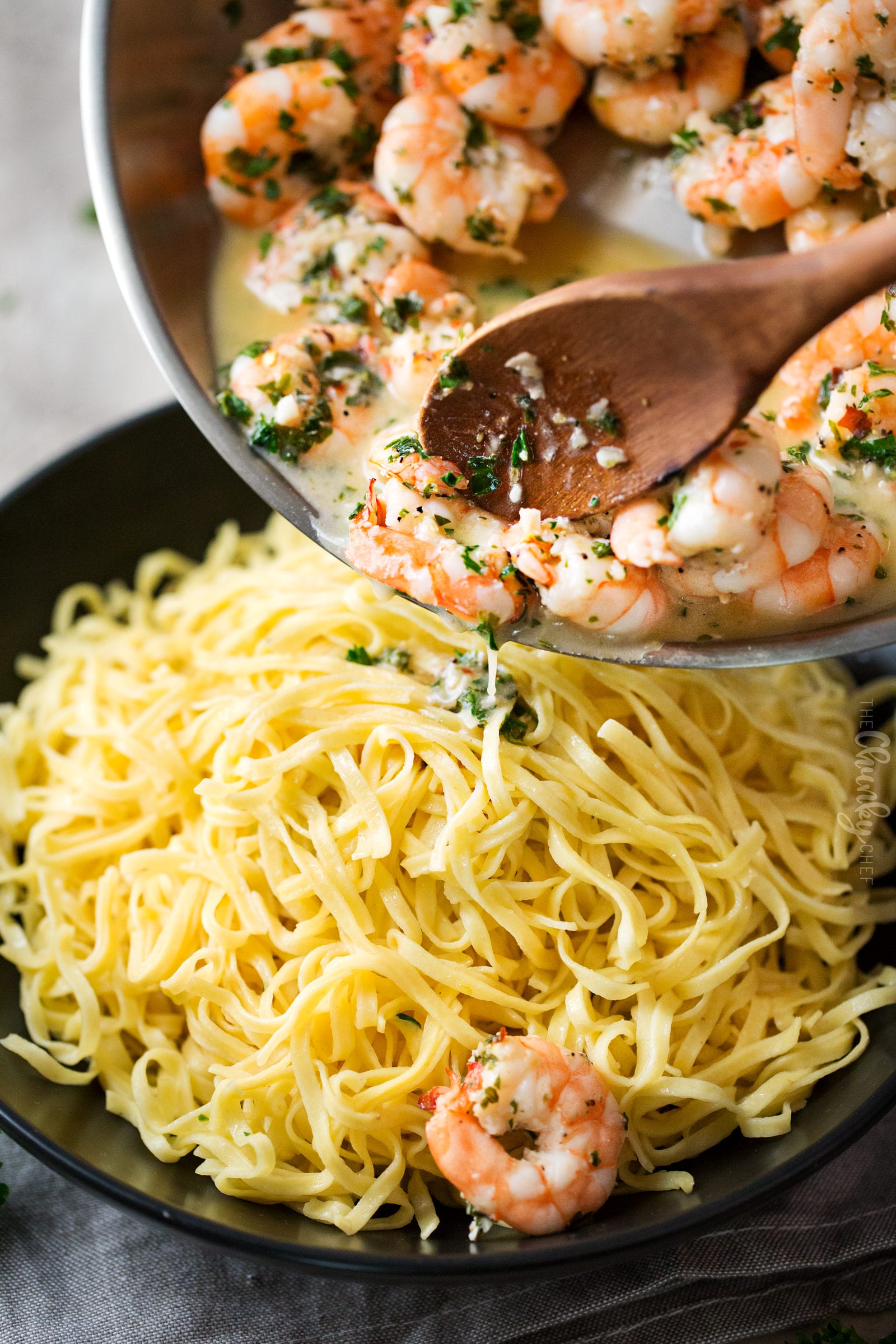 DOES THIS
REALLY

COOK IN 10 MINUTES?

Yep!!  I know it sounds crazy.. but the beauty of shrimp is that it's ultra quick-cooking.  It really only takes a few minutes to fully cook through, and if you cook it too long, it gets rubbery and pretty gross.  So definitely whip out this recipe on a busy weeknight!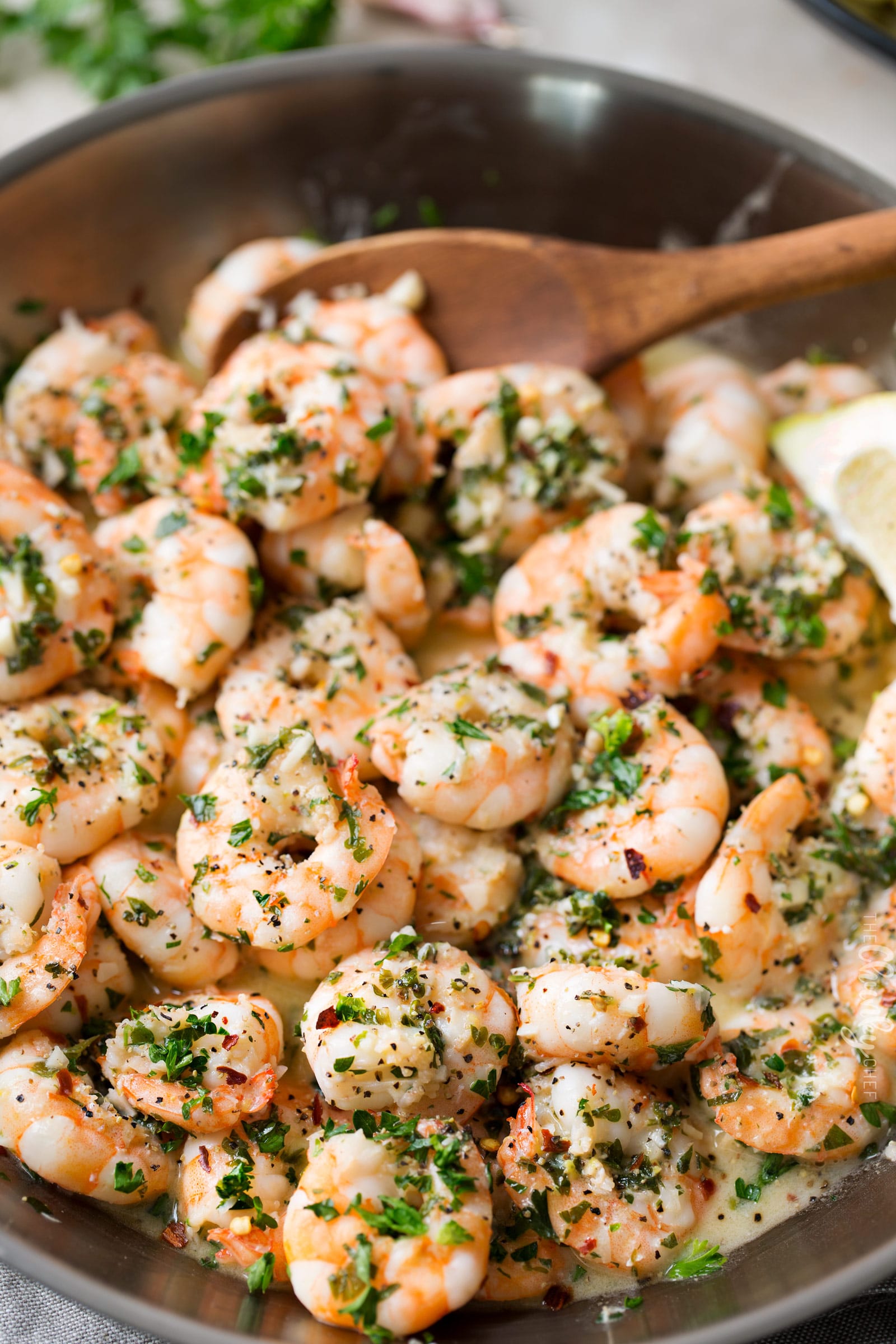 So if you're on the fence about shrimp, not in the mood to cook much at all, or craving some "restaurant food", you should definitely try this shrimp scampi!!  Can't go wrong with dinner made in one pot, in 10 minutes!
---
WANT TO TRY THIS SHRIMP SCAMPI?
PIN IT TO YOUR DINNER OR SEAFOOD BOARD TO SAVE FOR LATER!

Did you make this? Be sure to leave a review below and tag me @the_chunky_chef on Facebook and Instagram!
Shrimp scampi is the ultimate quick cooking meal, which makes it perfect for a busy weeknight!! This recipe is easy, garlicky, and cooks in one pot!
Ingredients
4 Tbsp butter, divided
1 1/2 lbs raw jumbo shrimp, peeled and deveined (16 or 20 per pound)
1/2 tsp kosher salt
heaping 1/4 tsp black pepper
1/4 cup finely chopped fresh parsley
4-5 cloves garlic, minced
1 Tbsp lemon zest
1/4 cup dry white wine (like a Chardonnay)
1/4 cup chicken broth or stock (if you have shrimp stock that would be awesome too)
1 tsp lemon juice fresh is best
pinch of crushed red pepper flakes
more minced parsley, for garnish
lemon wedges, for serving (optional)
Instructions
Pat shrimp dry and season with salt and pepper. To a large skillet, add 3 Tbsp of the butter and heat over MED heat. Add parsley, garlic, and lemon zest and cook, stirring often, until fragrant, about 1-2 minutes.

Increase heat to HIGH, add shrimp and cook until just starting to turn pink, about 1 minute.

Pour in wine and cook until reduced by about half, 1-2 minutes. Add chicken broth and simmer until shrimp are just cooked through, about 1-2 minutes.

Add lemon juice, and crushed red pepper flakes, and stir.

Transfer shrimp to a plate, leaving the liquid in the skillet. Add remaining 1 Tbsp of butter and whisk to incorporate. Simmer sauce for a few seconds, taste to see how the seasoning is. Add salt and pepper if needed.

Add shrimp back to skillet and toss to coat. Garnish with a sprinkle of parsley and serve with lemon wedges if desired.
Want to save this recipe for later? Click the heart in the bottom right corner to save to your own recipe box!
Chef Tips
Serve as is, over pasta, or with a big piece of crusty bread. 
NEVER MISS A CHUNKY CHEF RECIPE: