Berry Croissant Bake
A great breakfast doesn't have to be complicated or time consuming to make!  This overnight croissant breakfast bake is assembled the night before, studded with sweet mixed berries and sweetened cream cheese, then drizzled with a mouthwatering vanilla bean glaze.  It seriously tastes like a danish!
Looking for other holiday breakfast ideas?  Try my Loaded Overnight Breakfast Casserole (savory), Overnight French Toast Bake (with bourbon!), or light and fluffy Lemon Ricotta Pancakes!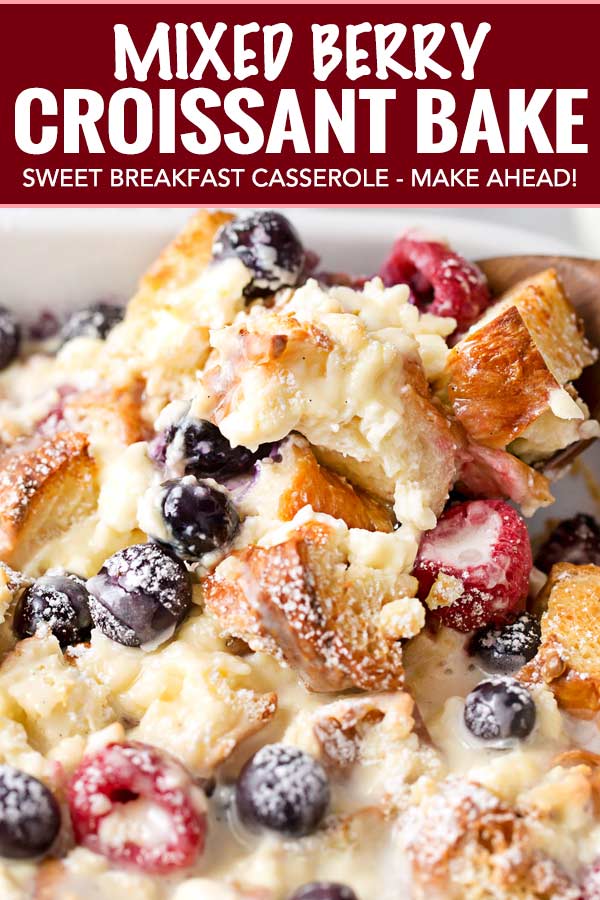 Mixed Berry Croissant Bake
I don't know about you, but I've always been a huge breakfast food fan.  Although, I don't generally like to actually cook breakfast in the mornings.  That sounds weird, right?  Mornings for me are basically a trudge to the kitchen where I tiredly heat up some water for my hot Chai tea, and I'm not all that functional until about 30 minutes after that when the caffeine kicks in.  Definitely not when I want to be hanging out with sharp knives and hot stove tops!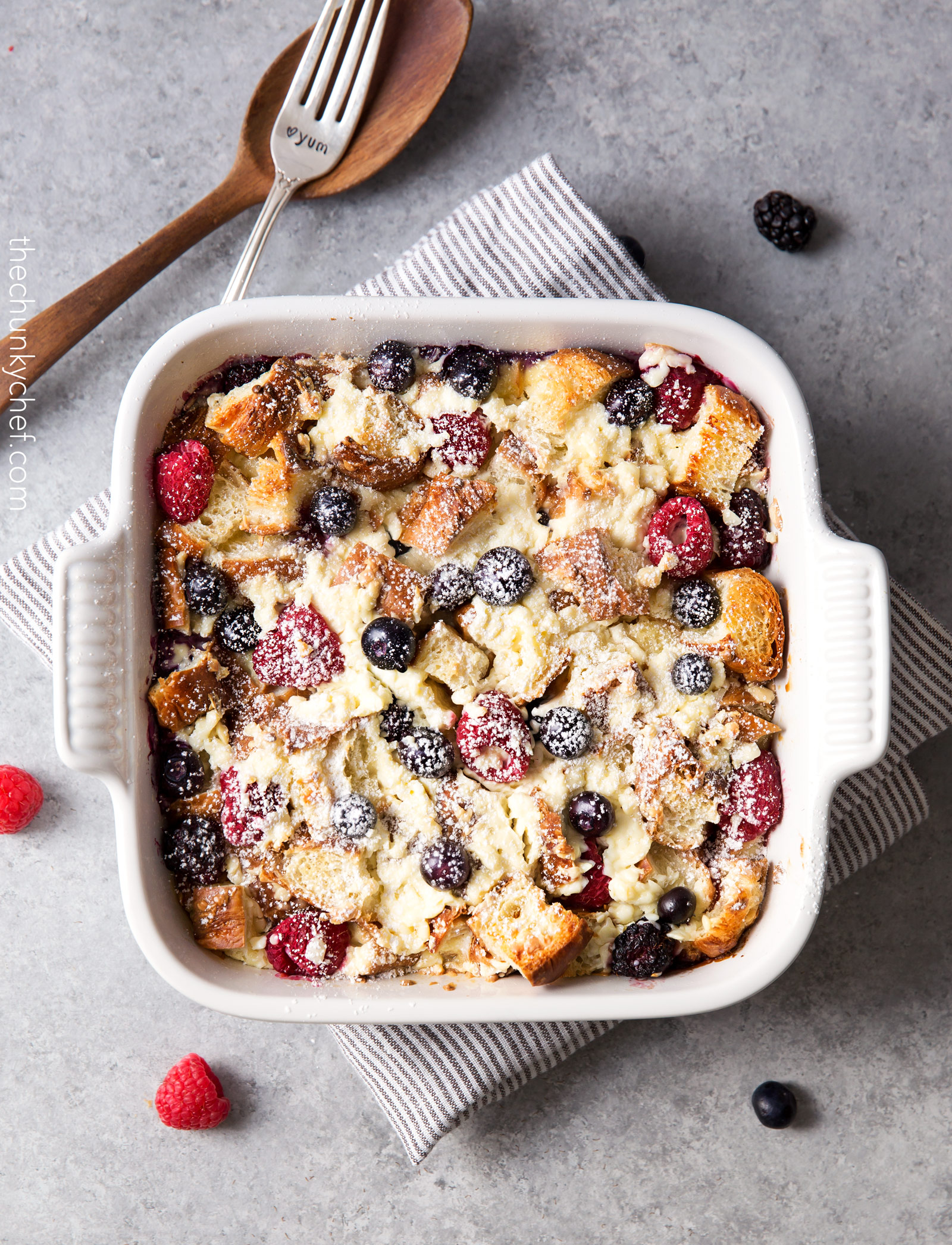 That's why I LOVE breakfasts like this Berry Croissant Bake… not only do they look fantastic, but they are actually made up the night before and sit overnight in the refrigerator.  Then all you have to do in the morning is preheat the oven and bake it.  Breakfast is done!!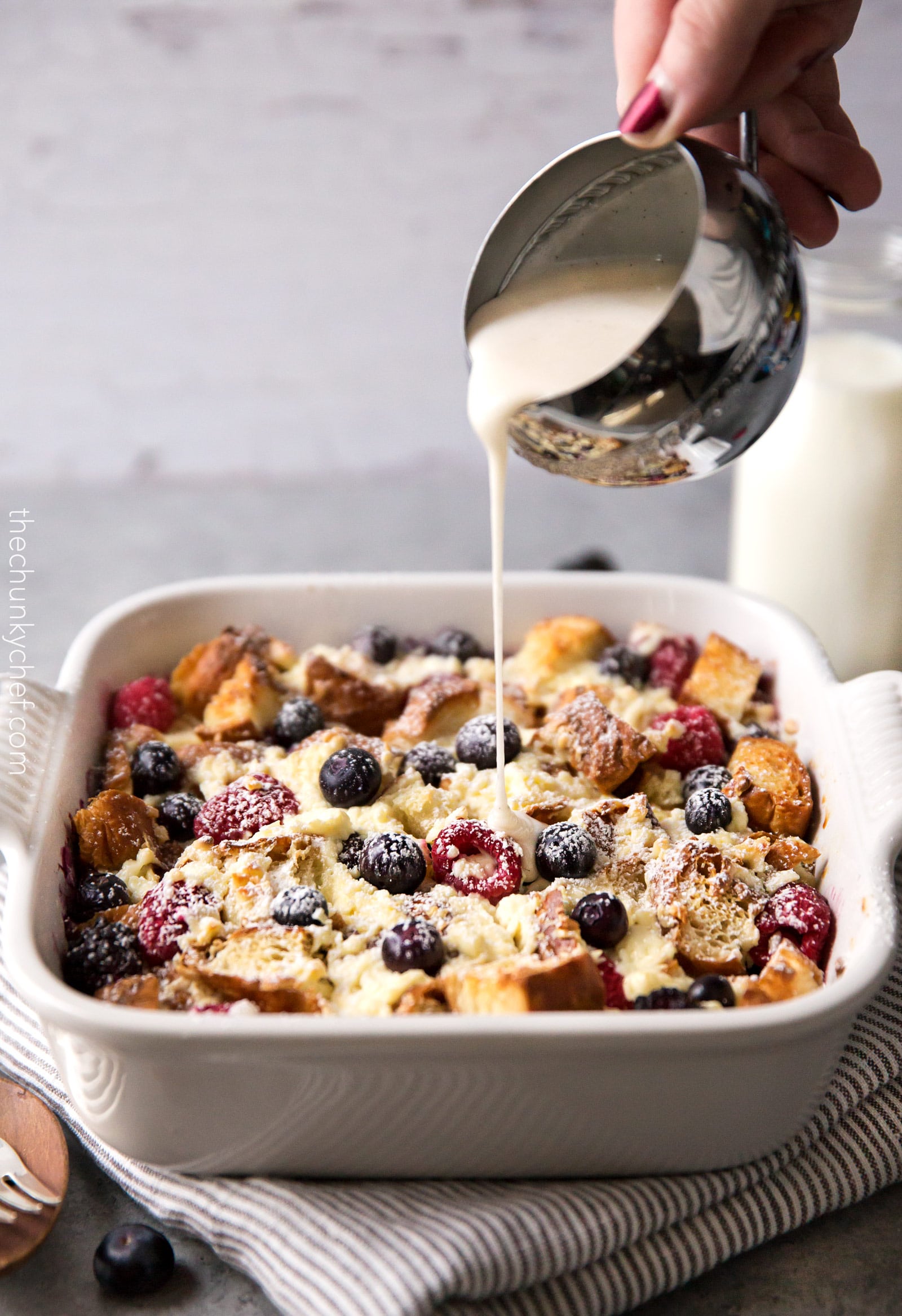 For this croissant puff, I chose a colorful and flavorful mix of blueberries, blackberries, and raspberries, but feel free to choose whichever berries you love the most!
I think this fruity croissant puff tastes a bit like a deconstructed cream cheese Danish, with the bright fresh flavor of the berries mixed in.  Then comes the glaze.  Ohhhh this glaze!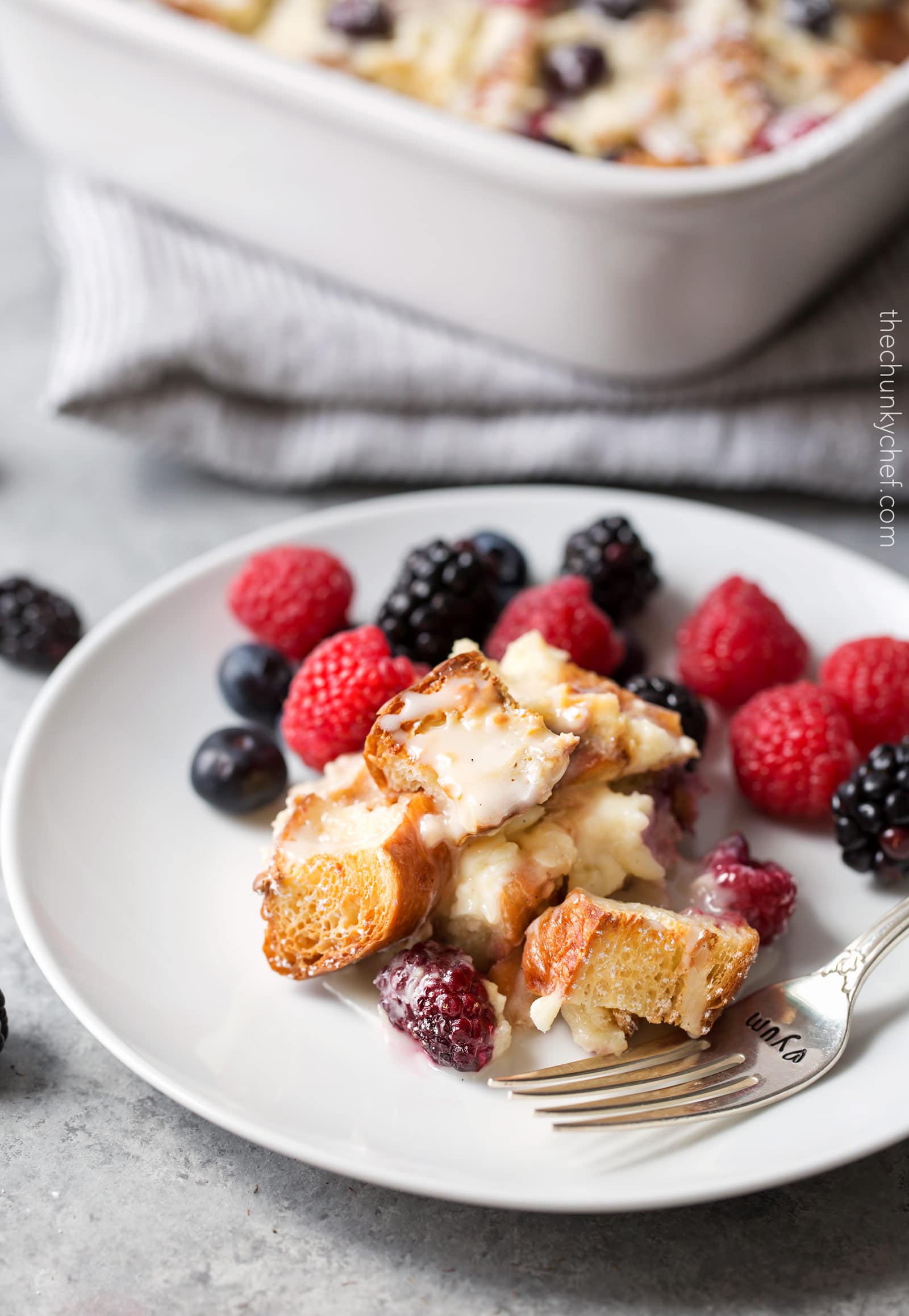 I have to tell you all, this glaze was so hard to resist as I was taking these pictures.  There were several instances where I was sneaking my fork into the pan in the background and taking bites mid-shoot.  I couldn't' help myself!
This fruity croissant bake would be perfect for a weekend breakfast or brunch with family, or even for a special occasion!  I hope you give it a try soon!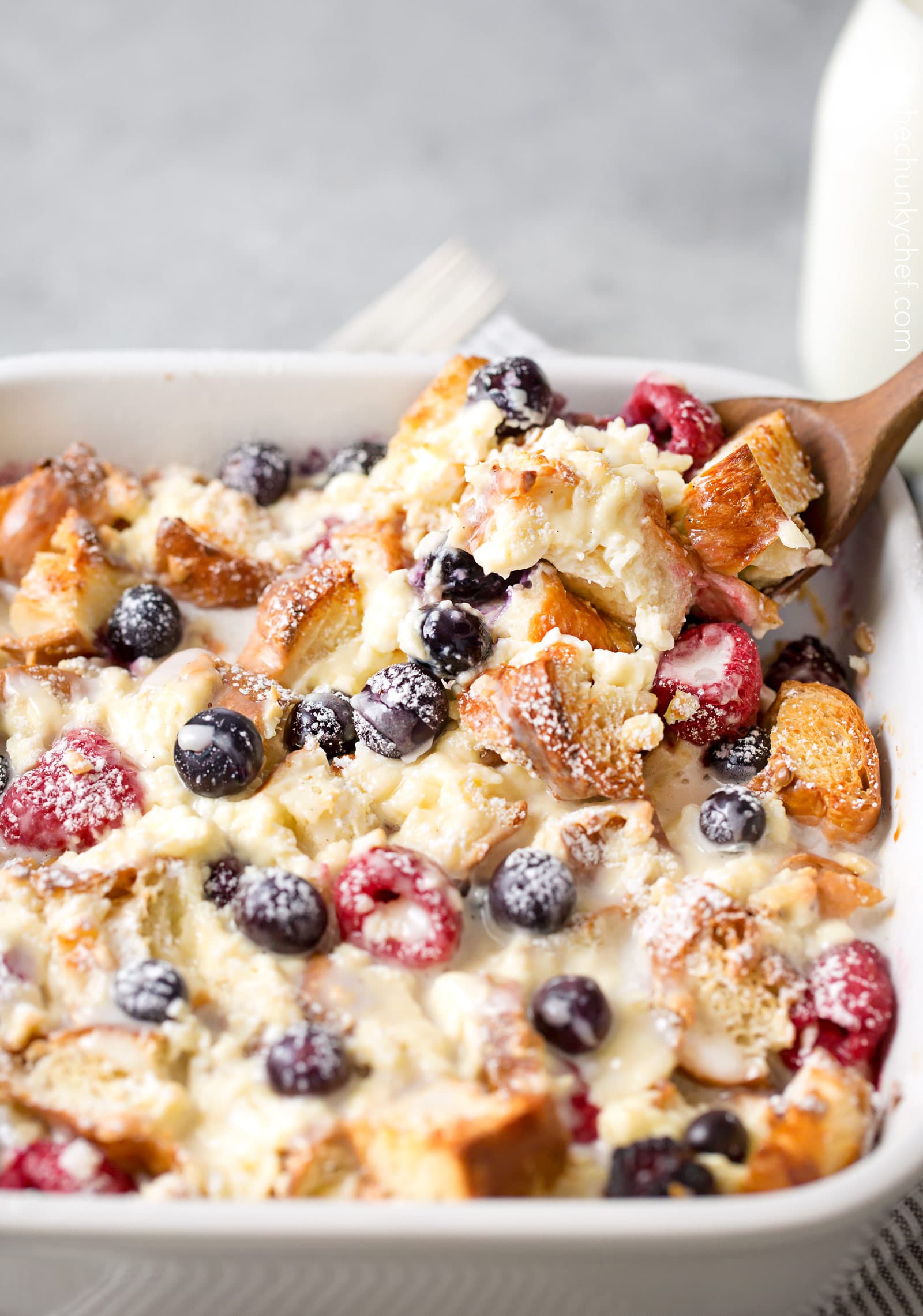 This recipe was originally shared by me on Real Housemoms, then syndicated here for you all 🙂


BE SURE TO SCROLL DOWN TO CHECK OUT OTHER READERS' COMMENTS!
AND DON'T FORGET, IF YOU'VE MADE THIS RECIPE, LEAVE A COMMENT AND PLEASE GIVE IT A STAR RATING!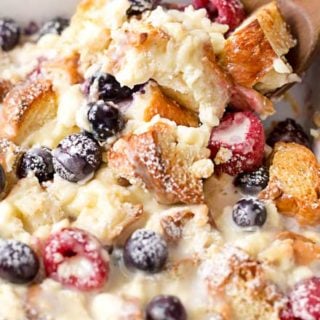 Mixed Berry Croissant Breakfast Bake
Treat yourself to this overnight croissant breakfast bake! Made incredibly easy, it's studded with mixed berries and drizzled with a vanilla bean glaze!
Print
Pin
comment
Prep Time: 10 mins
Cook Time: 45 mins
Total Time: 55 mins
Servings: 6 servings
Calories: 509
Ingredients
4 large croissants sliced into 1 inch cubes
1 1/2 cups mixed berries (I used raspberries, blackberries, and blueberries)
8 oz cream cheese, softened
1 cup milk (whole or 2%)
1/2 cup granulated sugar
2 large eggs
1 tsp vanilla extract
1 tsp lemon zest
Vanilla Bean Glaze:
1/2 cup powdered sugar
2-3 Tbsp heavy cream (or half and half and milk)
1 tsp vanilla bean paste (or vanilla extract if you don't have the paste)
Instructions
Grease an 8x8" baking dish, fill with sliced croissants and mixed berries. Set aside.

Add cream cheese to mixing bowl and beat with hand mixer until smooth. Add milk, sugar, eggs, vanilla and lemon zest and beat until combined.


Pour mixture over croissants and berries.


Cover with plastic wrap and refrigerate overnight.


Remove baking dish from refrigerator and let sit on the counter. Preheat oven to 350 degrees F.


Bake, covered with aluminum foil, for 30 minutes. Remove foil and bake uncovered for 15 minutes, until golden and when a knife inserted in center comes out clean.


While casserole is baking, add powdered sugar, heavy cream, and vanilla bean paste to a small mixing bowl and whisk to combine until smooth and pourable.


Drizzle glaze over croissant puff after it's finished baking. Serve warm.

Notes
You can bake this dish the same day you make it, if needed. Just be sure to let the croissant puff sit for 10-20 minutes or so before baking so the croissants can soak up some of the liquid.
Are We Friends on Pinterest?
Follow me for more great recipes! The Chunky Chef!