Guinness and Coffee Irish Beef Stew
---
Rich Irish beef stew, made with the unmistakable flavor of Guinness and coffee, makes this the most savory and mouthwatering comfort food you'll ever eat!
---
There are few things more hearty and comforting than a big pot of rich beef stew.  However, this Irish beef stew with Guinness beer and coffee extract really takes the cake!  The Guinness and coffee flavors meld perfectly to give way to a deep, rich, lusciously savory sauce that simmers away to tenderize the beef so it's practically spoonable!
I was compensated by Nielsen-Massey Vanillas for my time in developing this recipe and post. All opinions are my own.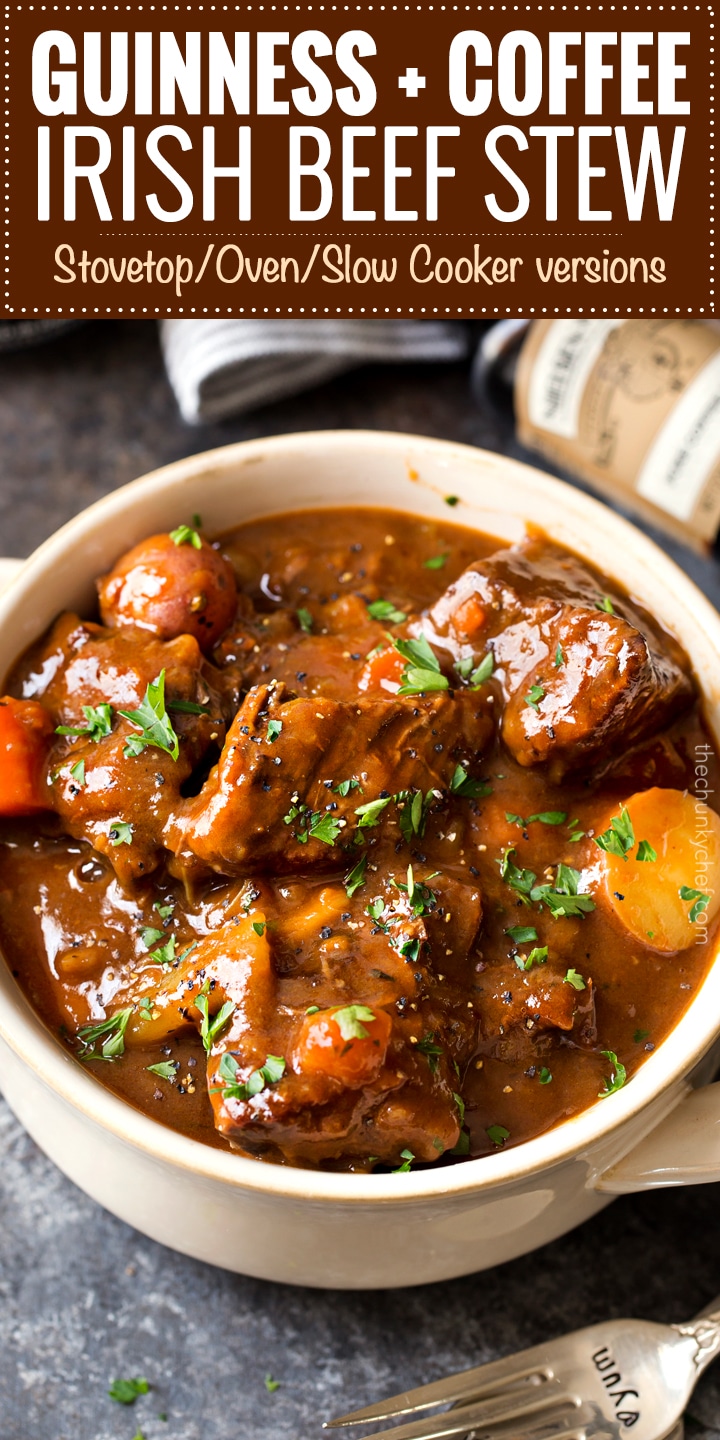 It may be starting to warm up, but I'm still all about that comfort food!  I think one of the most quintessential comfort foods is beef stew, or in this case, Irish beef stew.  Around this time of year, Guinness recipes start popping up all over the place.  Not that I could really complain, I do love using beer in recipes, like my Guinness Cupcakes with Baileys Frosting, and Whiskey Glazed Blue Cheese Burgers.
Irish beef stew is traditionally made with Guinness, but I really wanted to bring that rich flavor home, so I added some Nielsen Massey pure coffee extract as well.  It mimics the coffee/chocolate backnotes of the beer, lending an amazing richness to the sauce.  I've been a huge fan of Nielsen Massey products ever since I tried their vanilla bean paste (seriously, pick some of it up, you won't regret it!!), but they also have other extracts, like lemon, orange, rose water, etc.  You can see a full product listing here, along with uses and pairings here.  I really like using a brand that uses as few ingredients as possible when producing its pure extracts to create the highest-quality product available.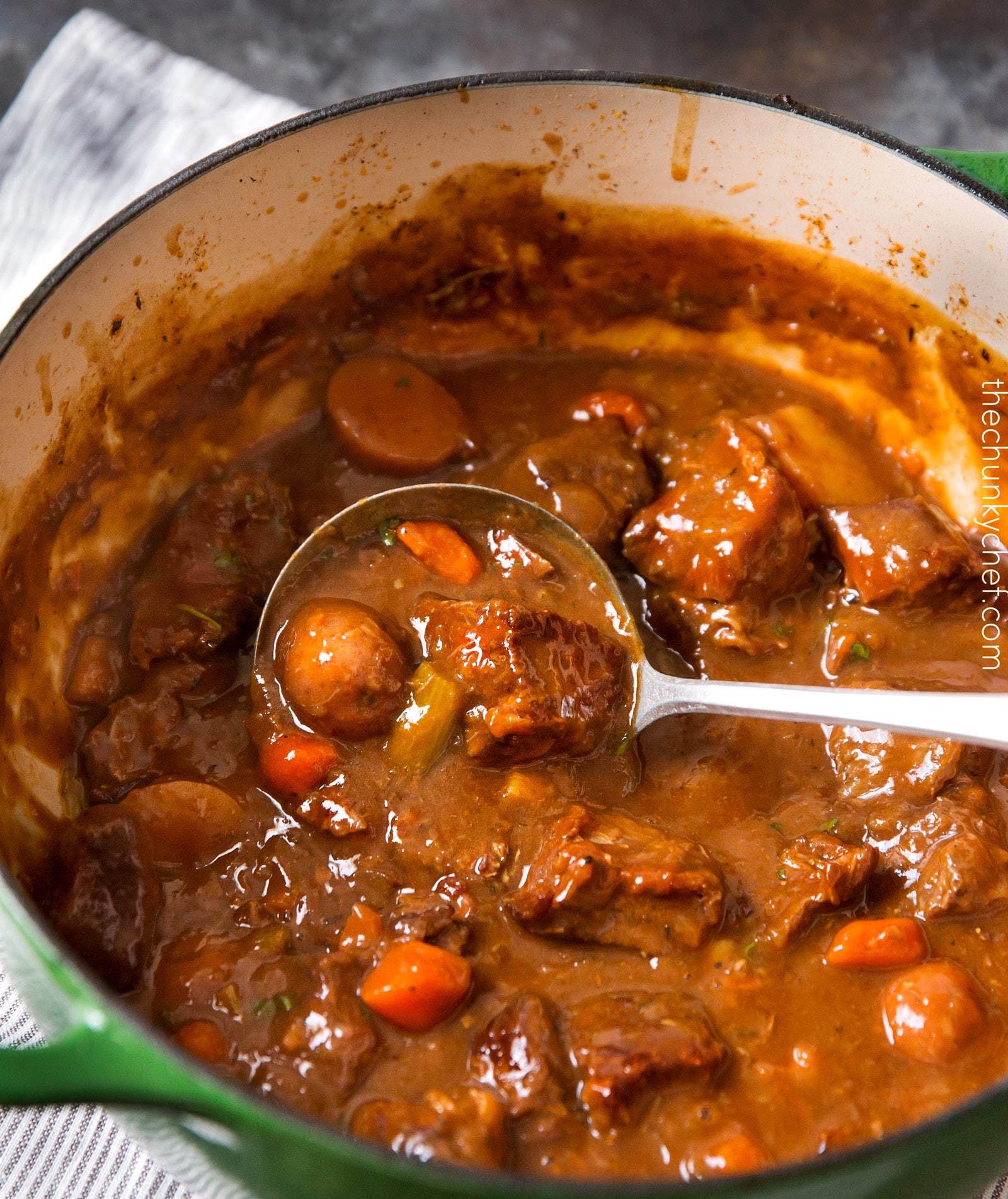 You'll notice I said "sauce", not "broth".  I like my beef stew to have a thicker, loose-gravy consistency.  After all, a stew should be thick and hearty right?  I think the picture above shows how glossy and thick it is.
One of my favorite things about this Irish beef stew, is that while it's amazing right away, the leftovers the next day are even better!  The flavors have really had time to blend together, and it reheats beautifully!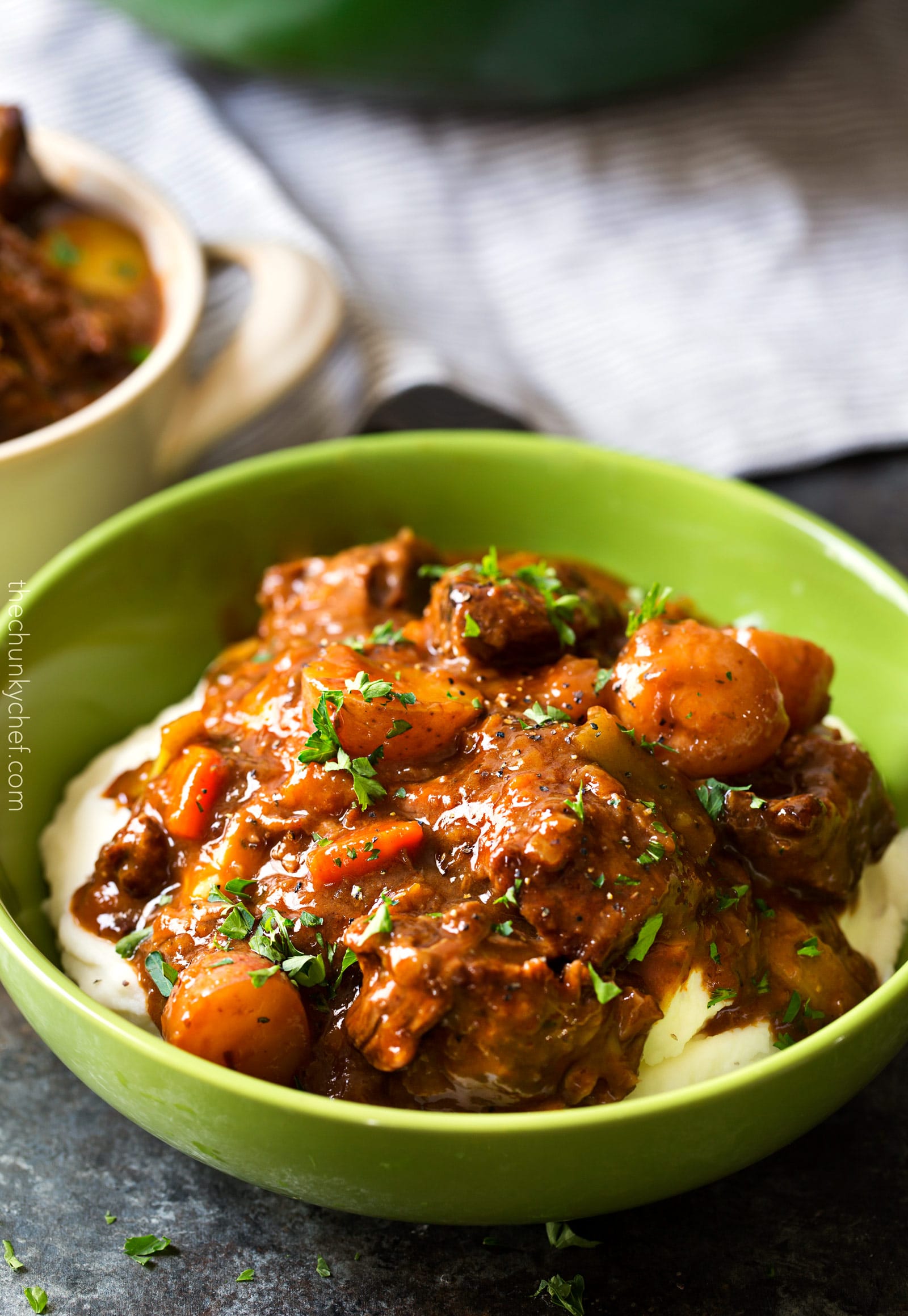 Even though this stew has some potatoes in it, sometimes I like to be a bit extra decadent and serve this stew over a pile of mashed potatoes!  If you've never had it this way, you simply have to try it!!
I have to give some photo credit here… with my help, my 7 year old daughter actually took that photo above.  She was so proud of herself, and I think it's a great one 🙂
So now that you have this amazing beef stew, what should you have with it?  Here are some suggestions:
And don't forget to round out this Irish feast with some no bake Baileys brownie batter dip or Guinness chocolate cupcakes for dessert!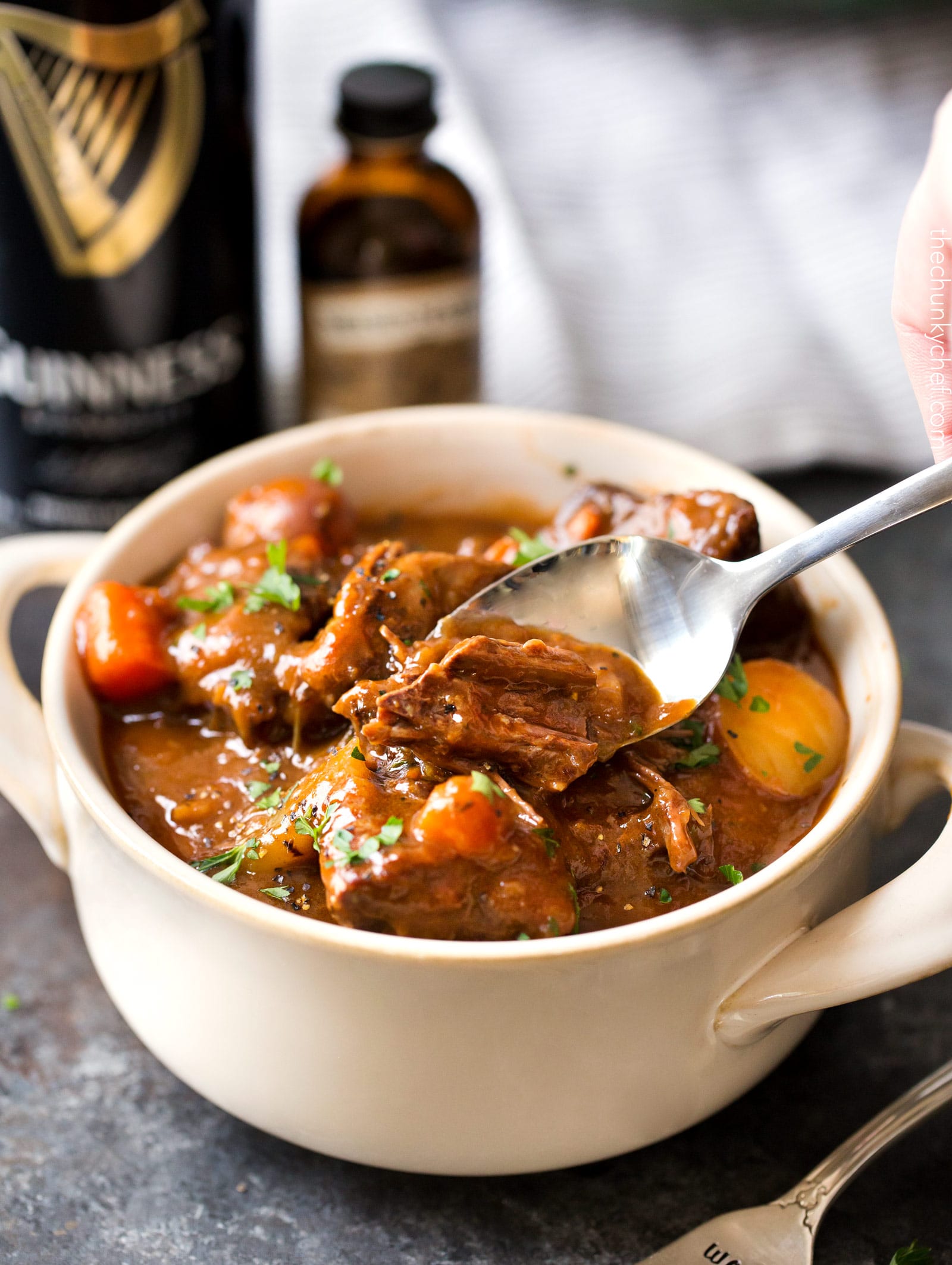 Cozy on up with a big bowl of this Guinness and Coffee Irish Beef Stew and treat yourself!
Don't forget to follow Nielsen Massey on Facebook, Instagram and Twitter for more great recipes and ideas.
---
Want to try this Irish Beef Stew?

PIN IT to your DINNER or BEEF board to save for later!

Find me on Pinterest for more great recipes!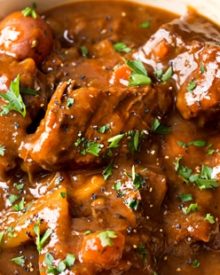 Guinness and Coffee Irish Beef Stew
Rich Irish beef stew, made with the unmistakable flavor of Guinness and coffee, makes this the most savory and mouthwatering comfort food you'll ever eat!
Ingredients
2 1/2 Tbsp olive oil
2 1/2 lbs boneless beef chuck
salt and black pepper, to season beef
4 cloves garlic, minced
2 yellow onions, chopped
7 slices bacon, chopped
3 1/2 Tbsp all purpose flour
14.9 oz can Guinness Draught beer
5 Tbsp tomato paste
3 cups chicken stock
4 carrots, peeled and cut into 1/2-1" slices
2 celery stalks, cut into 1" pieces
1 parsnip, peeled and cut into 1/2" pieces (optional)
2 bay leaves
1 tsp dried thyme (or use 3-4 sprigs fresh thyme)
1 tsp Nielsen Massey pure coffee extract
1/4 cup water
3 dried prunes, chopped (this is to mitigate any possible bitterness from the Guinness or coffee)
8 baby red skin potatoes, cut in half or quarters
Instructions
Use a sharp knife to slice beef chuck into 1 1/2-2" pieces. Dab beef with a paper towel to dry, then season liberally with salt and black pepper. Heat olive oil in a heavy bottomed pot (I love to use my dutch oven) over HIGH heat.

Add beef, in a single layer, to the pot and brown on all sides. Be careful, as the oil may spatter. Remove browned beef to a plate, then repeat with remaining beef.

Lower heat to MED, then add chopped onions and garlic. Season with salt, and cook until softened, about 3-4 minutes.

Add bacon pieces and cook until browned. Add flour and stir to combine well. Let floured mixture cook 1 minute to remove any raw flour taste. While flour mixture is cooking, combine coffee extract and water and set aside.

Pour in Guinness beer and stir well to combine and loosen any browned bits from the bottom of the pot. Add tomato paste, chicken stock, carrots, celery, parsnip, bay leaves, thyme and coffee extract mixture.

Return beef to the pot and stir. If needed, add enough water so that the beef and veggies are nearly fully covered.

Bring to a bubble, then reduce heat to LOW or so that it's simmering, cover, and simmer for 2 hours.

Remove lid, add potatoes and chopped prunes, stir, then simmer UNcovered another 30-40 minutes, until sauce has thickened to a loose gravy consistency, beef is incredibly tender and potatoes are fork tender.

If needed, skim residual fat off the surface. Taste, and adjust salt and pepper as needed. Remove bay leaves and serve.
Recipe Notes
Slow Cooker Directions:

Complete steps 1-4, add Guinness and loosen any browned bits from the bottom of the pot.  Transfer mixture to a slow cooker.  Add remaining ingredients and cook on LOW for 8 hours.

Oven Directions:

Complete steps 1-6.  Cover and bake at 325 degrees F for 2 hours 20 minutes.  Remove from oven, add potatoes and prunes, and simmer uncovered on the stovetop as directed in the recipe for 30-40 minutes to reduce sauce.