Rich Irish beef stew, made with the unmistakable flavors of Guinness and coffee, makes this the most savory and mouthwatering comfort food you'll ever eat!
Comfort food recipes like this Guinness Beef Stew are essential in the colder months. Perfect for St. Patrick's Day, but also just pure comforting bliss anytime you need a pick me up. We love easy dinners like my Beef Barley Soup, and French Onion Pork Chops! This is one of my Comfort Food recipes you'll definitely want in your dinner rotation!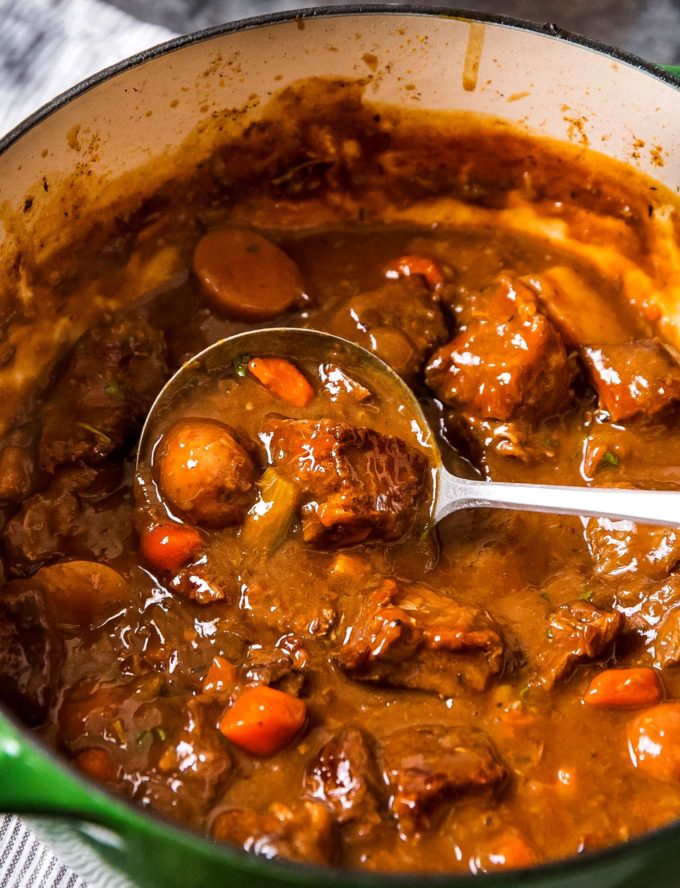 There are few things more hearty and comforting than a big pot of rich beef stew. However, this Irish beef stew with Guinness beer and coffee really takes the cake.
The Guinness and coffee flavors meld perfectly to give way to a deep, rich, lusciously savory sauce that simmers away to tenderize the beef so it's practically spoonable!
Irish stew is traditionally made with Guinness, but I really wanted to bring that rich flavor home, so I added some coffee as well.
It mimics the coffee/chocolate back-notes of the beer, lending an amazing richness to the sauce.
You'll notice I said "sauce", not "broth". I like my beef stew to have a thicker, loose-gravy consistency. After all, a stew should be thick and hearty right?
How to make Guinness beef stew
Slice beef into roughly 2 inch pieces.
Season beef and brown in dutch oven, then transfer to a plate.
Add in onion and garlic, and cook several minutes, until softened.
Cook bacon pieces until browned.
Add flour and stir well, then pour in Guinness beer, scraping the bottom of the pot.
Add tomato paste, celery, carrots, parsnip, seasonings, coffee and chicken stock. Return beef back to the pot.
Bring to a boil, then reduce heat and simmer for 2 hours.
Add potatoes and prunes and simmer for another 30-40 minutes.
Remove bay leaves and enjoy!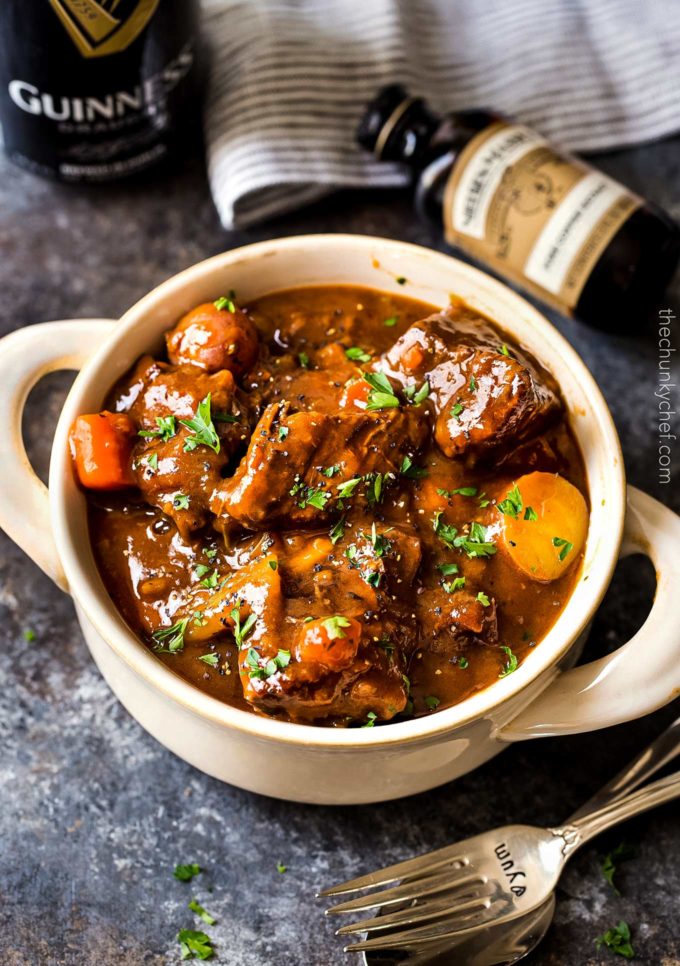 Cooking tips for Irish stew
Brown the beef – if possible… I know it's an extra step, but I love the extra flavor it adds!
Use sturdy potatoes – I love to use baby Yukon gold potatoes. They're so buttery, yet they are sturdy and hold up well to a long cooking time. Plus, there's no need to peel them, just halve or quarter them after washing.
Use tomato paste in a tube – Since you only need a little bit for this recipe, I find using tubed tomato paste easier than figuring out what to do with the remaining 5 oz of the can.
The prunes – are optional, but I highly recommend them. Both the Guinness and the coffee can be a bit bitter, and the prunes really help alleviate that.
Don't forget to dip some crusty bread into the stew!
Common cooking questions about this recipe
As a helpful guide, I've shared a few common questions about cooking a beef stew.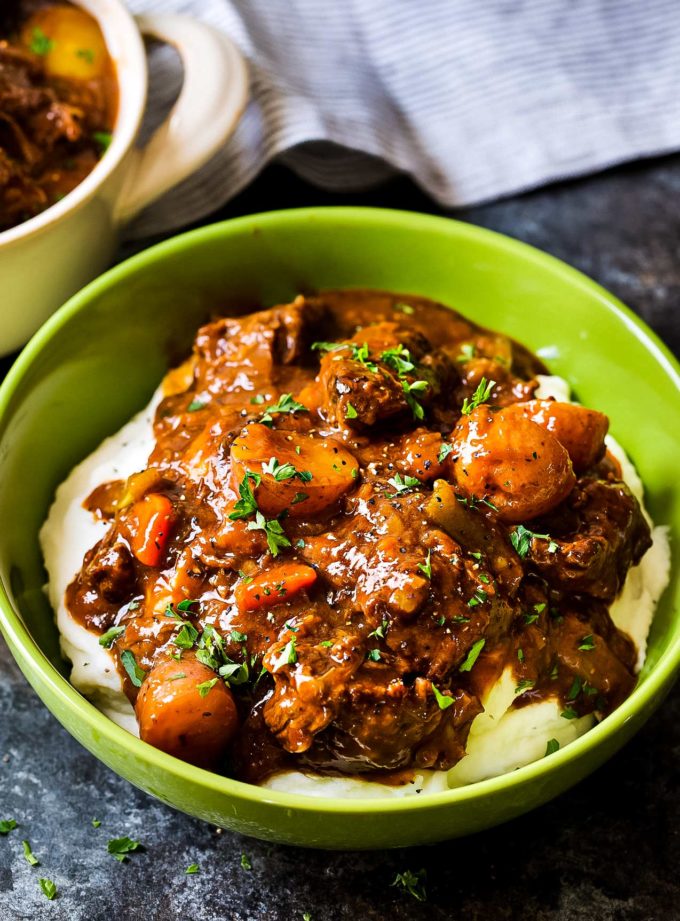 Do you cook stew covered or uncovered?
I've always cooked mine covered as it simmers, since it holds in all the heat. At the end of cooking, remove the lid and let some liquid evaporate as it simmers, which thickens the stew and concentrates the flavors.
What goes into a Guinness stew?
Generally a Guinness beef stew is made with a tough cut of meat like a chuck roast (or shoulder roast), vegetables (like potatoes, carrots, celery, parsnips, mushrooms, etc), chicken/beef broth, tomato paste, plenty of seasoning, and of course, the Guinness beer! My version uses a bit of coffee (or coffee extract) to deepen the flavors, and some prunes. The prunes help mitigate any possible bitterness from the beer.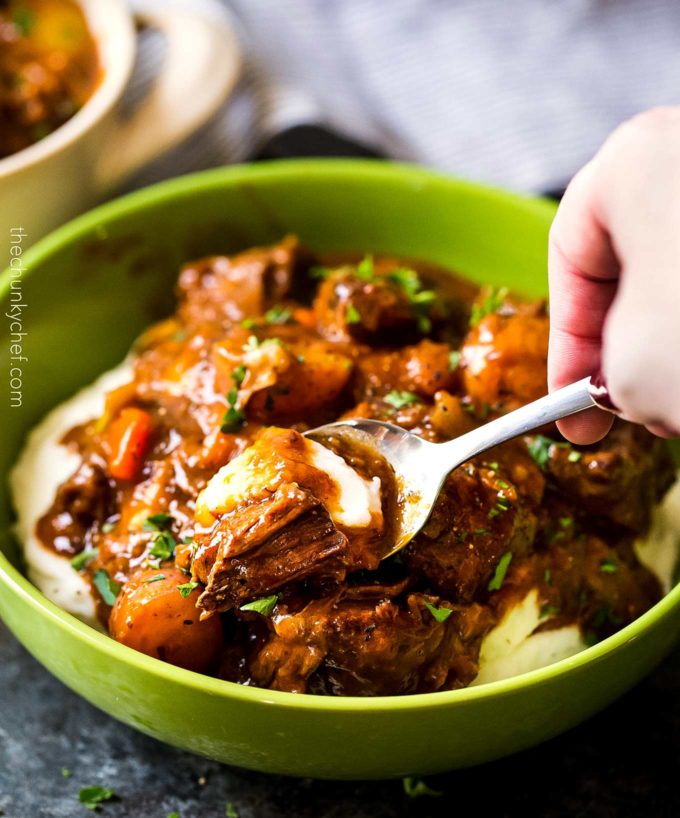 Variations of this recipe
Skip the java – not a coffee fan, or don't have any around the house? No worries, you can omit it completely.
Skip the prunes – this isn't something I regularly keep in my pantry, so if you don't have any, you can do without them. I like to use them to offset the potential bitterness of the coffee and beer, but if slight bitterness doesn't bother you, be prune-less!
Chicken vs Beef – I get a lot of questions about why I like to use chicken stock instead of beef stock here, and the reason is that surprisingly, I seem to get a more robust flavor when I use chicken stock. After some research, I found out I wasn't alone. Serious Eats has more information about why (#3 on the list), but basically it comes down to protein amounts in the two types of broths or stocks.
How to serve – we love this stew with just a spoon and some crusty bread, but it's also great on top of mashed potatoes or buttered egg noodles.
FAQ's
Is this a traditional Irish stew?
No, it's an American-ized adaptation.  Here in the US, around St. Patrick's Day, a traditional meal is a Guinness Beef Stew.  A more traditional Irish stew is made with mutton and is more of a broth-y consistency.  I prefer my stews to be thicker and full of deep, robust flavor, and beef is more readily available to my readers (and myself!).
How can you thicken up beef stew?
In case your stew doesn't thicken up the way you'd like, there are three main ways to thicken up a beef stew.  The first two involve making a slurry – which is basically adding flour or cornstarch to a cold or room temperature liquid.
Mix 1-2 Tbsp cornstarch into 2 Tbsp broth/stock, or even water. Use a fork or spoon to mix it until there are no lumps. Stir into the stew and cook on low for 20-30 minutes, stirring occasionally.
Do the same as above, but use flour instead of cornstarch.
Using a fork, mix together equal parts (I usually do 1 Tbsp each) softened butter and flour. Mix it together well, so it almost forms a ball. Add it to the stew, stir, and cook on low for 20-30 minutes, stirring occasionally.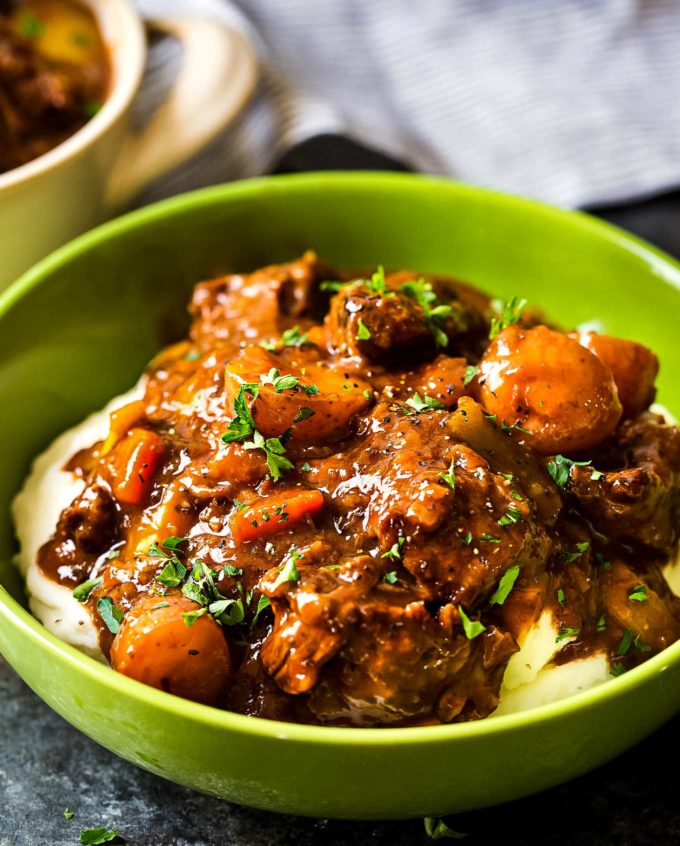 Making Guinness stew ahead of time
One of my favorite things about this Irish beef stew, is that while it's amazing right away, the leftovers the next day are even better!
The flavors have really had time to blend together, and it reheats beautifully!
Freezing
I've not tested freezing this recipe, but I think it would be just fine to freeze. Let it cool completely, then portion out into freezer containers and freeze for up to 3 months.
To thaw, place overnight in the refrigerator.
Storage
Leftovers should be stored in an airtight container in the refrigerator for up to 5 days.
So now that you have this amazing beef stew, what should you have with it? Here are some suggestions:
And don't forget to round out this Irish feast with some no bake Baileys brownie batter dip or Boozy Baileys Oreo Milkshakes for dessert!
I was compensated by Nielsen-Massey Vanillas for my time, but all opinions are my own.
Did you make this? Be sure to leave a review below and tag me @the_chunky_chef on Facebook and Instagram!
Rich Irish beef stew, made with the unmistakable flavor of Guinness and coffee.
Ingredients
2 1/2 Tbsp olive oil
2 1/2 lbs boneless beef chuck
salt and black pepper, to season beef
4 cloves garlic, minced
2 yellow onions, chopped
7 slices bacon, chopped
3 1/2 Tbsp all purpose flour
14.9 oz can Guinness Draught beer
5 Tbsp tomato paste
3 cups chicken stock
4 carrots, peeled and cut into 1/2-1″ slices
2 celery stalks, cut into 1″ pieces
1 parsnip, peeled and cut into 1/2″ pieces (optional)
2 bay leaves
1 tsp dried thyme (or use 3-4 sprigs fresh thyme)
1/4 cup brewed coffee
3 dried prunes, chopped – optional – (this is to mitigate any possible bitterness from the Guinness or coffee)
8 baby Yukon gold potatoes, cut in half or quarters
Instructions
Use a sharp knife to slice beef chuck into 1 1/2-2″ pieces. Pat beef with a paper towel to dry, then season liberally with salt and black pepper. Heat olive oil in a heavy bottomed pot (I love to use my dutch oven) over HIGH heat.

Add beef, in a single layer, to the pot and brown on all sides. Be careful, as the oil may spatter. Remove browned beef to a plate, then repeat with remaining beef.

Lower heat to MED, then add chopped onions and garlic. Season with salt, and cook until softened, about 3-4 minutes.

Add bacon pieces and cook until browned.  Add flour and stir to combine well.  Let floured mixture cook 1 minute to remove any raw flour taste.

Pour in Guinness beer and stir well to combine and loosen any browned bits from the bottom of the pot.  Add tomato paste, chicken stock, carrots, celery, parsnip, bay leaves, thyme and coffee.

Return beef to the pot and stir. If needed, add enough water so that the beef and veggies are nearly fully covered.

Bring to a bubble, then reduce heat to LOW or so that it's simmering, cover, and simmer for 2 hours.

Remove lid, add potatoes and chopped prunes, stir, then simmer UNcovered another 30-40 minutes, until sauce has thickened to a loose gravy consistency, beef is incredibly tender and potatoes are fork tender.

If needed, skim residual fat off the surface. Taste, and adjust salt and pepper as needed. Remove bay leaves and serve.
Want to save this recipe for later? Click the heart in the bottom right corner to save to your own recipe box!
Chef Tips
Slow cooker directions:
Complete steps 1-4, add Guinness and loosen any browned bits from the bottom of the pot.  
Transfer mixture to a slow cooker.  Add remaining ingredients and cook on LOW for 8 hours.
Oven directions:
Complete steps 1-6.  
Cover and bake at 325 degrees F for 2 hours 20 minutes.  
Remove from oven, add potatoes and prunes, and simmer uncovered on the stovetop as directed in the recipe for 30-40 minutes to reduce sauce.
Instant pot directions:
Season meat according to step 1, then heat oil in Instant Pot on the "sauté" function.
When hot, add beef. To get a good sear, do 2 batches and brown each batch for about 5 minutes total.
Remove meat to a plate.  Add the onions and sauté them for 2-3 minutes. 
Add bacon pieces and cook until browned.  
Add flour and stir to combine well.  Let floured mixture cook 1 minute to remove any raw flour taste.  
Add the Guinness and use a wooden spoon to scrape up any brown bits into the sauce.  Add tomato paste, chicken stock, carrots, celery, parsnip, bay leaves, thyme, coffee, potatoes and prunes to the Instant Pot.
Add the meat back to the pot.  Close the lid and make sure the valve is on "sealing". Cook on high pressure for 45 minutes. 
Let pressure release naturally for 10 minutes or so, then do a controlled quick release to get rid of any remaining pressure.
Nutrition Disclaimer
The Chunky Chef is not a dietician or nutritionist, and any nutritional information shared is an estimate. If calorie count and other nutritional values are important to you, we recommend running the ingredients through whichever online nutritional calculator you prefer. Calories can vary quite a bit depending on which brands were used.