Crispy and juicy fried popcorn shrimp, cooked in just 10 minutes in the air fryer!  Uses so much less oil than deep frying, but has all the amazing crunch you expect from fried shrimp.  Perfect for an easy weeknight dinner the whole family will enjoy!
This ultra easy Air Fryer Fried Shrimp recipe is a winner when it comes to quick weeknight dinners!  We love easy seafood dishes, like my Honey Lime Shrimp, and Tuscan Salmon. This is one of my Dinner recipes you'll definitely want in your recipe rotation!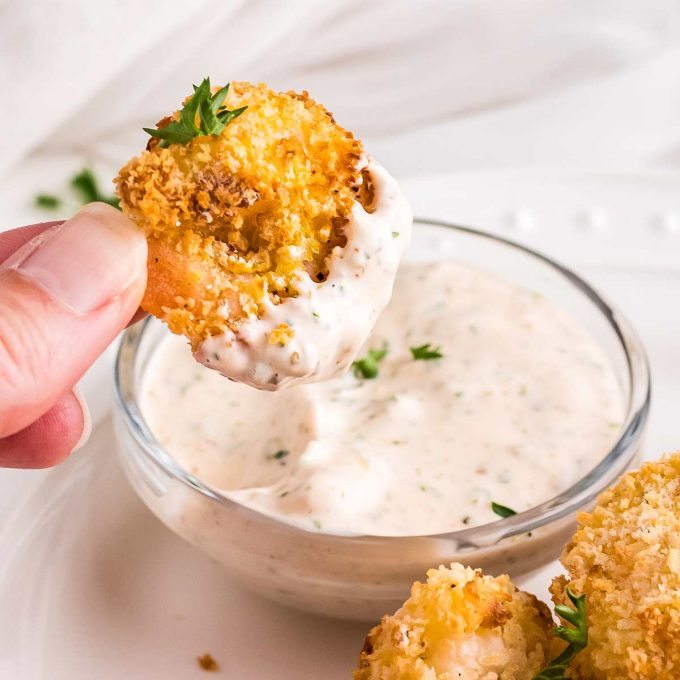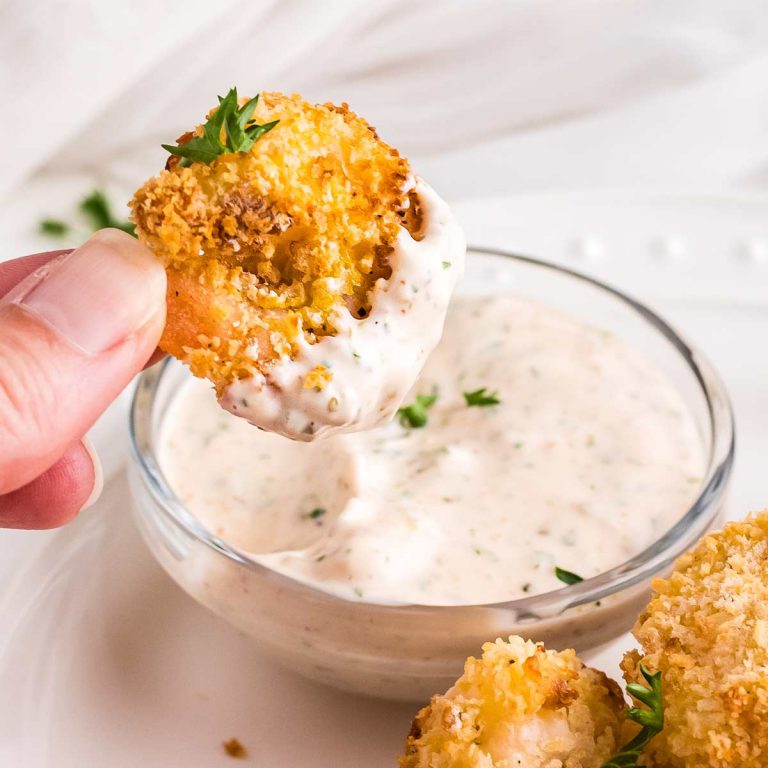 AIR FRYER FRIED SHRIMP RECIPE
Admittedly, I've never been a huge seafood fan in the past, and even though that's changing (mainly thanks to this honey garlic salmon!), a part of me will always love fried shrimp.  Even when I'd turn my nose up at everything else on the seafood menu, popcorn shrimp was always a "yes".
There's something so amazing about that crunchy coating and plump shrimp inside!
But deep frying can be a bit messy and intimidating if you're not used to doing it… not to mention all the oil you end up consuming.  That's where the air fryer comes in!  All the crunch with a fraction of the oil!
These fried shrimp are perfect as a fun family meal, or as an appetizer.  They're so fun and pop-able!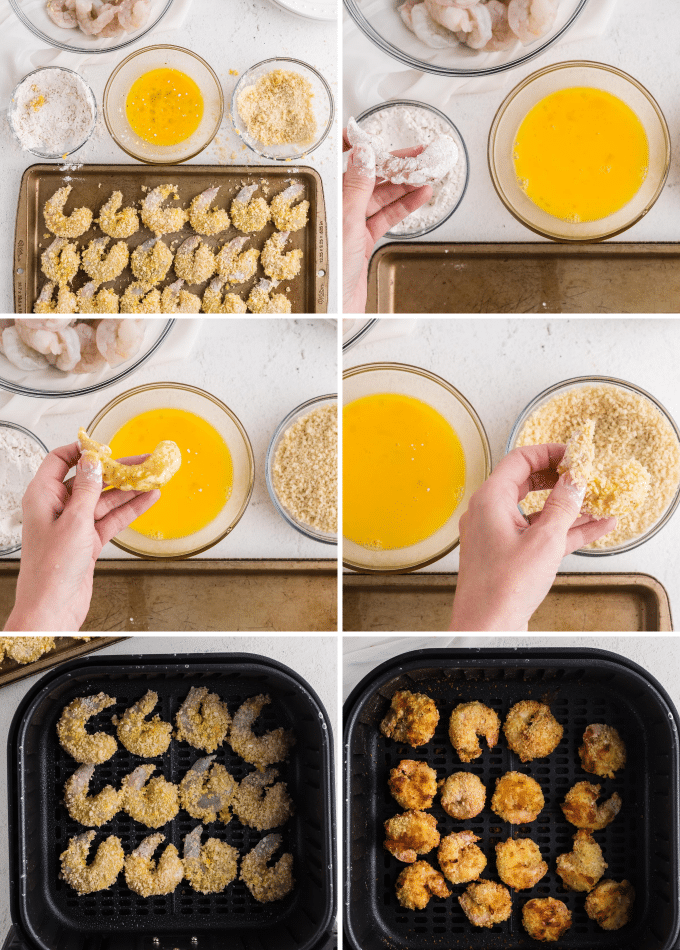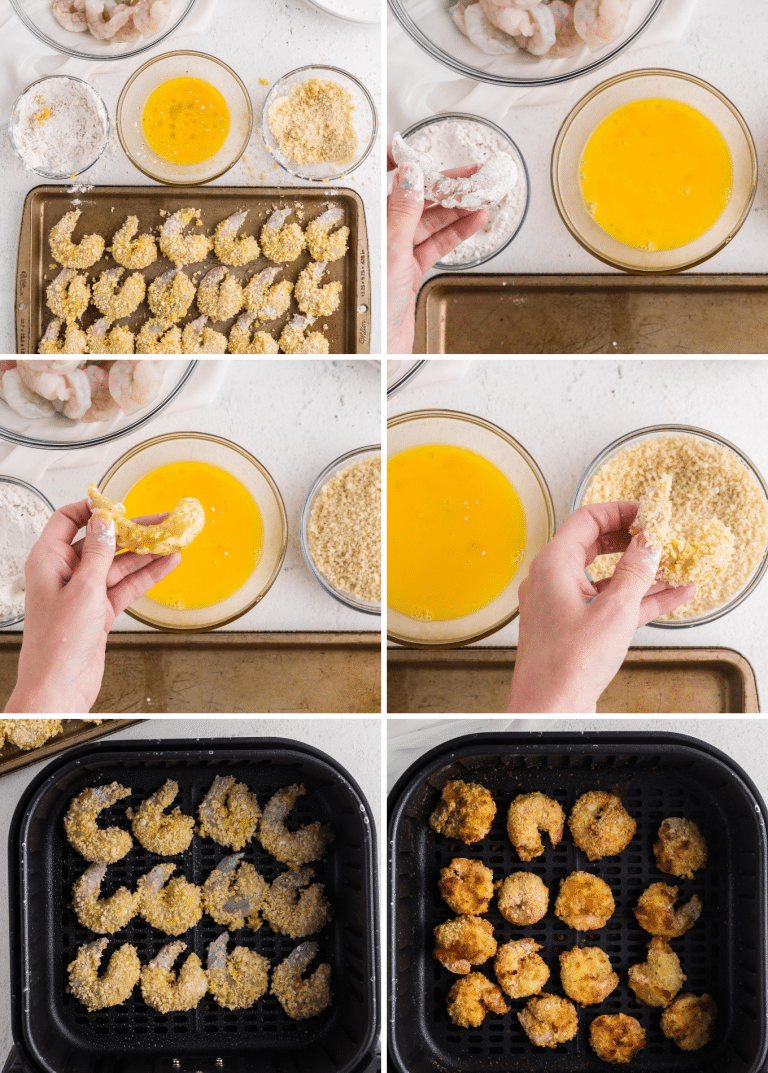 HOW TO MAKE FRIED SHRIMP IN THE AIR FRYER
Prepare breading station. You'll need three shallow bowls. Flour and seasonings in one, eggs in the second, and breadcrumbs and seasonings in the third. 
Bread shrimp. Coat shrimp in flour mixture, in eggs, and in panko mixture.  Do this one at a time, then repeat with remaining shrimp.
Fry shrimp. Cook shrimp in a 390°F air fryer for 5 minutes, shake basket and spray with oil, then cook another 5 minutes.
ADDITIONAL COOKING TIPS
This is a fairly straightforward recipe, but there are still a few helpful tips I wanted to share.
FRESH VS FROZEN SHRIMP
You can absolutely use either fresh or frozen shrimp for this recipe.  If using fresh, be sure they're peeled and deveined… and, well, fresh. Shrimp doesn't have a long shelf-life, so it's best to make this recipe using shrimp you just purchased no more than 1 day before.
If using frozen, make sure they're also peeled and deveined (tails on or off – it's up to you), and that they're fully thawed.  If you forgot to thaw them, add the bag to a bowl of cold or room temperature water and let it sit.  This is the quickest way to thaw them. Also, if using frozen and thawed shrimp, make sure to pat them very thoroughly dry before breading them.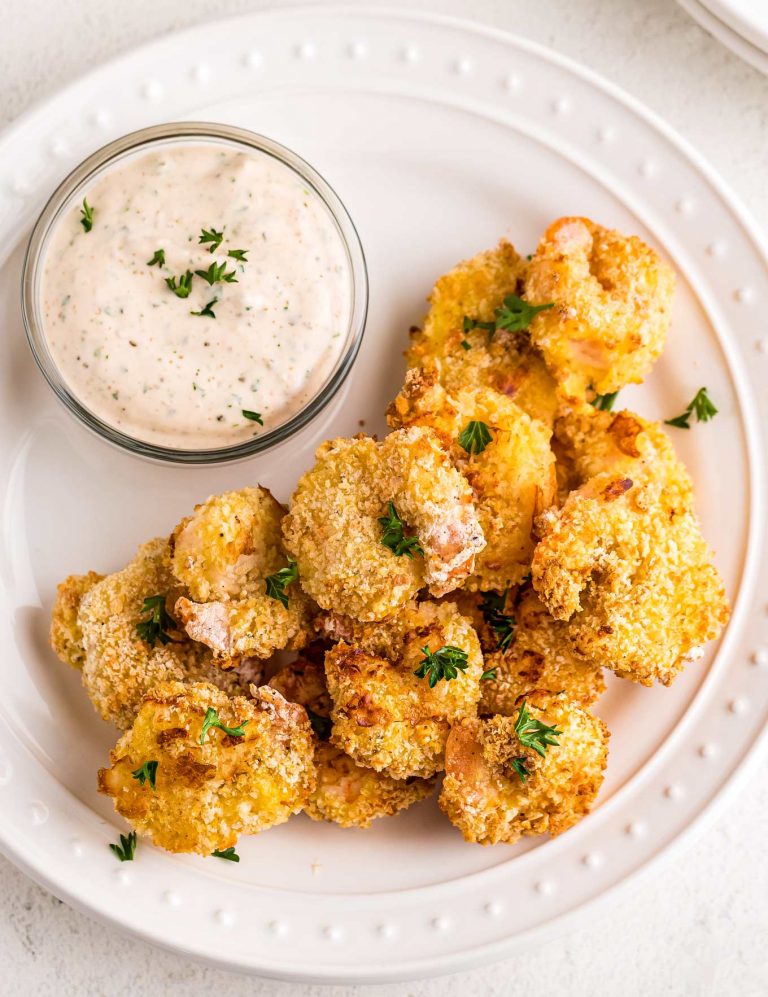 LAYERS
I'll mention this several times throughout the post, but you really want to make sure the shrimp is in ONE layer in the air fryer.  This way they can all get as crispy as possible.  If the shrimp is on top of one another, they'll sort of steam.
MESSY MESSY MESSY
Breading anything can be very messy and frustrating, so here's how I do it.
Have one hand your designated "wet hand".  It's the one you pick up the raw shrimp, toss it in the flour, give it a bath in the egg mixture, and place it in the panko dish.  Then use your other designated "dry hand" to coat it in the breadcrumbs.
This helps you not "bread" your fingers and end up with a big mess to clean.  Better yet, wear disposable gloves!

VARIATIONS OF THIS RECIPE
ALL SIZES – you can make this recipe using any size shrimp you like.  Just make sure that you're adding the shrimp in one even layer, otherwise they won't get as crispy.
BAKED – no air fryer? No problem! Check out the recipe notes section for the details.
FRIED – if you'd rather go for a deep-fried alternative, you can definitely do that.  Just heat about an inch and a half of vegetable or peanut oil to a heavy bottomed pot and heat over MED heat until about 375°F.  Bread shrimp as written, then fry, several at a time, for about 3-4 minutes per side.
SPICES – I kept the spices for this fried shrimp recipe fairly neutral in flavor, but you can absolutely jazz them up a bit!  Add some lemon zest and more black pepper for a lemon pepper version, some cajun seasonings for some fun cajun fried shrimp, etc.
MAKING FRIED SHRIMP AHEAD OF TIME
As with anything fried/breaded, these fried shrimp taste best when made right before serving.  However, you can mix up the seasoned flour and seasoned breadcrumbs ahead of time.  Just keep them sealed in an airtight container at room temperature.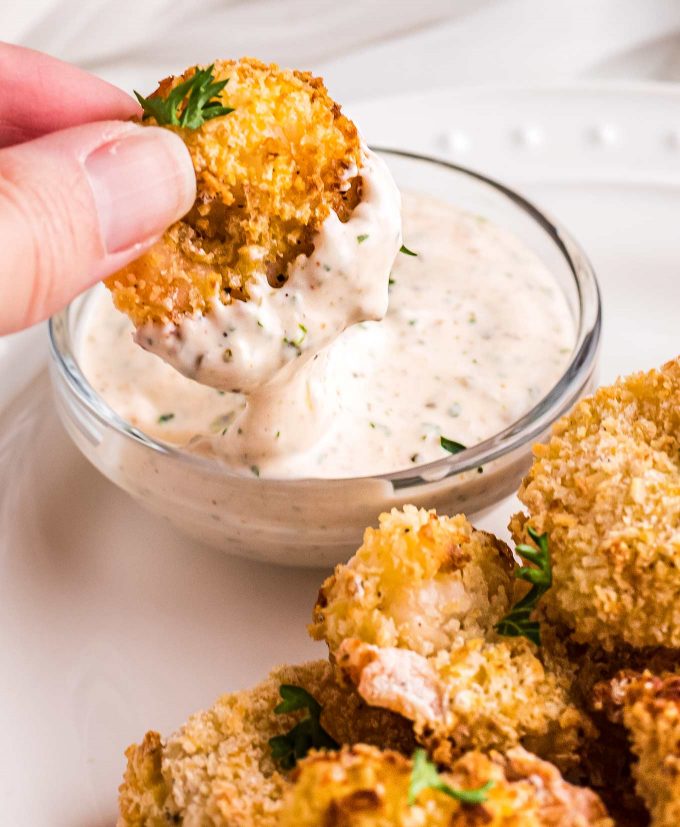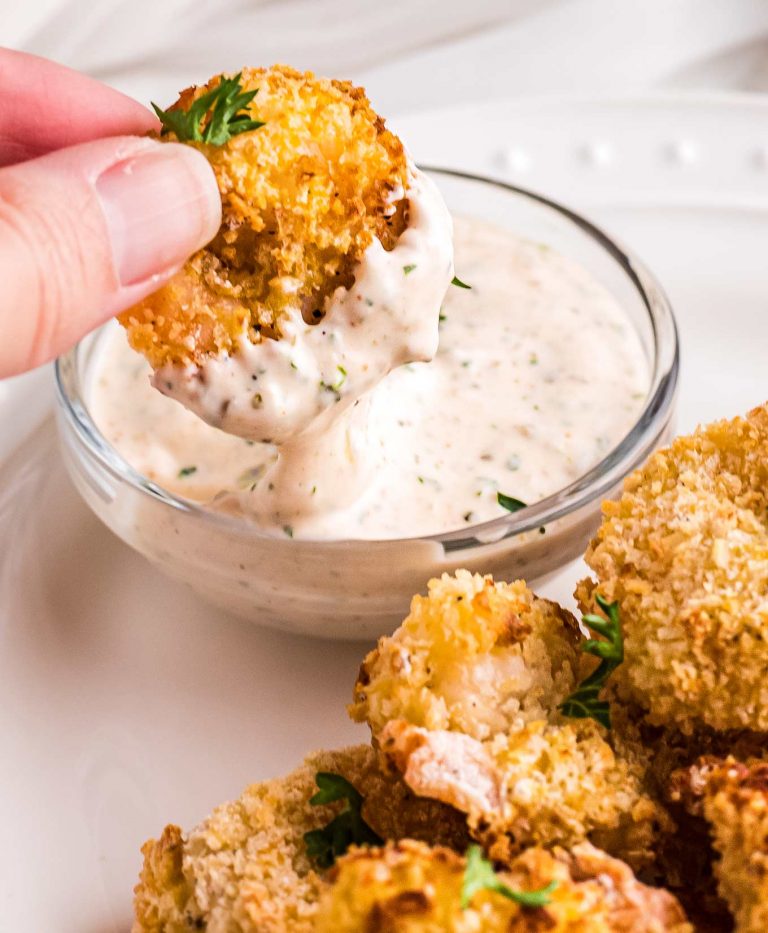 STORAGE
Leftovers should be refrigerated in an airtight container and consumed within 3 days.
To reheat, preheat air fryer to 390°F and cook the shrimp about 4-5 minutes, until heated through and crispy!
SPECIAL EQUIPMENT FOR THIS RECIPE
Air Fryer – there are a TON of air fryers out there, but this is the model I have in my kitchen.
Remoulade Sauce – you can use any dipping sauce you like, but this is a quality store-bought remoulade sauce that we use often.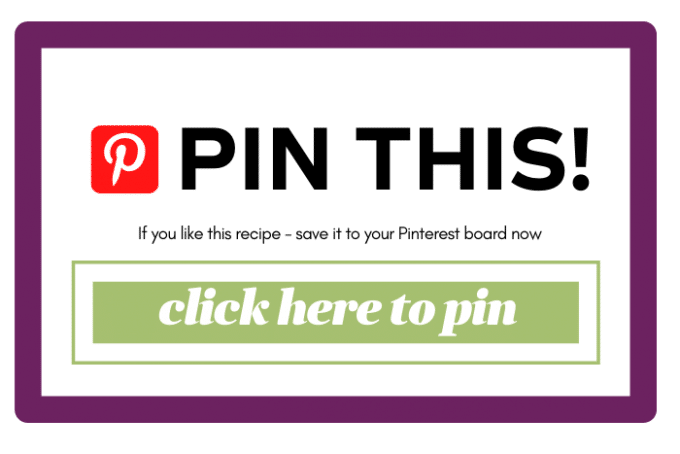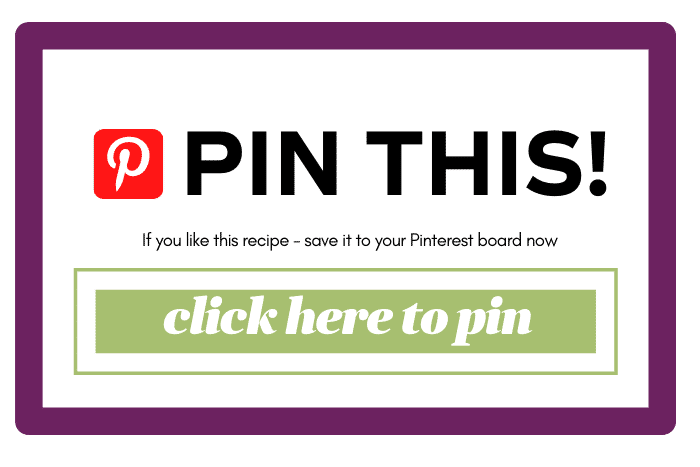 BE SURE TO SCROLL DOWN TO CHECK OUT OTHER READERS' COMMENTS FOR TIPS AND REVIEWS.
AND DON'T FORGET, IF YOU'VE MADE THIS RECIPE, LEAVE A COMMENT AND PLEASE GIVE IT A STAR RATING LETTING ME KNOW HOW YOU ENJOYED IT!
Did you make this? Be sure to leave a review below and tag me @the_chunky_chef on Facebook and Instagram!
Crispy and juicy fried popcorn shrimp, cooked in just 10 minutes in the air fryer!
Ingredients
1/2 cup all purpose flour
2 tsp black pepper divided
2 tsp kosher salt divided
1 tsp paprika divided
1 cup panko breadcrumbs
2 large eggs beaten
1 lb. peeled and deveined raw shrimp (I normally use 21/25)
canola oil cooking spray (or any nonstick spray)
store-bought remoulade sauce
Instructions
Get out 3 shallow bowls. To the first one, add flour, 1 tsp black pepper, 1 tsp salt, and 1/2 tsp paprika. Stir with a fork until combined.

In the second bowl, add 2 eggs and whisk. In the third bowl, add the panko and the remaining 1 tsp black pepper, 1 tsp salt and 1/2 tsp paprika. Stir with a fork to combine.

Pat shrimp dry with a paper towel, then coat the shrimp, one at a time, in the flour mixture, then in the eggs, then in the panko mixture. Set aside on a plate and repeat with remaining shrimp.

Preheat air fryer to 390°F. Add breaded shrimp in a single layer to the bottom of the air fryer basket. Lightly spray with a canola oil cooking spray, then cook for 5 minutes.

Shake the basket, lightly spray with oil again, and cook another 5 minutes, or until shrimp is golden brown.

Serve hot, with any dipping sauces you like.
Want to save this recipe for later? Click the heart in the bottom right corner to save to your own recipe box!
Chef Tips
If using frozen shrimp, make sure they're fully defrosted and pat them very dry.
To make more shrimp, you'll need to cook in batches so they can cook in an even layer.  If you pile them on top of each other, they'll steam, and won't get as crispy.
Nutrition Disclaimer
The Chunky Chef is not a dietician or nutritionist, and any nutritional information shared is an estimate. If calorie count and other nutritional values are important to you, we recommend running the ingredients through whichever online nutritional calculator you prefer. Calories can vary quite a bit depending on which brands were used.