Chicken Alfredo is a classic Italian-American dish that is the ultimate epitome of comfort food. This lightened up version lowers the overall calories and fat, while still keeping all the amazing creamy flavors you crave!
This is one of my Pasta recipes I know you'll want to keep on hand!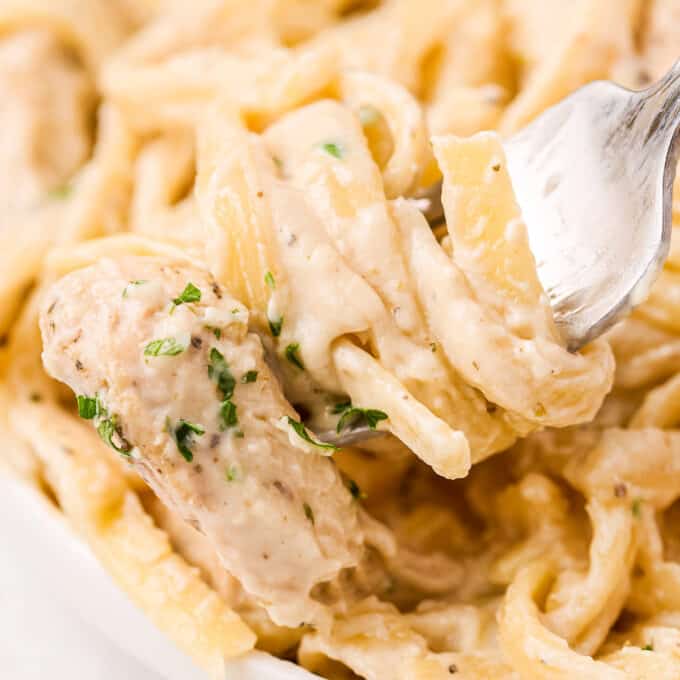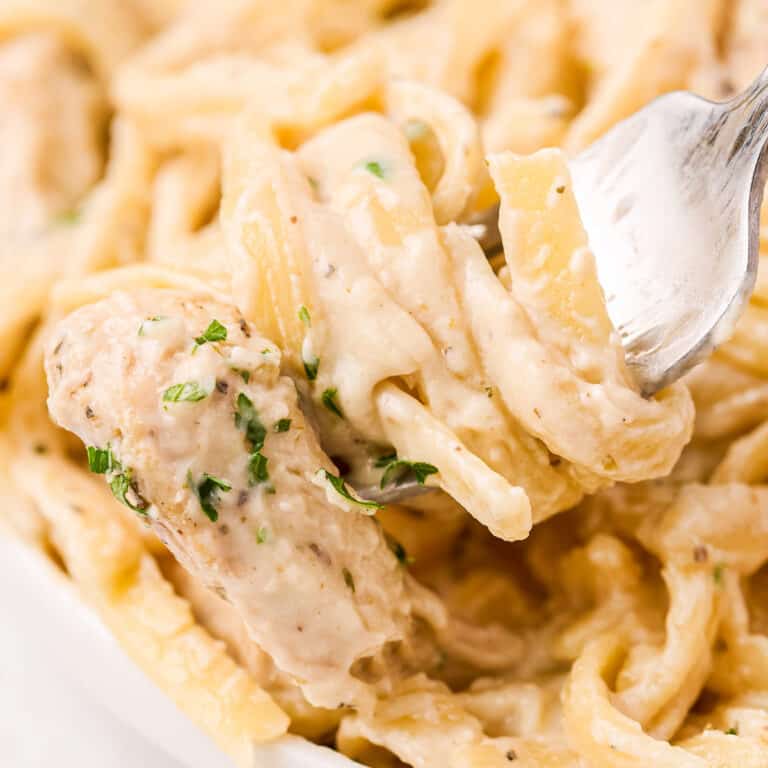 Happy New Year!! Did you make any resolutions? I don't usually make them, but rather set some quarterly goals that seem much more attainable than year-long resolutions.
Regardless of what you call them, a very common one is to eat healthier/lose weight. January is the month where gym memberships skyrocket and people are eating a lot lighter.
I don't know about you, but when I'm eating healthier, I still crave some good, stick to your ribs, comfort food. Not every day, but as a treat you know?
That's where this recipe for a healthier chicken alfredo comes into play. It hits all those comfort food flavor notes, is deliciously creamy, yet lighter than the original version.
How to make healthier chicken alfredo?
This is just an overview; the full ingredients and directions are in the recipe card toward the bottom of this post.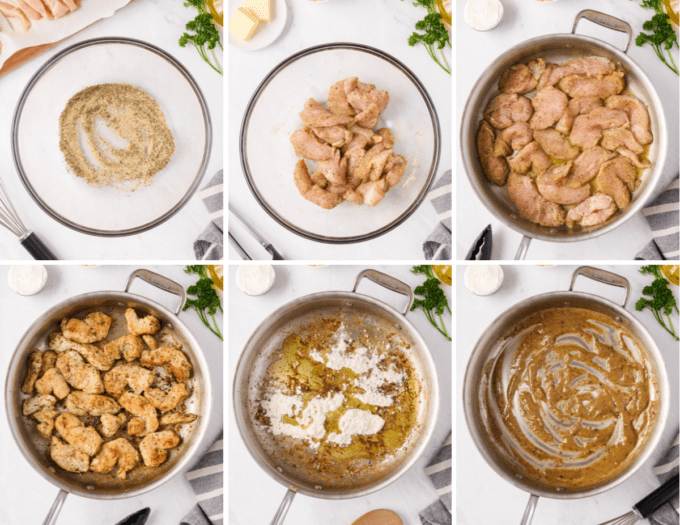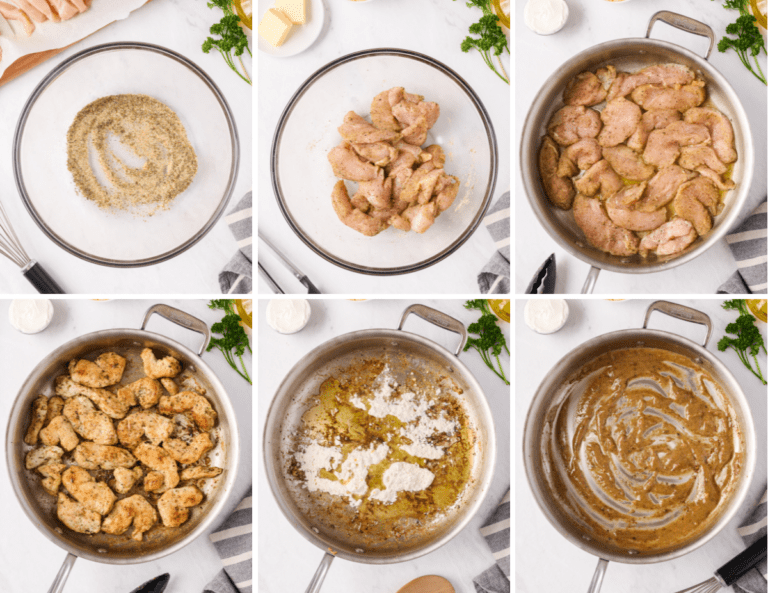 Boil pasta. Do this according to package directions, then drain.
Combine seasonings and season sliced chicken.
Cook chicken. Make sure to cook the chicken in a single layer so the pieces can get evenly browned.
Set chicken aside.
Make roux. Melt some butter and oil, then whisk in flour until smooth and combined.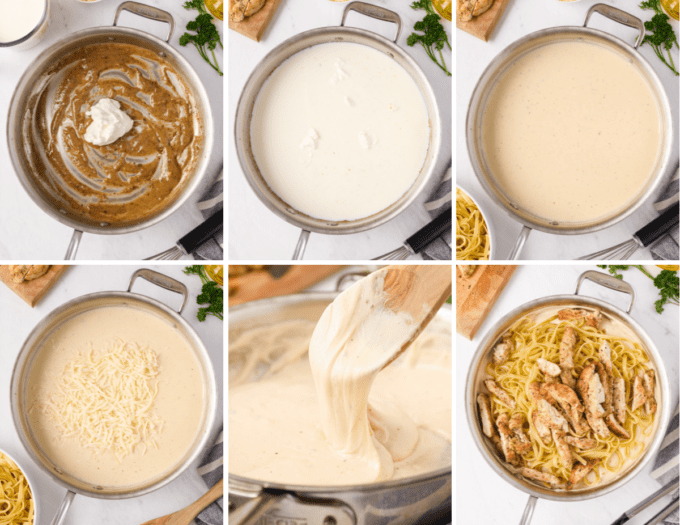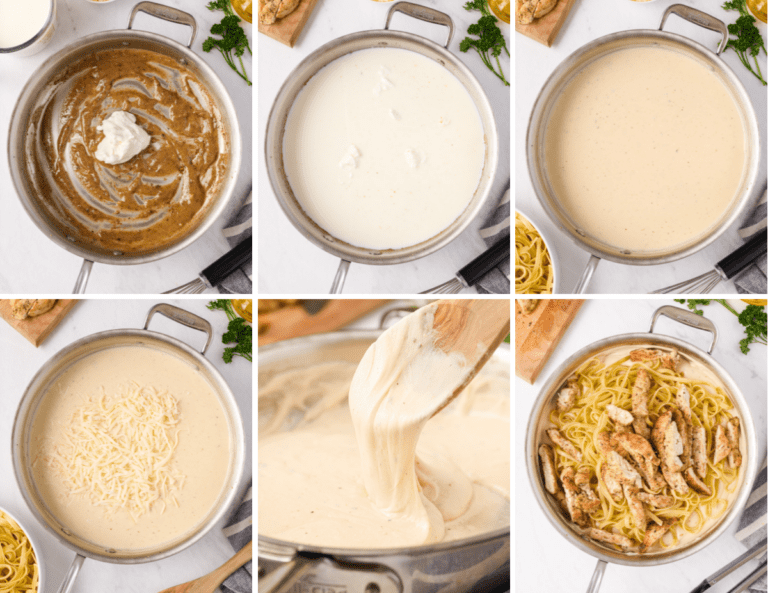 Add dairy. Stir in Greek yogurt and milk, whisking until combined.
Thicken. Simmer sauce until thickened enough to coat the back of a spoon.
Stir in cheese. Do this off the heat, until smooth and thick.
Combine. To the skillet with the sauce, stir in the pasta and chicken.
Helpful Tip!
After searing the chicken in the skillet, don't wipe it out or clean it. All those browned bits on the bottom of the skillet add so much flavor to the sauce.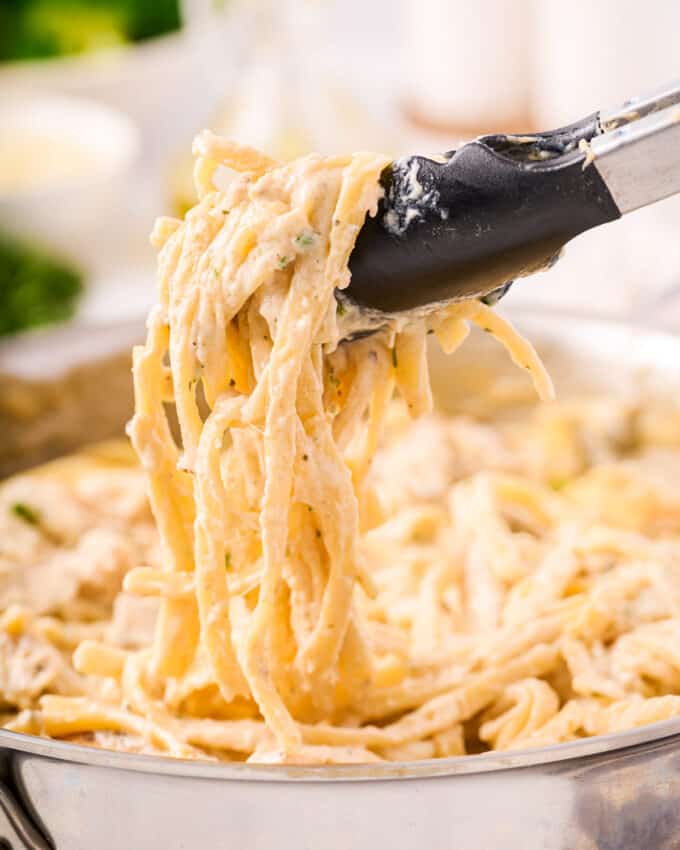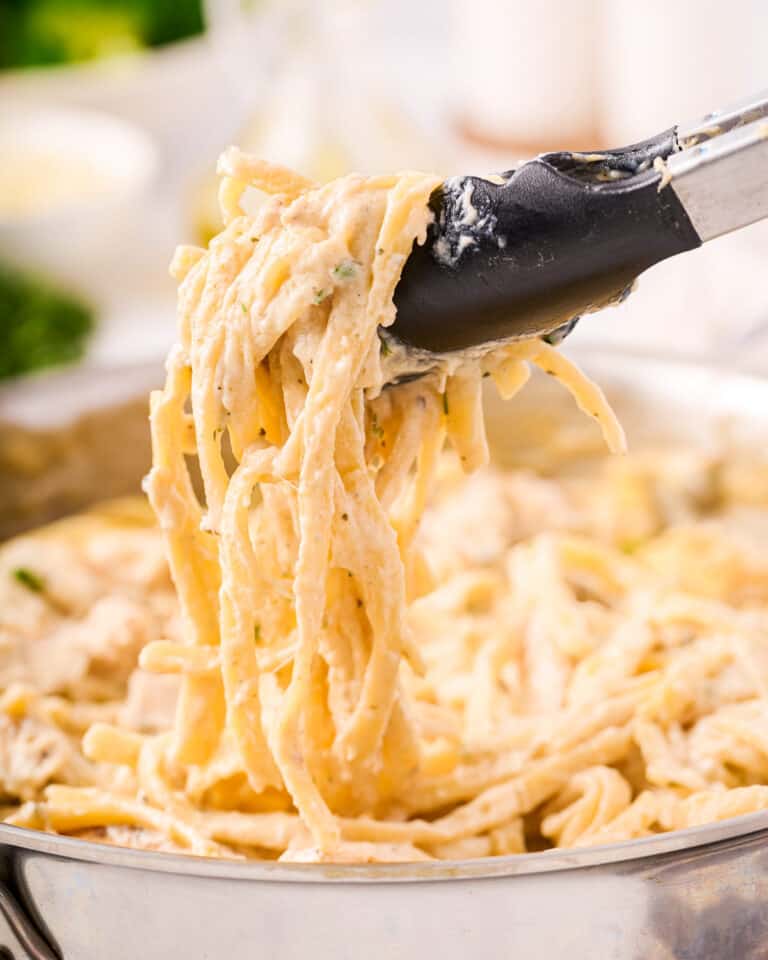 Variations of this recipe
Protein – we like to use boneless skinless chicken breasts for the low fat content, but this recipe is equally delicious with boneless skinless chicken thighs, shrimp, steak, etc.
Dairy/Non-Dairy – this recipe was photographed using 2% milk, however it will also work with any type of milk, including almond milk and soy milk.
Sour cream – you can use sour cream instead of plain Greek yogurt if you'd like, although it will likely add extra calories.
Cheese – Alfredo sauce is traditionally made with Parmesan cheese, but since we're lightening things up here, I use mozzarella since it has less calories. Feel free to use half mozzarella and half Parmesan, or any ratio you'd like.
Garlic/Onion – to keep this sauce nice and smooth, I use garlic powder and onion powder, but if you prefer to use produce, you absolutely can. I would use 2-3 cloves of garlic and 1/2 a medium onion, both minced.
Pasta – to keep things classic, I use fettuccine pasta. However, any cut of pasta will work for this recipe, so use your favorite, or what you have on hand.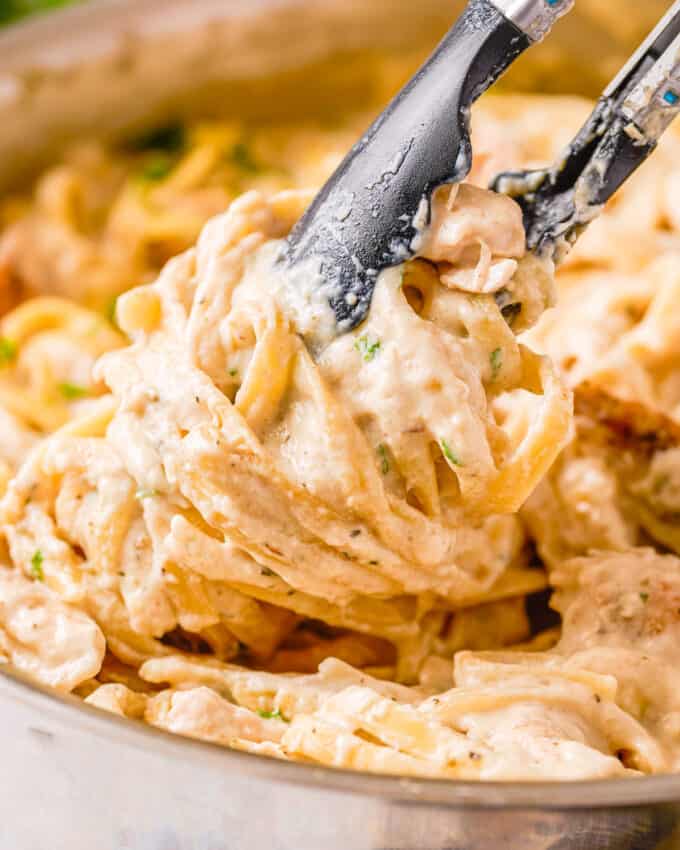 FAQ's
What is Alfredo sauce usually made of?
Typically, Alfredo sauce is made with a combination of butter, heavy cream, and Parmesan cheese. The beauty is in the simplicity.
How is this Alfredo recipe healthier?
Since I'm not a nutritionist or dietician, I'm just speaking in general here… but this recipe uses low fat milk instead of cream, less butter, simple seared chicken instead of pan frying it, and mozzarella cheese instead of Parmesan.
Can chicken Alfredo be made gluten-free?
Our household is not gluten-free, so again, please take this with a grain of salt and make sure to read all labels. But yes, it can be. Use gluten-free pasta, and instead of flour, use cornstarch or arrowroot powder.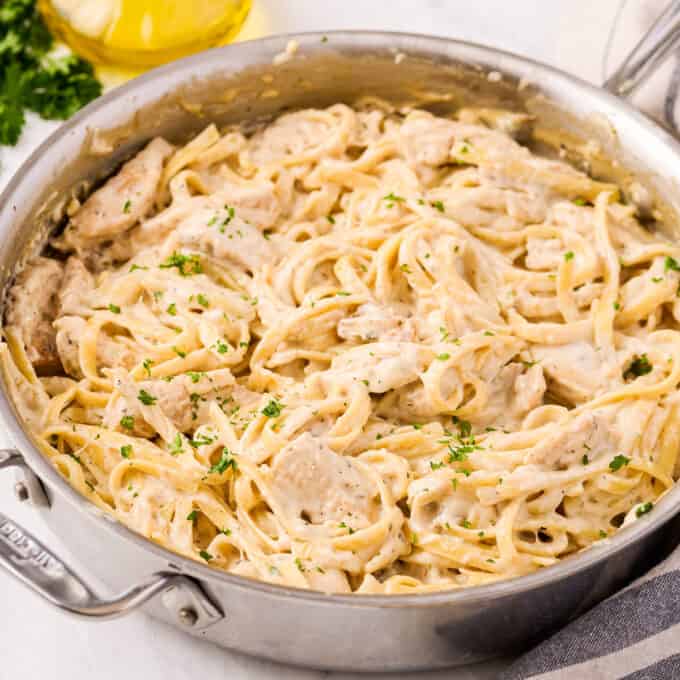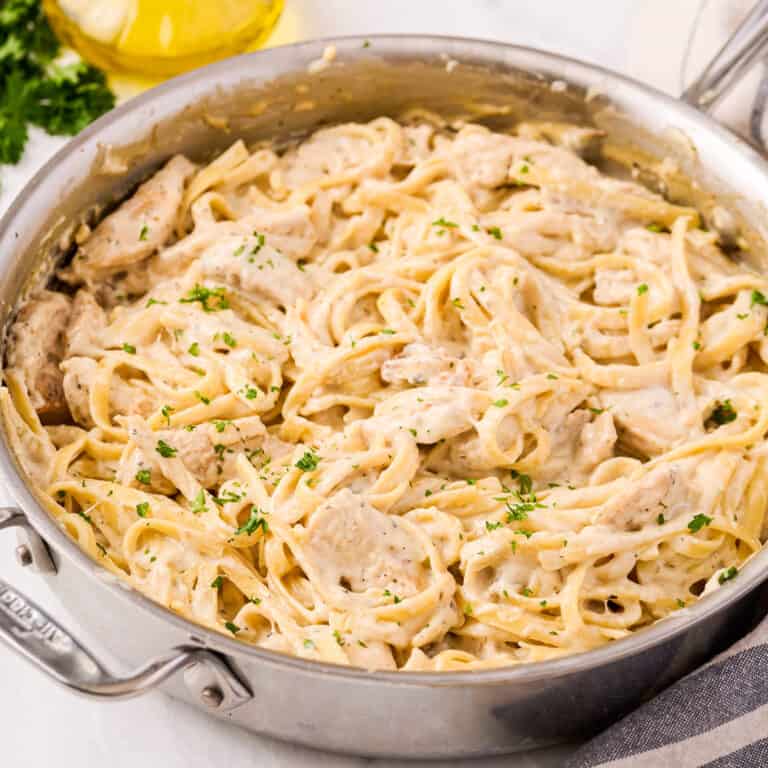 Making chicken alfredo ahead of time
Personally I think fettuccine alfredo and chicken alfredo are best when made fresh, otherwise they lose some of the amazing creaminess.
However, you can certainly prep this meal a day ahead of time, making it easy to cook on a busy weeknight!
Chicken – chicken can be sliced ahead of time and stored in the refrigerator in an airtight container.
Spices – spices can be pre-measured and stored at room temperature until ready to use.
Pasta – pasta can be boiled ahead of time (I like to boil mine a minute or two shy of al dente), tossed with a bit of oil if desired, cooled and stored in the refrigerator in an airtight container.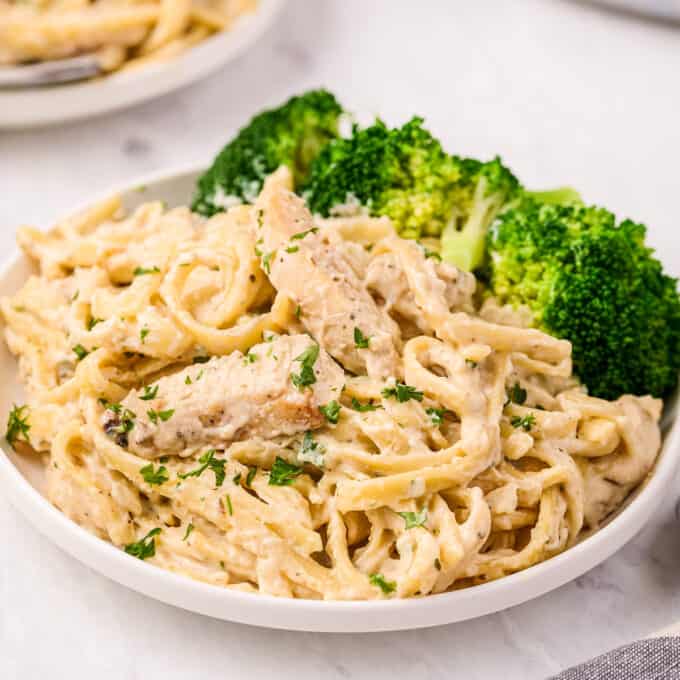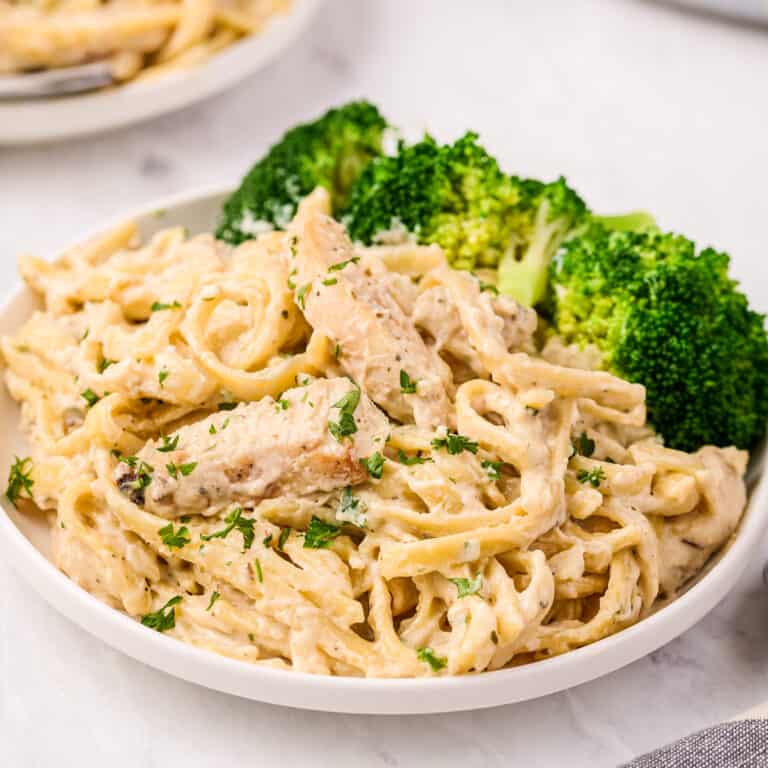 Storage
Leftovers should be stored in an airtight container in the refrigerator for up to 3-4 days. Reheat as desired, with a splash of milk or water to make the sauce creamy again.

This pan is definitely not cheap, but I wanted to be transparent that this is the pan that's featured in the photos above. You can use any large and deep skillet/pan; I just recommend at least 10-12″ in diameter and/or a 3 quart capacity (this makes it easy to toss everything together at the end).
Did you make this? Be sure to leave a review below and tag me @the_chunky_chef on Facebook and Instagram!
Chicken Alfredo is a classic Italian-American dish that is the ultimate epitome of comfort food. This lightened up version lowers the overall calories and fat, while still keeping all the amazing creamy flavors you crave!
Ingredients
8 oz dried fettuccine pasta
1 tsp garlic powder
1 tsp dried Italian seasoning
3/4 tsp onion powder
3/4 tsp kosher salt
1/2 tsp black pepper
2 boneless skinless chicken breasts sliced into 1/2" thick slices
4 Tbsp unsalted butter divided
1 Tbsp olive oil
3 Tbsp all purpose flour
2 cups low fat milk (I use 2%)
1/4 cup plain Greek yogurt
3/4 cup shredded mozzarella cheese
minced fresh parsley optional garnish
Instructions
Bring a large pot of water to a boil. Once boiling, add some salt, then boil pasta according to package directions.

Set out the milk, yogurt, and cheese so they can come to closer to room temperature.

Combine garlic powder, Italian seasoning, onion powder, salt and pepper. Season the chicken on both sides.

Heat a large, deep skillet over MED HIGH heat. Once hot, add 2 Tbsp of the butter, then when melted, add the chicken in a single layer. Cook, approximately 2-3 minutes per side, until cooked through. Set chicken aside on a plate, but don't clean out the skillet.

To the same skillet, add remaining 2 Tbsp of butter and 1 Tbsp olive oil and melt over MED heat. Once melted, add flour, whisking together until combined.

Cook 1-2 minutes, whisking often, then add the milk and Greek yogurt. Whisk together until smooth, then reduce heat to LOW and simmer.

Simmer several minutes until sauce thickens enough to at least coat the back of a spoon.

Once thickened, remove from the heat and stir in the mozzarella cheese until melted and combined.

Add drained pasta and cooked chicken to the skillet and stir until combined and heated through.

Garnish with some minced fresh parsley if desired. Taste and add a sprinkle of salt and pepper if desired.
Want to save this recipe for later? Click the heart in the bottom right corner to save to your own recipe box!
Chef Tips
For the best results, set out the measured amount of milk, yogurt, and cheese so they will be closer to room temperature when you use them.  Cold ingredients don't combine as well.
I know this isn't the healthiest possible recipe, but compared to the same recipe that uses all butter, heavy cream, sour cream, and Parmesan cheese, this recipe is estimated to be half of the calories, fat, sodium, etc.
Nutrition Disclaimer
The Chunky Chef is not a dietician or nutritionist, and any nutritional information shared is an estimate. If calorie count and other nutritional values are important to you, we recommend running the ingredients through whichever online nutritional calculator you prefer. Calories can vary quite a bit depending on which brands were used.