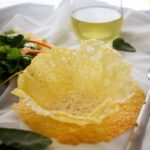 Print Recipe
Edible Laced Parmesan Bowls
Easy to make, yet incredibly impressive, these edible Parmesan bowls are amazing!
Preheat oven to 350 degrees and line a baking sheet with foil. Spray liberally with cooking spray (you don't want your cheese to stick!).

Spread 1/4 cup grated Parmesan cheese out into a thin circle. Use your fingers to make sure it's in an even layer.

Bake for 5-10 minutes, until bubbly and just lightly golden brown. Watch it carefully!

Let cool on the baking sheet for 10-20 seconds, then use a spatula to carefully drape the cheese over a small inverted bowl.

Let cool.