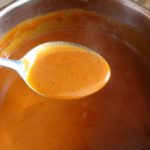 Print Recipe
Homemade Enchilada Sauce
You'll never want store bought enchilada sauce again!
Heat oil in a saucepan over medium high heat. Add flour and whisk together over the heat for one minute. Stir in the remaining seasonings (chili powder through cayenne pepper). Then gradually add in the stock, whisking constantly to eliminate lumps. Reduce to low and simmer 10-15 minutes until thickened.

Use immediately or refrigerate in an air-tight container for up to two weeks.