I have a confession to make… and one that you may be shocked to hear.  I can not stand going to the mall.  I actually can't stand shopping in general.  I detest it.  Yes, I am a woman… who hates shopping.  I feel like I should turn in my woman card lol.  But on the rare occasion that I do find myself at the mall… the only part I enjoy is stopping by a certain pretzel shop and getting a soft pretzel to scarf down and enjoy every delicious bite!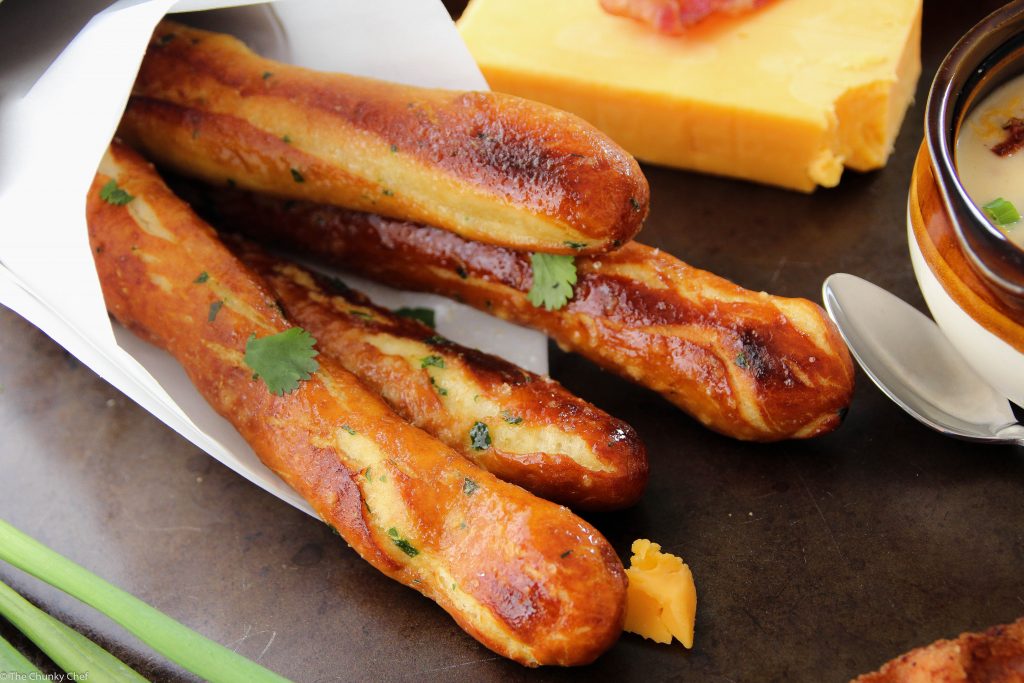 So of course I've been wanting to make my own pretzels for a while now… I mean, why torture myself with the mall just so I can have a yummy soft pretzel?  For some reason, I've always been a little scared to try making pretzels.  Which is kind of ridiculous… I mean if they turn out badly, it's certainly not the end of the world right?  But like most things, I end up talking myself out of trying it lol.
Well, no more… I finally put on my big girl pants and tried it.  And you know what?  They. Were. Amazing!  It's a little bit of work, but totally worth it, I promise you!  Seriously, insanely good.
I didn't feel like messing with making the classic pretzel "shape", so I decided to go with pretzel sticks instead!  They're great for dipping 🙂
Of course I made it a little more decadent by brushing the pretzels with a garlic and parsley butter when they came out of the oven… because, well, I can 🙂
Some of you may have been to various restaurants nowadays that serve soft pretzel sticks (T.G.I.Friday's being one of them) as an appetizer, and they're always a hit.  I have to say, these will be a huge hit with your family as well, I promise!
Start by adding the water, sugar and salt in the bottom of your stand mixer (fitted with the dough hook), and sprinkle the yeast right on top.  Let it sit for about 5 minutes or so.  It will foam slightly and smell "yeasty".  Add your flour and melted butter and mix at low speed until mixed together well.  Switch speed to medium and mix about 4-5 minutes (mine only took 3), until dough pulls away from the sides of the bowl and looks smooth.
Place dough into an oiled bowl, cover with plastic wrap and let sit about an hour in a warm place.
Bring a large stockpot of water mixed with baking soda to a boil.  Preheat oven to 450 degrees, and line 2 baking sheets with parchment paper and spray lightly with cooking spray.
Spray a plastic cutting board or your counter with cooking spray and turn dough out onto your work surface.  Work it into a ball and cut in half.  Cut each half into 8 pieces.  Roll the pieces out into 10-12″ ropes.
Boil the pretzel sticks, one at a time, for 30 seconds each.  Remove with a strainer and place onto the prepared baking sheet.  Beat an egg yolk with a bit of water to make an egg wash, and brush each pretzel stick with the egg wash, then sprinkle with salt.  I didn't have pretzel salt as the recipe called for, so I used sea salt instead.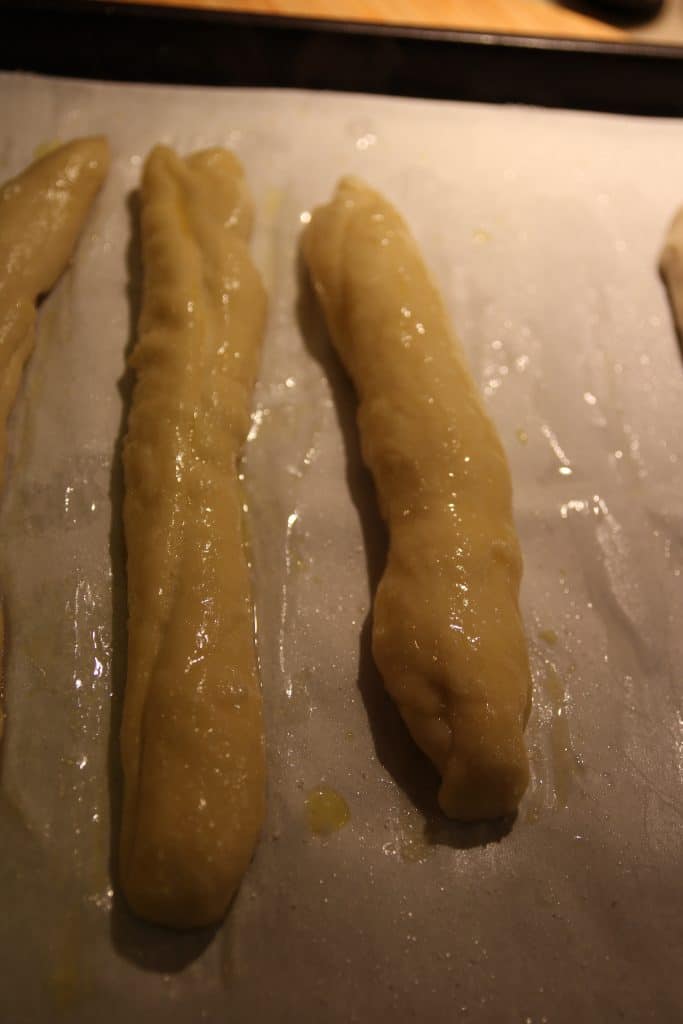 Bake for 14-15 minutes, turning over after about 8-9 minutes, until they are dark golden brown.  Once they are finished, remove from oven and brush with some melted butter that has been mixed with some garlic powder and fresh parsley.
As you can see, they're a little free-form and rustic looking… which I like 🙂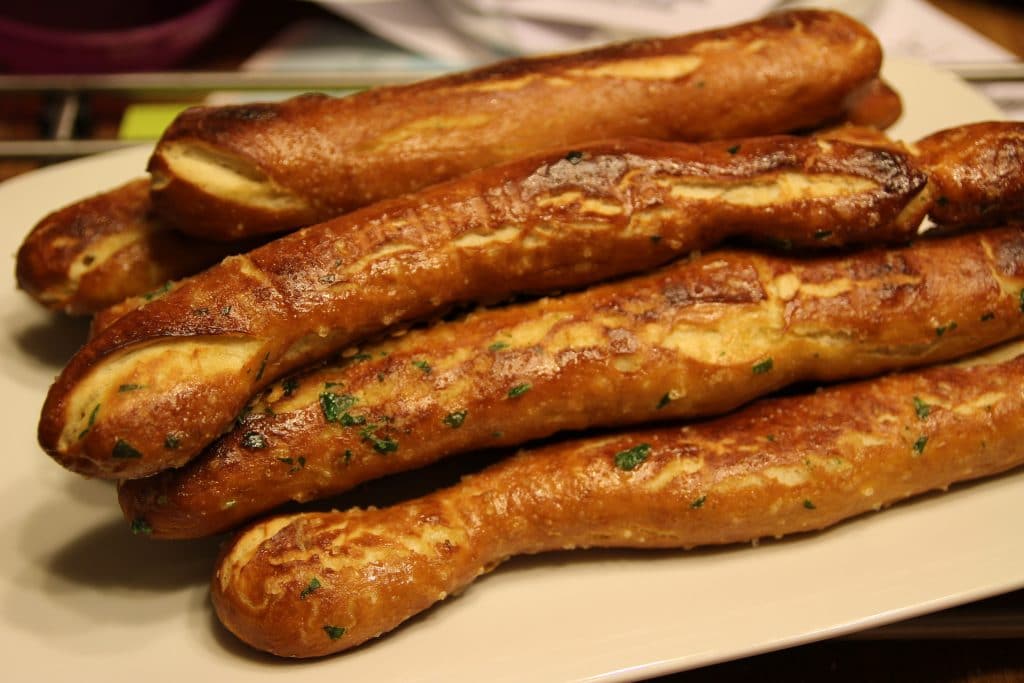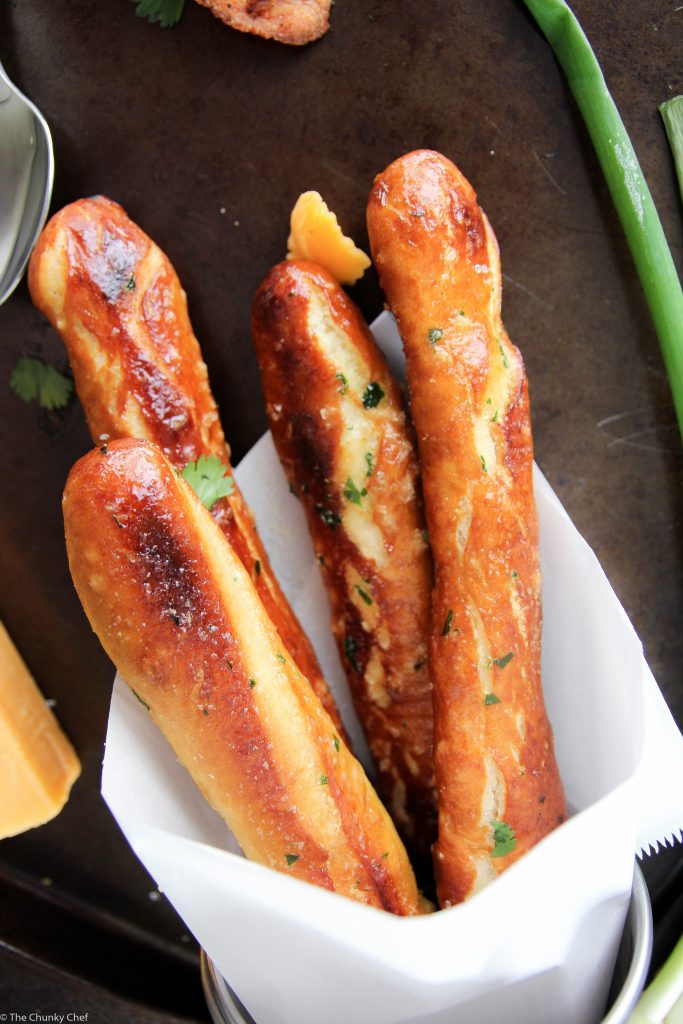 These taste… dare I say it… BETTER than that certain pretzel place in the malls!!  And they're from scratch, so you can feel better about what's in them 🙂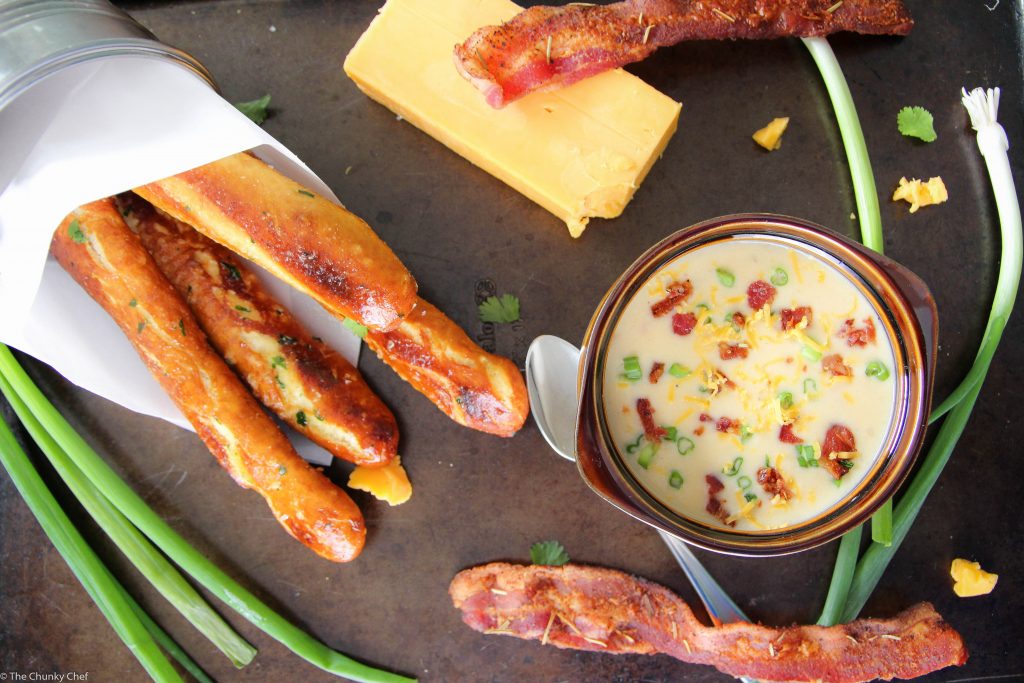 Obviously I paired these with my Beer Cheese and Onion Soup and it was a match made in heaven!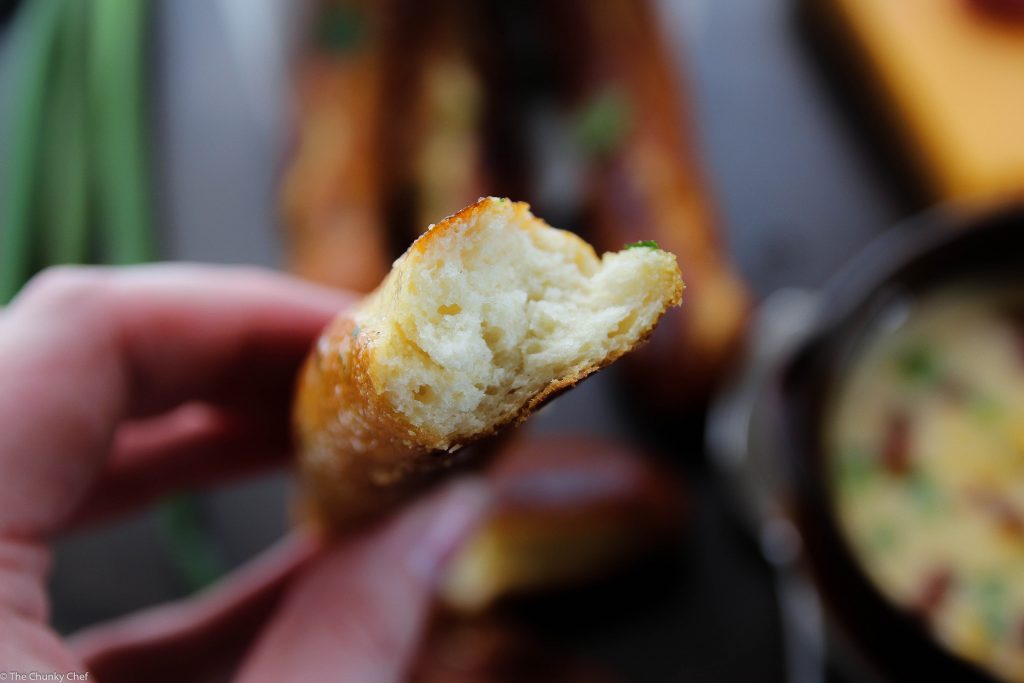 Sooooo soft and fluffy on the inside!
These would be a great appetizer, side dish, or snack for the kids after school (or anytime).
Recipe modified from Food Network
I hope you all try this one!
Don't miss a new recipe, enter your email below to stay updated!

Prep time:
Cook time:
Total time: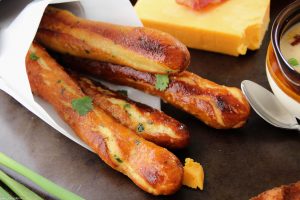 Soft, tender, buttery and brushed with a garlic and herb butter... these soft pretzel sticks from scratch taste amazingly good!
Ingredients
1 1/2 cups warm water
1 Tbsp sugar
2 tsp kosher salt
1 package active dry yeast
4 1/2 cups all-purpose flour
4 Tbsp unsalted butter, melted
2/3 cup baking soda
1 egg yolk beaten with 1 Tbsp water
Sea salt
Instructions
Combine the water, sugar and salt in the bowl of a stand mixer and sprinkle the yeast on top. Let to sit for 5 minutes or until it foams slightly and smells "yeasty".
Add the flour and melted butter and, using the dough hook attachment, mix on low until well combined. Switch to medium speed and knead about 4 minutes, until the dough is smooth, elastic and pulls away from the side of the bowl.
Place dough in an oiled bowl, cover with plastic wrap and let rise for 1 hour.
Bring a large stockpot of water mixed with baking soda to a boil.
Preheat the oven to 450 degrees. Line 2 baking sheets with parchment paper and lightly spray with cooking spray.
Spray a cutting board or your counter with cooking spray and shape dough into a ball. Cut dough in half, and cut each half into 8 pieces (for a total of 16 pieces). Roll each piece into a 10-12" rope.
Beat egg yolk with tablespoon of water and set aside.
Boil each stick one by one, for 30 seconds each. Remove them from the water with a strainer or large spatula. Place on prepared baking sheets, brush with egg wash and sprinkle with sea salt. Bake until dark golden brown in color, about 14 minutes (flipping over after about 8-9 minutes). Let cool for 5 minutes before serving.
Notes
** If desired, brush cooked pretzels with melted butter mixed with garlic powder and fresh minced parsley.
(Visited 14,825 times, 4 visits today)