These easy Christmas 7 Layer Bars are great to make for the holidays!  Literally layer upon layer of deliciousness, this classic dessert goes by many names, such as magic cookie bars, hello dolly bars, etc… but no matter what you call them, they'll be a crowd-pleasing dessert! 
Perfect for any holiday cookie tray, and so easy to make!  We love simple holiday sweets like my Crockpot Candy and this is one of my Desserts you'll definitely want in your holiday baking rotation!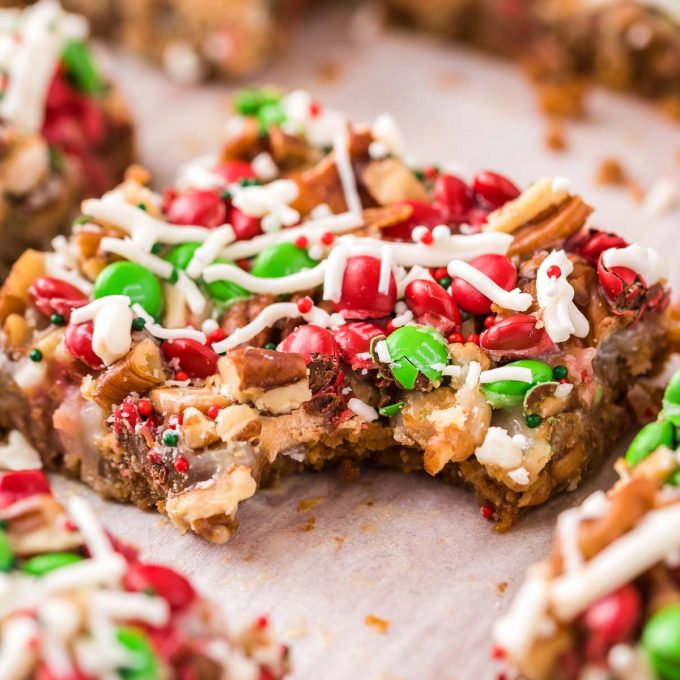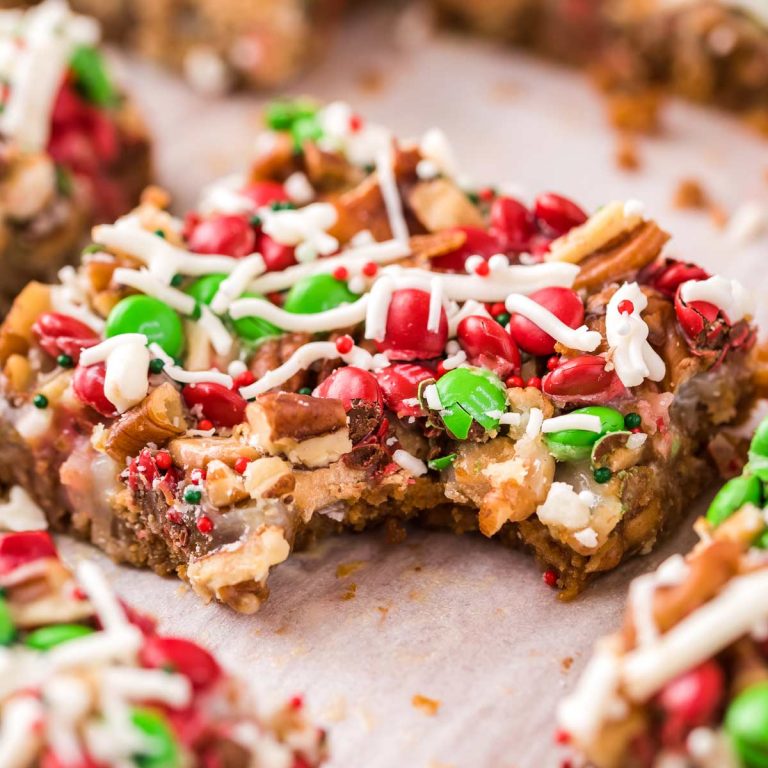 CHRISTMAS 7 LAYER BARS
I hope you guys are ready for some holiday desserts!  I've got plenty of them for you this year, including these fabulous holiday themed 7 layer bars.
Growing up, my Mom would generally make her 7 layer bars for her Christmas dessert tray, and I remember loving those sweet coconut-y bars.
But I wanted to put a fun Christmas spin on them by using gingersnap cookie crumbs instead of graham crackers, peanut butter chips instead of butterscotch, adding holiday m&m's and drizzling on white chocolate instead of using chocolate chips in the bars.
Y'all.  These bars are delicious!!  I can't get enough of them, and I bet you'll be the same way.
This recipe makes a standard 9×13″ baking pan's worth, so as far as how many it serves… that's up to you and however many bars you slice.  Or maybe you want to save a few bars back for yourself and put the rest on a tray so no one knows… your secret is safe with me! 🙂
HOW TO MAKE 7 LAYER BARS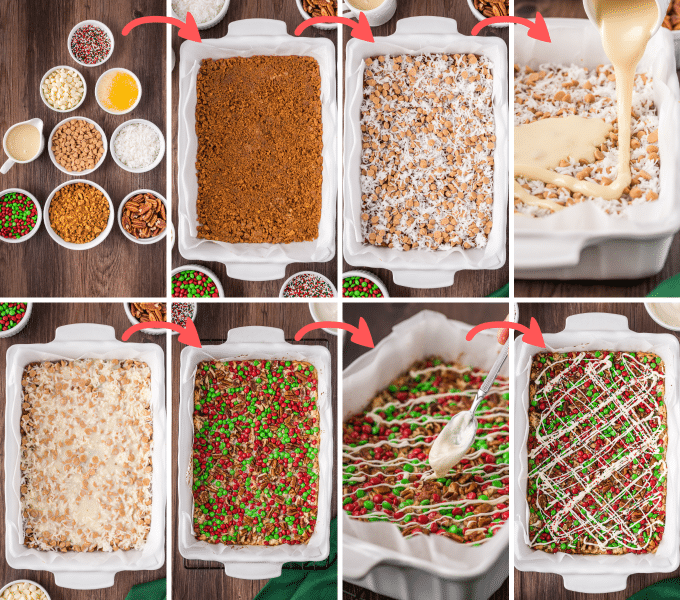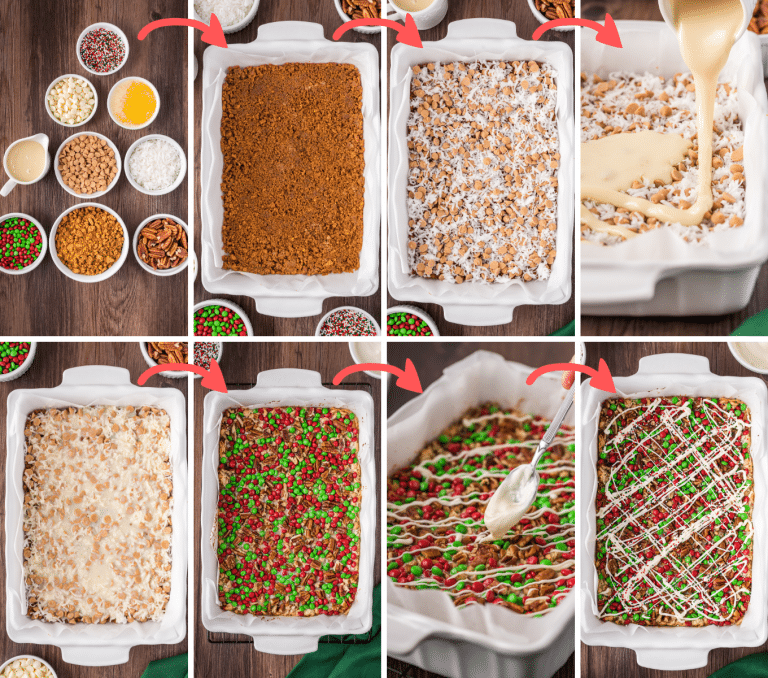 Make the crust.  Combine gingersnap crumbs with melted butter and press into bottom of baking pan.
Make the layers.  Top crust with peanut butter chips, coconut, and sweetened condensed milk.
Add the topping.  Add m&m candies and pecans.
Bake.  In a preheated oven, bake bars for 25 minutes at 350°F.
Cool and top.  Let bars cool, then drizzle melted white chocolate over the top, and add sprinkles, if using.
That's it folks.  No mixer needed, no beating in eggs one at a time, no chilling batter… just mix, add layers and bake.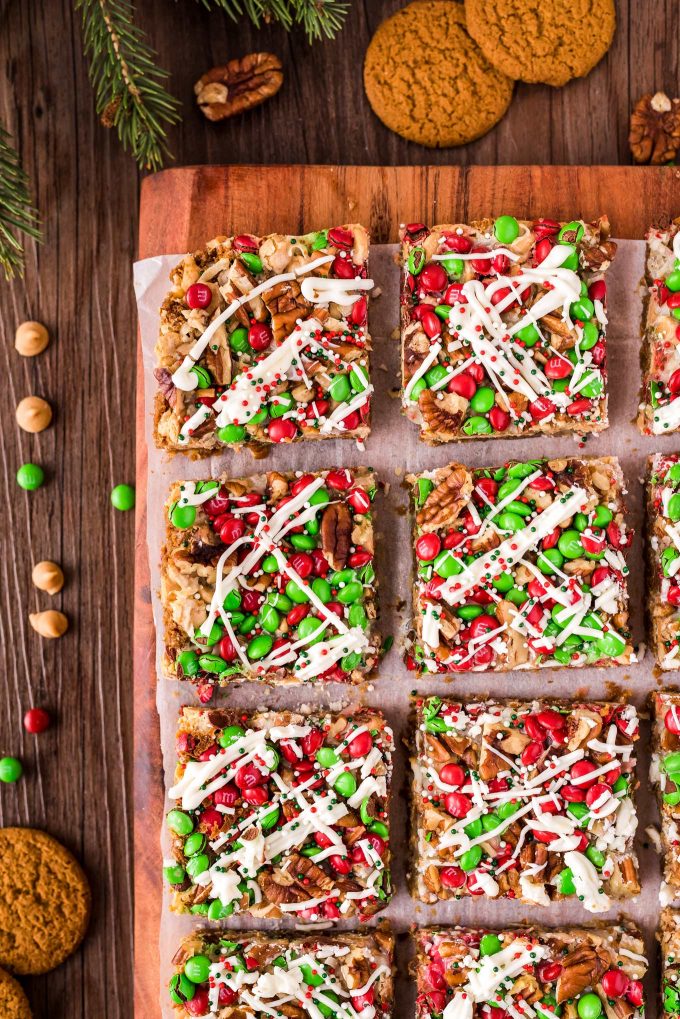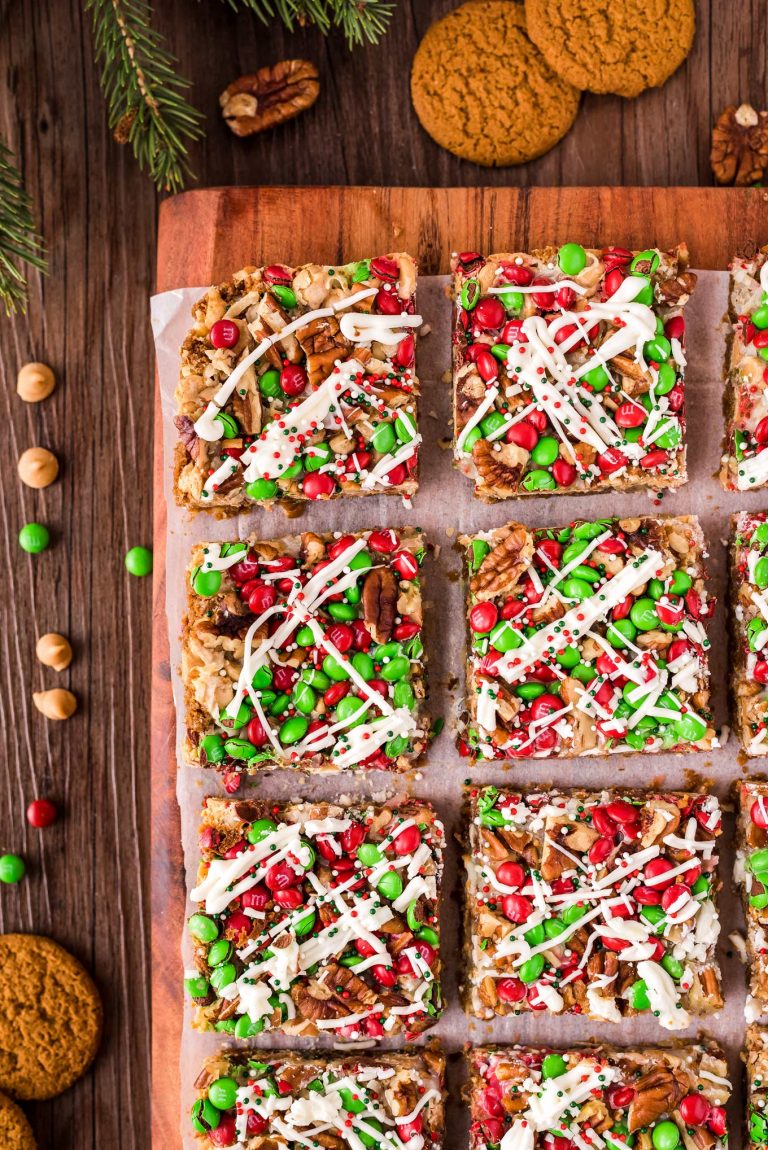 ADDITIONAL COOKING TIPS
PARCHMENT PAPER – whenever I'm baking any kind of bars, I like to line my baking pan with parchment paper, with long enough ends that some overhangs or at least comes up an inch or more up from the bars.  This is so I can grab those sides and easily lift the bars right out of the pan, without having to try and use a spatula to mangle – get out a square.  This picture shows the overhang.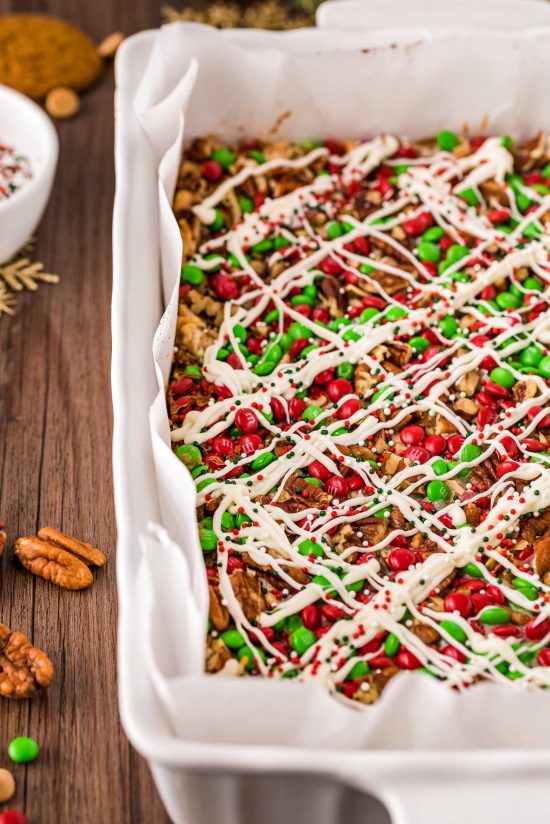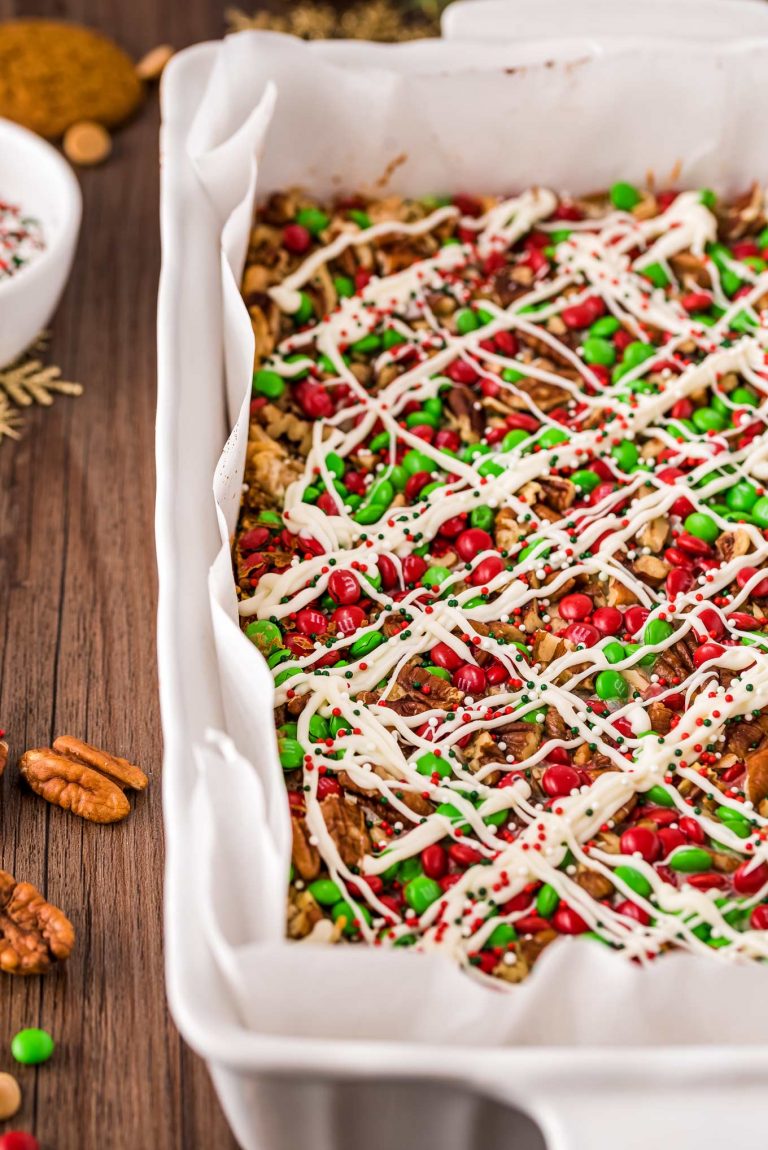 SWEETENED CONDENSED MILK – if there's one ingredient you really don't want to omit or substitute, it's the sweetened condensed milk.  It's what gives these bars a beautiful chewy texture and sweet almost dulce de leche-like flavor.  Just be sure you're buying sweetened condensed milk, and not evaporated milk!
VARIATIONS OF THIS RECIPE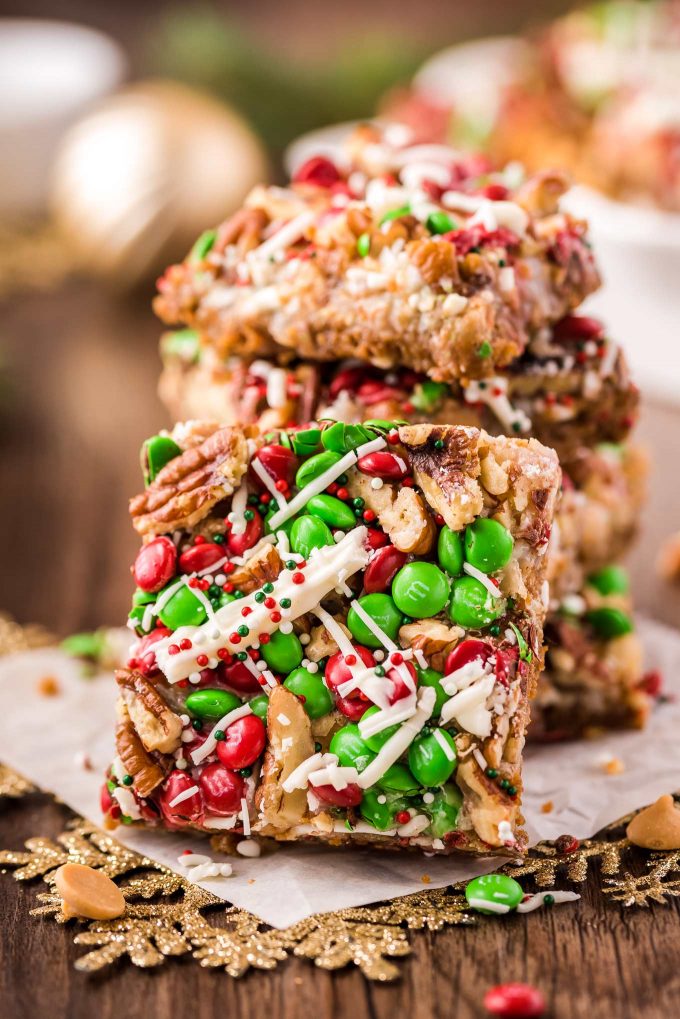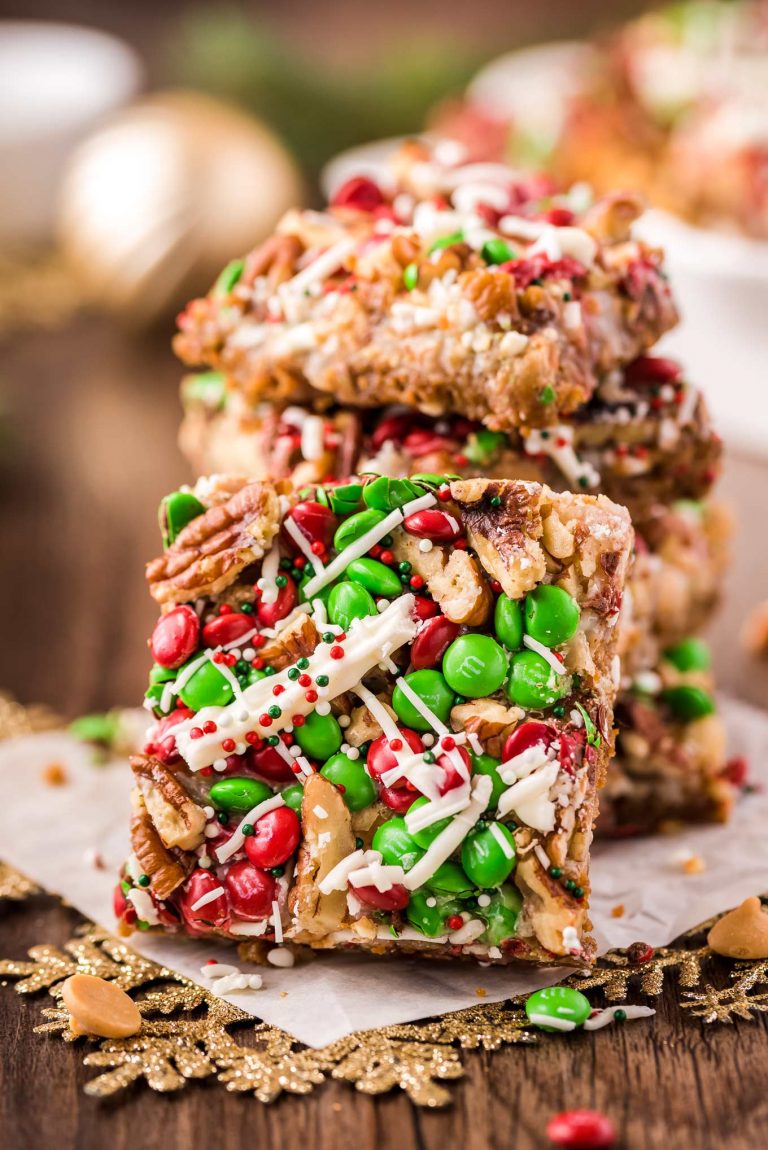 COCONUT – if you, or anyone you're making these for, aren't a fan of coconut, you can omit it from the recipe.
CHOCOLATE – instead of peanut butter chips, you can substitute semi-sweet chocolate chips.  Or be decadent and add 1 cup of chocolate chips WITH the peanut butter chips!
TRADITIONAL – if you want to go for a traditional 7 layer bar, use graham cracker crumbs instead of gingersnaps, 1 cup each of chocolate chips and butterscotch chips, double the pecans, omit the m&m's, white chocolate drizzle and optional sprinkles.  Bake as directed.
GRAHAM CRACKER – can't find gingersnap cookies?  You can use an equal amount of graham cracker crumbs.
OTHER HOLIDAYS – I love that recipes like this can be altered for any holiday!  Use that holiday's themed m&m candies, and you're good to go!  Pink and red for Valentine's Day, pastel colors for Easter, and so on.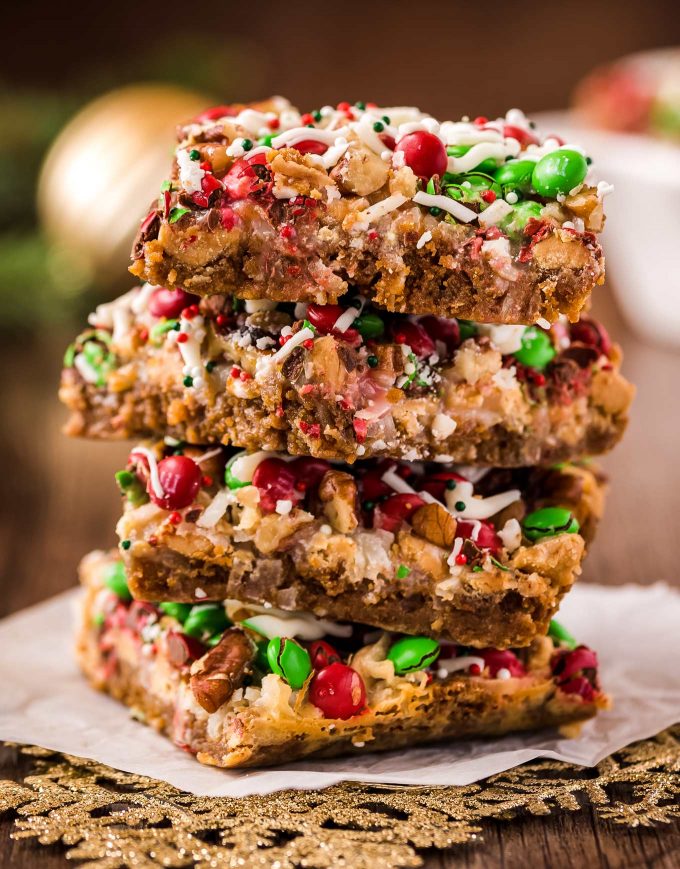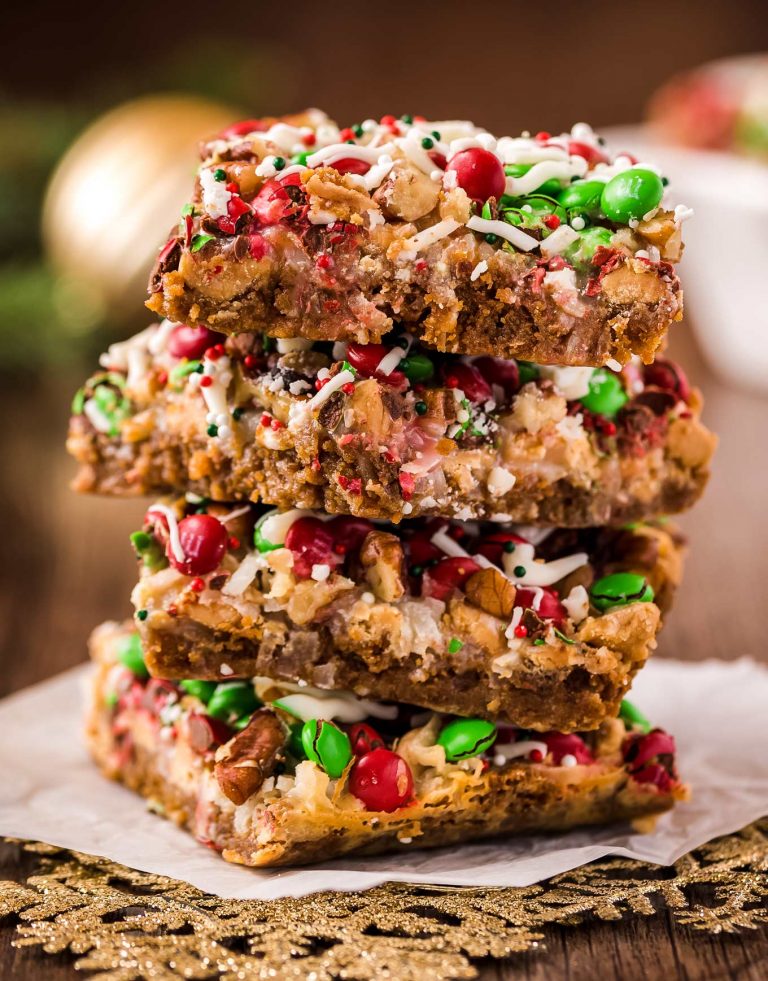 MAKING 7 LAYER BARS AHEAD OF TIME
When it comes to holiday baking, making treats ahead of time is the name of the game.  We're all busy around the holidays, and being able to pull a tray of treats out when company comes over is really helpful!
Thankfully, 7 layer bars are great to make ahead of time, and will last for a week in the refrigerator, or 4 days at room temperature.
STORAGE
Bars should be stored at room temperature in an airtight container for up to 4 days, refrigerated for up to 7 days, or frozen for up to 3 months.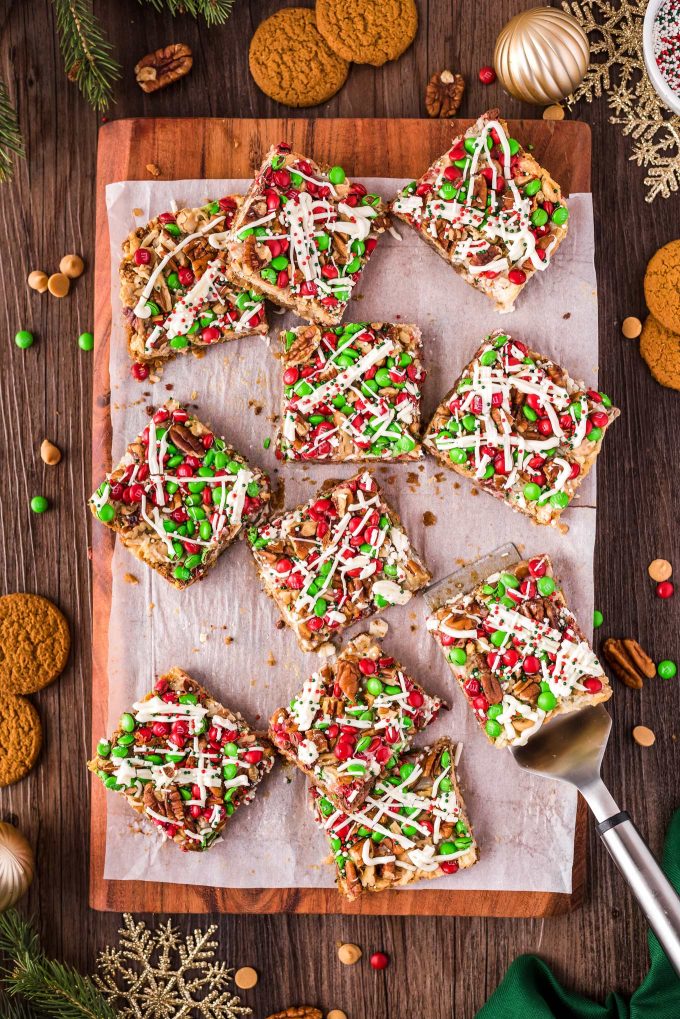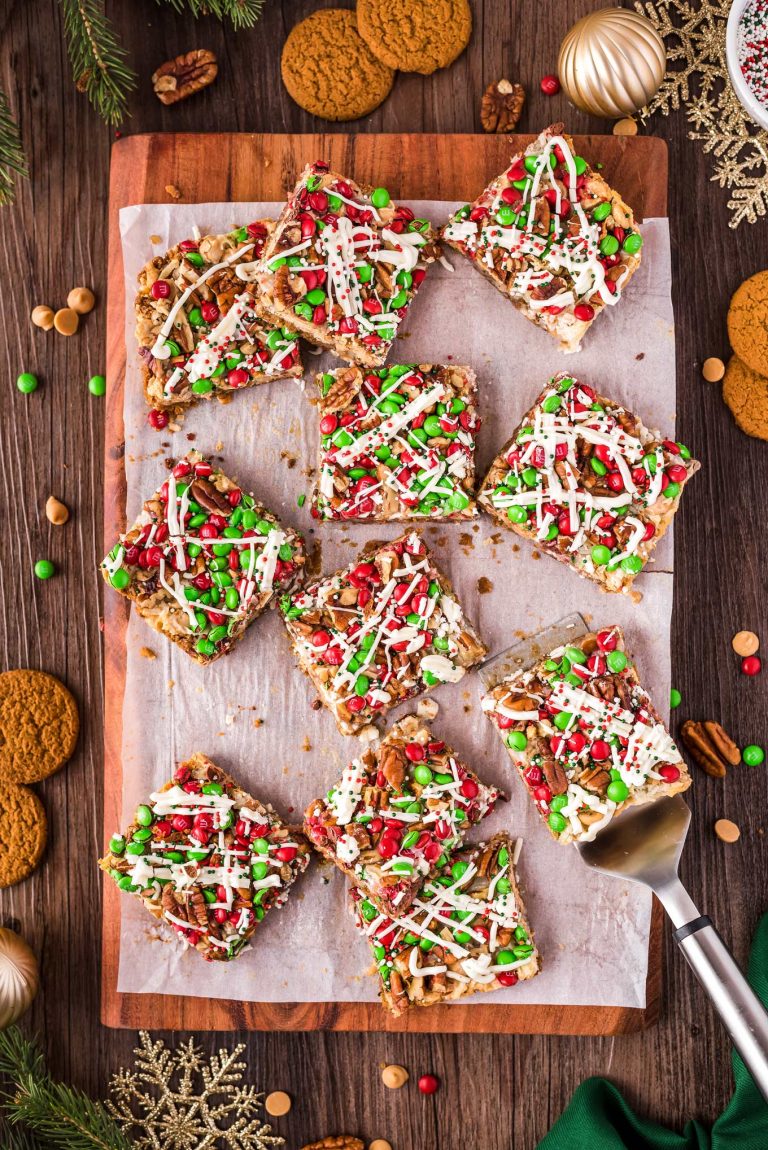 SPECIAL EQUIPMENT FOR THIS RECIPE
The following links are affiliate links.
The Chunky Chef, LLC is a participant in the Amazon Services LLC Associates Program, an affiliate advertising program designed to provide a means for sites to earn advertising fees by advertising and linking to amazon.com.  For more information regarding this program and what it means for you, please see my Privacy page.
Ceramic 9×13″ pan – I can't find the link for the exact baking pan used in the photos, but this one is close and I have several of the brand's pieces and they're definitely good quality.
Metal 9×13″ pan – most of the time, I use this classic and inexpensive pan.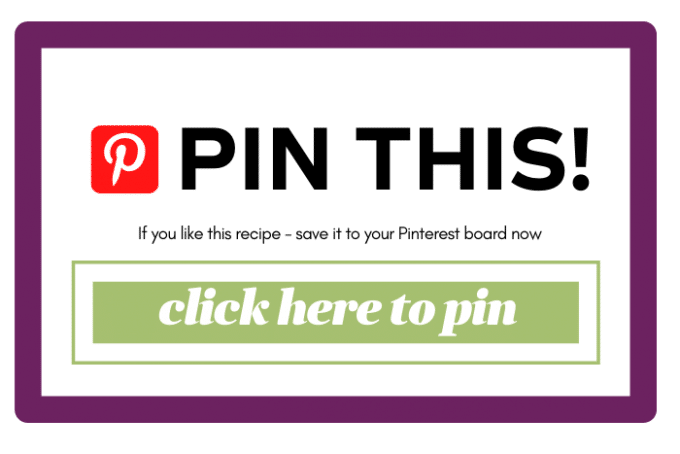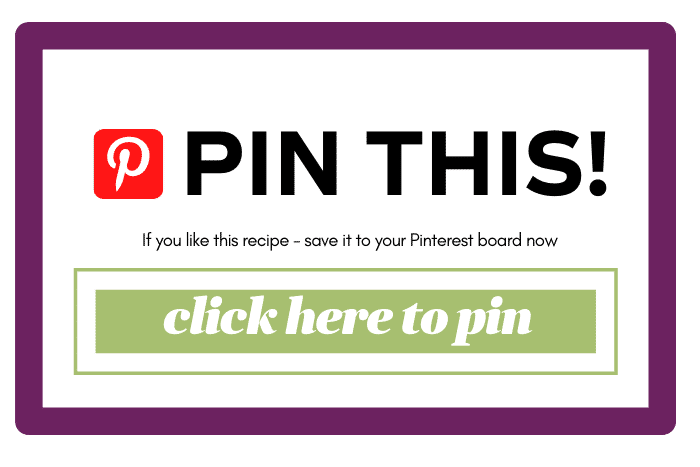 BE SURE TO SCROLL DOWN TO CHECK OUT OTHER READERS' COMMENTS FOR TIPS AND REVIEWS.
AND DON'T FORGET, IF YOU'VE MADE THIS RECIPE, LEAVE A COMMENT AND PLEASE GIVE IT A STAR RATING LETTING ME KNOW HOW YOU ENJOYED IT!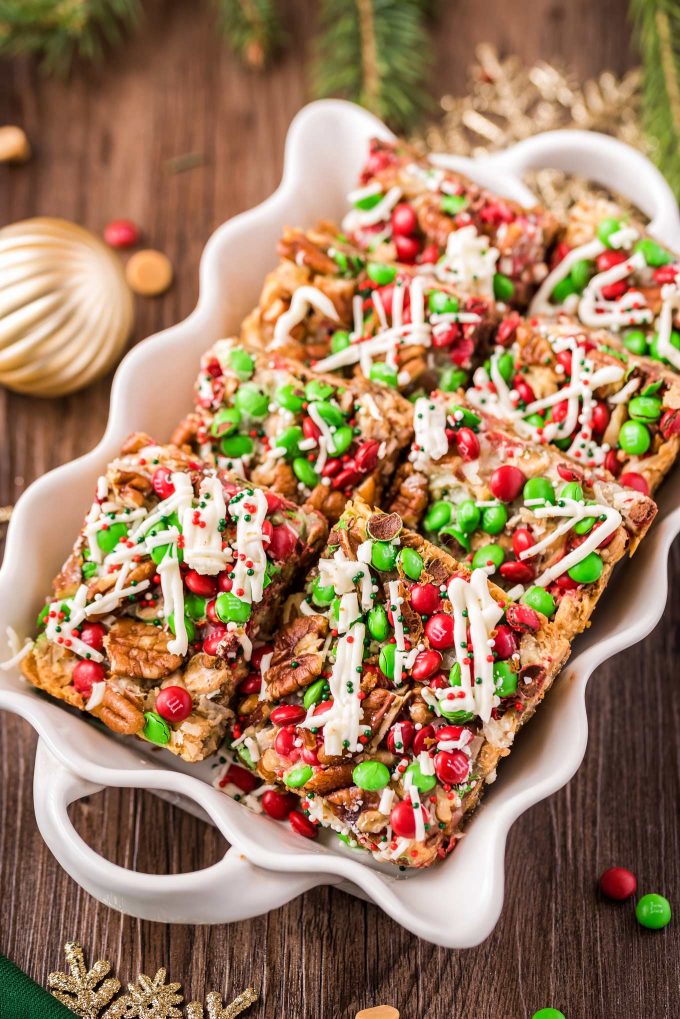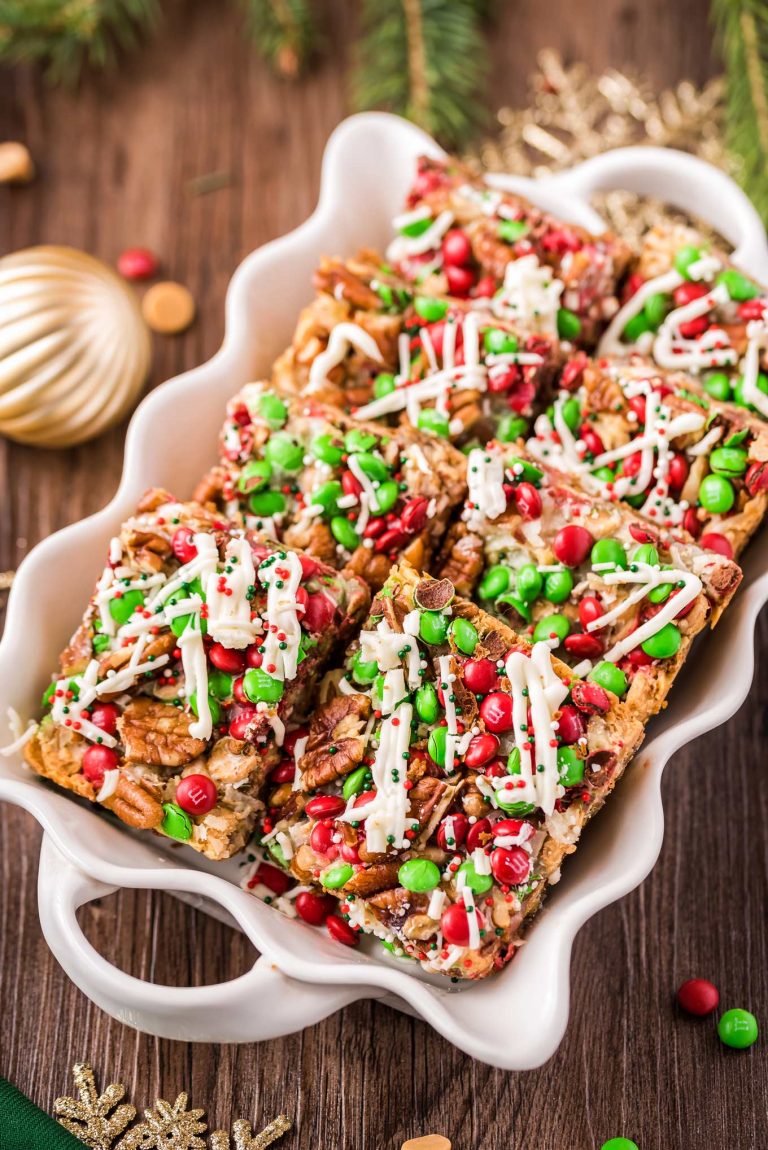 Did you make this? Be sure to leave a review below and tag me @the_chunky_chef on Facebook and Instagram!
These easy Christmas 7 Layer Bars are great to make for the holidays!
Ingredients
2 cups gingersnap cookie crumbs
1/2 cup unsalted butter melted
1 cup peanut butter chips
1 cup sweetened flaked coconut
14 oz can sweetened condensed milk
3/4 cup mini m&m's holiday colors or regular
1/2 cup chopped pecans
1/3 - 1/2 cup white chocolate chips melted
red, green, and white nonpareil sprinkles (optional)
Instructions
Preheat oven to 350 F degrees. Lightly spray a 9x13" baking pan with cooking spray, then line with parchment paper, leaving overhang over the sides.
MAKE CRUST
Combine gingersnap crumbs and melted butter in a bowl, then press into an even layer in prepared baking pan.
LAYERS
Top with peanut butter chips and coconut flakes, then pour condensed milk evenly over the top.

Top with m&m's and pecans, gently pressing down.
BAKE
Bake for 25 minutes, then cool on a wire rack.
TOP AND COOL
Melt white chocolate chips, then drizzle lightly over the top of the bars and lightly top with sprinkles.

Let chocolate harden, then slice into squares and serve, or refrigerate.
Want to save this recipe for later? Click the heart in the bottom right corner to save to your own recipe box!
Chef Tips
This recipe makes one 9x13" baking pan.  You can slice the bars as large or small as you'd like.
Nutrition Disclaimer
The Chunky Chef is not a dietician or nutritionist, and any nutritional information shared is an estimate. If calorie count and other nutritional values are important to you, we recommend running the ingredients through whichever online nutritional calculator you prefer. Calories can vary quite a bit depending on which brands were used.
Any nutritional information shared is an estimate, and is automatically calculated through a program.  If calorie count is important to you, I recommend running the ingredients through whichever online nutritional calculator you prefer.  Calories can vary quite a bit depending on which brands were used.

The Chunky Chef is not a nutritionist and doesn't provide full nutritional information for recipes as she wouldn't want to potentially and unknowingly pass along incorrect information.
If changing the recipe serving quantity, the recipe plugin will change the ingredient values for you, but it does NOT change the written instructions, those are manually added and not subject to a slider. You will have to extrapolate that multiplication to any amounts listed in the instructions.
For example: if an ingredient calls for 4 cups, and you doubled the recipe, it will automatically change to 8 cups. In the instructions, if I say "use 4 cups of cheese", you will have to realize that since you doubled it, you use 8 cups, not 4.