This copycat chicken salad is creamy, savory, a little sweet, and perfect for piling up on some toasted wheat bread or just grabbing a fork and digging in!
This Copycat Chicken Salad is one of those recipes I'm so happy to have on hand.  We love making our own versions of restaurant favorites at home… like this Copycat Wendy's Frosty, and Honey Baked Ham.  This is one of my Copycat Recipes you'll definitely want to keep on around!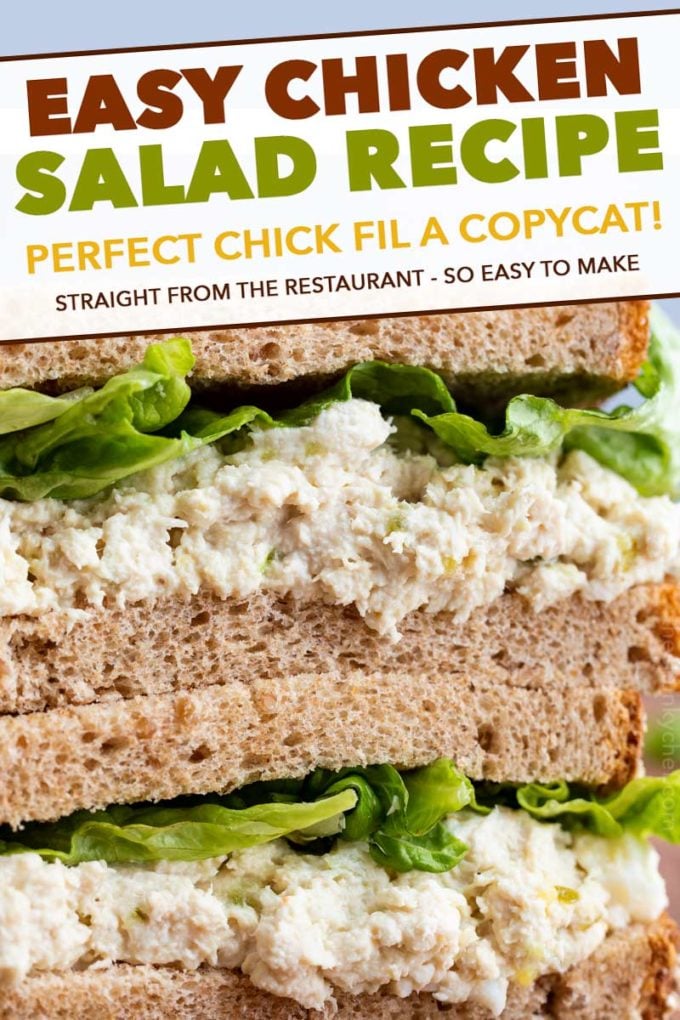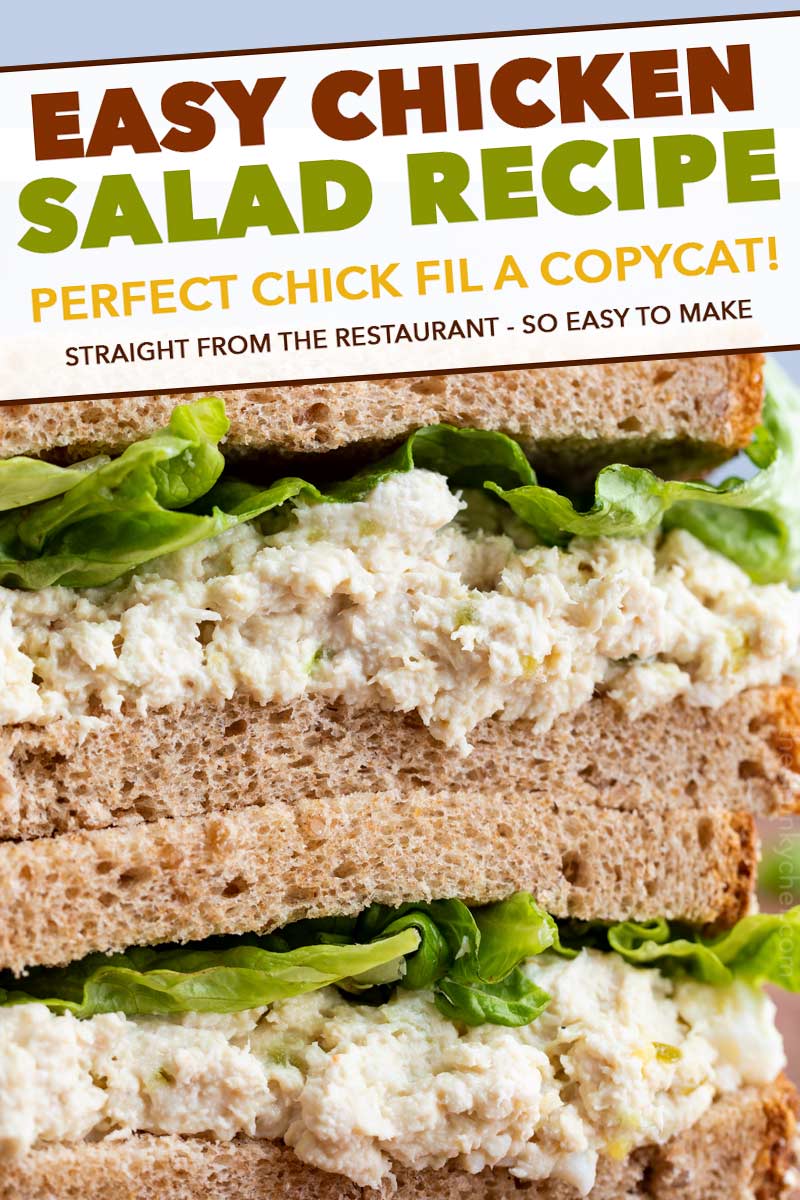 CHICKEN SALAD RECIPE
Back in 2017, a tragedy happened.  Okay, not really a tragedy per se, but I was certainly upset about it.  Chick-Fil-A discontinued their chicken salad sandwich.  Insert sad face here!
That sandwich, and their coleslaw (also discontinued – recipe coming soon for that one!), were my ultimate go-to when we'd hit up the drive-thru.
Thankfully, Chick-Fil-A released their recipe for the famous chicken salad around the time they stopped serving the sandwich.  Of course, I immediately had to try it.  It was good… verrrry good.
But of course, their recipe involved using their chicken.  Delicious, but not super convenient right?  So I've been playing around and put my spin on their chicken salad but using regular chicken (leftovers, rotisserie, etc), a bit more mayo, and I usually go easy on the egg as well.
I'm sharing my version, and in the recipe notes section, I'll also share… word for word… what Chick-Fil-A released back in 2017.  Since everyone has their own version of the perfect chicken salad… use this as a base and add what you like!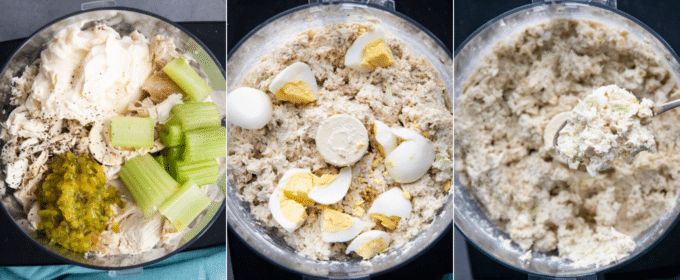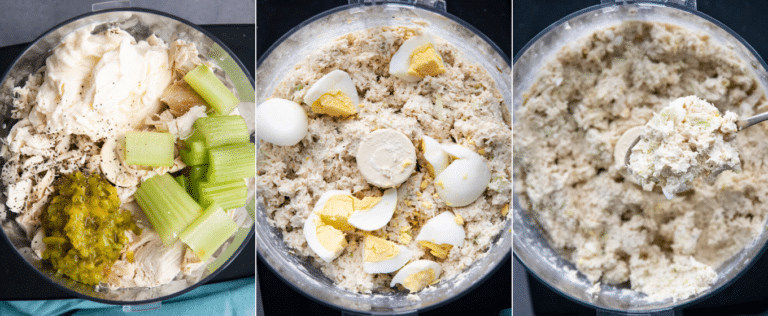 HOW TO MAKE CHICK-FIL-A CHICKEN SALAD
Add ingredients to food processor.  Give it quick pulses to chop, not puree.  If you know you tend to go too far with the processing (like I did in these photos to be honest)… try adding the celery, then pulsing a few times.  Then add the chicken and pulse a few times.  Then add the remaining ingredients and pulse until it's reached the consistency you want.
Toast bread and serve.  No one likes a soggy sandwich, so the secret is in toasting your bread slices.  Add the chicken salad and lettuce, then serve!
ADDITIONAL PREPARATION TIPS
FOOD PROCESSOR – the original restaurant recipe called for using a food processor, which is what I did here, but it ended up over processed and the texture wasn't quite what I wanted.  So my advice would be if you're using a food processor, I'd pulse the celery first, then add the chicken and pulse, then add the remaining ingredients.  Alternately, you could chop the ingredients and stir them together (plus no food processor to clean afterwards).
EGGS – I felt like it was honestly a big egg-y when prepared according to the restaurant recipe, so if you're not a huge fan of hard boiled eggs, I'd try this with just 1 egg.
ORIGINAL FLAVOR – for a more true to Chick-Fil-A flavor, try going through their drive-thru and picking up 4 chicken breasts (2 original and 2 grilled is my personal fave combination), and chopping them up.  Not the most convenient option, but if you're looking for a perfect replica, it'll do the trick.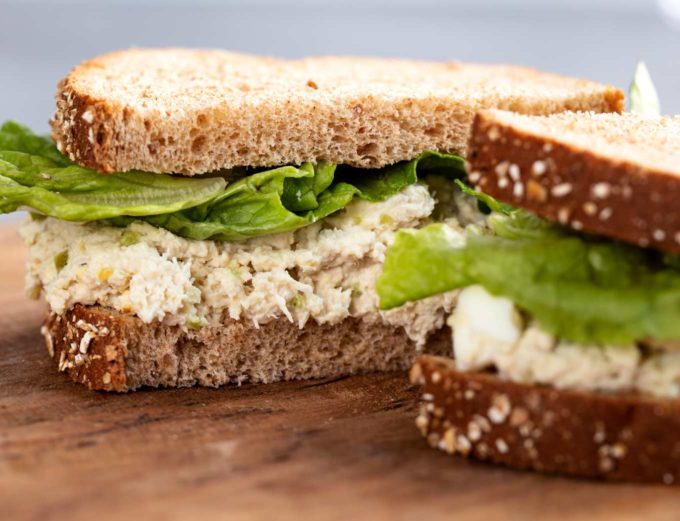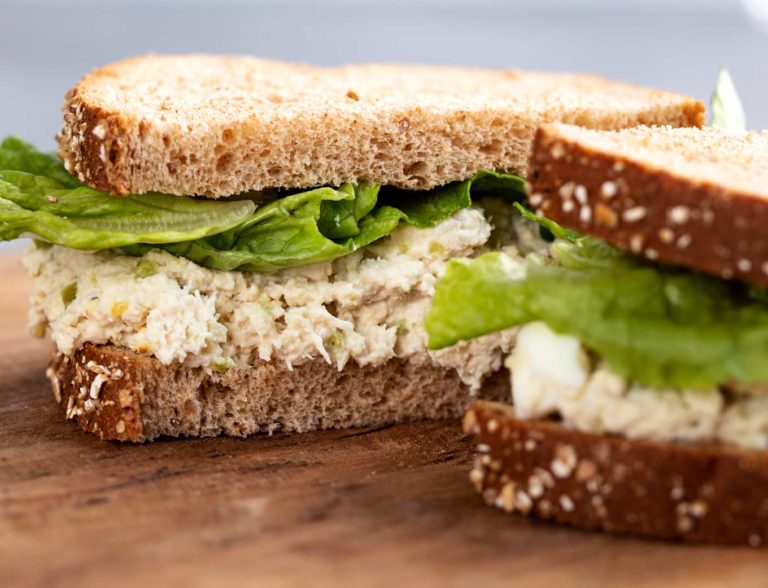 VARIATIONS OF THIS RECIPE
ONION – not traditional in the Chick-Fil-A version, but I love to add a bit of grated onion or very finely minced yellow onion to my chicken salad.  You won't need much!  Another option is to mince some green onion or chives and toss those in the salad.  You could also serve the chicken salad sandwiches with some sliced red onion as well.
SWEETER – you could add a 1/2 tsp of granulated sugar to the chicken salad if you prefer a sweeter version.
DILL – some folks don't like the sweetness of the sweet pickle relish, so feel free to try dill relish instead.
LOW CARB – if you'd rather ditch the extra carbs and go bread-less, try picking up some Bibb lettuce (or Living lettuce) and serving this chicken salad up in lettuce cups!
BREAD OPTIONS – I went with hearty whole wheat bread here since that's what Chick-Fil-A used to use, but my favorite way to have chicken salad is on a slightly toasted croissant.  I take the croissant halves and heat them cut side down in a skillet that's been sprayed with cooking spray and heated over MED HIGH heat.  Once they're golden brown, I let them cool slightly and then make my sandwich.  Toasted bagels are another great option (everything bagels are my fave).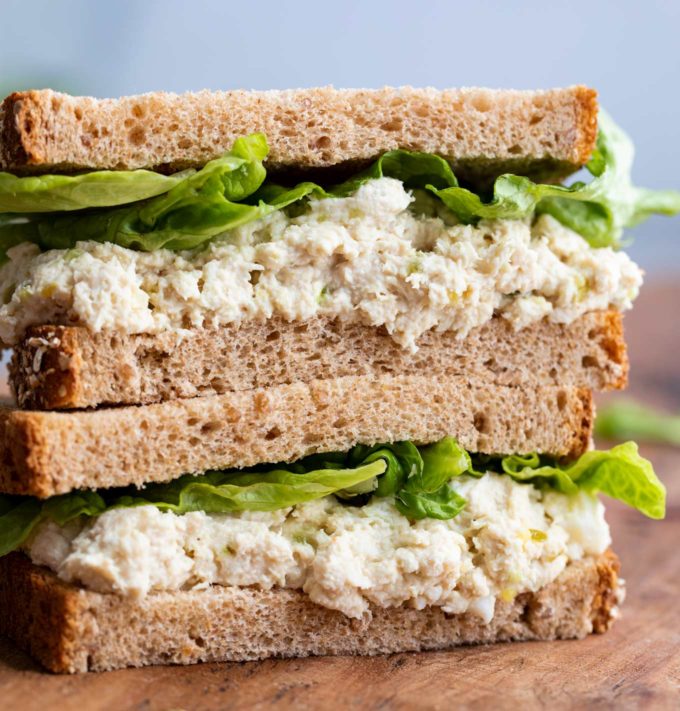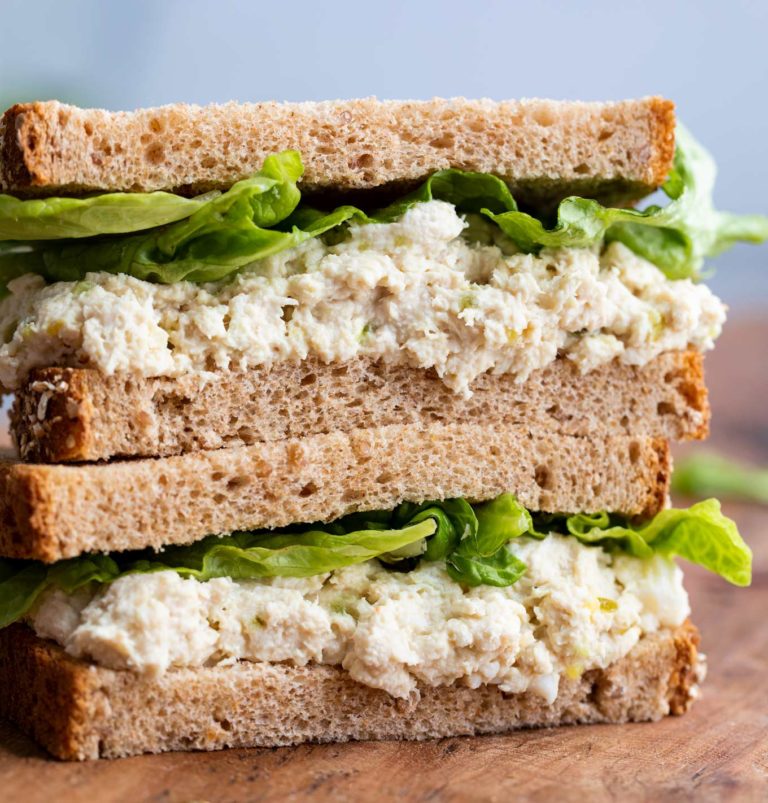 MAKING CHICKEN SALAD AHEAD OF TIME
I love making this chicken salad a day or so ahead of time.  Not only does it mean we get to eat our sandwiches faster, it means all the flavors have plenty of time to mesh together as it's hanging out in our refrigerator.
STORAGE
Leftover chicken salad should be refrigerated in an airtight container and consumed within 3-5 days.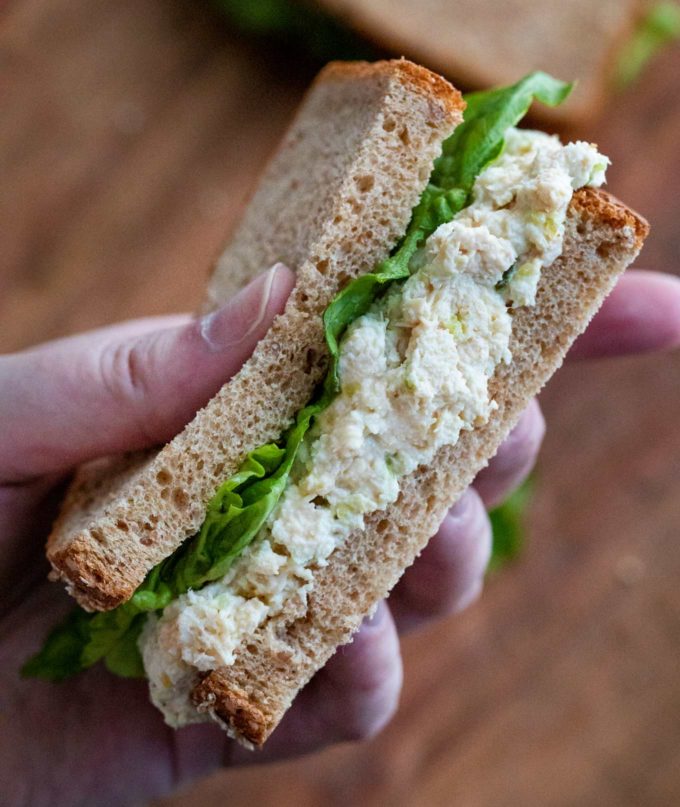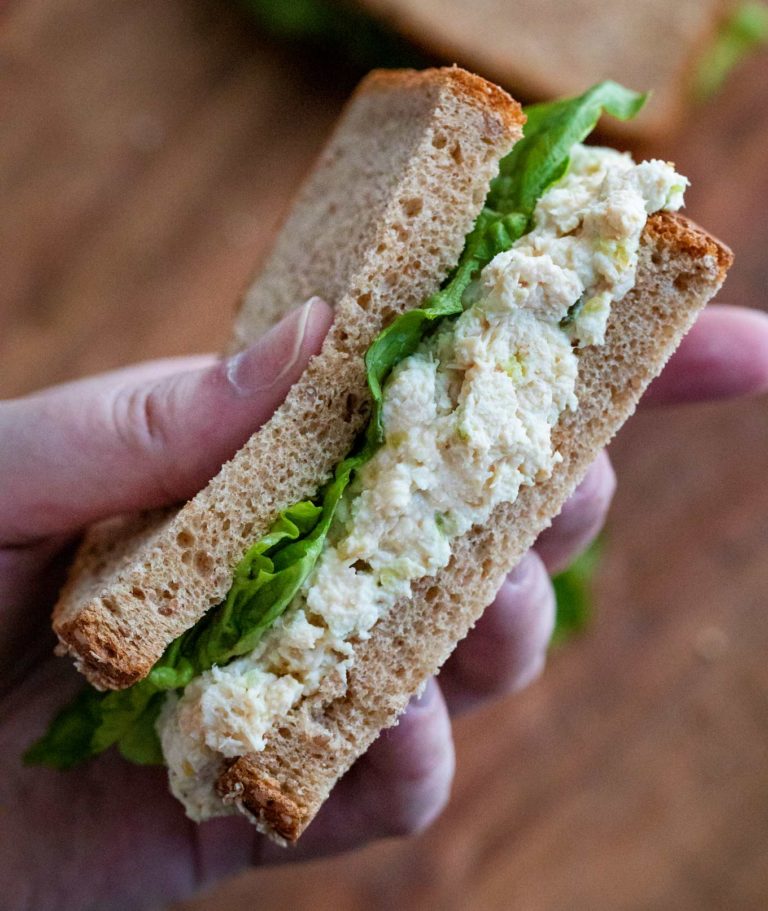 SPECIAL EQUIPMENT FOR THIS RECIPE


BE SURE TO SCROLL DOWN TO CHECK OUT OTHER READERS' COMMENTS FOR TIPS AND REVIEWS.
AND DON'T FORGET, IF YOU'VE MADE THIS RECIPE, LEAVE A COMMENT AND PLEASE GIVE IT A STAR RATING LETTING ME KNOW HOW YOU ENJOYED IT!
Did you make this? Be sure to leave a review below and tag me @the_chunky_chef on Facebook and Instagram!
Ingredients
2 cups chopped cooked chicken cooled
1/3 cup chopped celery
1/4 - 1/3 cup sweet pickle relish
2/3 cup mayonnaise
1 - 2 hard boiled eggs chopped
1/2 tsp kosher salt
1/4 tsp black pepper
pinch garlic powder (optional)
whole wheat bread
green leaf lettuce
Instructions
In a food processor, add chicken, celery, relish, mayo, eggs, salt and pepper. Lightly pulse a several times, until mixture reaches desired consistency.

If you want to make sure you don't end up with overly mushy chicken salad, you may want to add celery first, then pulse a few times to finely chop. Then add chicken and pulse a few times. Then add relish, mayo, eggs and seasonings and pulse until combined.

Toast bread slices. Serve chicken salad on toasted bread, topped with lettuce, then the other bread slice. Repeat with remaining bread slices, lettuce and chicken salad.
Want to save this recipe for later? Click the heart in the bottom right corner to save to your own recipe box!
Chef Tips
This is my adaptation of the original Chick-Fil-A recipe... straight from the restaurant itself.  I also like to add some red onion slices to my sandwiches, but that's just how I like it 🙂
Their version is:
4 Chick-fil-A chicken breasts (original or grilled), cooled and cut into 1 inch cubes
2.5 oz. celery (approximately 1.5 full stalks, washed, trimmed, and cut into 1 inches pieces)
1/3 cup sweet pickle relish
1/2 cup mayonnaise
2 hard boiled eggs (cooled and peeled)
Using a food processor, mix chicken, celery, mayonnaise, and relish on low/ medium for 5 seconds.
Begin adding eggs, one at a time, and continue processing for up to 10 additional seconds, or until salad is chopped to desired consistency. 
Total processing time needed is 10-15 seconds. 
Nutrition Disclaimer
The Chunky Chef is not a dietician or nutritionist, and any nutritional information shared is an estimate. If calorie count and other nutritional values are important to you, we recommend running the ingredients through whichever online nutritional calculator you prefer. Calories can vary quite a bit depending on which brands were used.