This homemade Copycat Panera Mac and Cheese tastes every bit as creamy and cheesy as the original, but you can have it any time you'd like! Made easily on the stovetop, this recipe is a hearty weeknight meal your family will love!
This is one of my Copycat recipes I know you'll want to keep on hand!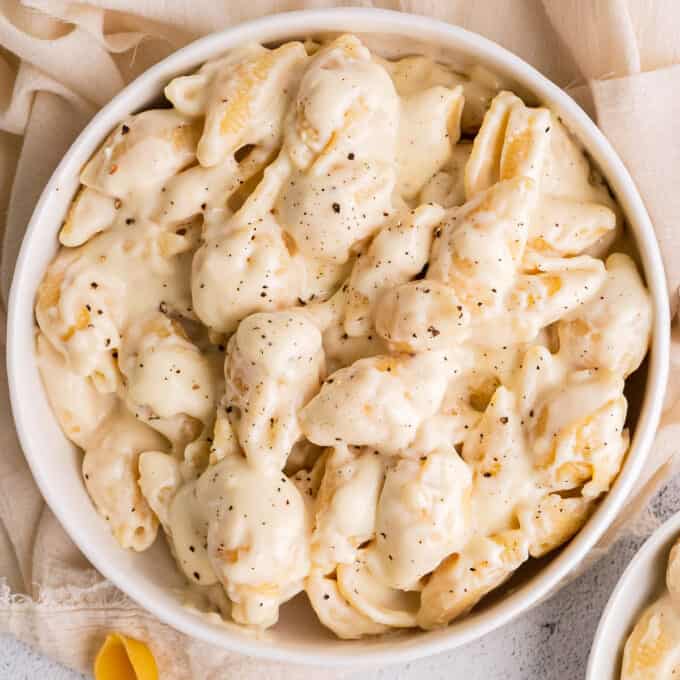 I don't know about you guys, but in our household, we love mac and cheese. It's the ultimate comfort food!
Our favorite type of mac and cheese is probably this baked version (that's still so creamy!), but there's one version the kids keep requesting. Panera's version.
And honestly, who could blame them?! Panera mac and cheese is just so creamy and silky, with that classic white cheddar richness and tang.
This homemade copycat of panera mac and cheese tastes so close to the real thing, and you don't need to hop in the car to go buy it!
Just 9 ingredients (including salt and pepper), and about 30-40 minutes of your time… that's all you need to create the most luscious and creamy white cheddar mac and cheese!
How to make panera mac and cheese?
This is just an overview; the full ingredients and directions are in the recipe card toward the bottom of this post.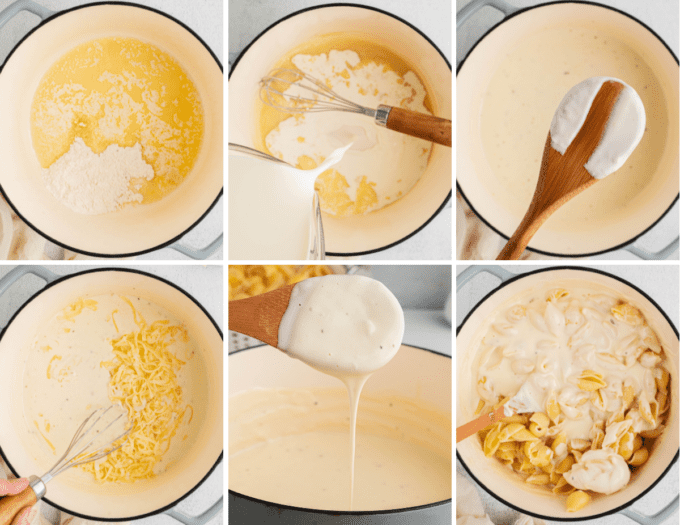 Boil pasta and shred cheese. Let the shredded cheese sit at room temperature, and let the cooked pasta sit off to the side.
Make a roux. It's a cooking term for melting a fat (butter), with a thickening agent (flour). This is what thickens up the sauce later.
Add liquid and thicken. In this recipe that's the milk and heavy cream.
Stir in cheese. I recommend doing this on low heat otherwise the cheese sauce can get a bit grainy.
Stir in pasta. Combine the cooked pasta and the cheese sauce and serve!
Helpful Tip!
I know it's a pain, and requires a bit of an arm workout… but for the best results, shred your own cheese.  Pre-shredded cheese is coated in a substance to prevent it from clumping in the bag, which can make it not melt as smoothly in a sauce, and it can lead to your mac and cheese being a bit grainy/gritty.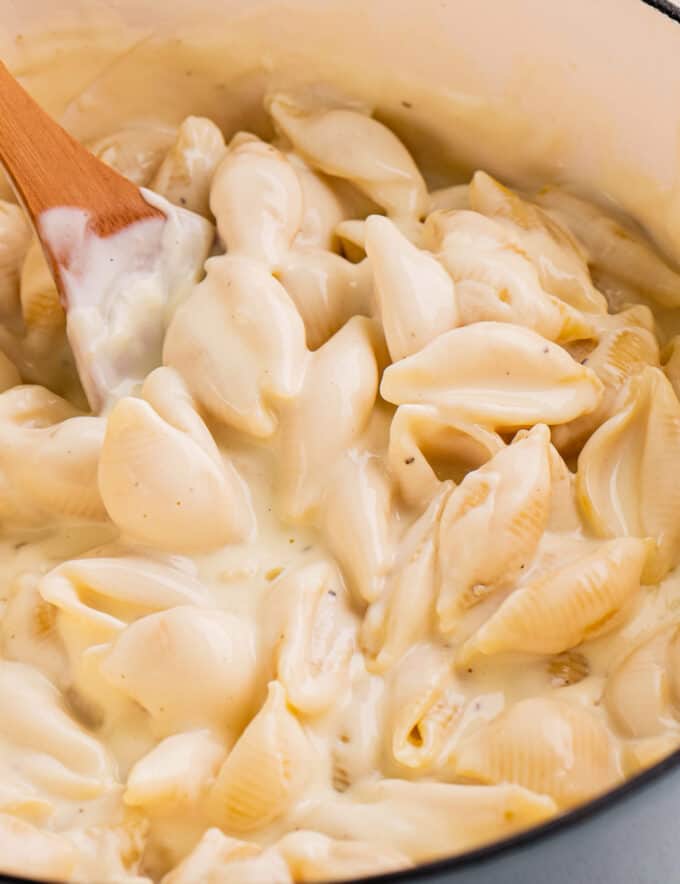 Variations of this recipe
Pasta – traditionally, I think Panera uses pipette pasta, but it can be a bit difficult to find (at least here in the Midwest). In fact, I couldn't find it for these photos… so I went with something more readily available; medium shells.
Cheese – sharp white cheddar cheese is the best cheese to use for a good copycat, but if you don't mind deviating a bit, feel free to use your favorite cheeses (such as Gruyere, gouda, Monterey jack, etc).
Seasonings – the amount of seasonings can be personal, so I advise tasting as you go, to make sure your mac and cheese is perfect for you.
Hot sauce – for some extra flavor, try adding a couple of shakes of your favorite hot sauce. It doesn't make the dish spicy, just adds a little zippy flavor.
Dairy – if you'd rather deviate from the dairy types listed in the recipe, I would advise not using a milk that has less fat than whole milk. Skim or lower fat milks won't thicken up as well, or give you that silky creamy sauce.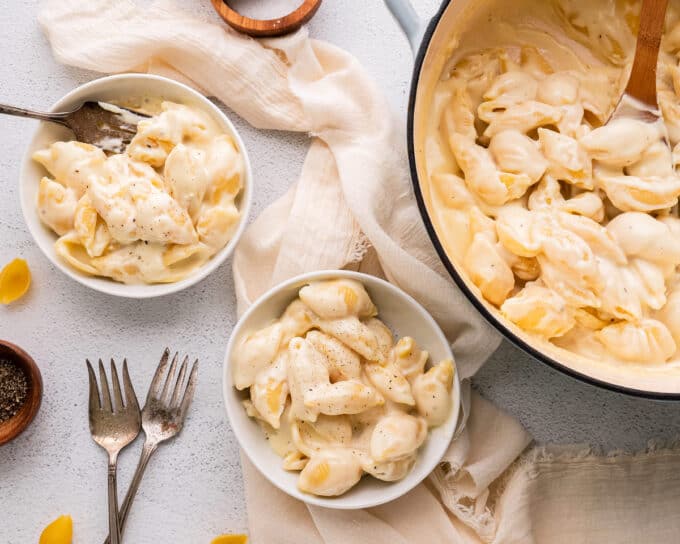 FAQ's
Dried mustard in mac and cheese?
Mustard is actually really common in mac and cheese recipes, as it accentuates the cheesy flavor. If you don't have dried mustard powder, you can use an equal amount of prepared Dijon mustard.
Can this mac and cheese be made in a slow cooker?
While this recipe wasn't developed to be made in a slow cooker, it can be kept warm in one. I would add a bit of milk when you add it to the slow cooker, to keep the sauce nice and, well, saucy.
Making mac and cheese ahead of time
Personally, I find this recipe tastes best when made right before serving. However, it can be made ahead of time if you'd like.
When reheating, I suggest doing so on the stovetop, adding a splash of milk as you reheat.
You can also prep ahead!
How to prep ahead for this recipe:
Pasta – the pasta can be boiled, drained, tossed with a little olive oil (to prevent sticking), cooled, and refrigerated.
Cheese – the cheese can be shredded and refrigerated.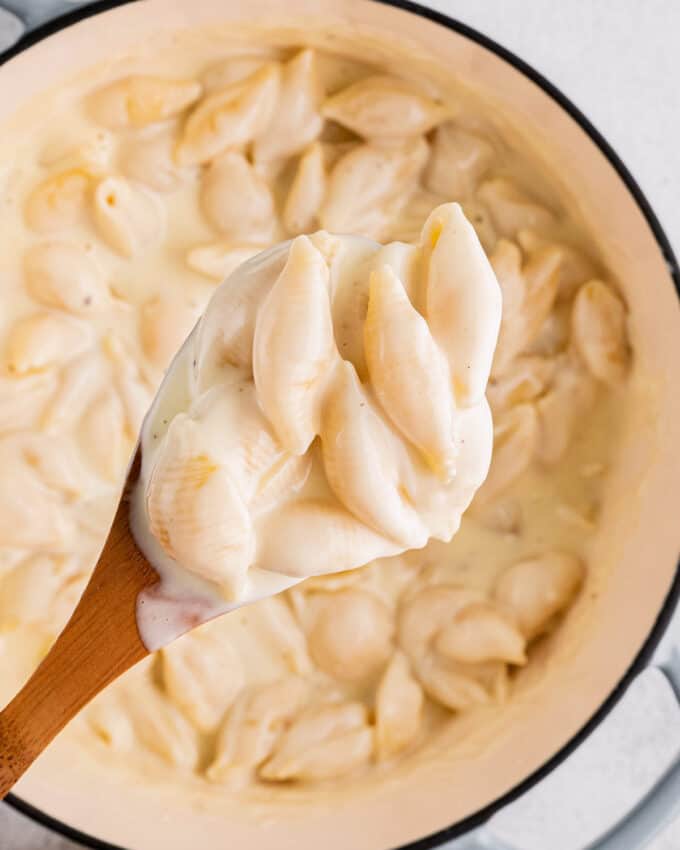 Freezing
Due to the dairy in this recipe, I don't advise freezing it. Dairy has a tendency to separate during the freezing/thawing/reheating process.
Storage
Leftover mac and cheese should be refrigerated in an airtight container, and enjoyed within 3-4 days.
When reheating, I recommend adding a splash of milk to loosen up the sauce.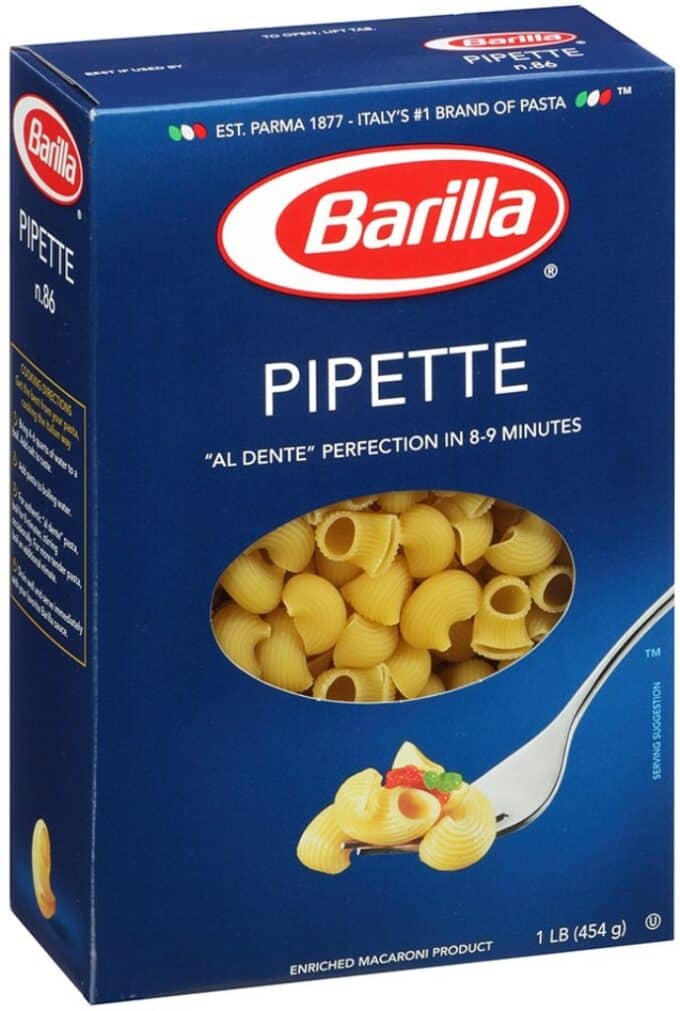 To make this copycat look just like the original, I like to use Pipette dried pasta. If you can't find it, medium shells will also work just as well!
Did you make this? Be sure to leave a review below and tag me @the_chunky_chef on Facebook and Instagram!
This homemade Copycat Panera Mac and Cheese tastes every bit as creamy and cheesy as the original, but you can have it any time you'd like!
Ingredients
3 cups shredded Vermont white cheddar cheese about 1.5 (8oz each) blocks of cheese
1 lb. dried pipette pasta or medium shells (as pictured)
1/4 cup unsalted butter
1/4 cup all purpose flour
1 1/2 cups whole milk
1 1/2 cups heavy whipping cream
1 tsp kosher salt
1 tsp ground mustard
1/2 – 1 tsp black pepper start with 1/2 tsp and add more per your tastes
Instructions
Prepare
I highly recommend shredding your cheese first and letting it sit at room temperature while you move ahead with the recipe. It will incorporate better into the sauce if the shredded cheese is closer to room temperature.
Boil pasta
Bring a large pot of water to a boil. Salt generously, then boil pasta to al dente (according to package directions). Drain, drizzle with a little olive oil and set aside.
Make roux
Heat a large dutch oven (or very deep sided skillet) over MED heat. Once hot, add butter and melt. Whisk in flour and cook for 1 minute, stirring occasionally.
Make sauce
Slowly pour in the milk, whisking as you pour.  Then do the same with the heavy whipping cream.

Continue whisking and cooking over MED heat for about 3-4 minutes (until sauce is thick enough to coat the back of a wooden spoon), then add salt, ground mustard, and black pepper.
Add cheese
Once the sauce is bubbling, reduce the heat to LOW.

Add the shredded cheese, about a cup at a time, stirring/whisking as you add the cheese. Continue until all the cheese is added and keep stirring until the cheese is completely melted into the sauce.
Combine and serve
Turn off the heat. Add the cooked and drained pasta to the sauce and stir well to coat. Let sit a few minutes to thicken and warm up the pasta, then serve hot (sprinkled with some extra pepper if you'd like).
Want to save this recipe for later? Click the heart in the bottom right corner to save to your own recipe box!
Chef Tips
I tested this recipe using Cracker Barrel and Cabot white cheddar, both with good results, but we usually use Cracker Barrel.
I've estimated this recipe will serve about 8, but as always, the amount and size of the servings are up to you.
I highly recommend shredding your own cheese as opposed to using pre-shredded bags. Shredding the cheese yourself will give you the creamiest result.
The ground mustard is a spice (a yellow powder), and can be substituted with an equal amount of Dijon mustard. This doesn't make the mac and cheese taste like mustard at all… it enhances the cheese flavor.
Nutrition Disclaimer
The Chunky Chef is not a dietician or nutritionist, and any nutritional information shared is an estimate. If calorie count and other nutritional values are important to you, we recommend running the ingredients through whichever online nutritional calculator you prefer. Calories can vary quite a bit depending on which brands were used.