Crunchy chicken strips breaded simply and fried to crispy perfection, then tossed in a mouthwatering whiskey glaze! This copycat recipe tastes just like that appetizer from TGI Friday's, and is perfect for any party or fun dinner!
This is one of my Copycat recipes I know you'll want to keep on hand!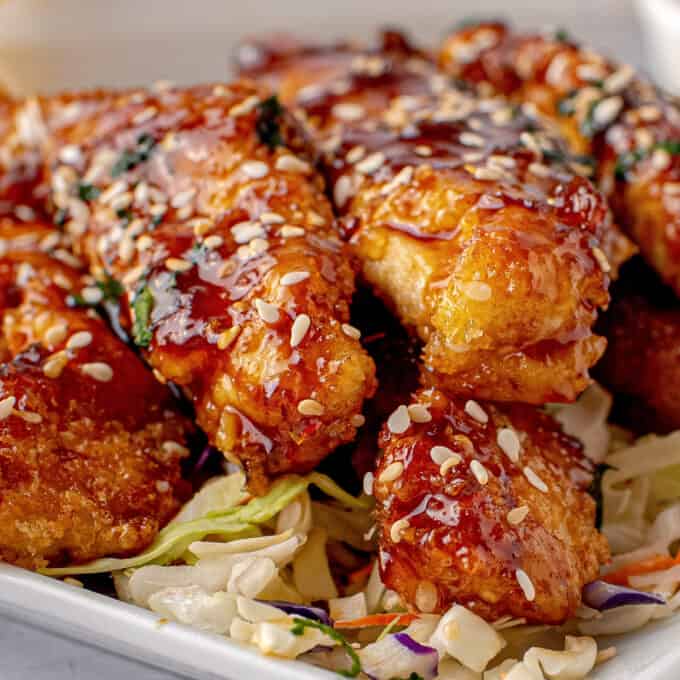 Admittedly, it's been a while since I've enjoyed a meal at TGI Fridays. But I still crave two things from that restaurant. The sesame jack chicken strips, and Jack Daniels sauce!
I did notice they've changed the name of the sauce and chicken strips, dropping the Jack Daniels name and calling it whiskey glaze. But I'm guessing the sauce and chicken tastes pretty much the same.
If you've never had Fridays whiskey glaze, you are in for a massive treat. It's perfectly sweet and savory with a little spice. Perfectly baste-able and dip-able, it's about the consistency of maple syrup.
And those sesame chicken strips… oh man. So crunchy, so crispy, so tender, and so absolutely amazing when tossed in some of that delectable sauce!
Now you can have all that amazing flavor, without having to go out!
How to make whiskey glazed sesame chicken strips?
This is just an overview; the full ingredients and directions are in the recipe card toward the bottom of this post.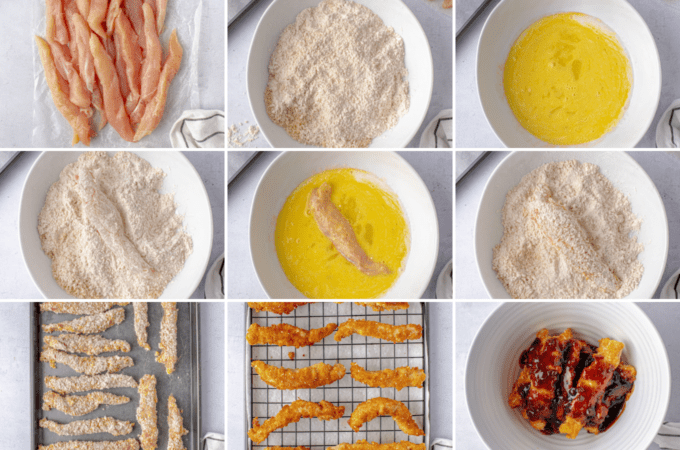 Prepare. Slice the chicken strips in half, start heating the oil, set up the cooling rack, and set up the breading station.
Bread the chicken. Add the chicken to the breadcrumbs, egg wash, then back in the breadcrumbs.
Fry. Fry in preheated oil for about 5-6 minutes, flipping over halfway through.
Drain. Once fried, add chicken to cooling rack for the excess oil to drip off.
Toss. Toss chicken in sauce and serve.
Helpful Tip!
Frying can be intimidating, but don't panic. You can do this, and you don't need a bunch of expensive equipment. I've included a frying tips section right above the written recipe, that will turn you into a frying master in no time!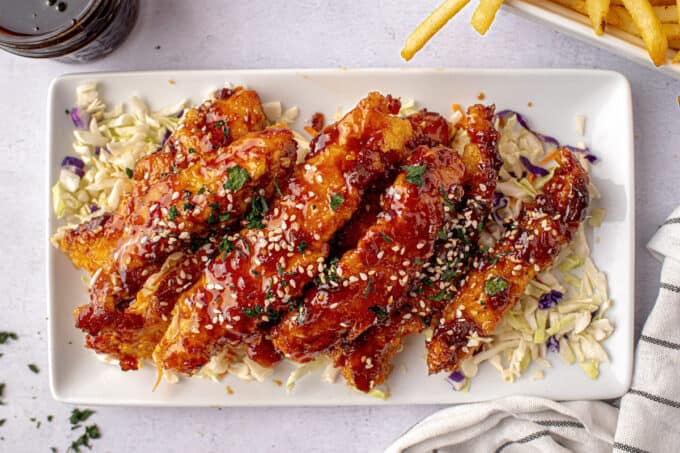 Variations of this recipe
Chicken – I normally use boneless skinless chicken tenders, but you can also use boneless skinless chicken breasts or thighs and slice them up yourself.
Cornmeal – for some extra crunch with a hint of sweetness, try adding a Tbsp or two of yellow cornmeal to the breading.
Breadcrumbs – for the best crispy coating, I do recommend using panko breadcrumbs (of any variety), but in a pinch, regular breadcrumbs will work.
Deep fryer – if you have a deep fryer, this recipe can easily be made in one. Just set the oil temperature to 350°F and fry for the amount of time designated in the recipe.
Baked/Air fried – these chicken strips can be baked (check out the "Chef Tips" section below the recipe for the full details), and while I'm sure they could be done in an air fryer, I haven't specifically tested it, so I can't speak to the exact temperature and time.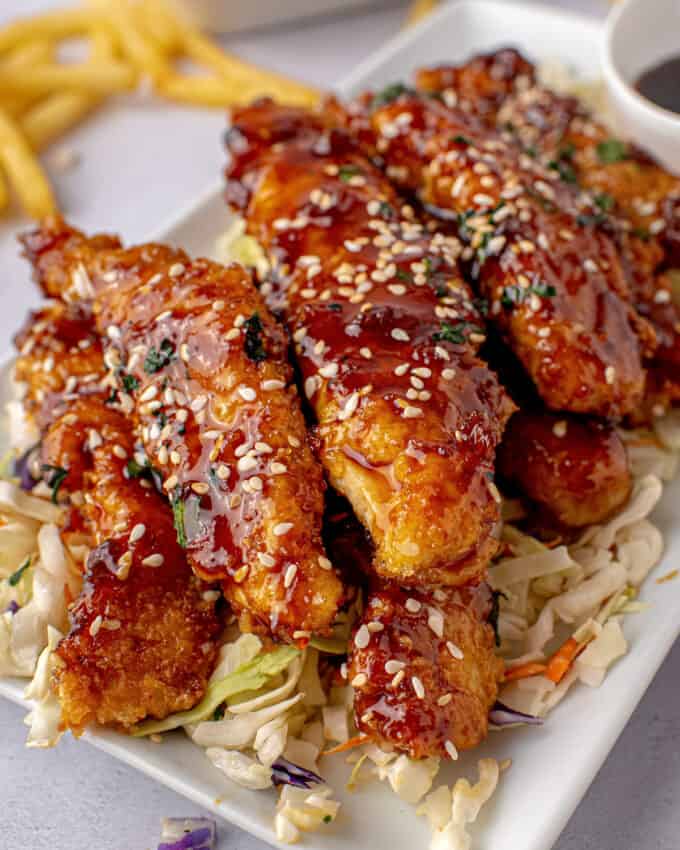 FAQ's
Why did TGI Friday's change the name from sesame jack chicken strips?
Since I don't work for Friday's or Jack Daniels, I can't say for sure… but I would speculate it probably came down to trademark law. The chicken strips are now titled Signature Whiskey-Glazed Sesame Chicken Strips, and tastes exactly the same as it used to. That's what this recipe is based off of.
Is the whiskey glaze alcoholic?
While this glaze does have alcohol in it, I think the vast majority, if not all, the alcohol content is cooked off while the sauce is reducing. The good news is, there's a very small amount of actual whiskey in this sauce/glaze… most of the flavor comes from all the other ingredients, so if you want to omit the whiskey, you can.
Can these chicken strips be baked or air fried?
They can definitely be baked, and I recommend following the method used in these Crunchy Baked Chicken Tenders.
I've not specifically tested making this recipe in an air fryer, but I'm confident it would work well; I just can't speak to the exact settings or bake times.
Making sesame jack chicken strips ahead of time
This recipe, like all crispy foods, tastes best when made fresh.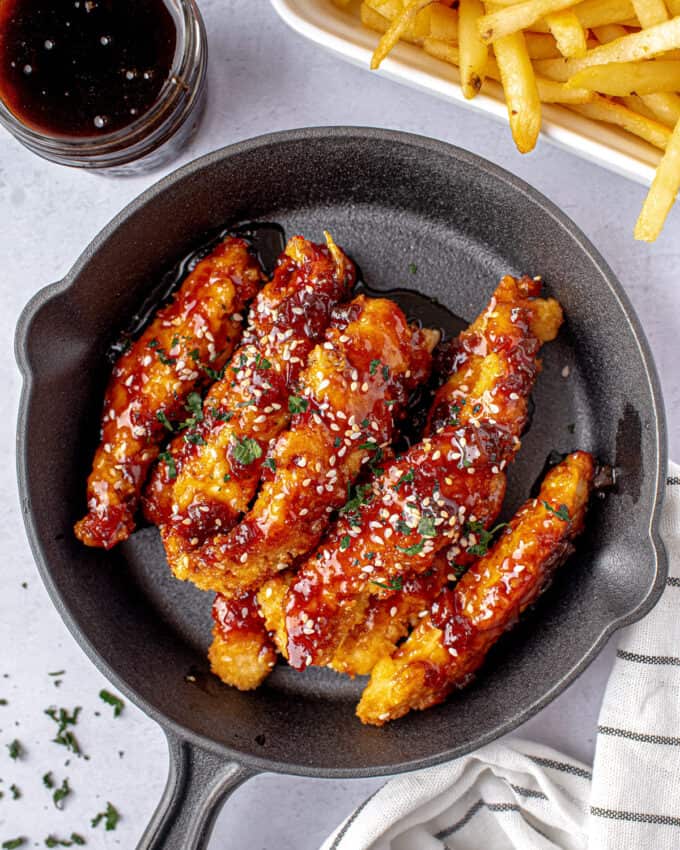 However, there are things you can do to prep ahead, cutting down the total time it takes to make these chicken strips.
Chicken – the chicken can be sliced and kept in an airtight container in the refrigerator until you're ready to use it.
Sauce – the biggest time saver is going to be to make the whiskey glaze ahead of time. The sauce should be refrigerated in an airtight container until you're ready to use it.
Breading – lastly, the breading can be combined and stored in an airtight container at room temperature until you're ready to use it.
Storage
Leftover chicken strips should be stored in an airtight container in the refrigerator and eaten within 3-4 days.
To reheat, bake in a preheated 350°F for 10-15 minutes. This should help them stay somewhat crispy during the reheating process.
Freezing
I don't recommend freezing this recipe for one main reason. Cooking frozen food in hot oil might be fine some of the time, but there's also a massive potential for the oil to boil over, causing a fire.
Any ice on the frozen food, when in contact with the hot oil, can cause the oil to bubble up rapidly, and can injure you. The safest way to fry frozen chicken is to thaw it first.
However, during the thawing process, the breading in this recipe will get soggy. So my advice, is not to freeze this recipe.
The easiest way to fry, is to know what temperature your oil is… and a thermometer is the tool for that. This version clips right on the side of your pot, so you can have perfect frying results, every time!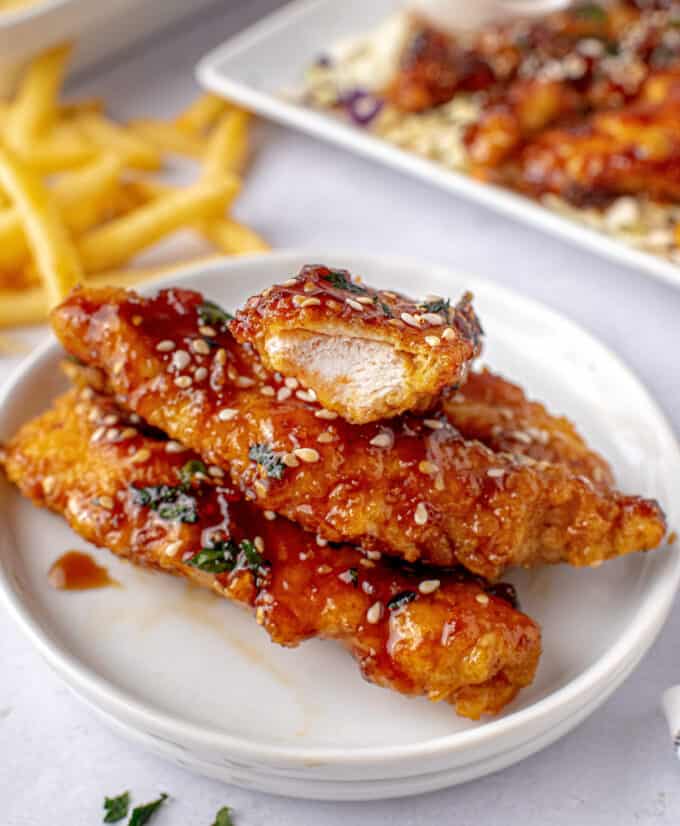 Handy Frying Tips!
Pat the meat very dry before adding it to the batter. The wet batter will slide right off a wet piece of chicken.
Use a thermometer to ensure the oil is the right temperature. Guessing just isn't the way to go here. If the oil is too hot, the chicken will burn before they're cooked through. If the oil is too low, the chicken will take on too much oil and be oily and soggy. Around 350°F is the sweet spot.
Drop the breaded food away from you when you add them to the oil. Hot oil is not fun to get on your bare skin – trust me!
Don't overcrowd the pot/pan. Every time you add anything to hot oil, it lowers the temperature a bit. So adding all your chicken at once will drop the temperature too much, which leads to unevenly cooked, oily and soggy chicken. I like to add about 10 pieces of chicken at a time, when using a large pot.
Use a frying spider instead of tongs to handle fried food in the oil. Tongs have a tendency to rip off pieces of that delicious batter. Spiders are inexpensive and great for so many things.
Drain the fried food of excess oil after frying by adding it to a wire cooling rack. This elevates the food and keeps the coating crisp.
Did you make this? Be sure to leave a review below and tag me @the_chunky_chef on Facebook and Instagram!
Crunchy chicken strips breaded simply and fried to crispy perfection, then tossed in a mouthwatering whiskey glaze! This copycat recipe tastes just like that appetizer from TGI Fridays!
Ingredients
1 1/2 lbs boneless skinless chicken tenders
peanut oil (or vegetable/canola oil) enough to fill a large heavy bottomed pot about 2 inches deep
Breading
1 cup all purpose flour
1 cup panko breadcrumbs
1 Tbsp sesame seeds
1 tsp paprika
3/4 tsp kosher salt
1/2 tsp garlic powder
1/4 tsp black pepper
Egg wash
2 large eggs lightly beaten
1/4 cup buttermilk or regular milk
Sauce and garnish
1 cup whiskey glaze more or less, to taste (linked below in Chef Tips section)
additional sesame seeds for garnish
minced fresh parsley for garnish
Instructions
Prepare
Add oil to dutch oven (or other large heavy bottomed pot) and heat over MED heat to 350°F.  Line a baking sheet with a paper towel, then top with a wire cooling rack.  Set aside, near the stove.

Slice chicken tenders lengthwise in half.

Top another baking sheet or large plate with wax paper.  Line up 2 shallow bowls next to the wax paper lined plate. 

In one of the bowls, add the breading ingredients (flour, panko, sesame seeds, paprika, salt, garlic powder and black pepper).  Stir together.

In the other bowl, add the eggs and buttermilk, beating together.
Bread the chicken
Add the chicken strips, one at a time, first in the breading bowl, turning to coat all sides, then shaking off the excess.

Next add the chicken strip to the egg mixture, turning to coat all sides, letting the excess drip off.

Next add the chicken strip back to the breading bowl, turning and patting to coat all sides very well.

Finally, transfer breading chicken strip to the wax paper lined baking sheet/plate. Repeat with remaining chicken pieces.
Fry chicken
When oil is hot and has come to the 350°F temperature, gently add a chicken strip (carefully dropping away from you), then repeat with another 4 chicken strips.

Fry for approximately 5-6 minutes, or until golden brown and cooked through, flipping the chicken over halfway through frying so the other side can brown.

Remove to prepared wire cooling rack topped baking sheet, and repeat with any remaining chicken strips, frying 5 strips (or less) at a time.
Toss and Serve
Just before serving, add chicken to a large mixing bowl, drizzle with sauce and toss to combine.

To serve, sprinkle with sesame seeds and minced parsley and serve with a small ramekin or bowl of extra sauce.
Want to save this recipe for later? Click the heart in the bottom right corner to save to your own recipe box!
Chef Tips
The Copycat Whiskey Glaze recipe (click for link)
Any calorie information shared does not include the oil or whiskey glaze, as the amount of those ingredients will vary from person to person.
I've estimated this will serve 4 people, but the exact serving amount will be up to you.
Nutrition Disclaimer
The Chunky Chef is not a dietician or nutritionist, and any nutritional information shared is an estimate. If calorie count and other nutritional values are important to you, we recommend running the ingredients through whichever online nutritional calculator you prefer. Calories can vary quite a bit depending on which brands were used.