These bakery-style Crumble-Topped Cranberry Muffins are soft and tender, and bursting with sweet and tart cranberries in every bite! Perfect as a breakfast or snack, these muffins are also freezer-friendly.
This is one of my Muffin recipes I know you'll want to keep on hand!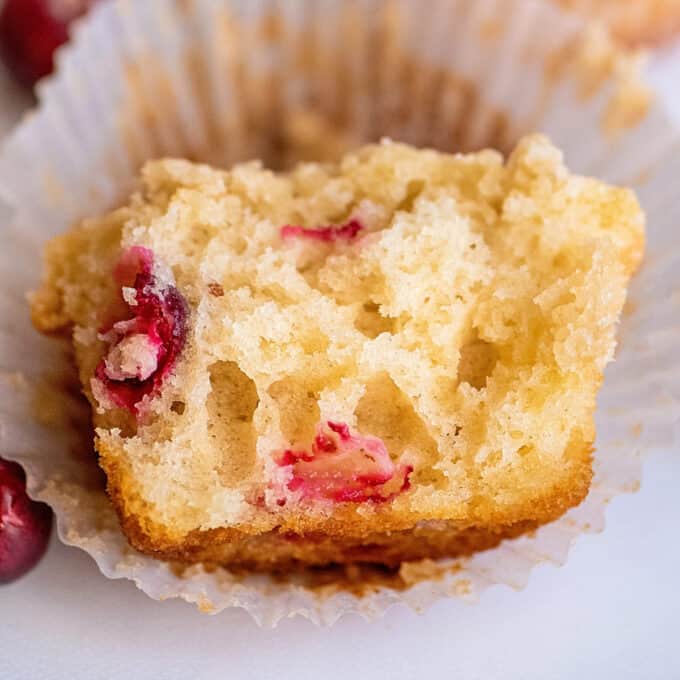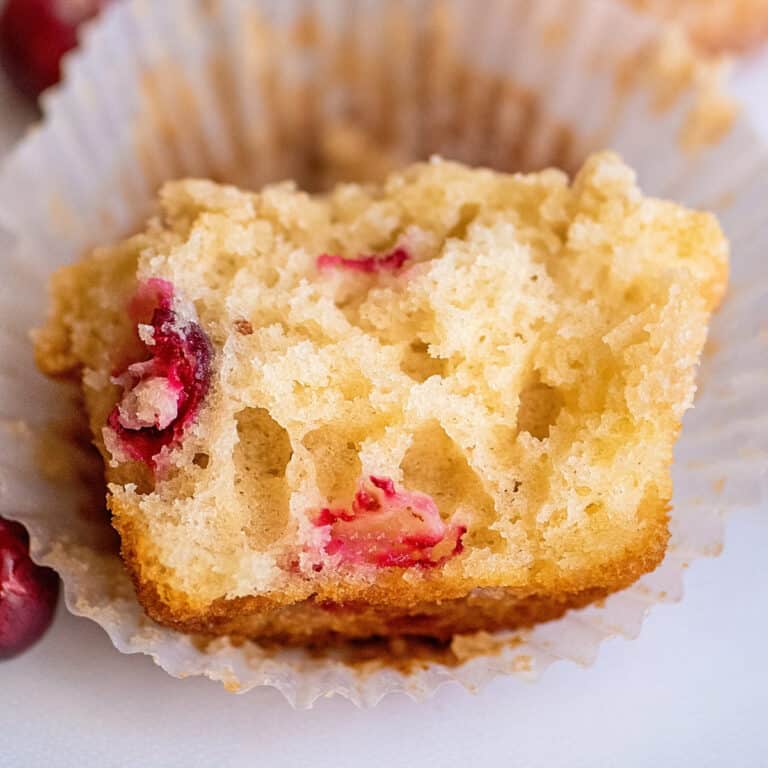 It's cranberry season! Other than using them to make Cranberry Sauce and White Christmas Sangria, these muffins are one of my favorite cranberry recipes.
They're the perfect combination of sweet and tart, and full of bright, refreshing flavors! And they're SO much better than any muffins you could make from a mix/box.
Once you start making homemade muffins you'll realize how easy they are, and how much better they taste, and you won't be buying anymore pre-made mixes.
Plus, muffins are great to freeze, so you can have fresh muffins anytime you want them!
How to make cranberry muffins?
This is just an overview; the full ingredients and directions are in the recipe card toward the bottom of this post.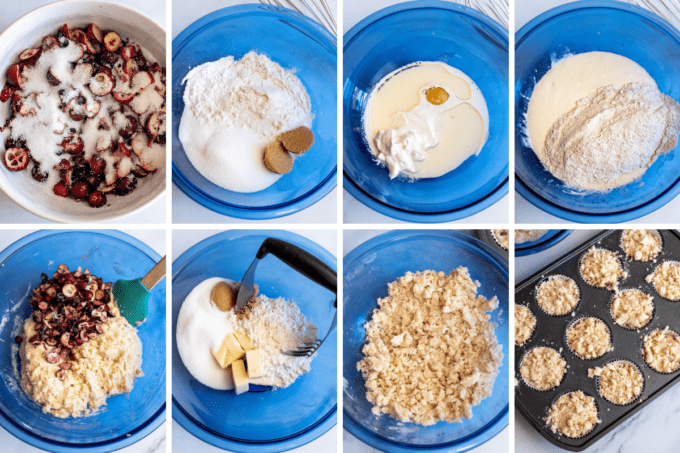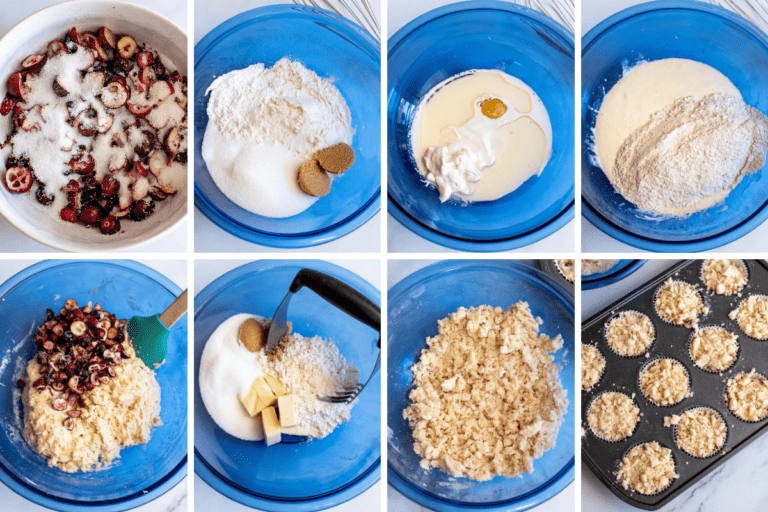 Prepare cranberries. Chop cranberries, then stir together with sugar.
Combine dry ingredients. Add the granulated sugar, brown sugar, flour, baking powder and salt to a mixing bowl and whisk.
Combine wet ingredients. Add egg, sour cream and oil to another mixing bowl and whisk.
Add dry to wet ingredients. Gently stir in the dry ingredients.
Fold in delicate ingredients. Gently fold/stir in the sugared cranberries.
Make topping. In a small mixing bowl, combine ingredients and cut together until small clumps form.
Transfer batter to pan. Scoop batter into a lined muffin pan, filling the liners 2/3 of the way full.
Add topping and bake. Sprinkle topping over the top of muffin liners, then bake until cooked through.
Cool. Let muffins cool in pan for a few minutes, then transfer to wire rack to continue cooling.
Helpful Tip!
Making a crumb topping or streusel can be intimidating if you haven't done it before. But I promise it's easier than you think. The key is to have the right tools, and have your ingredients at the right temperature. A pastry cutter is my preferred tool, but you can use two forks, two knives, or even just your hands. The right temperature is to have your butter cold. I like to cube the butter then keep it in the refrigerator or even freezer, until right before I need it.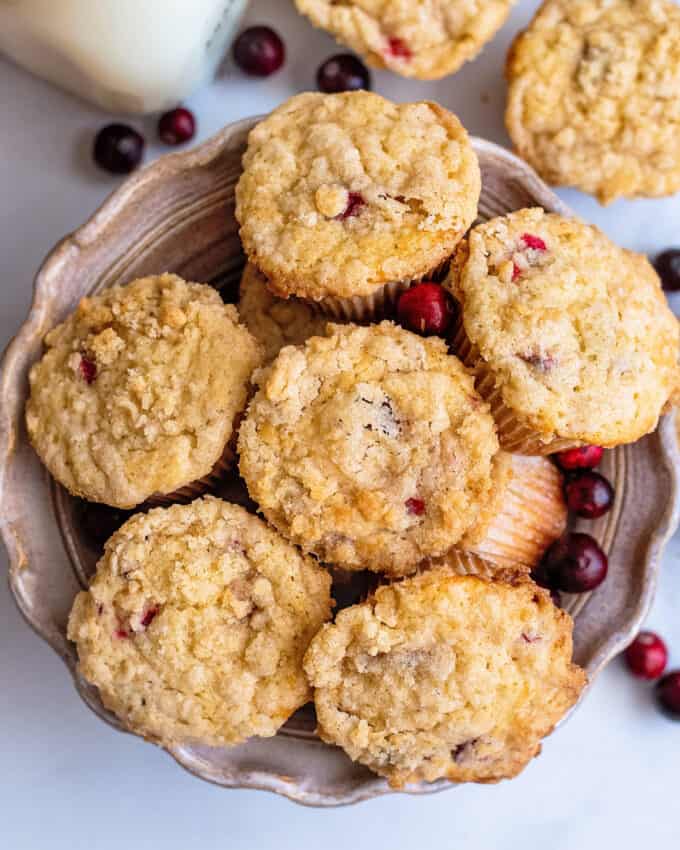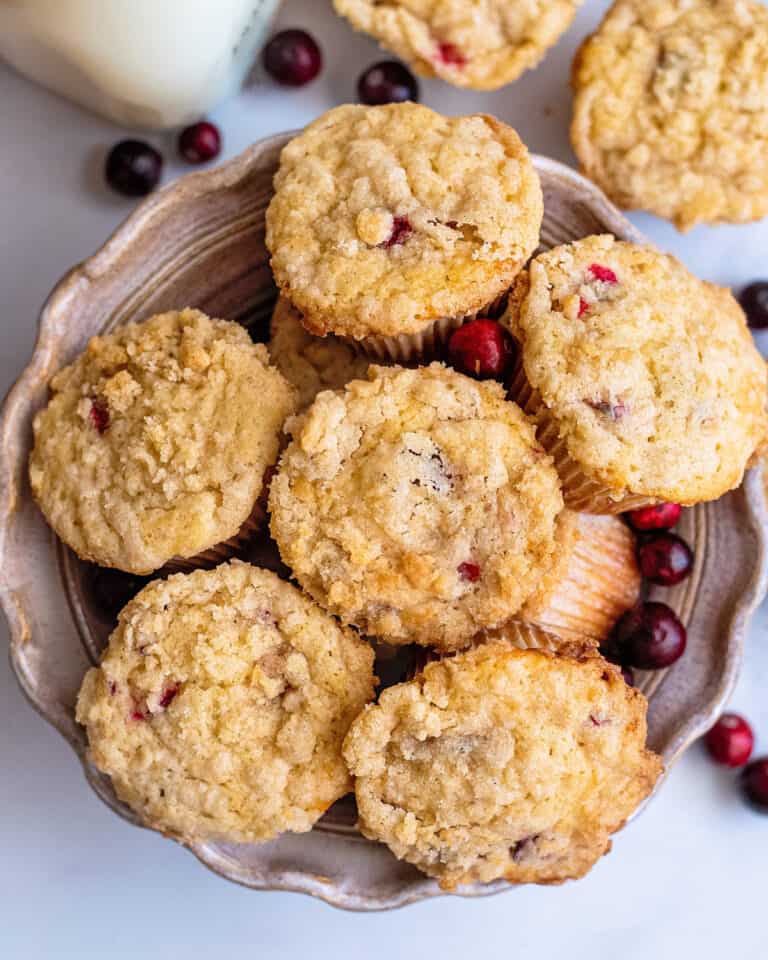 Variations of this recipe
Nuts – adding a handful of chopped, toasted pecans or walnuts adds great crunch and texture to your muffins.
Dried cranberries – if you don't have any fresh cranberries, you can use dried, but you'll use about 1 1/2 cups of dried cranberries.
Greek yogurt – if you prefer greek yogurt to sour cream, you can easily substitute with an equal amount of greek yogurt (plain and full fat is preferred).
Glazed – instead of the streusel topping, try whisking together 3/4 cup powdered sugar and 1-2 Tbsp orange juice or milk. Whisk until smooth and drizzle over the tops of the muffins!
Domed tops – if you like your muffins to have a more domed top, bake the muffins at 425°F for the first 5 minutes, then reduce oven temperature (while the muffins are still in there) to 375°F and continue baking another 13-15 minutes.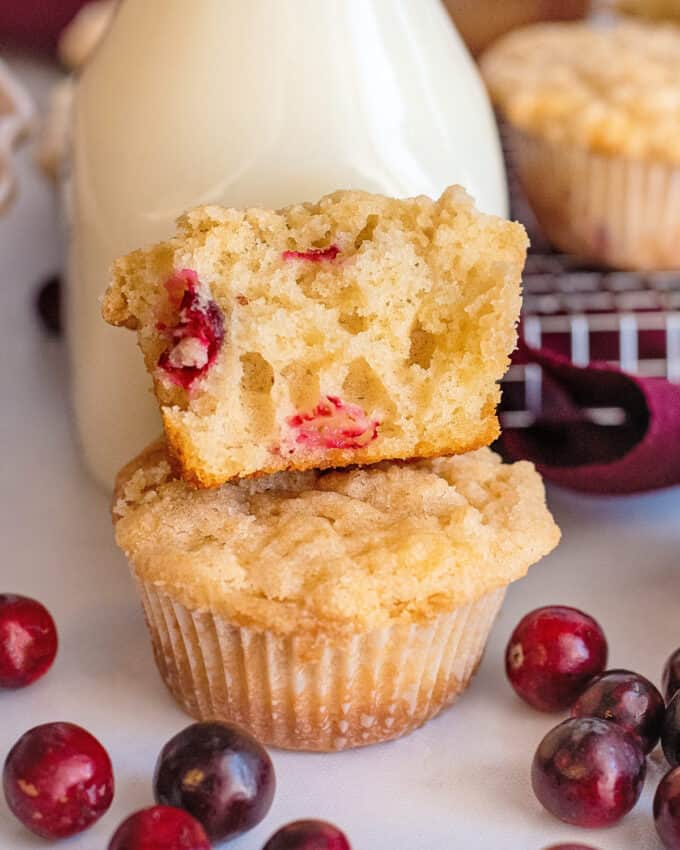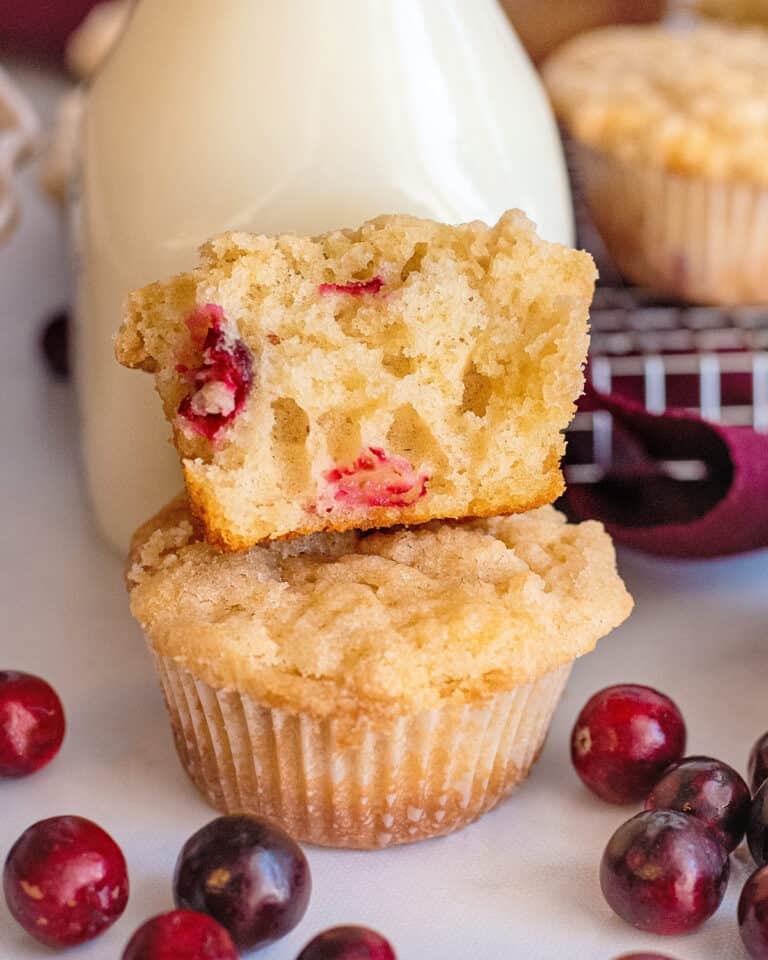 FAQ's
Can I add orange to these cranberry muffins?
Cranberry and orange go so well together don't they? You can add some orange zest to these muffins, or check out my cranberry orange muffin recipe.
Do you have to cook cranberries before using them in baking recipes?
There's no need to take any extra steps by cooking the cranberries. They cook as they bake in the muffins.
Can you use frozen cranberries for this muffin recipe?
Yes, you can use frozen cranberries. If it's not around Thanksgiving and Christmas, I have a hard time finding fresh cranberries in my grocery store. Just be sure to thaw them, and pat them dry before using them in this recipe. I
Making cranberry muffins ahead of time
We think these muffins taste just as good, if not better the next day… so you can make them a day ahead of time, but I wouldn't do much more than that.
But my favorite way to enjoy these muffins is nice and warm from the oven!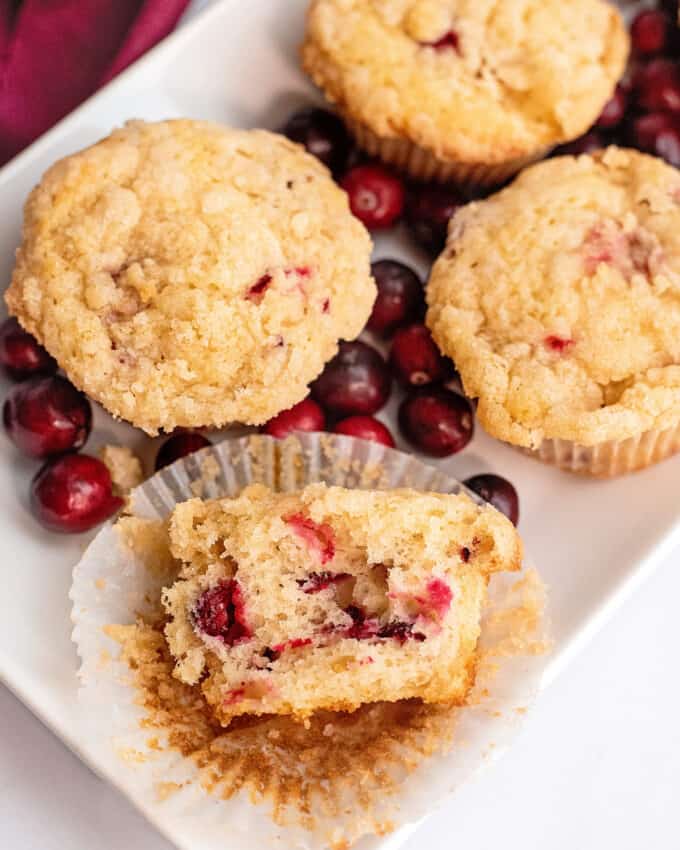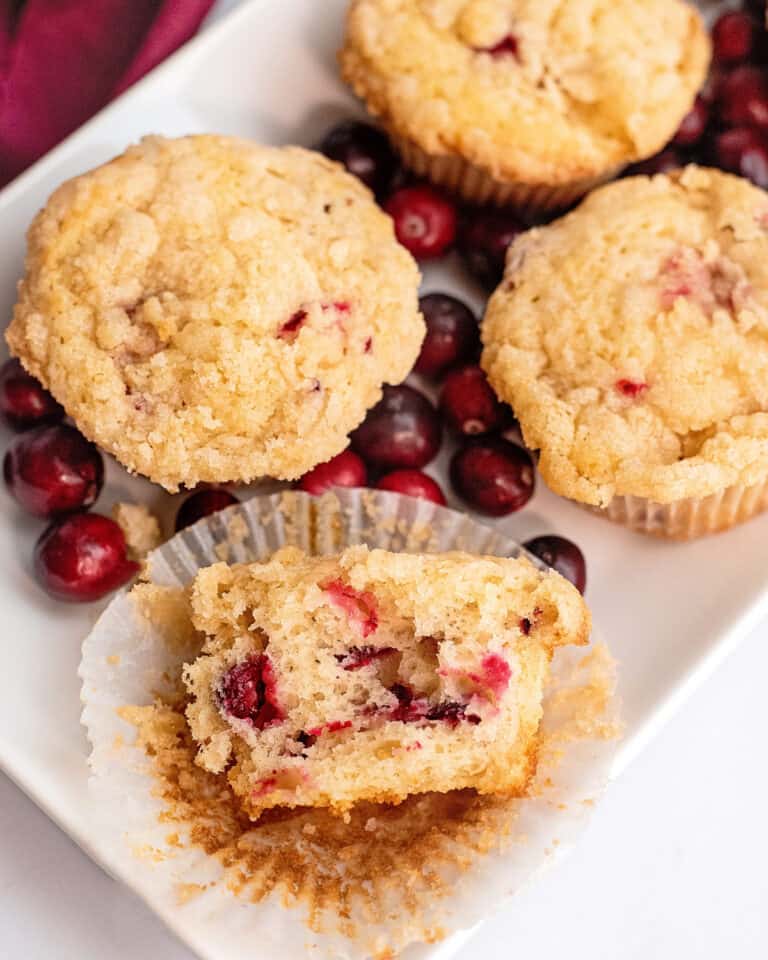 Storage
Leftover muffins should be stored at room temperature in an airtight container and consumed within 3-4 days.
For best taste, consume within 1-2 days.
Freezing
Baked muffins can be frozen for up to 3 months. Place muffins on a baking sheet and freeze for 1-2 hours, then place frozen muffins into freezer containers, label them, and freeze.
Thaw overnight in the refrigerator (or on the counter for an hour or so), then reheat at 350°F for 10 minutes or so to warm them up and give them that "just baked" taste.
Top Baking Tips!
These tips will help you further perfect your baking skills.
Room temperature ingredients – for the best results when baking, your cold ingredients should be at room temperature so they can incorporate fully into the batter, unless otherwise indicated in the recipe.
Easy on the stirring – when mixing you want to stir or beat until JUST combined (when you no longer see streaks of flour). If you over-mix, your baked goods could end up tough, bake unevenly, or have lots of large holes in it.
Use fresh ingredients – some of these are obvious, like using non-expired eggs, but did you know using older baking soda or baking powder can affect the way your baked goods bake? Over time, leavening agents (which is what baking soda and powder are) will lose their efficacy, and won't give your baked goods a good rise.
How to tell if your leavening agents are still good – If you're unsure if your baking soda or powder are still good, drop a pinch in some hot water. If it fizzes, it's still good! If not, then you're in need of some new ingredients.
For optimal results, bake one pan at a time. I know it's a hassle, and most of the time, I'm guilty of cramming two pans in there side by side (but then rotating and switching sides halfway through baking). But when you're starting out, or want perfect cupcakes/muffins/cookies/etc, bake one pan, and put the pan right in the middle of the center rack.
Follow the recipe. This may seem like a no-brainer, but there's a reason the recipe is written the way it is; because it works that way. With cooking you may be able to swap out ingredients, guess on the measurements, etc, but with baking you really don't want to do that. Only use any substitutions specifically mentioned, and follow everything to the letter.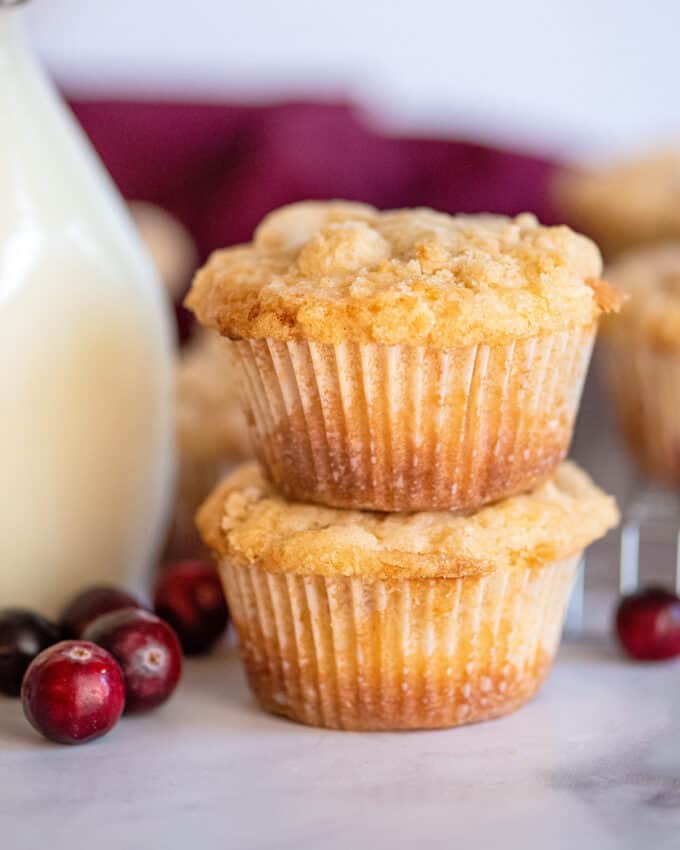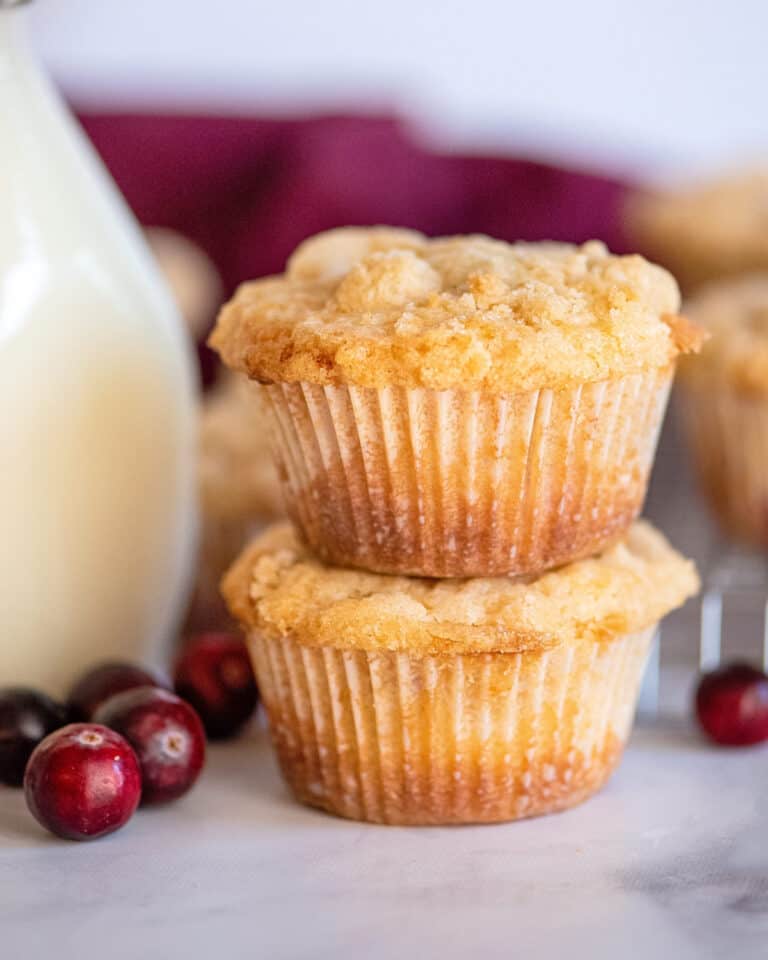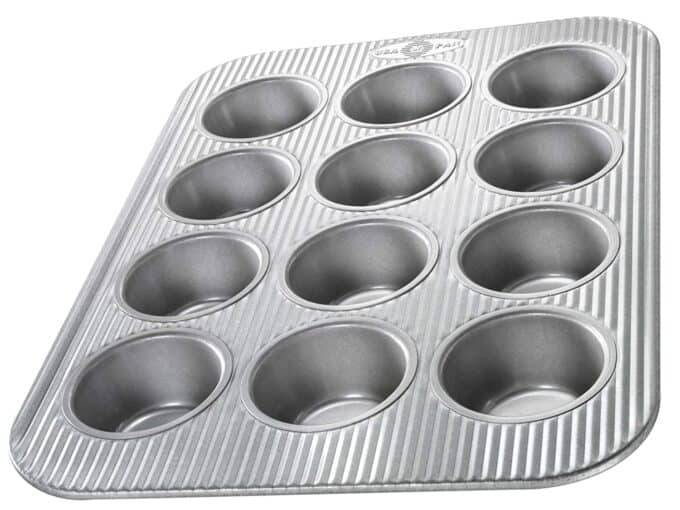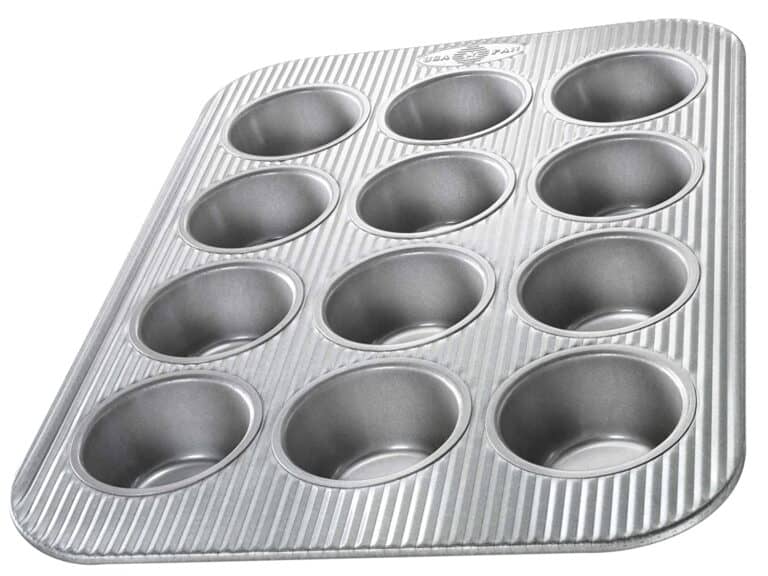 I've had several of these pans for years, and they've held up so well! Not to mention they clean up like a dream.
Did you make this? Be sure to leave a review below and tag me @the_chunky_chef on Facebook and Instagram!
These bakery-style Crumble-Topped Cranberry Muffins are soft and tender, and bursting with sweet and tart cranberries in every bite! Perfect as a breakfast or snack, these muffins are also freezer-friendly.
Ingredients
Cranberries
1 cup fresh cranberries
2 Tbsp granulated sugar
Muffins
1/3 cup granulated sugar
2 Tbsp packed light brown sugar
1 1/2 cups all purpose flour
2 1/2 tsp baking powder
1/4 tsp kosher salt
1 large egg
1/2 cup sour cream
1/3 cup vegetable oil
Crumble Topping
1/2 cup all purpose flour
1/2 cup granulated sugar
2 Tbsp packed light brown sugar
6 Tbsp cold unsalted butter
Instructions
Preheat oven to 400°F. Line a standard 12 cup muffin pan with paper liners and set aside.

Chop the cranberries, then add to a small mixing bowl. Add 2 Tbsp granulated sugar, stir, then set aside.

In a mixing bowl, add granulated sugar, light brown sugar, flour, baking powder, and salt. Whisk to combine. Set aside.

In another larger mixing bowl, add the egg, sour cream, and vegetable oil. Whisk together, then stir in the dry ingredients from the previous step, until just combined.

Gently stir in the cranberry mixture.

In the mixing bowl you used for the dry ingredients, add the crumble topping ingredients (flour, granulated sugar, brown sugar, and butter). Cut the butter into the mixture using a pastry cutter, two forks, or just your fingers. Once you get pea-sized clumps, you're good.

Scoop/pour batter into the prepared muffin pan, filling the liners about 2/3 of the way up. Evenly sprinkle the crumble topping over the tops of the muffin batter.

Bake in preheated oven for approximately 18 minutes, or until a toothpick inserted in the center comes out clean or with a few moist crumbs.

Remove muffin pan from oven and let muffins cool in the pan for a 3-5 minutes, then transfer to a wire cooling rack to continue cooling.
Want to save this recipe for later? Click the heart in the bottom right corner to save to your own recipe box!
Chef Tips
Recipe makes approximately 12-14 muffins, but can easily be doubled if you'd like to make more.
Nutrition Disclaimer
The Chunky Chef is not a dietician or nutritionist, and any nutritional information shared is an estimate. If calorie count and other nutritional values are important to you, we recommend running the ingredients through whichever online nutritional calculator you prefer. Calories can vary quite a bit depending on which brands were used.