These Espresso Shortbread Sandwich Cookies are made with a buttery shortbread base that's flecked with espresso powder and filled with a decadent chocolate ganache. Perfect for any holiday gathering or cookie tray, these cookies positively melt in your mouth!
This is one of my Holiday Dessert recipes I know you'll want to keep on hand!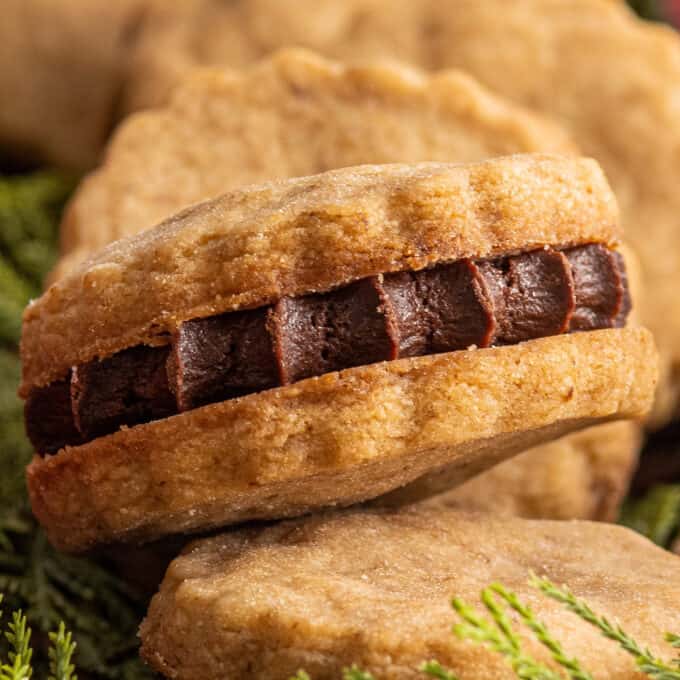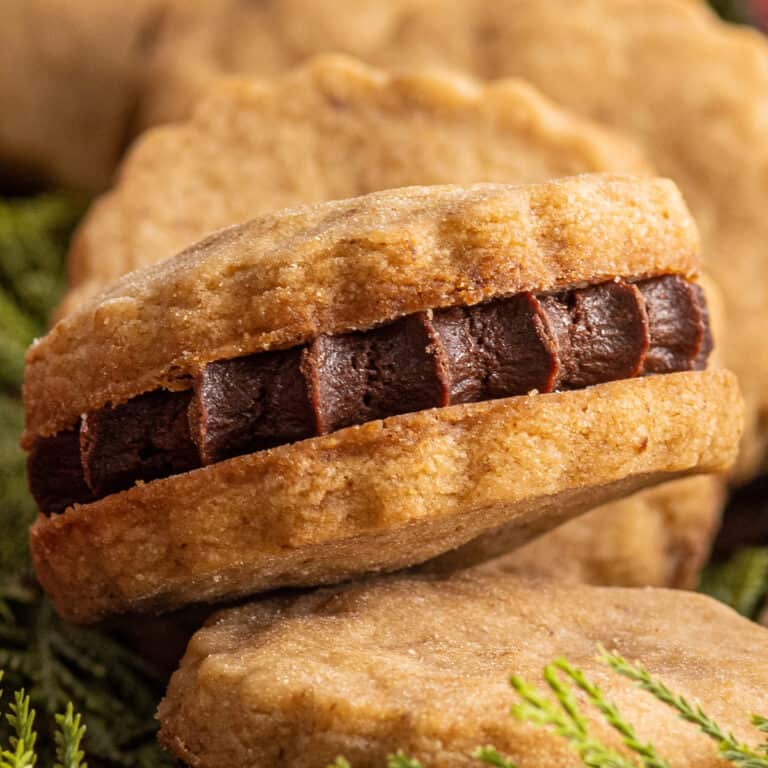 Shortbread cookies are one of those quintessential holiday cookies. You'll find them on almost all dessert trays and in every cookie exchange… not to mention, Santa enjoys them as well!
While regular shortbread is amazing, these cookies are taken up several notches.
Flecked with espresso and vanilla, then sandwiched together with a rich chocolate ganache… what could be better?
I have a couple other shortbread cookie variations in the works, a lot of which I won't have time to get out for this holiday season. But fear not, they'll be out in time for the next one!
How to make espresso shortbread cookies?
This is just an overview; the full ingredients and directions are in the recipe card toward the bottom of this post.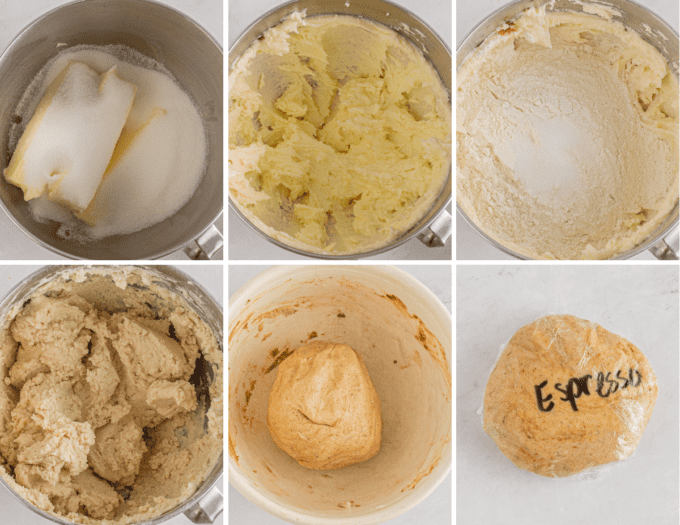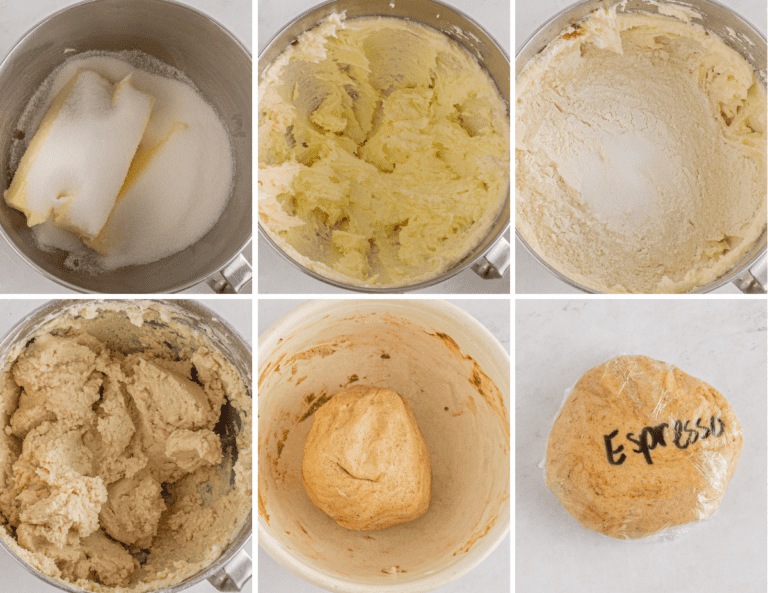 Combine butter and sugar. Beat until creamy, about 2 minutes.
Beat in powdered sugar, then vanilla. Beat about 1 minute.
Add dry ingredients. This is the flour, espresso powder and salt.
Wrap in plastic wrap. This keeps the dough moist while it chills in the refrigerator.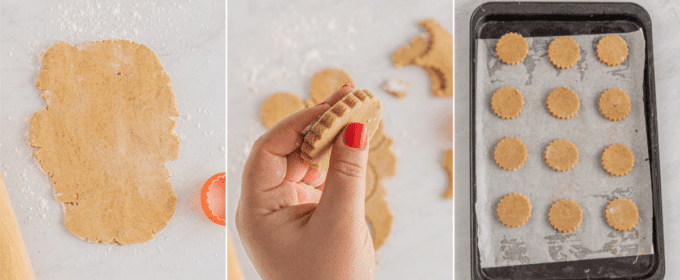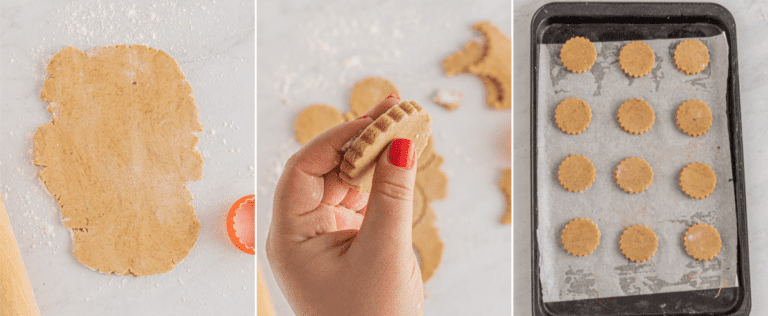 Roll out dough. Do this on a floured surface and gently, into a rough rectangle(ish) shape.
Cut out cookies. I use a 2″ scalloped round cutter.
Place on baking sheet. Chilling is optional here.
Bake.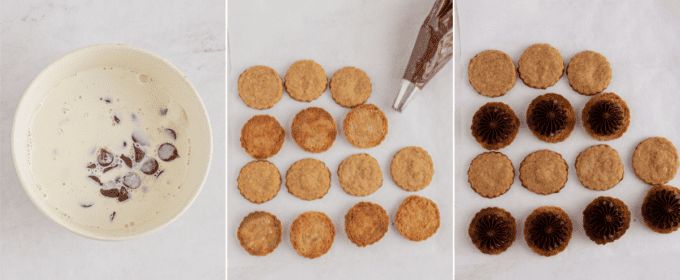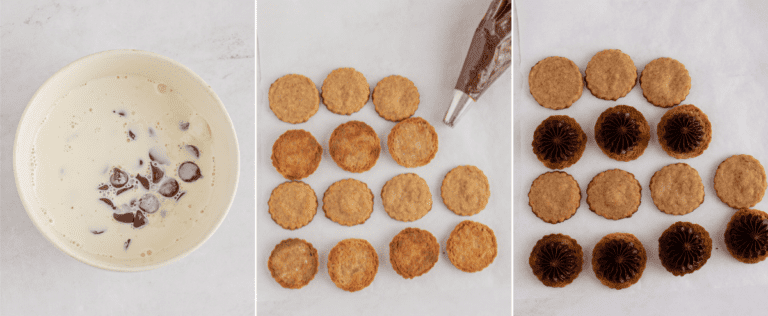 Heat cream and pour over chocolate. Microwave the cream for about 1 minute, then pour over chocolate chips in a bowl. Let sit another minute.
Stir. Stir until a smooth and thick chocolate filling forms.
Line up cookies and pipe. Add the ganache to a cookie, then top with another one and push down gently.
Repeat.
Chill for about 15 minutes to set.
Helpful Tip!
Shortbread cookies are hard to over-mix since the amount of butter in them prevents any gluten development, so don't worry re-rolling the dough too much. Also, be gentle when rolling out the dough, do so gently. The dough has a tendency to be slightly crumbly.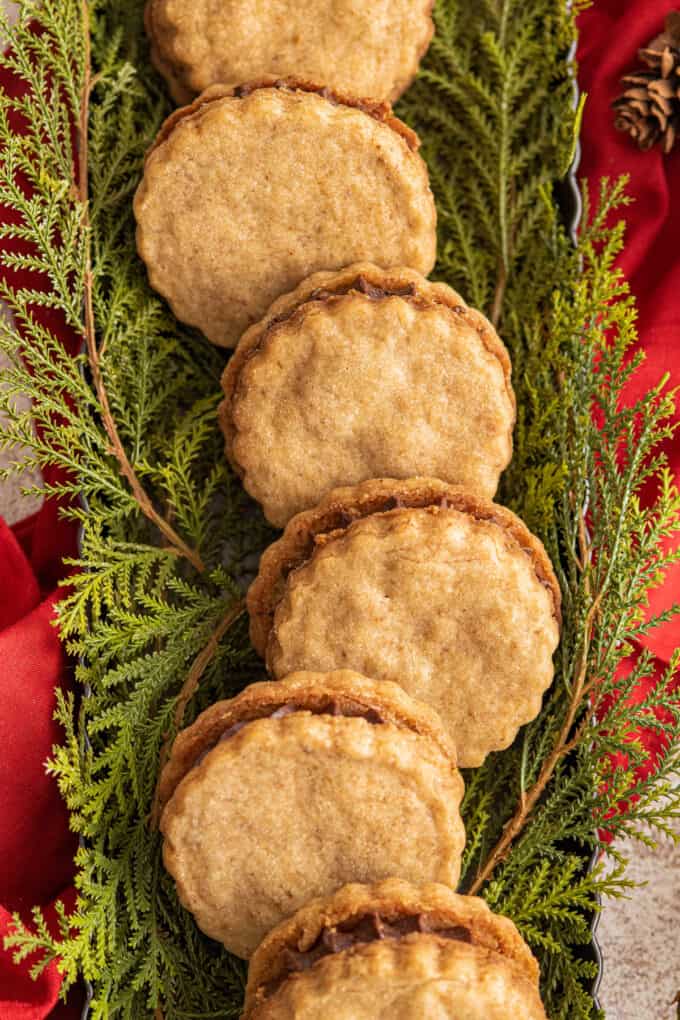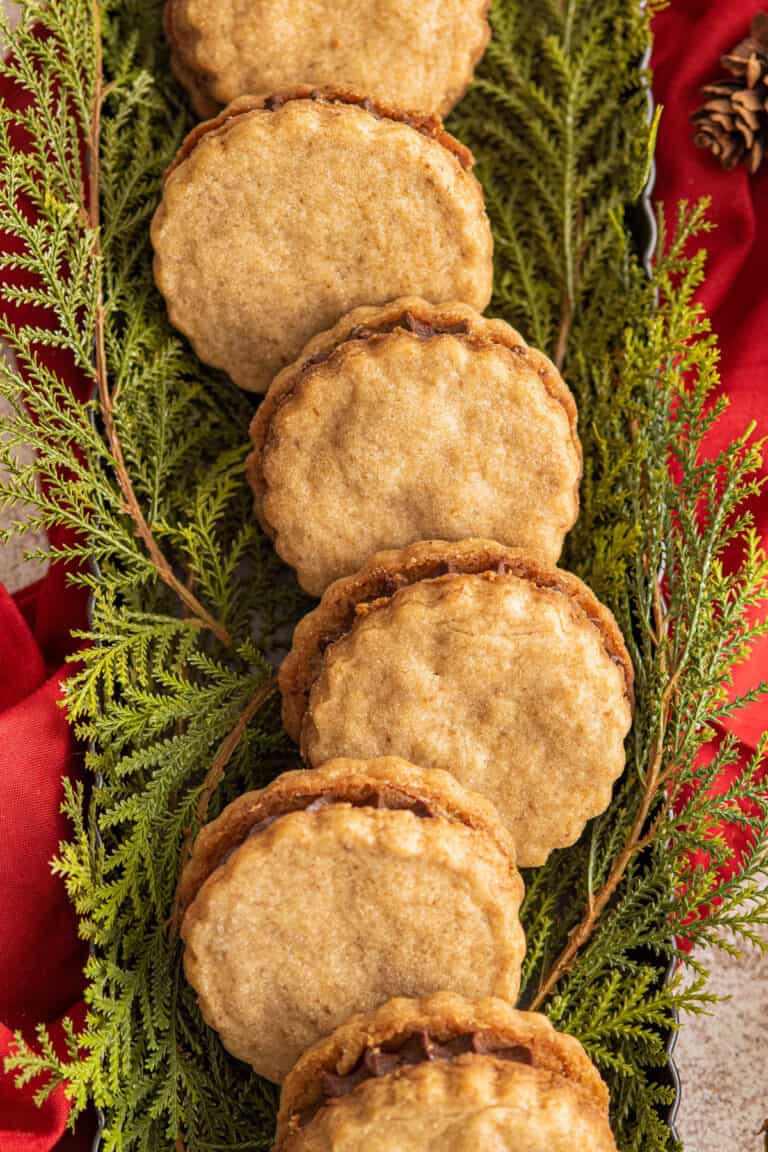 Variations of this recipe
Plain – if you would rather have regular shortbread cookies, you can omit the espresso powder, and skip the ganache and sandwiching the cookies.
Dipped – alternately, instead of making the filling, you can melt some chocolate and dip part of the cookie into it. I like to do this, and add sprinkles to the chocolate side for a fun festive twist.
Different shapes – feel free to use any cookie cutter you'd like, just keep in mind the baking time listed in the recipe is for this specific cookie size and shape, so yours may need to be altered.
Other chocolate – my preferred chocolate to use is dark chocolate or semi-sweet, but you can use any variety you'd like.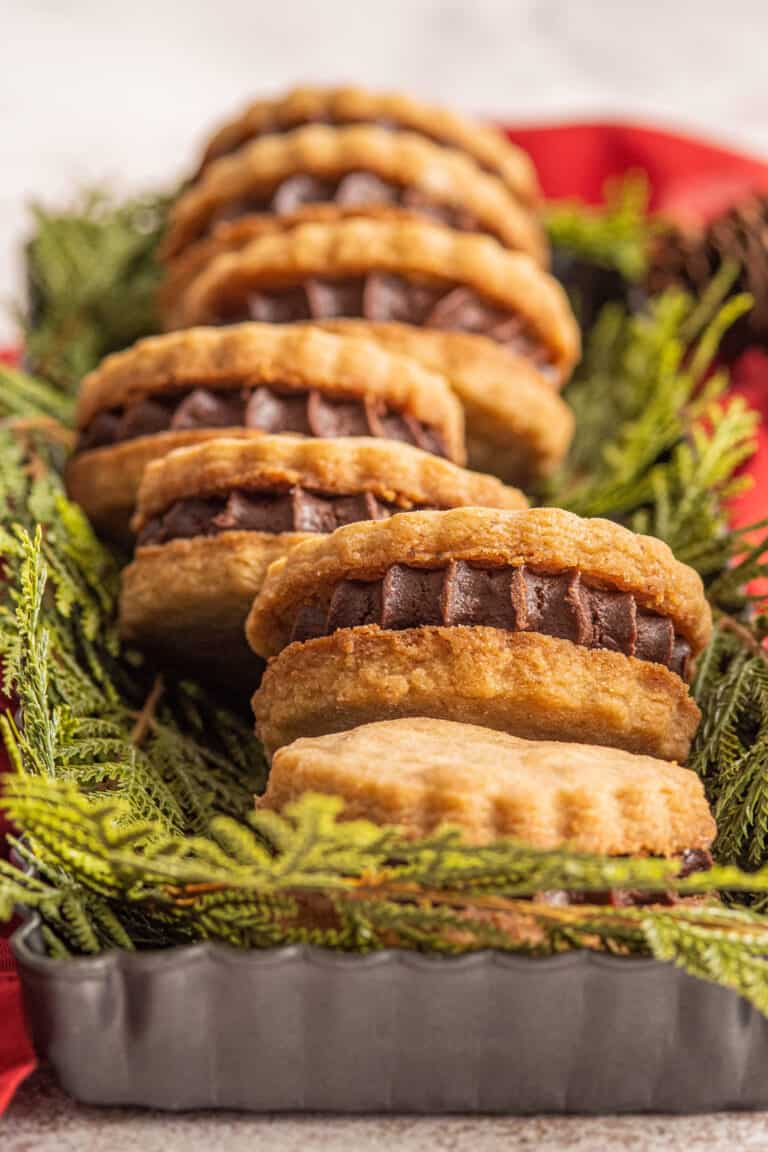 FAQ's
Can I use ground coffee instead of espresso powder?
I do not recommend using ground coffee. The texture won't be good, and the taste will be off. Espresso powder is readily available in my small town, and of course, it's on amazon (link). Or if you would prefer, you can omit it completely.
What is the texture of shortbread cookies?
Shortbread is crisp on the edges, softer in the center, with a slightly crumbly and super buttery flavor. They're the definition of melt in your mouth cookies.
What chocolate can I use to make ganache?
You can use any type of chocolate to make a ganache; milk, dark, white, bittersweet, semi-sweet, etc. I love using dark chocolate, but the kind is completely up to you.
Making shortbread cookies ahead of time
Not only can espresso shortbread cookies be made ahead of time, but the dough can also be prepared ahead, and even frozen!
Make the dough, roll it out, and cut out the cookies, and store them in the refrigerator for up to 3 days.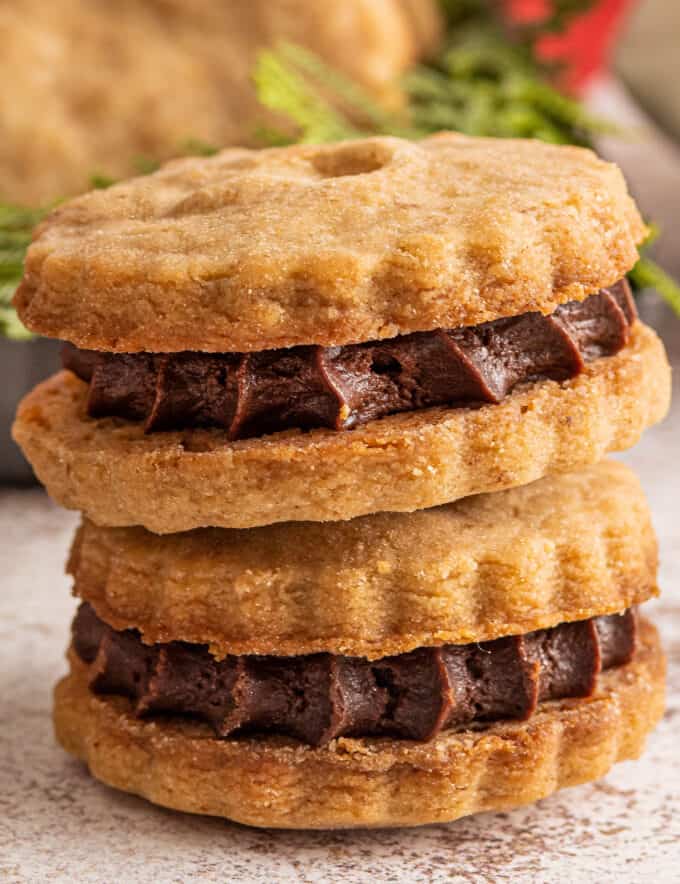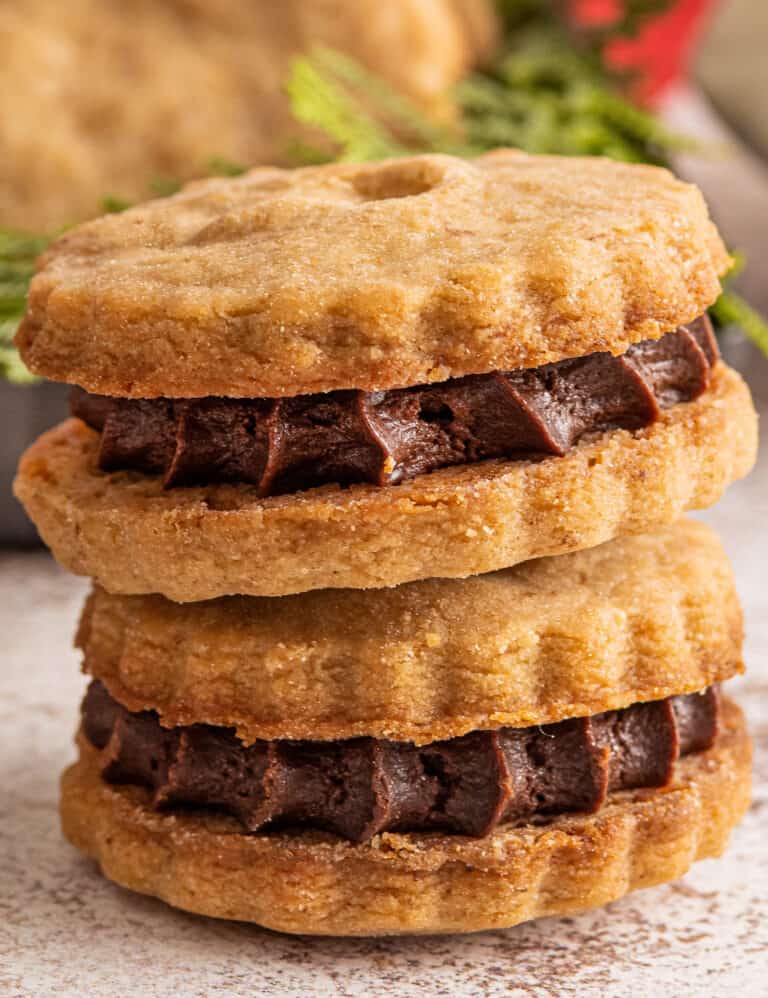 Freeze the cut out, but unbaked, cookies on a lined baking sheet and place the whole thing in the freezer. Freeze for an hour or two, until cookies are frozen solid.
Transfer frozen cookies to an airtight freezer container, label it, and freeze.
The cookies can either be thawed, or baked from frozen. Frozen cookies will take a few minutes longer.
Storage
Shortbread cookie sandwiches should be stored in an airtight container at room temperature for up to 4 days, or in the refrigerator for a week.
Freezing
Baked cookies (without the ganache filling) can be frozen for up to 3 months.
Add cooled cookies to a lined baking sheet and place the whole thing in the freezer. Freeze for an hour or two, until cookies are frozen solid.
Transfer frozen cookies to an airtight freezer container, label it, and freeze.
Thaw in the refrigerator before eating.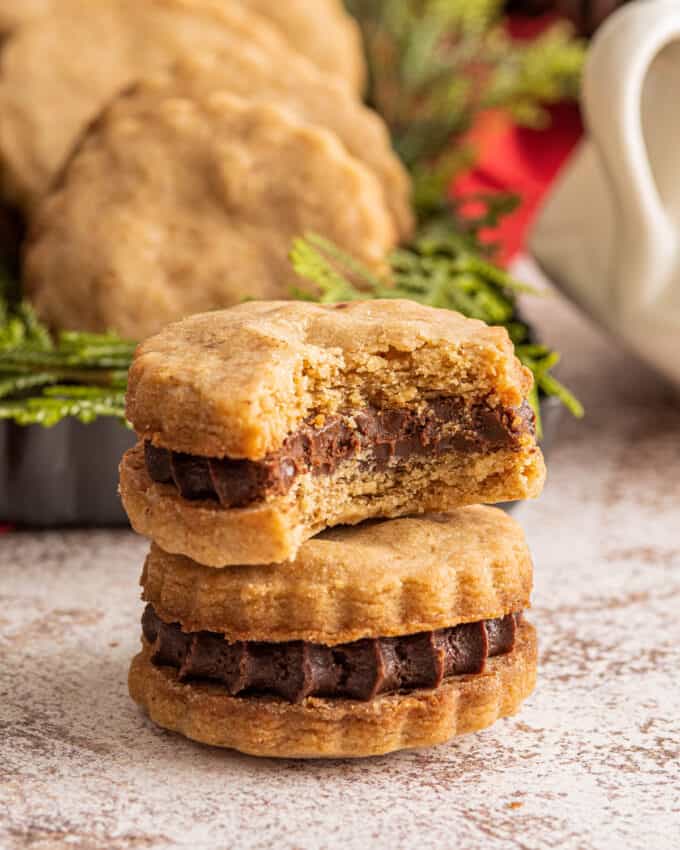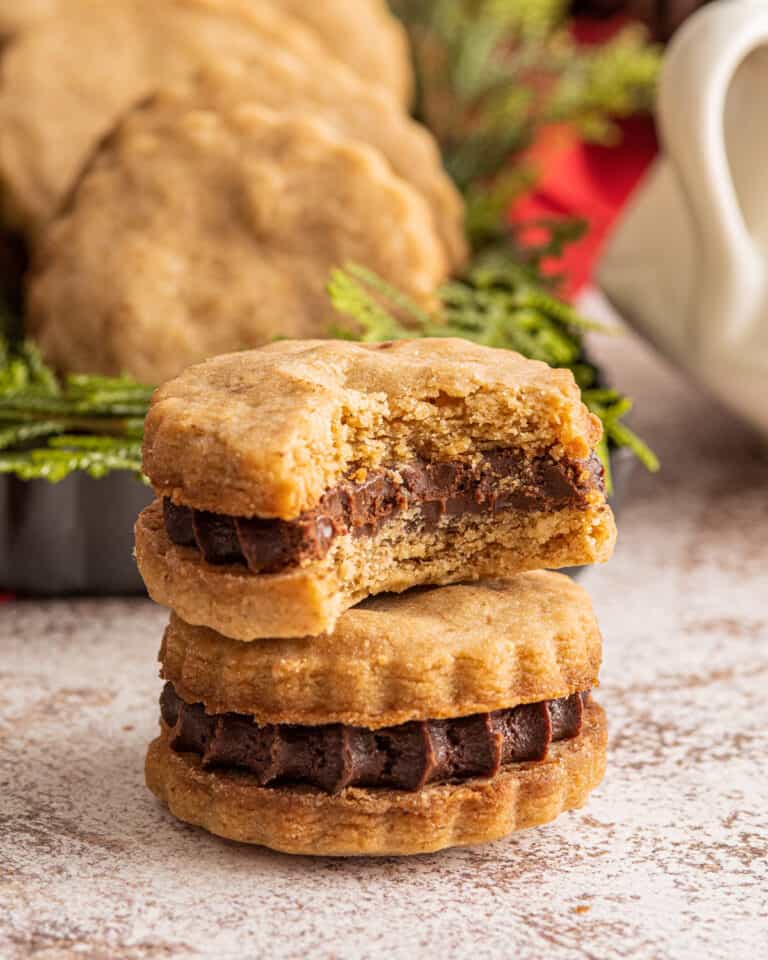 Tips for Cookie Success
Mixer – if you don't have a stand mixer, or would rather not clean it afterwards, you can use a hand-mixer. I do recommend using a mixer of some kind to make sure the ingredients are properly mixed. You can use a sturdy whisk and your good ol' arm muscles to mix the ingredients if that's all you have available.
Cookie cutters – I prefer the ones that have a deep edge, and really love the ones that have rubber grips. This is the one I normally use (amazon link).
Room temperature ingredients – normally, for the best results when baking cookies, your cold ingredients (like the butter and eggs) should be at room temperature so it can easily be whipped and creamed.
Use real butter – this isn't the time to use shortening or margarine. Those perform differently in baking recipes, and this recipe was only tested using real butter.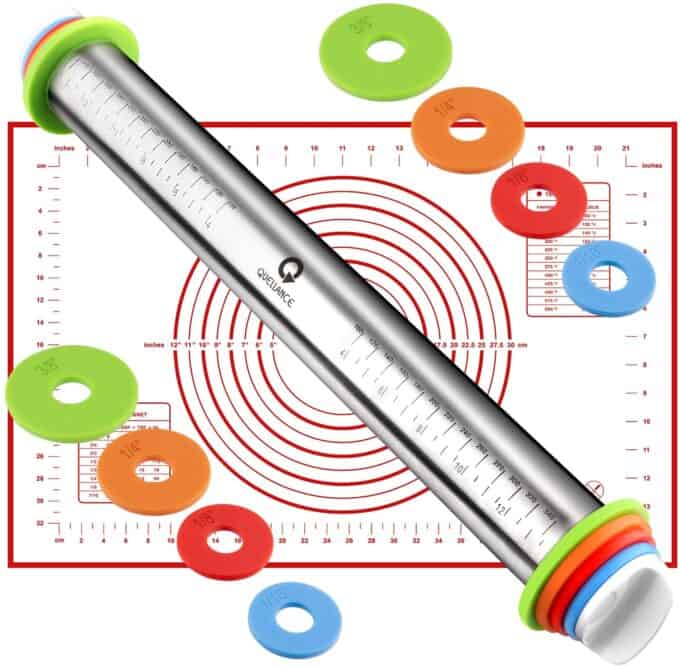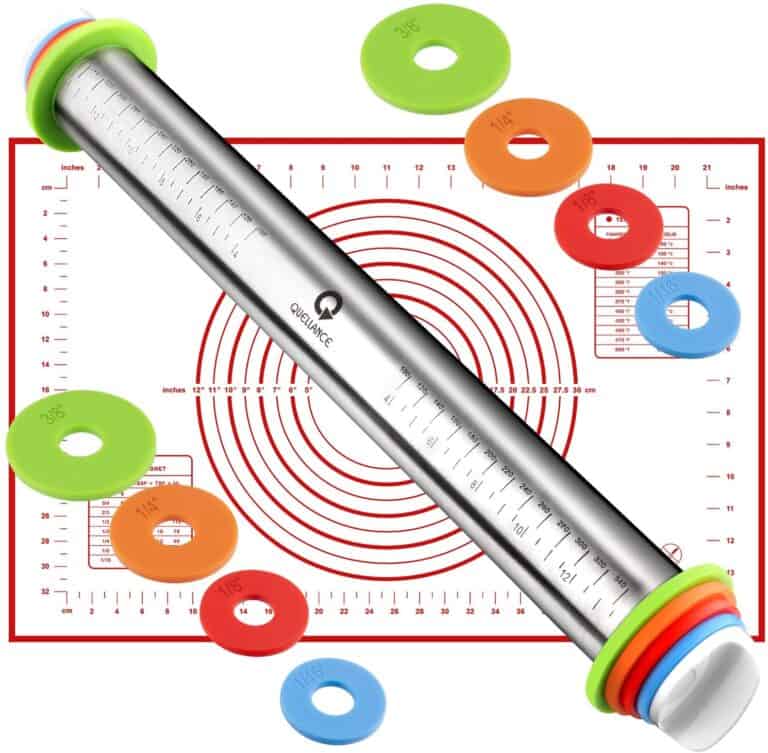 I love using this rolling pin since it's adjustable, so it takes all the guesswork out of how thick the dough is. Plus it comes with a pastry mat!
Did you make this? Be sure to leave a review below and tag me @the_chunky_chef on Facebook and Instagram!
These Espresso Shortbread Sandwich Cookies are made with a buttery shortbread base that's flecked with espresso powder and filled with a decadent chocolate ganache. Perfect for any holiday gathering or cookie tray, these cookies positively melt in your mouth!
Ingredients
Shortbread cookies
2 cups unsalted butter softened to room temperature
1 cup granulated sugar
1 cup powdered sugar
1 1/2 tsp vanilla extract
4 cups + 1 Tbsp all purpose flour
1 Tbsp espresso powder
1/2 tsp kosher salt
Ganache filling
1 1/3 cup chocolate chips we prefer dark chocolate, but use your favorite
1/2 cup + 1 Tbsp heavy cream
Instructions
Make dough
To the bowl of a stand mixer fitted with a paddle attachment (or large mixing bowl with a hand mixer), add the butter and granulated sugar. Beat on medium speed for about 2 minutes.

Add the powdered sugar and beat for about 1 minute, then add vanilla and beat until combined.

Add the flour, espresso powder, and salt, beating until combined.
Chill dough
Lay out a large sheet of plastic wrap on your counter or other work surface. Transfer the dough to the center of the plastic wrap, then wrap the dough up tightly.

Chill in the refrigerator for at least 1 hour, or up to 3 days.
Prepare to bake
Preheat oven to 350°F and line several baking sheets with parchment paper. Set aside.
Roll and cut the dough
Flour your work surface, then unwrap the dough and place it on the work surface. Gently roll the dough out into a rectangle that's about 1/4 inch thick.

Use a 2 inch cookie cutter (I used a scalloped round cutter), cut as many cookies out of the dough as possible. Place cut cookies on prepared baking sheet, leaving about an inch in between each cookie.

Use your hands to gather the remaining dough and roll it out into another 1/4 inch thick rectangle, cutting as many cookies out as you can and placing them on a prepared baking sheet. Repeat this until you don't have enough dough left to roll and cut.

This step is optional, and will depend on how quickly you worked through the rolling/cutting stage, and how warm you keep your home. I like to pop my baking sheets in the refrigerator for about 15 minutes or so, just to make sure they hold their shape. But again, that's optional, so if you feel you don't want to do it, you don't have to – just know they may not keep their shape as well.
Bake and cool
Bake in preheated oven for about 10 minutes, until lightly golden on the bottoms and just starting to be golden at the edges.

Transfer cookies to wire racks to cool completely.
Make ganache and fill
Add the chocolate chips to a bowl and set aside. Add the heavy cream to a different, microwave safe, bowl and microwave for about 1 minute.

Pour the hot heavy cream over the chocolate chips and let them sit about a minute. Stir until a smooth and thick chocolate sauce forms.

Transfer the ganache to a piping bag fitted with an open star tip (I've linked to the one I used below).

Flip the cookies over so the flat side is facing up, then hold the piping bag directly over the top of one cookie. You can pipe any way you like, but I prefer to hold the bag about 3/4 inch above the cookie, and just gently squeeze the bag, lifting as you squeeze, then stop squeezing but keep lifting to finish.

Leave a small border, about 1/8 inch, around the edge of the cookie. Top that cookie with another one, gently pushing it down a little to push the ganache to the edges.

Repeat with all remaining cookies. Since the ganache was likely still warm, place the sandwich cookies on a plate in the refrigerator for a little bit to fully set.
Want to save this recipe for later? Click the heart in the bottom right corner to save to your own recipe box!
Chef Tips
Recipe makes approximately 60-70 individual cookies, which would be about 30-35 assembled sandwich cookies.
The open star piping tip I use is this one (amazon link).
For make ahead, storage and freezing options, please look above the recipe in the "make ahead" section of the post.
Nutrition Disclaimer
The Chunky Chef is not a dietician or nutritionist, and any nutritional information shared is an estimate. If calorie count and other nutritional values are important to you, we recommend running the ingredients through whichever online nutritional calculator you prefer. Calories can vary quite a bit depending on which brands were used.