---
This ginger lemongrass marinated chicken is grilled to perfection and brushed with a finger licking teriyaki glaze! Eating healthy never tasted so good!
---
Just because you may be watching what you eat, that doesn't mean you have to miss out on flavor. You'll love this quick marinated ginger lemongrass chicken that's delicious on it's own, but gets even more incredible when you brush it with an amazing finger-licking glaze!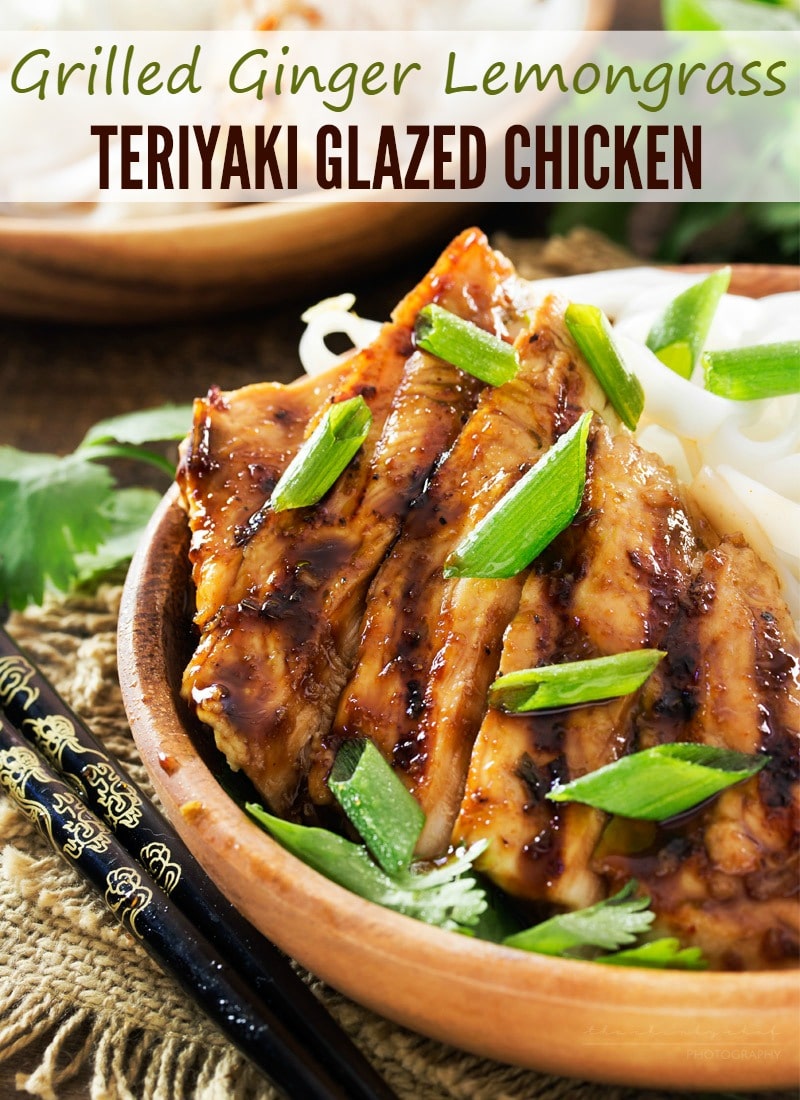 Welcome to 2016! Okay, technically it's been 2016 for 3 days already, but since this is my first post of the new year… hello 2016! Let's talk resolutions. It's a hot button topic for some… some can't stand making resolutions, some make a list of them every year. For me, I make two lists each new year… one with the goals I want to achieve over the course of the year, and one with two parts: a list of things I'm grateful to have going into the new year, and a list of things I want to help my kids accomplish. In case you couldn't tell, I'm a "list person" lol.
I seriously make a list of things to do every. single. day. Ranging anywhere from "wash/dry kids laundry" to "make cheesecake bars and photograph them". I'd like to say that I make the list to be goal oriented and more productive, but honestly, if I don't put something on the to do list, it doesn't get done because I will completely forget lol. Yep, I'm that person. Please tell me I'm not alone in my craziness!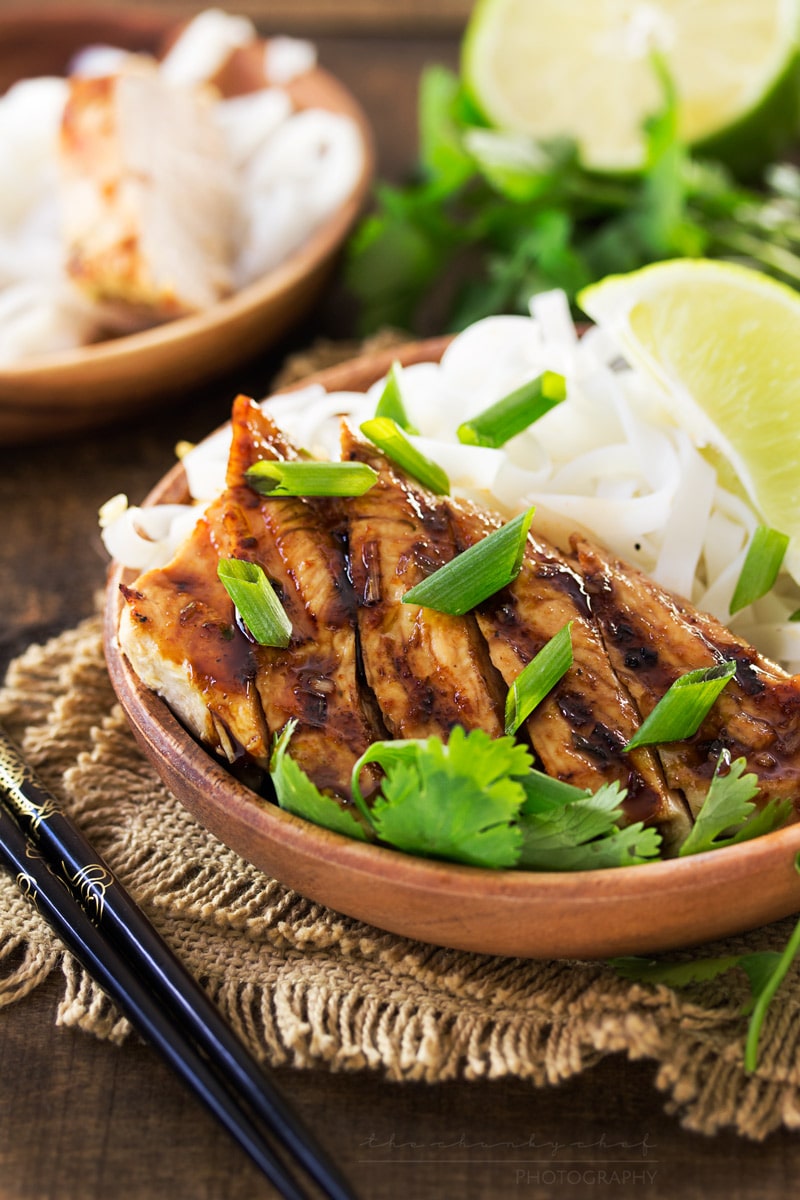 So did you all make any resolutions for this year? Maybe like many of us, you want to drop a few of those holiday pounds (seriously, how does anyone NOT gain weight over the holidays?!). My goal isn't necessarily to count calories and whatnot, but more to eat lighter, cleaner. Less sugar and less heavy, rich foods. I won't be eating like that at every single meal, and I'll totally be sharing some yummy desserts you could make for Valentine's Day next month 😉 Plus, it's the time of year to start working on your Super Bowl party foods, so you know I'll be bringing you all some goodies for that!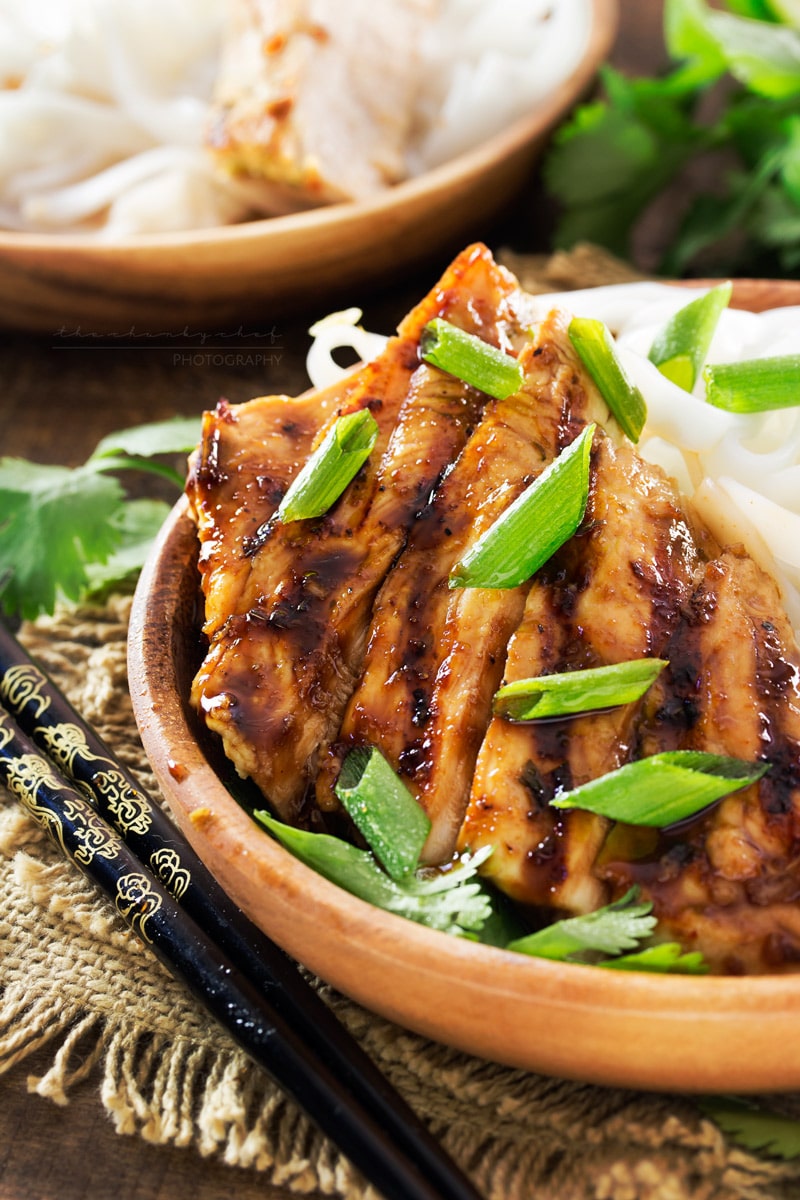 For today at least, let's go with something that isn't coated in cheese, isn't fried, isn't coated in candy… a grilled chicken recipe! This recipe started out as a simple quick-marinated chicken dish, then through pure happenstance, I decided I simply had to add the teriyaki glaze. I tried an amazing dish from Carlsbad Cravings and fell in LOVE with her teriyaki sauce/glaze and I just knew I needed more of it in my life. One taste, and you'll be saying the same thing!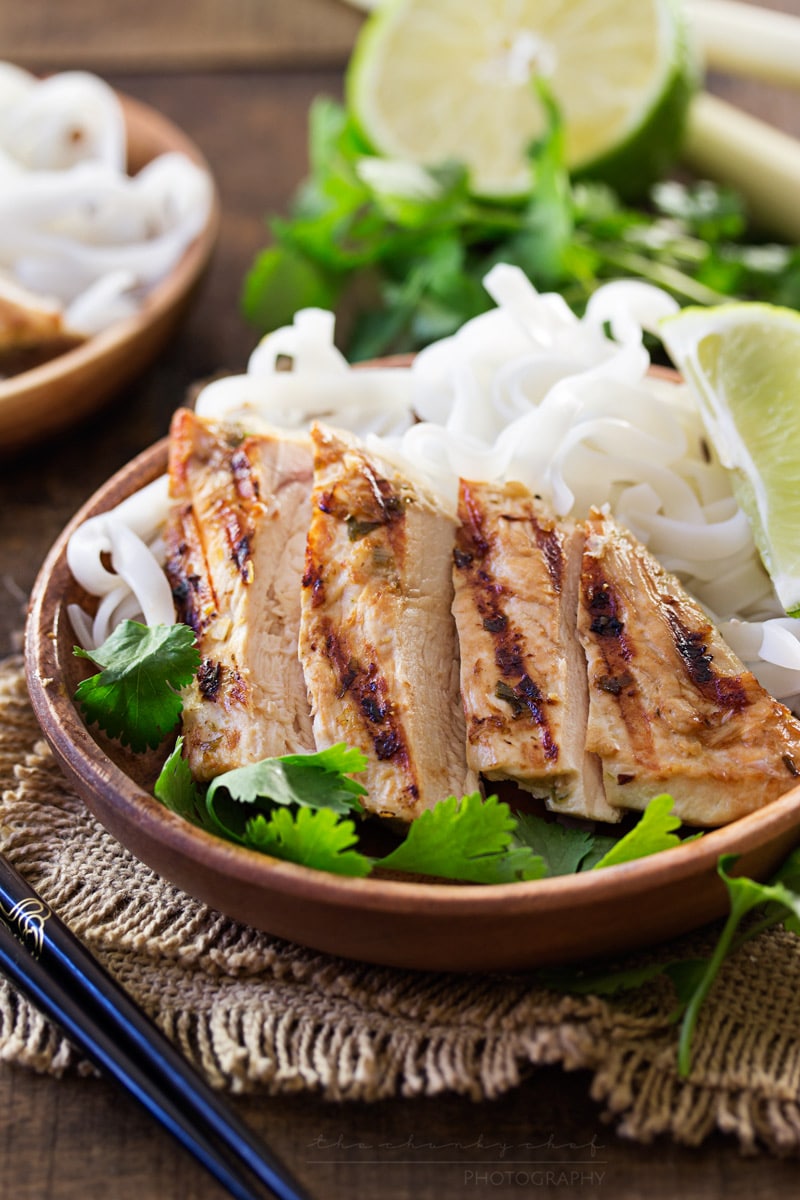 The chicken is completely delicious with just the marinade flavors, and is probably healthier overall, so if you want to skip the glaze, you totally can. Just make a note to come back and try it at least once with the glaze 😉
This recipe uses fresh lemongrass, which is probably available in your local grocery store (it is at mine anyway, and I don't live in a big city), but if you can't find it, no big deal, you can substitute some lemon zest in it's place. It won't taste exactly the same, but will have the same overall lemony-ness.
Lemongrass can be a bit tricky to figure out how to use, so here's a handy guide for you guys 🙂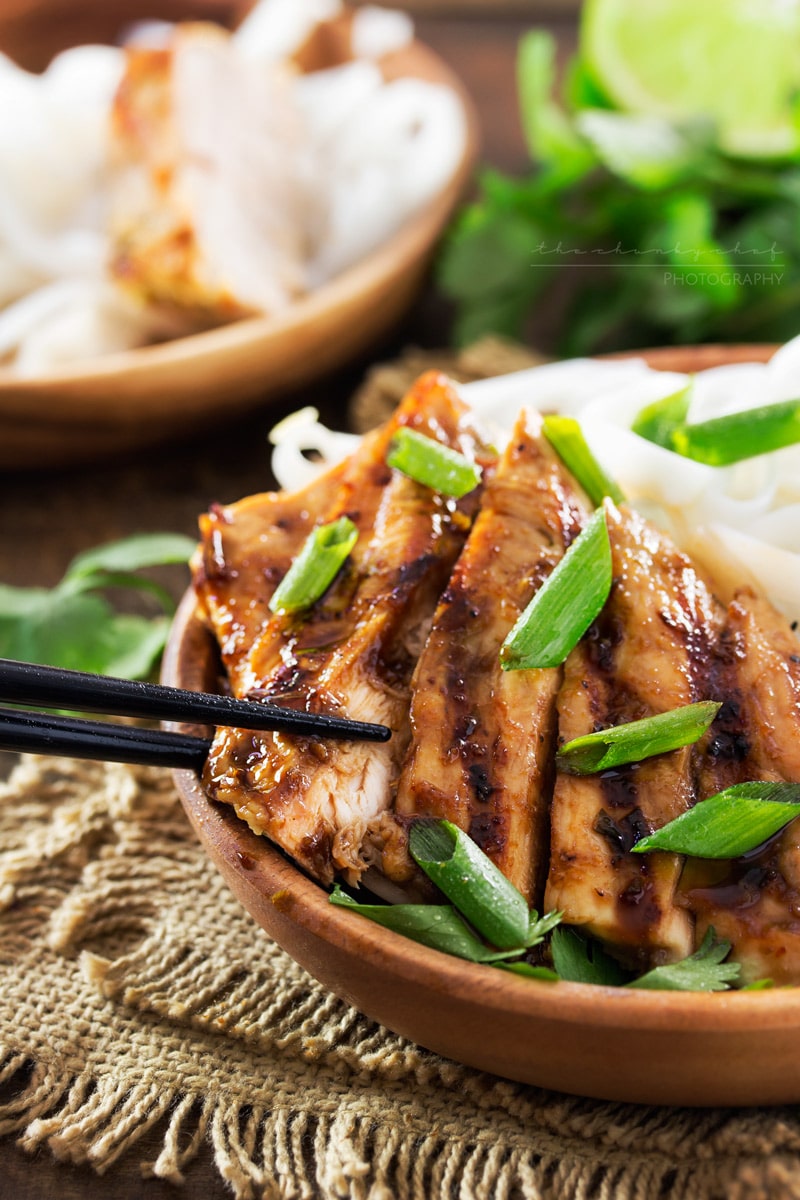 You can serve this chicken with whatever you'd like… I love to do simple rice noodles that have been drizzled with sesame oil and tossed with a little minced cilantro. Super easy, flavorful, and doesn't take very long to cook!
Enjoy the start to your New Year!!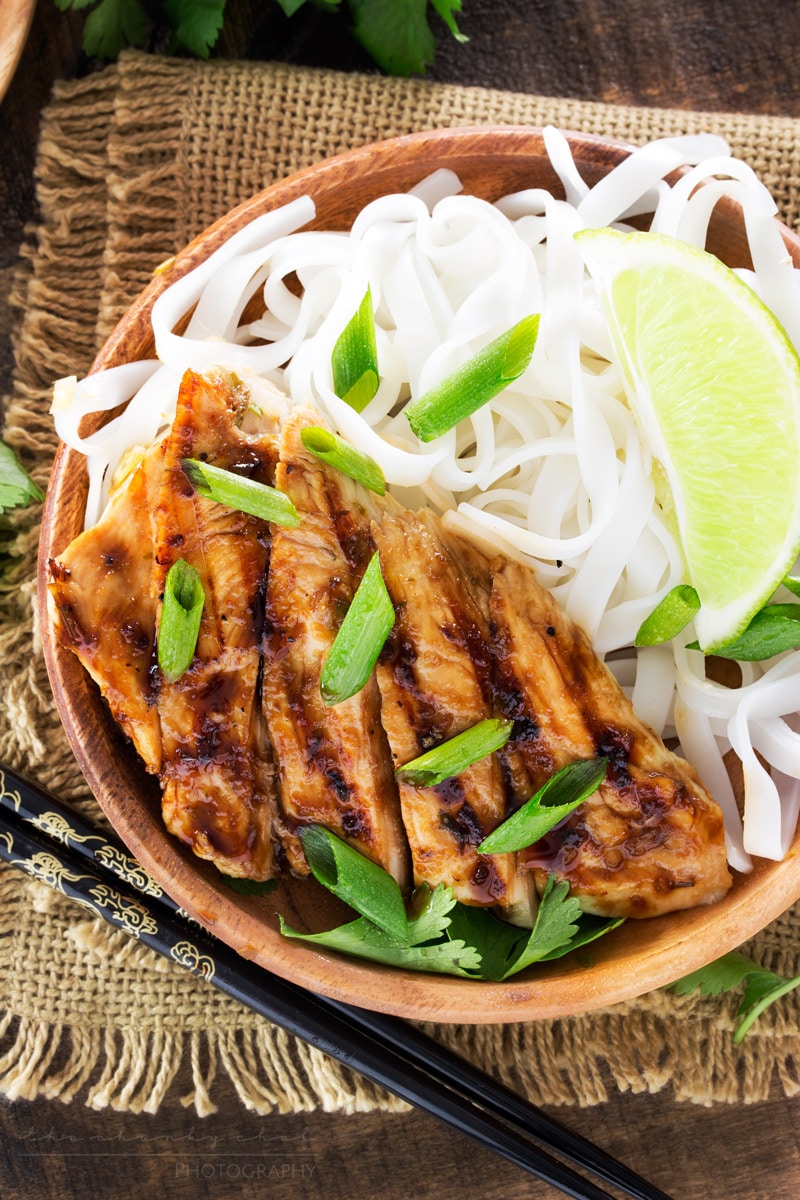 ---
Let's Connect!
You can find me on Facebook, Twitter, Pinterest, Instagram and Google +, so follow me if you'd like… I love keeping in touch with all of you 🙂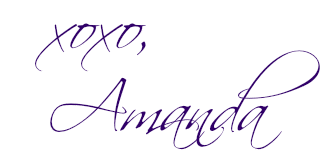 ---
Did you make this? Be sure to leave a review below and tag me @the_chunky_chef on Facebook and Instagram!
This ginger lemongrass marinated chicken is grilled to perfection and brushed with a finger licking teriyaki glaze! Eating healthy never tasted so good!
Ingredients
1 1/2 lbs . boneless skinless chicken breasts
Fresh cilantro for garnish
Lime wedges for garnish
Fresh green onions sliced, for garnish
MAKE THE MARINADE:
1/4 cup green onions sliced
1/4 cup fresh lemongrass sliced
2 Tbsp lime juice
2 Tbsp vegetable oil
Splash of soy sauce
1 Tbsp fresh ginger grated or finely minced
5 cloves fresh garlic minced
MAKE THE TERIYAKI SAUCE:
1/2 cup soy sauce
1/2 cup brown sugar
1/4 cup cider vinegar
1 tsp garlic powder
1/2 tsp ground ginger
1/2 tsp salt
1/4 tsp black pepper
1 tsp sriracha
2 tsp cornstarch
Instructions
Add marinade ingredients to food processor or blender and pulse until a thin paste forms. To a bowl, pour marinade over trimmed chicken breasts, massage it into chicken. Cover and let sit for about 10-15 minutes.

Add teriyaki sauce ingredients in a mixing bowl and whisk to combine.

To a saucepan, pour in prepared teriyaki sauce and bring to a boil. Once it boils, reduce heat to a simmer and let the sauce simmer until slightly thickened. Set aside for glazing.

Preheat outdoor grill or indoor grill pan over MED heat (brush with a little vegetable oil right before adding meat), and grill chicken breasts for about 6-7 minutes per side, until meat is cooked through and juices run clear.

The last minute or so of cooking, brush chicken with teriyaki glaze.

Set chicken aside to rest for 10 min.

Brush with teriyaki glaze once more before serving.

Serve garnished with sliced green onions, minced cilantro, lime wedges and/or sesame seeds.
Want to save this recipe for later? Click the heart in the bottom right corner to save to your own recipe box!
Chef Tips
** if fresh lemongrass isn't available, you can substitute 1 tsp lemon zest
Nutrition Disclaimer
The Chunky Chef is not a dietician or nutritionist, and any nutritional information shared is an estimate. If calorie count and other nutritional values are important to you, we recommend running the ingredients through whichever online nutritional calculator you prefer. Calories can vary quite a bit depending on which brands were used.
I'll be sharing this post at Fiesta Friday hosted by Jhuls of The Not So Creative Cook and Mr. Fitz of Cooking with Mr Fitz