Guinness Cupcakes with Bailey's Frosting and Chocolate Drizzle
Do you all celebrate St. Patrick's Day?  Do you wear green, drink green beer and search for leprechauns?  What about celebrating by enjoying some boozy Guinness cupcakes?  Oh yeah, that's my idea of celebrating!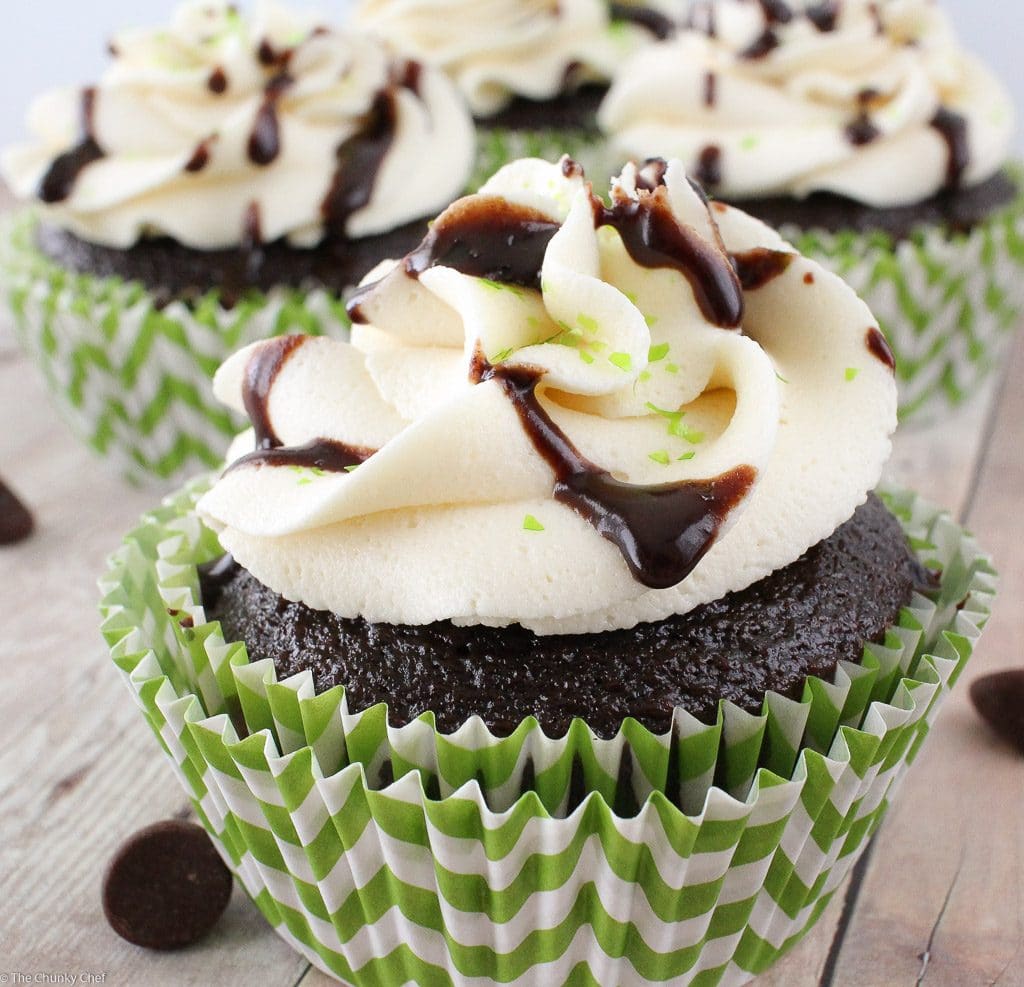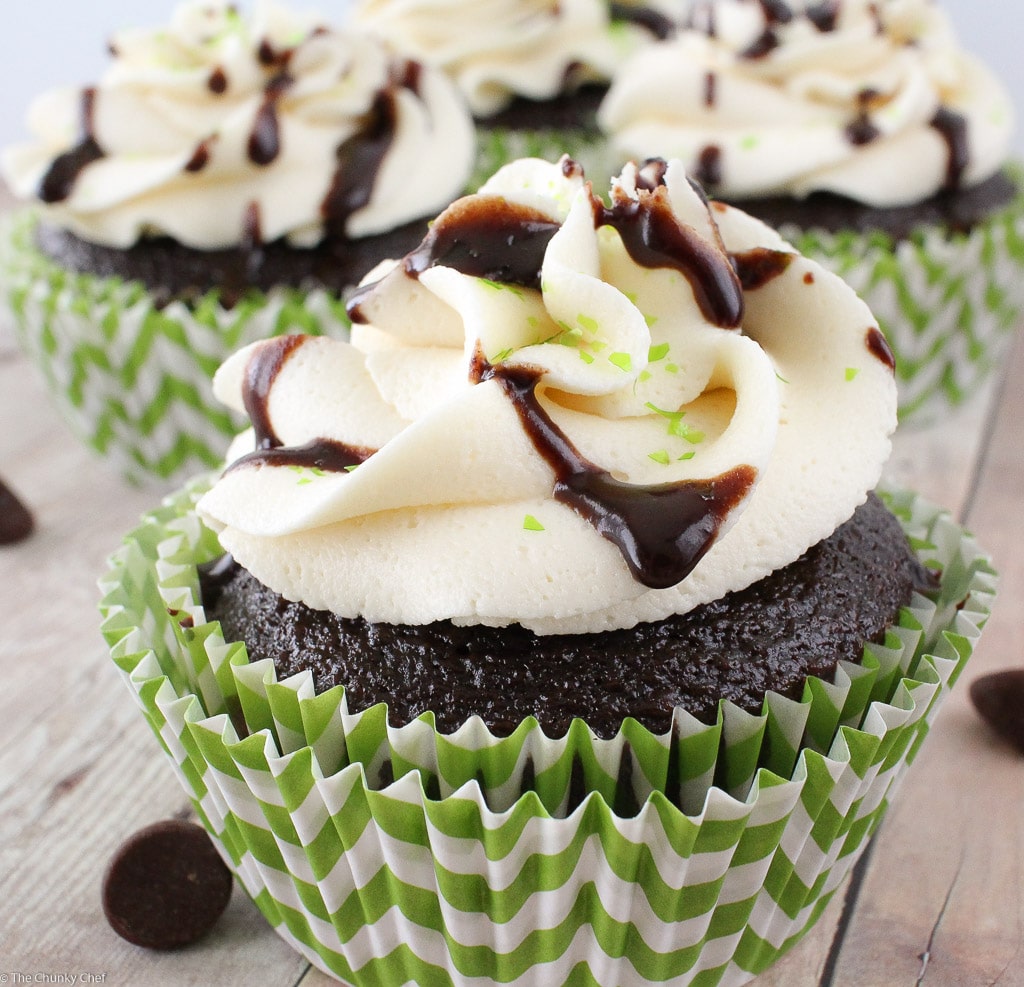 These were my first cupcakes made using beer, and man they are GOOD!  Don't be scared of the Guinness in these, you really don't taste the beer, what it does is accentuate and intensify the chocolate flavor 🙂
I'm a beer drinker, generally not the darker beers, but I'm loving baking with them!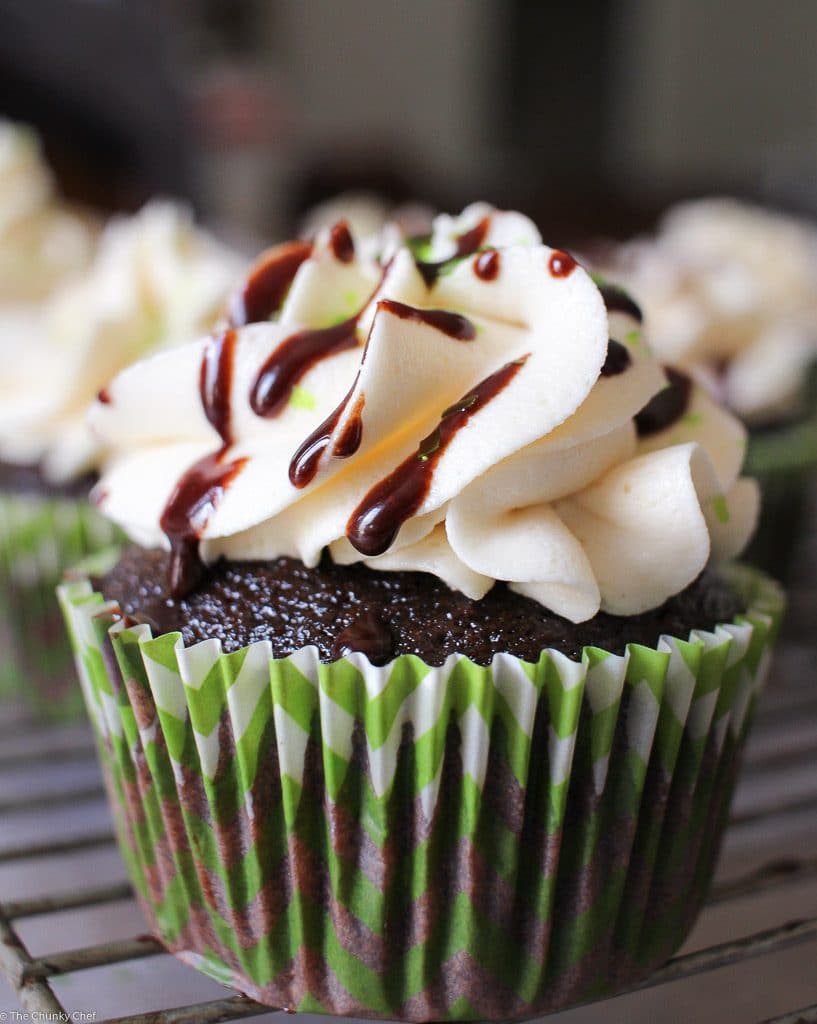 Can we back up a little bit and talk about mixers?  My old stand mixer was a 11 year old Kitchen-Aid that my grandma gave to me since she didn't use it any more.  I fell in love and used it for just about everything… baking, breads, mixing sauces, shredding meat etc.  Well my husband made me a deal last week that if I sold the old one, we could get a brand-spankin new one!  Ummmm, deal!!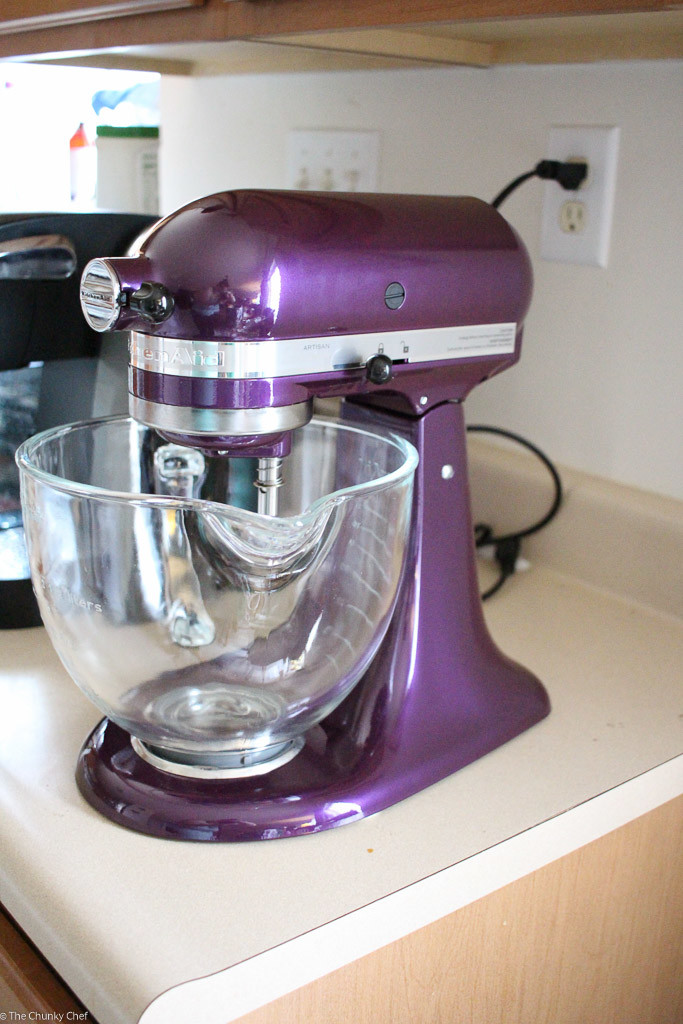 Look at that beauty!  I'm trying to decide if I should name her lol.  I am completely sold on the 5 qt glass bowl… it's heavy duty, without being too heavy to hold, and the pour spout is so convenient.  And I love being able to see if everything is being mixed well, plus glass just cleans up soooo nicely!  And THIS
 nifty paddle is so awesome, it scrapes the side of the bowl for you 🙂
Now these cupcakes may look all fancy-schmancy, but they're really not, I promise you.
You start by melting the butter, cocoa power, brown sugar and beer in a saucepan, whisking to incorporate.  Once they've all melted together, remove it from the heat and let it cool until almost room temperature.
While it's cooling, go ahead and pre-heat your oven and measure out your dry ingredients into the bowl of your stand mixer (or a large bowl).  Pour in your liquid mixture and beat for about 1 minute.
Add your eggs and sour cream and beat another 1-2 minutes.  Pour into lined muffin tins and bake for 20-25 minutes (mine took 20).  Cool completely before frosting.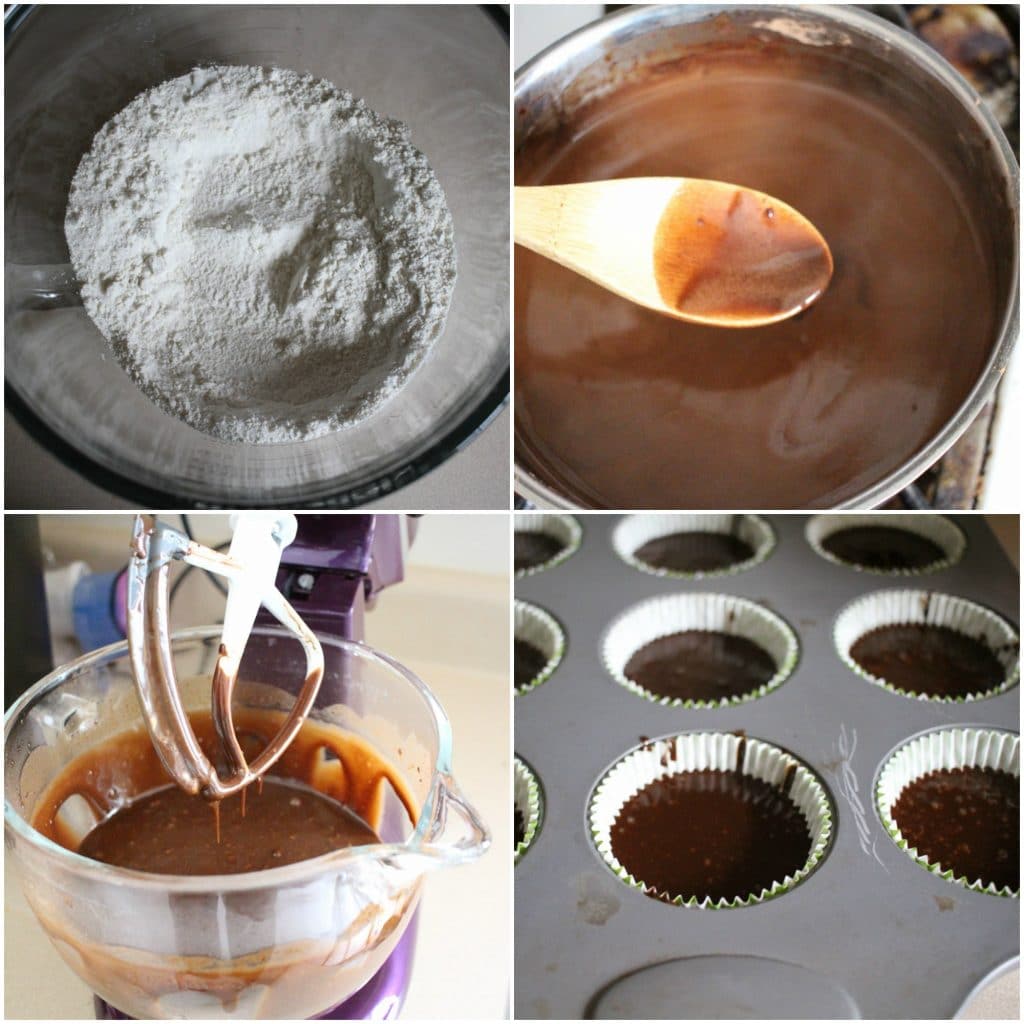 Yep, I'm a bit of a sloppy baker, as you can see by my chocolate batter all over the muffin pan lol.  Once the cupcakes are cooled, you can make your frosting…. mmmmm that frosting!
Cream your butter until light and fluffy, then add the powdered sugar.  It'll be dry and clumpy at this point.  Now add the Bailey's and heavy cream and continue beating for another couple of minutes until it's well combined.
I used a star tip and disposable piping bag to frost my cupcakes, but use any tip and design you want 🙂
Tip:  To make adding the frosting to the piping bag easier, place it inside a tall cup and fold the top down a little.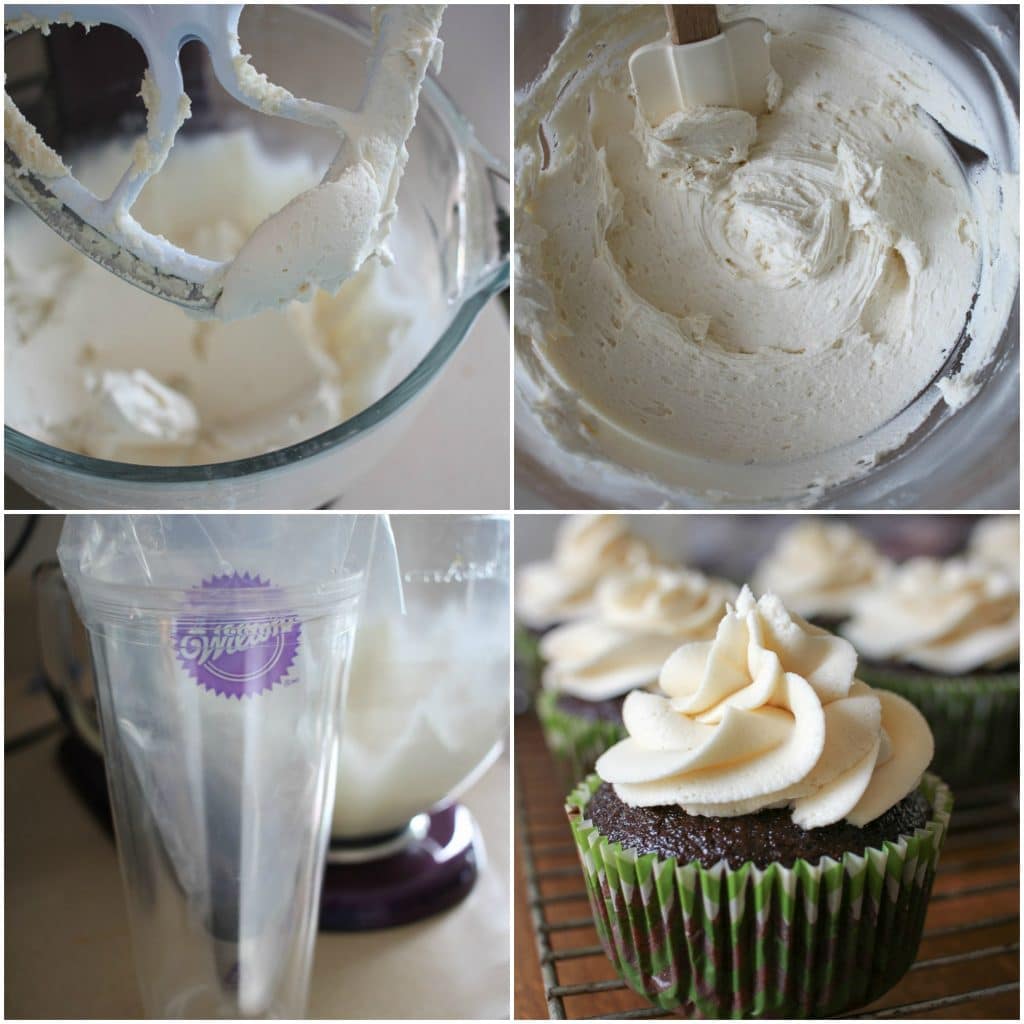 Ahhhh, I just love a good cupcake! 🙂
I added some Wilton Green Cake Sparkles
 to make mine even more festive.  Then I just had to have a little more chocolate, so I whipped up a Bailey's chocolate sauce to drizzle over the top.  Wowwwww… it's optional, but you guys… you should try it!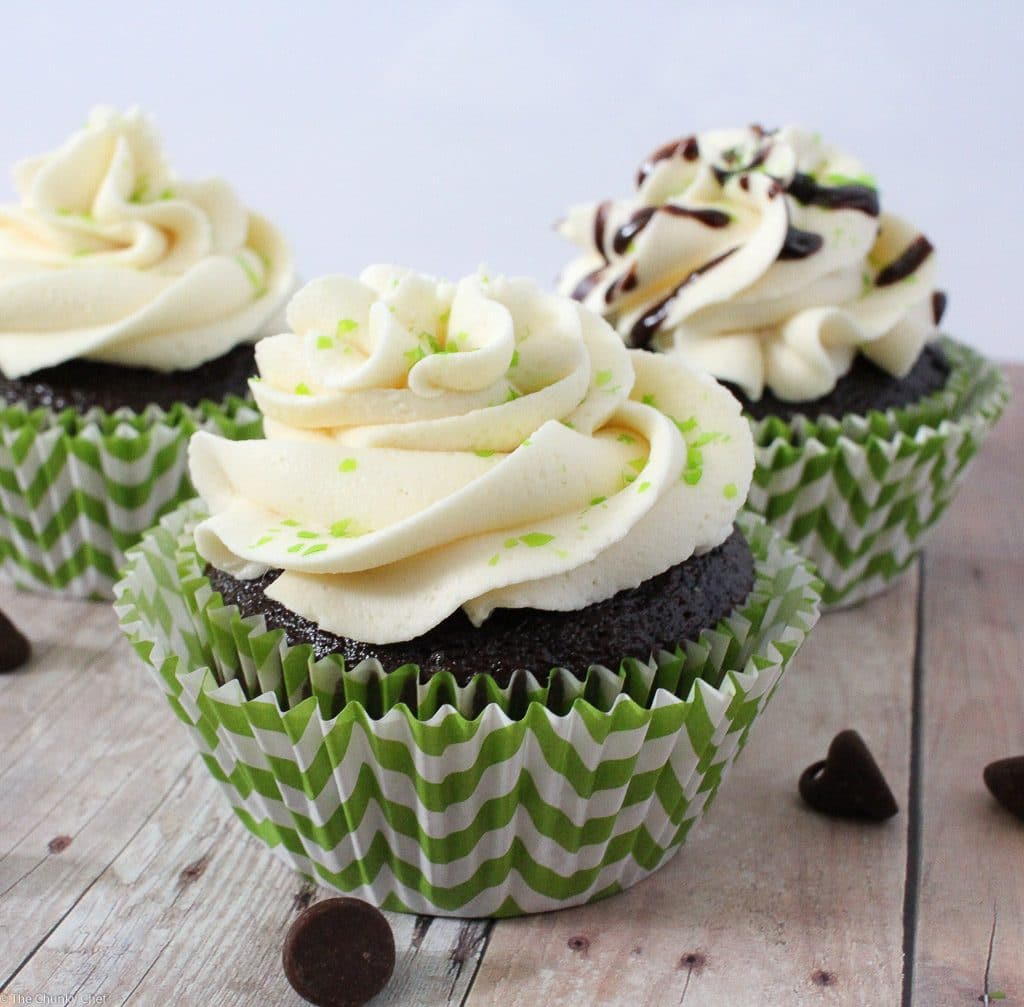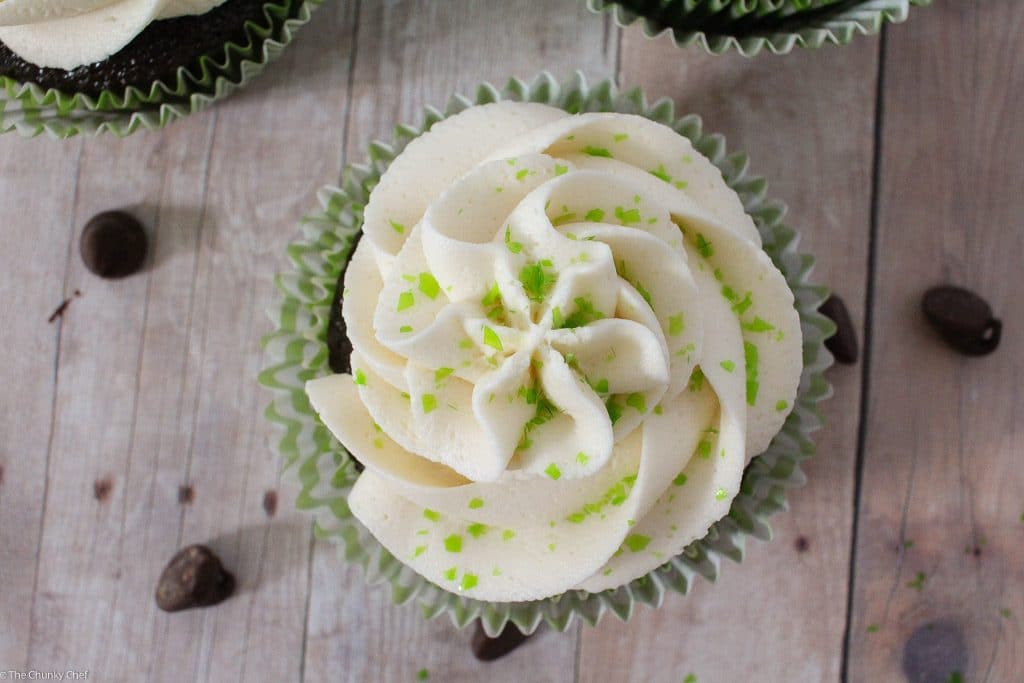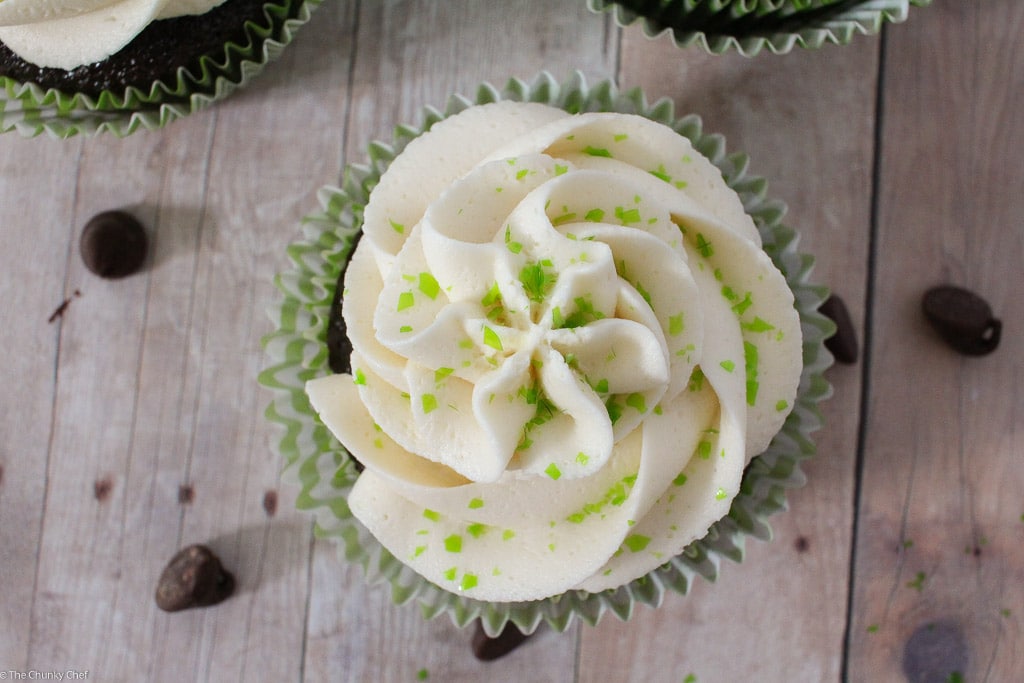 They're delicious either way you make them… with or without the chocolate sauce!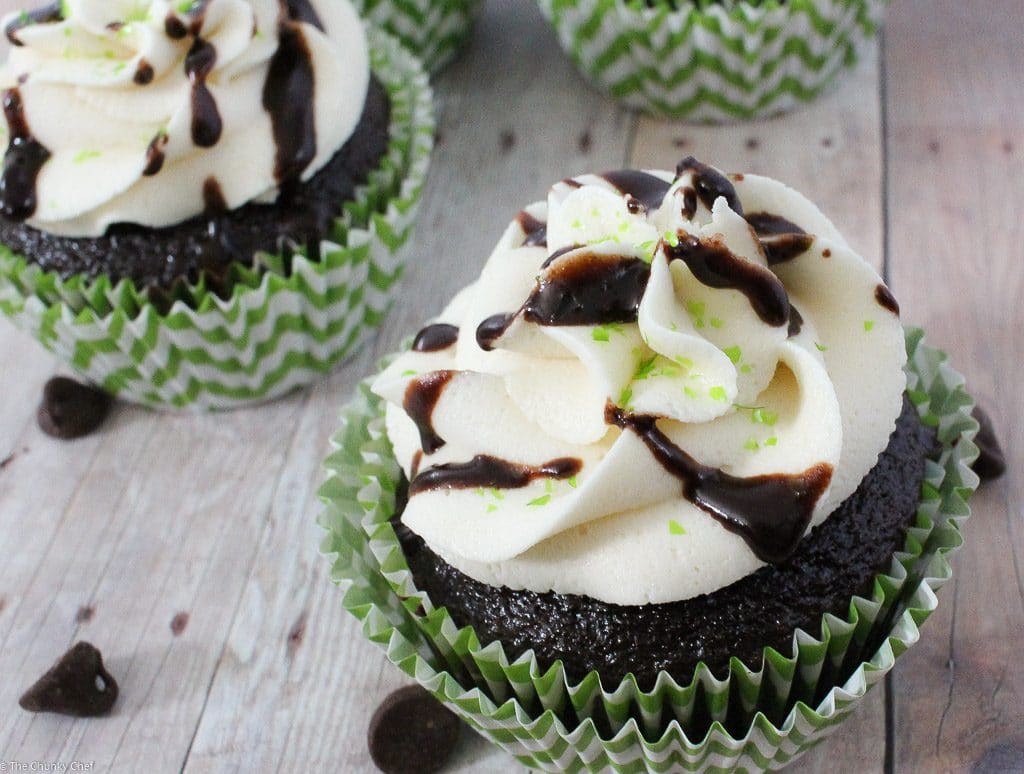 Now here's what you're probably wondering… how soft and moist are they?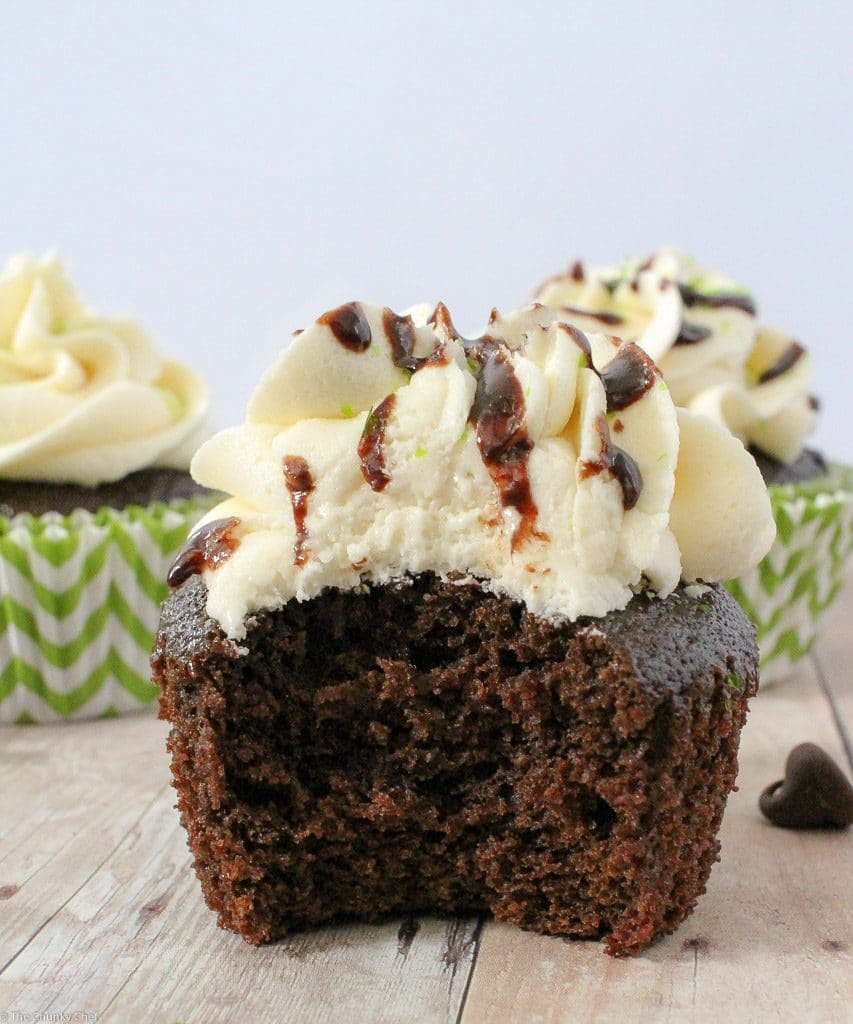 Sooooo soft, fluffy, moist, fudgy, and so chocolatey!  If you're a chocolate lover… you just have to try these 😀

Recipe adapted from Food.com
You can find me on Facebook, Twitter, Pinterest, and Google +, so follow me if you'd like… I love keeping in touch with all of you 🙂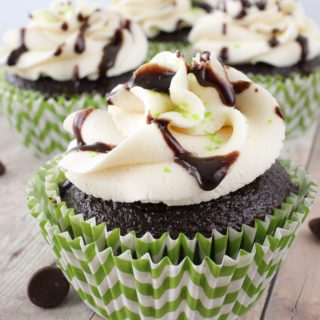 Guinness Cupcakes with Bailey's Frosting and Chocolate Drizzle
Cupcakes get an incredible deep chocolate flavor from some Guinness, and they're topped off with a rich Irish Cream frosting and a chocolate sauce drizzle!
Print
Pin
comment
Prep Time: 20 mins
Cook Time: 20 mins
Total Time: 40 mins
Servings: 24 cupcakes
Ingredients
1 cup unsalted butter
1 cup Guinness Stout beer
2/3 cup cocoa powder
1 cup light brown sugar packed
1 tsp salt
2 cups all purpose flour
1 cup granulated sugar
1 1/4 tsp baking soda
2 eggs
1/2 cup sour cream
Bailey's Irish Cream Frosting:
3/4 cup unsalted butter room temperature
3 - 3 1/2 cups powdered sugar depending on your tastes
pinch of salt
4 Tbsp Bailey's Irish Cream original - although flavored ones would work as well
2 Tbsp heavy cream
Bailey's Chocolate Sauce:
1/3 cup Bailey's Irish Cream
1/4 cup cocoa powder
1/4 cup light corn syrup
1/3 cup semi-sweet chocolate chips
Instructions
Heat the butter, Guinness, cocoa powder and brown sugar in a saucepan over medium heat. Whisk until melted. Remove from heat and let cool to almost room temperature.

Preheat oven to 350 degrees. Line a muffin pan with cupcake liners and set aside.

To the bowl of a stand mixer (or large bowl), add salt, flour, granulated sugar, and baking soda. Stir together to mix.

Add in cooled beer mixture and beat (slowly at first - then on medium speed) for about 1 minute.

Add in eggs and sour cream, beat on medium speed for another 1-2 minutes. Batter will be slightly runny.

Pour batter to fill each muffin cup about 2/3 of the way.

Bake for 20-25 minutes (mine took 20 minutes).

Let cool in pan for 5 minutes and then remove to cool completely on a cooling rack.


For the Frosting:

Make sure cupcakes are completely cooled before frosting.

In a stand mixer (or with hand mixer), cream butter until it is light and fluffy.

Add salt and 1/2 of powdered sugar. Beat on low speed until sugar is slightly incorporated, then add remaining 1/2 of the powdered sugar. Frosting will look dry at this point.

Add Bailey's and heavy cream and beat another 2-3 minutes.

Add frosting to a piping bag fitted with a star tip (or whichever you prefer) and frost cupcakes as desired.


For the Chocolate Sauce:

Add Bailey's, cocoa powder and corn syrup to a small sauce pan and heat to a boil, whisking to incorporate. Once it boils, reduce heat and simmer for approximately 3 minutes.

Remove from heat, add chocolate chips and stir until they are melted.

Drizzle over cupcakes as desired.
Notes
** Decorate with green sprinkles or cake sparkles if desired.
Are We Friends on Pinterest?
Follow me for more great recipes! The Chunky Chef!