Red White and Blue Bark
---
This simple and fun no-bake bark recipe is perfect for Memorial Day or Independence Day!  So simple, even your kids can make it!
---
Planning a fun holiday get together?  No need to stress about the dessert… I've got you covered.  If you can melt chocolate, you can make this festive bark!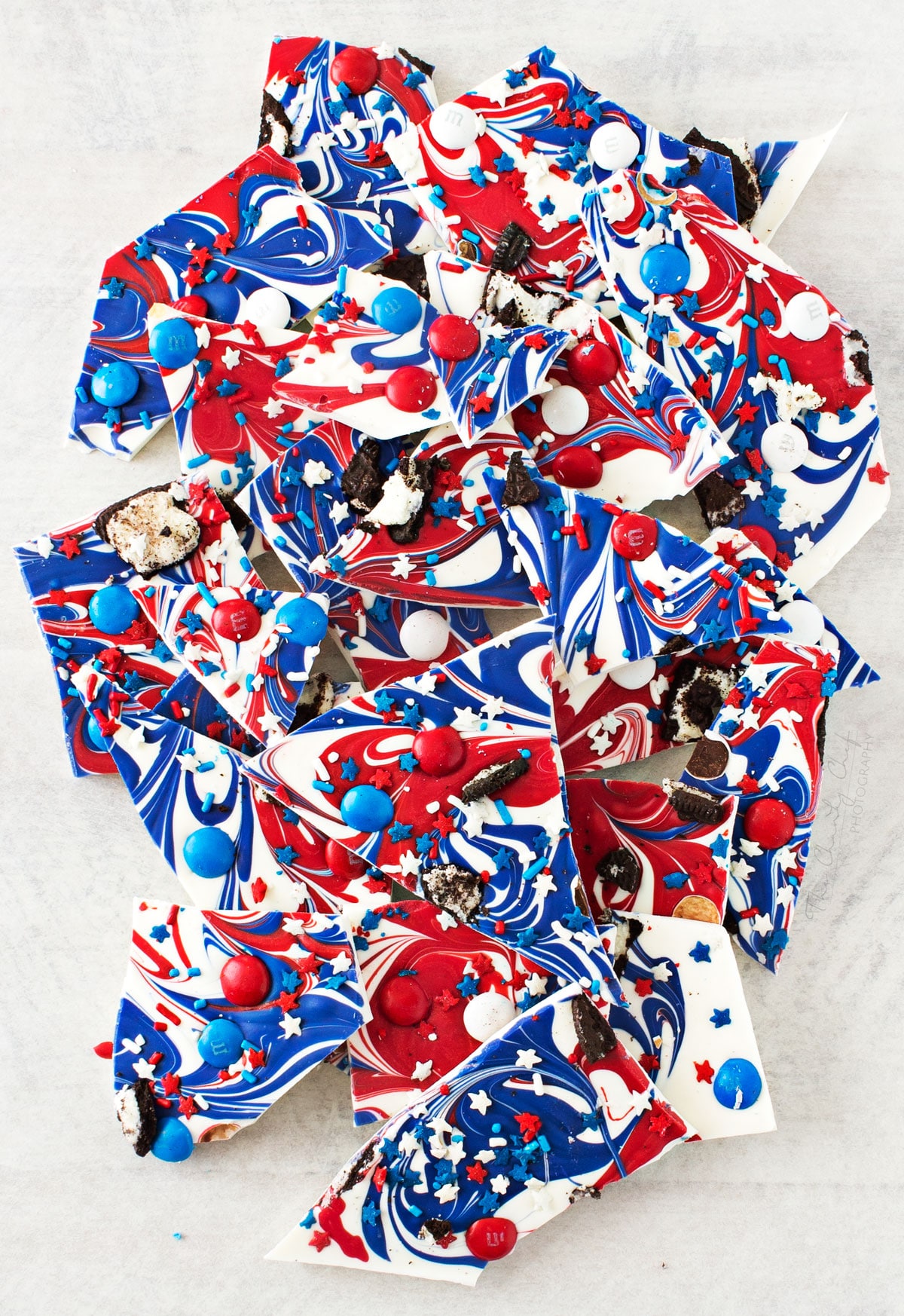 Maaaaaaybe I need to plan my posts out a little bit better… both posts this week are no-bake desserts lol.  Originally I had planned to share this red white and blue bark with you all next week… but I was too excited, and had to share it early!
I hesitate to even call this a recipe… it's seriously SO easy.  Kids can do this… that one person you know who can't even boil water… yep, they can make it too!
This is totally customize-able too… making something for Halloween?  Use orange and black or dark brown.  Christmas?  Red and green.  Perfect!!  You can also add anything you want to the bark to "decorate" it.  I found these awesome sprinkles on amazon (affiliate link), and just knew I had to have them!  Incidentally, if you're looking for an awesome jelly roll pan that you can use for just about everything… this is the one I have (affiliate), and I LOVE it!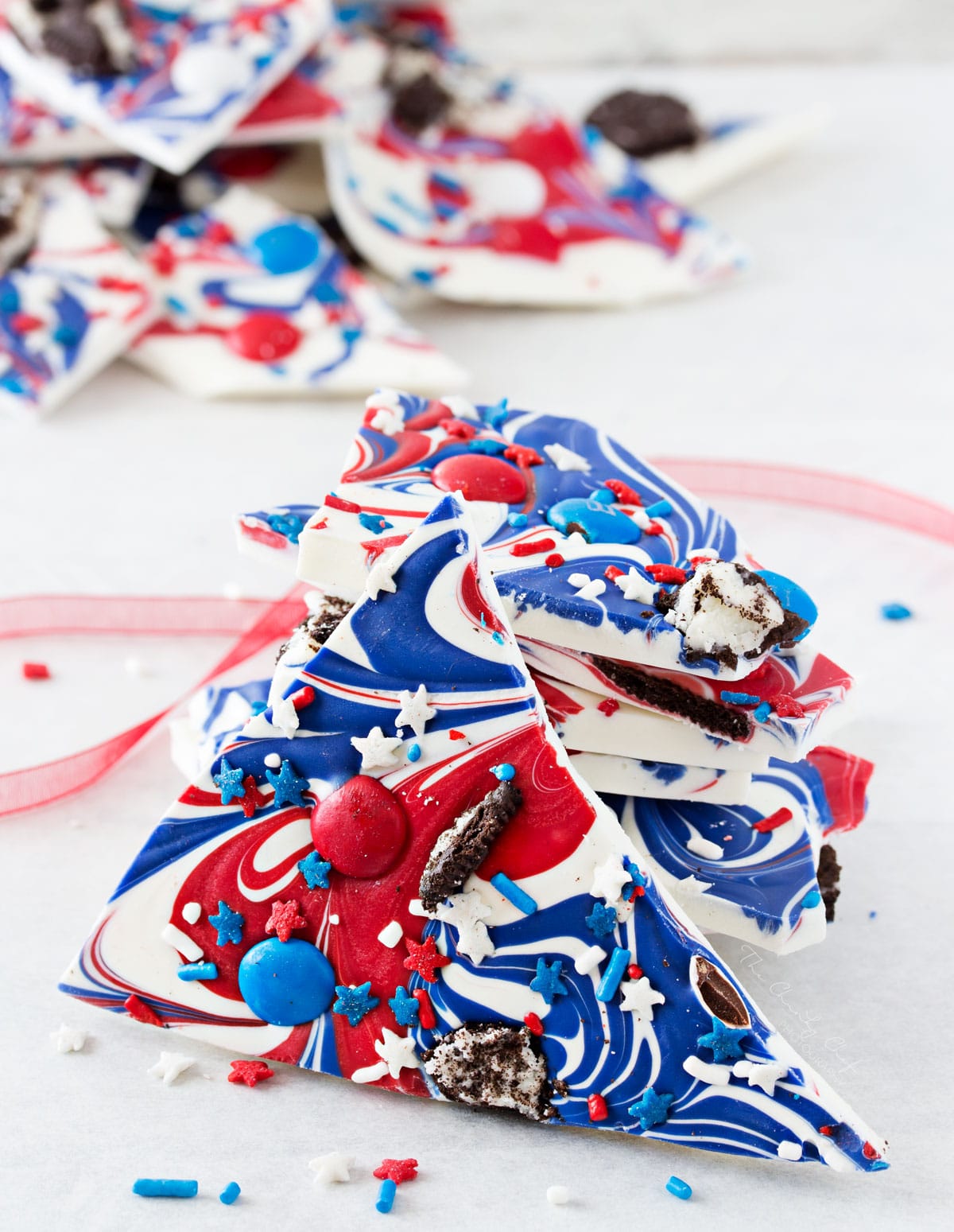 Okay, so here's the breakdown.  You're going to want to prepare your jelly roll pan by lining it with foil and very lightly spraying it with oil.  Now you'll need to melt all your chocolate candy melts.  Speaking of those, you can find them at most craft stores, like Jo-Ann Fabrics, or search on amazon.  I like to melt my white candy melts in a makeshift double boiler, (since there's more of the white melts than the colored ones), but microwave the red and blue candy melts.  Pour the white candy melts into the jelly roll pan and then drizzle the colored candy melts over the top.  Here's a picture of how I drizzled it for this pattern.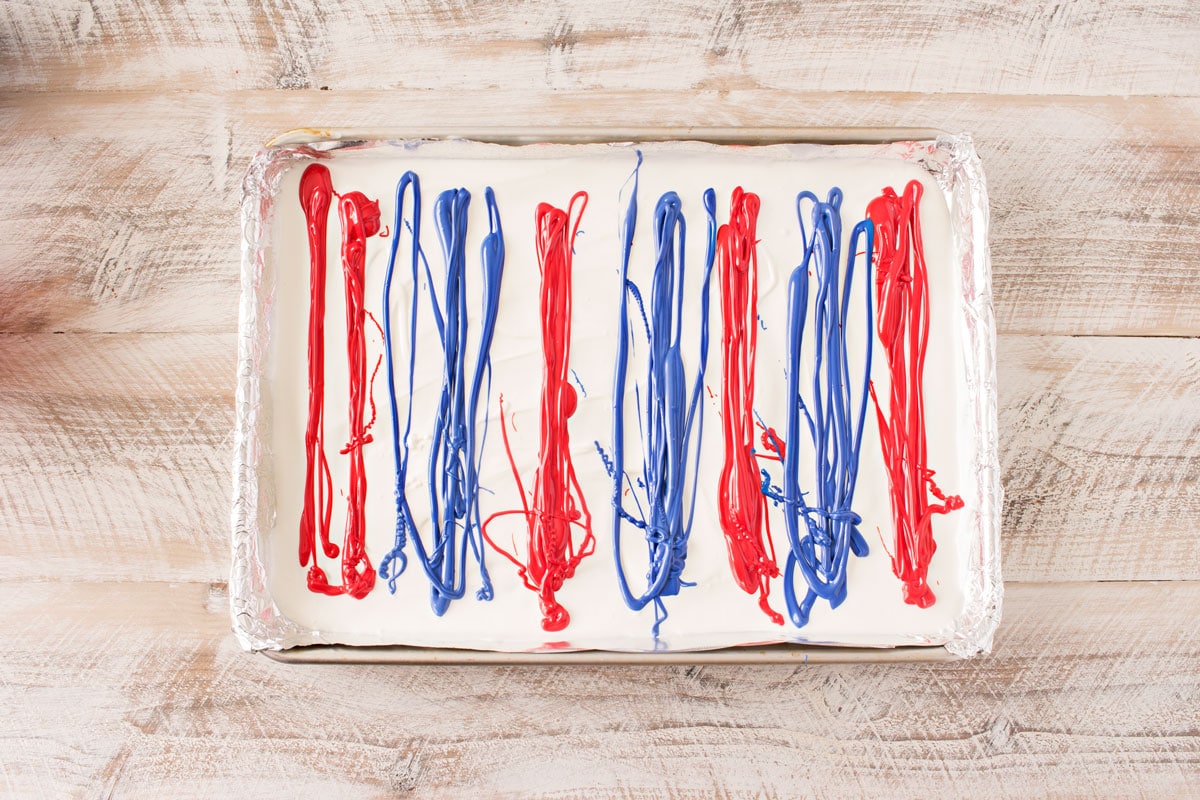 Then I used a small wooden skewer (the non-pointy end) to swirl in a figure 8 pattern.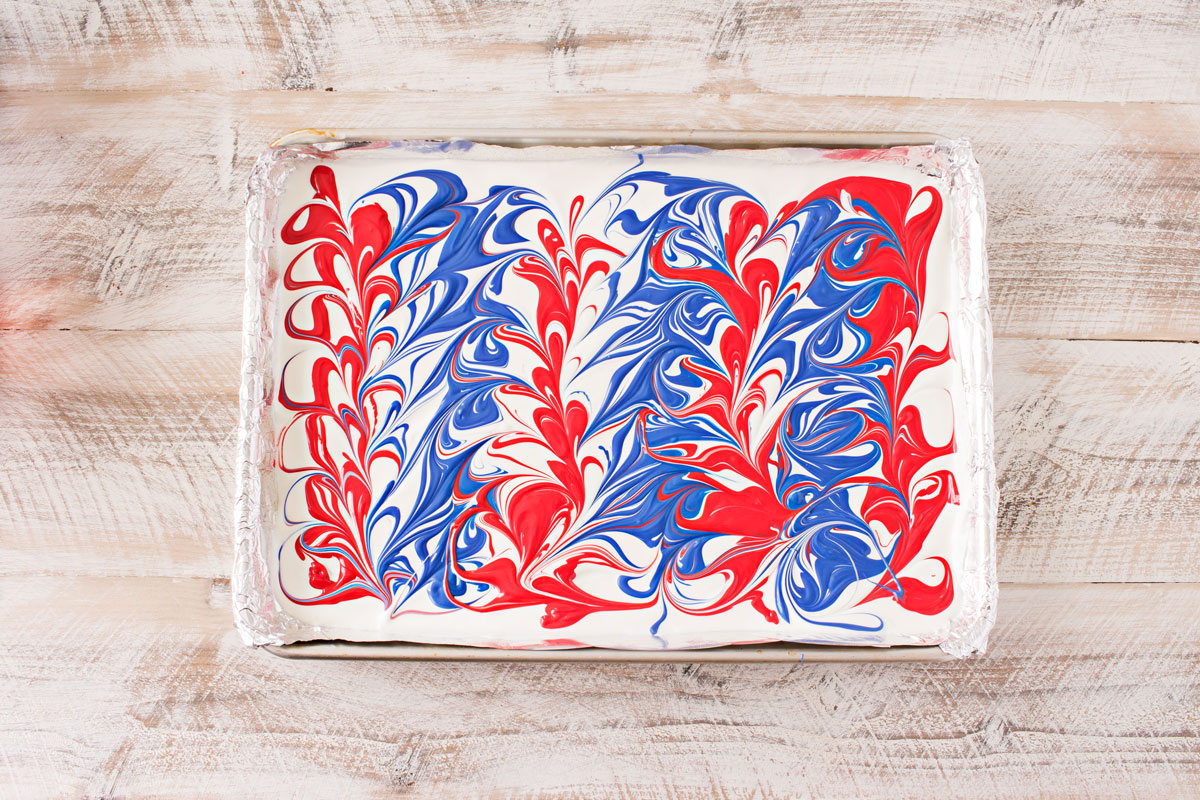 Now just top it with your toppings (crushed oreo cookies, m&m's, star sprinkles, and red white and blue jimmies) and refrigerate until it's hard enough to break.  That's it!!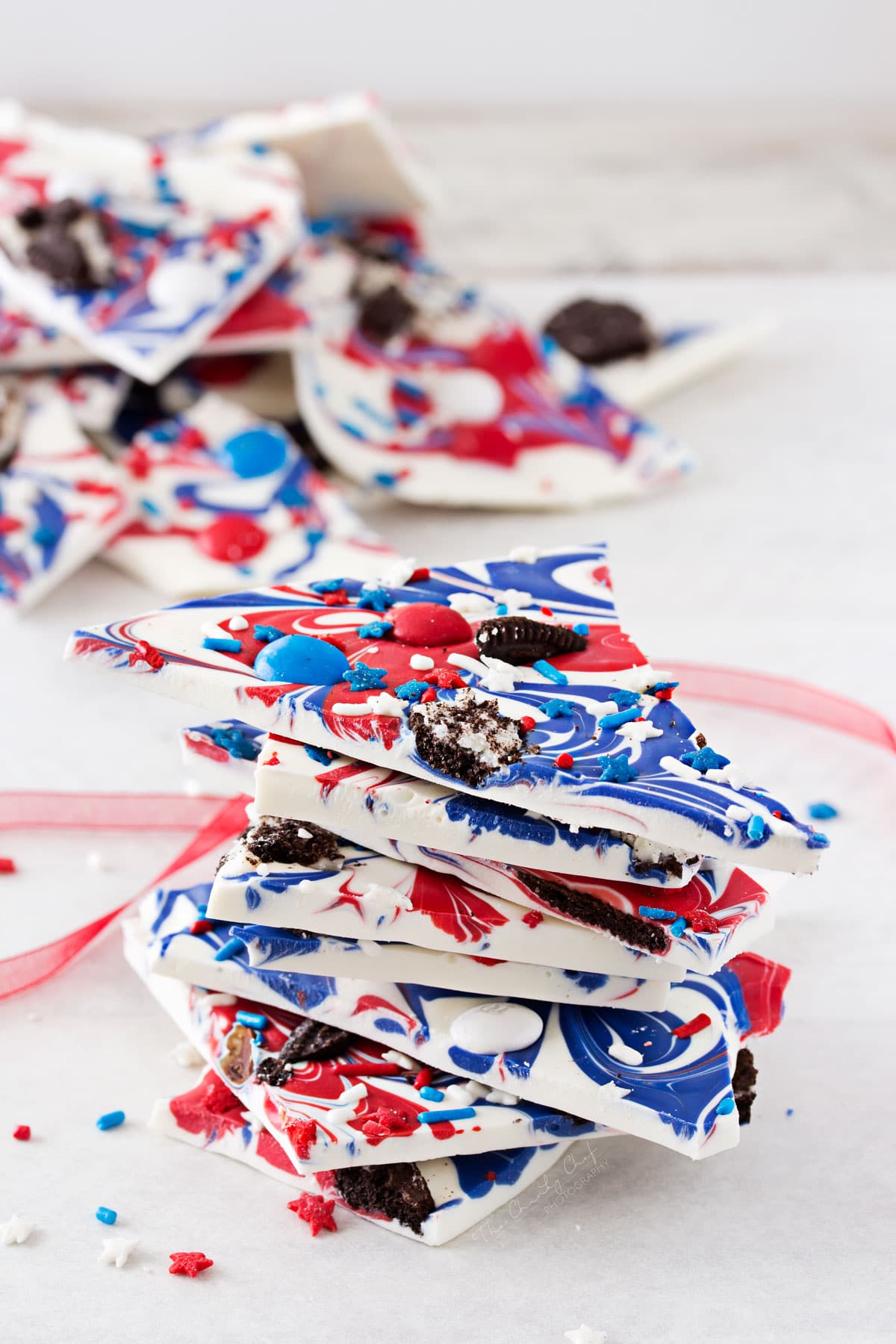 So whether you're making this bark for a Memorial Day or Independence Day party, giving them away as a gift (SO perfect for that btw!!), or making them for an afternoon treat for yourself… I know you'll love it!!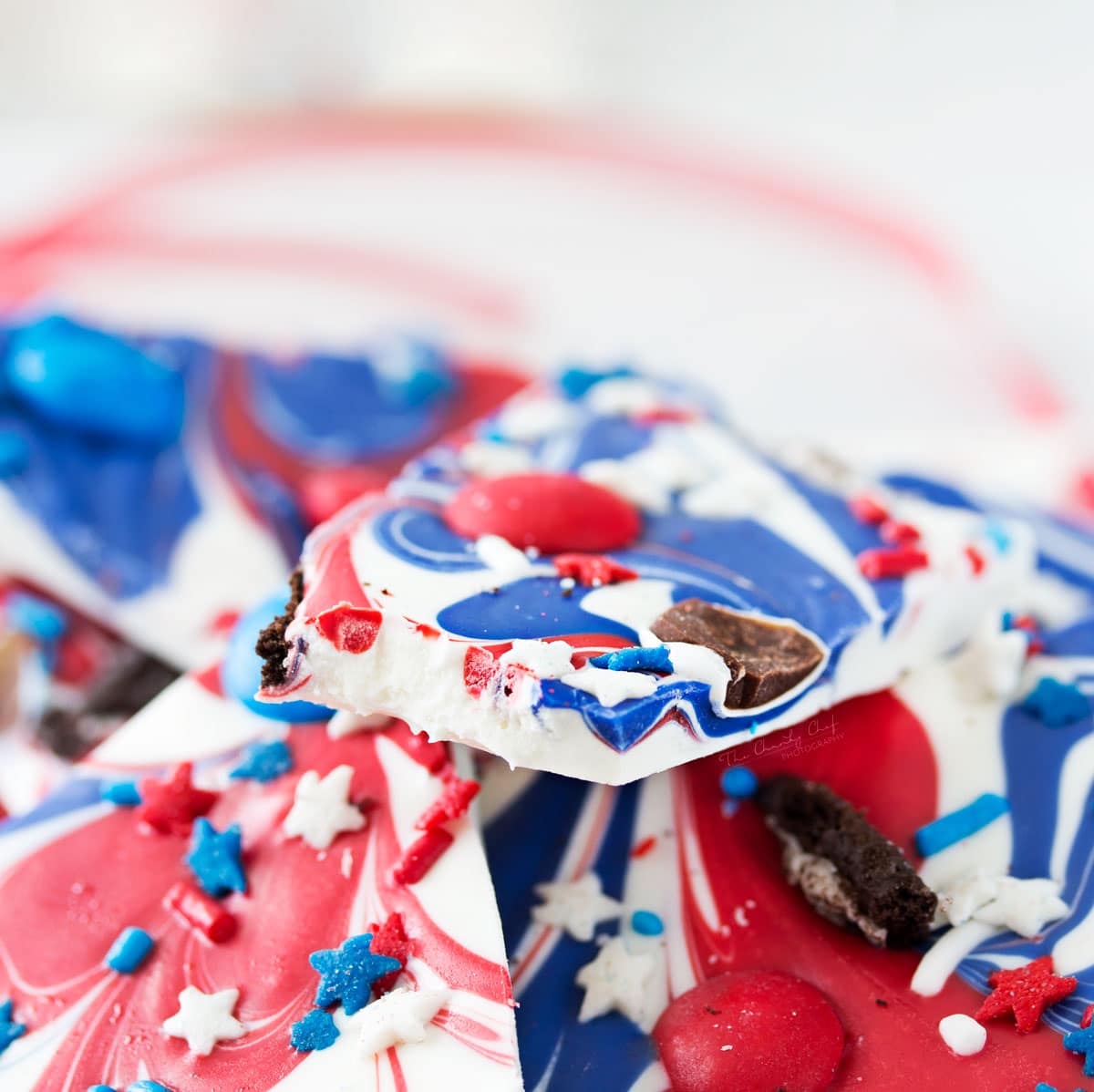 Easiest dessert ever!!

---
Let's Connect!
You can find me on Facebook, Twitter, Pinterest, Instagram and Google +, so follow me if you'd like… I love keeping in touch with all of you 🙂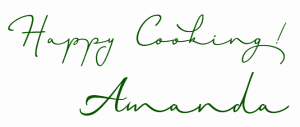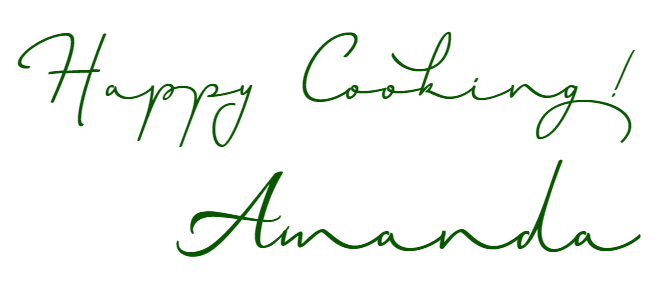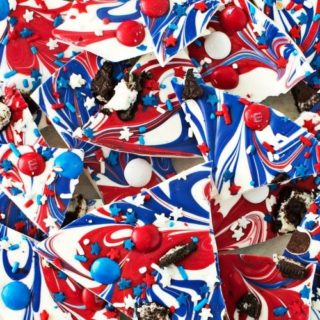 Red White and Blue Bark
This simple and fun no-bake bark recipe is perfect for Memorial Day or Independence Day! So simple, even your kids can make it!
Ingredients
16 oz bright white candy melts - or equal amounts of white chocolate
6 oz royal blue candy melts
6 oz red candy melts
m Red white and blue &m's
pieces Handful of oreo cookies - crushed into bite sized
Red white and blue star sprinkles
Red white and blue jimmies
Instructions
Place oreo cookies into a resealable plastic bag, seal, and gently hit with a rolling pin to break cookies into pieces. Set aside.

Line an 11x15" jelly roll pan (or regular 9x13" pan), with aluminum foil and spray very lightly with cooking spray. Set aside.

Place a small saucepan with about 1 inch of water on the stove and heat on LOW until barely simmering. Pour bright white candy melts in a large glass bowl (that fits inside the saucepan so that the bottom of the bowl does NOT touch the water).

Place bowl over the top of the saucepan, creating a double boiler. Use a rubber spatula to stir candy melts until melted and smooth. Do not allow any liquid to come in contact with the candy melts.

Pour red candy melts in a small microwaveable bowl, and pour blue candy melts in another microwaveable bowl.

Microwave the blue candy melts at 70% power, in 30-45 second intervals, until most of the way melted. Remove from microwave and stir to let the residual heat melt the remaining bits.

Repeat process with the red candy melts.

Pour melted white candy melts into jelly roll pan and use rubber spatula to smooth into an even layer.

Alternate drizzling melted red candy melts and blue candy melts in vertical lines over the surface of the melted white candy melts. (you could also just spoon bits of red and blue in a non-pattern over the surface as well).

Using a small wooden skewer or butter knife, swirl in a figure eight pattern to swirl the red and blue into the white. Repeat over the entire pan. You're not looking for a pattern here, just pretty swirls.

Sprinkle swirled candy melts with oreo pieces, m&m's, star sprinkles and jimmies.

Refrigerate for 1-2 hours, or until hardened.

Lift edges of aluminum foil to remove bark from pan, and separate the bark from the foil.

Break into pieces.

Keep refrigerated until ready to serve.
If changing the recipe serving quantity, the recipe plugin will change the ingredient values for you, but it does NOT change the written instructions, those are manually added and not subject to a slider/button. You will have to extrapolate that multiplication to any amounts listed in the instructions.
For example: if an ingredient calls for 4 cups, and you doubled the recipe, it will automatically change to 8 cups. In the instructions, if I say "use 4 cups of cheese", you will have to realize that since you doubled it, you use 8 cups, not 4