---
Make dinner easy with this maple mustard roasted chicken with butternut squash and brussels sprouts, cooked together on a single sheet pan!
---
If you hate doing a bunch of dishes, then this is the recipe for you!  This sheet pan dinner is full of flavor with sticky chicken thighs coated in a finger-licking maple mustard sauce, and packed with veggies like butternut squash, shallots and brussels sprouts!  The best part is that it's ready in about 30-40 minutes!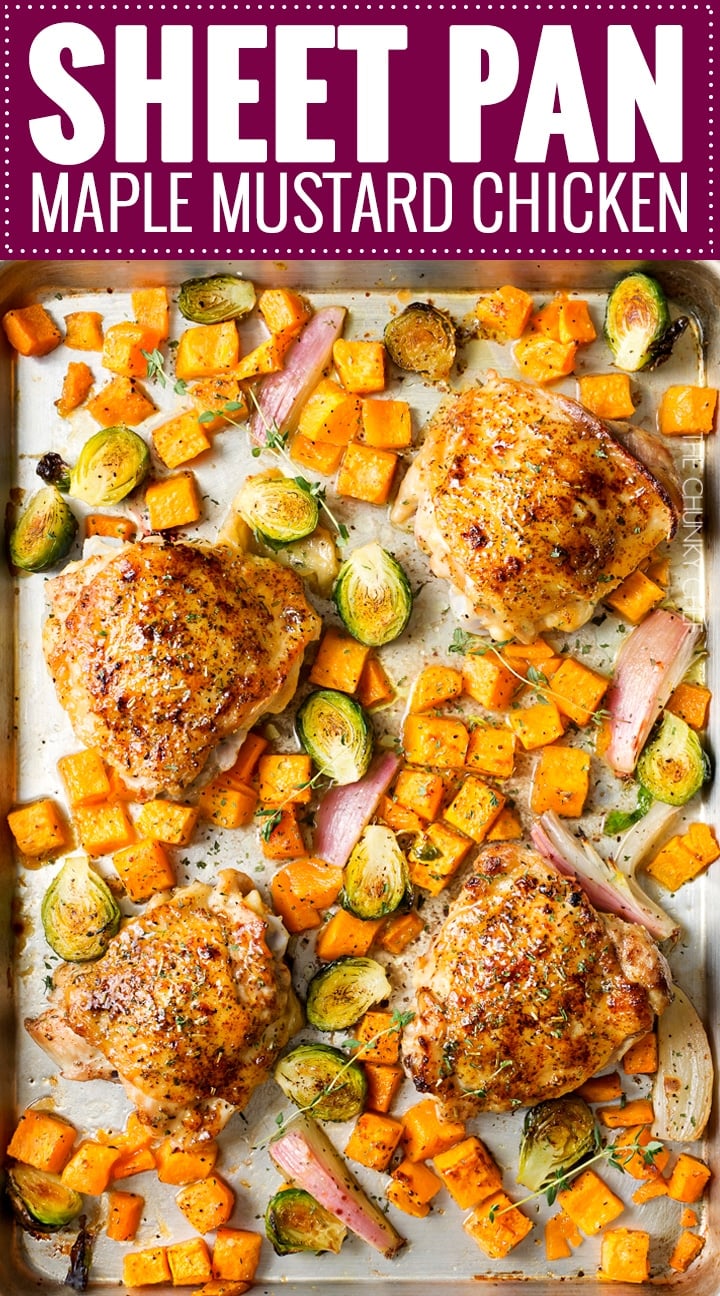 These days, with me being still partially hobbled after my knee injury, I'm ALL about the easy meals.  That's where the inspiration for this recipe came from!  I was just thinking that I needed to come up with some quick and easy meals, that didn't leave a lot of dishes for my husband to clean up, and like magic, the latest issue of Cooking Light came in the mail… full of sheet pan dinners.  It's like the cooking Gods knew just what I needed!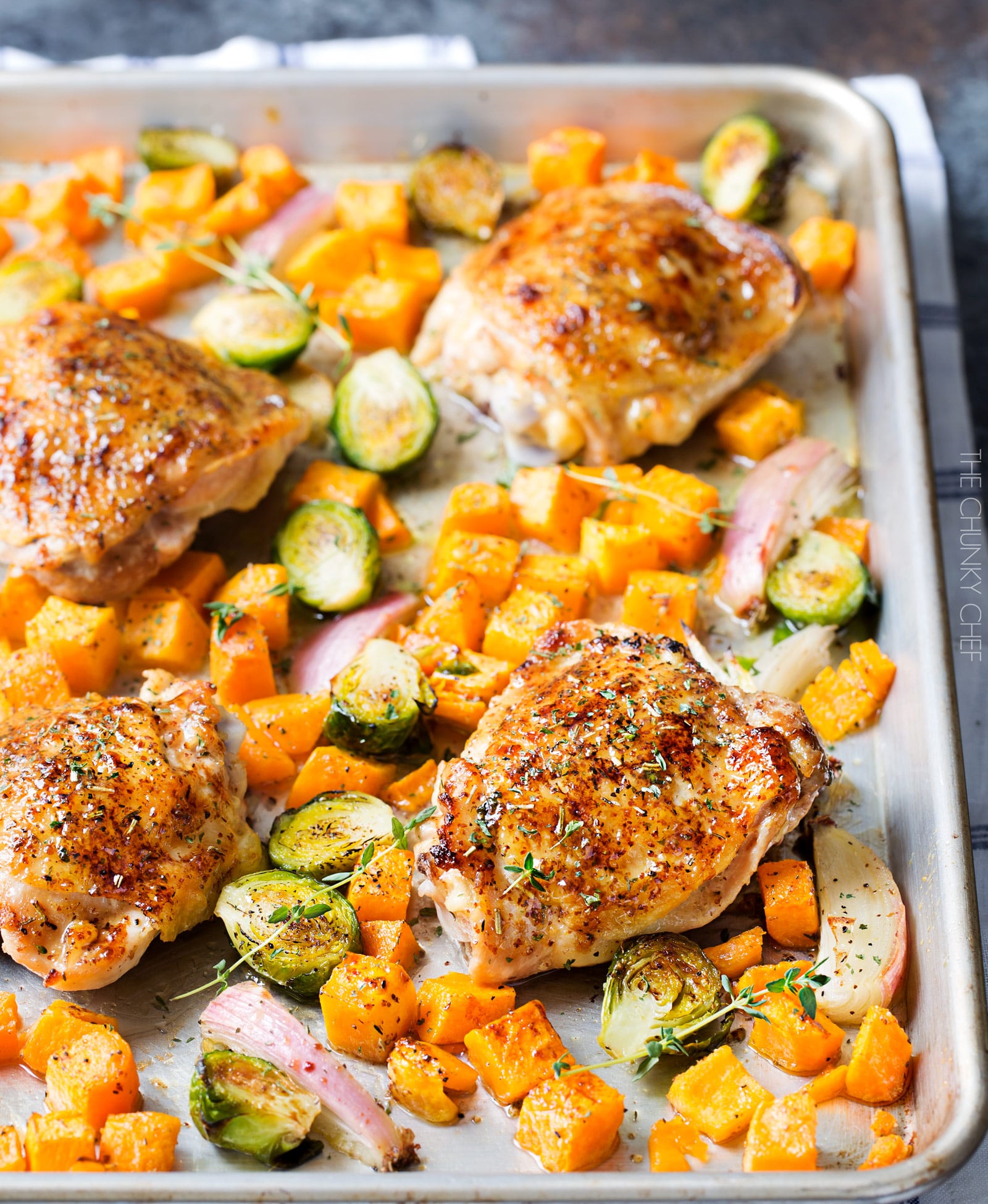 Right away I was drawn to this recipe because I'm a huge butternut squash fan… but in their recipe, they used bone in chicken breasts, which can take a while to cook, so I knew I was going to swap those out for some bone in chicken thighs.  I also adapted their method a bit, to allow you to just pop everything on the pan and bake it, and only have to check on it once 🙂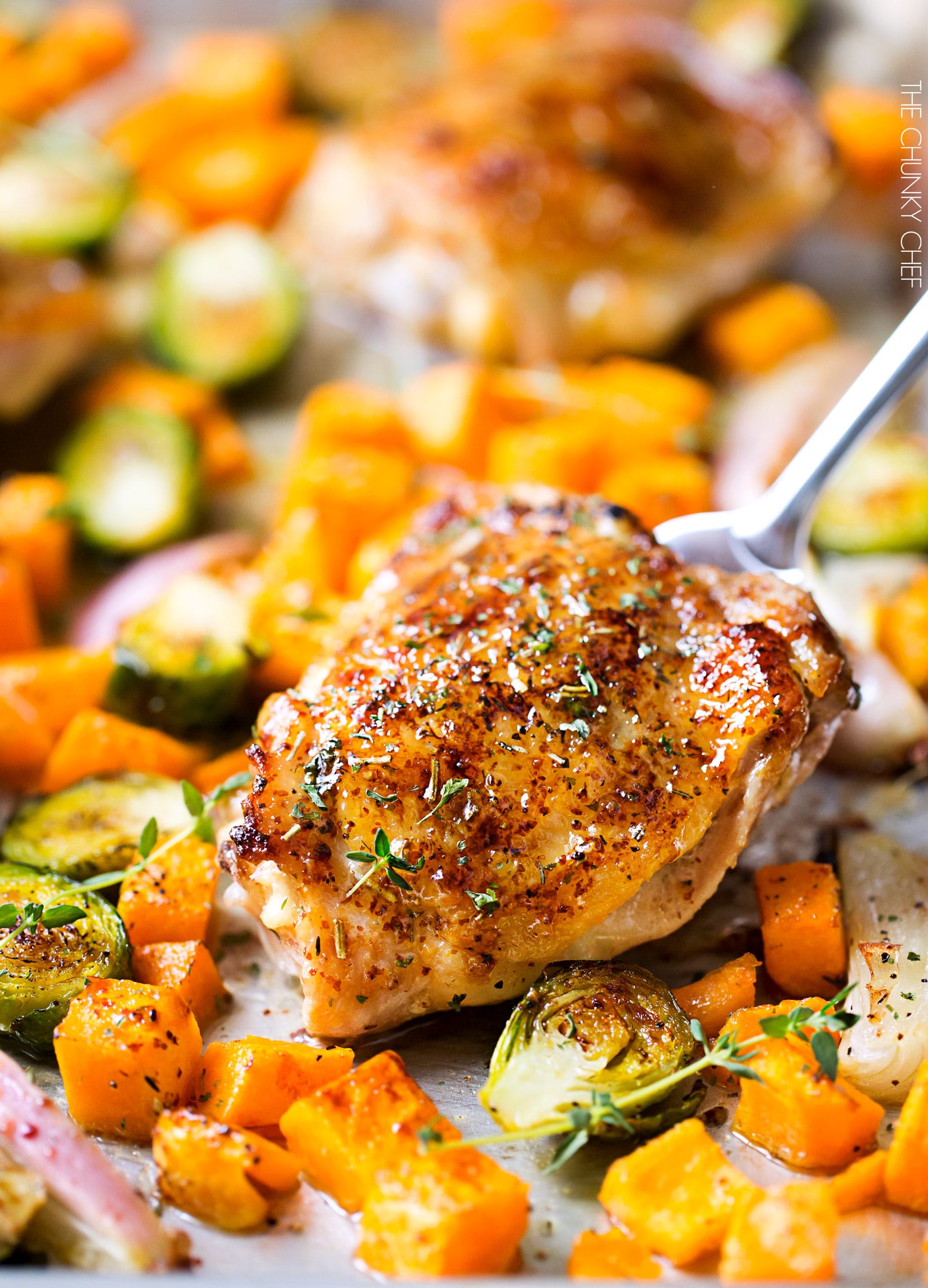 The only issue with throwing it all on one pan is that the chicken gives off juices as it cooks, which means the veggies soak it up, leaving them not quite crispy all over like a true roasted vegetable.  I don't mind that, as I love the flavor it gives the veggies, but if it bothers you, simply sear the chicken thighs in a skillet (skin down first) for a few minutes per side, so there aren't as many juices to give off.
The secret to those crispy chicken thigh skins?  When you preheat your oven, preheat it with the sheet pan IN the oven, so it's nice and hot.  Then brush on a very thin layer of oil (VERY thin), then put the chicken down skin side first.  It should sizzle a little when you put them on.  Then halfway through cooking, flip the chicken over.  I also like to turn on the broiler the last few minutes, after brushing the chicken with some extra sauce, so it has a crispy, sticky skin!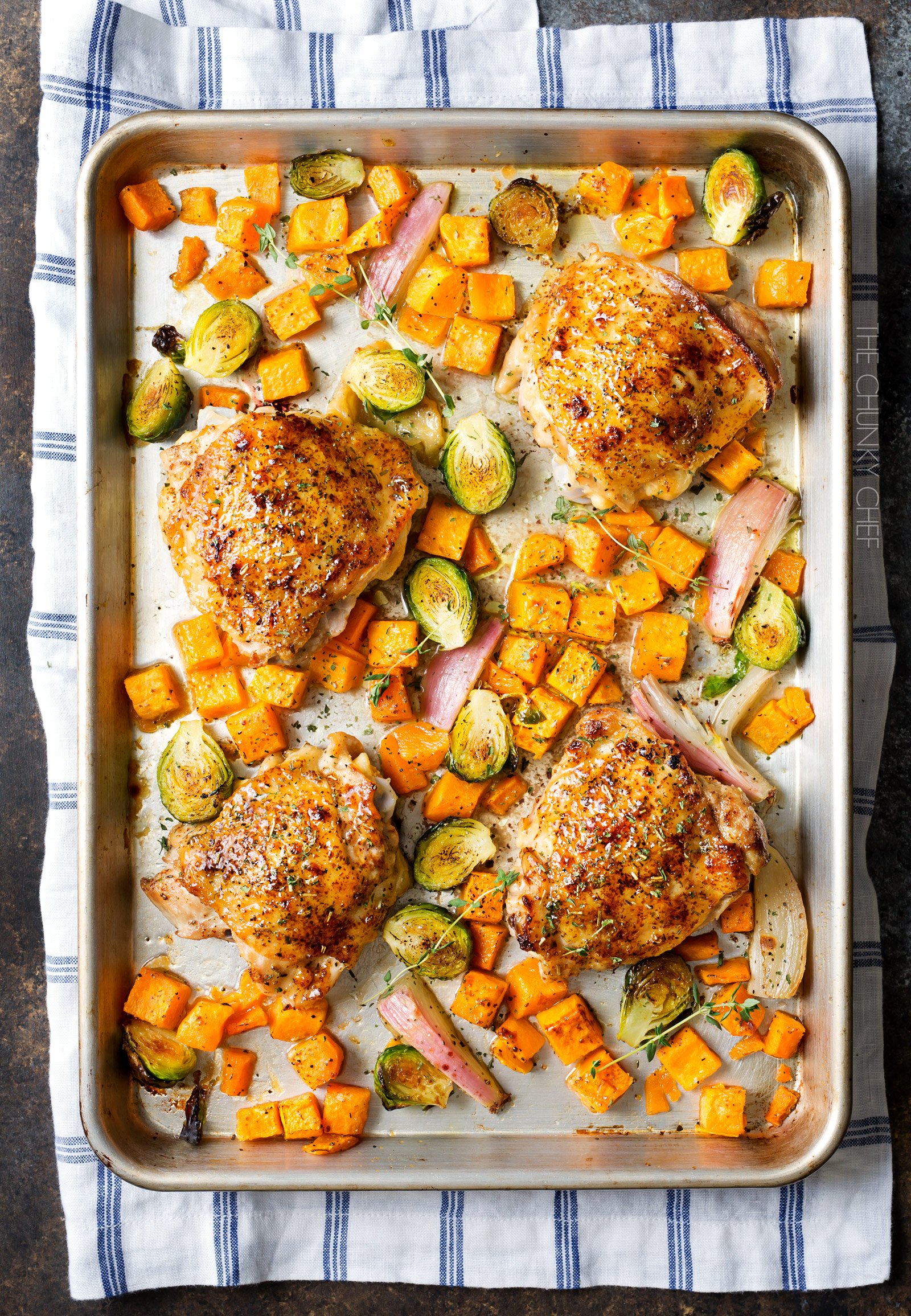 You also don't want to crowd the pan here, so if you're using a different sized pan than mine, you may have some extra squash and sprouts.  No big deal, toss them in a resealable bag and sauté them for another dinner!
I think this meal is really versatile, as you can switch out the veggies for any that you like, as long as they don't cook too quickly.  Cauliflower, broccoli, onions, asparagus, potatoes, etc would be good choices 🙂
Don't let dinner stress you out… try this amazingly delicious Sheet Pan Maple Mustard Roasted Chicken and see how easy dinner can be!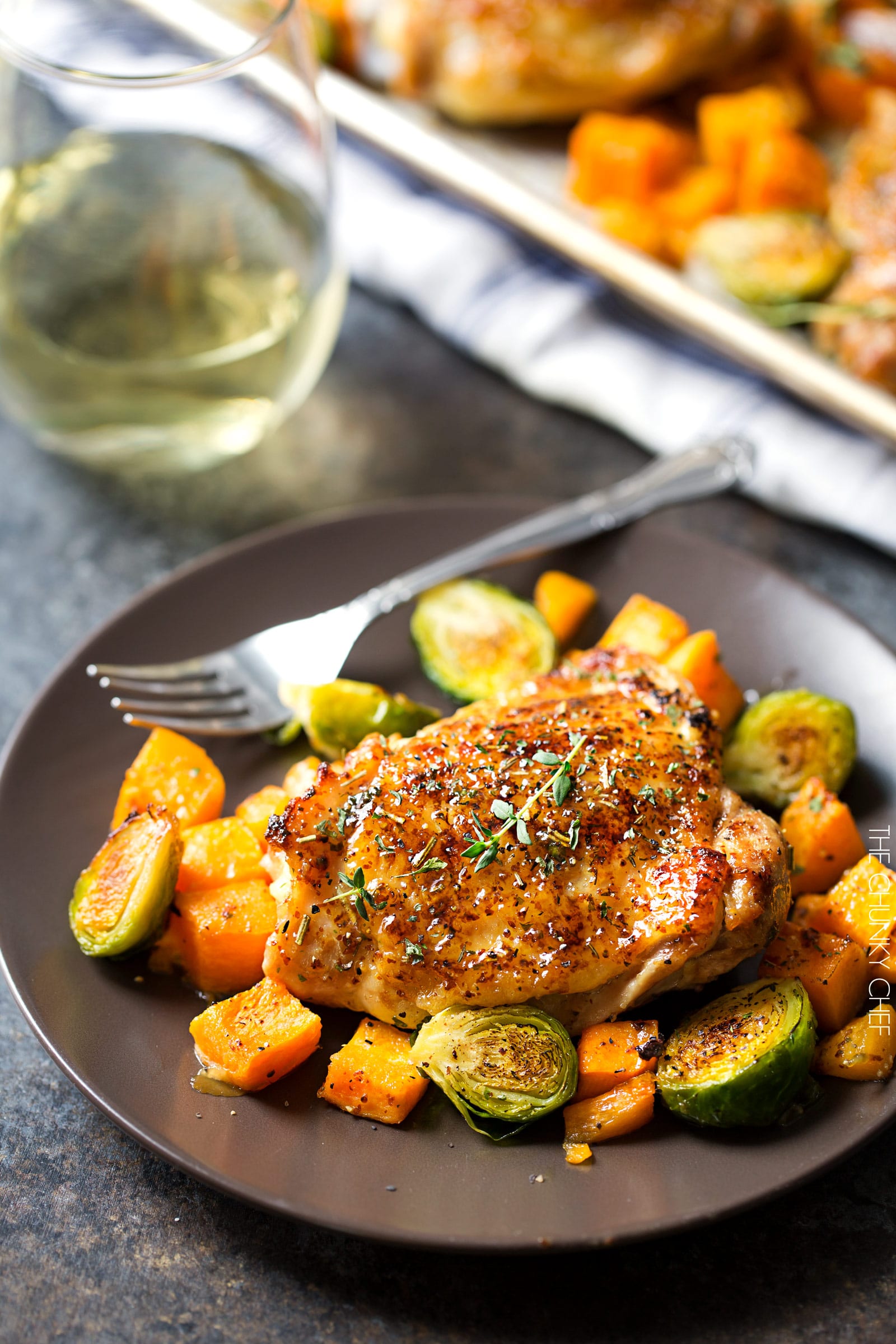 ---
Let's Connect!
You can find me on Facebook, Twitter, Pinterest, and Instagram, so follow me if you'd like… I love keeping in touch with all of you 🙂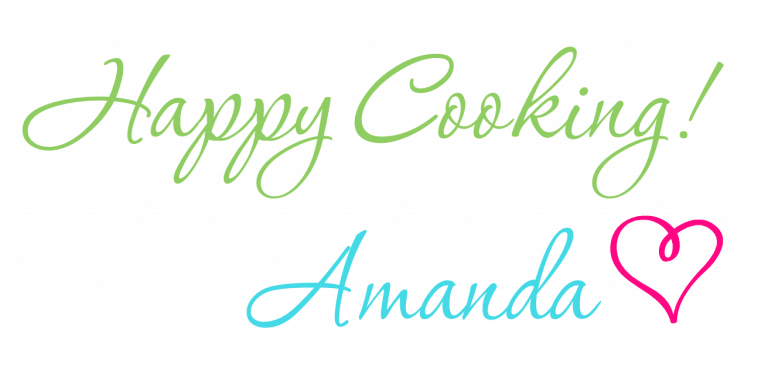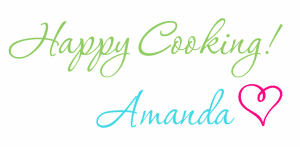 Did you make this? Be sure to leave a review below and tag me @the_chunky_chef on Facebook and Instagram!
Make dinner easy with this maple mustard roasted chicken with butternut squash and Brussels sprouts, cooked together on a single sheet pan!

Ingredients
1 1/2 Tbsp grainy Dijon mustard
1 1/2 Tbsp Maple syrup (don't use imitation, the flavor won't be as deep)
1/2 tsp dried rosemary
salt and pepper, to taste
4 bone in, skin on chicken thighs
salt and pepper, to taste
2-3 cups peeled and cubed butternut squash
2 large shallots, peeled and quartered
2 cups brussels sprouts, trimmed and halved lengthwise
1 Tbsp olive oil
salt and pepper, to taste
Instructions
Place jelly roll pan (mine is 15"x11") in oven, and preheat oven to 425 degrees F. Make sure to leave pan in the oven as it preheats.

In a small mixing bowl, add mustard, syrup, rosemary and salt and pepper. Whisk to combine.

Add butternut squash, Brussels sprouts and shallots to a mixing bowl and toss with salt, pepper, and 1 Tbsp of olive oil.

Season chicken thighs with salt and pepper and brush a thin layer of maple mustard sauce over the skin side of the chicken. Reserve sauce for later. Carefully remove pan from oven (remember, it's HOT), and add chicken thighs, skin side down, to the pan.

Spread veggies in an even layer around the chicken thighs, careful not to overcrowd the pan, or they won't roast, they'll steam. Make sure Brussels sprouts are placed cut side down for maximum roasted flavor. If desired, use a pastry brush to dot little amounts of the maple mustard sauce over the veggies.

Return pan to hot oven and bake for 15-18 minutes. Flip chicken over and return to oven for another 10-15 minutes, until chicken is cooked through and at an internal temperature of 165 degrees F (I use this meat thermometer to be safe!).

Brush chicken with reserved maple mustard sauce and broil on high for a few minutes for a crispier skin.

Want to save this recipe for later? Click the heart in the bottom right corner to save to your own recipe box!
Chef Tips
Most larger grocery stores carry pre-cubed butternut squash in the produce department (usually by where the pre-cut broccoli is located), which is what I used to save me some time.