Rich and creamy ice cream is swirled with gooey marshmallow creme, rich chocolate bar pieces, and crumbled graham crackers. This frozen treat is so simple to make, and very easy to customize! Plus, no ice cream maker is required!
This is one of my Frozen Dessert recipes I know you'll want to keep on hand!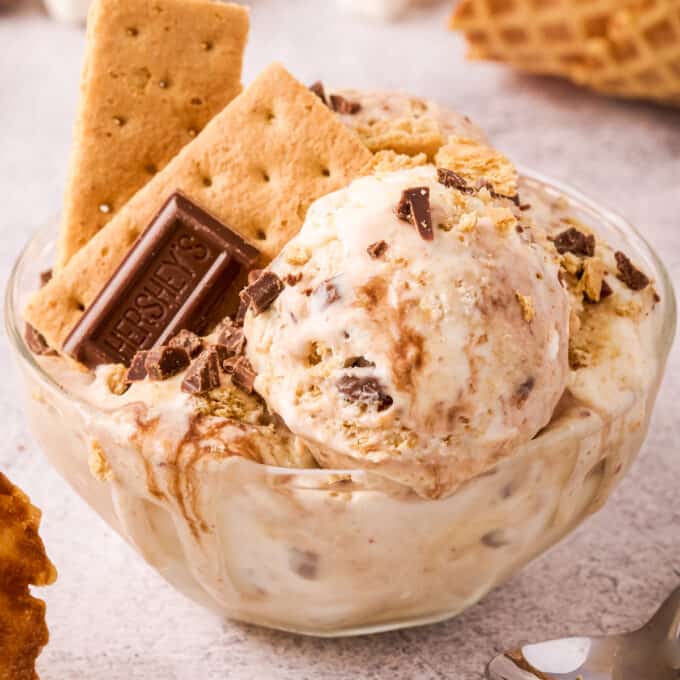 The kids may be headed back to school, but that doesn't mean I want to give up on summer flavors… like s'mores!
There's something absolutely iconic about the effortless combination of graham crackers, chocolate, and marshmallow. And when you combine that with creamy ice cream you have a star dessert on your hands!
Making homemade ice cream is deceptively simple, and most of the time is spent just waiting for it to freeze.
Plus, this s'mores ice cream recipe doesn't use an ice cream maker – so you can absolutely make this, with no fancy tools required!
As a bit of an ice cream connoisseur, I can attest that homemade ice cream tastes SOOOO much better than store-bought.
And as a bonus, there aren't any added preservatives and you can add ANY flavor you want, with as many mix-ins as you want!
How to make s'mores ice cream?
This is just an overview; the full ingredients and directions are in the recipe card toward the bottom of this post.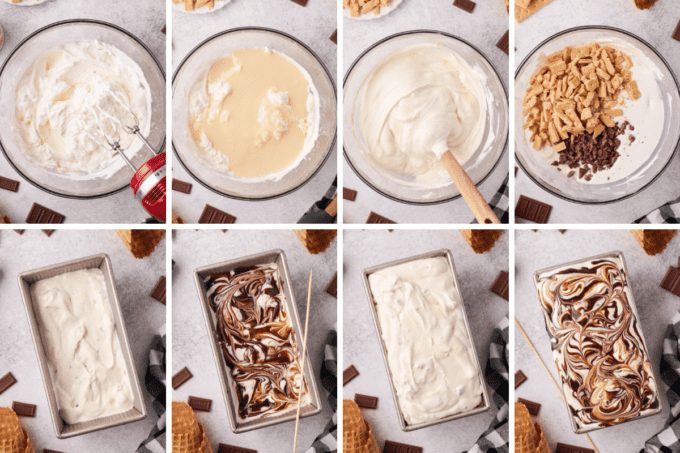 Whip the cream. This will take a little bit of patience, but it's essential. You want stiff peaks for this (check out the chef tips section below the full recipe for a detailed description of stiff peaks).
Fold. Gently fold in the condensed milk and vanilla.
Fold again. Gently fold in the chopped graham crackers, chopped chocolate bar, and marshmallow creme.
Layer and swirl. Add half of the cream mixture, half of the chocolate sauce, then swirl. Repeat.
Freeze.
Helpful Tip!
Pay close attention to the cans at the grocery store when picking up the sweetened condensed milk. Condensed milk and evaporated milk are sold in similar cans and usually next to each other on the shelf. Even though the cans look similar, they can't be used interchangeably. Condensed milk is thick and gooey, while evaporated milk is thin and looks like milk… you'll know as soon as you open the can if you accidentally picked up the wrong kind.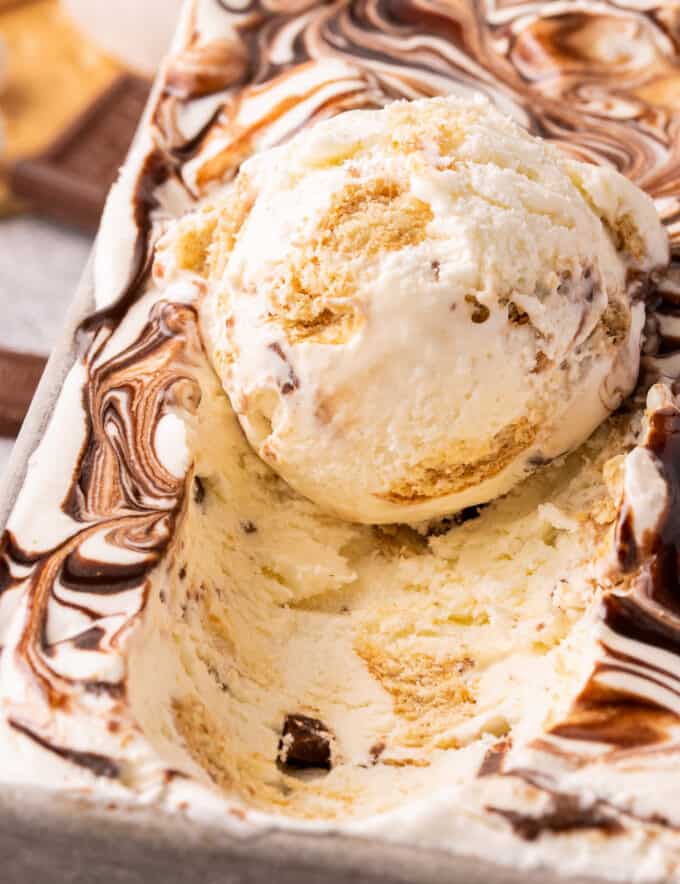 Variations of this recipe
Larger batch – if you'd like more than the 1.5-2 quarts of ice cream this recipe makes, feel free to double the recipe (just make sure to double all of the ingredients), and use a 9×13″ pan instead of a loaf pan.
Marshmallow pieces – if you'd prefer to use actual pieces of marshmallows, instead of the marshmallow creme, you can use any size marshmallows and cut them down into about 1 centimeter wide pieces. I don't advise using bigger pieces, as they'll be difficult to eat.
Toasted marshmallows – to really up the s'mores flavor, try using some toasted marshmallows! Add regular marshmallows to a foil-lined baking sheet and broil (watch them very carefully – don't walk away while they're under the broiler!), until they're as charred as you'd like. Then let the cool and chop them into small pieces and add them to the ice cream.
Chocolate – milk chocolate Hershey bars are the traditional chocolate used in s'mores, but if you'd like to offset some of the sweetness, dark chocolate is a great alternative!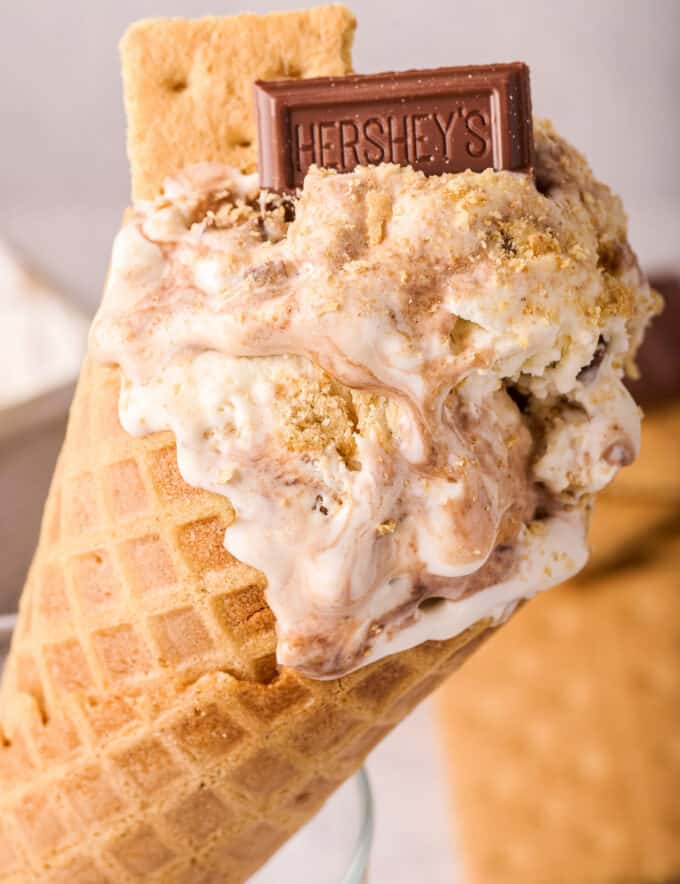 FAQ's
Can you substitute heavy cream in homemade ice cream?
Unfortunately no, not with the same creamy results. Milk or half and half just don't have enough fat content to whip into stiff peaks. Regular whipping cream will technically work, but it won't be as creamy.
What is no churn ice cream?
All it means is that no ice cream maker is needed. With traditional ice cream, you need to make an egg custard and add the mixture to an ice cream maker where it's mechanically churned for a length of time. This recipe eliminates all of that.
Are evaporated and condensed milk the same thing?
They're a little similar and usually sold very close to each other in the grocery store, but they can't be used interchangeably. Both milks have had over half of the water removed, but sweetened condensed milk is very thick and sweet.
Making no churn ice cream ahead of time
No churn ice cream is perfect for making ahead, since it has to freeze for at least 6-8 hours.
Although, I recommend letting it freeze overnight just to be sure it's fully frozen.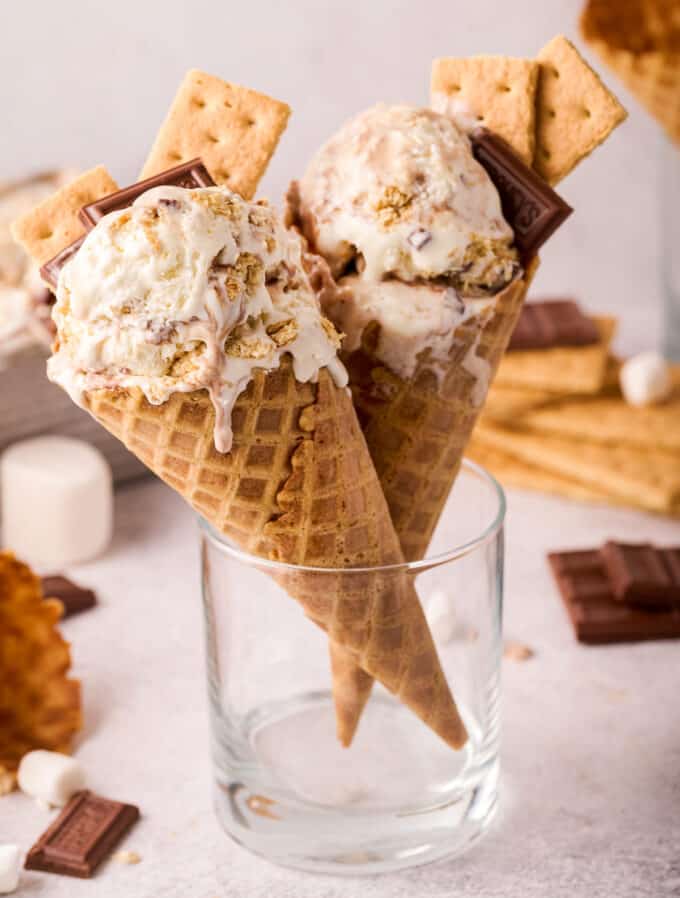 Storage
Ice cream needs to be frozen in an airtight container, and will last for 2-3 months.
If you use a 9×5″ loaf pan (as depicted in these photos), cover it tightly with 2 layers of foil, or a lid (if it came with one).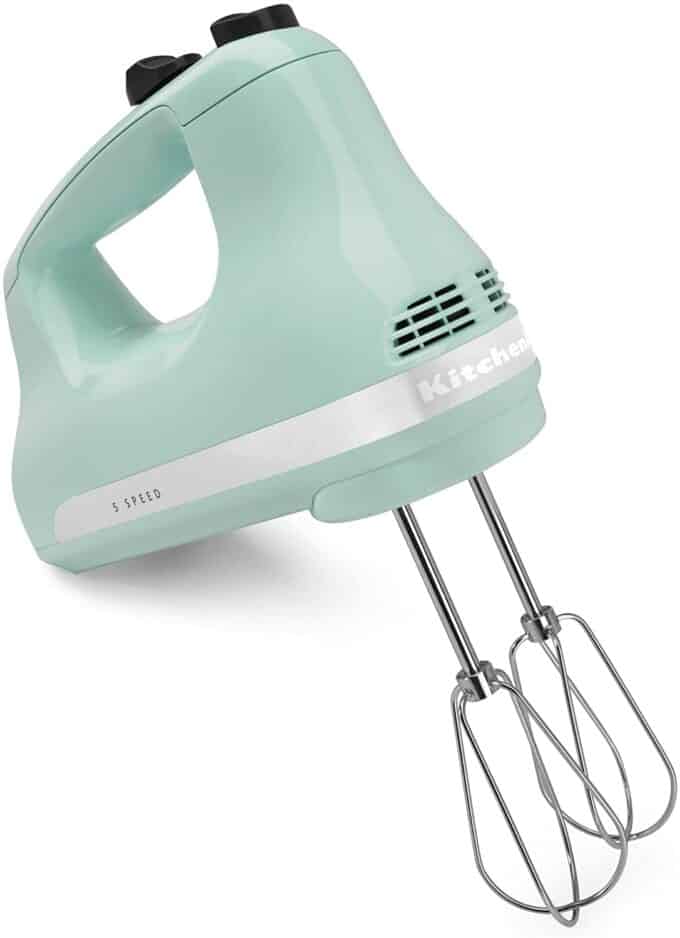 I've had this mixer for years, and it still works just as well as it did the day I got it. It's perfect for making homemade no churn ice cream!
Did you make this? Be sure to leave a review below and tag me @the_chunky_chef on Facebook and Instagram!
Rich and creamy ice cream is swirled with gooey marshmallow creme, rich chocolate bar pieces, and crumbled graham crackers.
Ingredients
16 oz heavy whipping cream cold
14 oz can sweetened condensed milk
1 tsp vanilla extract
1 cup marshmallow creme we use Jet Puff'd brand
2 Tbsp water
1.55 oz milk chocolate candy bar (such as Hershey's) chopped into fine pieces (plus more for garnish)
1/4 cup chocolate syrup divided
1 1/2 cups chopped graham crackers (plus more for garnish)
1/4 tsp kosher salt
Instructions
Prepare
Add a 9×5" loaf pan to the freezer to chill.
Whip the cream
Add the cold heavy whipping cream to a large mixing bowl and beat with an electric hand mixer on MED-HIGH speed until stiff peaks form. **see Chef Tips note #2 for more information on stiff peaks**
Fold
Add the sweetened condensed milk and vanilla, then gently fold together. This is most easily done with a rubber spatula and stirred gently in an over-under circular motion.
Heat marshmallow creme
Add the marshmallow cream to a small microwave-safe bowl. Top with water and microwave for about 15 seconds. Stir together until smooth. This helps the marshmallow creme stir more easily into the ice cream mixture.
Fold again
To the heavy cream mixture, add the marshmallow creme mixture, chopped chocolate, chopped graham crackers, and kosher salt. Gently fold together.
Layer
Add half of the ice cream mixture to the prepared loaf pan. Top with half of the chocolate syrup and use a bamboo skewer, butter knife or toothpick to swirl the chocolate into the ice cream.

Repeat with remaining half of the ice cream mixture and chocolate syrup.
Freeze
Cover tightly with 2 layers of aluminum foil, and add to a freezer in a level spot. Freeze for at least 6-8 hours (however, overnight is best).
Serve
Serve in ice cream cones (waffle cones are my personal favorites), or in a bowl, sprinkled with additional chocolate pieces and chopped graham crackers.
Want to save this recipe for later? Click the heart in the bottom right corner to save to your own recipe box!
Chef Tips
Recipe makes approximately 1.5 – 2 quarts, which I've estimated is 12 servings (1/2 cup per serving). Of course, feel free to break this up into as many (or as little) servings as you'd like.
Stiff Peaks – When you turn the mixer upside down (with it OFF), so the beaters are facing up, the cream will stand up in a peak (like a little mountain), and not fold over onto itself. This is a great visual guide from Taste of Home.
For the best storage, I recommend a container like this one (amazon link).
Exact time needed for freezing will depend on how cold your freezer is.
Nutrition Disclaimer
The Chunky Chef is not a dietician or nutritionist, and any nutritional information shared is an estimate. If calorie count and other nutritional values are important to you, we recommend running the ingredients through whichever online nutritional calculator you prefer. Calories can vary quite a bit depending on which brands were used.