Creamy mushroom pasta is loaded with golden brown seared mushrooms and everything is smothered in a silky and oh so creamy garlic parmesan sauce. With two simple swaps it can be made vegetarian, and while it's really easy to make, it looks (and tastes) fancy enough for a special occasion dinner!
This is one of my Pasta recipes I know you'll want to keep on hand!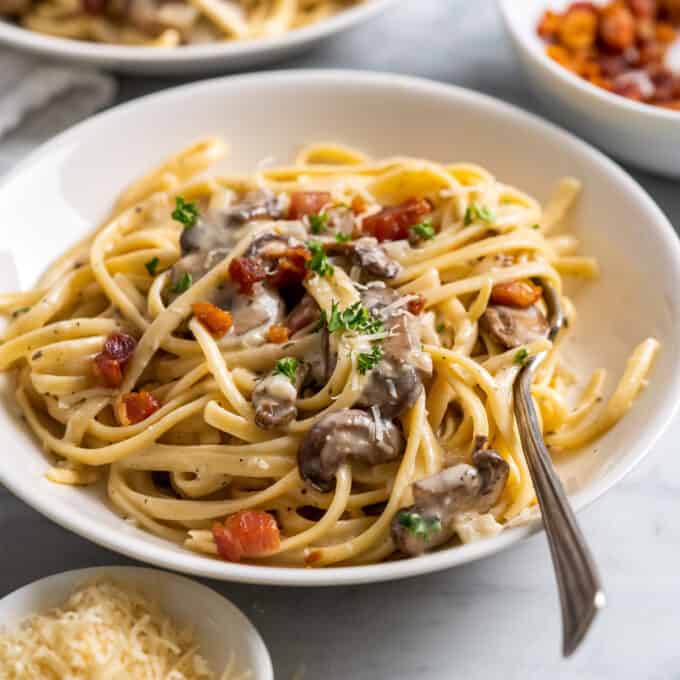 I don't know about you, but I could eat mushrooms with just about everything, and even make a meal out of only mushrooms! 
My husband is the same way, yet we managed to spawn two children who can't stand to even look at a mushroom, let alone eat one. Oh well, maybe some day!
So naturally, this is one of my all-time favorite pastas… golden brown mushrooms, crispy and salty pancetta, tender pasta, and a luxuriously creamy sauce – I mean what's not to love?
I hesitate to call it a one pan meal, since the pasta cooks separately, but everything else is made in one pan, which means you don't get stuck with a sink absolutely full of dishes after dinner.
How to make creamy mushroom pasta?
This is just an overview; the full ingredients and directions are in the recipe card toward the bottom of this post.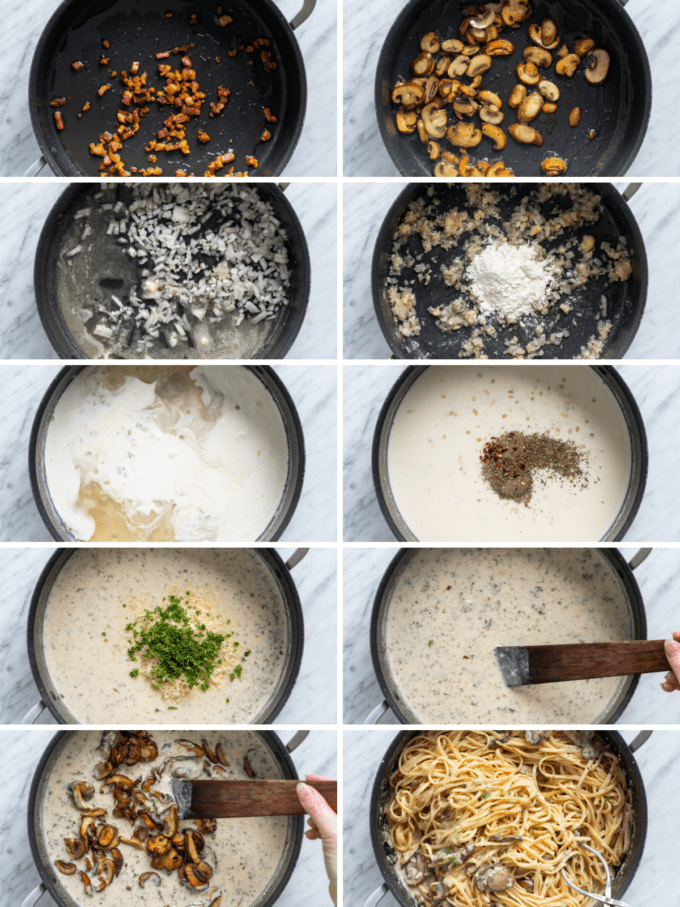 Boil pasta. Set aside after draining.
Cook pancetta. This will be a garnish once the pasta is done.
Cook mushrooms. The secret to golden brown mushrooms is not to salt them, and leave them alone while cooking. Stirring often doesn't let the golden color develop.
Cook shallots and garlic.
Add flour. Stir it well and let it cook for a minute to get rid of the raw garlic flavor.
Add wine. The wine adds a great depth of flavor, especially when it simmers down a bit.
Add liquids. The bulk of the sauce is made with chicken broth, with a bit of heavy cream added for the rich creaminess.
Season and thicken. The sauce should coat the back of a spoon when it's thick enough.
Add cheese, cooked mushrooms, and pasta. Add it all together, stirring until well combined.
Add pasta water. This is as needed, add a splash as you're stirring everything together to get the sauce consistency you'd like.
Helpful Tip!
This recipe calls for saving some of the pasta water. The reason for this is the starch in the water acts like a binder and can emulsify with the fats of a sauce to create an even creamier sauce. You may or may not need it, but it's better to have it and not need it, or not need much, than to need it and not have it.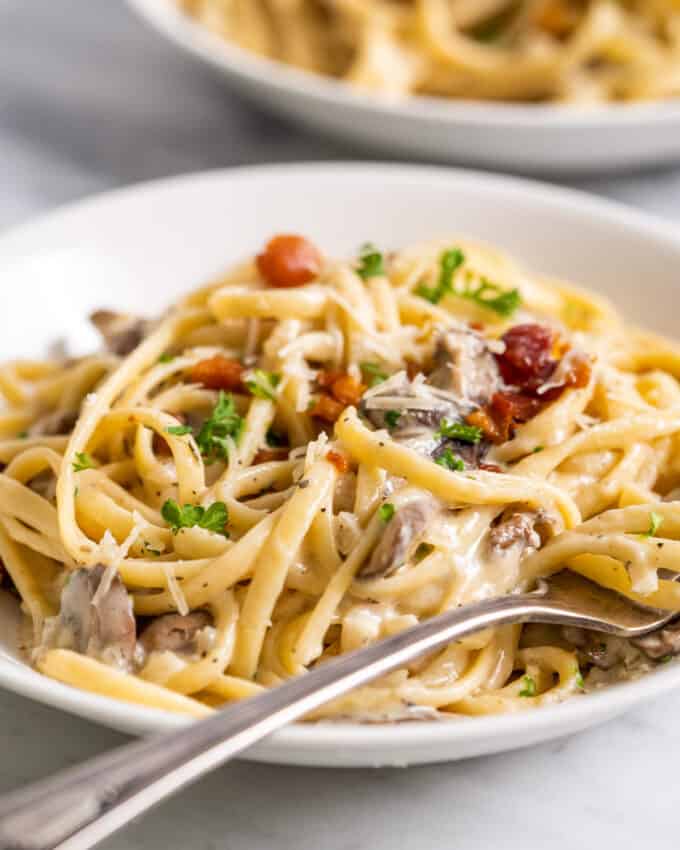 Variations of this recipe
Bacon – pancetta is cured pork belly, very similar to bacon, except it's not smoked. If you can't find pancetta near you, you can substitute it with an equal amount of bacon.
Protein – this recipe is fantastic with some seared chicken! Just season thin chicken breast cutlets and cook the chicken before the pancetta. Remove it to a plate and slice, then proceed with the recipe and add the chicken before serving.
Veggies – so many amazing veggies can be added to this pasta recipe. Our favorites are asparagus, spinach, and peas.
Types of mushrooms – feel free to use your favorite mushrooms for this recipe. My grocery store carries a blend of cremini, oyster, and shiitake, which is what I generally use for this recipe. You just need 16 total ounces.
Alcohol-free – the wine in this recipe is simmered for a bit, which cooks most of the alcohol off, but if you'd like to make this completely alcohol-free, just replace the white wine with an equal amount of more chicken broth.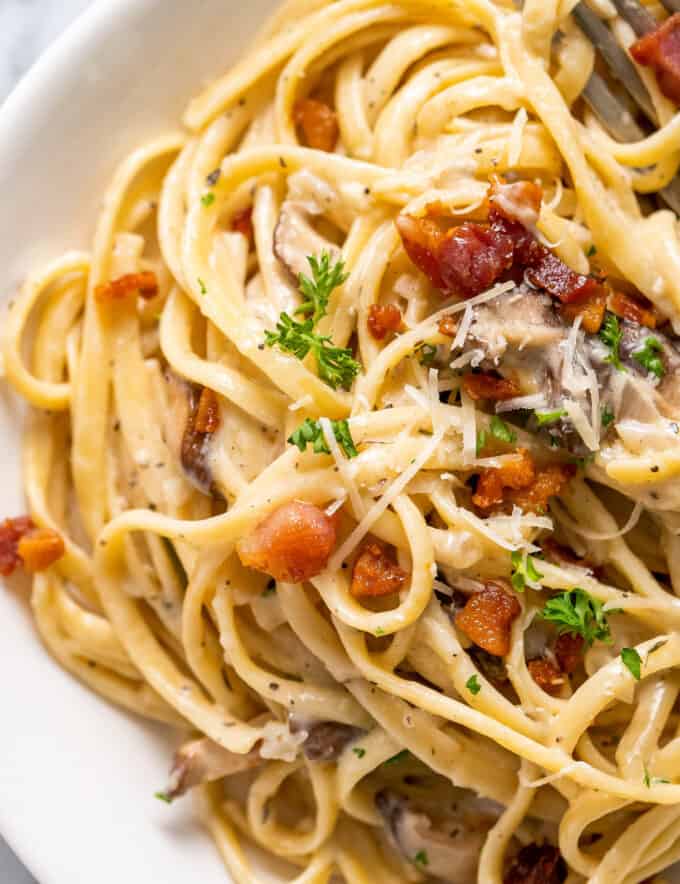 FAQ's
Can I use milk instead of heavy cream in this recipe?
If you'd like to save some fat and calories, I don't recommend using lower fat milks, but rather whole milk, or preferably evaporated milk. The fat really helps create the creamy sauce, and evaporated milk is the best substitute for heavy cream.
Can this recipe be made vegetarian?
Absolutely! Omit the pancetta, and use vegetable broth instead of chicken broth, and you'll have an amazingly delicious and hearty vegetarian meal.
Making mushroom pasta ahead of time
Like most recipes with a creamy sauce, I don't recommend making it entirely ahead of time. However, some of the components of this recipe can be prepped ahead, saving you time!
How to prep ahead for this recipe:
Pasta – the pasta can be boiled, drained, tossed with a bit of oil, and stored in an airtight container in the refrigerator.
Pasta water – before you drain the pasta, make sure you save about 1 cup of the pasta water. This can be kept in an airtight container in the refrigerator. Just be sure to stir it well before using, since the starch may settle at the bottom.
Mushrooms – if you're using whole mushrooms, they can be sliced ahead of time and kept refrigerated in an airtight container.
Veggies – the shallots and garlic can be diced/minced and refrigerated in an airtight container.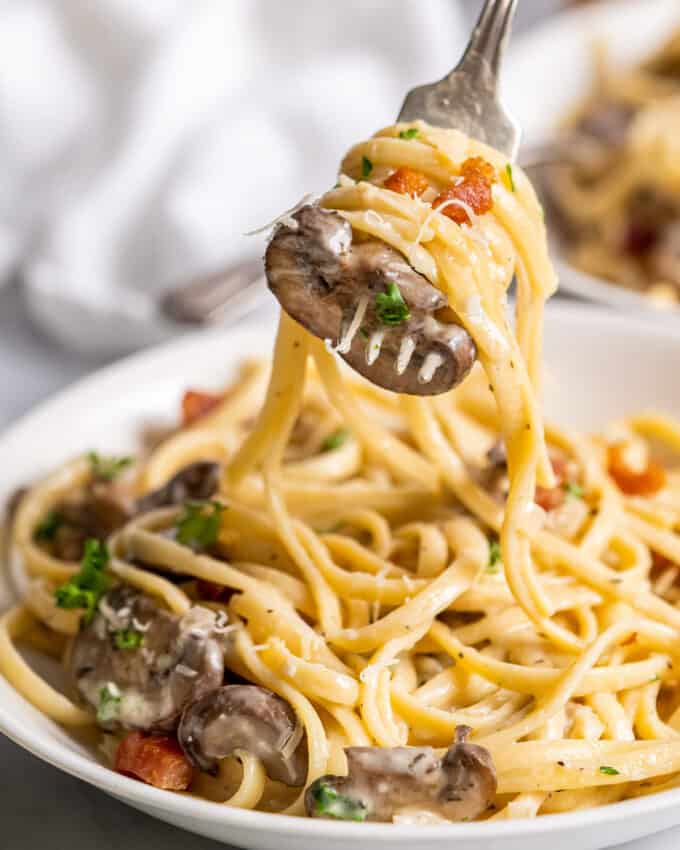 Storage
Leftover pasta should be stored in an airtight container in the refrigerator, and enjoyed within 4-5 days.
When reheating, you might want to add a splash of chicken broth, water, or heavy cream to bring the creamy texture back.

This pan is definitely not cheap, but I wanted to be transparent that this is the pan I use in my kitchen. However, you can use any large and deep skillet/pan; I just recommend at least 10-12″ in diameter and/or a 3+ quart capacity (this makes it easy to toss everything together at the end).
Did you make this? Be sure to leave a review below and tag me @the_chunky_chef on Facebook and Instagram!
Creamy mushroom pasta is loaded with golden brown seared mushrooms and smothered in a silky and oh so creamy garlic parmesan sauce!
Ingredients
16 oz dried linguine pasta
4 oz pancetta diced
5 Tbsp unsalted butter divided
2 Tbsp olive oil divided
16 oz fresh mushrooms *see chef tip #1
2 medium shallots minced
5 cloves garlic minced
2 Tbsp all purpose flour
1/3 cup dry white wine such as Chardonnay
1 1/2 cups reduced sodium chicken broth
1/2 cup heavy whipping cream
1 tsp dijon mustard
1/2 tsp dried thyme
1/2 tsp kosher salt
1/2 tsp black pepper
1/2 tsp dried basil
pinch red pepper flakes
1/2 cup grated Parmesan cheese freshly grated is best
2 Tbsp minced fresh parsley
Instructions
Prepare
Set out a measuring cup next to the stove so it'll help you remember to save some pasta water before draining.
Boil pasta
Bring a large pot of salted water to a boil, then cook pasta according to package directions for al dente, minus 1 minute.  Reserve 1 cup of pasta water, then drain pasta.  Toss with a drizzle of olive oil to keep it from sticking together.
Sauté
While pasta is cooking, add pancetta to a large, deep skillet and cook over MED LOW heat until crispy, stirring occasionally.  Transfer to a paper towel lined plate to drain.  Drain off excess grease, but don't clean the skillet.

Add 1 1/2 Tbsp butter and 1 Tbsp olive oil to the skillet and increase heat to MED HIGH.  Add half the mushrooms in an even layer and let them cook for 2-3 minutes, without stirring.  Then stir and cook another 3-5 minutes, stirring occasionally, until mushrooms are golden.  Season lightly with salt and pepper, to taste, and transfer to a plate. 

Repeat with another 1 1/2 Tbsp of butter, 1 Tbsp oil and remaining mushrooms, transferring to plate when finished.

Decrease heat to MED and add remaining 2 Tbsp butter.  Once melted, add shallots and cook for 2-3 minutes, stirring occasionally, until softened.  Add garlic and cook 30 seconds.
Make sauce
Add flour and stir.  Cook about 1 minute, then add wine and a splash of the chicken broth, using a wooden spoon to scrape the bottom of the skillet to loosen any browned bits.  Let wine mixture cook about 1 minute.

Stir in remaining chicken broth and heavy cream.  Add mustard, thyme, salt, pepper, basil and red pepper flakes.  Let cook about 2-4 minutes, stirring often, until thickened a bit.

Stir in Parmesan cheese and minced parsley, stirring until cheese is melted.  Add mushrooms back to the skillet.
Combine and serve
Add cooked pasta and stir to coat well, adding pasta water if needed to get desired consistency.

Serve with cooked pancetta, and possibly additional parsley, and a sprinkle of additional Parmesan cheese.
Want to save this recipe for later? Click the heart in the bottom right corner to save to your own recipe box!
Chef Tips
Please feel free to use any type of mushrooms you like. Personally, I love to use a combination of cremini, oyster, and shiitake.
I've estimated this will yield 4 generous servings, but this will vary from person to person.
To make vegetarian, omit pancetta, and replace chicken broth with vegetable broth.
Bacon can be used in place of pancetta if you can't find it.
Nutrition Disclaimer
The Chunky Chef is not a dietician or nutritionist, and any nutritional information shared is an estimate. If calorie count and other nutritional values are important to you, we recommend running the ingredients through whichever online nutritional calculator you prefer. Calories can vary quite a bit depending on which brands were used.