These blueberry cheesecake hand pies are an easy-to-make, portable dessert – mini pockets of silky cheesecake and sweet blueberry pie filling! This recipe uses a lot of store-bought ingredients to eliminate a lot of the hassle and make this a perfect dessert for beginners, and is made easily in the air fryer (oven instructions are also included).
This is one of my Pie recipes I know you'll want to keep on hand!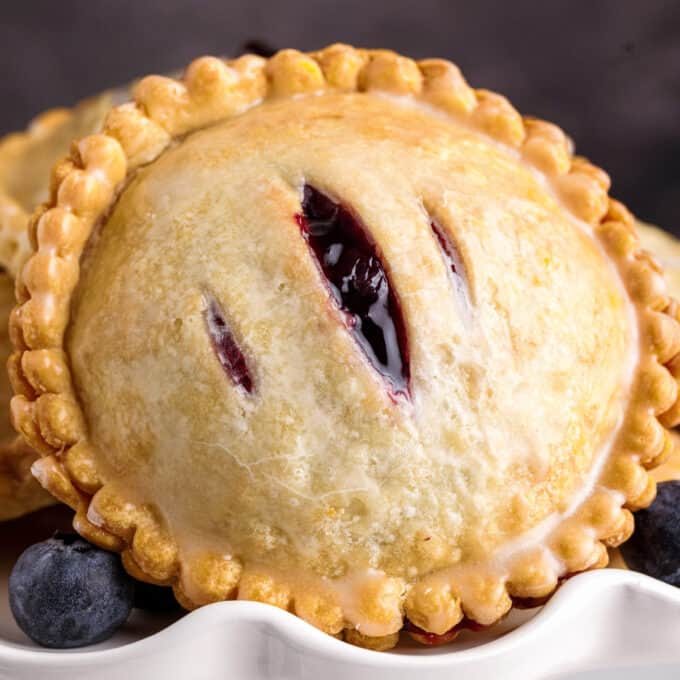 Hand pies are one of the coolest food inventions around… I mean it's a slice of pie you can hold in your hand and eat. No forks or plates necessary!
Plus if whole pies are intimidating to you (no judgement… I've had my share of absolutely epic pie fails), hand pies are much easier to make.
Especially this blueberry cheesecake variety… I've chosen to make these with a can of blueberry pie filling, and store-bought pie crust, so it's easy peasy!
This recipe was developed for an air fryer, but if you don't have one, no worries, I've also included oven directions in the "chef tips" section below the full recipe.
How to make blueberry cheesecake hand pies in the air fryer?
This is just an overview; the full ingredients and directions are in the recipe card toward the bottom of this post.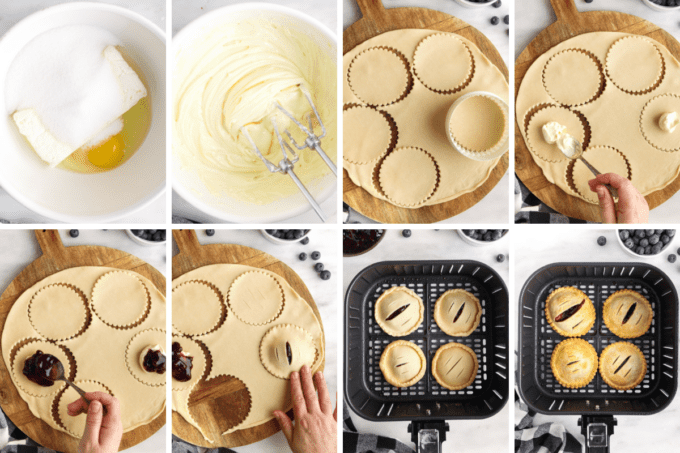 Make cheesecake filling. I find using a hand-mixer gets the filling smooth and creamy.
Cut out circles. I used the scalloped edge of my biscuit cutter, but you could do the smooth edge as well.
Add cheesecake filling. This isn't measured exactly, just use a small spoon.
Top with pie filling.
Cut slits and top pies. Cut a few venting slits in the top circle, then place on top of the blueberry filling.
Air fry. You don't want to pile them all in there, they need room around each one for the air to circulate, so this may need to be done in batches.
Helpful Tip!
The glaze on these hand pies dries relatively quickly, and has a nice sheen to it. This is because of the light corn syrup. Don't be turned off by the corn syrup, it's not the same thing as high-fructose corn syrup, and really isn't a whole lot different than using sugar. Of course, you can skip adding it, the glaze will still taste amazing, but it won't dry as well and the pies could stick together if you try to stack them.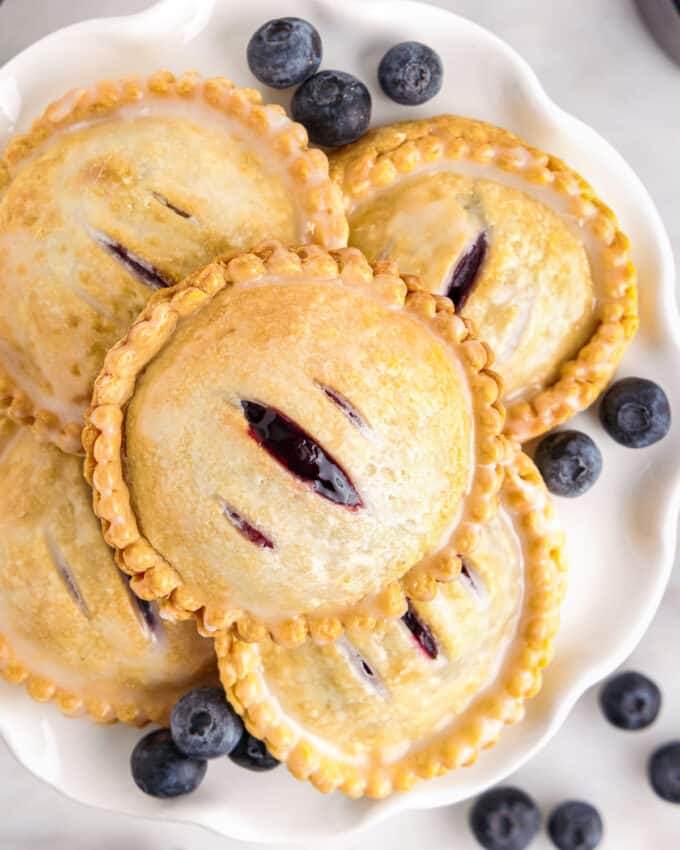 Variations of this recipe
Crust – to keep this recipe simple and quick, I normally use pre-made refrigerated pie crusts (such as Pillsbury brand). But if you'd rather make a homemade pie crust, you certainly can.
Other fruit fillings – cherry, strawberry, peach, raspberry, apple… you name it. If it comes in a pie filling, you can use it.
No cheesecake – cheesecake not your thing? You can make these with just the fruit filling if you'd like.
Other shapes – you can make hand pies in just about any shape you want. I see a lot of half-moon shaped pies (where you cut a circle, add the filling on one half and fold the circle over), and square shaped pies. The baking time might change slightly.
No glaze – if you'd prefer to leave off the glaze, you certainly can. You could also brush the pies with a mixture of egg and a splash of milk, then sprinkle with coarse sugar.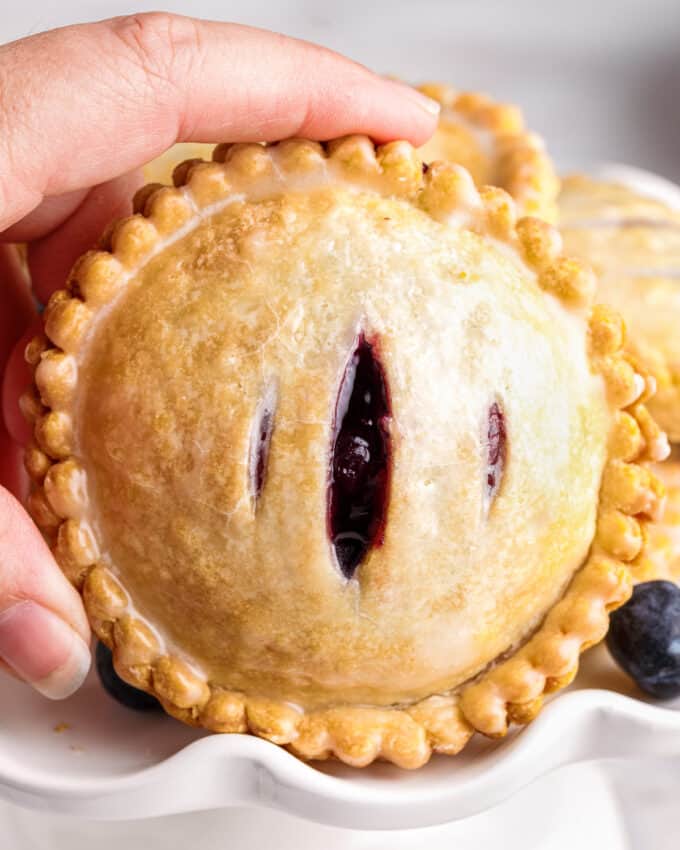 FAQ's
What's the difference between a hand pie and a turnover?
Most often, at least around here, turnovers are made with puff pastry dough, rather than a pie crust. Other than that (and possibly the shape – turnovers are generally folded over), there's not a big difference.
Why did my hand pie filling leak?
There are four main reasons why you may have some filling leak out.
Overfilling – try not to add too much filling, even though I know it's tempting.
Not sealed well – this is probably one of the most common culprits… make sure you're brushing the edges with an egg wash, and really pressing to seal.
Cracking – if there are cracks in the pie dough, that creates a weak spot, and the filling can seep out there.
Not venting – those slits cut in the tops of pies and hand pies aren't just for decoration, they allow the steam that builds up during baking to escape. If you don't have a vent to let the steam out, it can cause the hand pie to sort of burst.
Making hand pies ahead of time
I find that these hand pies are best made right before serving, but you can definitely prep ahead (which makes the hands-on time when making the pies super quick).
Crust – if you're making a homemade crust, that can be made several days ahead of time and refrigerated until ready to use.
Cheesecake – the "cheesecake" can be mixed and refrigerated until ready to use.
Filling – if you're using a homemade filling (instead of canned pie filling), that can be made, cooled, and refrigerated until ready to use.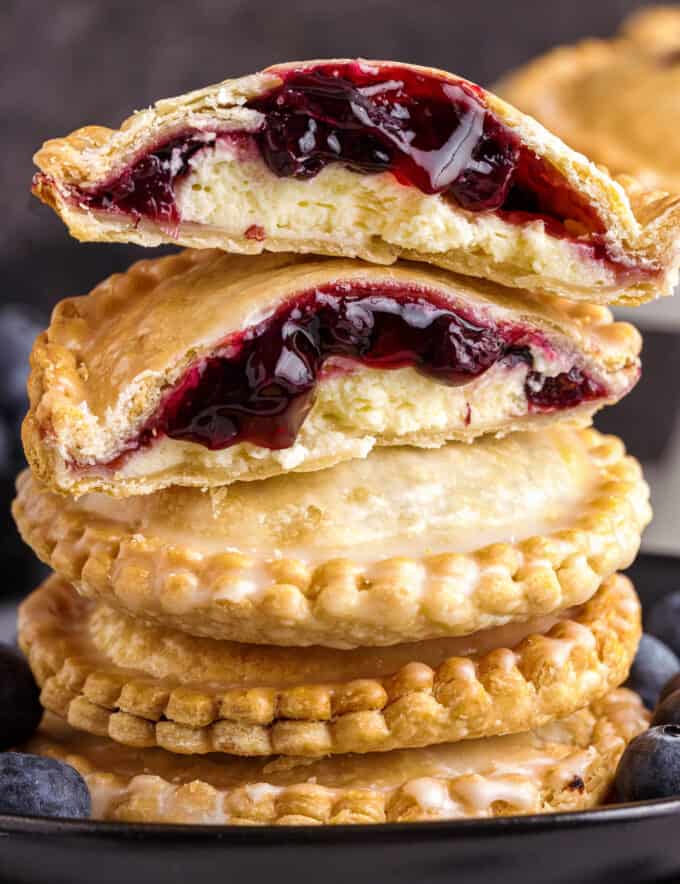 Freezing
This recipe is pretty freezer-friendly, so feel free to make a double or triple batch and freeze some!
I recommend baking as directed, then letting them cool completely. Wrap each pie individually in plastic wrap (to keep them from all sticking together), and freeze in a freezer-safe container for up to 3 months.
You can reheat straight from the freezer, no thawing necessary! I usually just microwave a hand pie for about a minute (flipping it over halfway through), but you can also reheat in the air fryer or oven.
Storage
Hand pies should be stored in an airtight container in the refrigerator for up to 4 days, but in general, the sooner you eat them, the better.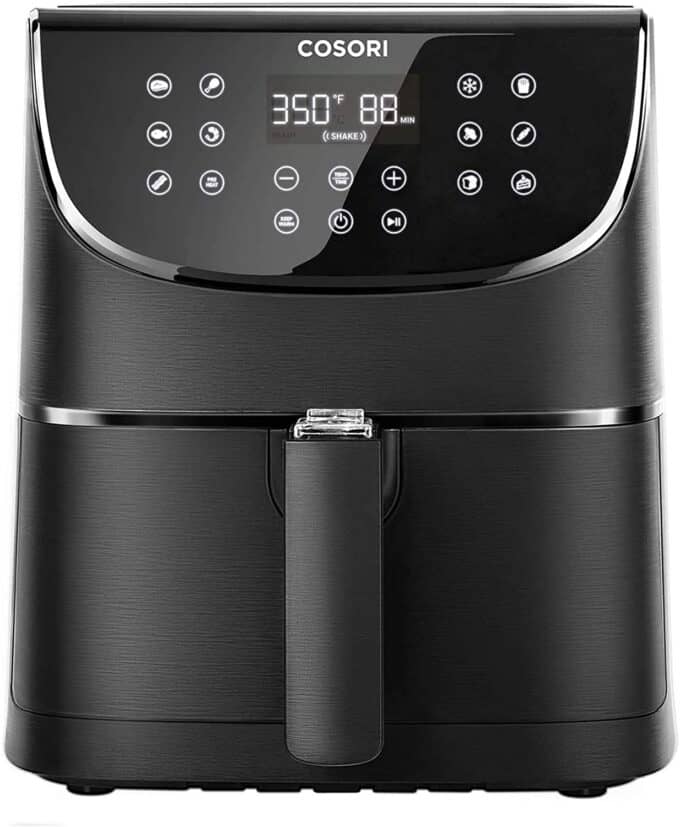 I love the larger, rectangular basket, and the basket is nonstick, removable, and dishwasher safe!
Did you make this? Be sure to leave a review below and tag me @the_chunky_chef on Facebook and Instagram!
These Blueberry Cheesecake Hand Pies are an easy-to-make, portable dessert – mini pockets of silky cheesecake and sweet blueberry pie filling!
Ingredients
Cheesecake filling
8 oz cream cheese softened to room temperature
1/2 cup granulated sugar
1 large egg
Hand pies
14 oz package refrigerated pie crusts we use Pillsbury brand, the box contains 2 crusts
21 oz can blueberry pie filling
1 large egg
1 tsp milk or water
Sweet glaze
1 cup powdered sugar whisked to remove any lumps
2 Tbsp whole milk
1 1/2 tsp light corn syrup
Instructions
Prepare
Set out pie crusts to warm up a bit about 15-20 minutes beforehand. Get out air fryer.
Make cheesecake filling
To a mixing bowl, add softened cream cheese, granulated sugar, and one large egg. Mix with a hand mixer on medium speed until well blended. Set aside.
Assemble hand pies
On a lightly floured countertop or board, unroll both of the pie crusts, but don't use a rolling pin to roll them any thinner.

Using a 4" biscuit or cookie cutter, cut as many circular crusts as you can from both pie crusts. You'll need 12 pie crust circles (generally 6 from each crust). Gather extra scraps and re-roll if needed.

To the center of 6 of the circles, add a dollop (I just use a small spoon, but it's probably about a tablespoon) of the cheesecake filling, then top with a dollop the same size of the blueberry pie filling.

You'll have pie filling and cheesecake filling leftover, but since the recipe calls for 1 egg, it can be difficult to split that in half, and the vast majority of pie filling comes in 21 oz cans. They'll both keep for a little while, or you can make multiple batches of hand pies!

Beat together the egg and 1 tsp milk (I just use a fork for this). Set aside. To the other 6 circles, cut 2 or 3 small slits in the center.

Brush the edges of the circles with filling with the egg/milk wash, then top with a circle with the slits. Gently press down to adhere the two circles together around the edges. Gently turn up the scalloped edges for a more secure and finished look.
Air fry
Preheat air fryer to 350°F, then add 4 hand pies (or as many as you can comfortably fit – remember they need some room around each one), and air fry for about 10 minutes. Hand pies are done when they are golden brown.
Make the glaze
While hand pies are in the air fryer, combine the powdered sugar, whole milk and corn syrup and whisk until smooth.

After hand pies are out of the air fryer, add them to a cooling rack with a paper towel or piece of wax paper underneath (to catch the glaze that drips off). Brush liberally with the glaze while pies are still warm to the touch.

The glaze on the hand pies should set and be dry in about 15 minutes, at which point you can eat them without the glaze coming off on your hand, or stack them in containers.
Want to save this recipe for later? Click the heart in the bottom right corner to save to your own recipe box!
Chef Tips
For an extra crispy/flaky hand pie, brush the tops of the unbaked (but assembled) pies with the leftover egg wash, then cook as directed.
This recipe makes 6 hand pies, for a total of 6 servings (one hand pie per serving), but can easily be doubled or tripled if necessary.
Oven Directions:
Preheat oven to 425°F and line a baking sheet with parchment paper or foil.
Assemble hand pies as directed.
Add to prepared baking sheet, leaving at least 1″ between them, and bake for about 11-12 minutes, or until golden brown.
Remove baking sheet from the oven and let them cool on a wire rack.
While pies are cooling, make glaze as directed, then brush onto hand pies.
Nutrition Disclaimer
The Chunky Chef is not a dietician or nutritionist, and any nutritional information shared is an estimate. If calorie count and other nutritional values are important to you, we recommend running the ingredients through whichever online nutritional calculator you prefer. Calories can vary quite a bit depending on which brands were used.