As the weather gets warmer, I start thinking about cookouts and parties… and when I think of cookouts, aside from the usual hamburgers and hot dogs, I think of pulled pork BBQ!  There are about a bazillion (yes, seriously) recipes for pulled pork BBQ out there, and usually everyone already has a favorite.  But this one… wow, this one is just simply awesome!!  It's sweet, garlicky, tangy, succulent and tender.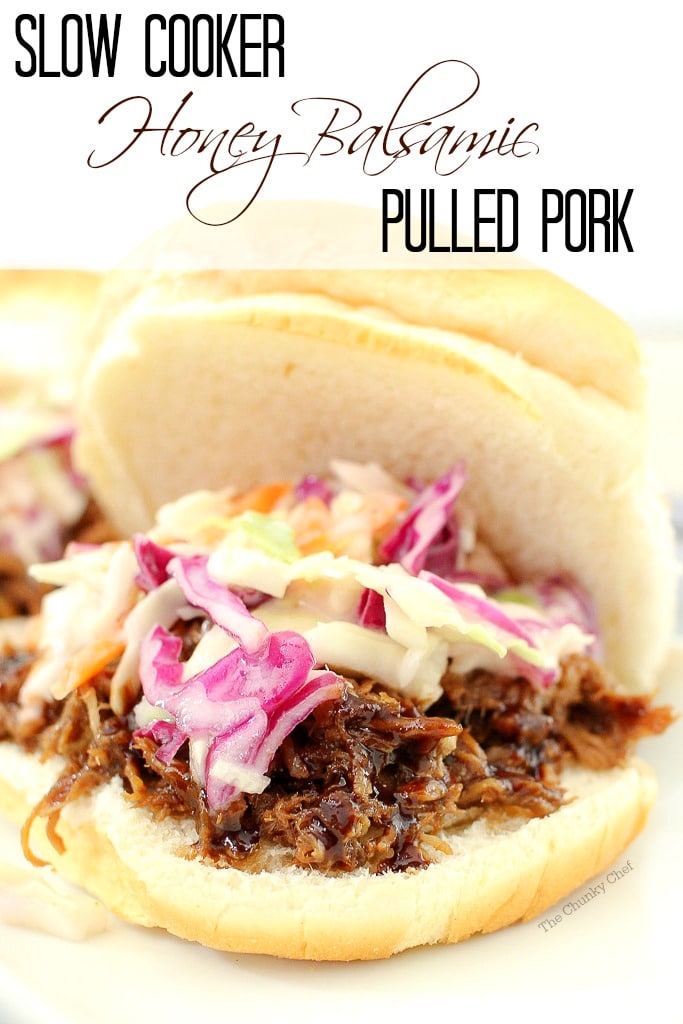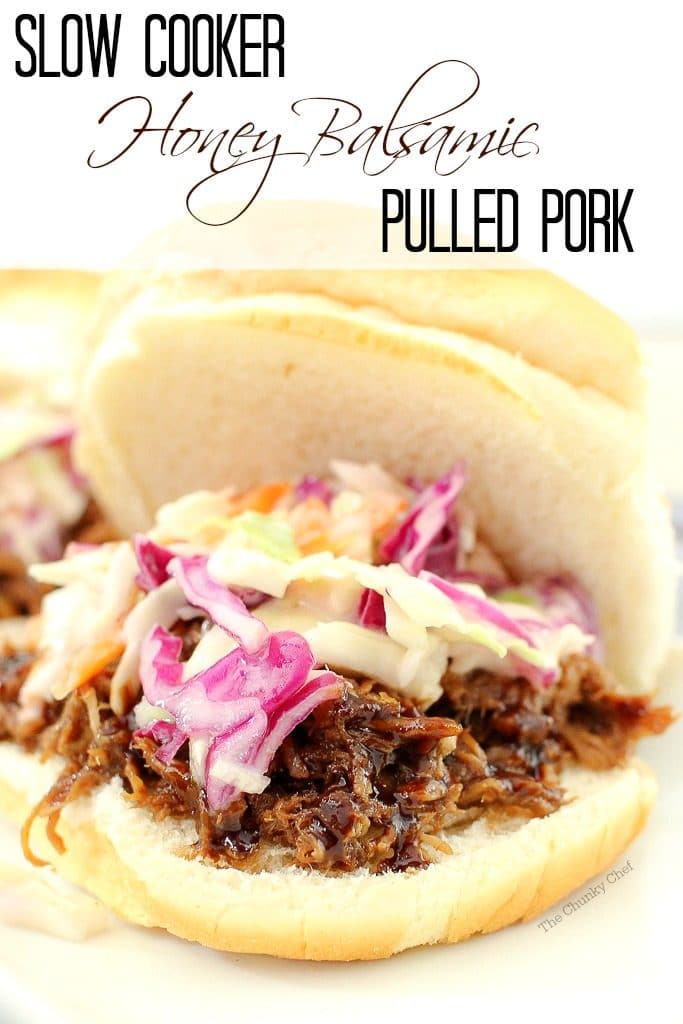 You all know I'm not a huge pork fan… but seriously… I always eat 2 sandwiches when we have this meal.  And I have the leftovers for lunch a few times.  It's that good!
I love meals that cook in my slow cooker… they make it so easy!!  Not to mention, they cook the meat so tenderly, that it literally falls apart when you pierce it with forks to shred it.  I know traditionally slow cooker meals are reminiscent of colder weather, and I've sure used mine a lot in the colder months… but I also love to use them when it's warm out.  That way you don't have to heat up your whole kitchen, have your oven on, or fuss with things for a long time.  You just toss things in the slow cooker, set it, and go about your day 🙂
This meal is no exception, you add your pork, pour your stock over the meat, and top with your chopped onion and seasonings, cover and cook on low for 8-9 hours.  It can also be cooked on high for about 4 1/2 hours if you'd prefer it that way.  I always tend to go for the low setting… I just associate low and slow with tender meats.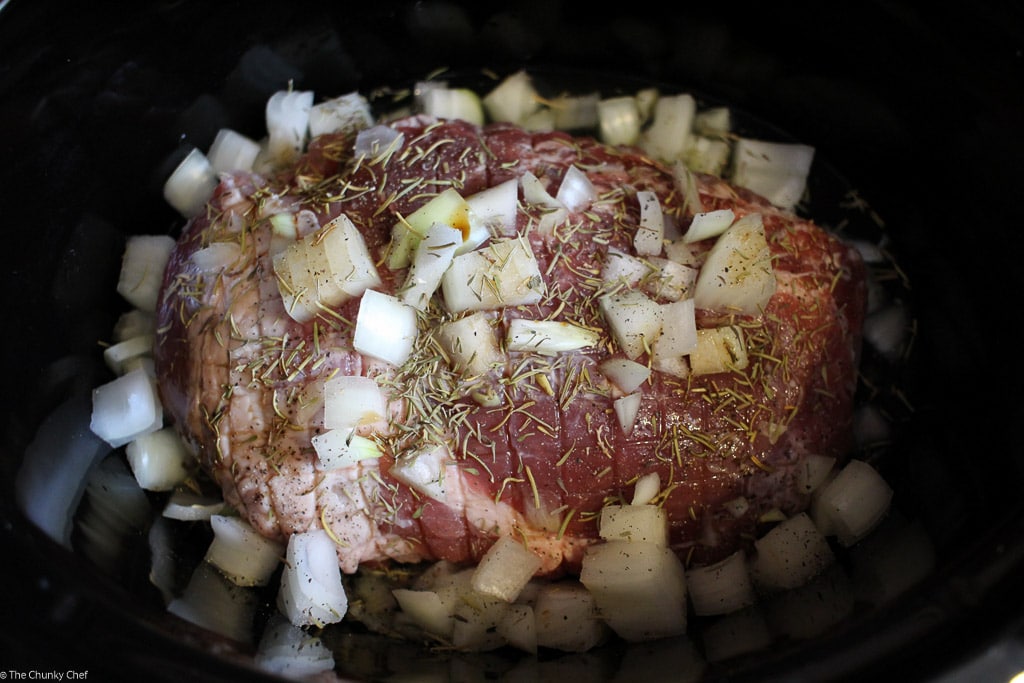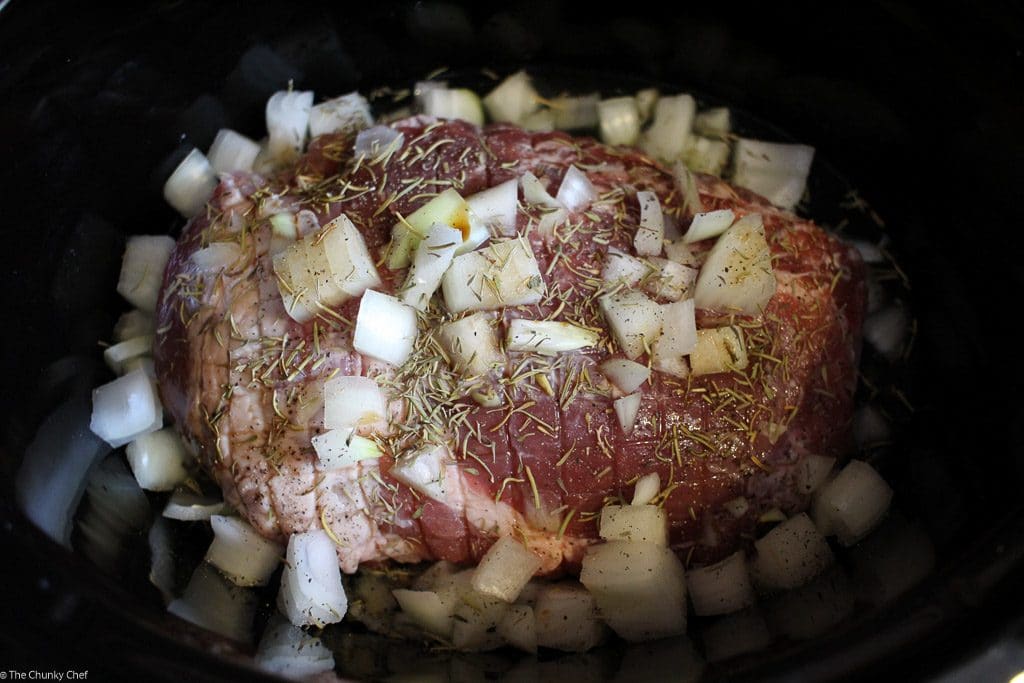 Pretty simple right?
I don't know how it is in your house, but around here, where there's BBQ… there's coleslaw.  It just doesn't taste like BBQ if it's not topped with a delicious slaw.
Coleslaw is actually pretty simple to make, especially now that you can buy bags of pre-shredded cabbage/carrot mix in the produce department.  I always shred up some purple cabbage to add to the mix because I love the crunch and the color 🙂
Just like there's a ton of BBQ recipes, there's a ton of coleslaw recipes too… they're always popular!  This one loosely resembles KFC's coleslaw, but has the added crunch and texture of the purple cabbage.  So if you'd prefer it more "KFC-style", just omit that 🙂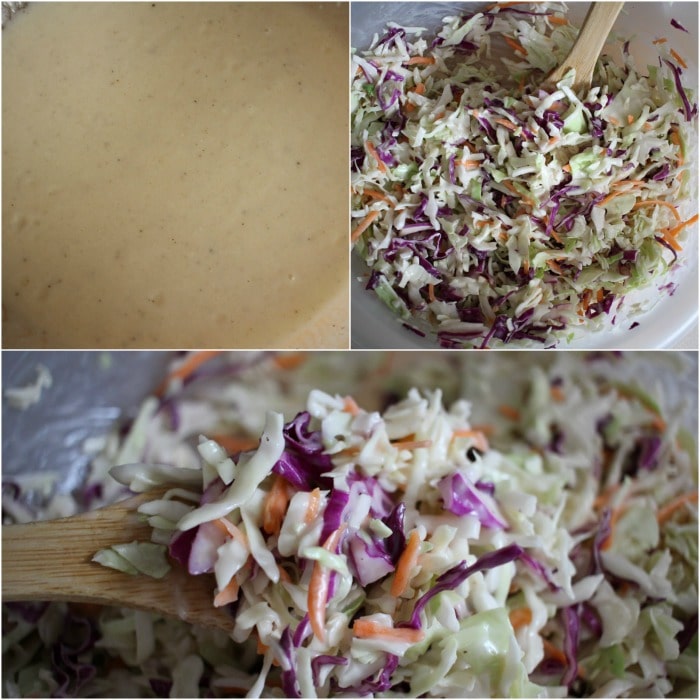 Just whisk your sauce together, add your chopped cabbage and carrots to the bowl, and toss together… done!  I like to make my coleslaw about an hour or so before we eat, but you can make it earlier or even right before you eat it.  I find that a little before allows for it to still have great crunch, but the flavor is deepened by it all meshing together.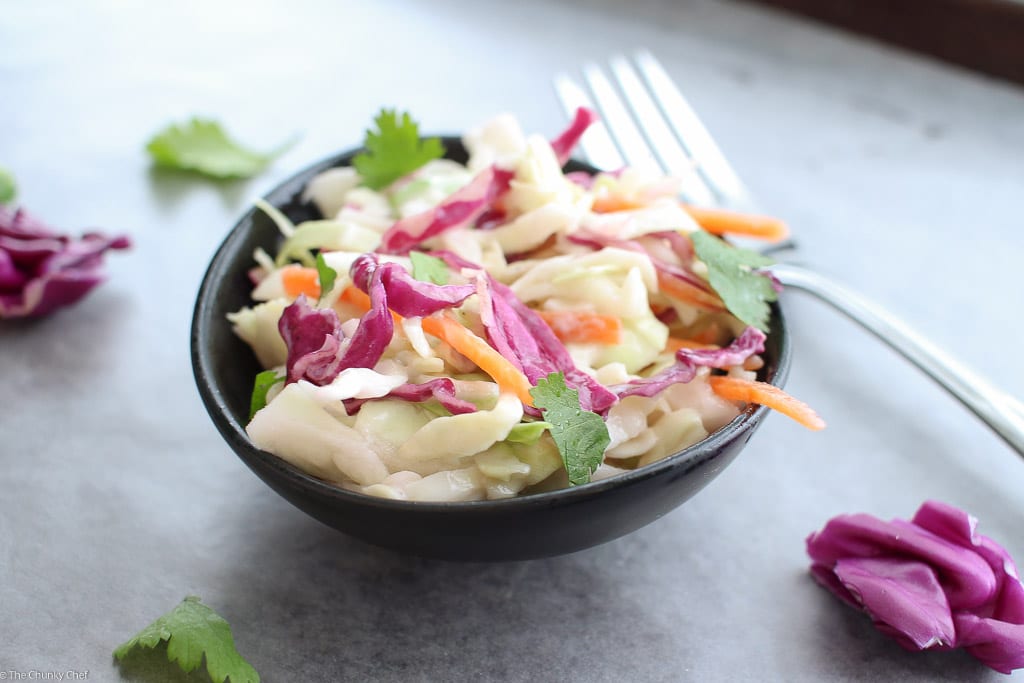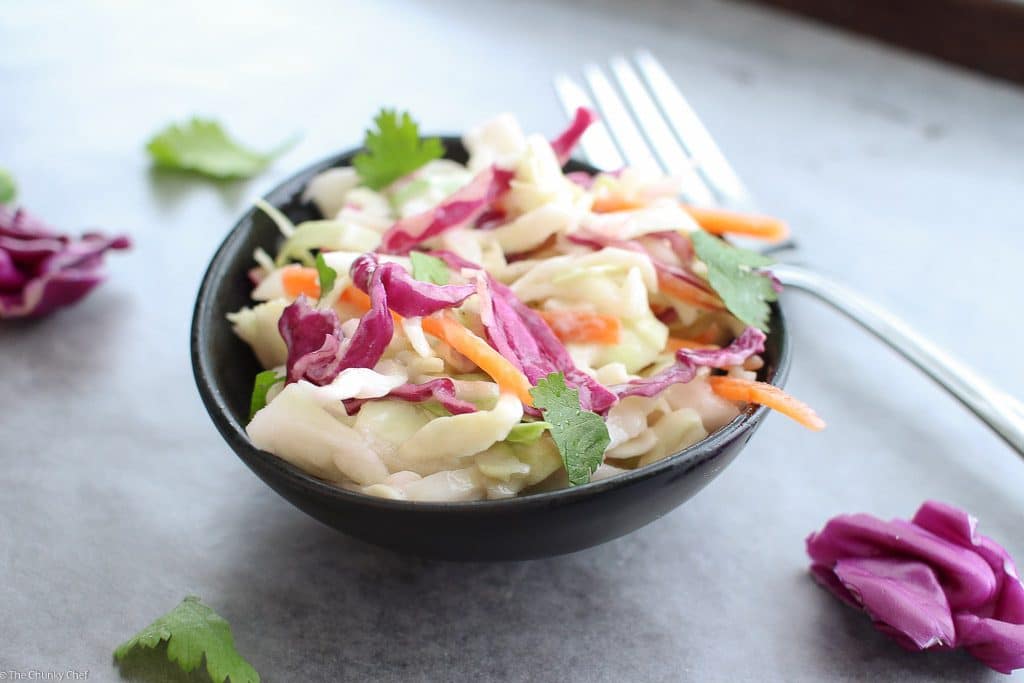 So fresh, so creamy… so yummy!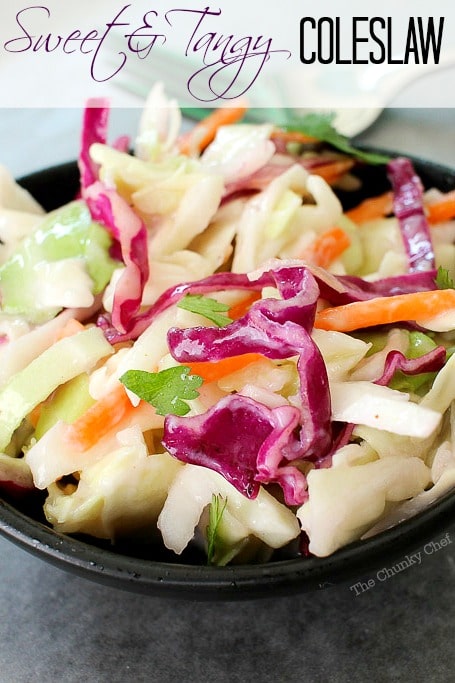 Alright… now that your pork has been cooking and smelling delicious alllllllll day… it's time to shred it up and make the sauce!
A lot of recipes call for a bottle of sauce, and those can definitely be yummy!  But this sauce, it's all homemade baby!  Don't let the "homemade" part scare you off.  It's really simple.  Just add your ingredients to a sauce pan, whisk to combine, and simmer it.  So easy that a 5 year old can do it 😉
While the sauce is simmering away, go ahead and remove your pork to a large bowl or plate, and shred it using two forks.  Use a large spoon to remove as much of the liquid from the slow cooker as you can, and about half the onions.  Add your shredded pork back to the slow cooker, set it to the "warm" setting, and just wait for your sauce.  Once it's thickened and ready, pour it into the slow cooker and stir it all together.
I always save a little extra of the sauce in an airtight container, for drizzling over the sandwich, or for the leftovers the next day!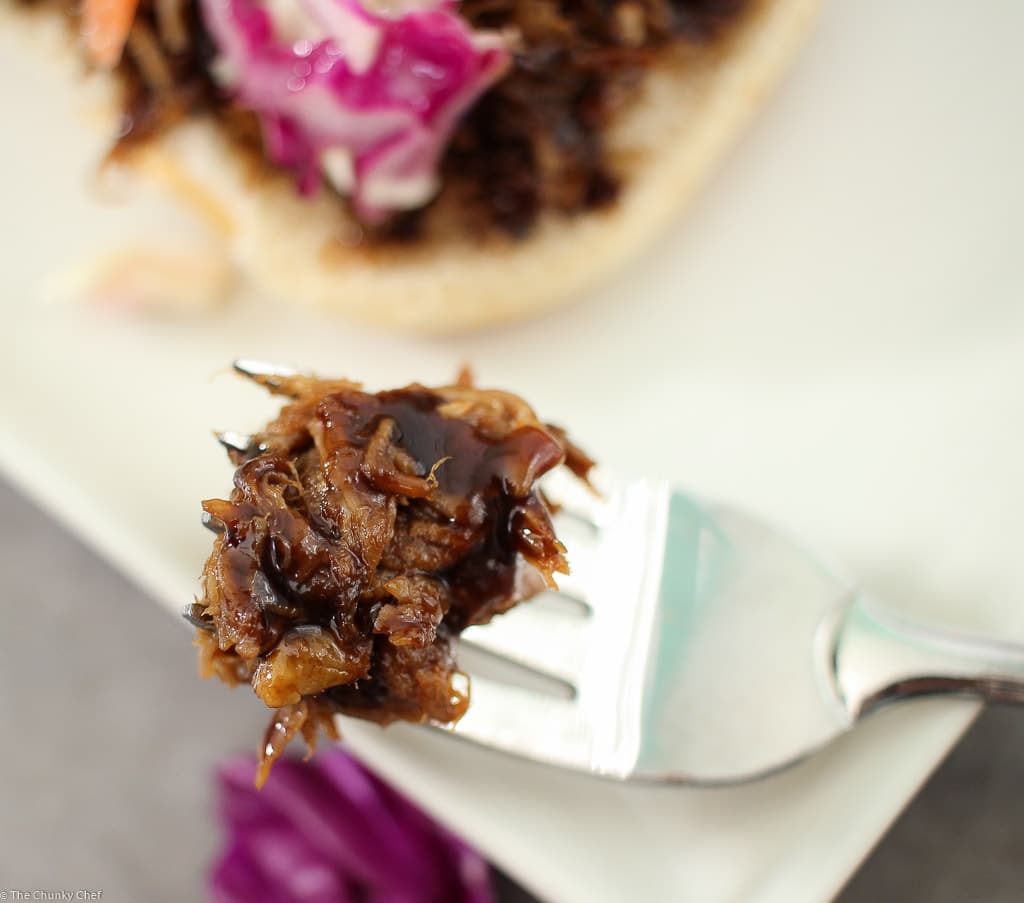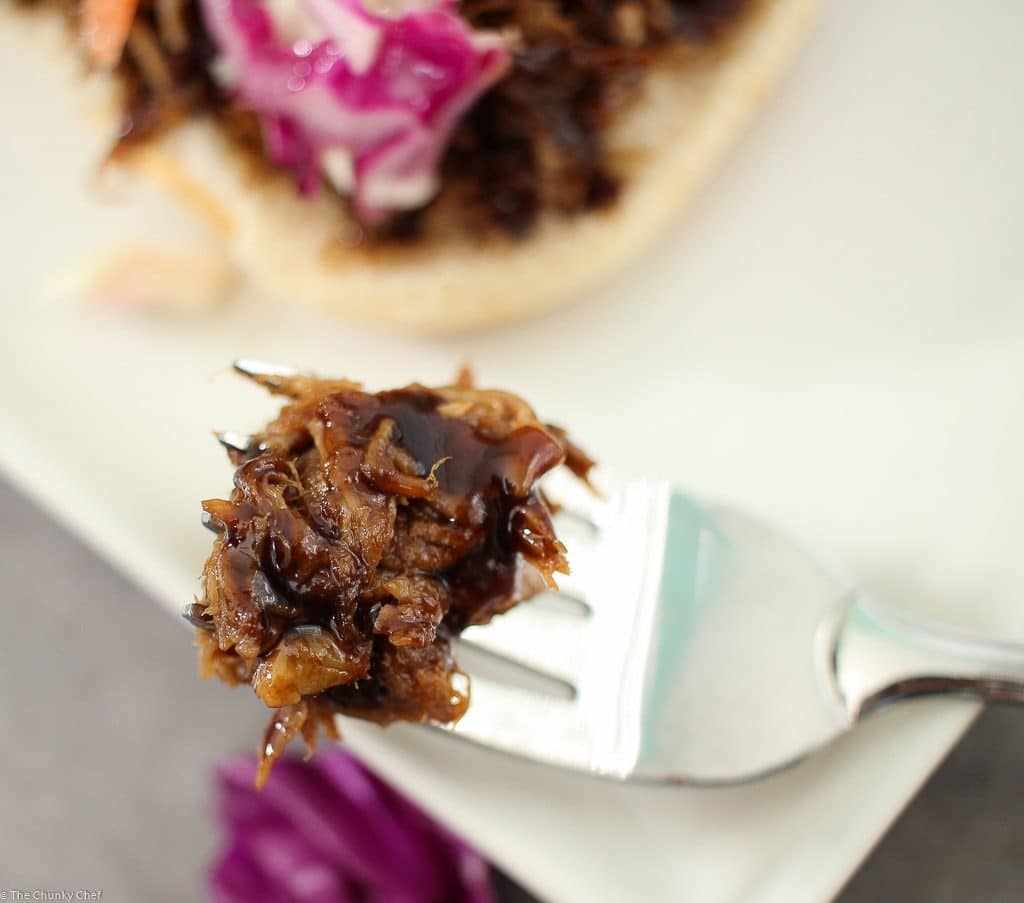 Look how tender and saucy that is!!  Go ahead and sneak a few forkfuls… I call it quality assurance 😉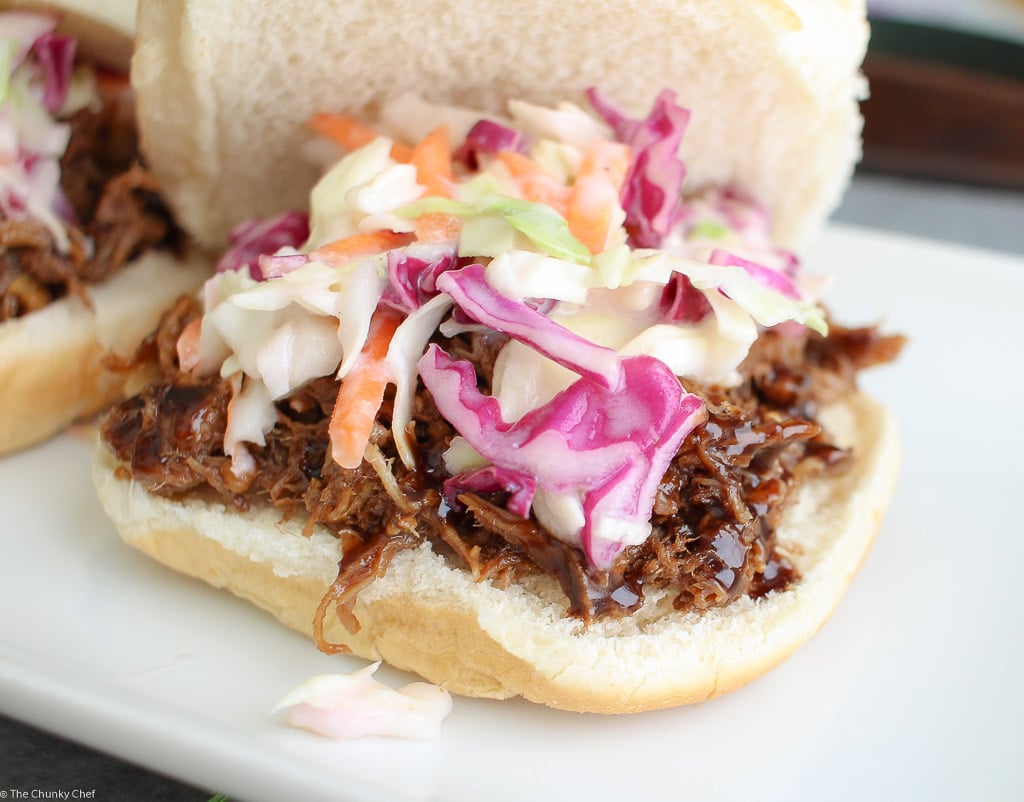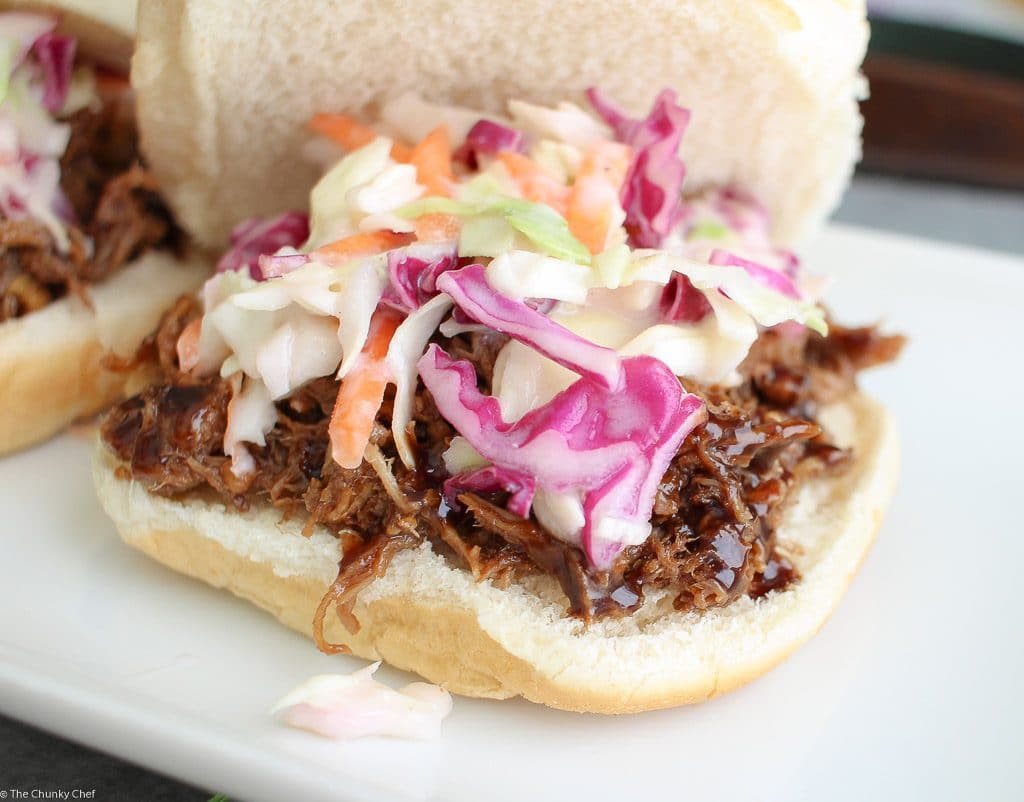 I prefer to eat my pulled pork BBQ on a bun, topped with that yummy coleslaw… but this is your meal… go ahead and serve it however you like 😀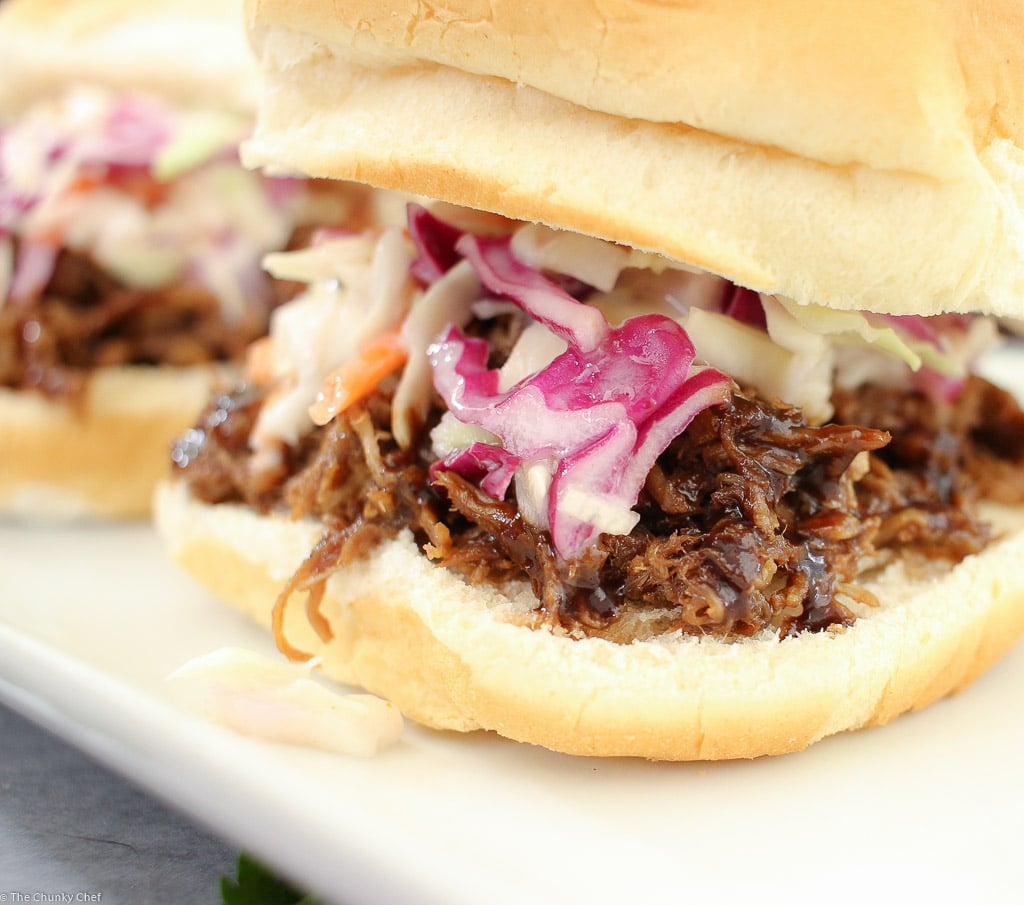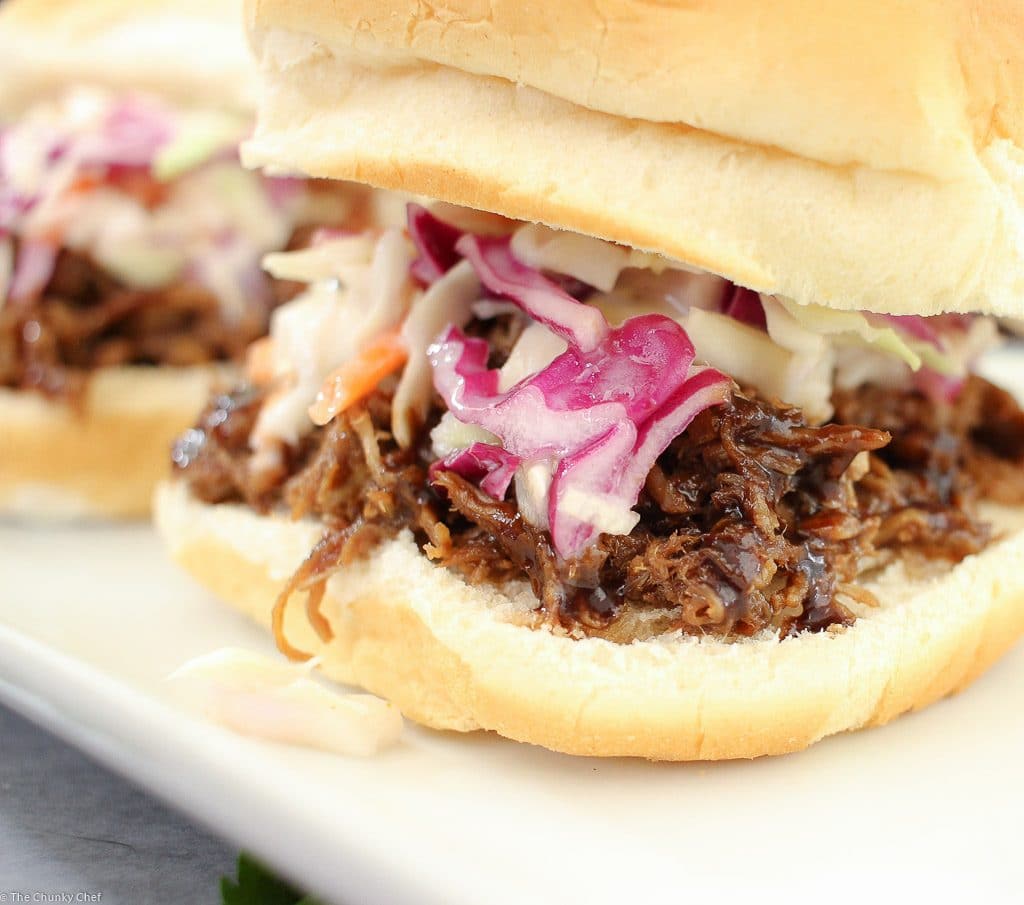 Okay, now I'm hungry for some BBQ!  Can't you just picture a big platter of those sandwiches, some extra coleslaw on the side, maybe some crispy oven fries, and some buttery sweet corn on the cob?  Sounds like the perfect spring and summer meal!
These would also be delicious served with some sweet corn fritters, roasted potatoes, or a bacon and green onion pasta salad.
Don't miss a new recipe, enter your email below to stay updated!
Recipe adapted from Cooking Classy
Did you make this? Be sure to leave a review below and tag me @the_chunky_chef on Facebook and Instagram!
Garlicky, sweet, tangy, succulent and tender... this pulled pork BBQ is a "must have" for your next dinner or get together!
Ingredients
2 1/2 - 3 lb boneless pork shoulder or rump roast
1/2 cup chicken stock
1 yellow onion chopped
1/2 tsp dried thyme
1/2 tsp dried rosemary leaves
1/2 tsp garlic powder
Salt and pepper to taste
Sauce:
1 cup balsamic vinegar
3/4 cup ketchup
1/3 cup honey
1/4 cup packed brown sugar
1 Tbsp Worcestershire sauce
1 Tbsp Dijon mustard or whole grain mustard
4 cloves garlic minced finely
Salt and pepper to taste
Instructions
Trim fat from pork roast if necessary, then place meat in a slow cooker and pour stock over the top of the meat. Top evenly with onions, thyme, rosemary, garlic powder, and sprinkle with salt and pepper. Cover and cook on low for 8 - 9 hours (or on high for 4 1/2 hours).

During last 30 minutes of the pork cooking, in a saucepan, whisk together balsamic vinegar, ketchup, honey, brown sugar, worcestershire sauce, mustard, garlic, 1/4 tsp pepper and season with salt to taste (keep in mind pork is usually pretty salty so you won't need much).

Bring the sauce to a boil over medium heat, then reduce to a simmer and cook, stirring occasionally, until slightly thickened, which takes about 20 - 25 minutes.

Remove pork from slow cooker, shred while removing any fat. Drain liquid from slow cooker and remove about 1/2 the cooked onions. Leave the remaining onions, add shredded pork back to the slow cooker, set on "warm" setting, and pour in BBQ sauce and toss to combine.
Want to save this recipe for later? Click the heart in the bottom right corner to save to your own recipe box!
Did you make this? Be sure to leave a review below and tag me @the_chunky_chef on Facebook and Instagram!
Servings: 6 -8 servings
(hover over # to adjust)
Perfectly sweet and deliciously tangy, this coleslaw is sure to be a crowd pleaser!
Ingredients
1/2 cup mayonnaise
1/4 cup buttermilk
1 1/2 Tbsp apple cider vinegar
2 Tbsp lemon juice fresh if you have it
1/3 cup sugar
tsp ½ salt
1/8 - 1/4 tsp pepper depending on your pepper preference
1/2 tsp celery seed
1/4 cup red onion or shallots finely diced
16 oz bag shredded coleslaw mix
1 cup shredded purple cabbage
Instructions
Whisk together all the ingredients except for the shredded coleslaw mix and purple cabbage.

Add the bag and cabbage and toss until evenly coated.

Refrigerate 1 hour, or longer if you prefer.

Toss again and serve.
Want to save this recipe for later? Click the heart in the bottom right corner to save to your own recipe box!