This easy recipe for Prosciutto-Wrapped Asparagus is made with 4 basic ingredients, with an optional Parmesan cheese sprinkle. Made simply in the air fryer, oven, or on the grill, they're cooked until the prosciutto is crispy and the asparagus is perfectly tender. Easiest side dish ever!
This is one of my Air Fryer recipes I know you'll want to keep on hand!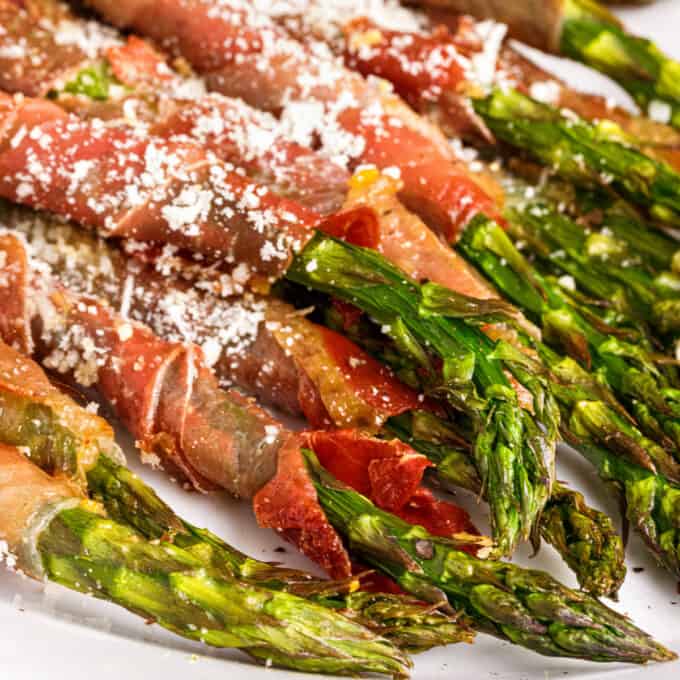 I always think of asparagus as one of those polarizing foods. You know, like cilantro, brussels sprouts, or pineapple on pizza. You either love it, or you hate it!
Personally, I'm on team love it on the foods mentioned above, plus asparagus. But I wasn't always.
It wasn't until I roasted it that I realized how amazing those little green spears could taste! So savory and full of flavor, with slightly charred edges and crispy tops.
And this version is even better, since each spear is wrapped with salty prosciutto, which gets nice and crispy during the cooking process!
It's made in the air fryer, which is great for summer, since you don't have to heat up your oven. However, I've also included oven and even grilling instructions since I don't like to share recipes that you HAVE to have a specific cooking appliance to make.
How to make asparagus in the air fryer?
This is just an overview; the full ingredients and directions are in the recipe card toward the bottom of this post.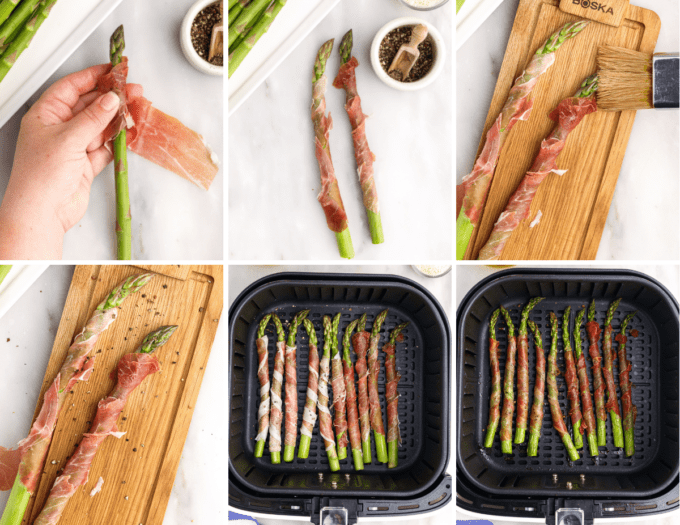 Prep asparagus. The thicker ends can be tough and woody, so you want to trim those off. See the FAQ section below for tips on how to do it!
Wrap asparagus. I like to slice my prosciutto in half lengthwise, otherwise it'll be a LOT of ham on the asparagus spear.
Oil and season. Brush the spears lightly with olive oil (or use a spray).
Air fry. The exact amount will depend on your air fryer model and how thick your asparagus is.
Garnish. We love a sprinkle of Parmesan cheese, but that's optional.
Helpful Tip!
This recipe was written and tested using fresh asparagus, so I don't recommend canned, jarred, or frozen asparagus. Those will all be softer and require less cooking time, which means the prosciutto won't get nice and crispy. Trust me, buying fresh produce in this case is definitely worth it!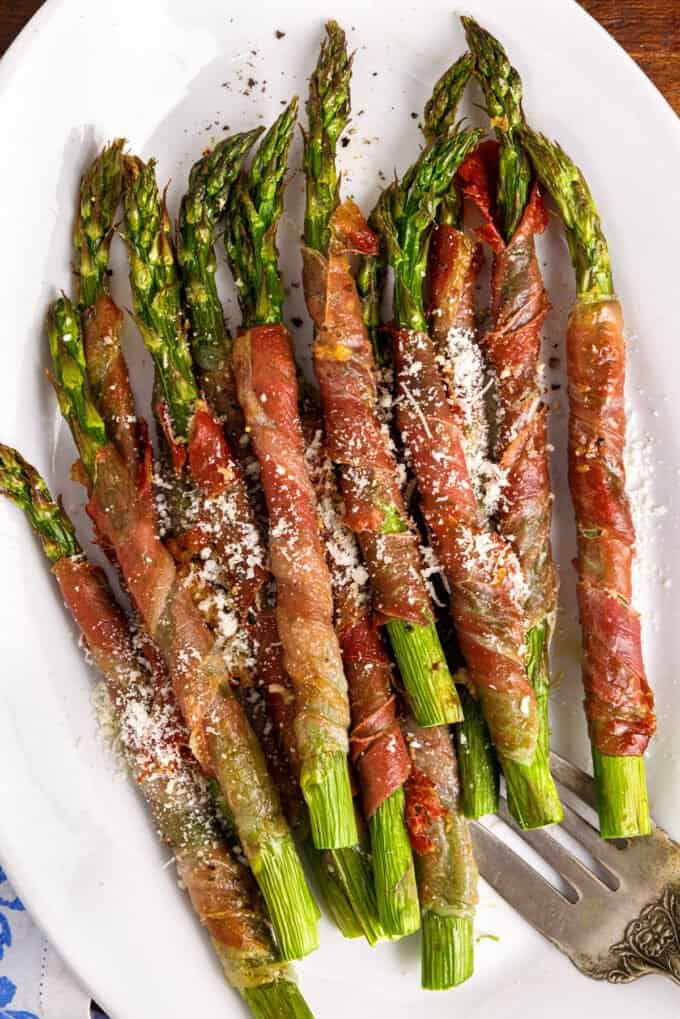 Variations of this recipe
Bundles – if your asparagus is really thin, I recommend bundling up several of them and wrapping the prosciutto around the bundle, rather than the individual spears. These may take a little longer to cook, so just keep an eye on them.
Bacon – if you can't find prosciutto, or would prefer to use bacon, you can certainly do just that. Try to use thin slices of bacon, and depending on how long the bacon slices are, you may only need half a slice for each spear. The bacon may take a little longer to cook than the prosciutto, so keep an eye on them.
Lemon – lemon and asparagus are great together, so adding a little fresh lemon zest and/or a squeeze of lemon juice is really delicious.
Different cheese – we generally have Parmesan cheese on hand, but asiago, romano, or even crumbled feta are great alternatives.
Balsamic – up the decadence factor by drizzling the cooked asparagus spears with a bit of balsamic glaze!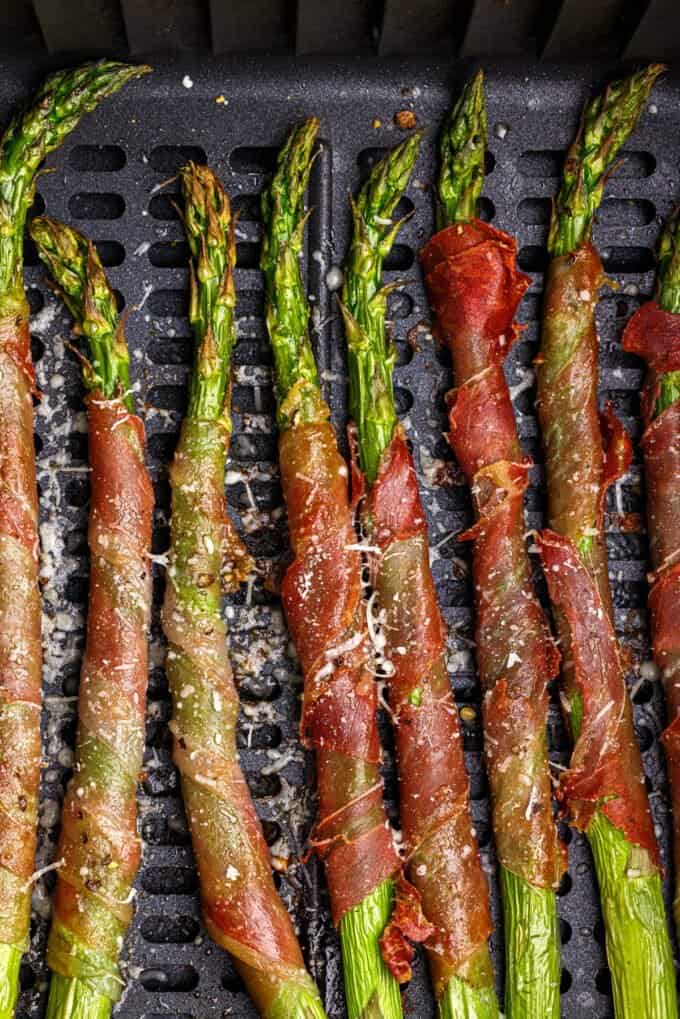 FAQ's
How to store asparagus?
if you've ever bought a bunch of asparagus and had it go bad in like 2 days, then this tip is for you! The bags you bring home the produce in from the grocery store just aren't good for keeping asparagus fresh. Add about 2 inches of water to a glass jar (wide mouth mason jars are my favorite), and add the asparagus, flat ends first, so they're standing straight up in the jar. Take a ziploc or other plastic bag and loosely cover the top. They should stay fresh an extra 2-3 days this way!
How to prep asparagus spears?
Those wider, flat ends of the spears are woody and tough, and just not good for eating… so there's a little prep work involved.

There are two main methods for prepping:

– Snap, then chop. This is my preferred method, and the method employed in this recipe. Snap one spear, by holding on to each end and bend it up and away from yourself until it breaks. Use that spear as a guide and line it up next to all the other spears and chop them to be the same size as the chopped one.

– Just chop. Generally, the tough and woody part of the spears is the whiter part, so if you chop just a little above that line you'll likely be good.
What is prosciutto?
Don't be intimidated by the fancy-sounding name, prosciutto can be found in most large grocery stores. Prosciutto is an Italian ham that's been aged with a dry curing process. It's salty, generally comes in thin slices, and utterly delicious!
Making prosciutto-wrapped asparagus ahead of time
These wrapped asparagus spears taste best when cooked right before serving, however, they can be prepped ahead of time!
Just trim the asparagus and wrap with prosciutto, then cover tightly in an airtight container and refrigerate.
Then just brush with oil, sprinkle with pepper and cook!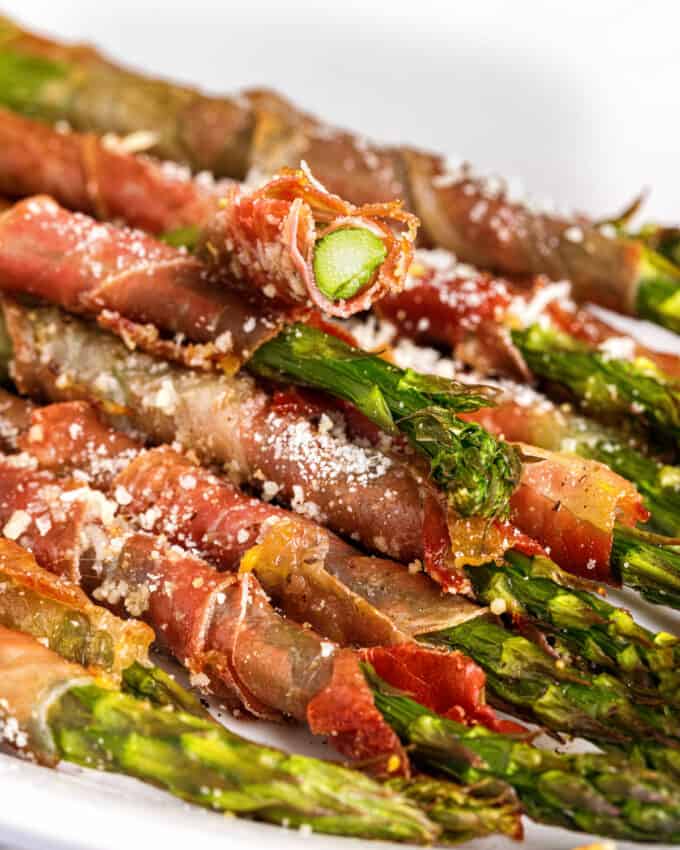 Storage
Leftover asparagus spears should be refrigerated in an airtight container for up to 3-5 days.
Reheat in the air fryer, oven, or in the microwave.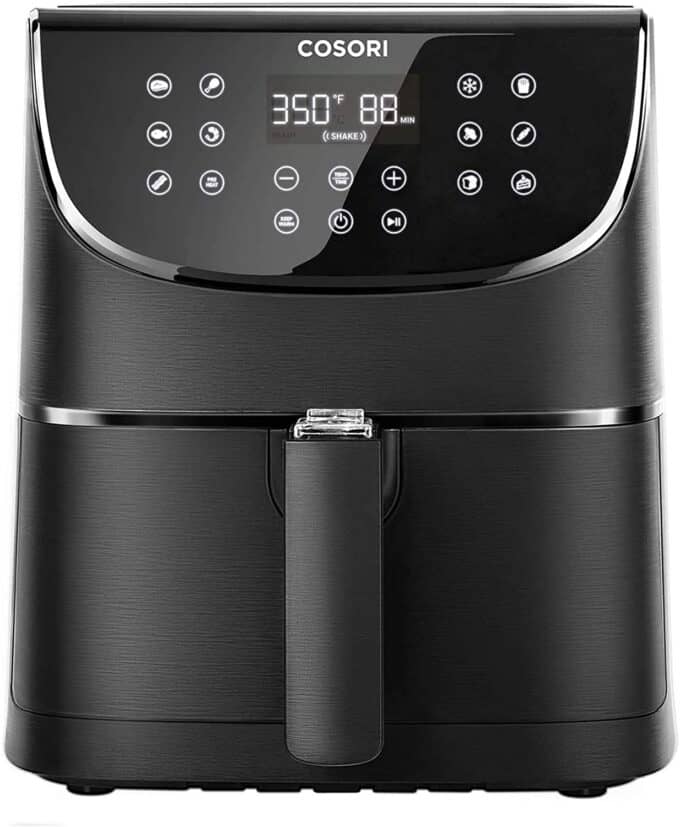 I love the larger, rectangular basket, and the basket is nonstick, removable, and dishwasher safe!
Did you make this? Be sure to leave a review below and tag me @the_chunky_chef on Facebook and Instagram!
This easy recipe for Prosciutto-Wrapped Asparagus is made with 4 basic ingredients, with an optional Parmesan cheese sprinkle.
Ingredients
12 asparagus spears
6 slices prosciutto
2 tsp olive oil
1/4 – 1/2 tsp black pepper
2 – 3 Tbsp grated Parmesan cheese optional
Instructions
Prepare
Hold one asparagus spear with one hand on each end. Bend up and away from you, towards the flat end of the spear. When it snaps, use that spear as a guideline and chop the rest of the spears to match it in length.

Slice the prosciutto slices in half lengthwise.
Assemble
Wrap one half of a prosciutto slice around one asparagus spear, in a spiral fashion. Set aside, and repeat with remaining prosciutto slices and asparagus spears.

Brush each wrapped spear with olive oil, and season with black pepper.
Air Fry
Preheat air fryer to 400°F. Lightly spray the basket with cooking spray (we like to use an olive oil or avocado oil spray).

Add wrapped asparagus spears in a single layer, leaving a little bit of room for the hot air to circulate between each spear. If needed, you can cook these in batches.

Air fry for 8 minutes, or until asparagus is tender, with crispy tops, and the prosciutto is golden.
Garnish and serve
Sprinkle cooked asparagus spears with grated Parmesan cheese if desired, then serve hot.
Want to save this recipe for later? Click the heart in the bottom right corner to save to your own recipe box!
Chef Tips
Feel free to adjust the recipe to reflect the amount of asparagus spears you have. 
Exact cooking time may vary, depending on your air fryer model, and the thickness of your asparagus.
Oven Directions:
Preheat oven to 400°F, and line a rimmed baking sheet with parchment paper or aluminum foil.
Assemble asparagus spears as directed.
Bake in preheated oven for 20-25 minutes.
Garnish and serve.
Grilling Directions:
Preheat grill over MED HIGH/HIGH heat.
Assemble asparagus spears as directed.
Grill for 8-12 minutes.
Garnish and serve.
Nutrition Disclaimer
The Chunky Chef is not a dietician or nutritionist, and any nutritional information shared is an estimate. If calorie count and other nutritional values are important to you, we recommend running the ingredients through whichever online nutritional calculator you prefer. Calories can vary quite a bit depending on which brands were used.