Juicy and full of amazing flavor, these Spinach and Feta Turkey Meatballs are perfect for a quick weeknight dinner, a fun appetizer, or meal-prepping for lunches! Easily made in the Instant Pot, oven or on the stovetop, you'll love the succulent texture.
This is one of my Instant Pot recipes I know you'll want to keep on hand!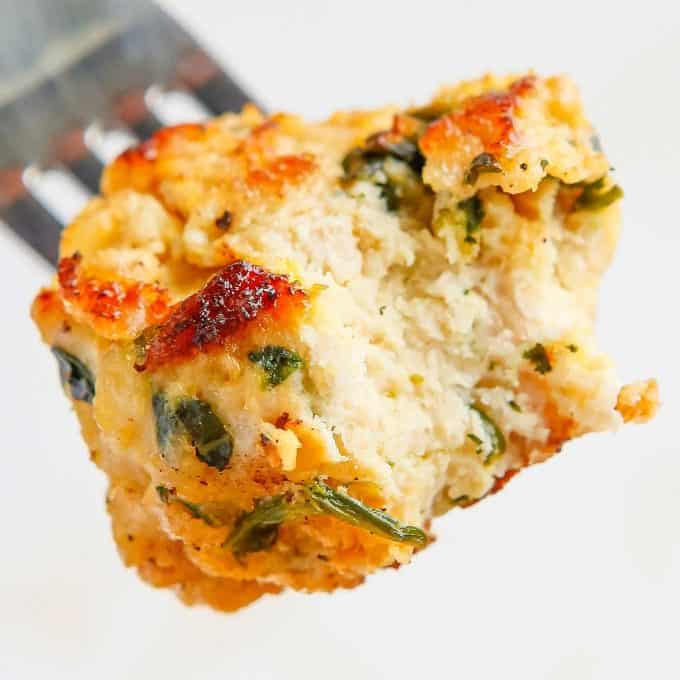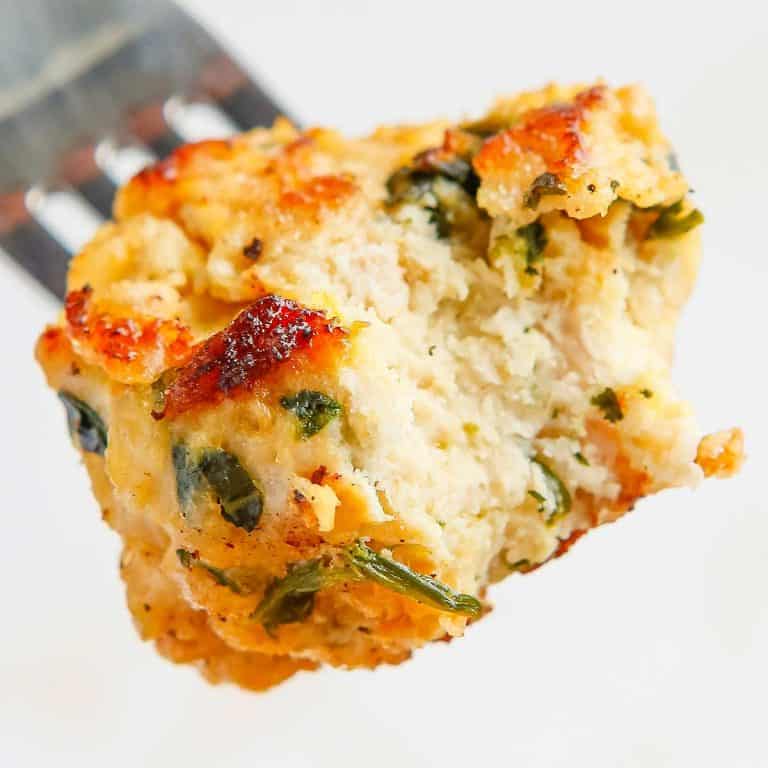 Personally, I find meatballs such a fun food. They're cute and round, perfectly pop-able, great as a dinner option or appetizer, etc.
I have quite a few meatball recipes on my site, but this one is becoming one of my favorites.
These turkey meatballs are studded with sauteed spinach and crumbles of feta cheese, and seasoned simply, so the flavors of the meat, vegetables and cheese really shine.
We love them as a fun dinner, but they're also great to make for lunches or meal prepping, since they store and reheat well.
With back to school looming on the horizon, you might be gearing up for the need for quick and easy weeknight dinners and simple lunches to pack.
Well these little meatballs fit both of those bills! Plus, I love that they're made in the Instant Pot, so there's no need to heat up your home with a hot oven or stand over a hot skillet.
How to make spinach and feta turkey meatballs in the Instant Pot?
This is just an overview; the full ingredients and directions are in the recipe card toward the bottom of this post.

Cook spinach. Saute in a skillet, or in the Instant Pot, it's up to you.
Make meatballs. I find the best tool to mix up the meat mixture is your hands, then I like to use a cookie scoop to help form the meatballs.
Brown meatballs. In "saute" mode, brown the meatballs in batches, just a minute or two on each side.
Pressure cook. Add liquid and pressure cook for 6 minutes, then let the pressure release naturally for 5 minutes.
Serve.
Helpful Tip!
Using a "cookie" scoop is the best way to make uniform looking meatballs. I like to use this scoop, and it should yield meatballs about 1.5″ in diameter. Once you scoop them, just a quick roll in between your palms should give you a great looking meatball. If you find the meat is sticking to your hands, wet them or spray them lightly with cooking spray before handling the meat.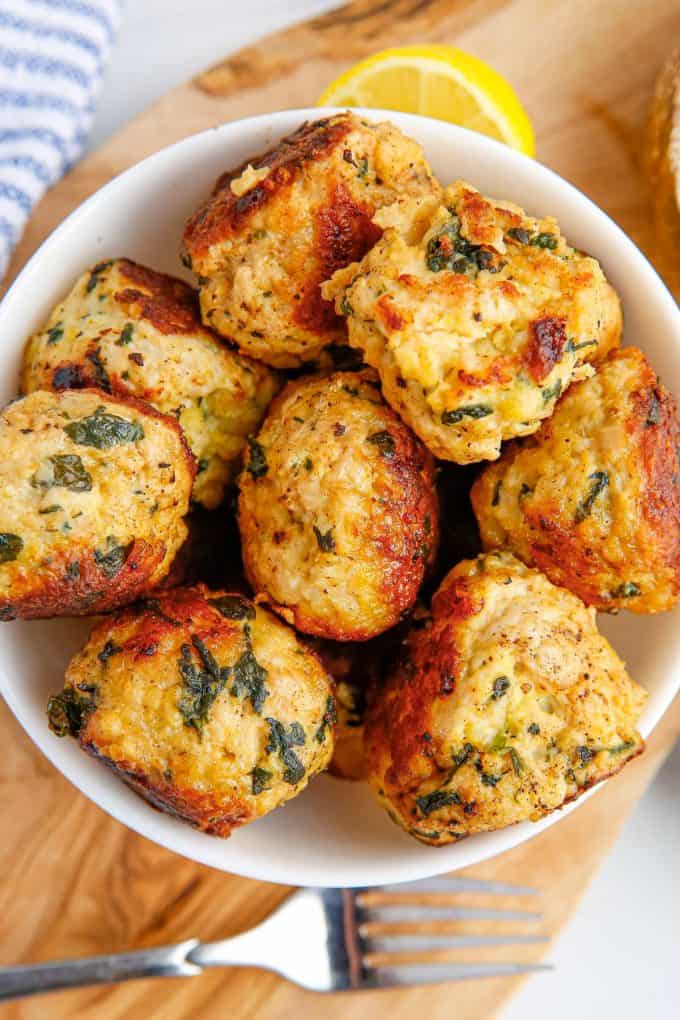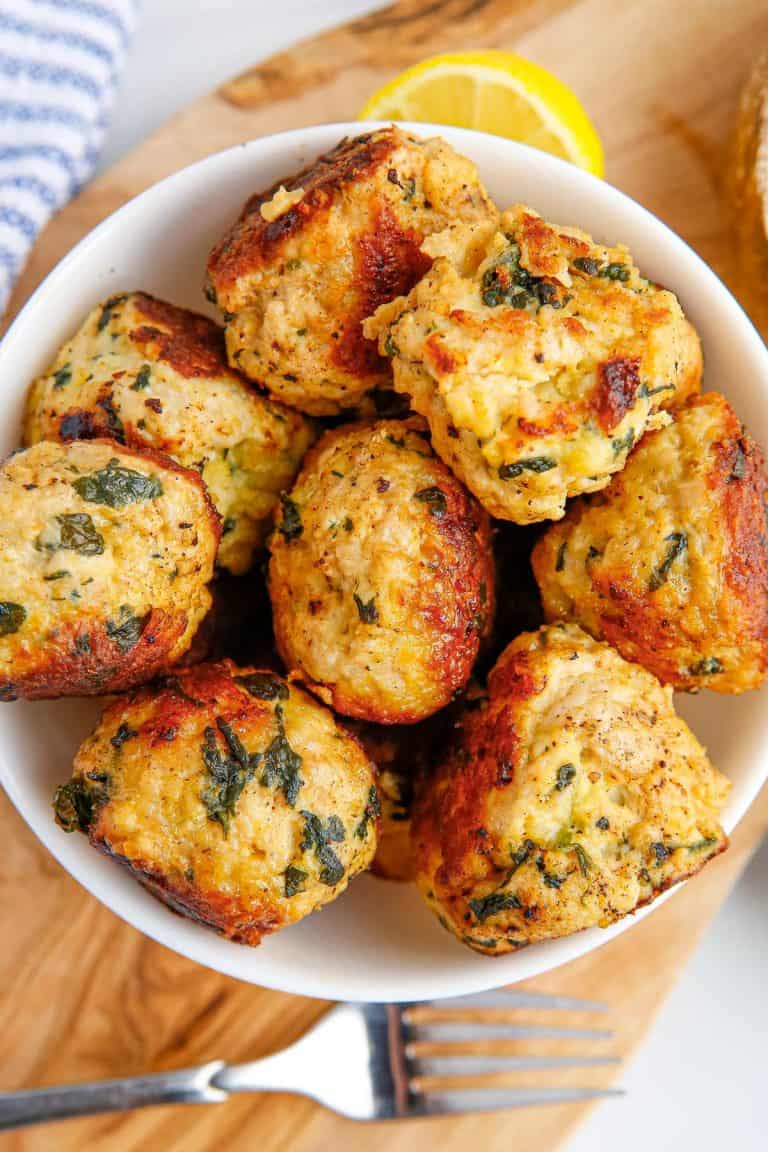 Variations of this recipe
Ground chicken – this recipe works really well with ground chicken as well.
Frozen spinach – frozen spinach is definitely an option if you don't have fresh. Make sure it's frozen chopped spinach, and once thawed, add it to a large paper towel and squeeze out as much of the excess liquid as possible.
Types of feta – normally I use regular feta, but if you'd like to use a flavored or marinated feta, feel free to change things up.
Nutmeg – I find adding a pinch of ground nutmeg adds a subtle warmth to these meatballs.
Other cooking methods – no Instant Pot, no problem! I'll have detailed oven and stovetop directions in the "chef tips" section right below the recipe.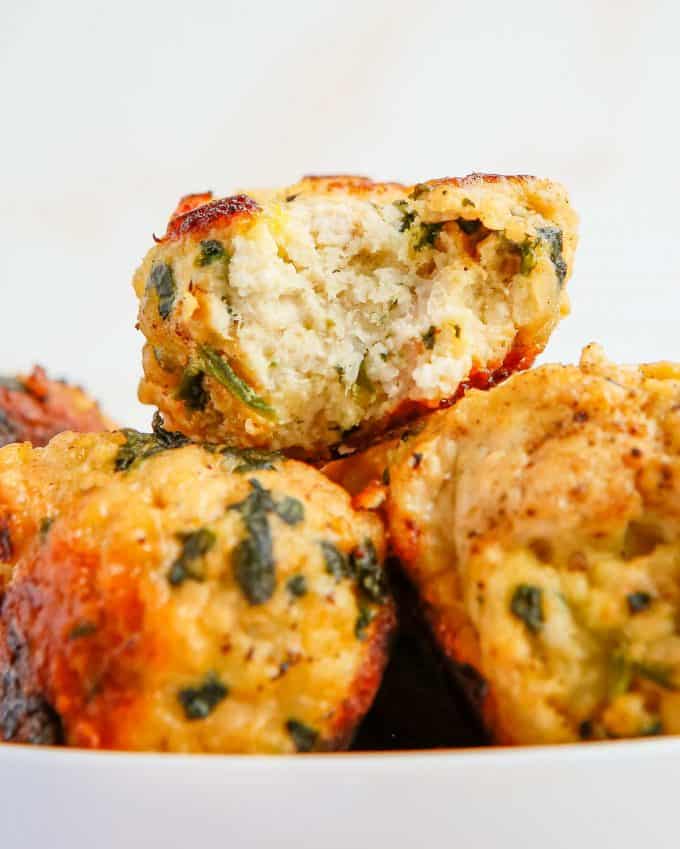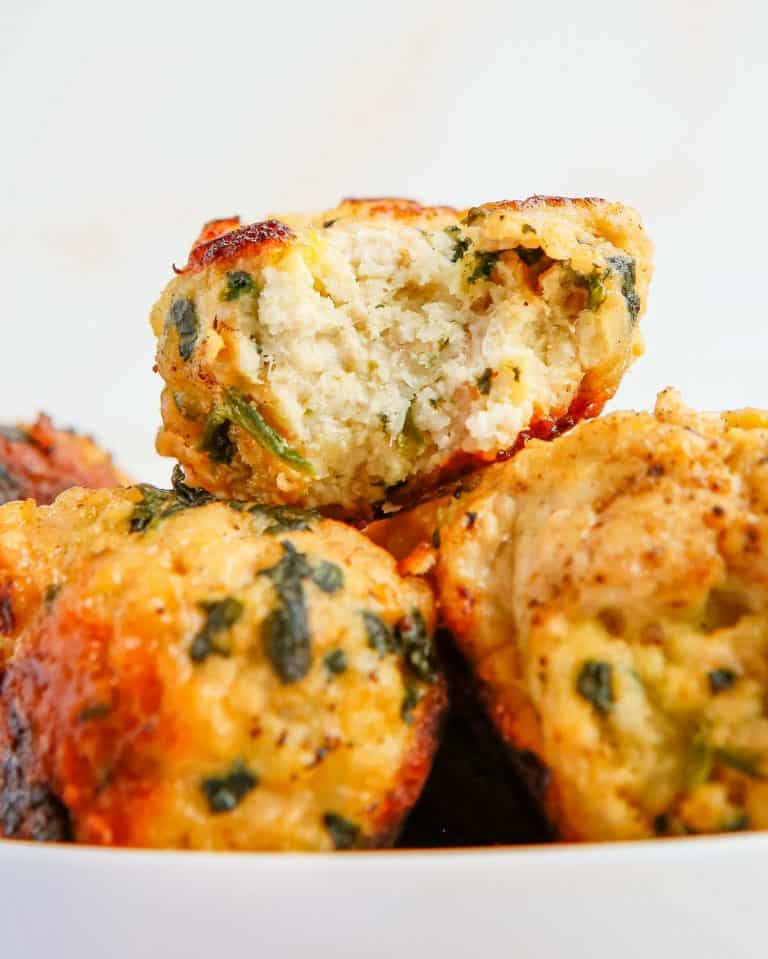 FAQ's
How can I tell if turkey meatballs are finished cooking?
The best way to tell is to check the internal temperature with an instant read thermometer. Turkey meatballs are done and safe to eat at an internal temperature of 165°F.
How can I make all my meatballs the same size?
There are two main ways to ensure your meatballs are all similar in size. The first is to measure, on a scale, the weight of each meatball. I find that most people don't have a scale, or care to use one (at least here in the US), but there's an alternative. A small ice cream scoop works well to both form the meatballs, and keep them similar in size.
What can I use instead of breadcrumbs in meatballs?
Meatballs need to stay together during the cooking process, which is why breadcrumbs and eggs are used to bind all the ingredient together. However, if you don't have breadcrumbs, you can pulse some crackers in a food processor and use those in place of the breadcrumbs. Saltines, Ritz, etc are great options.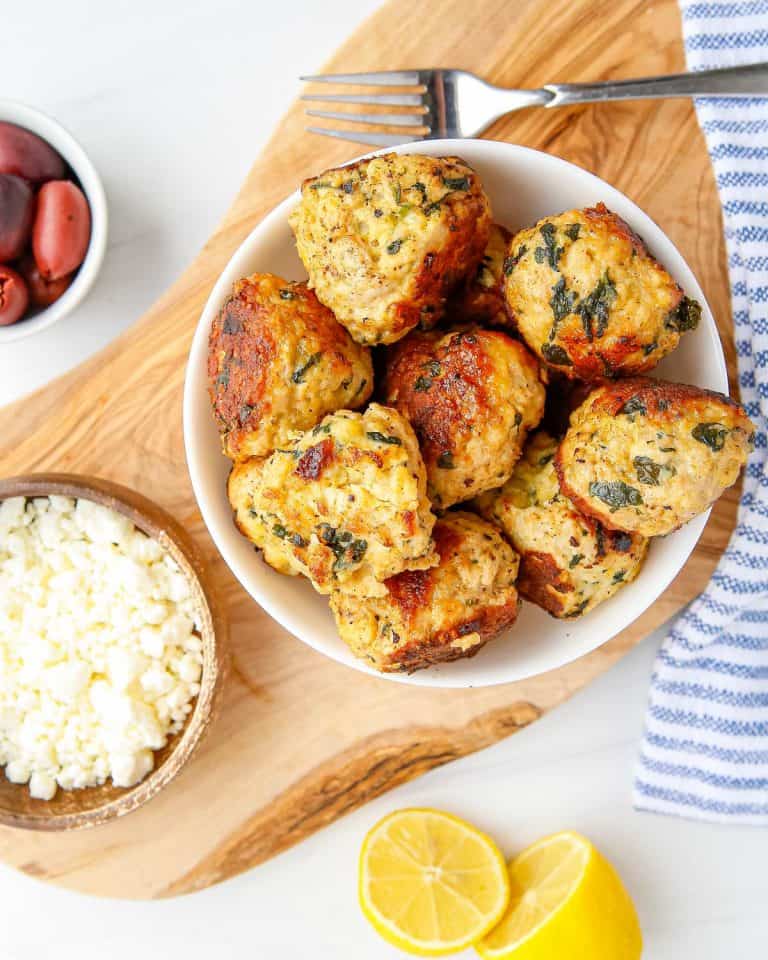 Making turkey meatballs ahead of time
These meatballs hold up really well to making them ahead of time!
I really like to make them and pop a few on my plate at lunch time or for a protein-packed afternoon snack.
If you don't want to cook the meatballs completely ahead of time, parts can be prepped ahead.
Spinach – the spinach can be wilted, then cooled and refrigerated in an airtight container.
Meatballs – the meatballs can be made and rolled ahead of time and stored covered in an airtight container in the refrigerator. The unbaked meatballs can also be frozen, then thawed in the refrigerator before cooking.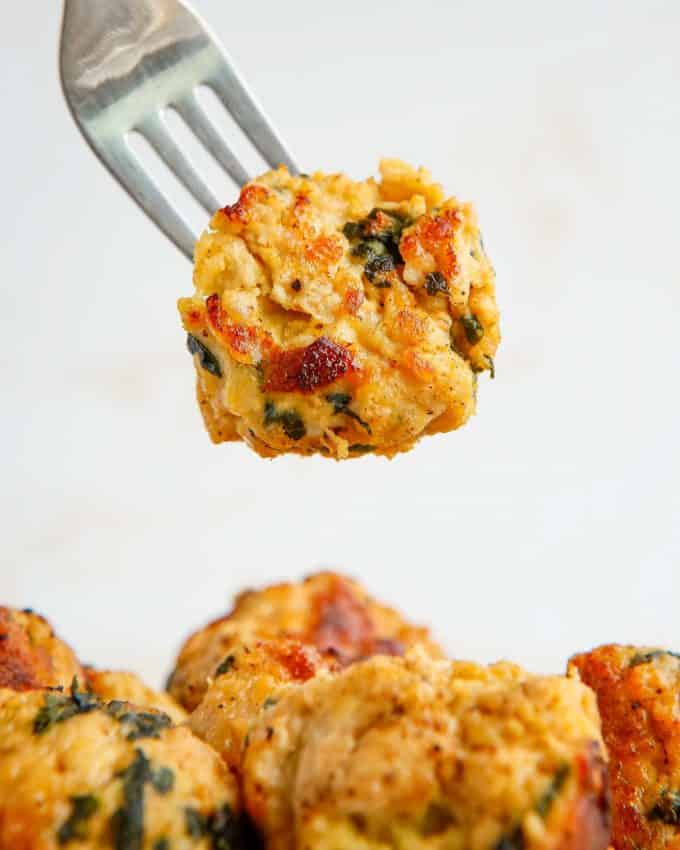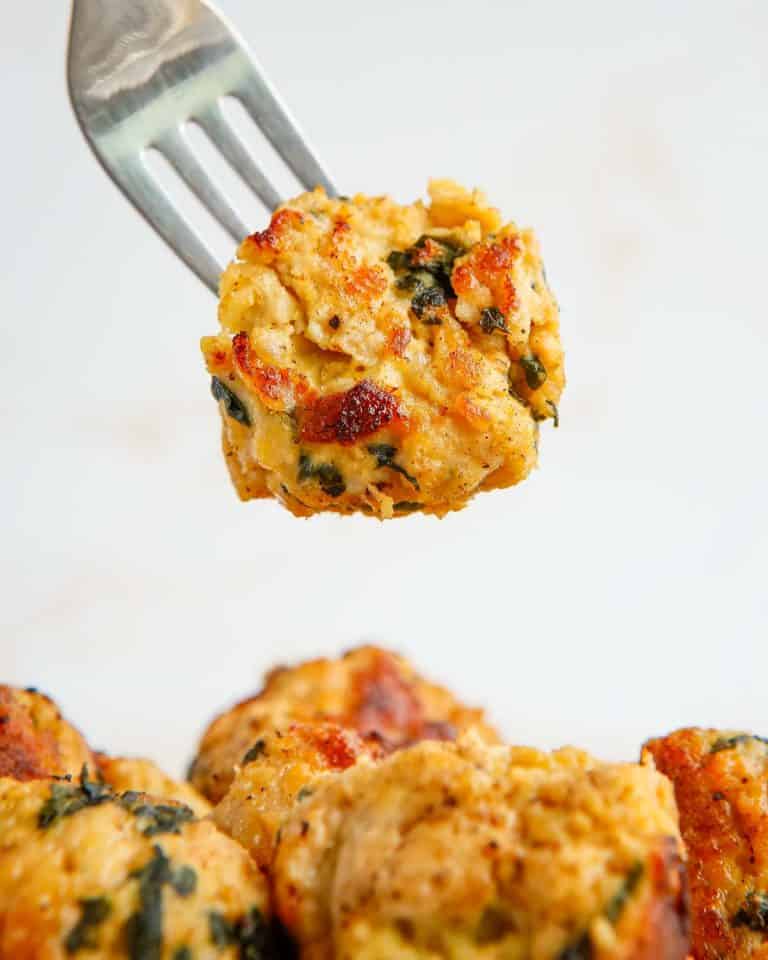 Storage
Leftover meatballs should be stored in the refrigerator in an airtight container and eaten within 5 days.
Freezing
These meatballs are great for freezing! Add the cooked meatballs (that have cooled completely), to a baking sheet lined with wax paper.
Place the whole baking sheet in the freeze and freeze until meatballs are hard, about 1-2 hours. Then you can transfer the frozen meatballs to a freezer-safe container and freeze for up to 3-6 months.
Thaw in the refrigerator and reheat in the microwave.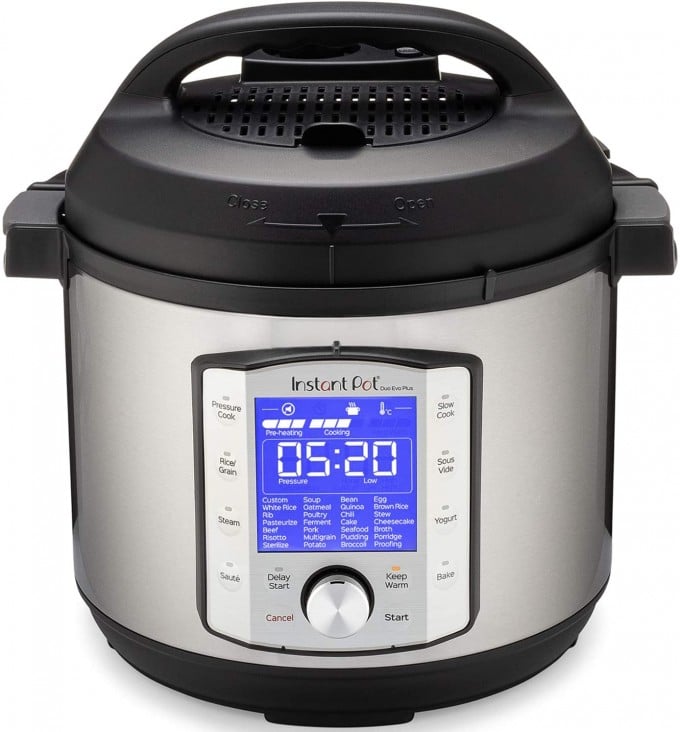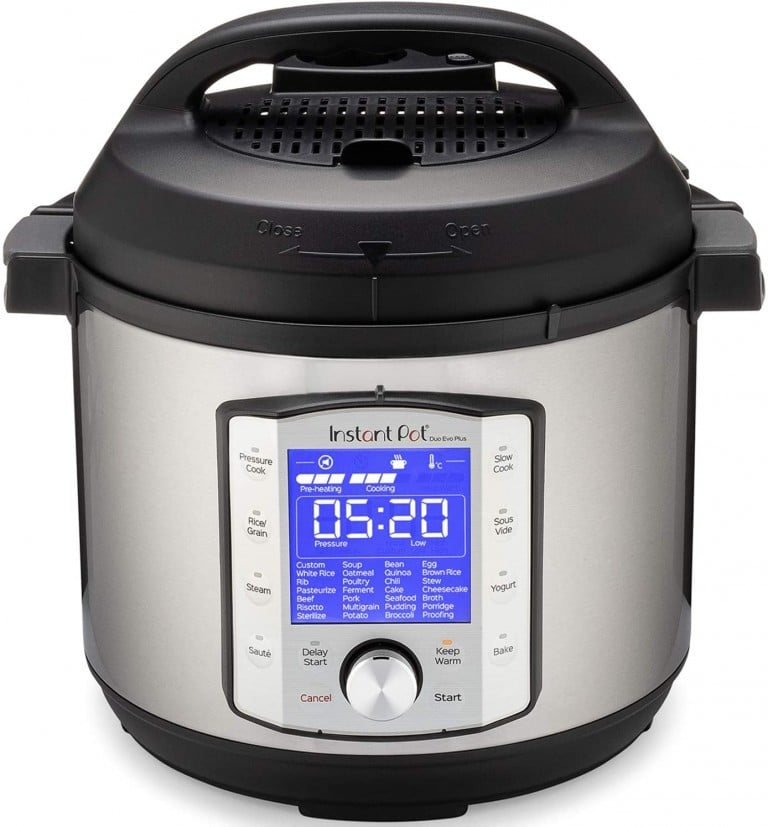 I love this model's features like a completely flat bottom insert, as well as a locking insert, making stirring super easy. Plus, it automatically switches to sealing when you lock the lid!
Did you make this? Be sure to leave a review below and tag me @the_chunky_chef on Facebook and Instagram!
Juicy and full of amazing flavor, these Spinach and Feta Turkey Meatballs are perfect for a quick weeknight dinner, a fun appetizer, or meal-prepping for lunches!
Ingredients
2 cups fresh baby spinach roughly chopped
3 Tbsp olive oil divided
1 lb lean ground turkey
1/2 cup breadcrumbs (plain)
1/2 cup crumbled feta cheese
1 large egg
1/2 tsp dried dill
1/2 tsp garlic powder
1/2 tsp kosher salt if using table salt, use 1/4 tsp
1/4 tsp black pepper
1 cup reduced sodium chicken broth or water
Instructions
In a medium sized skillet, add 1 Tbsp of the olive oil and heat over medium heat. Add spinach and cook, stirring often, until wilted and bright green. Set aside to cool.

While spinach is cooling, combine ground turkey, breadcrumbs, feta, egg, dill, garlic powder, salt, and pepper in a large mixing bowl. Add cooled spinach and use your hands to mix until well combined.

Scoop (we like to use a cookie scoop) meat and form into meatballs about 1.5" in diameter.

Select "Saute" on the Instant Pot and add the remaining 2 Tbsp of olive oil. Once hot, add meatballs to the bottom of the pot. You'll need to do this in batches, so the meatballs can really brown.

Sear the meatballs for 1-2 minutes per side, then remove to a plate and repeat with remaining batches of meatballs.

Once all meatballs have been browned and are on the plate, select "Cancel", then pour in 1 cup of chicken broth (or water) and scrape the bottom of the pot to loosen any browned bits.

Add meatballs, along with any juices that have accumulated on the plate, secure lid, make sure the knob is set to "Sealing", then select "Manual" or "Pressure Cook" and hit the +/- buttons until you select 6 minutes.

Once the cooking time has elapsed, don't do anything and let the pressure release on it's own for about 5-7 minutes, then after that move the knob to "Venting" and release any remaining pressure.

Remove meatballs and serve.
Want to save this recipe for later? Click the heart in the bottom right corner to save to your own recipe box!
Chef Tips
Recipe serves 4 people, with about 5-6 meatballs in a serving.
Meatballs can be rolled and frozen, then thaw in the refrigerator and cook as directed.
Oven Directions
Omit chicken broth.
Preheat oven to 400°F and line a rimmed baking sheet with parchment paper.
Place meatballs on prepared baking sheet and bake for 20-25 minutes.  The exact time will depend on the size of the meatballs, so make sure to check the largest meatball for doneness.
Stovetop Directions
Omit chicken broth.
Wipe out the skillet you cooked the spinach in, then add olive oil to skillet and heat over medium heat.
Add meatballs in batches, careful not to overcrowd the pan, and cook about 1.5 – 2 minutes per side, or until browned and cooked through.  Repeat with remaining meatballs.
Nutrition Disclaimer
The Chunky Chef is not a dietician or nutritionist, and any nutritional information shared is an estimate. If calorie count and other nutritional values are important to you, we recommend running the ingredients through whichever online nutritional calculator you prefer. Calories can vary quite a bit depending on which brands were used.