This easy no-bake treat is perfect for the holidays! Made with simple ingredients, this sugar cookie fudge recipe can be customized to any holiday or event, and freezes well for longer storage!
This is one of my No Bake Dessert recipes I know you'll want to keep on hand!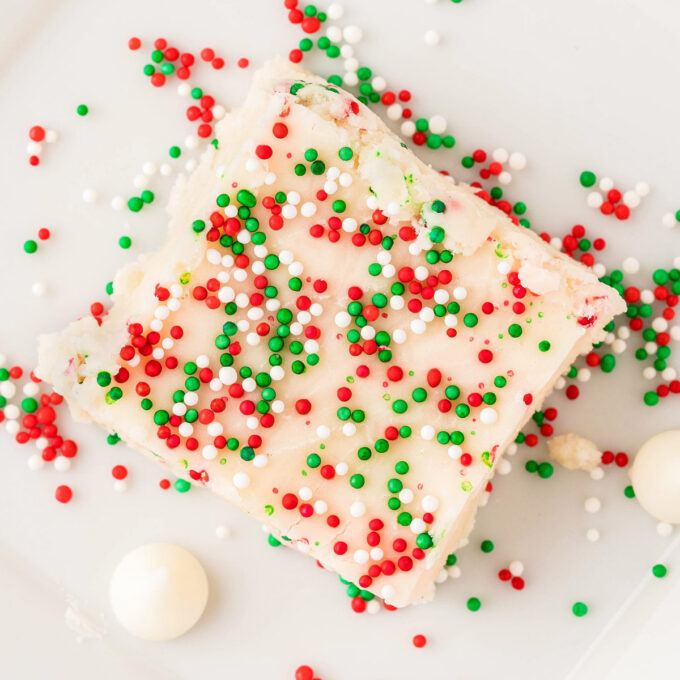 Holiday baking is gearing up, and I don't know about you, but I could use some no bake treats.  My oven has been working overtime and no bake desserts are generally quicker and easier.
In the past I've shared some easy fudge recipes that use sweetened condensed milk as a base, that require no boiling whatsoever… and those are truly the simplest fudge recipes around!
This version is sort of an in between kind of recipe, you do have to bring a mixture to a boil (and a thermometer is helpful, but not required), but it doesn't use a can of sweetened condensed milk, since I got some feedback from you all that you wanted a recipe that didn't use that.
I promise this recipe is still easy, but in case you'd much prefer the sweetened condensed milk version, I've also included that in the "Chef Tips" section right below the recipe instructions.
How to make fudge?
This is just an overview; the full ingredients and directions are in the recipe card toward the bottom of this post.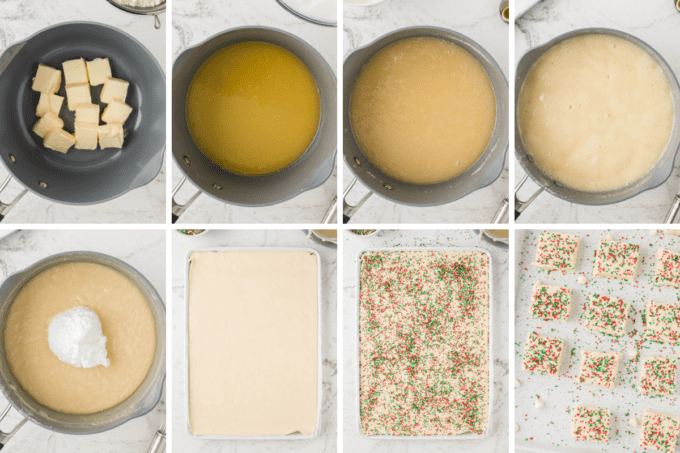 Melt butter. I recommend doing this in a large saucepan.
Stir in cookie mix. Whisk well to make sure it's combined and there are no lumps.
Pour in milk. Whisk as you pour, to ensure there are no lumps.
Add sugar. Stir in sugar and bring to a rolling boil.
Stir in chocolate/marshmallow/vanilla. Take the pan off the heat, and stir them in until well combined. Top with sprinkles.
Pour into pan, then set. After it cools a little at room temperature, transfer to the refrigerator to chill for several hours.
Serve. Once hardened, slice and serve chilled.
Helpful Tip!
Don't let the amount of sugar throw you off. It's fudge, which means it's supposed to be crazy sweet. Plus, it's a holiday treat, not an every day type of dessert… splurge a little!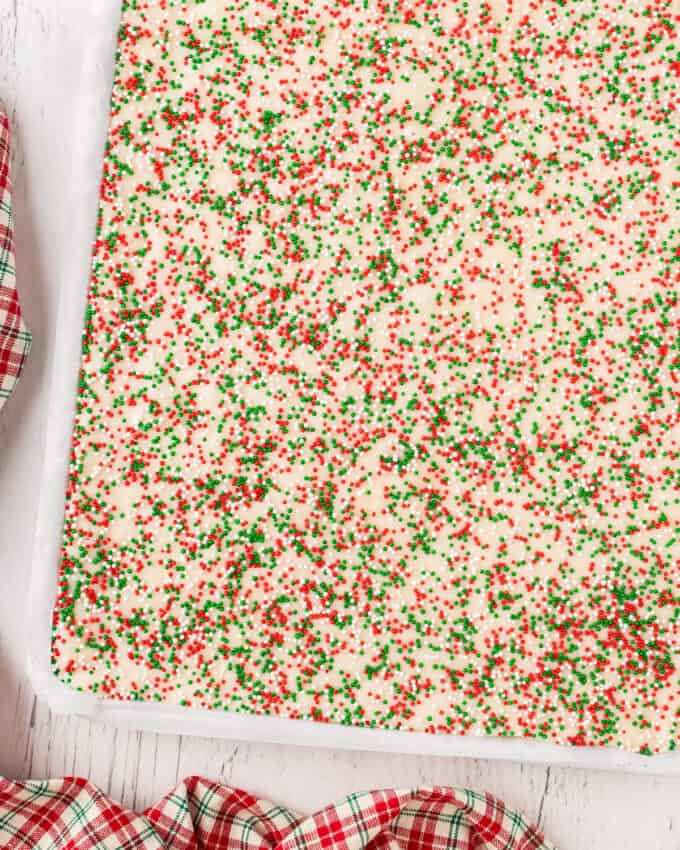 Variations of this recipe
White chocolate – in place of the white chocolate chips, you can use white chocolate melting wafers, or chopped up white chocolate bar.
Other chocolate – I haven't tested this, but try using milk chocolate in place of the white… I think it'll taste delicious.
Add-ins – try stirring in some chopped nuts, pretzel pieces, crushed cookies, toffee bits, etc.
Holidays – while I always associate sugar cookies with Christmas, you can add different flavors and sprinkle colors to make this fudge festive for any holiday!
Sprinkles – if you're not a huge fan of nonpareil sprinkles, please feel free to use any other kind you like.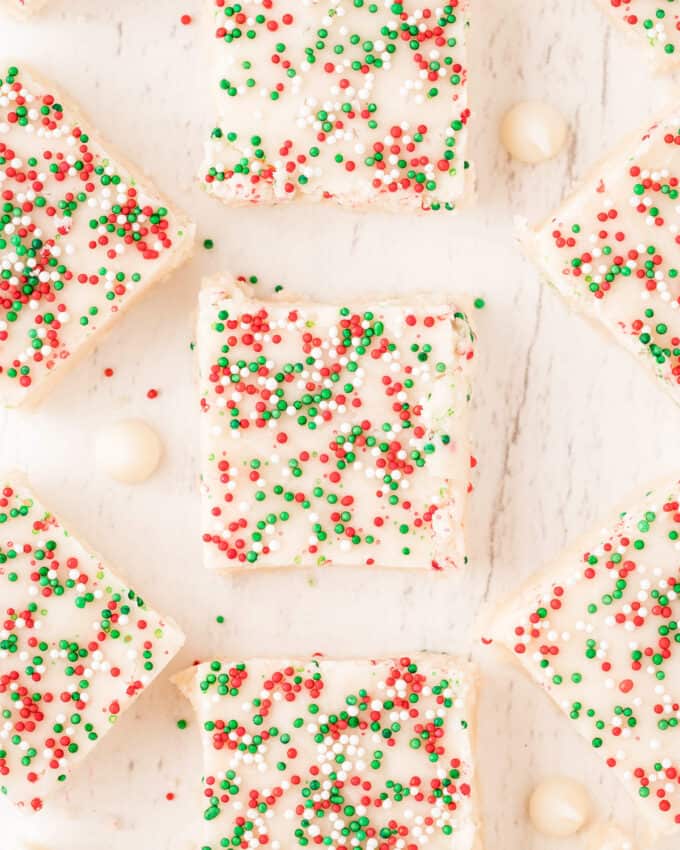 FAQ's
What's the best way to cut fudge?
The easiest way starts with the prep. Make sure you line your pan with parchment paper so that it overhangs the edges of the pan. This allows you to easily lift the large rectangle of fudge out of the pan. Then use a sharp knife to slice it into squares. If you find the fudge is sticking to the knife, run it under hot water, then wipe it clean and slice.
Do you have to use a candy thermometer to make fudge?
It's certainly helpful, and I do recommend it… but not 100% required. You want to watch for your sugar mixture to come to a rolling boil (which means it's boiling vigorously, not just barely boiling). Over time, you'll know exactly when that point is. The problem is that's pretty subjective, which is why for the best results, I do recommend the thermometer.
Can I eat raw cookie mix (that contains raw flour)?
While I've never had an issue, there is a risk to consuming raw flour due to the bacteria that could be in it. Due to food safety recommendations from the CDC, USDA, and FDA, we recommend one of the following to eliminate the risk:

Spread sifted cookie mix on a baking sheet and bake at 350°F for about 5 minutes, then cool completely.

You can also microwave the cookie mix for 1 minute 20 seconds, stirring in 15-20 second intervals.
Making homemade fudge ahead of time
By nature, this recipe is supposed to be made somewhat ahead of time. The fudge has to set in the refrigerator for at least 2-3 hours.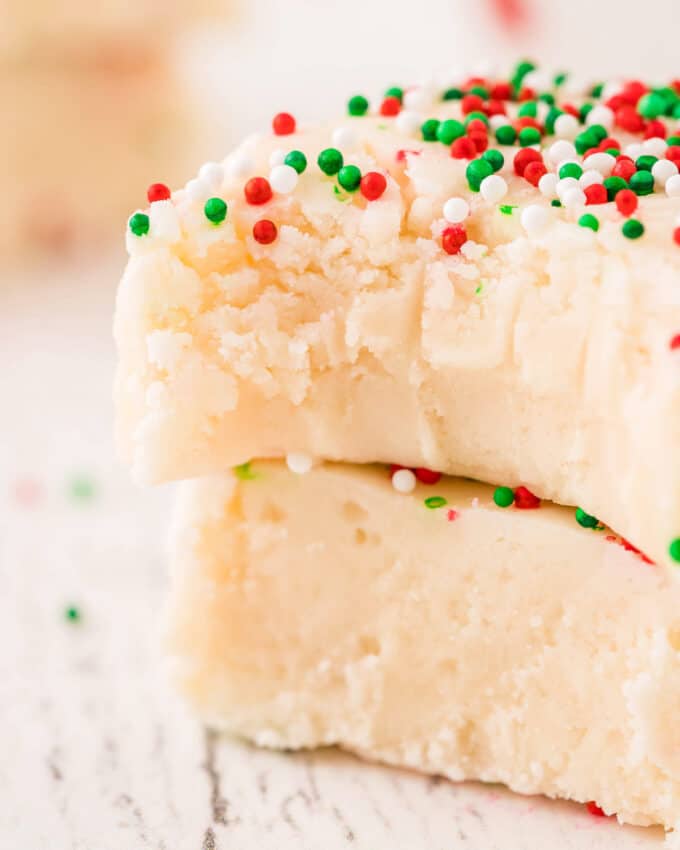 Freezing
Fudge is great to make and freeze for longer storage!
Fudge should be wrapped in wax paper, then wrapped in plastic wrap or aluminum foil, then added to an airtight freezer-safe container.
Freeze for up to 3 months, then thaw at room temperature for several hours before enjoying it.
Storage
Fudge should be stored in an airtight container in the refrigerator, and enjoyed within a week.
I find it's best to add pieces of wax or parchment paper in between layers of fudge, so they don't stick together.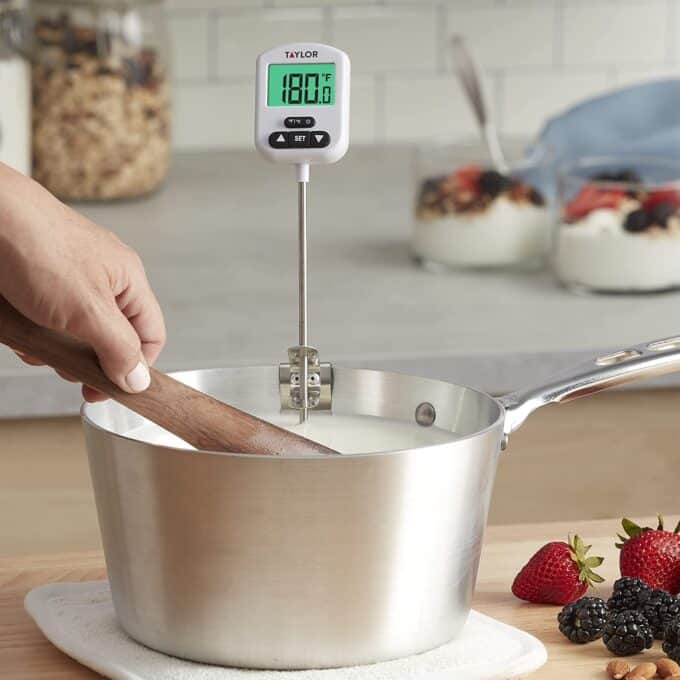 While you don't need a candy thermometer to make this fudge recipe, having one takes a lot of the guesswork out of it! This version clips right on the side of the pot, and is digital, so it's much easier to read. You can also use it for frying!
Did you make this? Be sure to leave a review below and tag me @the_chunky_chef on Facebook and Instagram!
Made with simple ingredients, this sugar cookie fudge recipe can be customized to any holiday or event, and freezes well for longer storage!
Ingredients
12 Tbsp unsalted butter sliced into 1 Tbsp pieces
1 cup sugar cookie mix sifted or whisked very thoroughly **see chef tips section**
3/4 cup evaporated milk
3 cups granulated sugar
11 oz bag white chocolate chips
7 oz container marshmallow creme
1/2 – 1 tsp vanilla extract or vanilla bean paste adjust this per your tastes
3 Tbsp nonpareil sprinkles in any color or color mix you'd like
Instructions
Prepare
Line a 9×13" baking pan with parchment paper, leaving overhang on the sides (for easy fudge removal). Alternately, you can use a rimmed 9×13" size baking sheet, but still line it with parchment.

Have the white chocolate chips and marshmallow creme opened and ready to go, as once you need them, you don't want to waste time.
Make roux
To a large saucepan, I recommend at least a 3 quart size, add the unsalted butter and melt over LOW heat.

Once melted, add the sifted sugar cookie mix and whisk until completely mixed into and blended with the butter.
Add milk and sugar
Increase the heat to MED, and pour in the evaporated milk, whisking constantly as you pour.

Once hot, add the sugar and continue to whisk/stir, keeping the heat at MED, for about 5-7 minutes, or until the mixture comes to a rolling boil.

** a rolling boil is when the mixture is boiling vigorously and has an almost churning motion in the saucepan.** if using a candy thermometer, continue heating and stirring until it reaches 234°F.

It's important not to overcook the milk/sugar mixture, or it can get too hard to make fudge with. Once it reaches that rolling boil (or 234°F on a candy thermometer), you're good to move on to the next step.
Stir in chocolate and marshmallow
Remove from the heat, and stir in the white chocolate chips. Stir until the chocolate has melted.

Stir in marshmallow creme and vanilla extract. Continue stirring until all ingredients are melted together.
Pour and set
Pour mixture into prepared baking pan, then sprinkle with the nonpareil sprinkles. Let cool for about 15 minutes or so at room temperature.

Cover pan and refrigerate for at least 2 hours, or overnight.
Serve
Once fudge has completely set and is hardened, slice into small squares (or desired shapes), and serve chilled.
Want to save this recipe for later? Click the heart in the bottom right corner to save to your own recipe box!
Chef Tips
This recipe uses raw cookie mix, which may contain raw flour. To consume this safely, and as compliant with food safety recommendations, we recommend one of the following:
Spread sifted cookie mix on a baking sheet and bake at 350°F for about 5 minutes.
You can also microwave the cookie mix for 1 minute 20 seconds, stirring in 15-20 second intervals.
Tips:
This recipes makes approximately 40-48 small squares of fudge, but you can divide the 9×13″ pan into as many or as little servings as you'd like.
This recipe is tested with the Betty Crocker brand of bagged sugar cookie mix (https://www.bettycrocker.com/products/cookiemix/sugar)
Sifting the sugar cookie mix is important, otherwise you won't have a smooth texture to your fudge.
Fudge should be served chilled and stored in the refrigerator. If stored or served at room temperature it can get pretty sticky.
Sweetened Condensed Milk (no boiling) Method:
This method is different, and the flavor is a little as well. This version uses more white chocolate to add some stability.
2 cans (14 oz each) sweetened condensed milk
2 cups sugar cookie mix
4 1/2 – 5 cups white chocolate chips (likely between 2 and 3  11oz bags)
2 Tbsp unsalted butter
1 tsp vanilla extract
3 Tbsp nonpareil sprinkles
Prepare 9×13″ baking pan as directed in the recipe above.
Heat sweetened condensed milk until hot but not boiling (this can be done in a saucepan or in the microwave).
Once hot, add sugar cookie mix, stirring until combined.
Then stir in white chocolate chips, vanilla, and butter. Mixture will be thick.
Transfer to prepared 9×13″ pan, then top with sprinkles.
Cover and chill for at least 2 hours, or overnight.
Nutrition Disclaimer
The Chunky Chef is not a dietician or nutritionist, and any nutritional information shared is an estimate. If calorie count and other nutritional values are important to you, we recommend running the ingredients through whichever online nutritional calculator you prefer. Calories can vary quite a bit depending on which brands were used.